Are you ready to turn your career up a notch and take on your next role as a director of software engineering?
Good for you! Now you need to showcase your impressive skill set and grab the recruiter's attention.
While resume writing may not be your forte, we can help you to develop a detailed application with our step-by-step guide and director of software engineering resume example.
Contents
| | |
| --- | --- |
| How to write a Director of Software Engineering resume | |

Director of Software Engineering Resume Example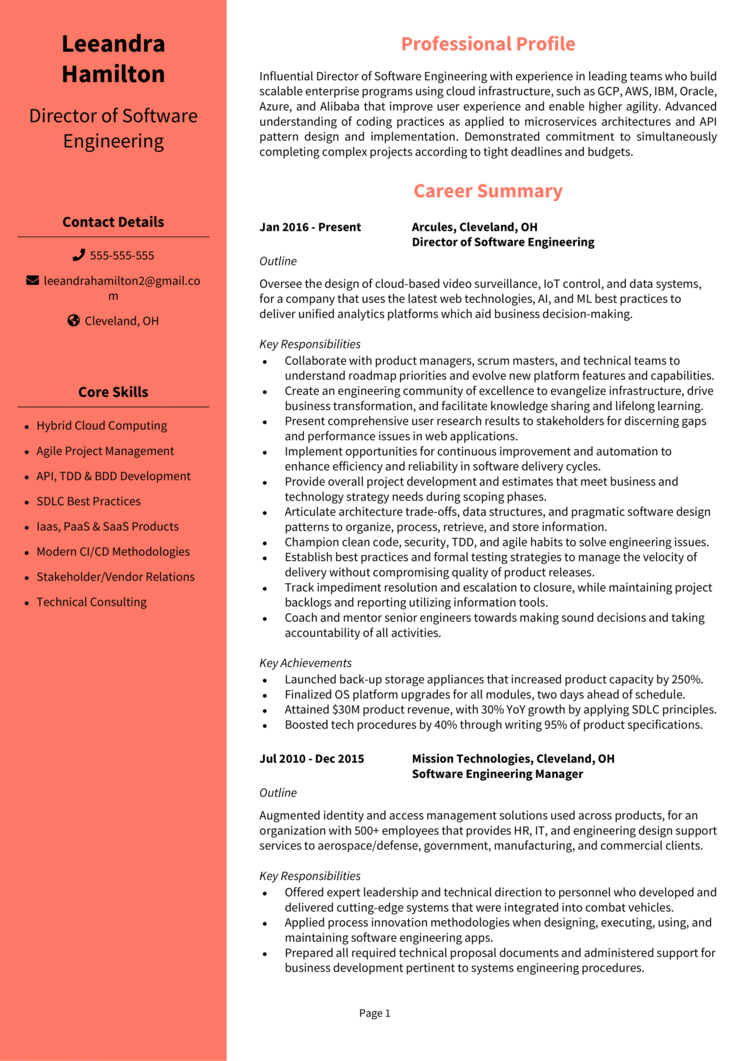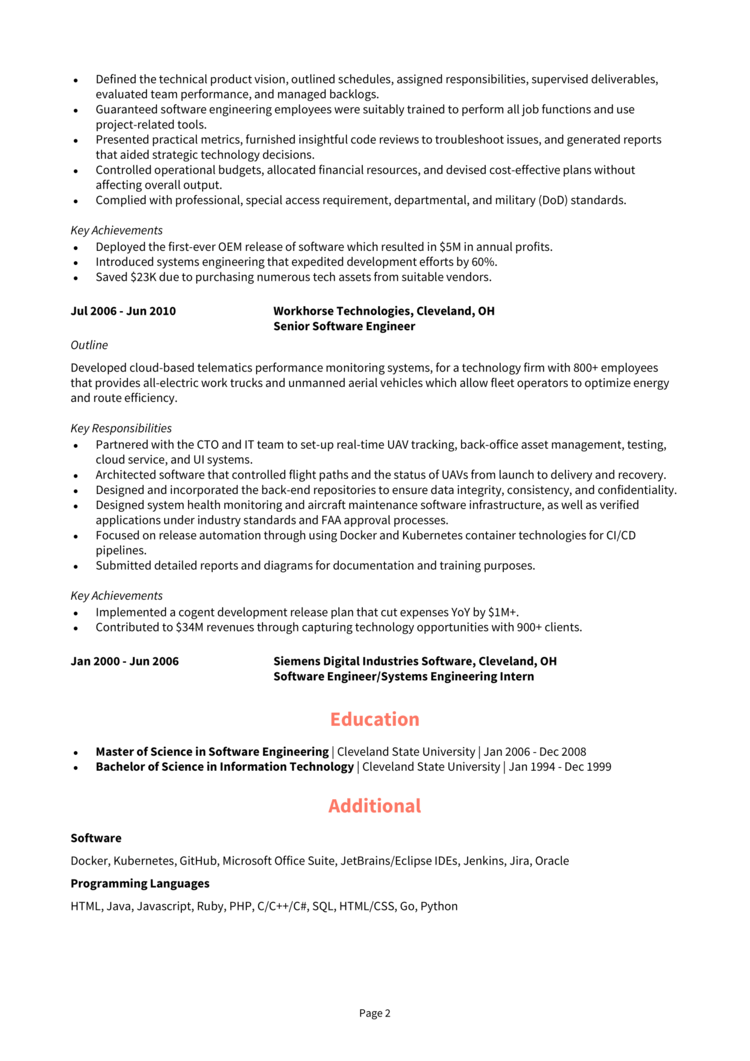 This Director of Software Engineering resume example gives you a good idea of how a good Director of Software Engineering resume should look and read.
The information is presented professionally and the content is well structured to ensure that time-strapped recruiters and hiring managers can find the important skills and knowledge quickly.
Refer to this example as you write your own resume.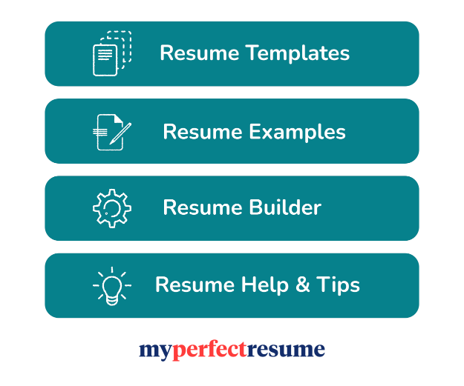 Director of Software Engineering resume layout and formatting
Formatting is often overlooked when writing resume, but it's a crucial element of it"s success.
Creating a document that not only looks good, but is easily comprehended, is the key to gaining and holding the attention of busy hiring managers.
Use these formatting tips for best results.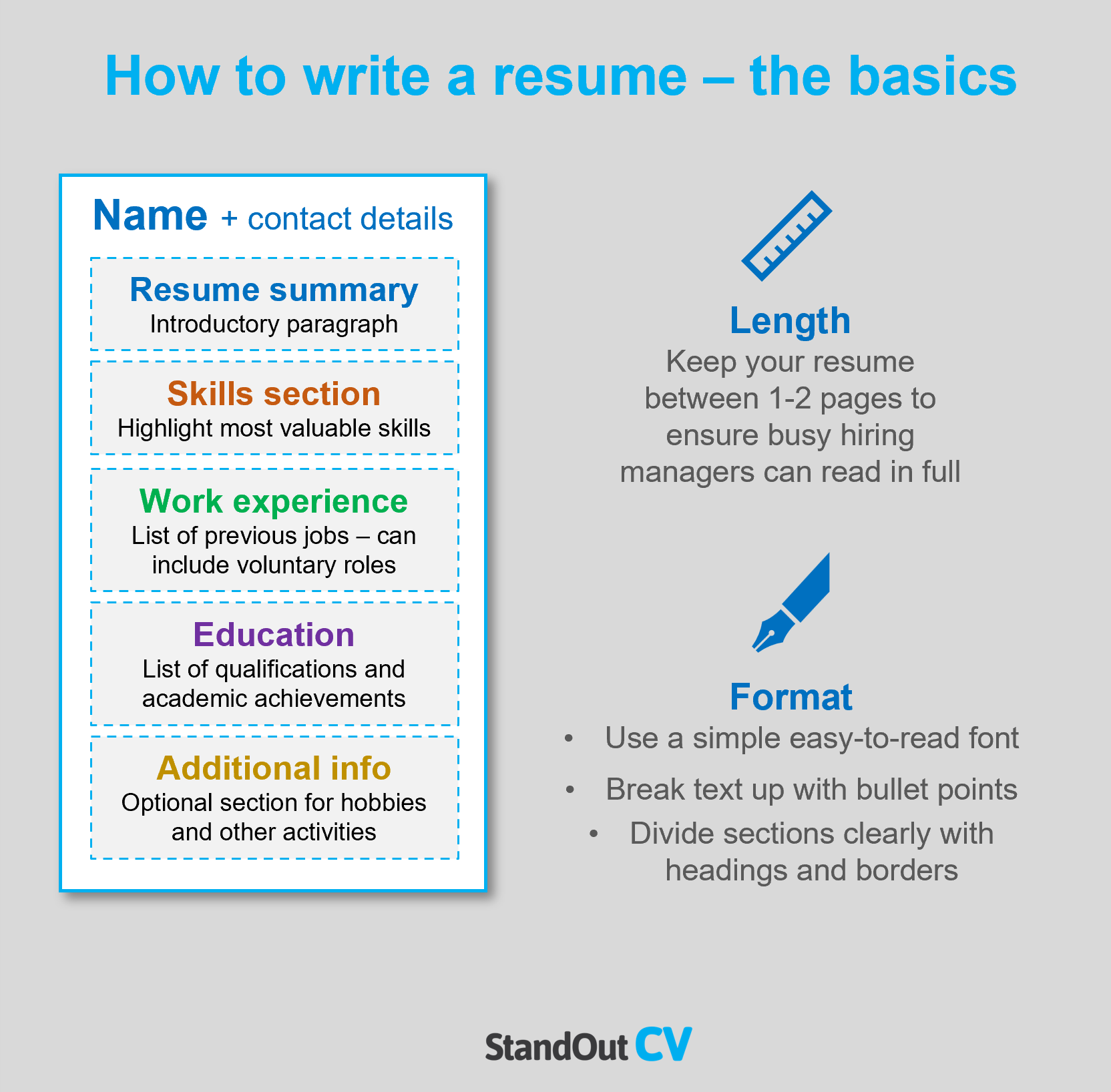 Formatting your resume
Length: Given that recruiters have to sift through tons of resumes daily, it's recommended to keep your resume brief (no more than 2 pages) to make sure it receives their full attention.
Font & readability: The key to an effective resume is its readability, so it's best to use a clear and simple font and format it with bullet points and short paragraphs to make it easy for recruiters to read through quickly.
Layout & Structure: Go with a resume design that looks good, but also allows for easy reading and navigation for employers. Ensure the page is clearly split up into sections by adding large font headings and dividing borders. Keep the color scheme simple and don't overcrowd the page.
Photos: You don't have to add a photo to your resume in the States, but some regions and industries like to see them.
Quick tip: Achieving a professional look for your resume can be difficult and time-consuming. If you want to create an attractive resume quickly, try our partner's Resume Builder and use one of their eye-catching resume templates.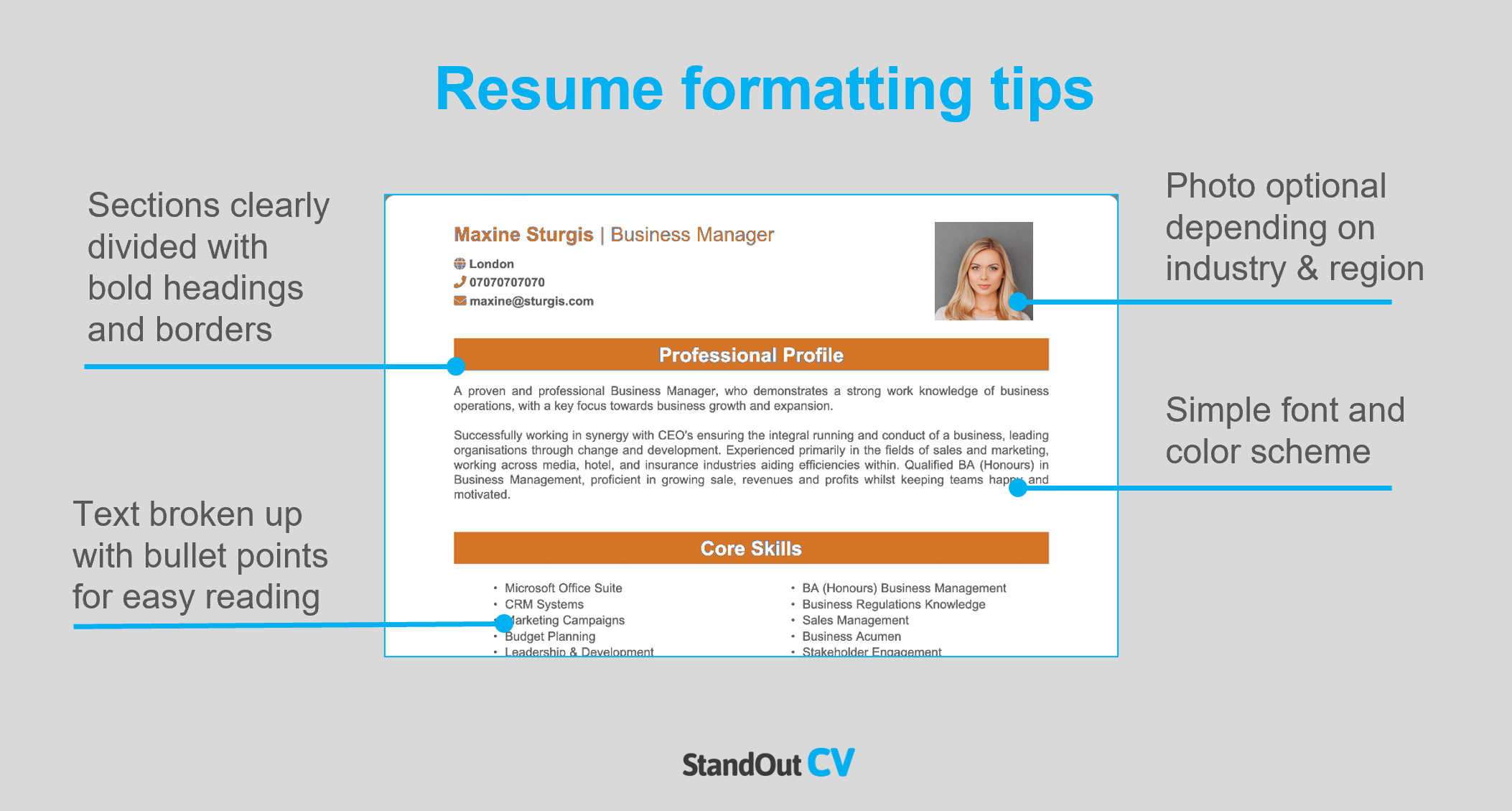 Resume layout
When you write your resume, include the sections below.
Name and contact details – Pop these at the very top to ensure recruiters know how to contact you.
Resume summary – An eye-catching paragraph which summarizes your most valuable attributes – placed near the top of your resume
Skills section – A bullet pointed list of your most in-demand skills, enabling recruiters to see your suitability from a glance.
Work experience – List some or all of your previous jobs in reverse chronological order – voluntary work and college placements can be included if you have no paid experience.
Education – A summary of your professional training and academic qualifications.
Additional info – An optional section for anything that may boost your application, such as relevant hobbies and interests
Here's what to include in each part of your resume.
Contact Details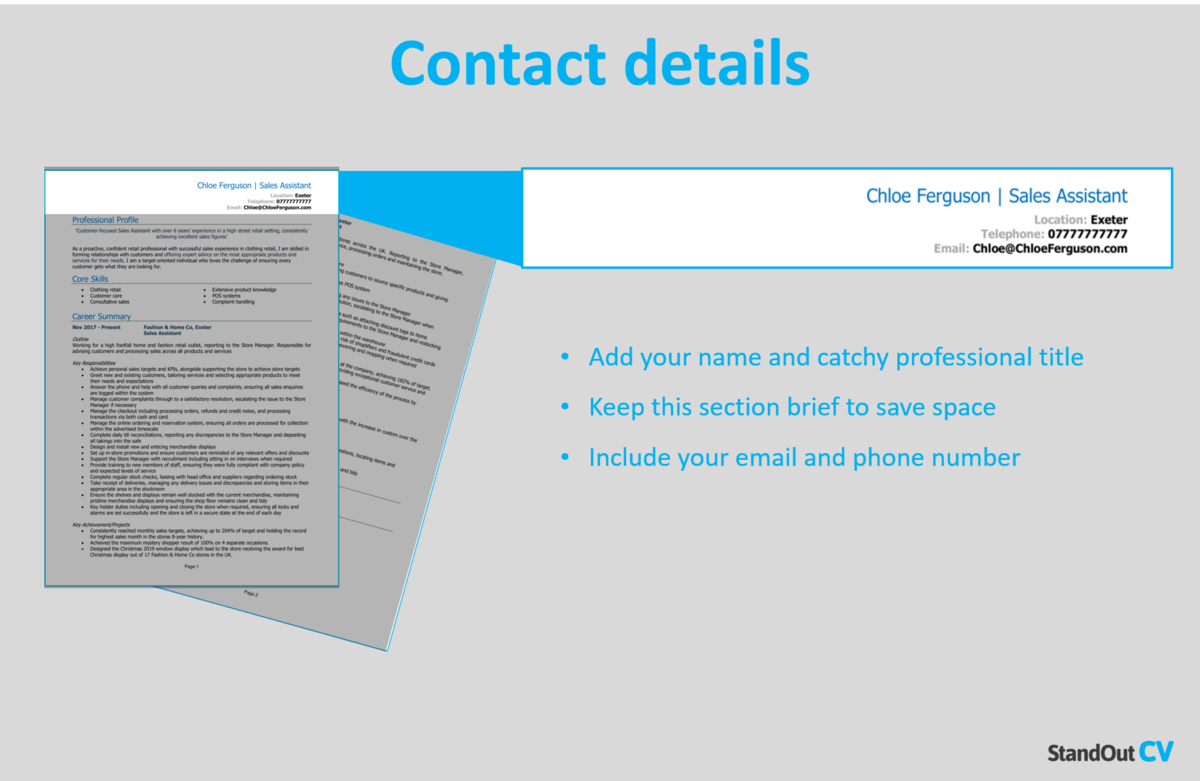 Add your name and contact details to the very top of your resume, making it easy for recruiters to get in touch
Name and profession title
Cell phone number – or another number you can answer quickly
Location – Add your local area such as San Diego or New York – not your full address as that will take up too much space.
Email address – Use your name or close variation – no nicknames from high school.
You can add a link to your LinkedIn profile if you have one – you do not need to include personal details like date of birth or marital status.
Director of Software Engineering Resume Summary
Make a strong first impression on recruiters by beginning your resume with a powerful summary that highlights your most valuable skills and experience.
This brief summary provides an opportunity to showcase why you're the ideal candidate for the job and persuade recruiters to read further into your resume.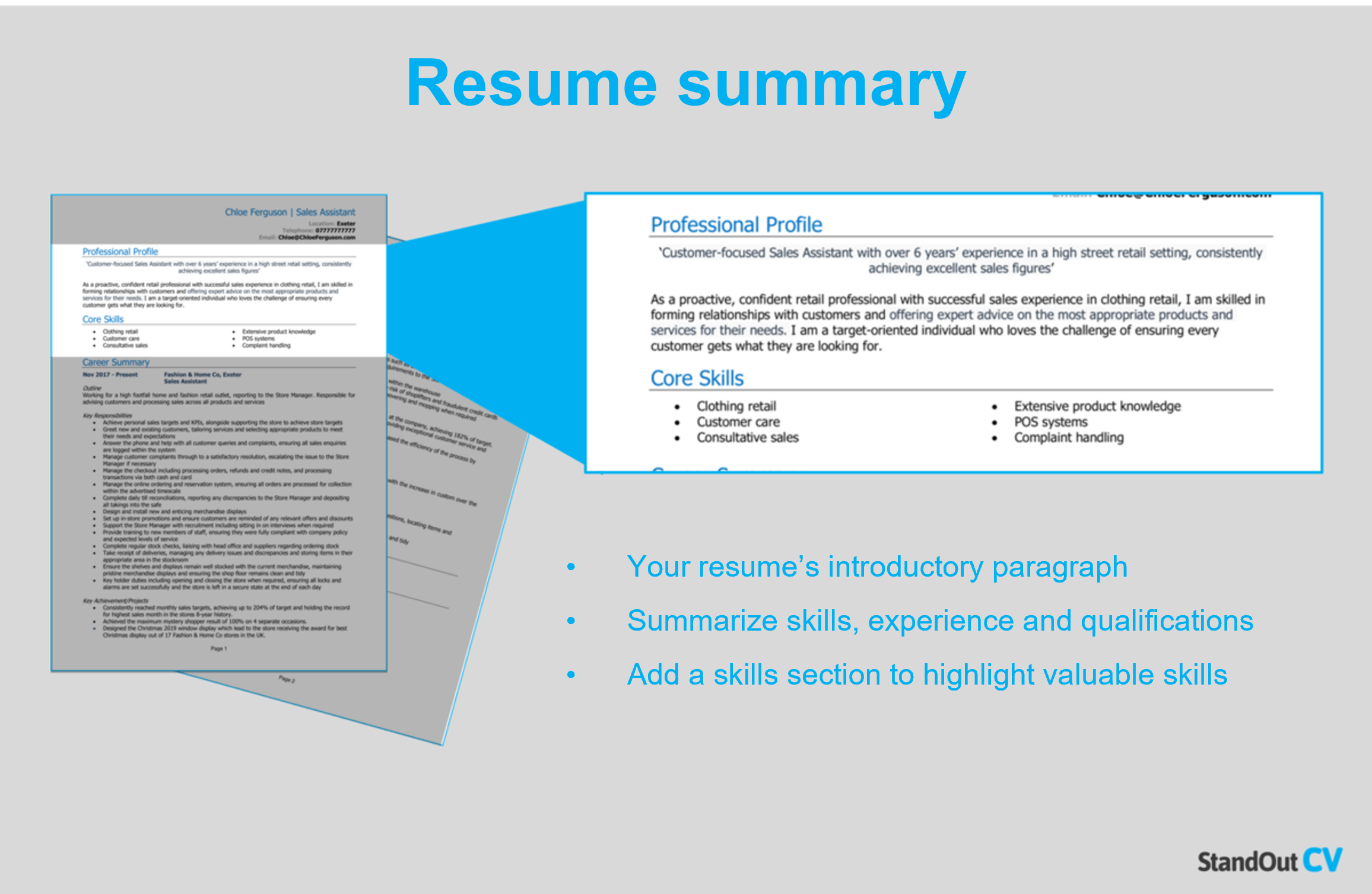 How to create a resume summary that will excite recruiters:
Keep it short: Attention spans are short in the job market, so keep your summary brief and high-level at around 4-7 lines – This is just enough to catch the eye of rushed hiring managers.
Tailor to target jobs: To tailor your resume to your target jobs, it's essential to closely analyze the job description and include as many relevant skills as possible.
Avoid using cliches: To capture the attention of recruiters you must provide factual information, such as hard skills and qualifications, and avoid using empty phrases like "Go-getter who thinks outside the box."
Director of Software Engineering resume summary example
Influential Director of Software Engineering with experience in leading teams who build scalable enterprise programs using cloud infrastructure, such as GCP, AWS, IBM, Oracle, Azure, and Alibaba that improve user experience and enable higher agility. Advanced understanding of coding practices as applied to micro services architectures and API pattern design and implementation. Demonstrated commitment to simultaneously completing complex projects according to tight deadlines and budgets.
What to include in your Director of Software Engineering resume summary?
Summary of your experience: Briefly describe the work you have performed in the past and the contributions you have made to the organizations you have worked for.
Relevant skills: Include your skills which are hyper relevant to Director of Software Engineering jobs to instantly show your suitability.
Qualifications: Showcase your level of education with a quick mention of any qualifications that are essential for the Director of Software Engineering roles you are applying to.
Quick tip: Choose from hundreds of pre-written summaries across all industries, and add one to your resume with one-click in our partner's Resume Builder. All written by recruitment experts and easily tailored to suit your unique skillset and style.
Core skills section
Underneath your summary, write a core skills section to make your most relevant skills jump off the page at readers.
It should be made up of 2-3 columns of bullet points of your relevant skills.
Before you do this, look over the job description and make a list of any specific skills, specialisms or knowledge required.
Then, make sure to use your findings in your list. This will paint you as the perfect match for the role.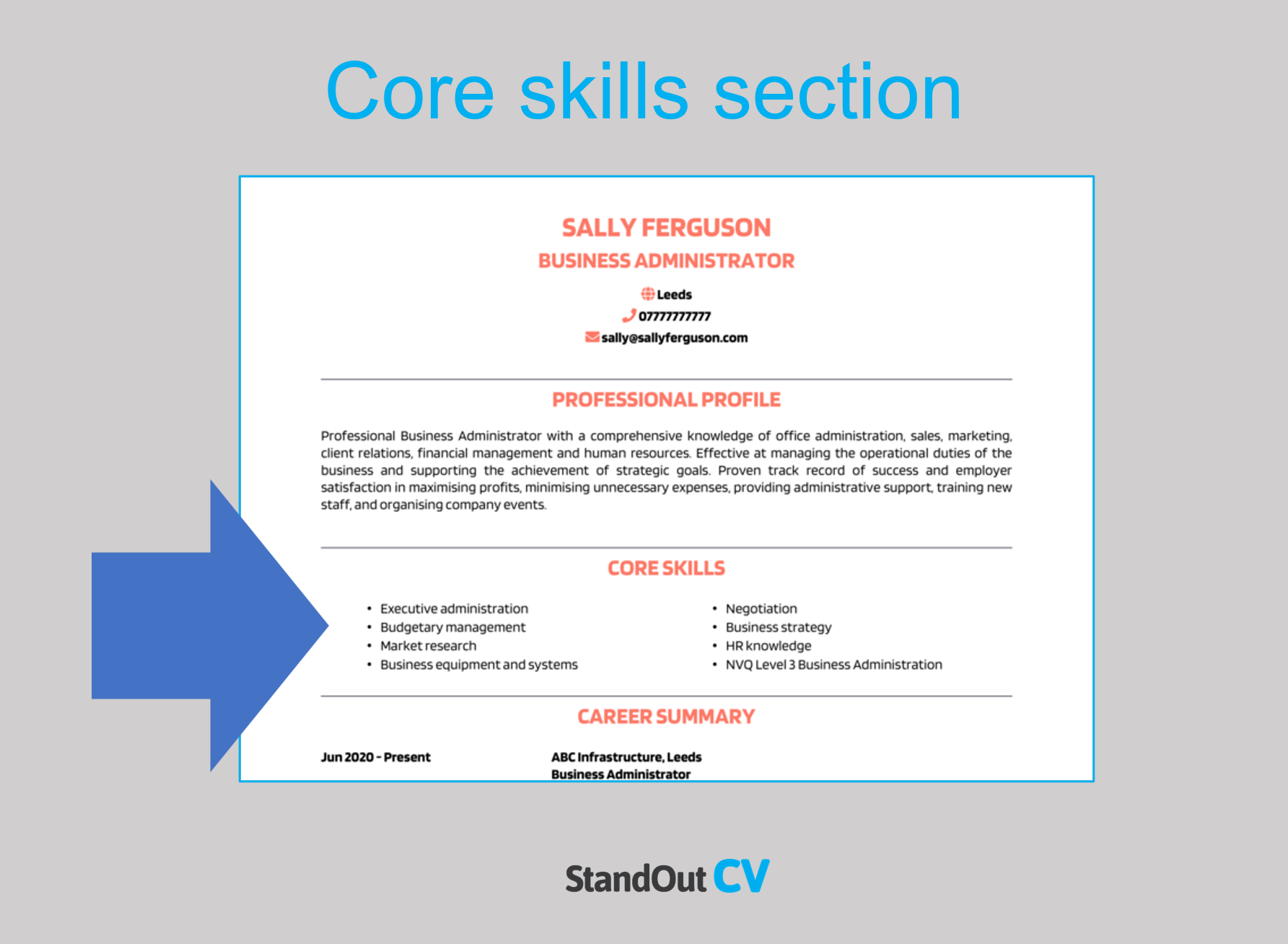 Best skills for your Director of Software Engineering resume
Software architecture – Designing and developing software architecture, including high-level design and technical specifications, to ensure that software development aligns with organizational objectives.
Agile software development – Managing software development teams using agile methodologies, including scrum and Kanban, to ensure that software development is efficient and responsive to changing requirements.
Software development languages – Utilizing a variety of software development languages, including Java, C++, and Python, to guide development teams and contribute to technical discussions.
Quality assurance – Implementing quality assurance processes, including code reviews, testing, and continuous integration, to ensure that software development meets high standards of quality.
Database design – Utilizing knowledge of database design principles, including normalization, indexing, and partitioning, to create efficient and scalable databases.
Cloud computing – Understanding cloud computing technologies, including Amazon Web Services and Microsoft Azure, to design and develop cloud-based software solutions.
DevOps – Implementing DevOps practices, including continuous delivery and continuous deployment, to ensure that software development and deployment are efficient and automated.
Performance tuning – Optimizing software performance, including tuning SQL queries and indexing, to improve system response time and overall performance.
Regulatory compliance – Maintaining a detailed understanding of regulatory compliance requirements, including industry-specific regulations and laws, to ensure that software development is compliant with all applicable laws and regulations.
Effective communication – Utilizing strong communication skills to interact effectively with clients, stakeholders, and technical teams, to communicate software development concepts, designs, and recommendations.
Quick tip: Our partner's Resume Builder contains thousands of in-demand skills for every profession that can be added to your resume in seconds – saving you time and greatly improving your chances of landing job interviews and getting hired.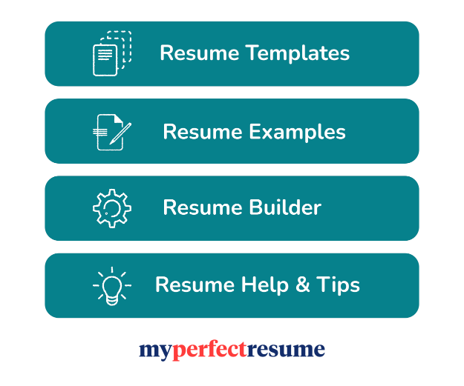 Work experience
Once you've got recruiters interested with your impactful summary, your work experience is where the real detail will lie.
Lay out your previous jobs from current to oldest, detailing what you contributed and achieved in each one.
If you're highly experienced you can cut this section down to your most recent few years of work, but if you are junior you can bulk this up with voluntary work and college placements.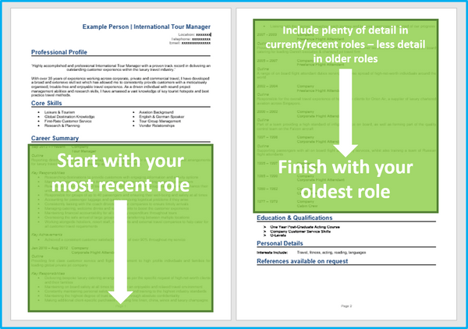 Structuring your jobs
Your job description probably includes tons of information, so it's vital to organize it well when writing about it on your resume.
Structure your jobs as like the example below to make skim-reading easy for recruiters and hiring managers.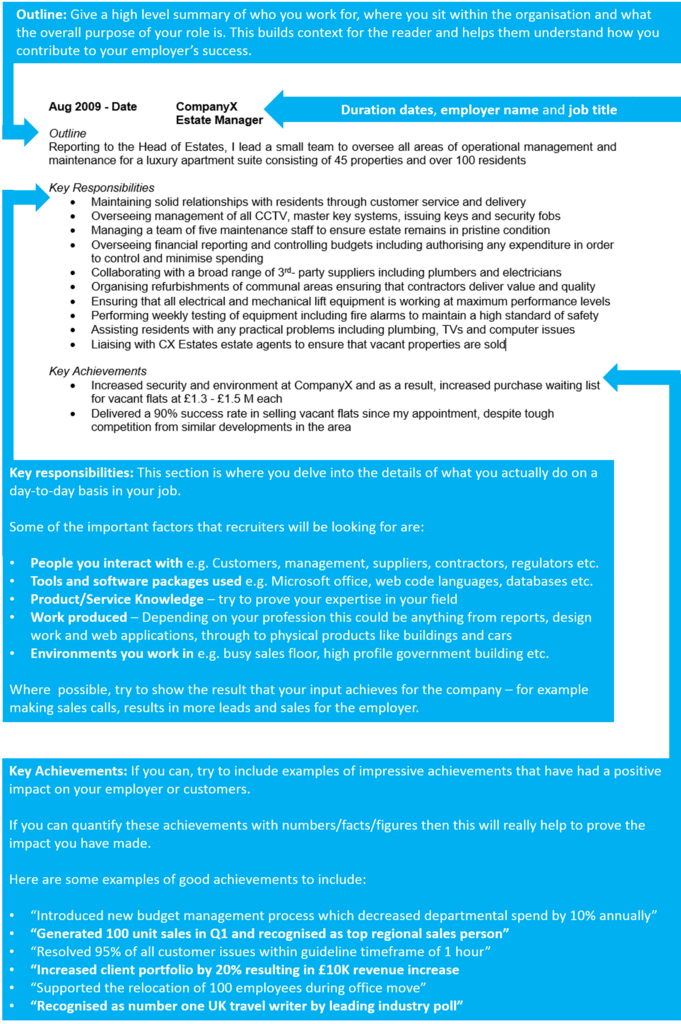 Job outline
To provide context to your jobs, begin each job with a concise summary of the organization, your role within it, and the main objectives of your position.
Key responsibilities
List your notable responsibilities in short sharp bullet points to demonstrate your input and how you contributed to the organization's success.
Highlight the skills that are most important to the roles you are applying for.
Key achievements
Show employers the value you can bring to them by adding a few achievements to your jobs.
Whether you've saved the company money or improved an internal process, let recruiters know
Add some numbers to give readers a real scale of the impact, e.g. "reduced call wait time by 10%"
Example job for Director of Software Engineering resume
Outline
Oversee the design of cloud-based video surveillance, IoT control, and data systems, for a company that uses the latest web technologies, AI, and ML best practices to deliver unified analytics platforms which aid business decision-making.
Key Responsibilities
Collaborate with product managers, scrum masters, and technical teams to understand roadmap priorities and evolve new platform features and capabilities.
Create an engineering community of excellence to evangelize infrastructure, drive business transformation, and facilitate knowledge sharing and lifelong learning.
Present comprehensive user research results to stakeholders for discerning gaps and performance issues in web applications.
Implement opportunities for continuous improvement and automation to enhance efficiency and reliability in software delivery cycles.
Quick tip: Create impressive job descriptions easily in our partner's Resume Builder by adding pre-written job phrases for every industry and career stage.

Education section
Nearing the end of your resume, your education/qualifications section should be added.
In a well-structured list, add all of your qualifications and certifications that qualify you to perform a typical Director of Software Engineering role.
If you have plenty of work experience, keep this section brief – if not, add lots of detail to make up for your lack of experience.
Additional information
At the end of your resume, you can add any extra information that might be relevant to the jobs you are applying for.
This could be hobbies, interests, publications, clubs or memberships.
This section is optional and doesn't need to be added if you have nothing more relevant to add.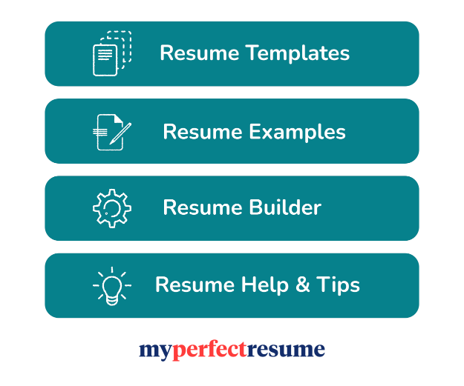 Writing your own winning Director of Software Engineering resume
By tailoring your resume to the specific job and industry you are targeting and ensuring that it effectively communicates your professional value, you can position yourself as a top candidate for all Director of Software Engineering positions.
Good luck with your job search!