You know how to write compelling copy, and you've got strong relationships with all the relevant media outlets. You're ready to step up to the directorial plate.
But first, you need to turn impressions into interviews with a strong resume that quickly grabs the recruiter's attention.
Learn how to highlight your key skills and achievements in our step-by-step guide, complete with a director of communications resume example below.
Contents
| | |
| --- | --- |
| How to write a Director of Communications resume | |

Director of Communications Resume Example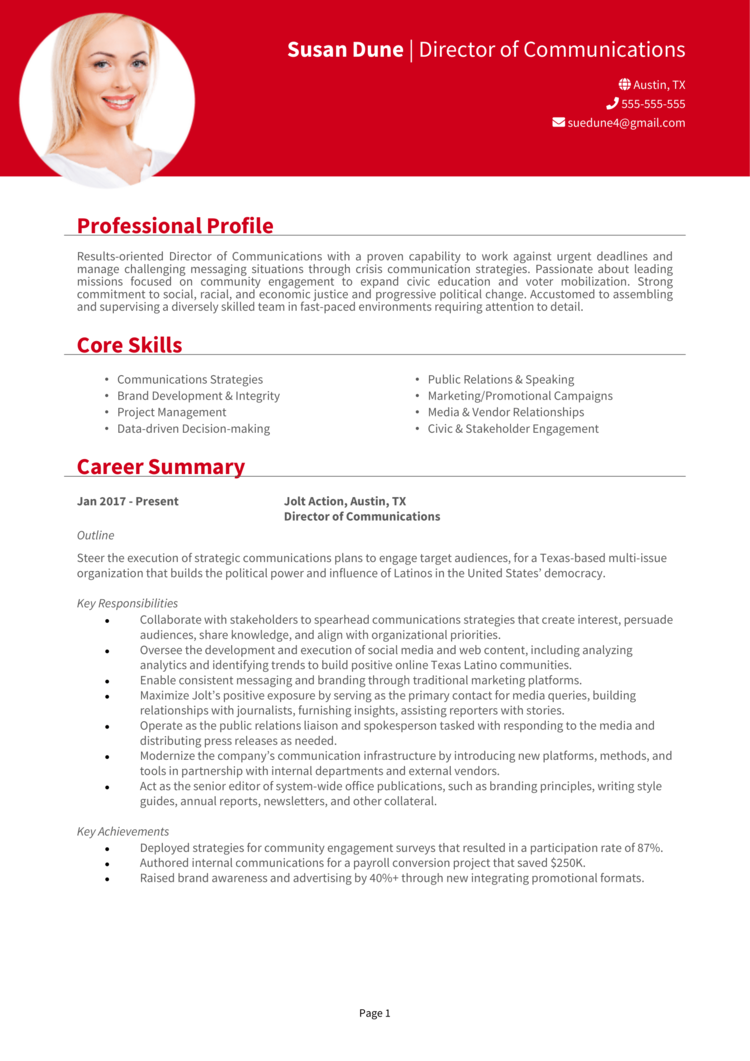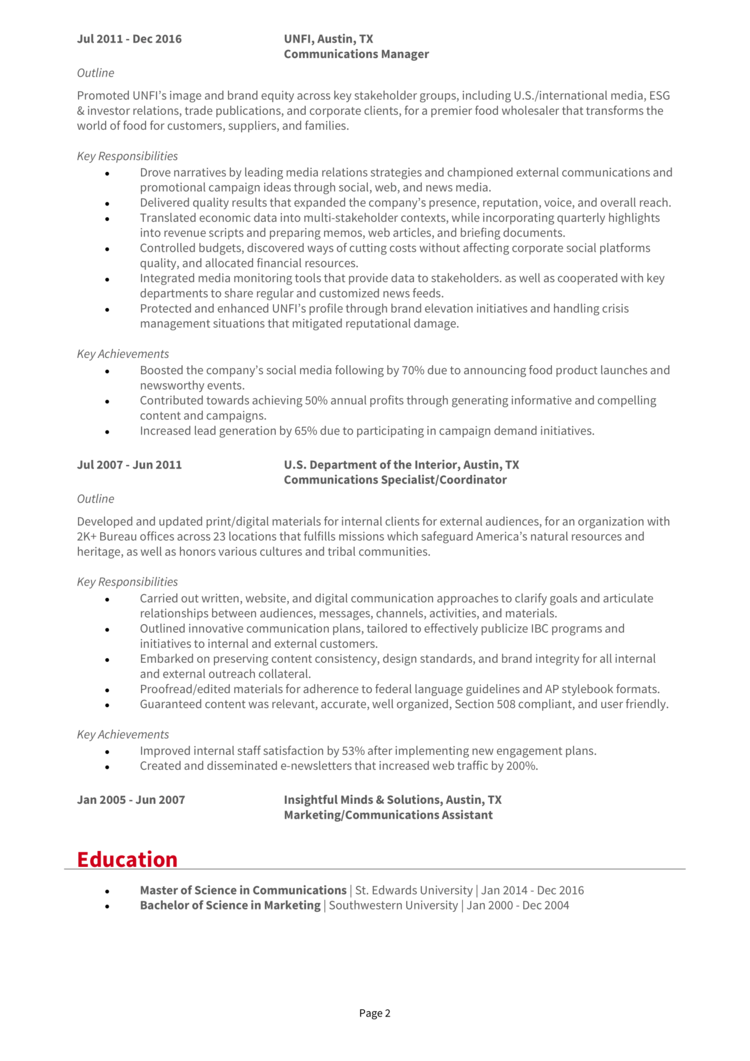 This example Director of Communications resume provides you with a general idea of how your resume should look, and what information recruiters expect to see.
The rest of this guide will explain how to layout your resume and create each section effectively.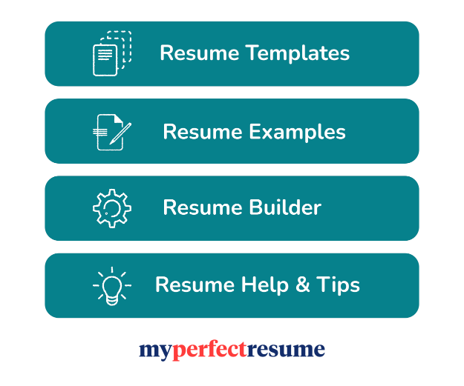 Director of Communications resume layout and formatting
If you want to get noticed in the job market, you have to pay attention to the format and layout of your resume.
Essentially your resume needs to look highly polished, and provide hiring managers with an easy reading experience.
Use these resume formatting tips to get a head start on this.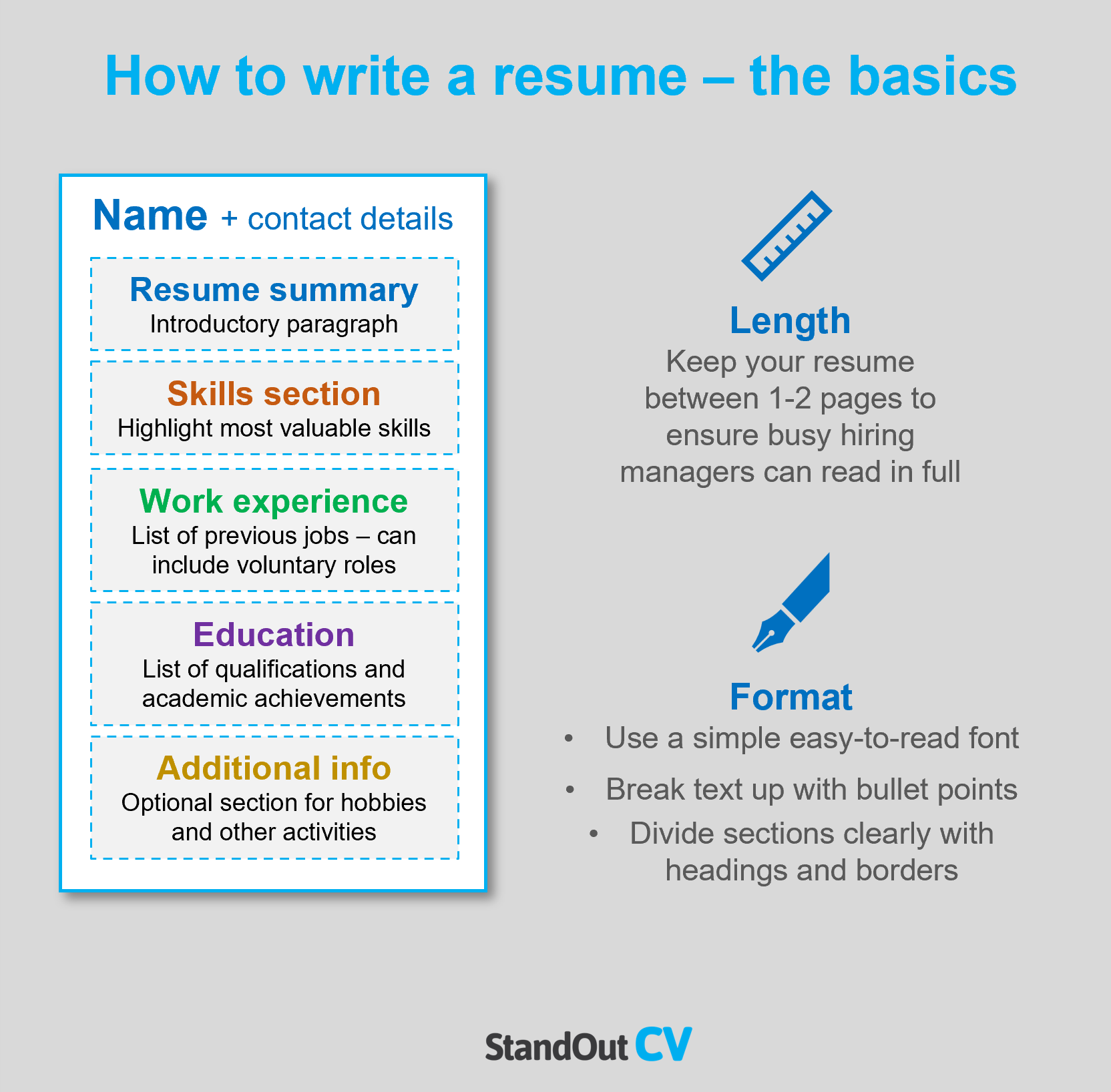 Formatting your resume
Length: Keep your resume to 2 pages or under. You've probably heard that recruiters and hiring managers don't have lots of time to read every resume, so keep yours brief if you want to ensure that they read all of the important info in yours.
Font & readability: To create a resume that is easily digestible for hiring managers, it's essential to use an uncomplicated font and structure your content with bullet points and short paragraphs.
Layout & Structure: Hiring managers should be able to skim through your resume easily and pinpoint the information they want quickly. To help them do this, organize the page into clear sections with bold headings and dividing borders. The design should be clutter-free and professional-looking, with a calm color scheme.
Photos: In the USA adding a photo to your resume is optional – you don't have to do it, but it can be a nice way to get your personality across.
Quick tip: Achieving a professional look for your resume can be difficult and time-consuming. If you want to create an attractive resume quickly, try our partner's Resume Builder and use one of their eye-catching resume templates.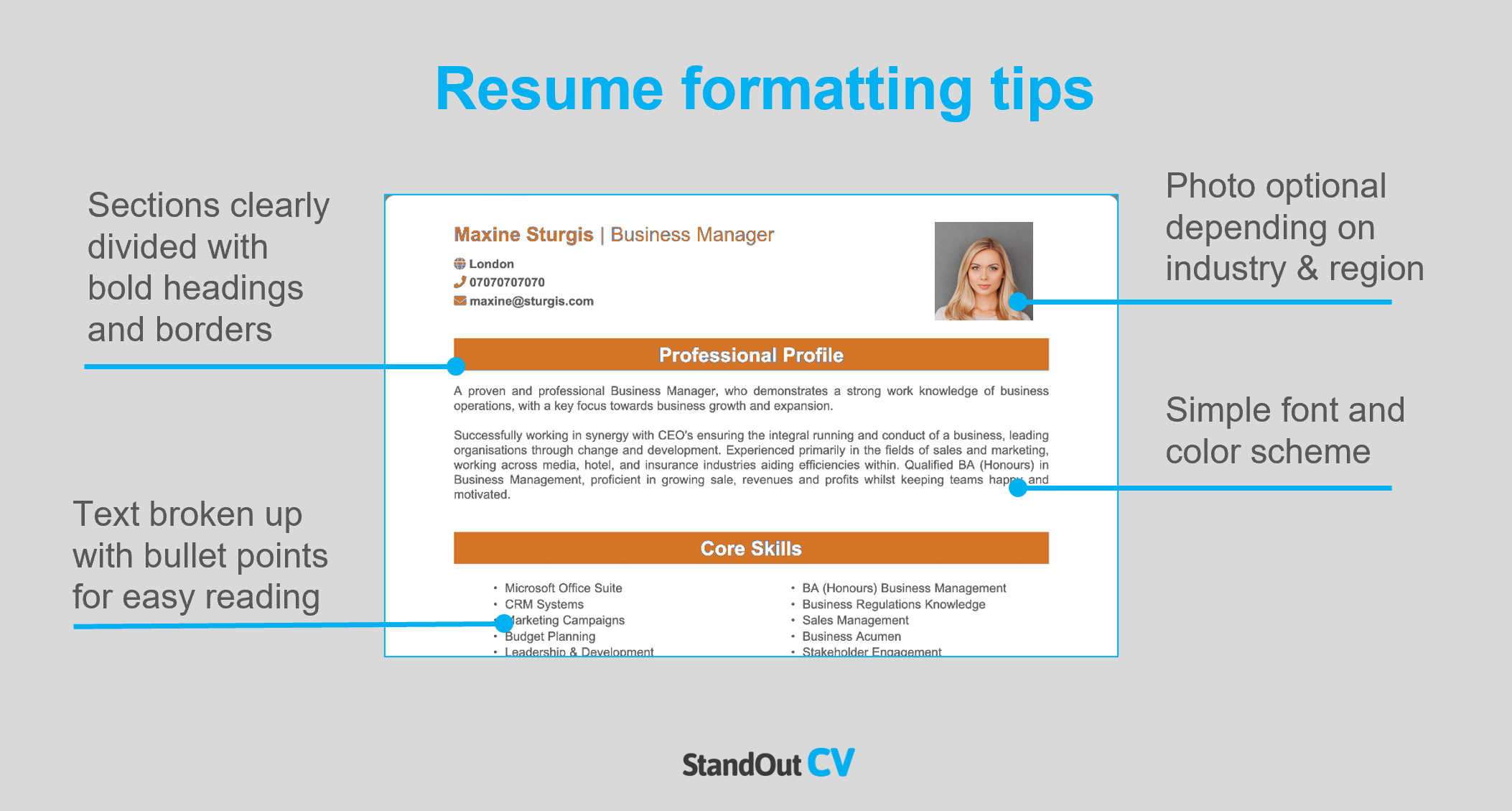 Resume layout
Here's an overview of the sections you should add when writing your resume.
Name and contact details – Stick these details at the top, so they are easy to find.
Resume summary – A punchy paragraph summarizing your skills and knowledge, enticing recruiters to read more of your resume.
Skills section – Short list of your most valuable skills, enabling recruiters to quickly spot your suitability.
Work experience – Showcase your previous employment, starting with your most recent roe and working backwards – voluntary work and college placements can be included if you have no paid experience.
Education – A summary of your most relevant qualifications and academic achievements
Additional info – An optional section for that other attributes that may boost your application, such as hobbies or clubs
Here's what to include in each part of your resume.
Contact Details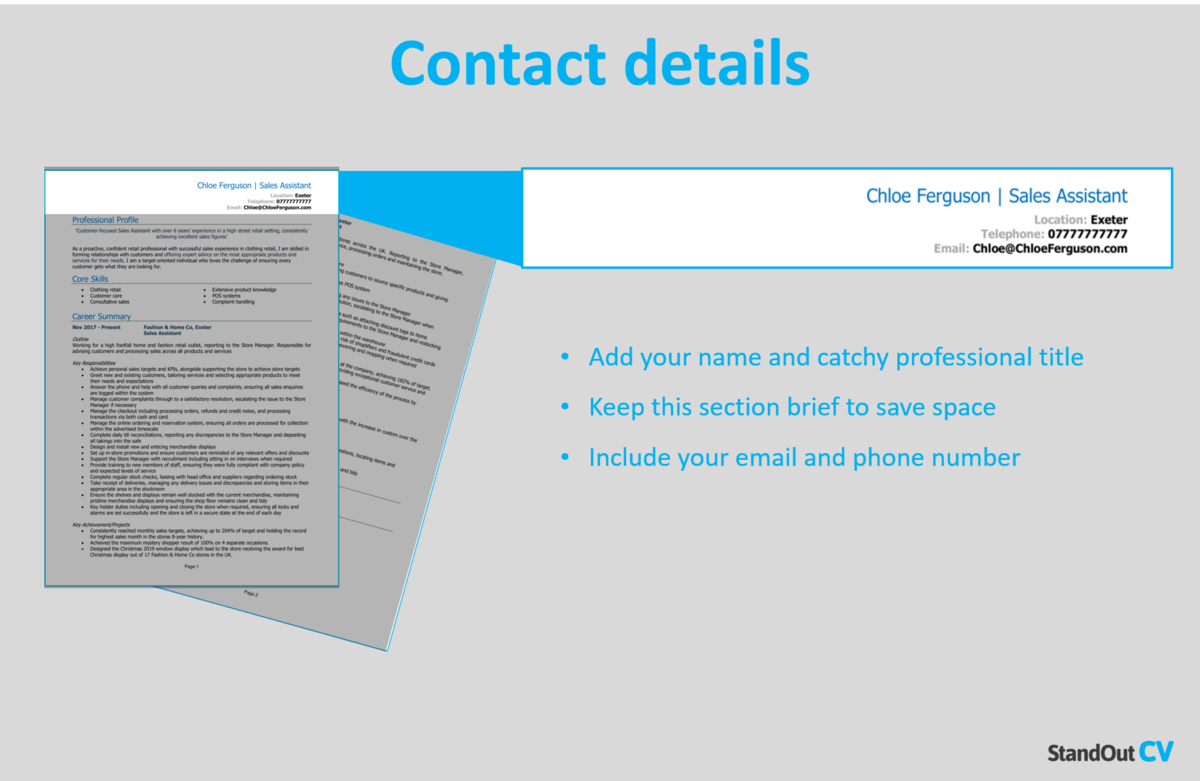 Add your name and contact details to the header of your resume, so that anybody reading can easily see how to contact you.
Name and profession title
Cell phone number – or any number you are easily reachable on
Location – Add your local area such as Washington or San Diego – not your full address as that will take up too much space.
Email address – Use a professional looking address.
You can add a link to your LinkedIn profile if you have one – you do not need to include personal details like date of birth or religion.
Director of Communications Resume Summary
Make a strong first impression on recruiters by beginning your resume with a powerful summary that highlights your most valuable skills and experience.
This brief summary provides an opportunity to showcase why you're the ideal candidate for the job and persuade recruiters to read further into your resume.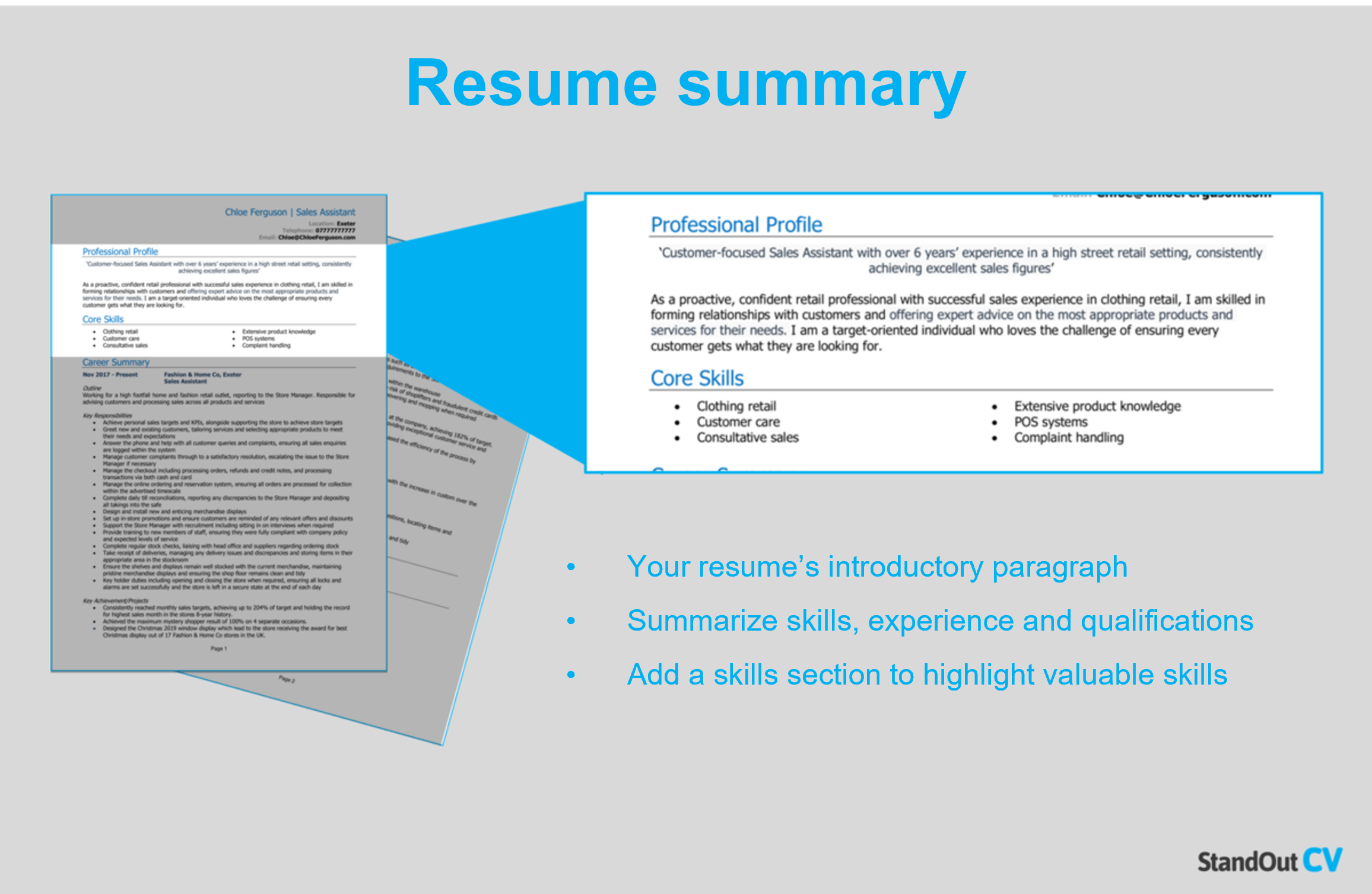 How to create a resume summary that will excite recruiters:
Keep it short: Aim for a short punchy paragraph of 4-7 lines. This is just enough info to showcase why you'd make the perfect hire, without going into excessive detail and overwhelming busy recruiters at such an early stage in the resume.
Tailor to target jobs: Ensure your profile makes an impact by matching it closely to the requirements of the job description, copying as many key terms as possible.
Avoid using cliches: Recruiters always see cringey cliches like "hardworking guru who works well in a team or individually" – they don't mean much to anyone, so focus your summary on tangible skills and experience.
Director of Communications resume summary example
Results-oriented Director of Communications with a proven capability to work against urgent deadlines and manage challenging messaging situations through crisis communication strategies. Passionate about leading missions focused on community engagement to expand civic education and voter mobilization. Strong commitment to social, racial, and economic justice and progressive political change. Accustomed to assembling and supervising a diversely skilled team in fast-paced environments requiring attention to detail.
What to include in your Director of Communications resume summary?
Summary of your experience: What type of organizations have you worked at? What types of roles have you done and what have you contributed to previous employers?
Relevant skills: Instantly showcase your suitability for Director of Communications jobs by including your skills that are highly relevant to them.
Qualifications: Any qualifications that are important to the Director of Communications jobs you are applying for, should be mentioned in the summary.
Quick tip: Choose from hundreds of pre-written summaries across all industries, and add one to your resume with one-click in our partner's Resume Builder. All written by recruitment experts and easily tailored to suit your unique skillset and style.
Core skills section
Sitting just underneath your resume summary, your core skills section gives recruiters 4-10 of your most in-demand skills in just a glance.
As Director of Communications jobs may get hundreds of applications, this is a great way to stand out and quickly grab hiring managers' attention.
It should be made up of 2-3 columns of bullet points and highlight attributes that are hyper-relevant to the jobs you are aiming for.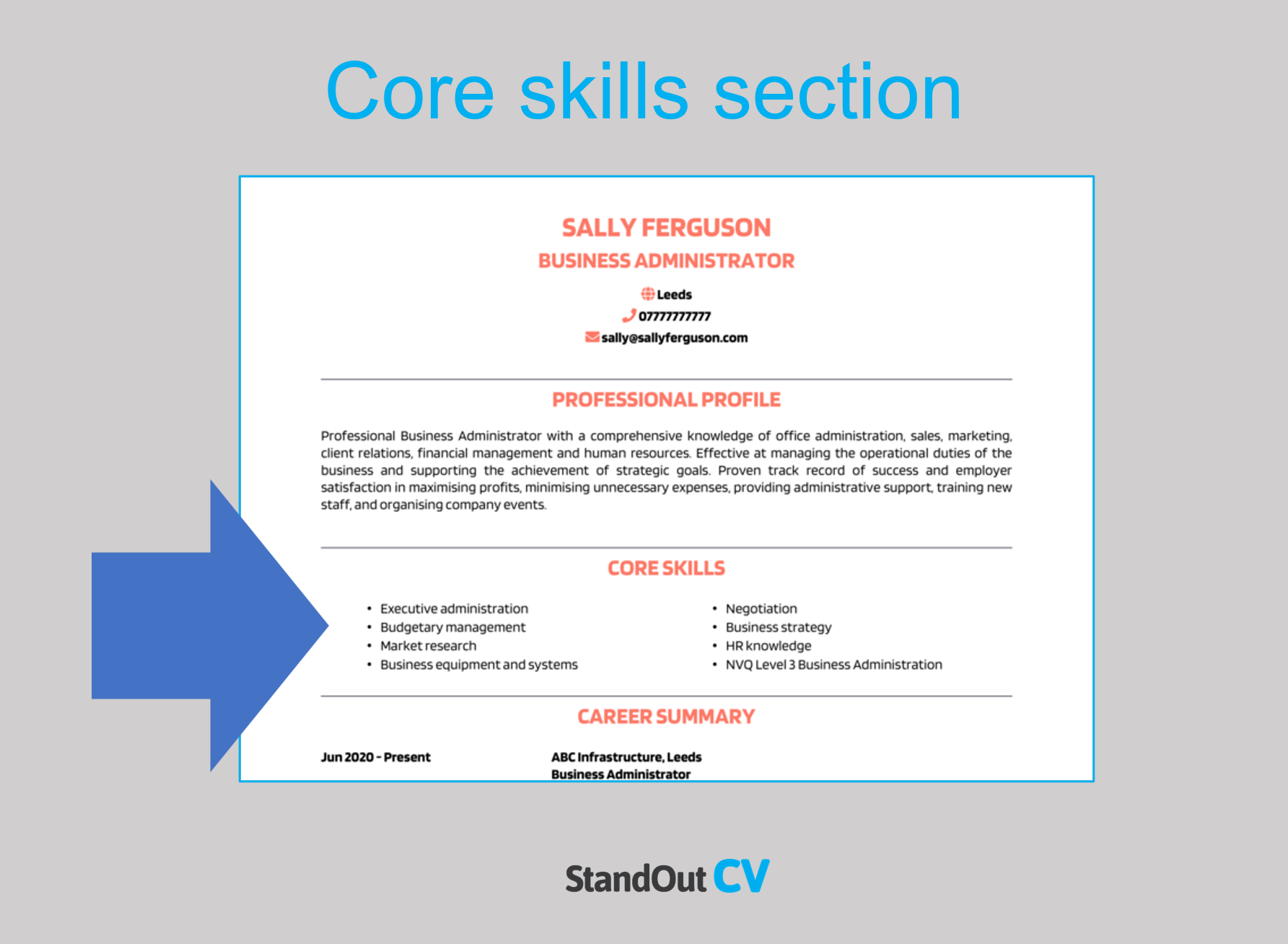 Best skills for your Director of Communications resume
Strategic communication planning – Developing and implementing strategic communication plans, including identifying target audiences and key messaging, to achieve organizational goals.
Media relations – Building relationships with media outlets, including print, broadcast, and digital media, to generate positive media coverage for the organization.
Crisis communication – Understanding crisis communication principles, including developing crisis communication plans and managing communication during a crisis, to minimize reputational damage and maintain stakeholder trust.
Writing and editing – Writing and editing a variety of communication materials, including press releases, speeches, social media posts, and internal communications, to ensure that messaging is clear, concise, and effective.
Digital communication – Utilizing knowledge of digital communication channels and platforms, including social media, email marketing, and website content management, to reach audiences effectively and efficiently.
Brand management – Managing brand identity and reputation, including developing brand guidelines and ensuring consistent messaging across all communication channels.
Public speaking – Utilizing strong public speaking skills to represent the organization in public settings, including speaking engagements, media interviews, and public meetings.
Event planning – Understanding event planning and execution, including managing logistics, creating agendas, and coordinating with stakeholders, to ensure successful events that support organizational goals.
Data analysis – Analyzing communication metrics and data, including website traffic, social media engagement, and email open rates, to measure the effectiveness of communication efforts and identify areas for improvement.
Team management – Managing a team of communication professionals, including setting performance goals, providing feedback and guidance, and ensuring that team members have the resources they need to succeed.
Quick tip: Our partner's Resume Builder contains thousands of in-demand skills for every profession that can be added to your resume in seconds – saving you time and greatly improving your chances of landing job interviews and getting hired.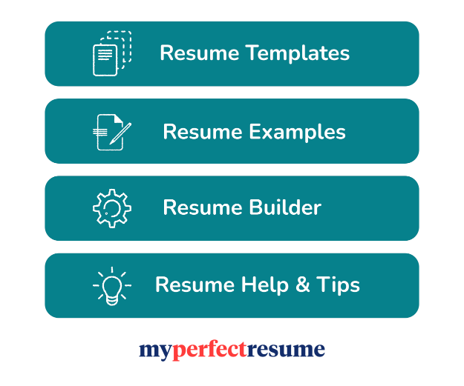 Work experience
So, you've got the recruiter interested with your catchy summary… Great work.
Now it's time to show them the impact you make in the workplace by listing out your previous jobs and what you achieved in each one.
If you have tons of experience, you can condense this part down to the last few years – if you are junior, then you should include as much possible (even volunteering and school work placements)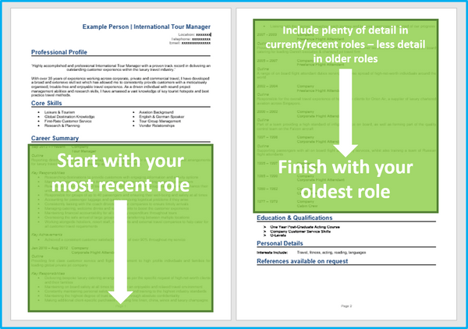 Structuring your jobs
Your job description probably includes tons of information, so it's vital to organize it well when writing about it on your resume.
Structure your jobs as like the example below to make skim-reading easy for recruiters and hiring managers.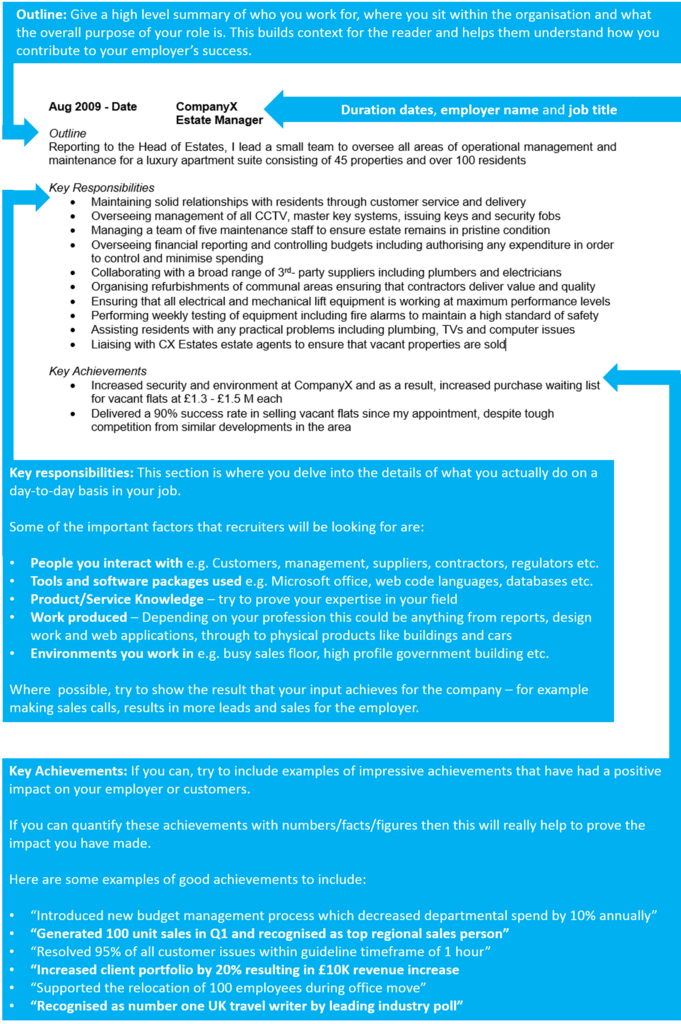 Job outline
Kick off each role with a high-level overview to summarize the focus of the job, what the organization/department does, and how you fit into the bigger picture.
Key responsibilities
Next, write up a punchy list of your daily duties and responsibilities, using short bullet points.
Describe how you apply your skills and contribute to the running of the employer's business – highlighting skills which are applicable to your target jobs.
Key achievements
Show employers the value you can bring to them by adding a few achievements to your jobs.
Whether you've saved the company money or improved an internal process, let recruiters know
Add some numbers to give readers a real scale of the impact, e.g. "reduced call wait time by 10%"
Example job for Director of Communications resume
Outline
Steer the execution of strategic communications plans to engage target audiences, for a Texas-based multi-issue organization that builds the political power and influence of Latinos in the United States' democracy.
Key Responsibilities
Collaborate with stakeholders to spearhead communications strategies that create interest, persuade audiences, share knowledge, and align with organizational priorities.
Oversee the development and execution of social media and web content, including analyzing analytics and identifying trends to build positive online Texas Latino communities.
Enable consistent messaging and branding through traditional marketing platforms.
Maximize Jolt's positive exposure by serving as the primary contact for media queries, building relationships with journalists, furnishing insights, assisting reporters with stories.
Quick tip: Create impressive job descriptions easily in our partner's Resume Builder by adding pre-written job phrases for every industry and career stage.

Education section
Towards the bottom of your resume, add your education section.
Here you should list your professional qualifications and academic record, such as high school diplomas or college degrees.
If you have lots of work experience, you can keep this section brief (because recruiters will be more interested in your career. If you have little/no experience then you should bulk this section up with plenty of detail.
Additional information
The additional info section is optional but can be useful if you have anything else to add that could benefit your application.
For example, you may have some hobbies and interests that are relevant to your job – or you might have awards or publications to shout about.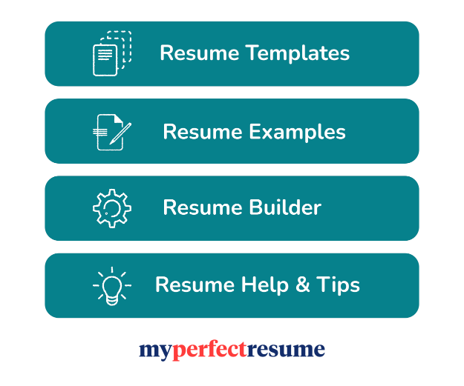 Writing your own winning Director of Communications resume
Crafting a strong Director of Communications resume can be a daunting task, but implementing the steps outlined above will significantly increase your chances of securing multiple interview opportunities.
Good luck with your job search!