When looking for a job in dermatology, it can feel like you need thick skin. But with a strong resume, you can increase your chances of beating the competition and being invited in for an interview.
As a medical assistant, you'll gain valuable industry experience, but first, you need to show you've got what it takes to help doctors and care for your patients.
To help you do this, we've created a detailed resume writing guide, along with a dermatology medical assistant resume example. You can check these out below.
Contents
| | |
| --- | --- |
| How to write a Dermatology Medical Assistant resume | |

Dermatology Medical Assistant Resume Example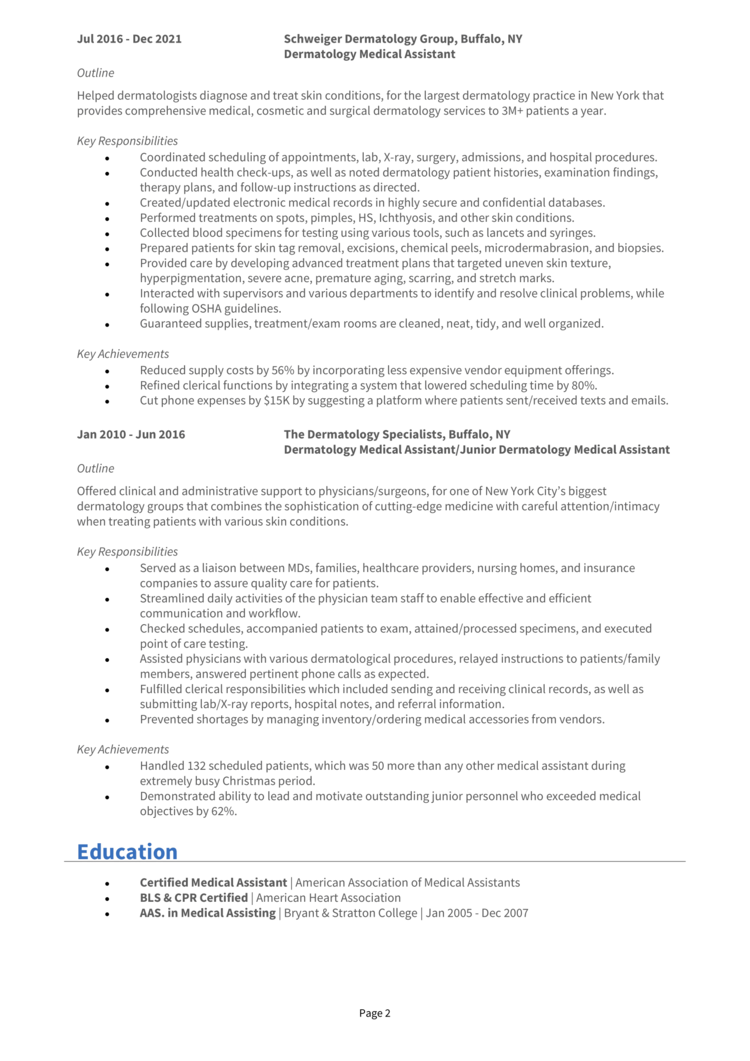 From the Dermatology Medical Assistant resume example above, you can see the kind of information your resume will need to include, and the layout you will need to create for an easy-reading experience.
The rest of this guide will show you how to apply this format to your own unique situation, and create a resume that will attract the best employers in your industry.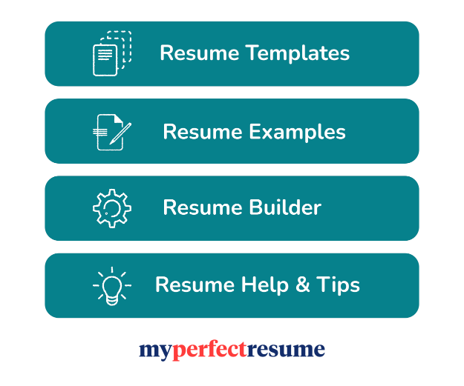 Dermatology Medical Assistant resume layout and formatting
Formatting is often overlooked when writing resume, but it's a crucial element of it"s success.
Creating a document that not only looks good, but is easily comprehended, is the key to gaining and holding the attention of busy hiring managers.
Use these formatting tips for best results.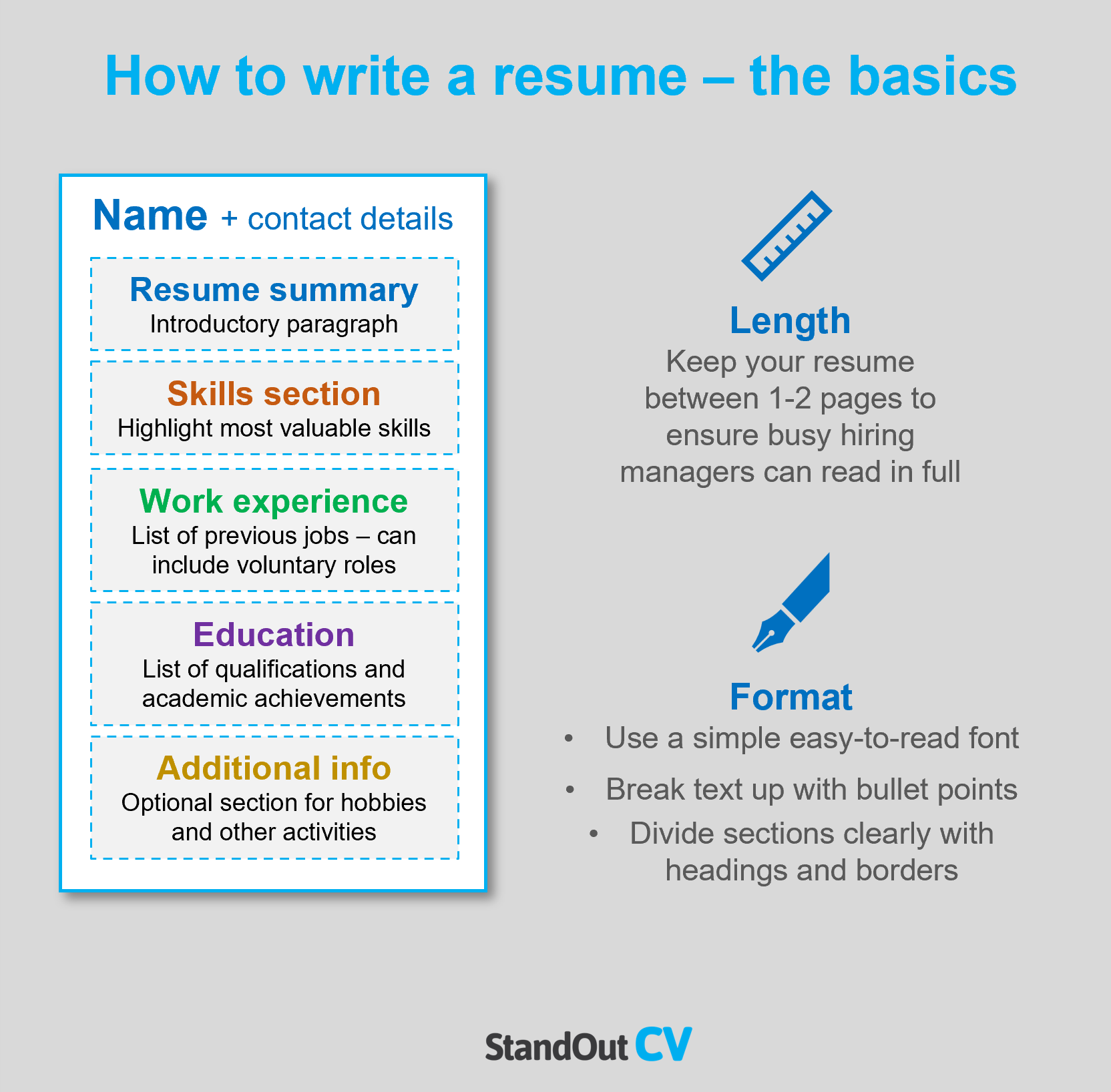 Formatting your resume
Length: As recruiters have a limited amount of time to review each resume they see, keep your resume to 2 pages or less to increase the chances of it being thoroughly reviewed.
Font & readability: Complex fonts are a readers' worst nightmare and will leave recruiters struggling to understand your message. Use a clear simple lean font in a color that stands out against the page, and break your text up with bullet points to make the content easily digestible.
Layout & Structure: A well-designed resume is not just visually pleasing, but it must also be functional. To achieve a functional design, use bold headings and borders to separate the content into clear sections.
Photos: Although it is not compulsory to include a photo in your resume in the USA, it can be advantageous if you are applying to companies in creative industries.
Quick tip: Achieving a professional look for your resume can be difficult and time-consuming. If you want to create an attractive resume quickly, try our partner's Resume Builder and use one of their eye-catching resume templates.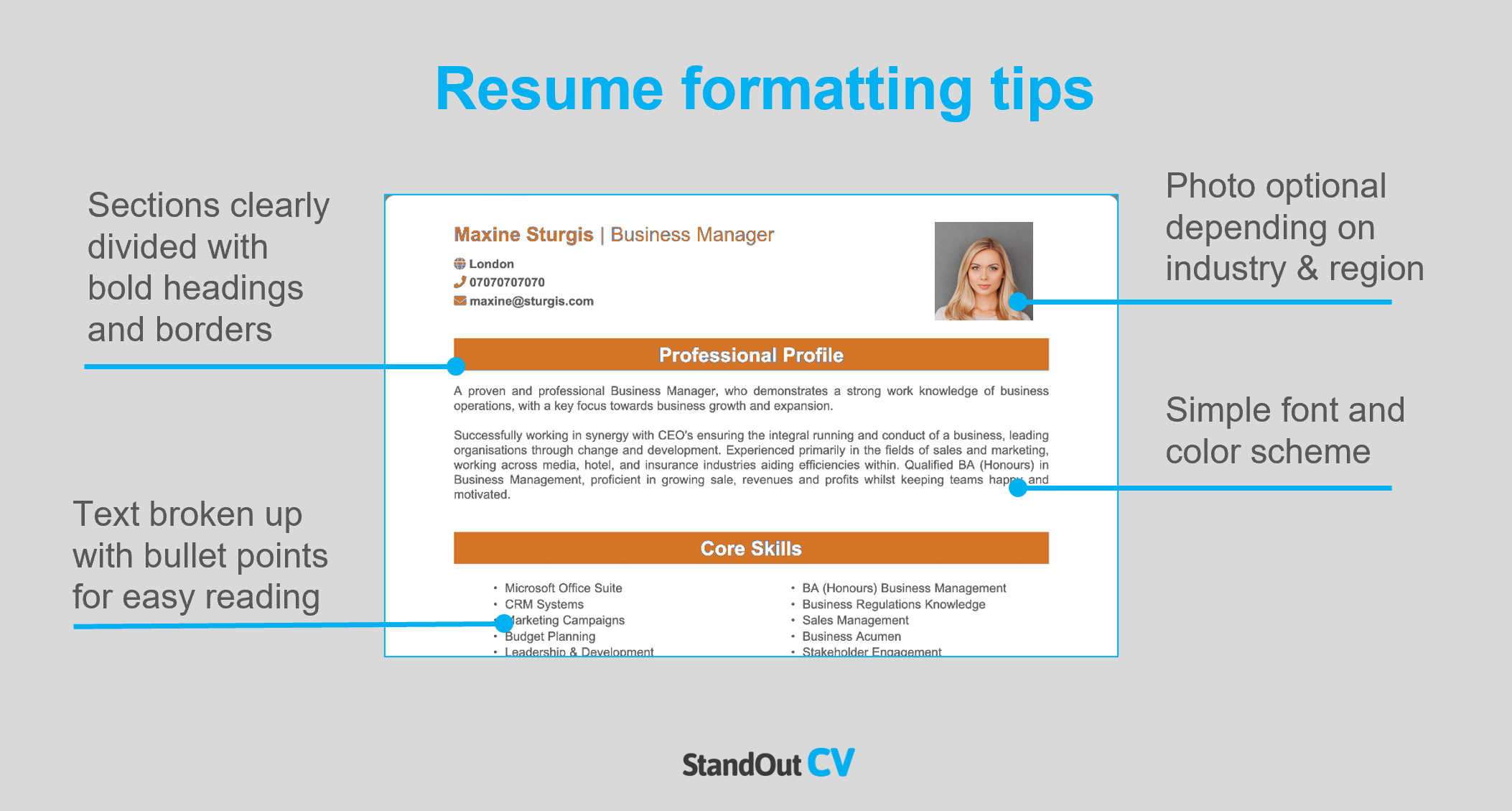 Resume layout
Here's an overview of the sections you should add when writing your resume.
Name and contact details – Stick these details at the top, so they are easy to find.
Resume summary – A punchy paragraph summarizing your skills and knowledge, enticing recruiters to read more of your resume.
Skills section – Short list of your most valuable skills, enabling recruiters to quickly spot your suitability.
Work experience – Showcase your previous employment, starting with your most recent roe and working backwards – voluntary work and college placements can be included if you have no paid experience.
Education – A summary of your most relevant qualifications and academic achievements
Additional info – An optional section for that other attributes that may boost your application, such as hobbies or clubs
Here's what to include in each part of your resume.
Contact Details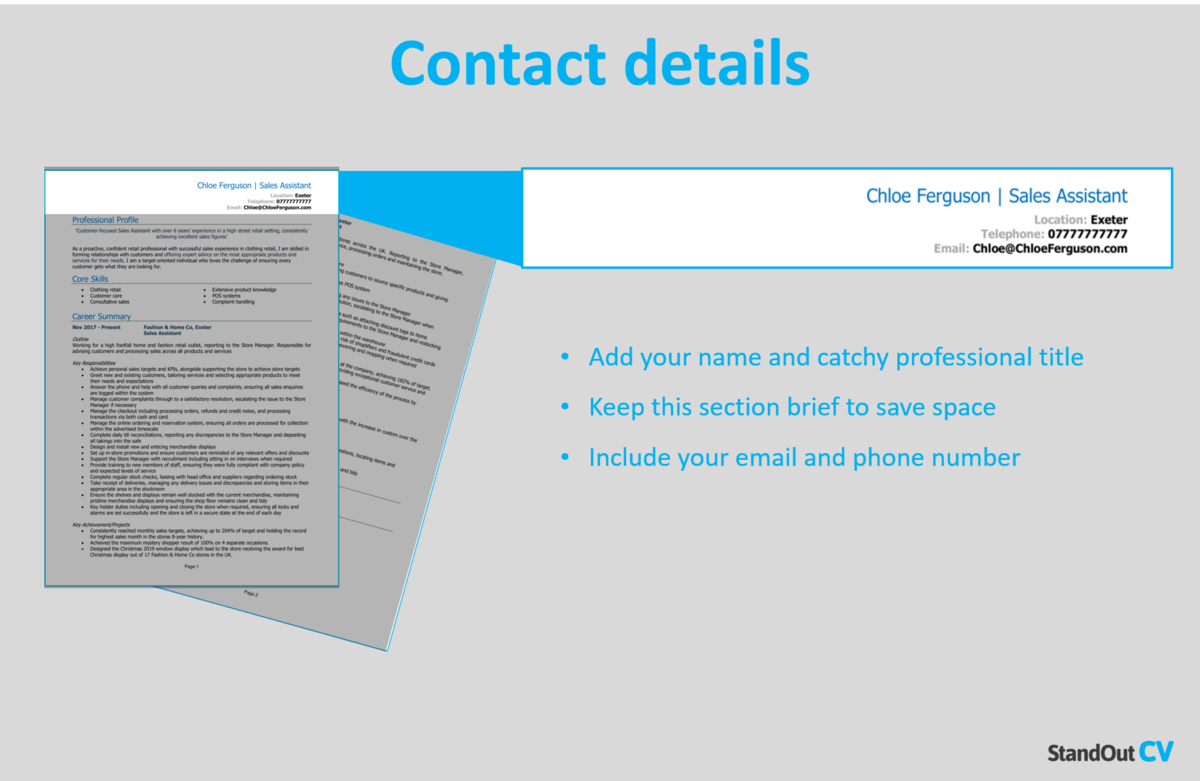 Keep your contact details short to save resume space and include the following.
Name and profession title
Cell phone number
Location – Add your local area such as Silicon Valley or New York, unless you are looking for work in a different location
Email address – Keep it professional and don't use an old address that you thought was cool in high school, but now looks a bit embarrassing.
You can add a link to your LinkedIn profile if you have one – you do not need to include personal details like date of birth or marital status.
Dermatology Medical Assistant Resume Summary
Make a strong first impression on recruiters by beginning your resume with a powerful summary that highlights your most valuable skills and experience.
This brief summary provides an opportunity to showcase why you're the ideal candidate for the job and persuade recruiters to read further into your resume.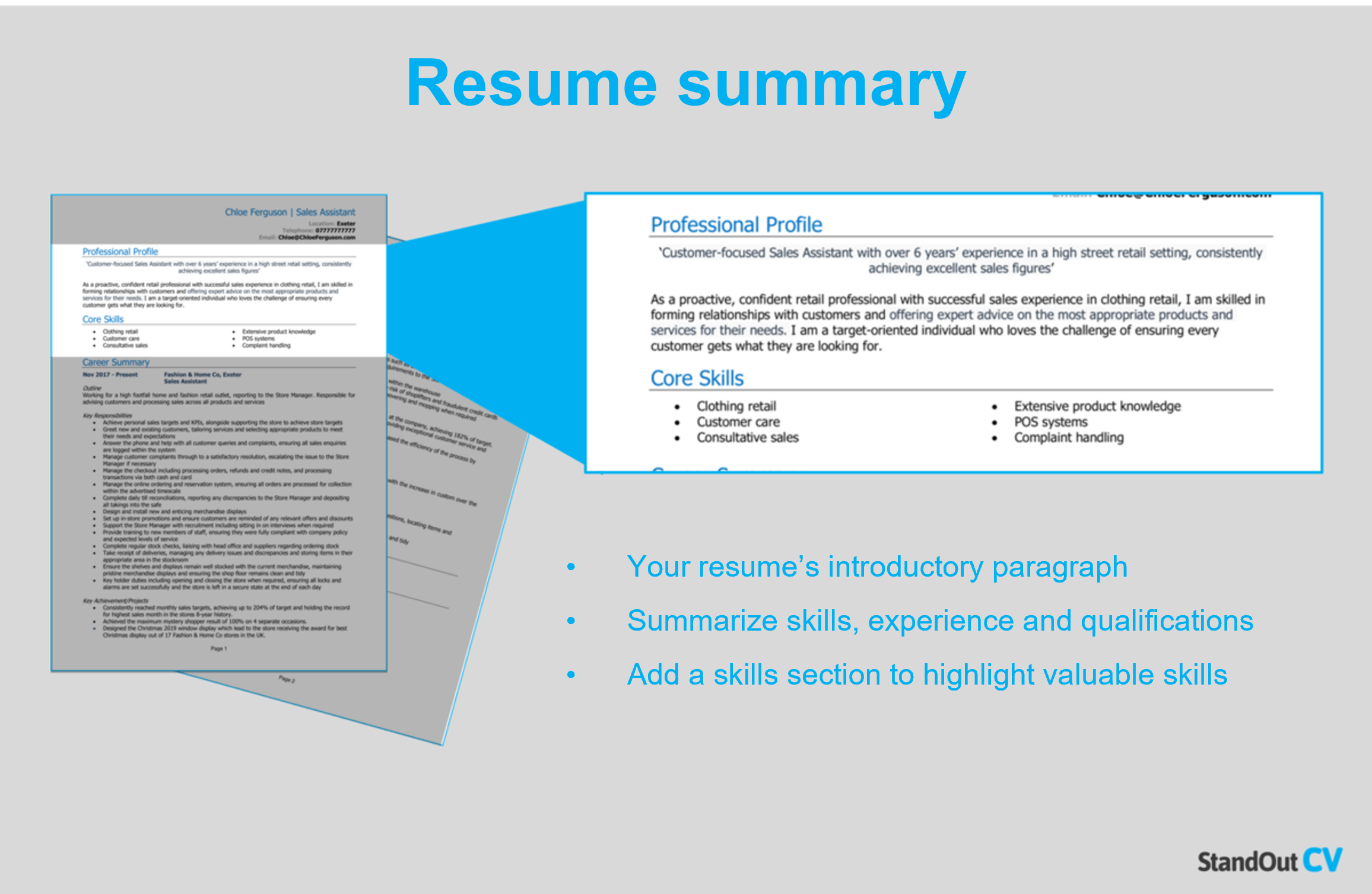 How to create a resume summary that will excite recruiters:
Keep it short: A concise and focused resume summary is essential for capturing a recruiter's attention and keeping them engaged. Limiting your summary to 4-7 lines ensures that you make a strong impression in the first few seconds of them opening the document.
Tailor to target jobs: To mirror your target jobs, scrutinize the job description and include as many relevant skills as possible in your resume.
Avoid using cliches: Recruiters always see cringey cliches like "hardworking guru who works well in a team or individually" – they don't mean much to anyone, so focus your summary on tangible skills and experience.
Dermatology Medical Assistant resume summary example
Empathetic Dermatology Medical Assistant with experience in performing clinical back office duties, including phlebotomy, obtaining vital signs, and recording medical histories. Adept at accompanying patients to exam rooms, preparing tissue samples for lab work, checking vital signs, and executing a wide variety of skincare treatments under supervision. Accustomed to multi-tasking and collaborating with physicians and nurses in highly regulated hospital settings.
What to include in your Dermatology Medical Assistant resume summary?
Summary of your experience: Summarize the type of work you have done in the past and the benefits you have delivered for the organizations you worked at.
Relevant skills: Instantly showcase your suitability for Dermatology Medical Assistant jobs by including your skills that are highly relevant to them.
Qualifications: To make a strong impression on potential employers when applying for Dermatology Medical Assistant jobs, be sure to mention any relevant qualifications in your summary.
Quick tip: Choose from hundreds of pre-written summaries across all industries, and add one to your resume with one-click in our partner's Resume Builder. All written by recruitment experts and easily tailored to suit your unique skillset and style.
Core skills section
Underneath your summary, write a core skills section to make your most relevant skills jump off the page at readers.
It should be made up of 2-3 columns of bullet points of your relevant skills.
Before you do this, look over the job description and make a list of any specific skills, specialisms or knowledge required.
Then, make sure to use your findings in your list. This will paint you as the perfect match for the role.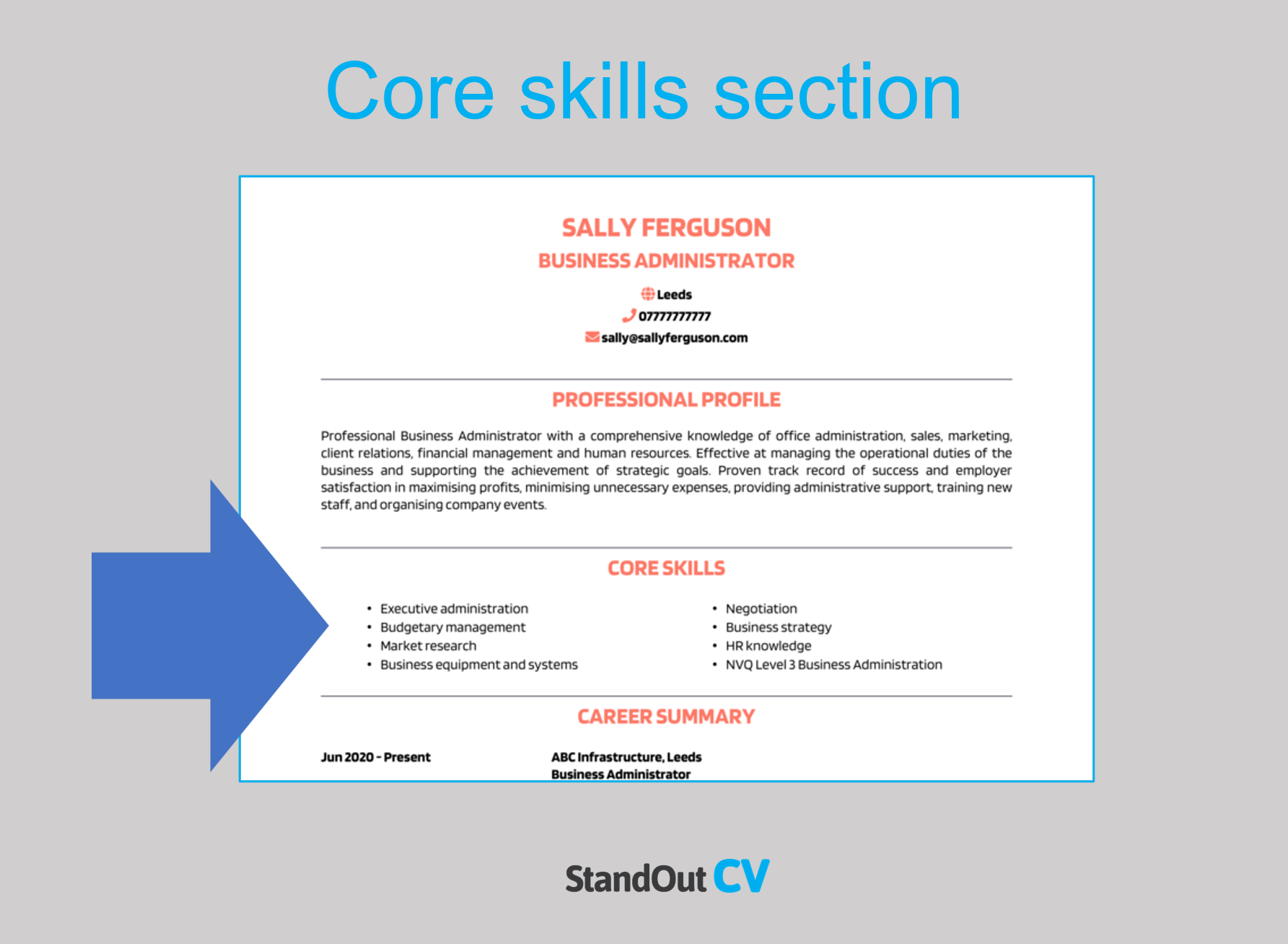 Best skills for your Dermatology Medical Assistant resume
Patient care – Providing patient care, including taking vital signs, preparing patients for examination, and educating patients on treatment plans.
Electronic health records – Managing electronic health records, including recording patient information, updating medical histories, and entering diagnostic codes.
Clinical procedures – Understanding clinical procedures, including wound care, suture removal, and dressing changes, to assist with patient care.
Laboratory procedures – Performing laboratory procedures, including blood draws, skin biopsies, and fungal cultures, to assist with patient diagnosis and treatment.
Sterilization techniques – Utilizing knowledge of sterilization techniques, including cleaning and sterilizing equipment, to maintain a clean and sterile environment.
Patient communication – Utilizing strong communication skills to interact effectively with patients, including explaining treatments, answering questions, and providing education on self-care.
Medical terminology – Using medical terminology, including dermatology-specific terminology, to communicate effectively with physicians and other medical professionals.
Inventory management – Managing inventory, including ordering and stocking medical supplies and medications, to ensure that the clinic is well-stocked and prepared.
Regulatory compliance – Maintaining a detailed understanding of regulatory compliance requirements, including industry-specific regulations and laws, to ensure that the clinic is compliant with all applicable laws and regulations.
Medical billing and coding – Utilizing knowledge of medical billing and coding procedures, including insurance claims processing and patient billing, to assist with billing and reimbursement processes.
Quick tip: Our partner's Resume Builder contains thousands of in-demand skills for every profession that can be added to your resume in seconds – saving you time and greatly improving your chances of landing job interviews and getting hired.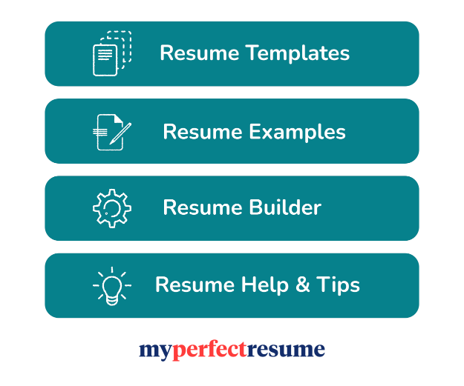 Work experience
So, you've grabbed the recruiters' attention with your summary, now it's time to show them what you're really capable of in your work experience section.
List your previous jobs from current to oldest, showing off the impact you made at each organization.
If you have tons of experience, you should just list the most recent an relevant jobs – but if you have little or no experience, add it all and even consider putting in voluntary work.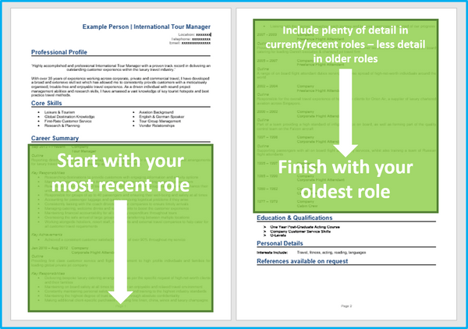 Structuring your jobs
You probably do a lot in your job, so its vital to break all of that information down into a good structure.
Structure your jobs as follows to make it easy for recruiters to skim through and pinpoint the essential info.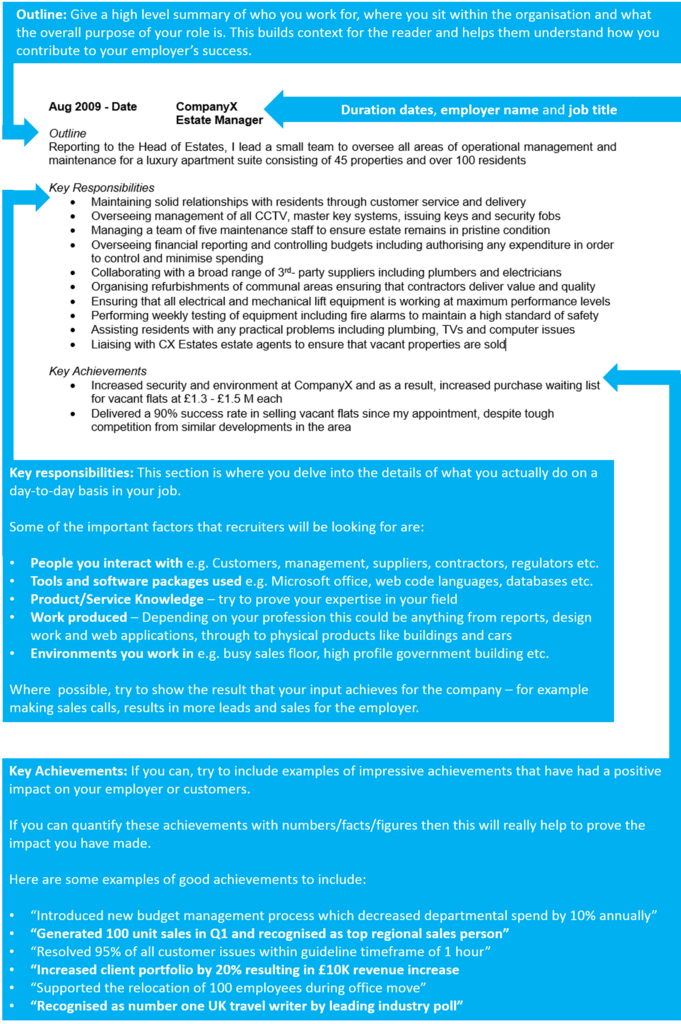 Job outline
Starting each job with a brief summary of the organization, your position within it, and the primary goal of your role can help recruiters quickly understand the context of your work.
Key responsibilities
Then delve into the detail of your job by listing out easy-to-read bullet points which show how you apply your skills in the workplace.
Tailor these bullet points to focus on the skills and knowledge that are required in the jobs you are applying for.
Key achievements
Round off each job by adding some impressive achievements you made in the role.
Anything you've done that has made a big impact on your employer will make a good impression, think; generating revenue, saving costs, or improving a product.
Quantify your achievements with number where possible e.g. "reduced call wait time by 10%"
Example job for Dermatology Medical Assistant resume
Outline
Perform clerical duties and aid with dermatology procedures, for the primary healthcare provider for 35K residents that provides top rated surgical, orthopedic, oncology, infusion, diagnostic imaging, and skincare treatment services.
Key Responsibilities
Ensure patients remain comfortable by explaining various procedures, such as skin biopsies, cryosurgery, photodynamic therapies, conservative excision, and mole/tattoo removal.
Acquire medical histories and record health statuses and any previous conditions they previously had.
Obtain hair, nails, and tissue samples for testing, and clean patients' skin with antiseptic solutions.
Apply local anesthetics under supervision, prior to administering laser treatments, injections, fillers, Botox, and medications.
Quick tip: Create impressive job descriptions easily in our partner's Resume Builder by adding pre-written job phrases for every industry and career stage.

Education section
After your work experience, add your education section.
If you are an experienced professional, you can keep this part short – adding basic details of each qualification.
If you have little or no experience, bulk this section up by adding more detail and highlight important skills and knowledge for your target jobs.
Additional information
The bottom of your resume is a place to add any "additional info"
Any other info that didn't fall into any of the previous sections can be added here.
If you have hobbies that are related to your profession or any awards or publications – add them here.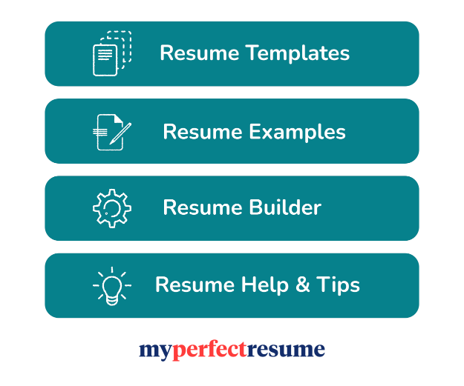 Writing your own winning Dermatology Medical Assistant resume
Writing a Dermatology Medical Assistant resume can be challenging but following the steps above will ensure that you land plenty of interviews.
Good luck with your job search!