You can use your data and analytical skills to predict future product demand, but can you predict what the recruiter wants to see on your resume?
If the answer is no, then you've come to the right place. In our step-by-step guide, we'll teach you how to write a standout application.
You can also make use of our demand planner resume example to give you real examples of what a great application might look like.
Contents
| | |
| --- | --- |
| How to write a Demand Planner resume | |

Demand Planner Resume Example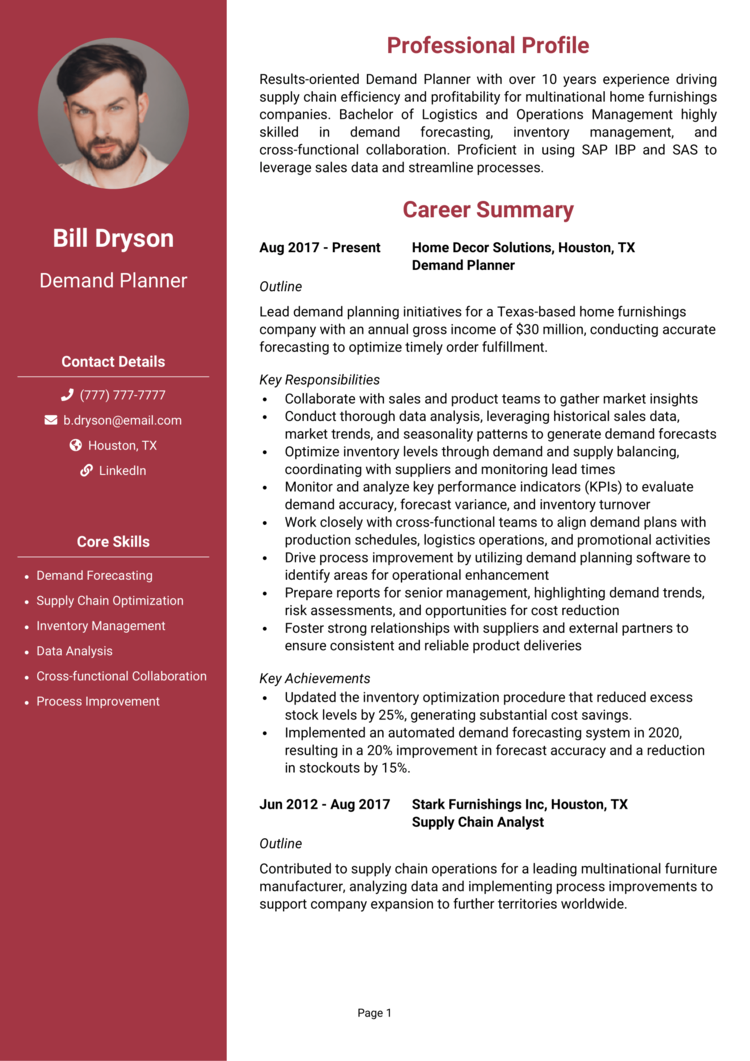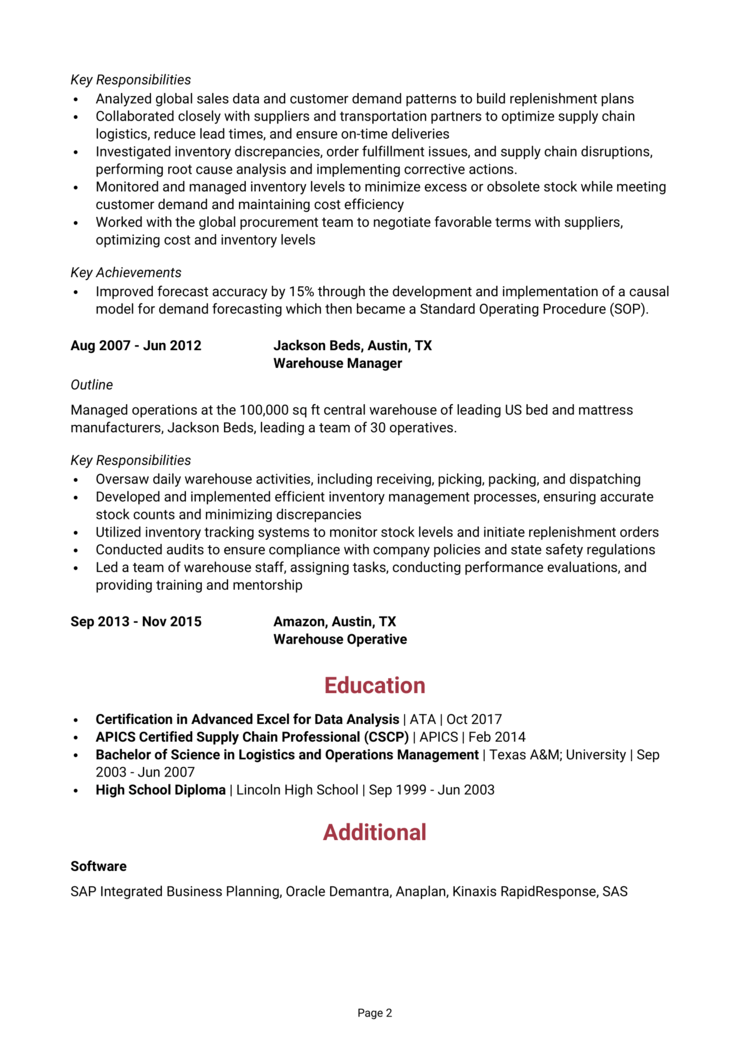 This example Demand Planner resume provides you with a general idea of how your resume should look, and what information recruiters expect to see.
The rest of this guide will explain how to layout your resume and create each section effectively.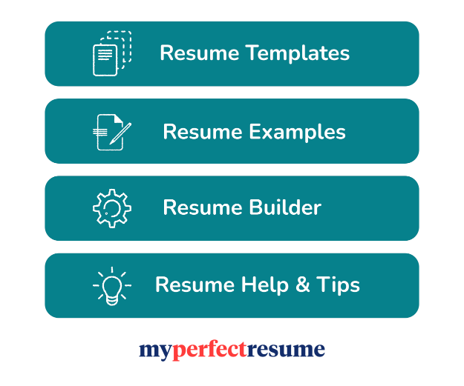 Demand Planner resume layout and format
When it comes to holding the attention of recruiting managers, the format and layout of your resume play a key role.
Your resume needs to strike a perfect balance between looking awesome, and being easy for recruiters to read (which is not always easy to achieve)
Use the following formatting tips to get started.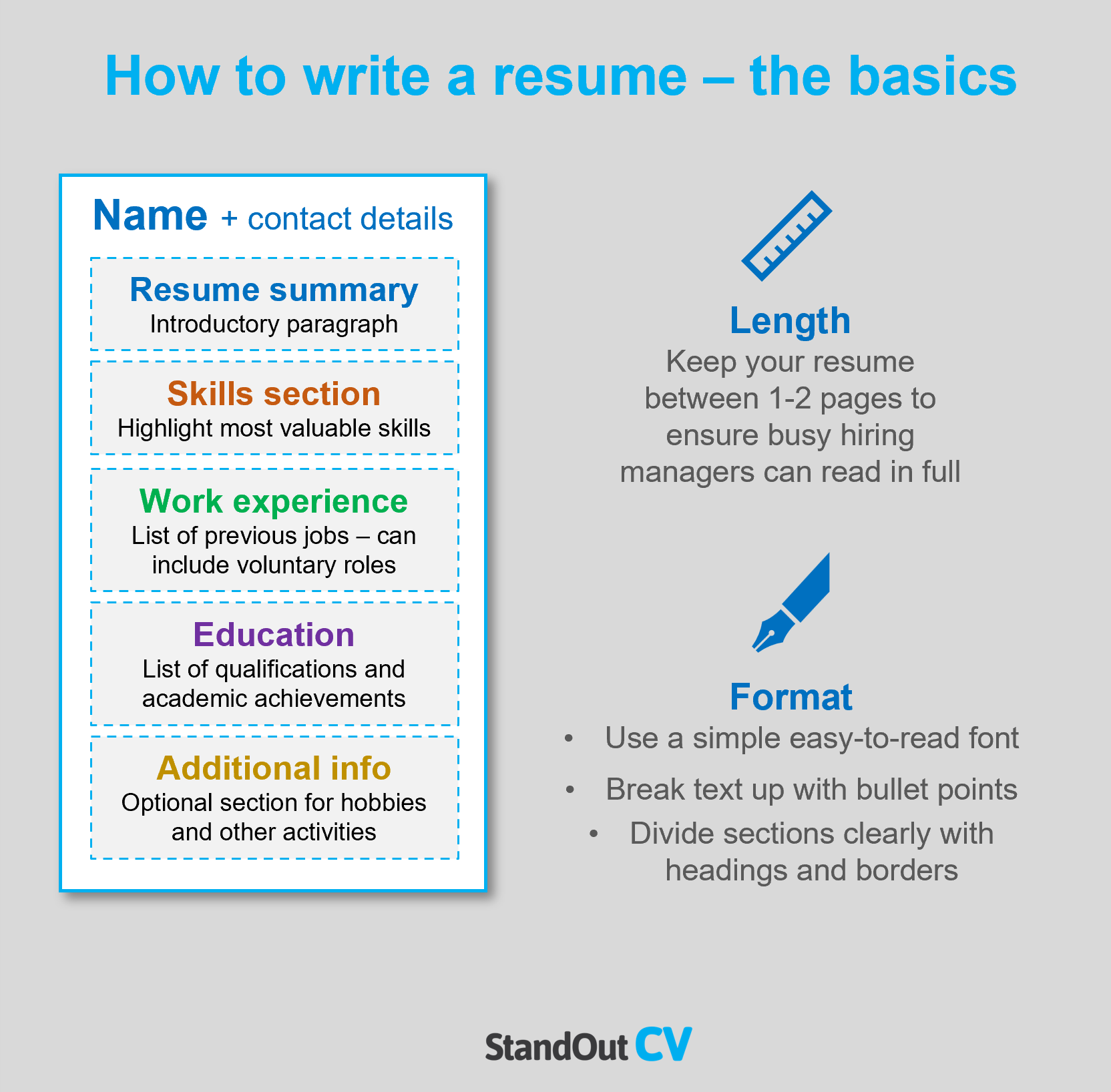 Formatting your resume
Length: As recruiters have a limited amount of time to review each resume they see, keep your resume to 2 pages or less to increase the chances of it being thoroughly reviewed.
Font & readability: The key to a good resume is readability. To make your resume easy to read, use a clear and uncomplicated font, and break up the text with bullet points and short paragraphs.
Layout & Structure: Your resume should look appealing – but don't overlook functionality when it comes to design. Organise the page into clear sections using bold headings and borders.
Photos: Although it's not mandatory to include a photo on your resume in the United States, it may be a good idea to do so in certain regions and industries where it is preferred.
Quick tip: Achieving a professional look for your resume can be difficult and time-consuming. If you want to create an attractive resume quickly, try our partner's Resume Builder and use one of their eye-catching resume templates.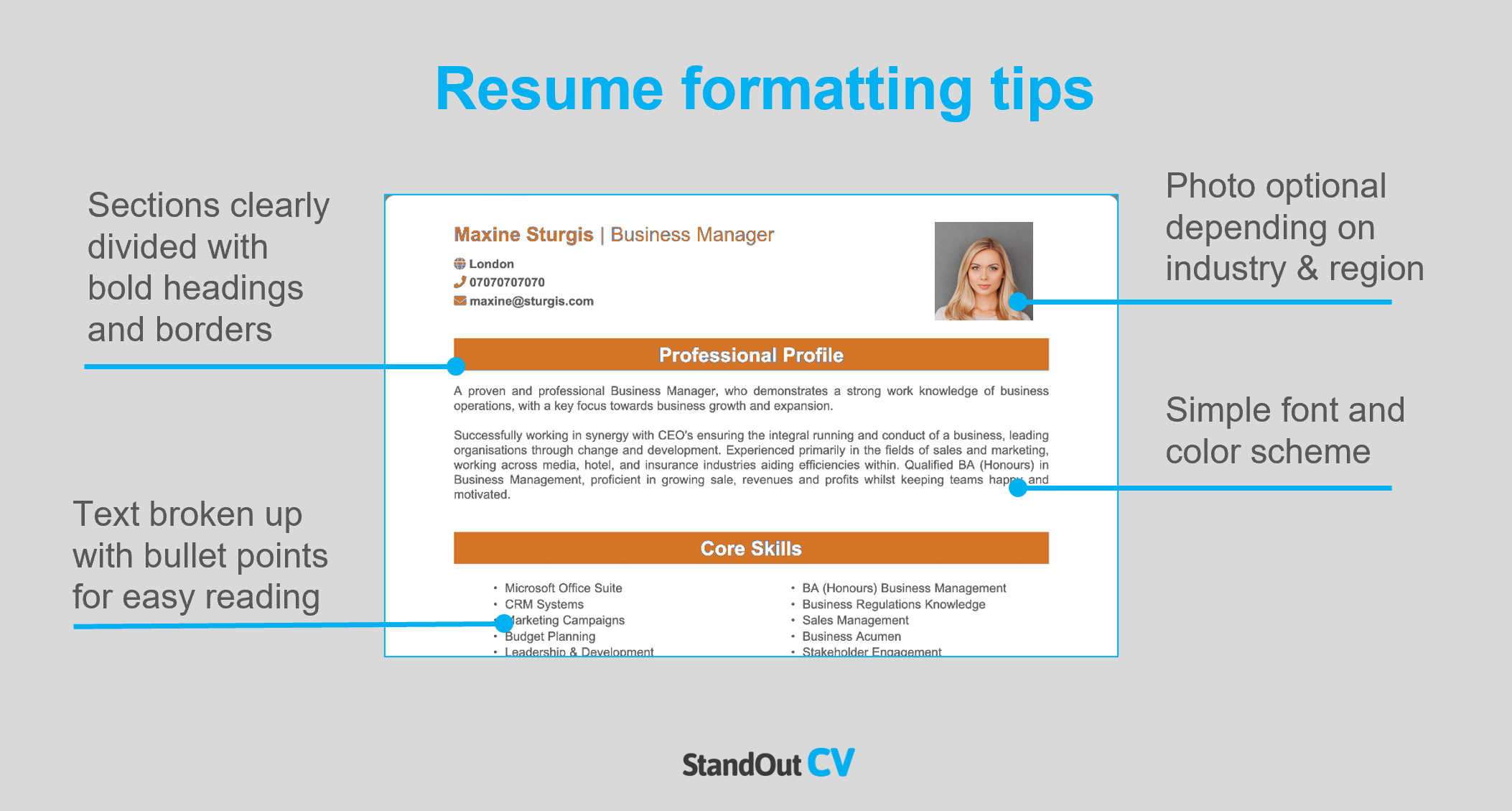 Resume layout
Add the following sections when you write your resume.
Name and contact details – Add to the very top of your resume to introduce yourself and make it super-easy for recruiters to get in touch.
Resume summary – Reel hiring managers in with an "elevator pitch" style paragraph which sums up your suitability for the job.
Skills section – A short and sharp list of your most important skills, that can be quickly skim-read.
Work experience – List your previous jobs (from newest to oldest) detailing the skills learnt and applied in each.
Education – List your qualifications and professional training.
Additional info – If it helps your application, you can add an extra section for things like hobbies and interests.
Here's what to include in each part of your resume.
Contact Details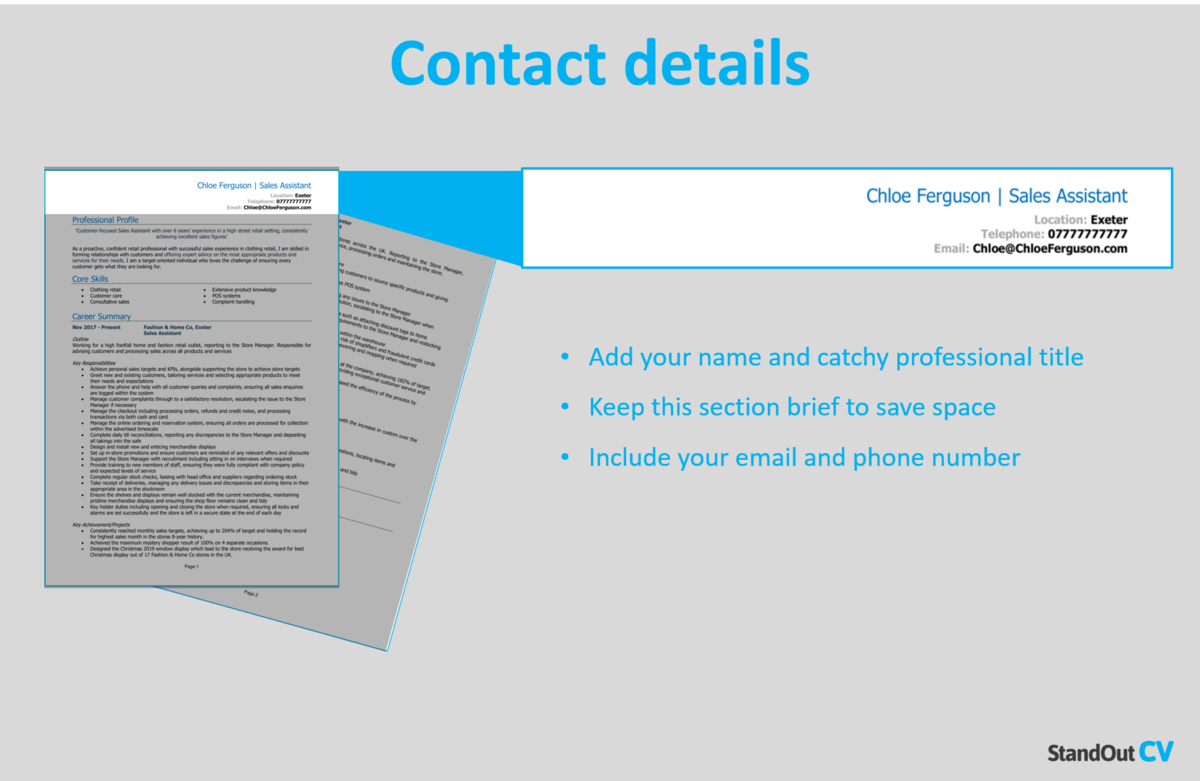 Add your name and contact details to the header of your resume, so that anybody reading can easily see how to contact you.
Name and profession title
Cell phone number – or any number you are easily reachable on
Location – Add your local area such as Washington or San Diego – not your full address as that will take up too much space.
Email address – Use a professional looking address.
You can add a link to your LinkedIn profile if you have one – you do not need to include personal details like date of birth or religion.
Demand Planner Resume Summary
Make a strong first impression on recruiters by beginning your resume with a powerful summary that highlights your most valuable skills and experience.
This brief summary provides an opportunity to showcase why you're the ideal candidate for the job and persuade recruiters to read further into your resume.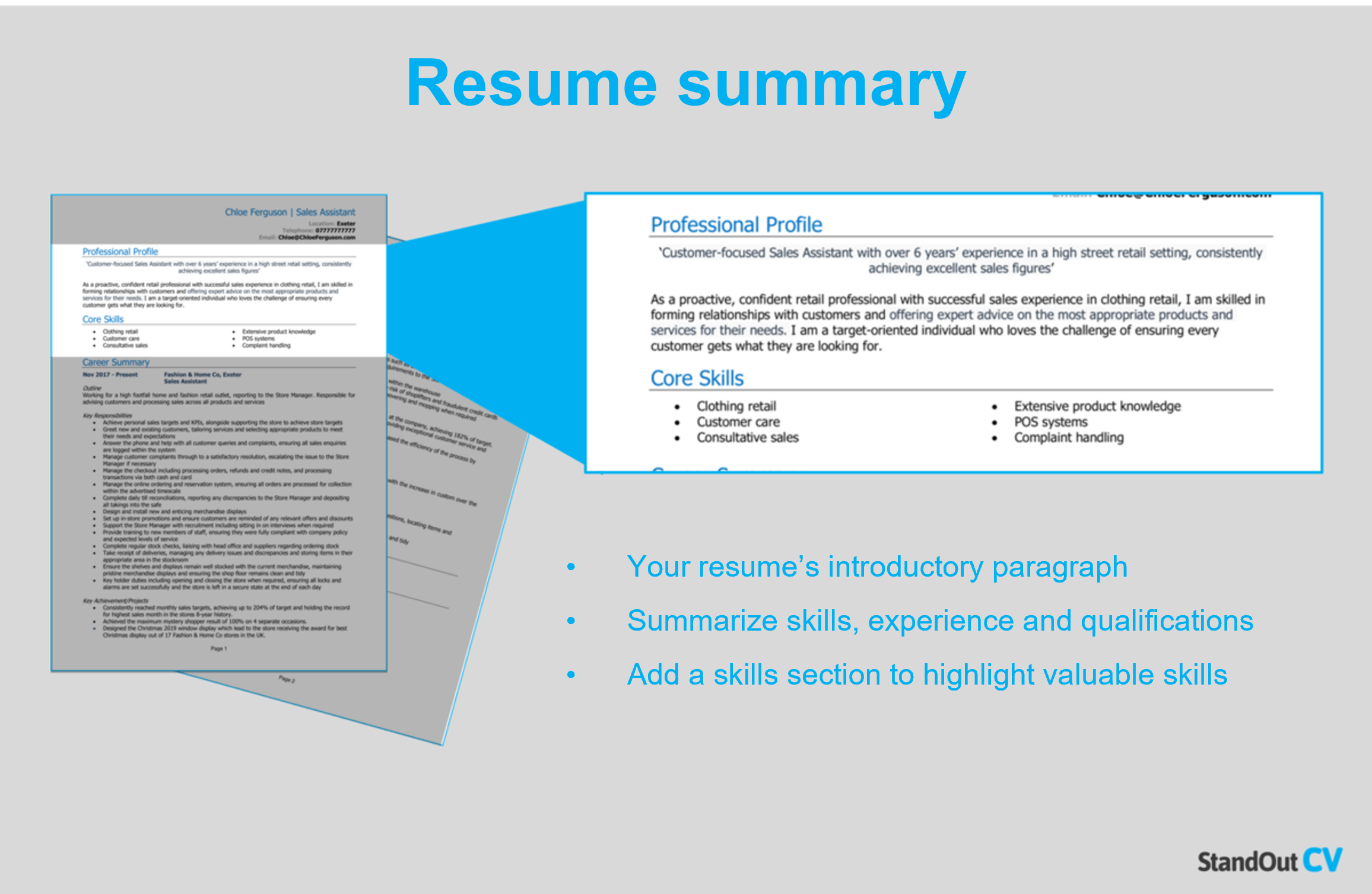 How to create a resume summary that will excite recruiters:
Keep it short: To capture a recruiter's attention and keep them interested in your resume, limit your summary to 4-7 lines as you only have a few seconds to make an impression
Tailor to target jobs: To better align your resume with your target jobs, it's important to scrutinize the job description and identify as many relevant skills as possible to include in your resume.
Avoid using cliches: You may be a "team player who always give 110%" but generic phrases don't tell employers much about you in reality – stick to factual information.
Demand Planner resume summary example
Results-oriented Demand Planner with over 10 years' experience driving supply chain efficiency and profitability for multinational home furnishings companies. Bachelor of Logistics and Operations Management highly skilled in demand forecasting, inventory management, and cross-functional collaboration. Proficient in using SAP IBP and SAS to leverage sales data and streamline processes.
What to include in your Demand Planner resume summary?
Summary of your experience: Summarize the type of work you have done in the past and the ways in which you have contributed to the success of your previous employers.
Relevant skills: Include your skills which are hyper relevant to Demand Planner jobs to instantly show your suitability.
Qualifications: If your job requires any qualifications such as a professional course or a college degree, mention it briefly in your summary.
Quick tip: Choose from hundreds of pre-written summaries across all industries, and add one to your resume with one-click in our partner's Resume Builder. All written by recruitment experts and easily tailored to suit your unique skillset and style.
Core skills section
Next, you should create a bullet pointed list of your core skills, formatted into 2-3 columns.
Here, you should focus on including the most important skills or knowledge listed in the job advertisement.
This will instantly prove that you're an ideal candidate, even if a recruiter only has time to briefly scan your resume.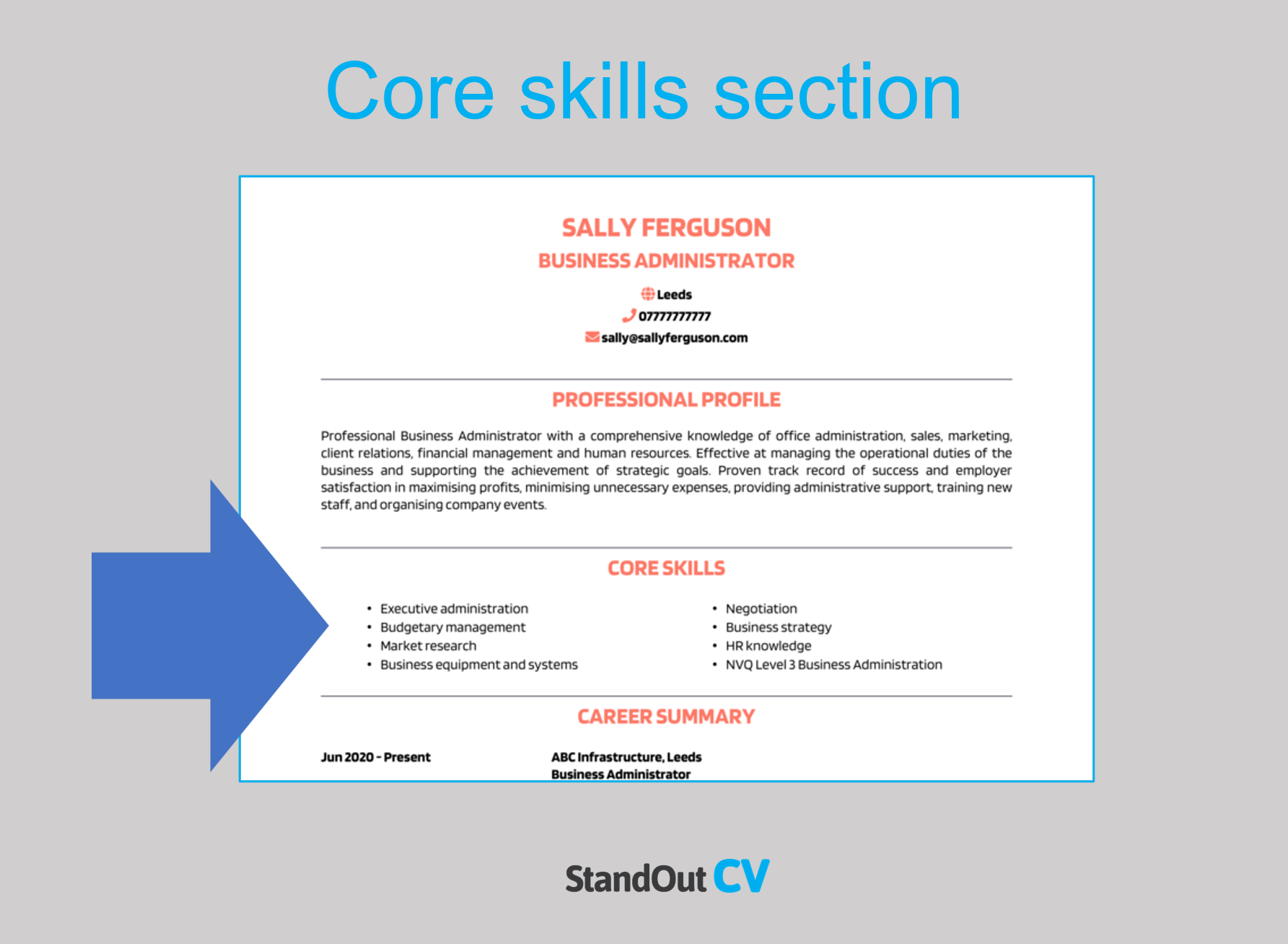 Best skills for your Demand Planner resume
Demand Forecasting – Analyzing historical data, market trends, and other factors to forecast future demand for products or services.
Inventory Management – Managing inventory levels to optimize stock availability while minimizing carrying costs and stockouts.
Data Analysis – Analyzing and interpreting large datasets to identify patterns, trends, and insights related to demand and supply.
Supply Chain Knowledge – Utilizing knowledge of supply chain processes, including procurement, production, and distribution, to effectively coordinate demand planning activities.
Statistical Modeling – Utilizing knowledge of statistical techniques and tools to develop accurate demand forecasts and assess forecast accuracy.
Cross-functional Collaboration – Collaborating with cross-functional teams, including sales, marketing, and operations, to gather input and align on demand planning activities.
Advanced Excel – Utilizing Excel functions, formulas, and data manipulation techniques to support demand planning analysis and reporting.
ERP Systems – Utilizing enterprise resource planning (ERP) systems, such as SAP, Oracle, or Microsoft Dynamics, to manage demand planning data and processes.
Demand Sensing – Utilizing demand sensing techniques and technologies to capture real-time demand signals and improve demand forecasting accuracy.
Risk Management – Assessing and mitigating potential risks that may impact demand, such as market volatility, supply chain disruptions, or changing customer preferences.
Quick tip: Our partner's Resume Builder contains thousands of in-demand skills for every profession that can be added to your resume in seconds – saving you time and greatly improving your chances of landing job interviews and getting hired.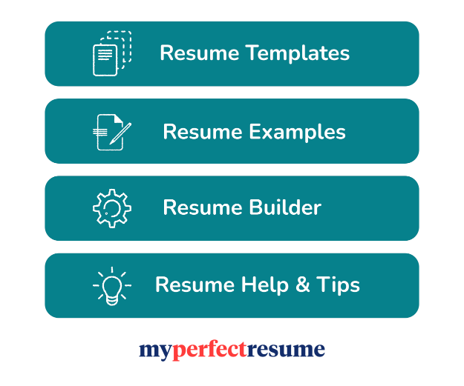 Work experience
Once you've hooked the hiring manager with your summary, you can really blow them away with you work experience.
List your previous jobs from newest to oldest to show the impact you made at each organization.
If you have years of experience, you can leave out some of the older jobs, and if you have little/no experience, you can bulk this section up with voluntary work and college placements.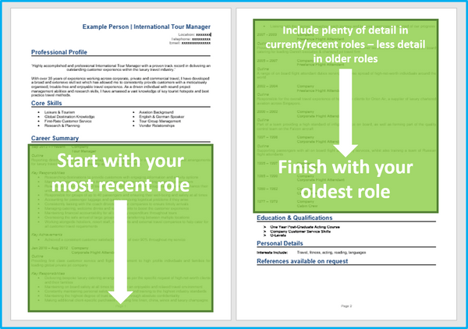 Structuring your jobs
Resume job descriptions contain lots of information, so its crucial to structure them well.
Use the structure below to ensure hiring managers can consume the information easily.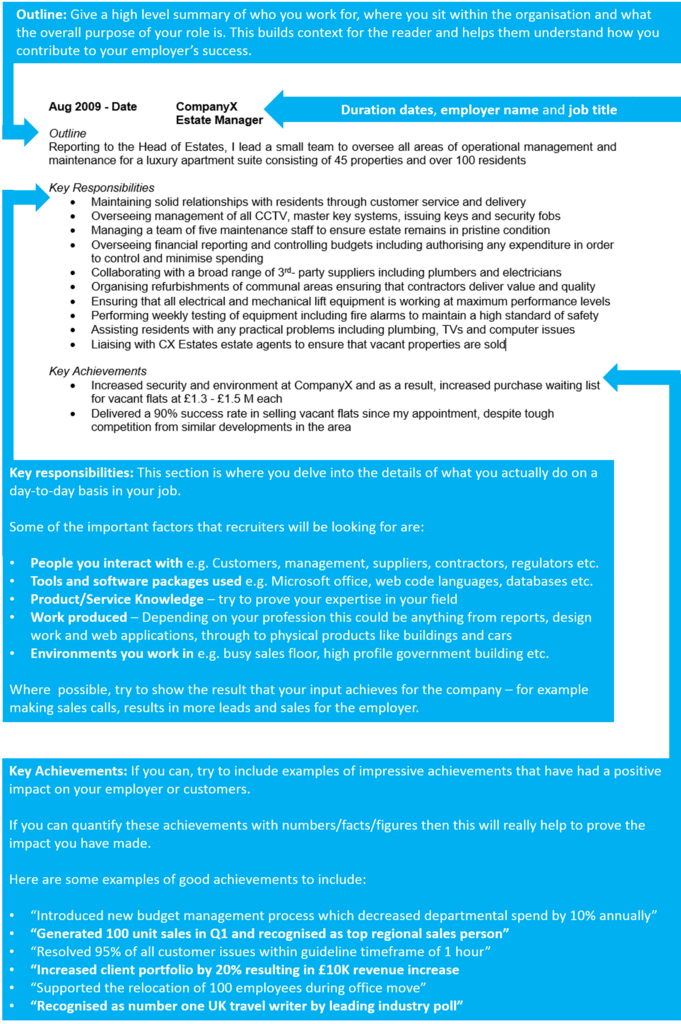 Job outline
Kick off each role with a high-level overview to summarize the focus of the job, what the organization/department does, and how you fit into the bigger picture.
Key responsibilities
Then delve into the detail of your job by listing out easy-to-read bullet points which show how you apply your skills in the workplace.
Tailor these bullet points to focus on the skills and knowledge that are required in the jobs you are applying for.
Key achievements
Finish each role by highlighting some impressive achievements you made whilst in the role.
Anything that benefited the employer can be included from making financial savings, to winning new customers.
Quantify your achievements with facts and figures if you can, e.g. "reduced call wait time by 10%"
Example job for Demand Planner resume
Outline
Lead demand planning initiatives for a Texas-based home furnishings company with an annual gross income of $30 million, conducting accurate forecasting to optimize timely order fulfilment.
Key Responsibilities
Collaborate with sales and product teams to gather market insights
Conduct thorough data analysis, leveraging historical sales data, market trends, and seasonality patterns to generate demand forecasts
Optimize inventory levels through demand and supply balancing, coordinating with suppliers and monitoring lead times
Monitor and analyze key performance indicators (KPIs) to evaluate demand accuracy, forecast variance, and inventory turnover
Quick tip: Create impressive job descriptions easily in our partner's Resume Builder by adding pre-written job phrases for every industry and career stage.

Education section
After your work experience, add your education section.
If you are an experienced professional, you can keep this part short – adding basic details of each qualification.
If you have little or no experience, bulk this section up by adding more detail and highlight important skills and knowledge for your target jobs.
Additional information
At the end of your resume, you can add any extra information that might be relevant to the jobs you are applying for.
This could be hobbies, interests, publications, clubs or memberships.
This section is optional and doesn't need to be added if you have nothing more relevant to add.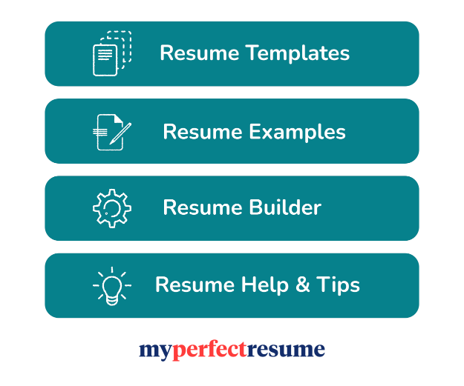 Writing your own winning Demand Planner resume
Writing a Demand Planner resume can be challenging but following the steps above will ensure that you land plenty of interviews.
Good luck with your job search!