Are you ready for a change of pace in your career?
If you're hoping to land a dance instructor role this year, it's time to jazz up your resume.
To help you effectively showcase your dance skills and qualifications, make the most of our top tips and dance instructor resume example below.
Guide contents
| | |
| --- | --- |
| How to write a Dance Instructor resume | |

Dance Instructor Resume Example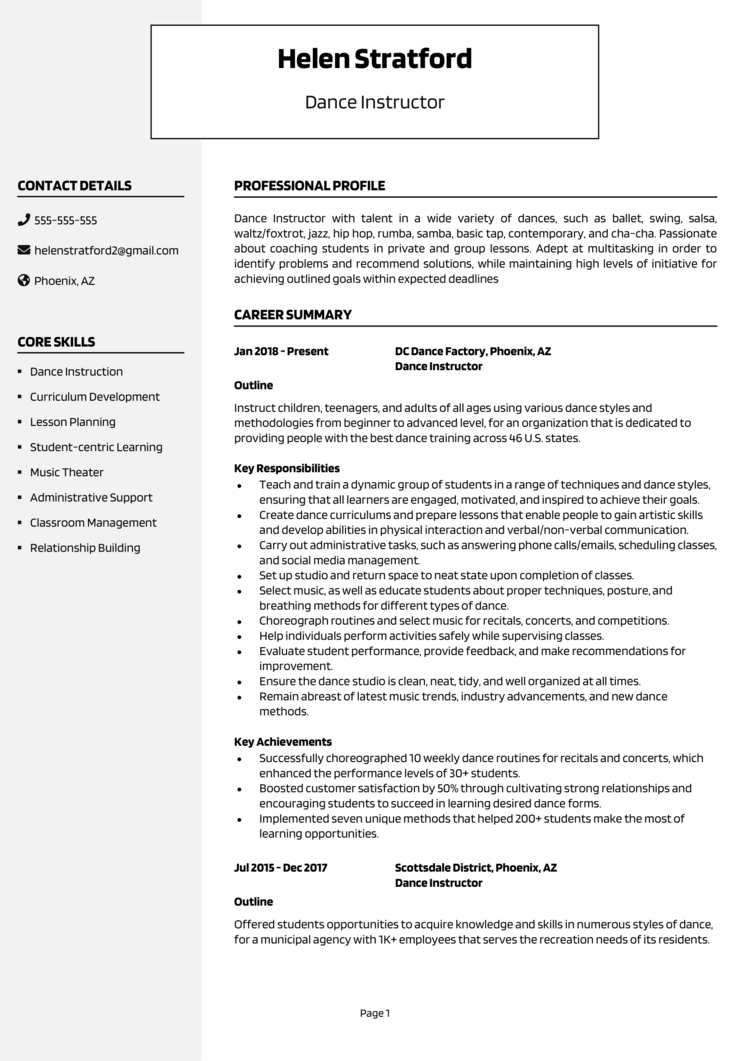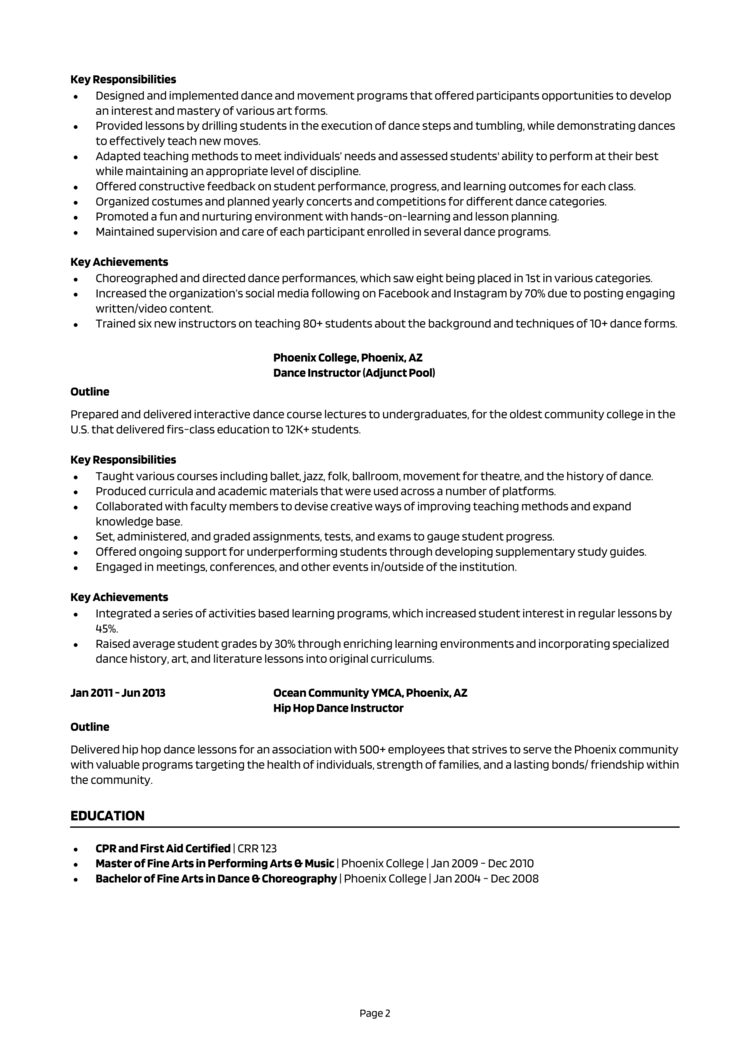 From the Dance Instructor resume example above, you can see the kind of information your resume will need to include, and the layout you will need to create for an easy-reading experience.
The rest of this guide will show you how to apply this format to your own unique situation, and create a resume that will attract the best employers in your industry.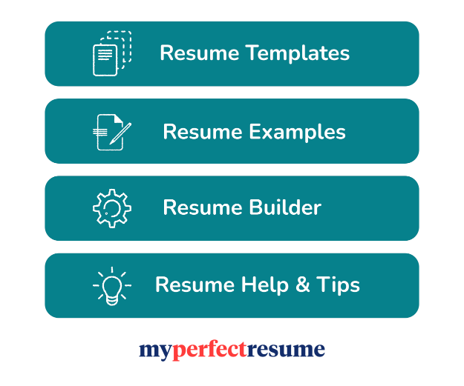 Dance Instructor resume layout and formatting
Your resume layout and format will play a big role in helping hiring managers to take notice of your resume and stay glued to it.
Shoot for a simple yet professional look to ensure you make a strong first impression, and organize the page in a way that is easy for readers to digest the information.
The following formatting tips should help.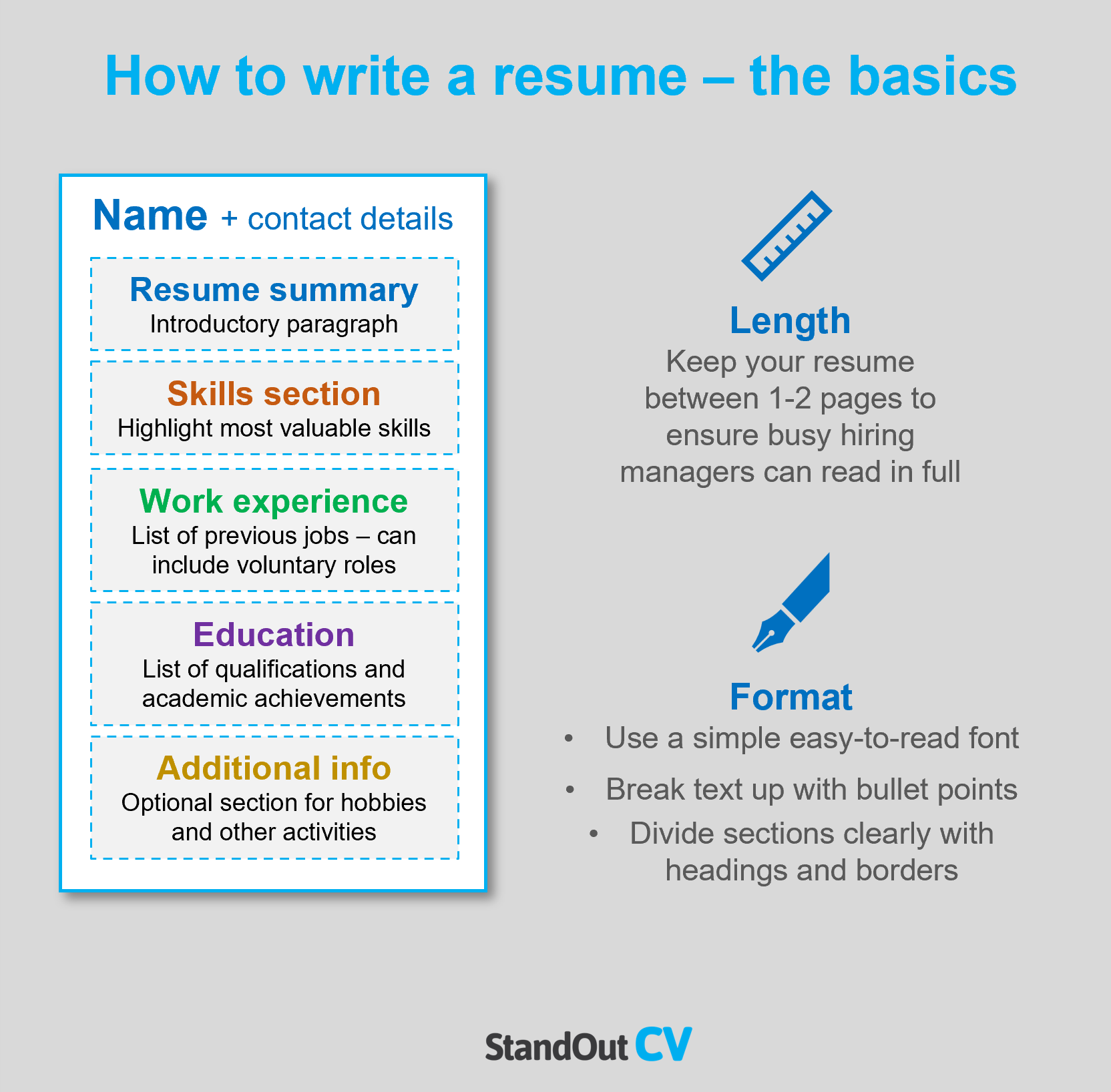 How to format your resume
Length: Think that submitting a 10 page resume will impress recruiters? Unfortunately it won't… Even if you've got tons of experience to brag about, recruiters don't have time to read essays, so keep it brief – around 2 pages is the sweet spot.
Font & text: Simplicity and a pleasant reading experience are crucial if you want to highlight your most valuable skills to recruiters. Use a clear font (avoid fancy ones) and break up the text in your resume with bullet points to ensure information can be easily consumed.
Design & layout: Go with a resume design that looks good, but also allows for easy reading and navigation for employers. Ensure the page is clearly split up into sections by adding large font headings and dividing borders. Keep the color scheme simple and don't overcrowd the page.
Photos: It's not mandatory to add a photo to your resume in the USA but it if you're applying to organizations within the creative fields, it can be beneficial.
Quick tip: Achieving a professional look for your resume can be difficult and time-consuming. If you want to create an attractive resume quickly, try our partner's Resume Builder and use one of their eye-catching resume templates.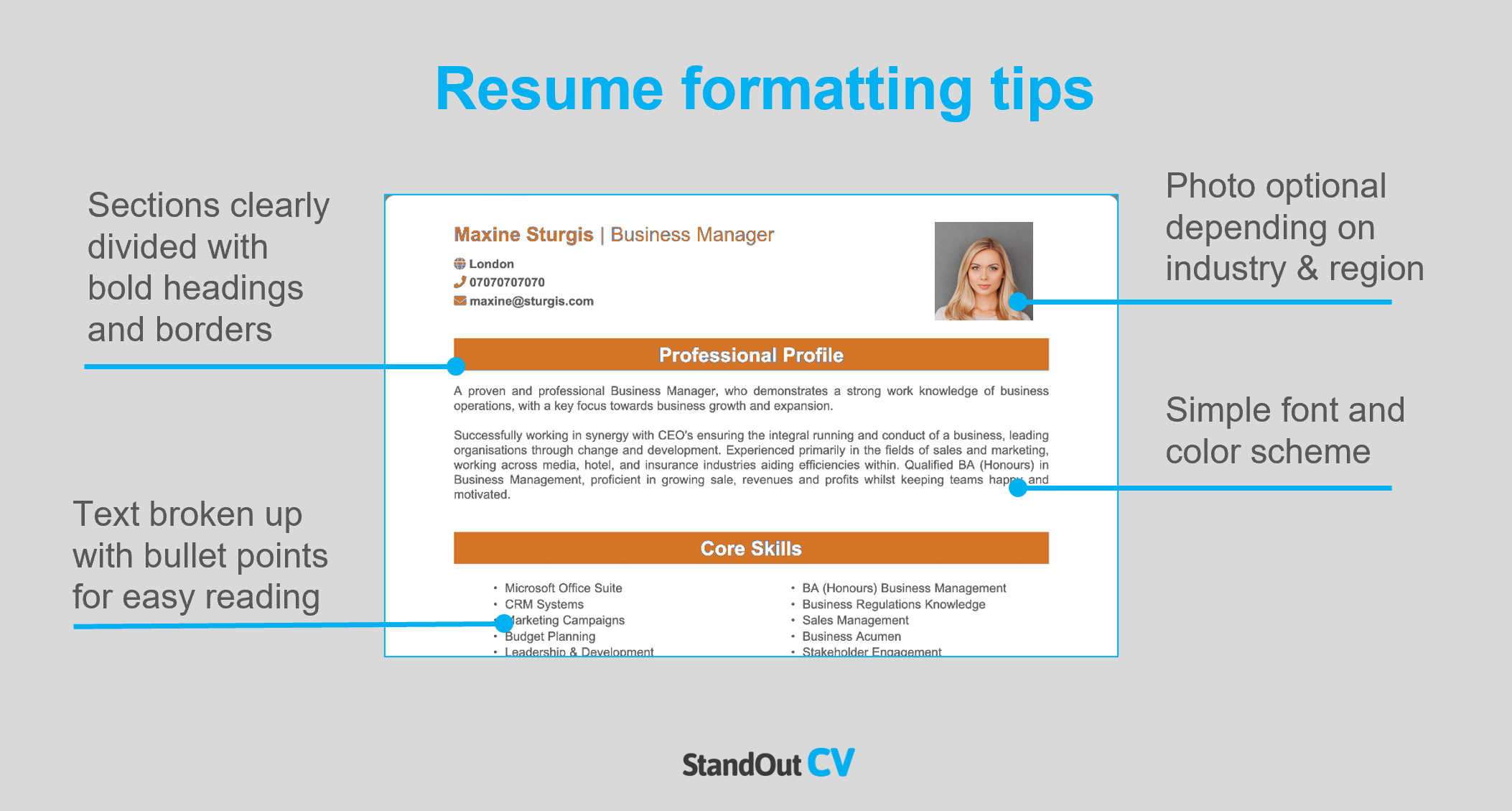 Resume layout
When you write your resume, include the sections below.
Name and contact details – Pop these at the very top to ensure recruiters know how to contact you.
Resume summary – An eye-catching paragraph which summarizes your most valuable attributes – placed near the top of your resume
Skills section – A bullet pointed list of your most in-demand skills, enabling recruiters to see your suitability from a glance.
Work experience – List some or all of your previous jobs in reverse chronological order – voluntary work and college placements can be included if you have no paid experience.
Education – A summary of your professional training and academic qualifications.
Additional info – An optional section for anything that may boost your application, such as relevant hobbies and interests
Here's what you should include in each section of your resume.
Resume Contact Details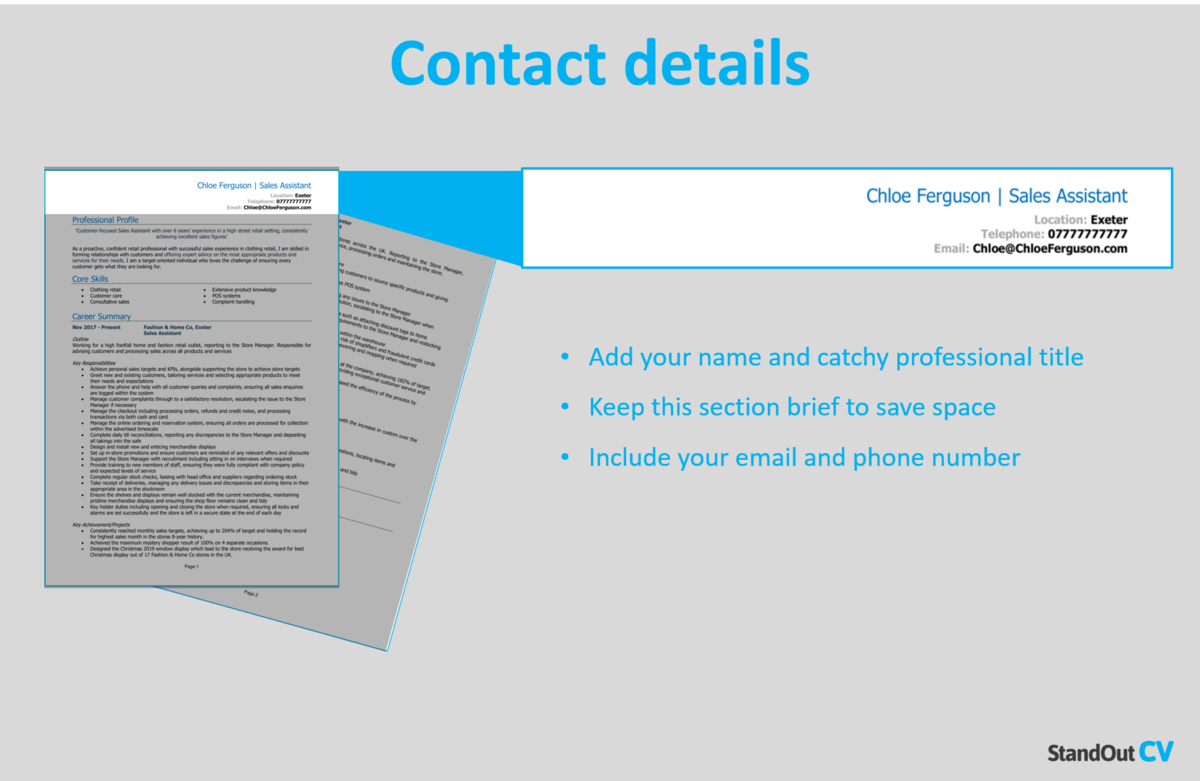 Keep your contact details short to save resume space and include the following.
Name and profession title
Cell phone number
Location – Add your local area such as Silicon Valley or New York, unless you are looking for work in a different location
Email address – Keep it professional and don't use an old address that you thought was cool in high school, but now looks a bit embarrassing.
You can add a link to your LinkedIn profile if you have one – you do not need to include personal details like date of birth or marital status.
Dance Instructor Resume Summary
Your resume summary is like an elevator pitch. It's your chance to sell yourself to employers within a short space of time.
Achieve this by summarizing your skills and expertise, whilst highlighting your abilities that closely match the jobs you are aiming for.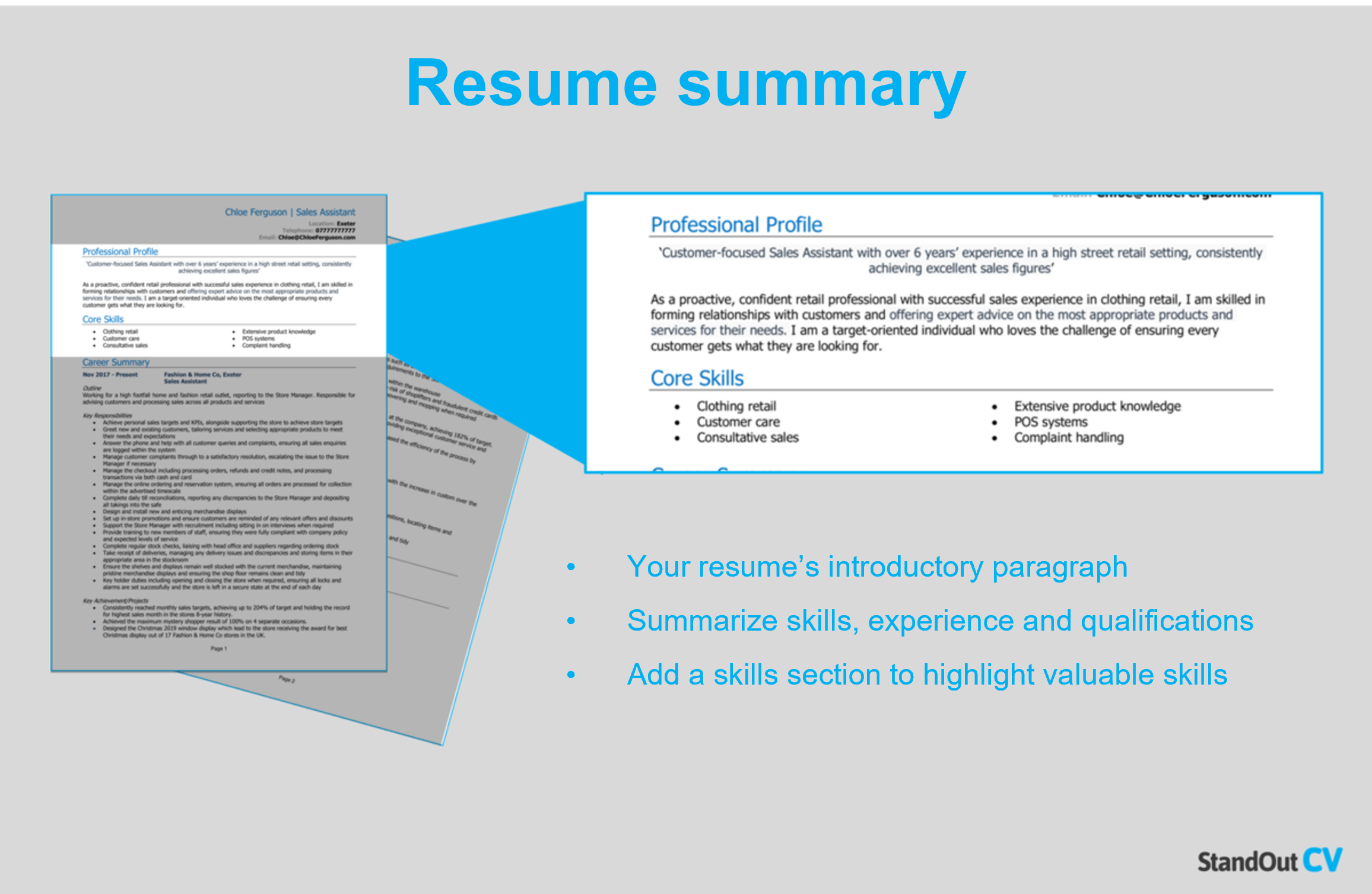 3 tips for creating a resume summary that will get noticed:
Keep it concise: You only have a few seconds to grab a recruiters' attention and make them commit to your resume, so keep your summary between 4 – 7 lines.
Tailor to target jobs: Ensure your profile makes an impact by matching it closely to the requirements of the job description, copying as many key terms as possible.
Don't use cliches: You may be a "team player who always give 110%" but generic phrases don't tell employers much about you in reality – stick to factual information.
Example resume summary for Dance Instructor
Dance Instructor with talent in a wide variety of dances, such as ballet, swing, salsa, waltz/foxtrot, jazz, hip hop, rumba, samba, basic tap, contemporary, and cha-cha. Passionate about coaching students in private and group lessons. Adept at multitasking to identify problems and recommend solutions, while maintaining high levels of initiative for achieving outlined goals within expected deadlines.
What info to include in your Dance Instructor resume summary?
Summary of experience: What kind of companies have you worked for in the past? And which jobs have you carried out?
Relevant skills: Skills that are highly relevant to Dance Instructor work should be made prominent throughout your summary.
Vital qualifications: If your job requires any qualifications such as a professional course or a college degree, mention it briefly in your summary.
Quick tip: Choose from hundreds of pre-written summaries across all industries, and add one to your resume with one-click in our partner's Resume Builder. All written by recruitment experts and easily tailored to suit your unique skillset and style.
Core skills section
Next, you should create a bullet pointed list of your core skills, formatted into 2-3 columns.
Here, you should focus on including the most important skills or knowledge listed in the job advertisement.
This will instantly prove that you're an ideal candidate, even if a recruiter only has time to briefly scan your resume.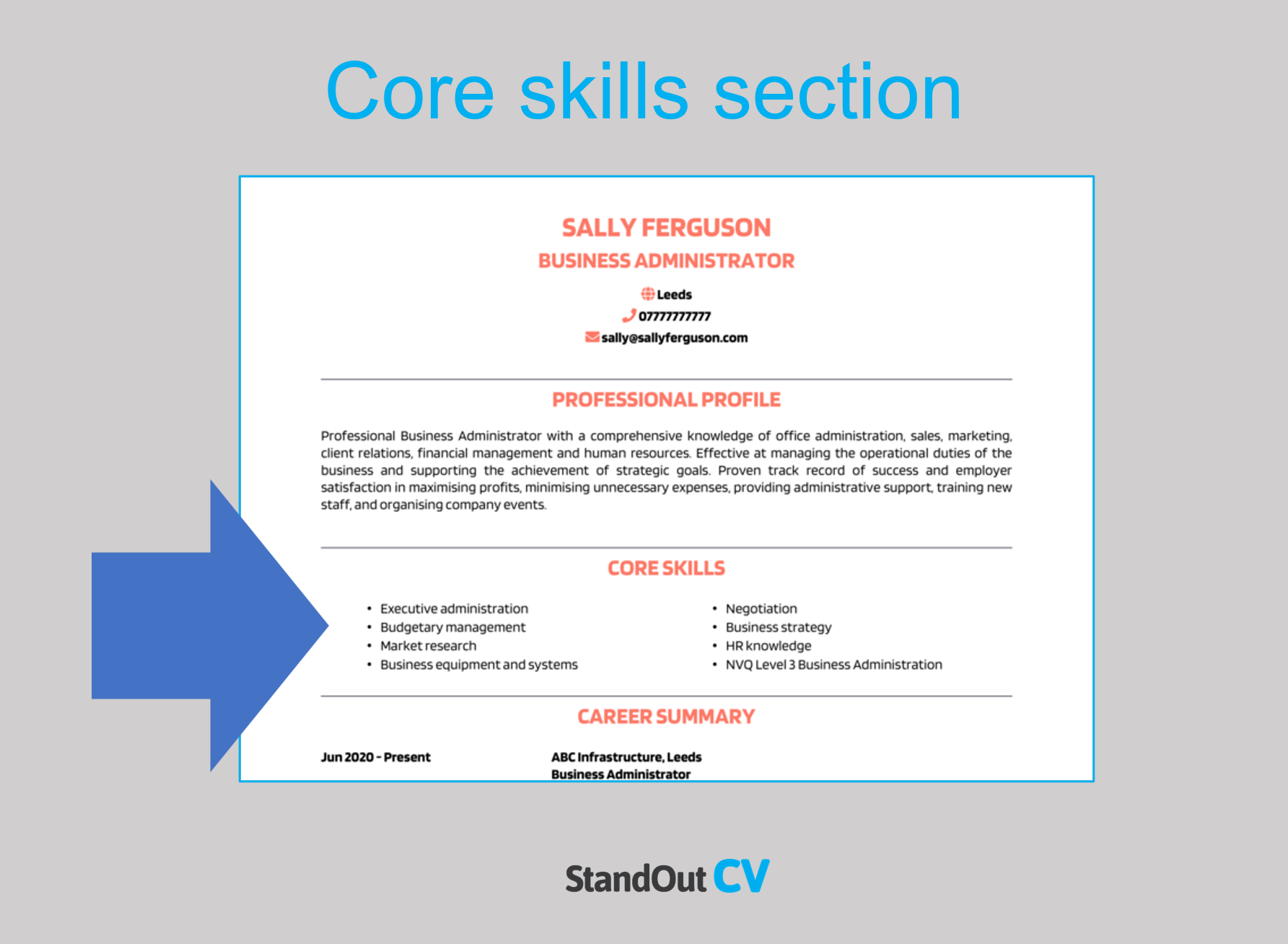 Top skills for your Dance Instructor resume
Dance Instruction – providing clear and engaging guidance to teach students a range of dance styles and techniques.
Curriculum Development – creating a detailed curriculum plan which incorporates your expertize, style and audience, with the goal of getting students to a particular level by the end of the course.
Lesson Planning – creating a roadmap of what student's need to learn and how it will be done effectively during their dance classes.
Student-centric Learning – utilizing teaching techniques that engage students as decision-makers in their learning, allowing them to decide what material they learn and how they learn it.
Classroom Management – ensuring lessons run smoothly without disruptive behaviour from students, including preventing disruptive behaviour pre-emptively, and effectively responding to it after it happens.
Quick tip: Our partner's Resume Builder contains thousands of in-demand skills for every profession that can be added to your resume in seconds – saving you time and greatly improving your chances of landing job interviews and getting hired.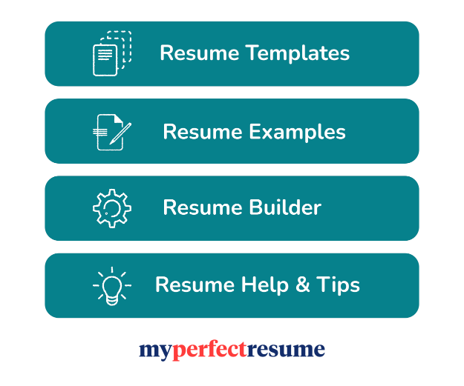 Resume work experience section
So, you've grabbed the recruiters' attention with your summary, now it's time to show them what you're really capable of in your work experience section.
List your previous jobs from current to oldest, showing off the impact you made at each organization.
If you have tons of experience, you should just list the most recent an relevant jobs – but if you have little or no experience, add it all and even consider putting in voluntary work.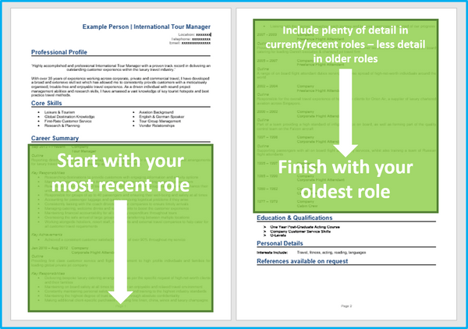 Structuring your job descriptions
You probably do a lot in your job, so its vital to break all of that information down into a good structure.
Structure your jobs as follows to make it easy for recruiters to skim through and pinpoint the essential info.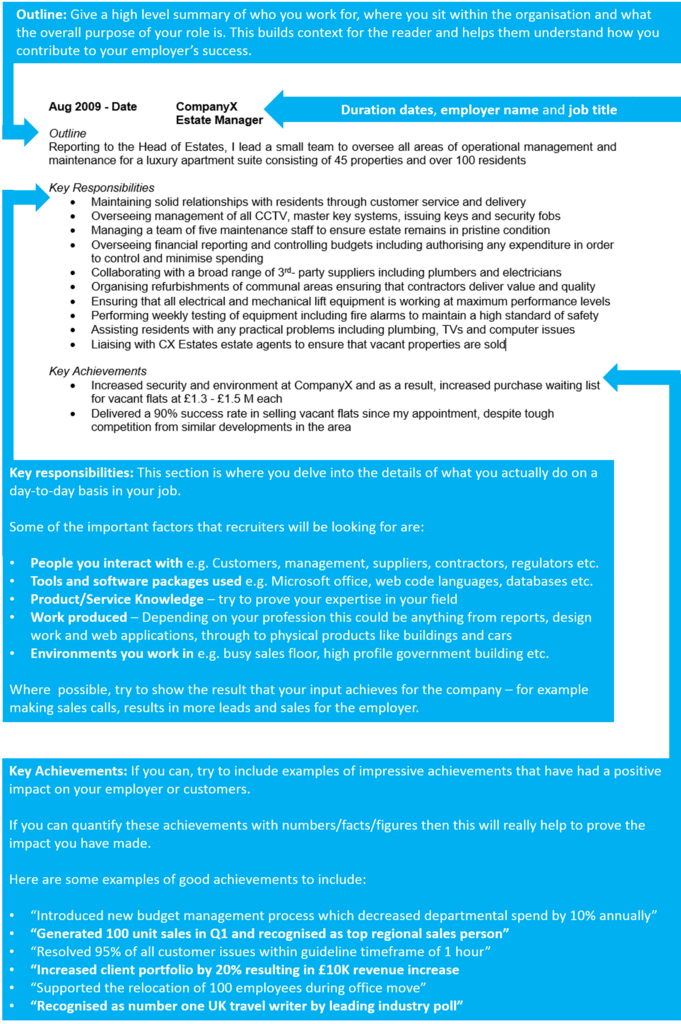 Job outline
Begin each job with a short summary of who the organization is, where you sit within it, and what the main goal of your position is.
Key responsibilities
The bulk of the role description should be comprised of bullet points that explain all of your duties in the job.
Keep the sentences short and simple to make them easy for recruiters to digest.
Key achievements
Round off each job by adding some impressive achievements you made in the role.
Anything you've done that has made a big impact on your employer will make a good impression, think; generating revenue, saving costs, or improving a product.
Quantify your achievements with number where possible e.g. "reduced call wait time by 10%"
Example job for Dance Instructor resume
Outline
Instruct children, teenagers, and adults of all ages using various dance styles and methodologies from beginner to advanced level, for an organization that provides people with the best dance training across 46 U.S. states.
Key Responsibilities
Teach and train a dynamic group of students in a range of techniques and dance styles, ensuring that all learners are engaged, motivated, and inspired to achieve their goals.
Create dance curriculums and prepare lessons that enable people to gain artistic skills and develop abilities in physical interaction and verbal/non-verbal communication.
Carry out administrative tasks, such as answering phone calls/emails, scheduling classes, and social media management.
Set up studio and return space to neat state upon completion of classes.
Quick tip: Create impressive job descriptions easily in our partner's Resume Builder by adding pre-written job phrases for every industry and career stage.

Education section
After your work experience, add your education section.
If you are an experienced professional, you can keep this part short – adding basic details of each qualification.
If you have little or no experience, bulk this section up by adding more detail and highlight important skills and knowledge for your target jobs.
Additional information
If you have anything else to add which is relevant to the jobs you are applying for, the additional info section is the place to add it.
Perhaps you have a hobby which involves relevant skills, or maybe you have some awards or publications worth mentioning.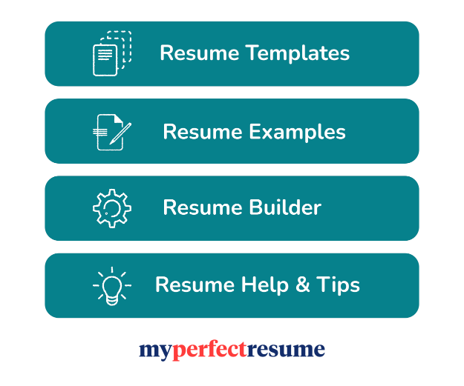 Writing your Dance Instructor resume
A winning Dance Instructor resume should look great, read well, and sell your skillset to hiring managers.
If you follow the steps above, you should be able to bag yourself a top job in no time.
And don't forget you can use our partner's Resume Builder if you want to save time and ensure your resume contains the very best content.
Good luck with your job search!