Are you a cybersecurity expert?
If evaluating systems for vulnerabilities and setting up functional systems is second nature, you could be very valuable to an agency or client.
But in order to present your unique skill set, you need a carefully crafted resume, and we can help. Check out our detailed advice and cybersecurity consultant resume example below.
Contents
| | |
| --- | --- |
| How to write a Cybersecurity Consultant resume | |

Cybersecurity Consultant Resume Example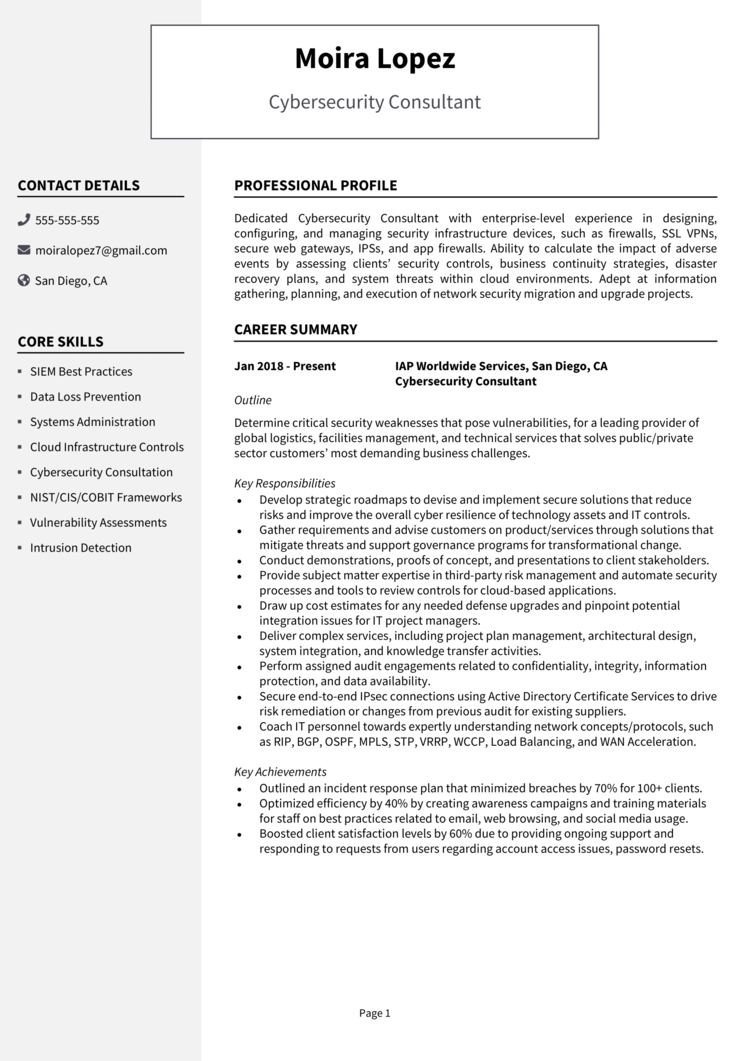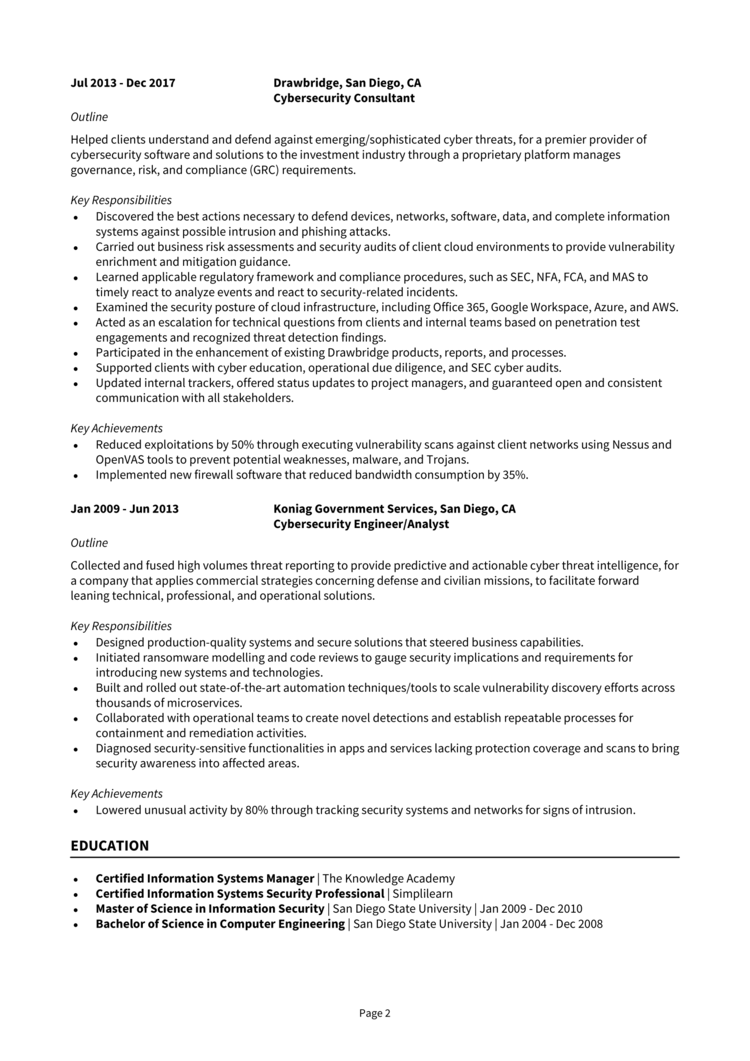 From the Cybersecurity Consultant resume example above, you can see the kind of information your resume will need to include, and the layout you will need to create for an easy-reading experience.
The rest of this guide will show you how to apply this format to your own unique situation, and create a resume that will attract the best employers in your industry.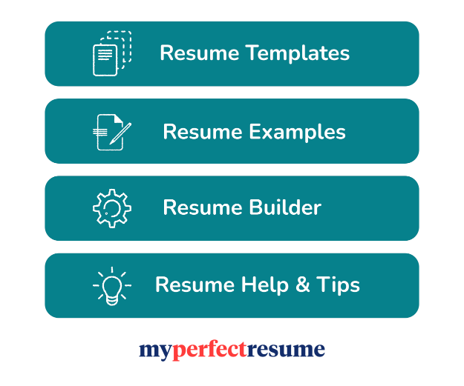 Cybersecurity Consultant resume layout and formatting
The format and layout of your resume can make or break its success.
Sure, it's great to pack your resume with lots of impressive skills and knowledge, but if the page is not structured clearly, hiring managers will struggle to find the important stuff!
Above all, your resume should be easy-to-read and professional looking.
Follow these formatting tips to get noticed.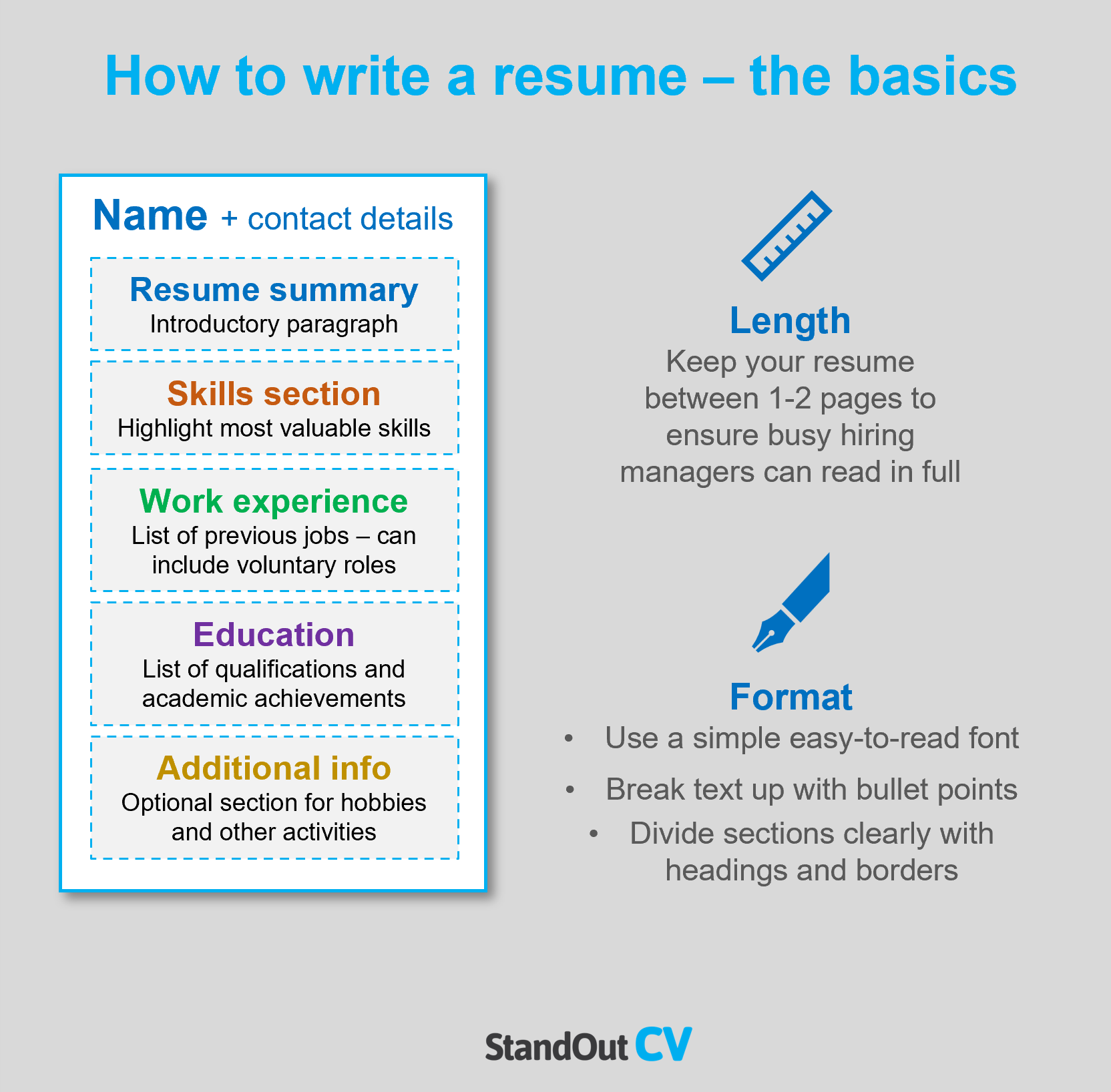 Formatting your resume
Length: As recruiters have a limited amount of time to review each resume they see, keep your resume to 2 pages or less to increase the chances of it being thoroughly reviewed.
Font & readability: Readability is the name of the game when it comes to your resume. Ensure yours is a dream to read by using a simple clear font, and breaking the text up with plenty of bullet points and short paragraphs.
Layout & Structure: Allow recruiters to skim through your resume with ease, by dividing the page into clear sections with headings and borders. The design of your resume should be eye-catching but not overly complex – keep the style and color scheme simple and clean.
Photos: Although it is not compulsory to include a photo in your resume in the USA, it can be advantageous if you are applying to companies in creative industries.
Quick tip: Achieving a professional look for your resume can be difficult and time-consuming. If you want to create an attractive resume quickly, try our partner's Resume Builder and use one of their eye-catching resume templates.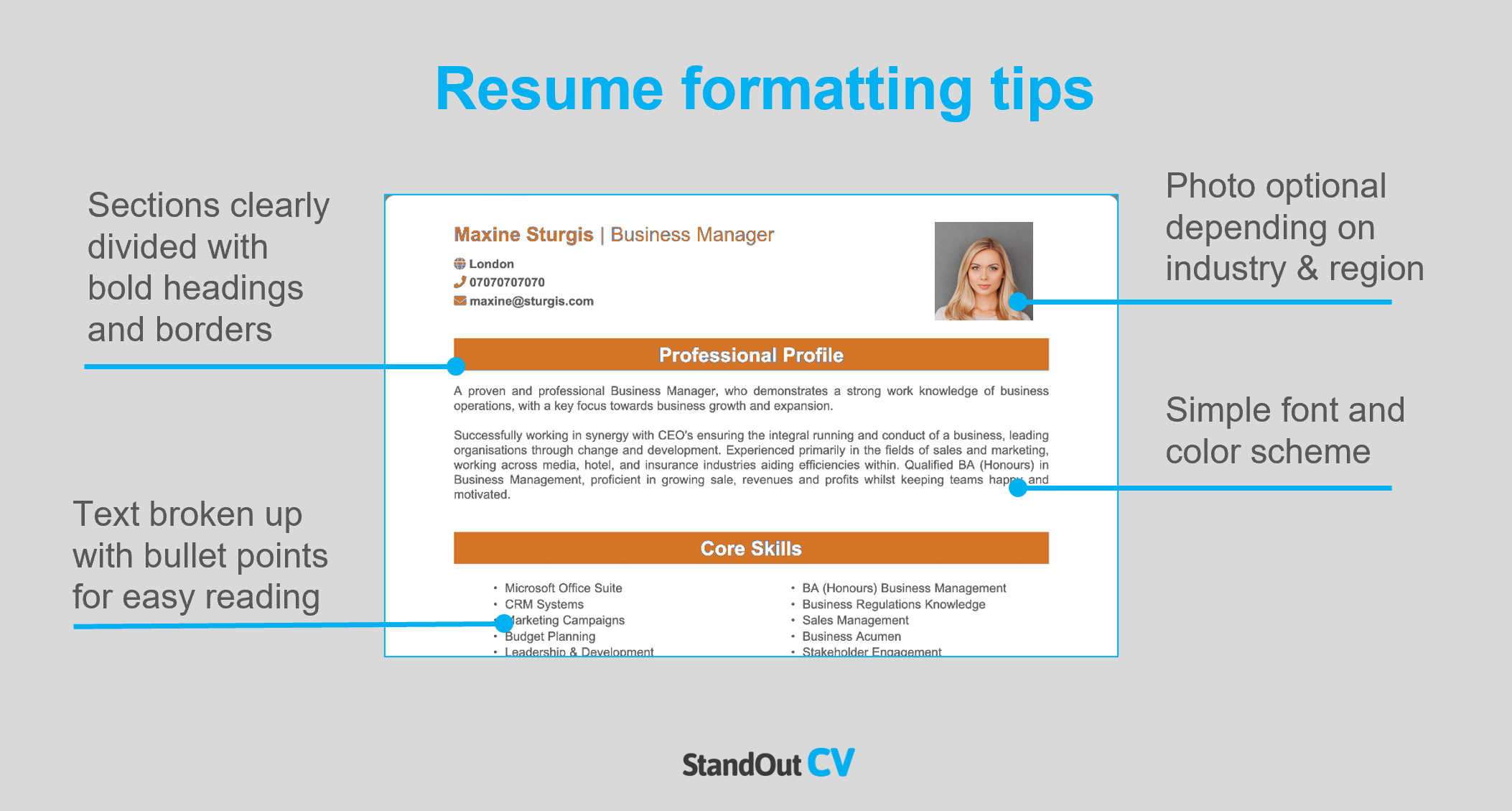 Resume layout
Include the following sections when you write your resume.
Name and contact details – Make it easy for employers to contact you, by putting these at the top.
Resume summary – An intro paragraph sitting at the top of your resume, summarizing the reasons why you should be hired.
Skills section – A short snappy list of your most important skills, that can be quickly digested
Work experience – Reverse chronological list of your previous jobs – voluntary work and college placements can be included if you have no paid experience.
Education – List your qualifications and professional training.
Additional info – An optional section for things like hobbies and interests.
Here's what to include in each part of your resume.
Contact Details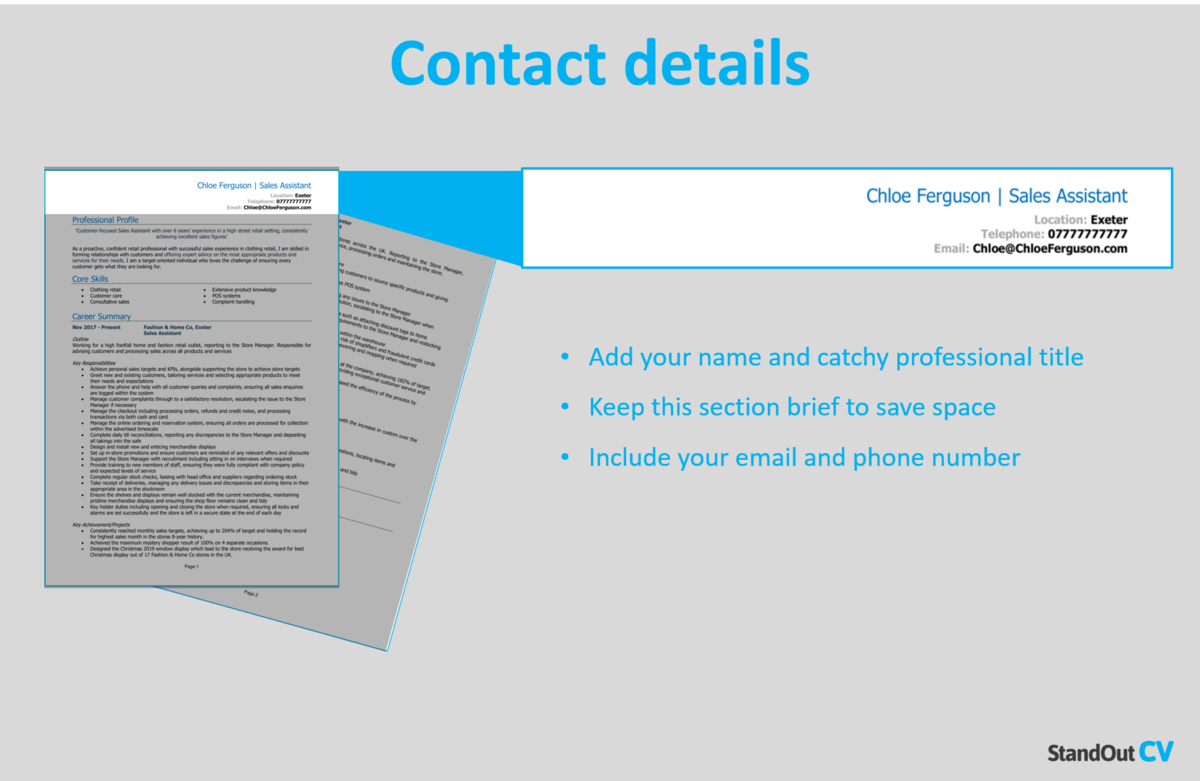 Keep your contact details short to save resume space and include the following.
Name and profession title
Cell phone number
Location – Add your local area such as Silicon Valley or New York, unless you are looking for work in a different location
Email address – Keep it professional and don't use an old address that you thought was cool in high school, but now looks a bit embarrassing.
You can add a link to your LinkedIn profile if you have one – you do not need to include personal details like date of birth or marital status.
Cybersecurity Consultant Resume Summary
Grab the attention of recruiters right away by including a compelling summary at the top of your resume that summarizes your most valuable skills and experience.
This brief yet impactful section enables you to demonstrate why you're the best candidate for the job and convince recruiters to keep reading.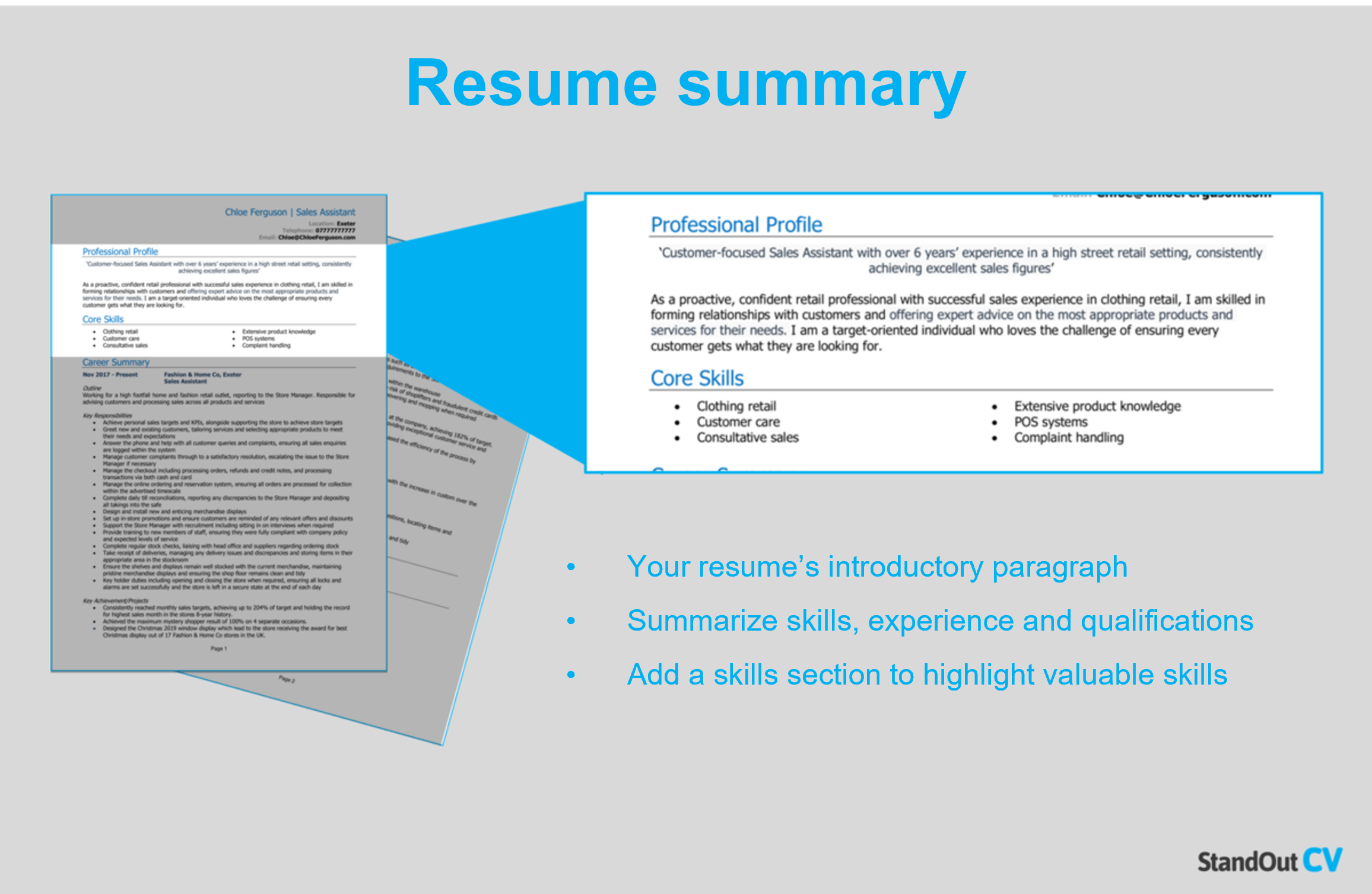 How to create a resume summary that will excite recruiters:
Keep it short: Aim for a short punchy paragraph of 4-7 lines. This is just enough info to showcase why you'd make the perfect hire, without going into excessive detail and overwhelming busy recruiters at such an early stage in the resume.
Tailor to target jobs: Recruiters will be scanning for the skills and knowledge they mentioned in the job description, so add as many as you can to your summary.
Avoid using cliches: You might be a "highly motivated go-getter who thinks outside the box" but generic meaningless cliches like that don't tell employers much about you – stick to factual information in your summary.
Cybersecurity Consultant resume summary example
Dedicated Cybersecurity Consultant with enterprise-level experience in designing, configuring, and managing security infrastructure devices, such as firewalls, SSL VPNs, secure web gateways, IPSs, and app firewalls. Ability to calculate the impact of adverse events by assessing clients' security controls, business continuity strategies, disaster recovery plans, and system threats within cloud environments. Adept at information gathering, planning, and execution of network security migration and upgrade projects.
What to include in your Cybersecurity Consultant resume summary?
Summary of your experience: What type of organizations have you worked at? What types of roles have you done and what have you contributed to previous employers?
Relevant skills: To quickly showcase your suitability for Cybersecurity Consultant jobs, ensure that your summary emphasizes your most relevant skills to the jobs you are applying for.
Qualifications: Showcase your level of education with a quick mention of any qualifications that are essential for the Cybersecurity Consultant roles you are applying to.
Quick tip: Choose from hundreds of pre-written summaries across all industries, and add one to your resume with one-click in our partner's Resume Builder. All written by recruitment experts and easily tailored to suit your unique skillset and style.
Core skills section
Sitting just underneath your resume summary, your core skills section gives recruiters 4-10 of your most in-demand skills in just a glance.
As Cybersecurity Consultant jobs may get hundreds of applications, this is a great way to stand out and quickly grab hiring managers' attention.
It should be made up of 2-3 columns of bullet points and highlight attributes that are hyper-relevant to the jobs you are aiming for.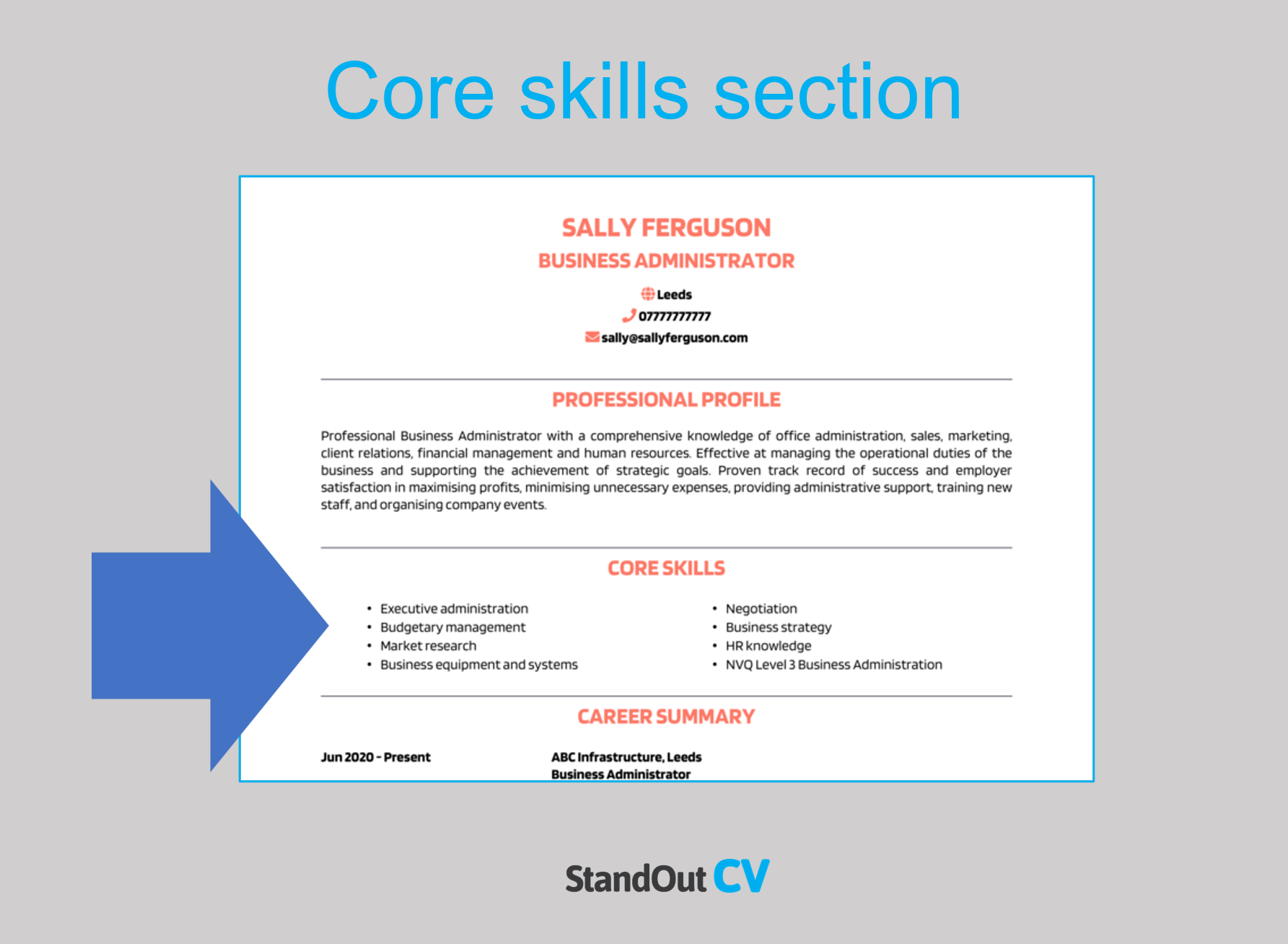 Best skills for your Cybersecurity Consultant resume
Threat analysis – Analyzing and identifying potential cyber threats, including understanding common tactics and methods used by cybercriminals.
Vulnerability assessment – Identifying vulnerabilities and potential weaknesses in a system, network or application, using tools such as vulnerability scanners and penetration testing.
Security policy development – Developing security policies, including creating policies, guidelines and procedures that address security risks.
Incident response – Utilizing knowledge of incident response planning and execution, including the ability to detect, respond and recover from security incidents.
Security architecture – Designing and implementing security architectures, including access control, encryption and authentication mechanisms, to provide secure environments for organizations.
Regulatory compliance – Maintaining a detailed understanding of regulatory compliance requirements, including industry-specific regulations and laws, to ensure that organizations are compliant with all applicable laws and regulations.
Ethical hacking – Conducting ethical hacking, including testing systems and applications for vulnerabilities, to identify and mitigate security risks.
Risk management – Utilizing knowledge of risk management processes, including identifying risks, assessing their impact, and implementing controls, to minimize the impact of potential threats.
Security tool selection – Selecting and implementing security tools and technologies, including firewalls, intrusion detection systems, and antivirus software, to protect against cyber threats.
Effective communication – Interacting effectively with clients, stakeholders, and technical teams, to communicate security risks and recommendations for improvement.
Quick tip: Our partner's Resume Builder contains thousands of in-demand skills for every profession that can be added to your resume in seconds – saving you time and greatly improving your chances of landing job interviews and getting hired.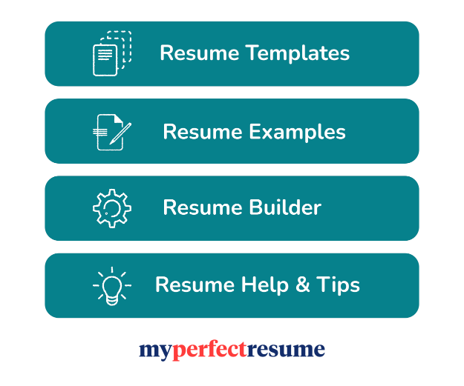 Work experience
So, you've grabbed the recruiters' attention with your summary, now it's time to show them what you're really capable of in your work experience section.
List your previous jobs from current to oldest, showing off the impact you made at each organization.
If you have tons of experience, you should just list the most recent an relevant jobs – but if you have little or no experience, add it all and even consider putting in voluntary work.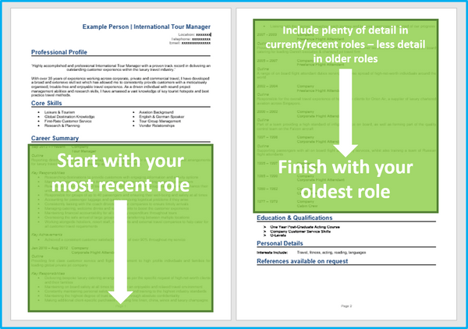 Structuring your jobs
You probably do a lot in your job, so its vital to break all of that information down into a good structure.
Structure your jobs as follows to make it easy for recruiters to skim through and pinpoint the essential info.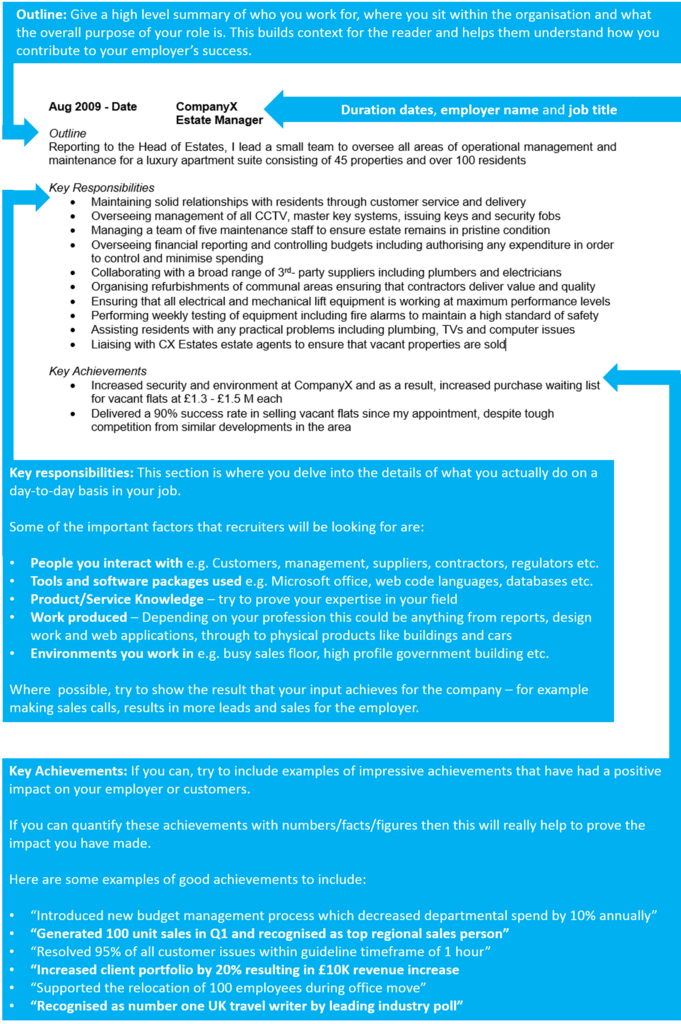 Job outline
To provide context to your jobs, begin each job with a concise summary of the organization, your role within it, and the main objectives of your position.
Key responsibilities
List your notable responsibilities in short sharp bullet points to demonstrate your input and how you contributed to the organization's success.
Highlight the skills that are most important to the roles you are applying for.
Key achievements
Round off each job by adding some impressive achievements you made in the role.
Anything you've done that has made a big impact on your employer will make a good impression, think; generating revenue, saving costs, or improving a product.
Quantify your achievements with number where possible e.g. "reduced call wait time by 10%"
Example job for Cybersecurity Consultant resume
Outline
Determine critical security weaknesses that pose vulnerabilities, for a leading provider of global logistics, facilities management, and technical services that solves public/private sector customers' most demanding business challenges.
Key Responsibilities
Develop strategic roadmaps to devise and implement secure solutions that reduce risks and improve the overall cyber resilience of technology assets and IT controls.
Gather requirements and advise customers on product/services through solutions that mitigate threats and support governance programs for transformational change.
Conduct demonstrations, proofs of concept, and presentations to client stakeholders.
Provide subject matter expertise in third-party risk management and automate security processes and tools to review controls for cloud-based applications.
Quick tip: Create impressive job descriptions easily in our partner's Resume Builder by adding pre-written job phrases for every industry and career stage.

Education section
After your work experience, add your education section.
If you are an experienced professional, you can keep this part short – adding basic details of each qualification.
If you have little or no experience, bulk this section up by adding more detail and highlight important skills and knowledge for your target jobs.
Additional information
The additional info section is optional but can be useful if you have anything else to add that could benefit your application.
For example, you may have some hobbies and interests that are relevant to your job – or you might have awards or publications to shout about.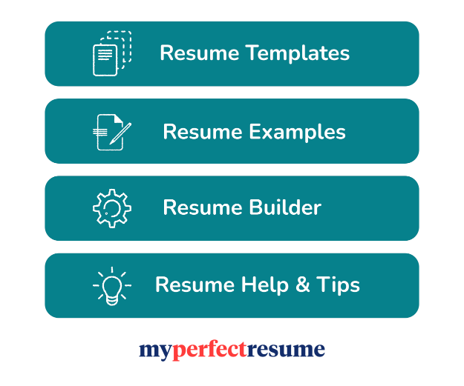 Writing your own winning Cybersecurity Consultant resume
Crafting a strong Cybersecurity Consultant resume can be a daunting task, but implementing the steps outlined above will significantly increase your chances of securing multiple interview opportunities.
Good luck with your job search!