You've spent your career building an impressive collection of skills, qualifications, and past experience, and now you're ready for your next role.
But in order to secure an interview, you need to prove this to the hiring manager with a carefully curated resume.
To help you produce this, we've put together a detailed writing guide and curator resume example. Check them out below.
Contents
| | |
| --- | --- |
| How to write your Curator resume | |

Curator Resume Example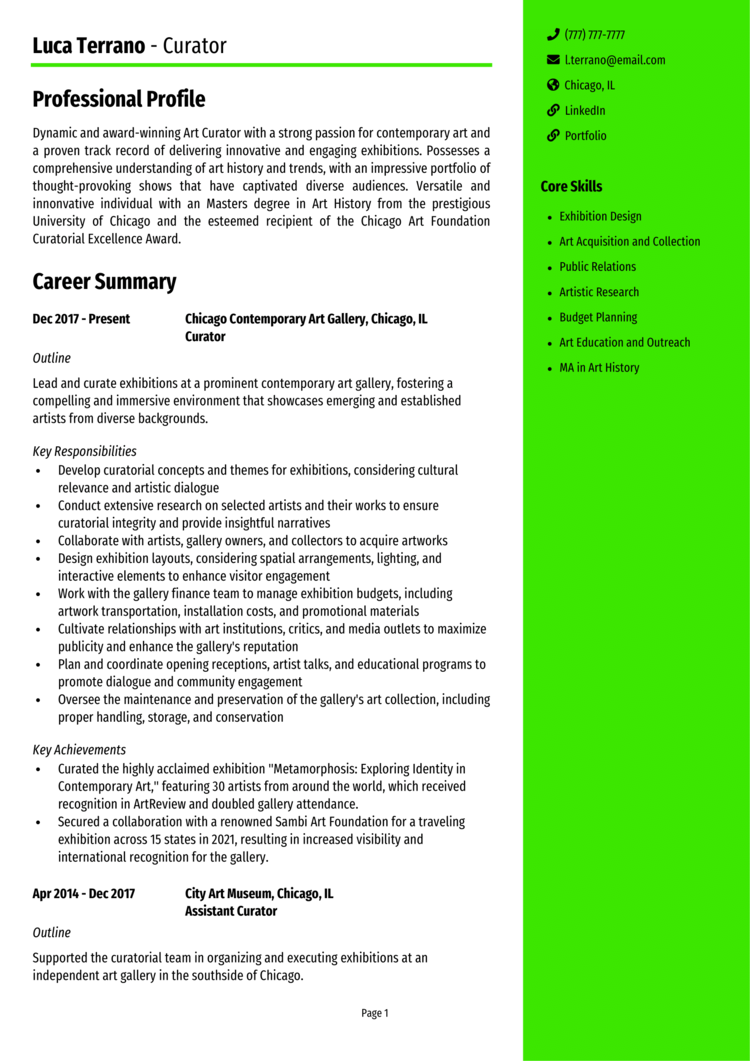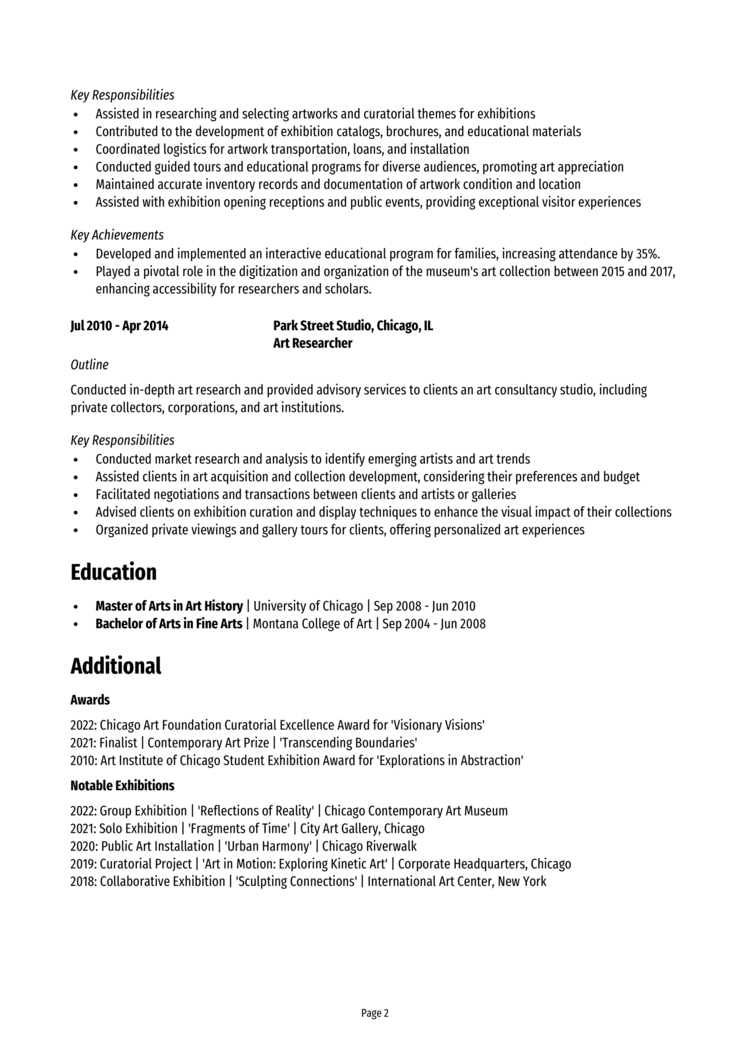 This example Curator resume provides you with a general idea of how your resume should look, and what information recruiters expect to see.
The rest of this guide will explain how to layout your resume and create each section effectively.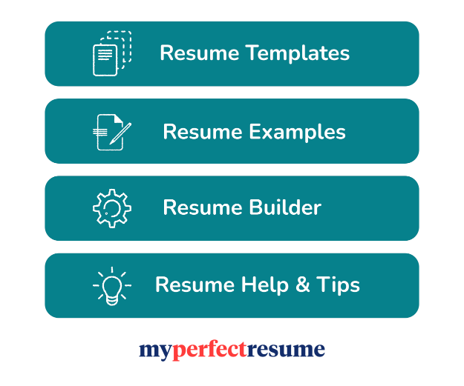 Curator resume layout and format
When it comes to holding the attention of recruiting managers, the format and layout of your resume play a key role.
Your resume needs to strike a perfect balance between looking awesome, and being easy for recruiters to read (which is not always easy to achieve)
Use the following formatting tips to get started.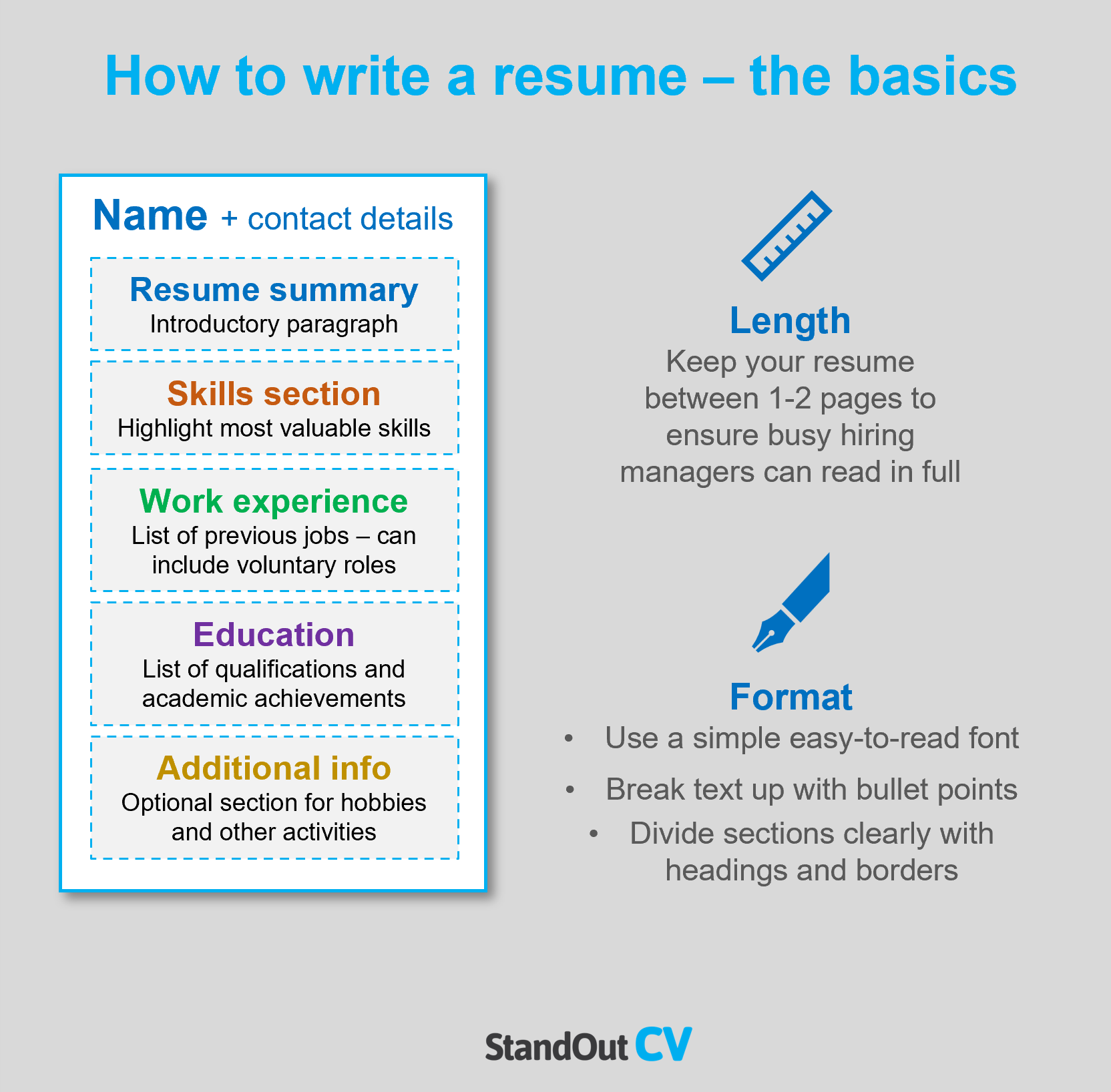 Formatting your resume
Length: Attention spans in recruitment are notoriously short, so keep your resume short and sweet. There's no exact rule for resume length, but aim for 2 pages or less if you want to ensure yours gets read in full.
Font & readability: The key to an effective resume is its readability, so it's best to use a clear and simple font and format it with bullet points and short paragraphs to make it easy for recruiters to read through quickly.
Layout: When it comes to designing your resume, it's essential to make it visually appealing, but it's equally important not to overlook functionality. To achieve this, you should organize the page into clear sections using bold headings and borders.
Photos: It's not mandatory to add a photo to your resume in the USA but it if you're applying to organizations within the creative fields, it can be beneficial.
Quick tip: Achieving a professional look for your resume can be difficult and time-consuming. If you want to create an attractive resume quickly, try our partner's Resume Builder and use one of their eye-catching resume templates.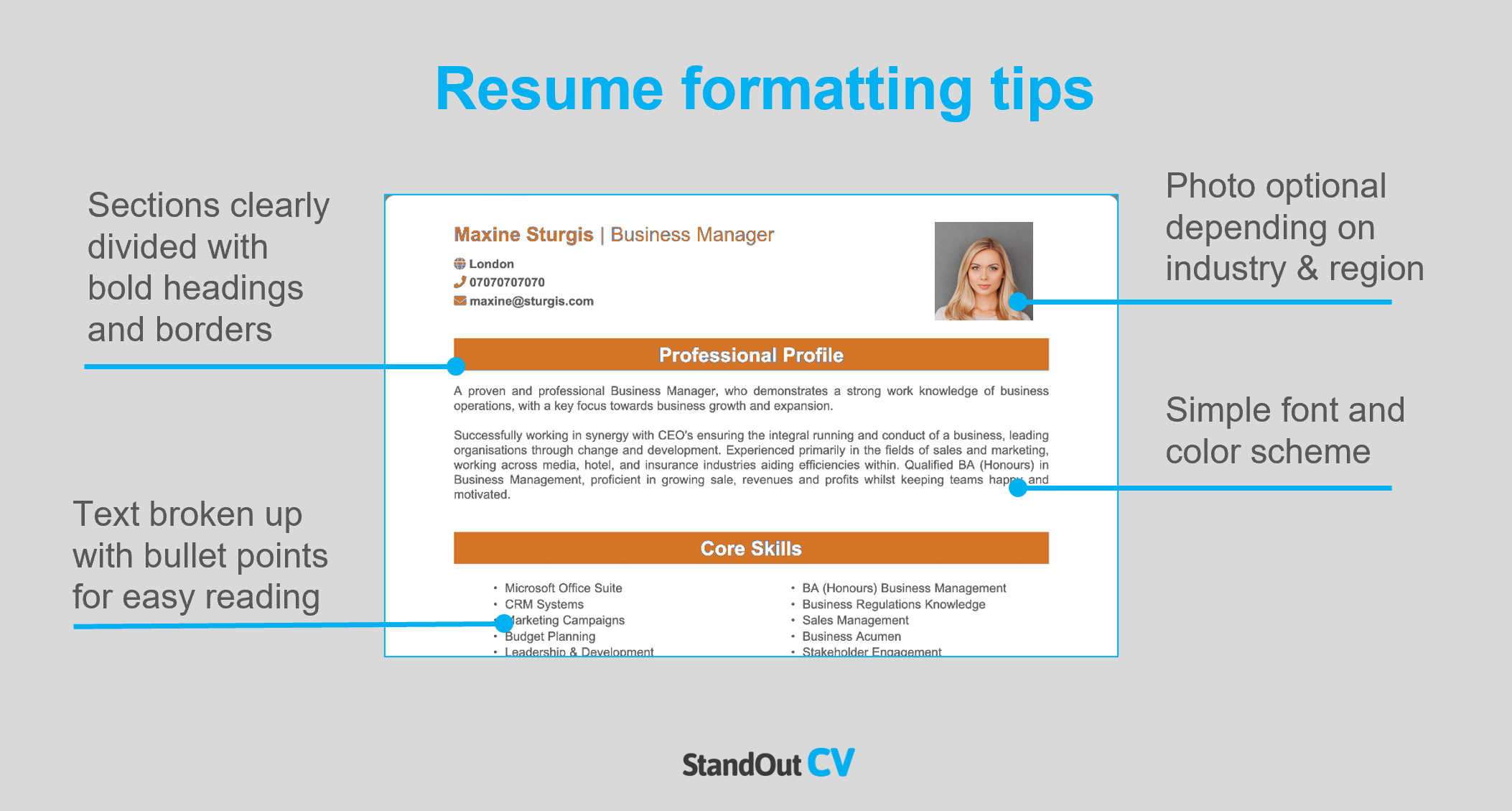 Resume layout
Your resume should include the following sections to give recruiters the information they require:
Name and Contact Details – Place your contact information at the top of your resume to make it easy for employers to get in touch with you.
Resume Summary – Write a brief introduction at the beginning of your resume that summarizes your most important qualifications and highlights why you are the ideal candidate for the job.
Skills Section – Include a concise list of your most relevant and impressive skills to quickly grab the attention of potential employers.
Work Experience – List your previous work experiences in reverse chronological order, including any volunteer work or college placements.
Education – List your educational qualifications and any professional training you have received.
Additional Information – This section is optional, but you can include details about your interests, hobbies, or any other relevant information that can make you stand out from other applicants.
Here's what to add to each section of your Curator resume.
Contact Details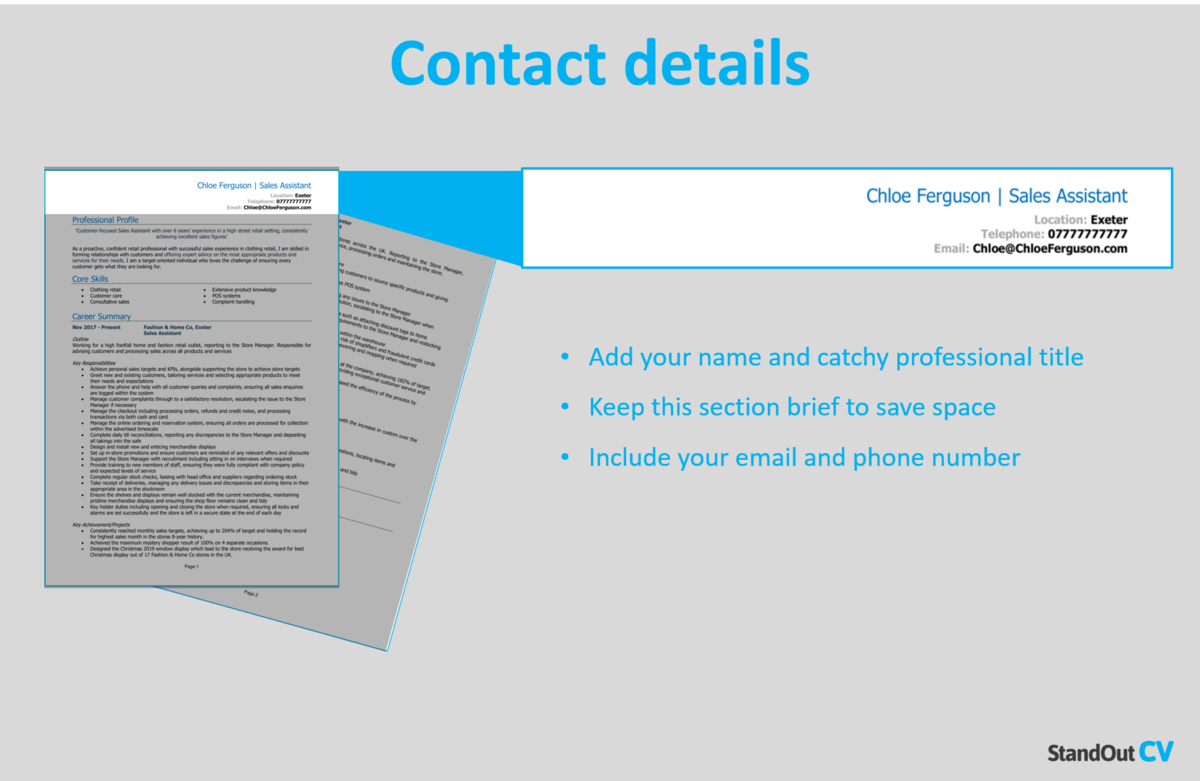 Add your name and contact details to the very top of your resume, making it easy for recruiters to get in touch
Name and profession title
Cell phone number – or another number you can answer quickly
Location – Add your local area such as San Diego or New York – not your full address as that will take up too much space.
Email address – Use your name or close variation – no nicknames from high school.
You can add a link to your LinkedIn profile if you have one – you do not need to include personal details like date of birth or marital status.
Curator Resume Summary
Start your resume with a bang by adding a powerful summary to the top, summarizing your most valuable skills and experience.
This short paragraph is your chance to show recruiters why you are a perfect fit for the job and encourage them to read more of your resume.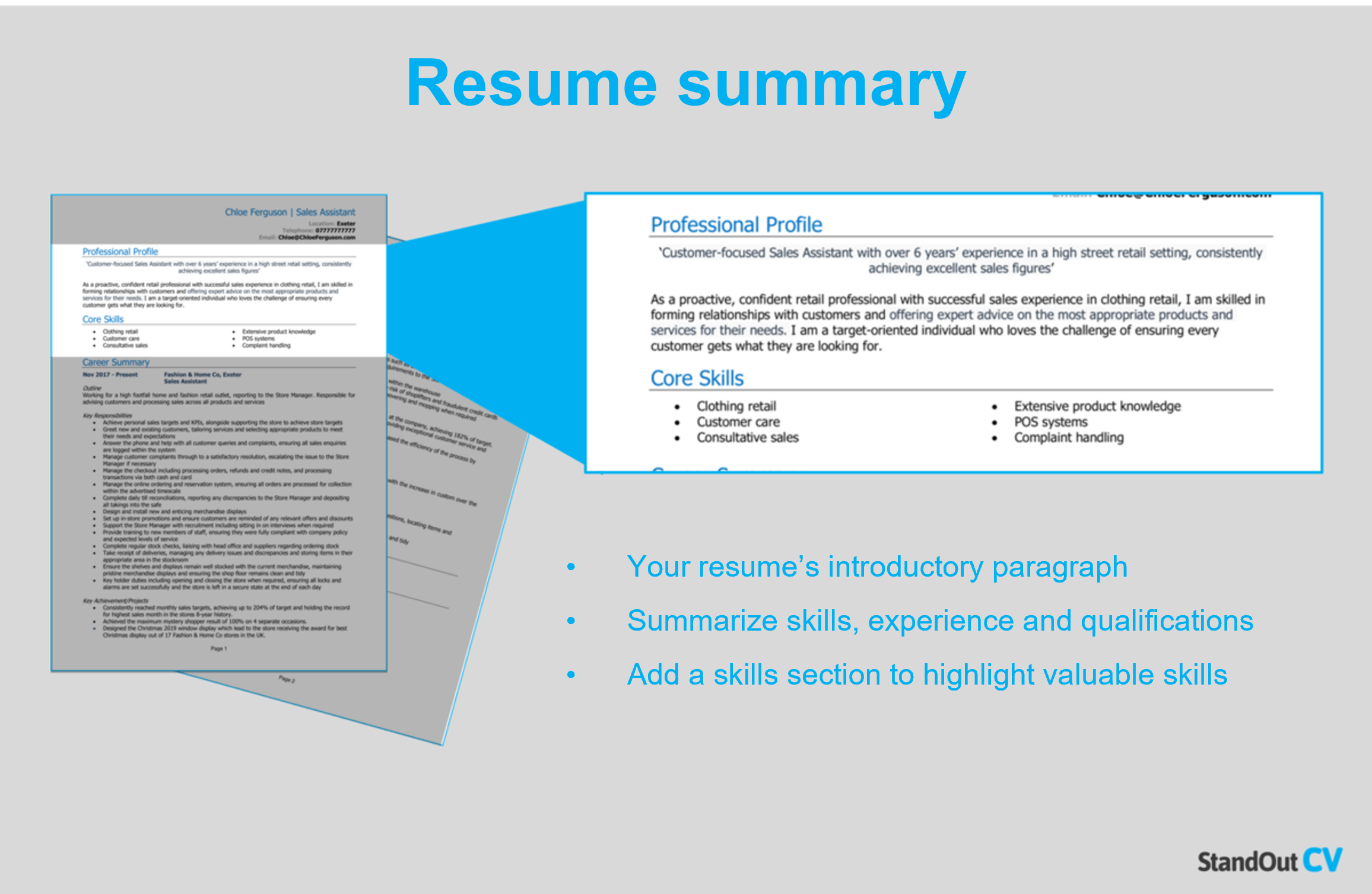 How to create a resume summary that will excite recruiters:
Keep it short: Attention spans are short in the job market, so keep your summary brief and high-level at around 4-7 lines – This is just enough to catch the eye of rushed hiring managers.
Tailor to target jobs: To mirror your target jobs, scrutinize the job description and include as many relevant skills as possible in your resume.
Avoid using cliches: Although you may believe that you're a "team player who always gives 110%," these kinds of cliches don't communicate much about your skills and qualifications to potential employers. It's more effective to stick to factual information in your resume.
Curator resume summary example
Dynamic and award-winning Art Curator with a strong passion for contemporary art and a proven track record of delivering innovative and engaging exhibitions. Possesses a comprehensive understanding of art history and trends, with an impressive portfolio of thought-provoking shows that have captivated diverse audiences. Versatile and innovative individual with a master's degree in art history from the prestigious University of Chicago and the esteemed recipient of the Chicago Art Foundation Curatorial Excellence Award.
What to include in your Curator resume summary?
Summary of your experience: Provide an overview of the type of work you have done in the past and the impact you have made at previous employers.
Relevant skills: Include your skills which are hyper relevant to Curator jobs to instantly show your suitability.
Qualifications: Any qualifications that are important to the Curator jobs you are applying for, should be mentioned in the summary.
Quick tip: Choose from hundreds of pre-written summaries across all industries, and add one to your resume with one-click in our partner's Resume Builder. All written by recruitment experts and easily tailored to suit your unique skillset and style.
Core skills section
Next, you should create a bullet pointed list of your core skills, formatted into 2-3 columns.
Here, you should focus on including the most important skills or knowledge listed in the job advertisement.
This will instantly prove that you're an ideal candidate, even if a recruiter only has time to briefly scan your resume.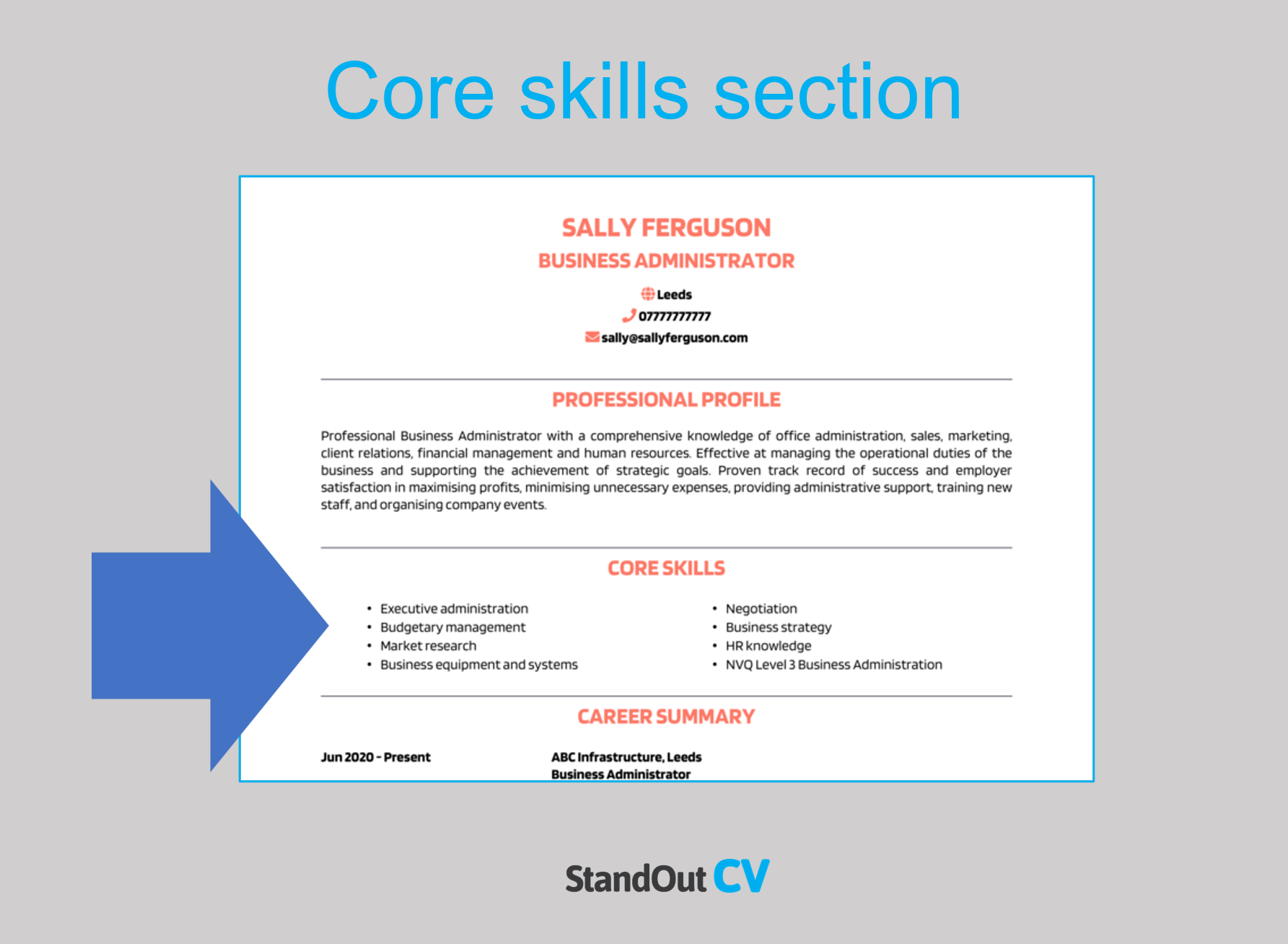 Best skills for your Curator resume
Collection Management – Acquiring, cataloging, preserving, and maintaining collections of artworks, artifacts, or historical items.
Research – Conducting research, analyzing information, and interpreting historical or cultural significance to develop exhibitions and educational programs.
Museum Operations – Utilizing knowledge of museum policies, procedures, and best practices in areas such as exhibition design, conservation, loan agreements, and visitor services.
Artifact Handling – Safely handling and caring for delicate and valuable objects, including proper storage, transportation, and display techniques.
Curatorial Vision – Conceptualizing and curating engaging and meaningful exhibitions, considering audience engagement, thematic coherence, and educational goals.
Cultural Knowledge – Maintaining a deep understanding of art history, cultural movements, or historical contexts relevant to the museum's collection, enabling insightful interpretation and contextualization.
Conservation Awareness – Maintaining familiarity with conservation principles and practices to ensure the preservation and longevity of artifacts, including monitoring environmental conditions, and implementing preventive measures.
Stakeholder Collaboration – Working effectively with colleagues, artists, lenders, donors, and community partners to develop collaborative projects, secure loans, and foster productive relationships.
Item Interpretation – Developing interpretive materials, including labels, audio guides, and digital resources, to enhance visitor understanding and engagement with the collection.
Exhibition Design – Utilizing knowledge of exhibition design principles, including spatial planning, lighting, graphics, and interactive elements, to create compelling and immersive visitor experiences.
Quick tip: Our partner's Resume Builder contains thousands of in-demand skills for every profession that can be added to your resume in seconds – saving you time and greatly improving your chances of landing job interviews and getting hired.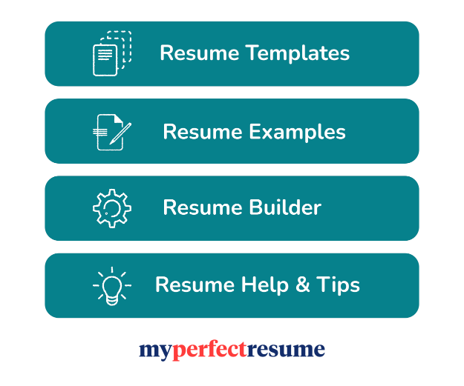 Work experience
Now that you've reeled recruiters in with your awesome summary, it's time to delve into your work experience.
Here you'll list your previous jobs (starting with your most recent and working backward) and showcase how you apply your skills in the workplace.
Provide lots of detail in recent jobs, and less in older roles.
If you have no relevant paid experience, you can include voluntary work and placements – but if you have lots of experience, you can leave out some of the really old jobs.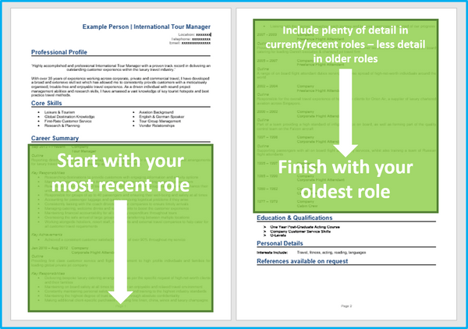 Structuring your jobs
Without a good structure, your job description can look messy and overwhelming to anyone reading them.
Make it easy for recruiters to read your work experience by structuring your roles like this.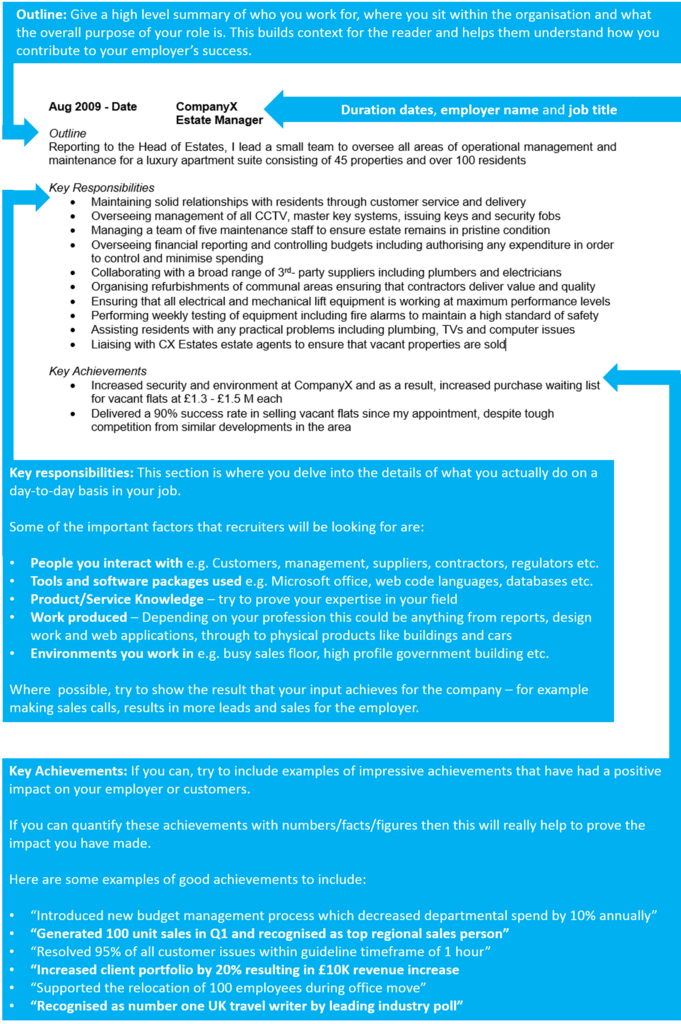 Job outline
Start with a 1-2 sentence outline of the role, summarizing what the goal of your position was, who you reported to (or managed) and the type of organization you worked for.
Key responsibilities
The bulk of the role description should be comprised of bullet points that explain all of your duties in the job.
Keep the sentences short and simple to make them easy for recruiters to digest.
Key achievements
Show employers the value you can bring to them by adding a few achievements to your jobs.
Whether you've saved the company money or improved an internal process, let recruiters know
Add some numbers to give readers a real scale of the impact, e.g. "reduced call wait time by 10%"
Example job for Curator resume
Outline
Lead and curate exhibitions at a prominent contemporary art gallery, fostering a compelling and immersive environment that showcases emerging and established artists from diverse backgrounds.
Key Responsibilities
Develop curatorial concepts and themes for exhibitions, considering cultural relevance and artistic dialogue
Conduct extensive research on selected artists and their works to ensure curatorial integrity and provide insightful narratives
Collaborate with artists, gallery owners, and collectors to acquire artworks
Design exhibition layouts, considering spatial arrangements, lighting, and interactive elements to enhance visitor engagement
Quick tip: Create impressive job descriptions easily in our partner's Resume Builder by adding pre-written job phrases for every industry and career stage.

Education section
Towards the bottom of your resume, add your education section.
Here you should list your professional qualifications and academic record, such as high school diplomas or college degrees.
If you have lots of work experience, you can keep this section brief (because recruiters will be more interested in your career. If you have little/no experience then you should bulk this section up with plenty of detail.
Additional information
At the end of your resume, you can add any extra information that might be relevant to the jobs you are applying for.
This could be hobbies, interests, publications, clubs or memberships.
This section is optional and doesn't need to be added if you have nothing more relevant to add.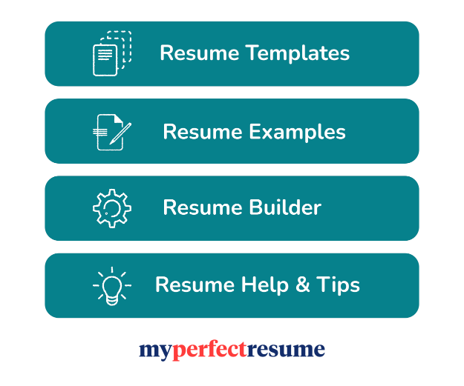 Writing your own winning Curator resume
Following the steps in this guide will help you to create a winning Curator resume and bag lots of interviews.
Good luck with your job search!