When applying for the position of criminal justice counselor, you can't wait and hope the recruiter's judgment is as good as yours; you need to prove to them why you're the best person for the job.
So, if you want to secure an interview, you need to produce an impressive resume that perfectly outlines your experience.
If you need inspiration and help to do this, check out our criminal justice resume example and guide below.
Contents
| | |
| --- | --- |
| How to write a Criminal Justice resume | |

Criminal Justice Resume Example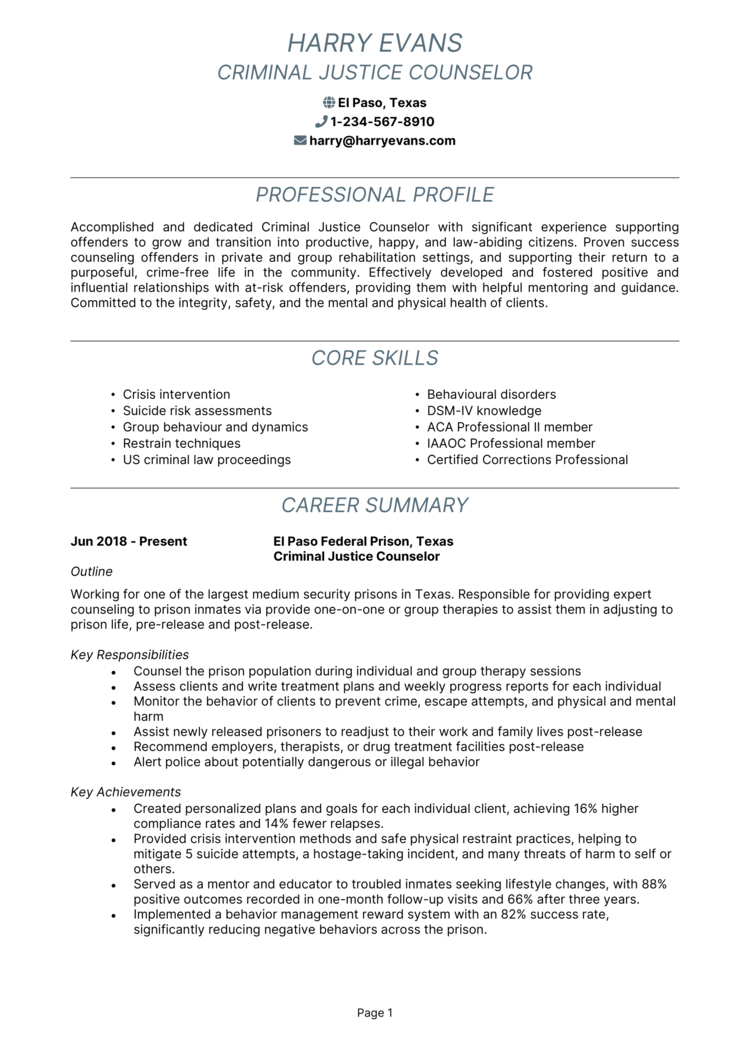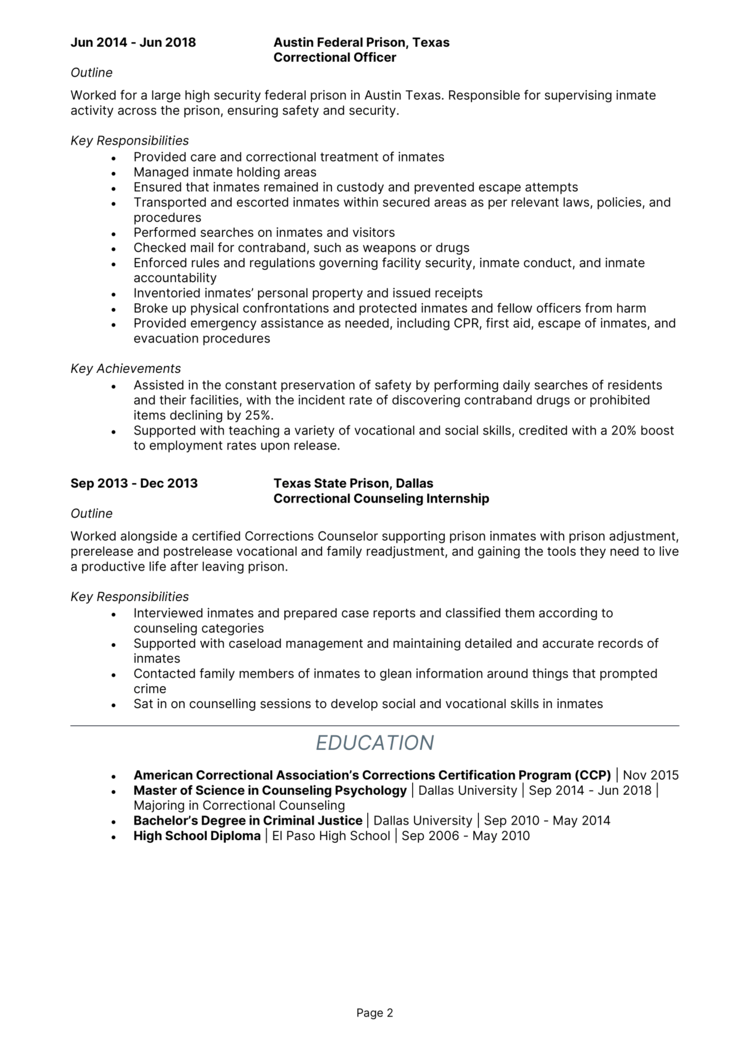 The above Criminal Justice Counselor resume example gives you a good steer on how a Criminal Justice resume should look and read.
The information is presented professionally, and the content is well structured to ensure that time-strapped recruiters and managers can spot the important skills and knowledge quickly.
Refer to this example as you write your own resume.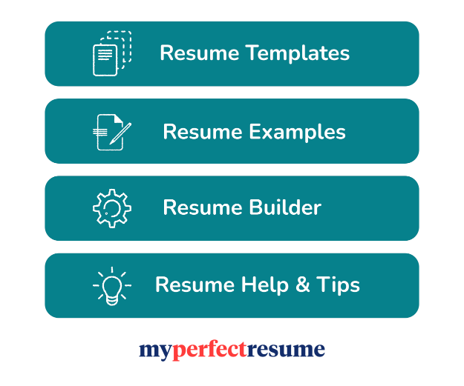 Criminal Justice resume layout and format
The format and layout of your resume can make or break its success.
Sure, it's great to pack your resume with lots of impressive skills and knowledge, but if the page is not structured clearly, hiring managers will struggle to find the important stuff!
Above all, your resume should be easy-to-read and professional looking.
Follow these formatting tips to get noticed.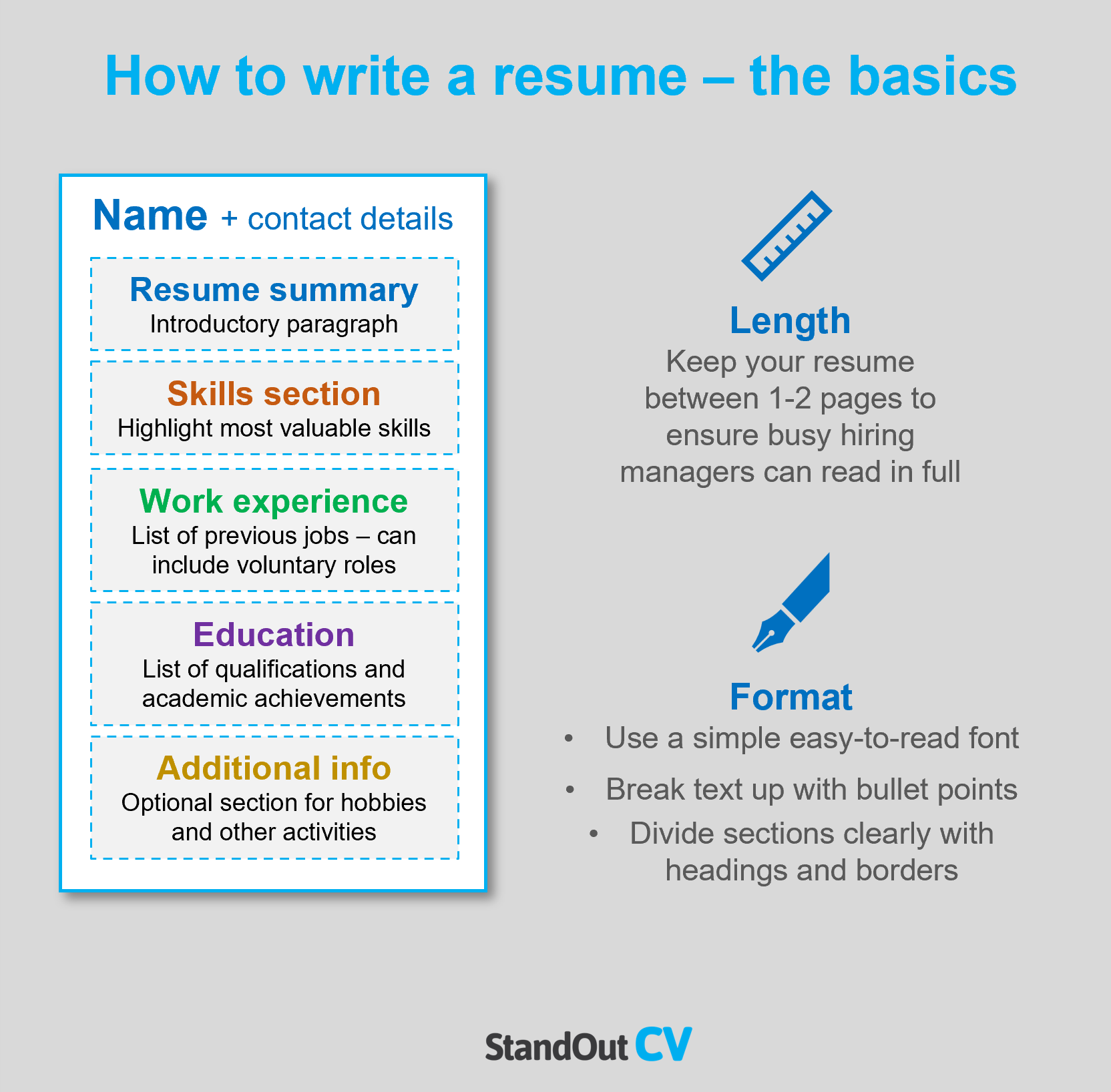 Resume formatting tips
Length: Think that submitting a 10 page resume will impress recruiters? Unfortunately it won't… Even if you've got tons of experience to brag about, recruiters don't have time to read essays, so keep it brief – around 2 pages is the sweet spot.
Font and text: Readability is the name of the game when it comes to your resume. Ensure yours is a dream to read by using a simple clear font, and breaking the text up with plenty of bullet points and short paragraphs.
Design & structure: Hiring managers should be able to skim through your resume easily and pinpoint the information they want quickly. To help them do this, organize the page into clear sections with bold headings and dividing borders. The design should be clutter-free and professional-looking, with a calm color scheme.
Photos and images: It's not mandatory to add a photo to your resume in the USA but it if you're applying to organizations within the creative fields, it can be beneficial.
Quick tip: Formatting a resume to look professional can be difficult and time-consuming. If you want to create an attractive resume quickly, try our partner's Resume Builder and use one of their eye-catching resume templates.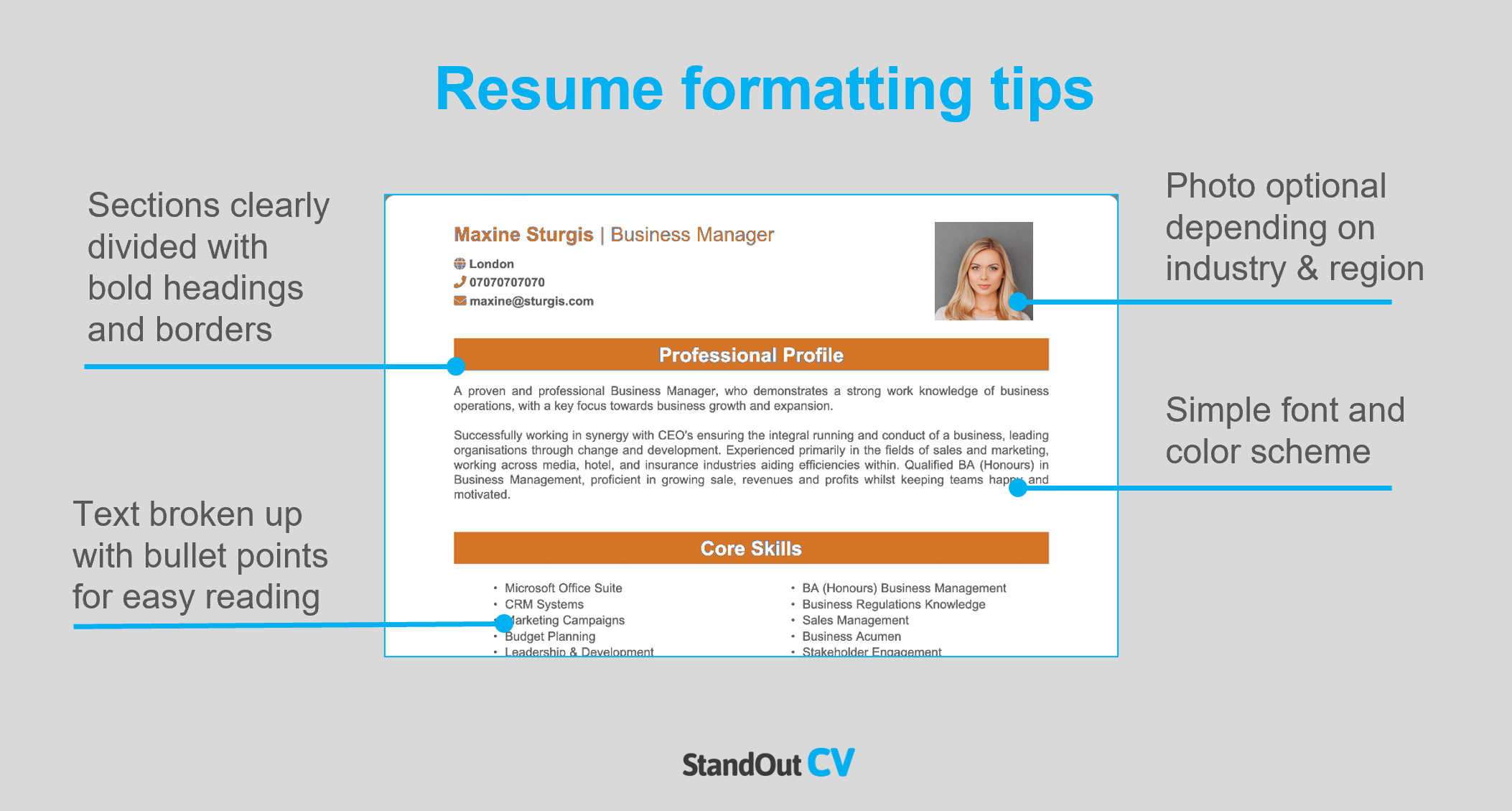 Resume layout
Here's an overview of the sections you should add when writing your resume.
Name and contact details – Stick these details at the top, so they are easy to find.
Resume summary – A punchy paragraph summarizing your skills and knowledge, enticing recruiters to read more of your resume.
Skills section – Short list of your most valuable skills, enabling recruiters to quickly spot your suitability.
Work experience – Showcase your previous employment, starting with your most recent roe and working backwards – voluntary work and college placements can be included if you have no paid experience.
Education – A summary of your most relevant qualifications and academic achievements
Additional info – An optional section for that other attributes that may boost your application, such as hobbies or clubs
Now here's exactly what you should include in each of these sections in your resume.
Resume Contact Details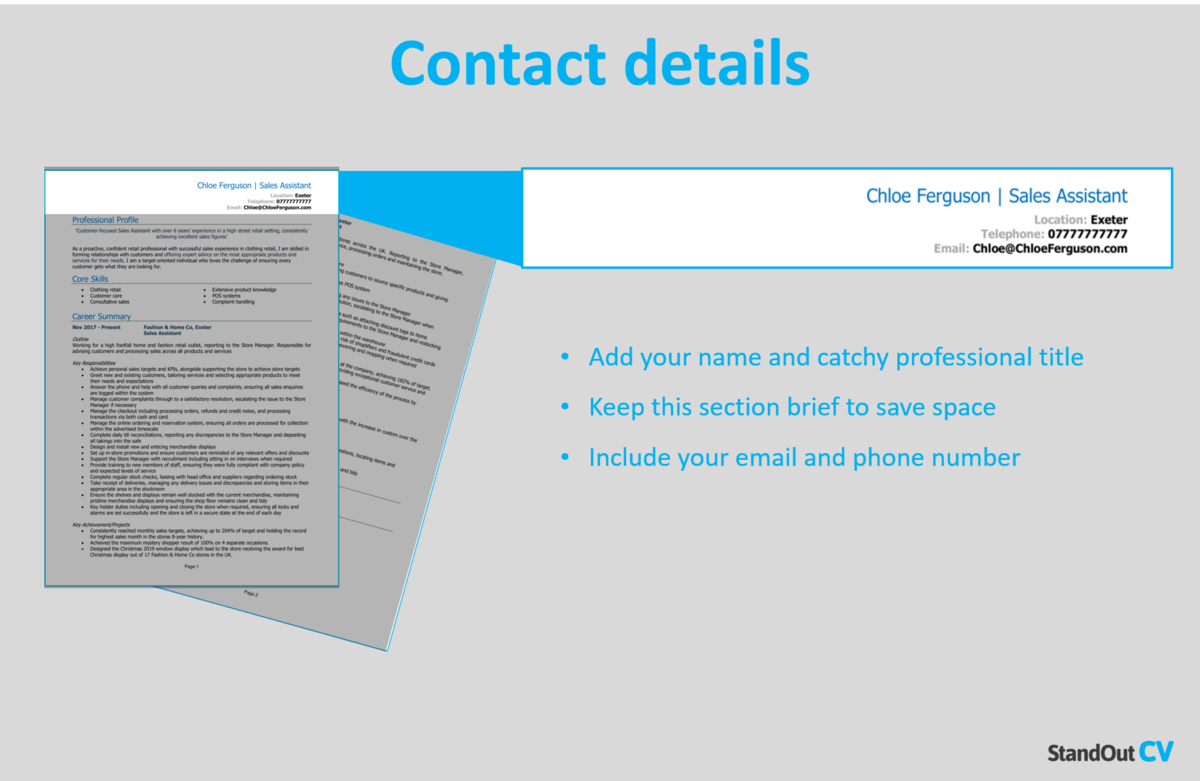 Add your name and contact details to the very top of your resume, making it easy for recruiters to get in touch
Name and profession title
Cell phone number – or another number you can answer quickly
Location – Add your local area such as San Diego or New York – not your full address as that will take up too much space.
Email address – Use your name or close variation – no nicknames from high school.
You can add a link to your LinkedIn profile if you have one – you do not need to include personal details like date of birth or marital status.
Criminal Justice Resume Summary
Your resume summary is like your introduction to the recruiter or hiring manager – it should grab their attention and leave them eager to read more about you.
Achieve this by writing a snappy overview of your skills, knowledge and what value you can bring to an employer.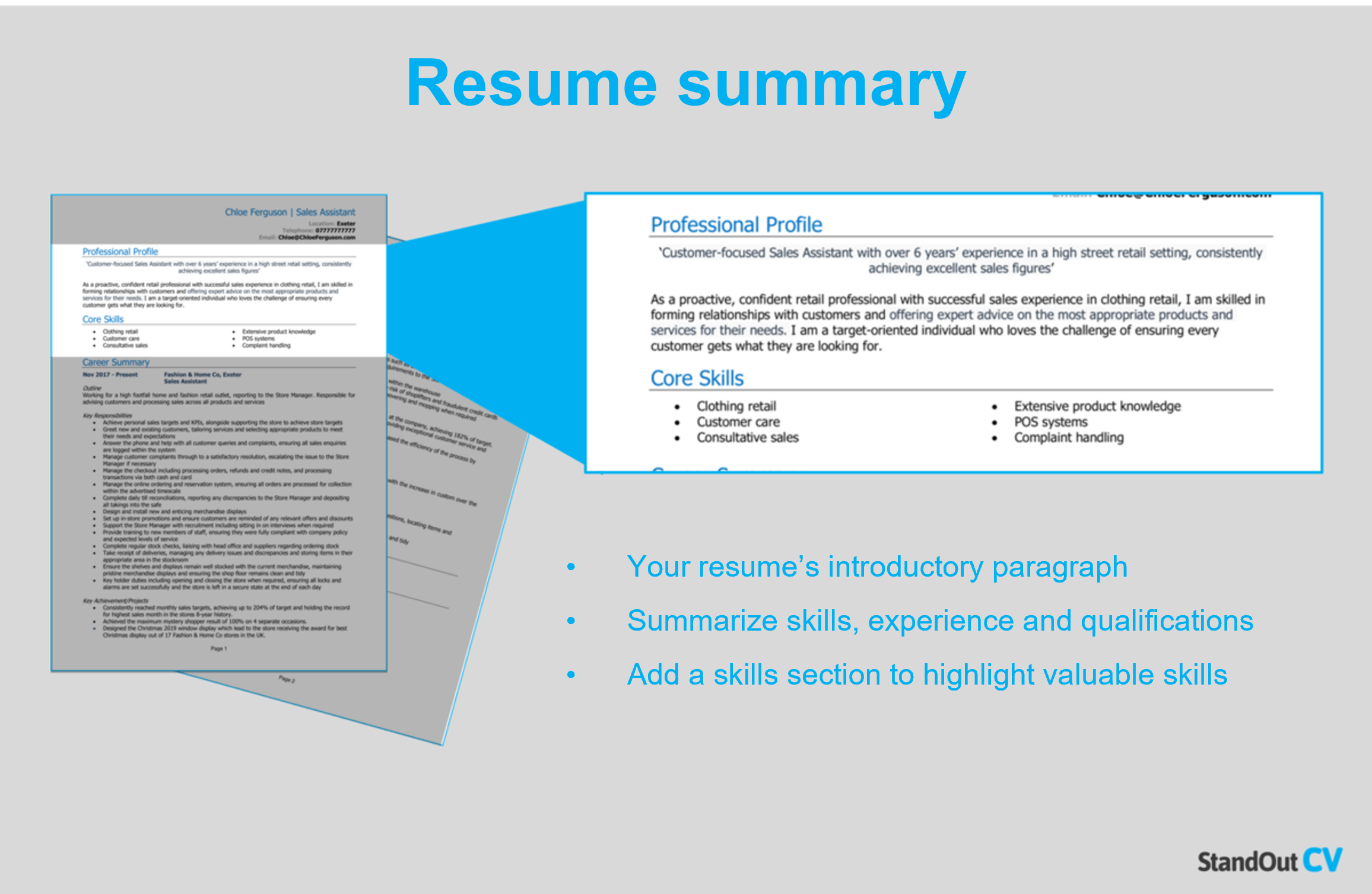 Tips for creating an strong resume summary:
Keep it brief: You only have a few seconds to grab a recruiters' attention and make them commit to your resume, so keep your summary between 4 – 7 lines.
Tailor it: Recruiters will be scanning for the skills and knowledge they mentioned in the job description, so add as many as you can to your summary.
Avoid cliches: You might be a "highly motivated go-getter who thinks outside the box" but generic meaningless cliches like that don't tell employers much about you – stick to factual information in your summary.
Example resume summary for Criminal Justice
Accomplished and dedicated Criminal Justice Counselor with significant experience supporting offenders to grow and transition into productive, happy, and law-abiding citizens. Proven success counseling offenders in private and group rehabilitation settings, and supporting their return to a purposeful, crime-free life in the community. Effectively developed and fostered positive and influential relationships with at-risk offenders, providing them with helpful mentoring and guidance. Committed to the integrity, safety, and the mental and physical health of clients.
What to include in your Criminal Justice Resume summary?
Summary of professional experience: Summarize the type of work you have done in the past and the benefits you have delivered for the organizations you worked at.
Relevant skills: Scatter your most in-demand Criminal Justice skills through your summary to ensure they are noticed quickly by hiring managers.
Essential qualifications: If your job requires any qualifications such as a professional course or a college degree, mention it briefly in your summary.
Quick tip: Choose from hundreds of pre-written summaries across all industries, and add one to your resume with one click in our partner's Resume Builder. All written by our recruitment experts and easily tailored to suit your unique skillset.
Core skills section
Sitting just underneath your resume summary, your core skills section gives recruiters 4-10 of your most in-demand skills in just a glance.
As Criminal Justice jobs may get hundreds of applications, this is a great way to stand out and quickly grab hiring managers' attention.
It should be made up of 2-3 columns of bullet points and highlight attributes that are hyper-relevant to the jobs you are aiming for.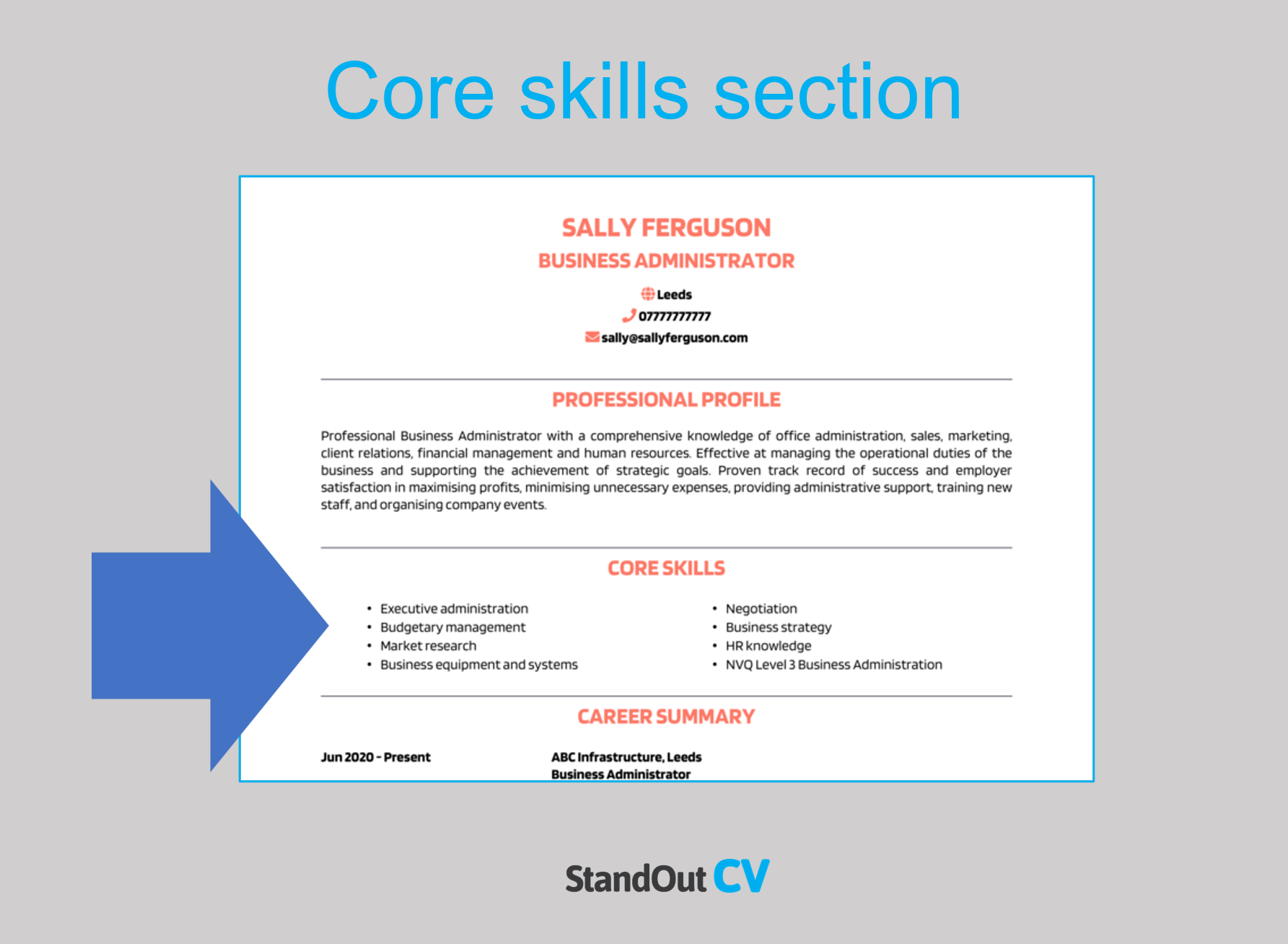 Best skills for your Criminal Justice resume
Crisis intervention – Defusing and resolving a variety of crisis situations, analyzing their causes, and utilizing appropriate techniques to "take charge" of such situations.
Behavioural disorders – Detailed understanding of a range of behavioural disorders and how they can manifest in a criminal environment.
Suicide risk assessments – Assessing each prisoner on their risk of self-harm/suicide and devising a prevention program which may improve knowledge about the indicators of suicide, target detection and intervention, or focus on making changes to the physical environment to reduce risk.
Restrain techniques – Utilizing appropriate techniques to restrain prisoners when required, to keep the prisoner and others safe.
US criminal law proceedings – Understanding of US law and associated criminal proceedings for a wide range of crimes.
Quick tip: Our partner's Resume Builder contains thousands of in-demand skills for every profession that can be added to your resume in seconds – saving you time and greatly improving your chances of landing job interviews.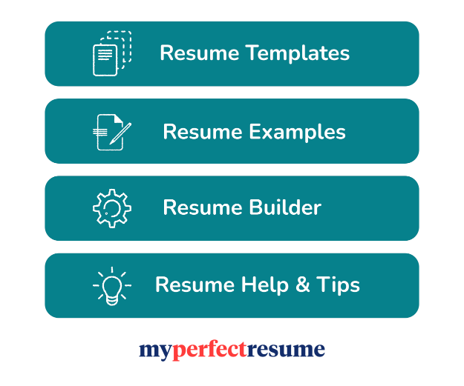 Work experience section
Once you've hooked the hiring manager with your summary, you can really blow them away with you work experience.
List your previous jobs from newest to oldest to show the impact you made at each organization.
If you have years of experience, you can leave out some of the older jobs, and if you have little/no experience, you can bulk this section up with voluntary work and college placements.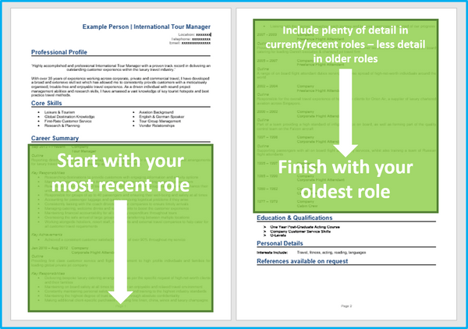 Structuring your job descriptions
You probably do a lot in your job, so its vital to break all of that information down into a good structure.
Structure your jobs as follows to make it easy for recruiters to skim through and pinpoint the essential info.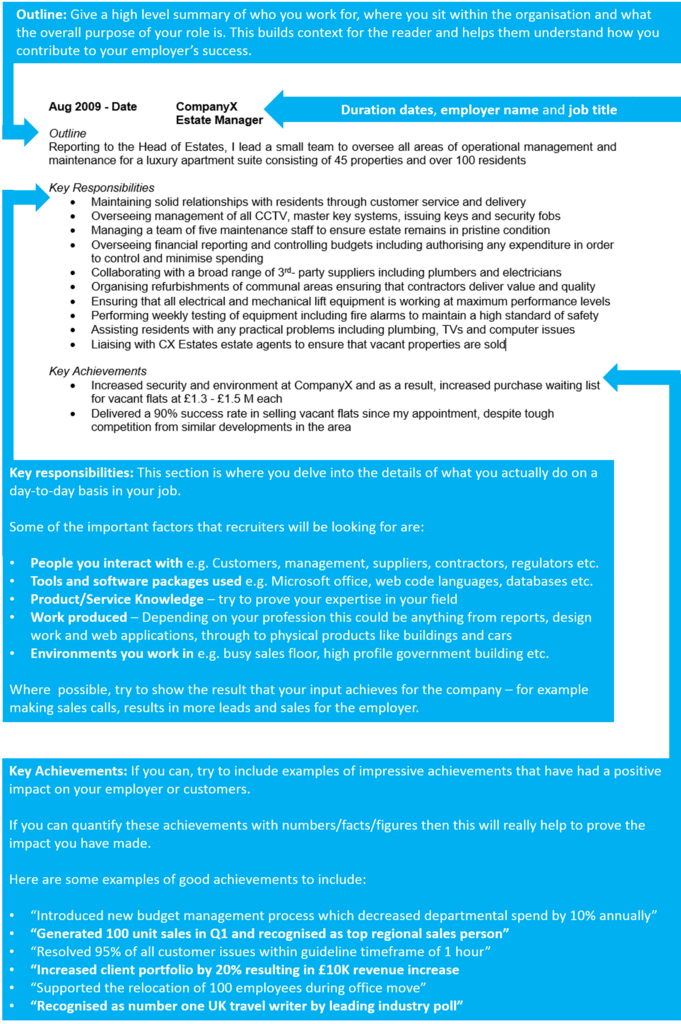 Job outline
Start with a 1-2 sentence outline of the role, summarizing what the goal of your position was, who you reported to (or managed) and the type of organization you worked for.
Key responsibilities
Then delve into the detail of your job by listing out easy-to-read bullet points which show how you apply your skills in the workplace.
Tailor these bullet points to focus on the skills and knowledge that are required in the jobs you are applying for.
Key achievements
Finish each role by highlighting some impressive achievements you made whilst in the role.
Anything that benefited the employer can be included from making financial savings, to winning new customers.
Quantify your achievements with facts and figures if you can, e.g. "reduced call wait time by 10%"
Example job for Criminal Justice resume
Outline
Working for one of the largest medium security prisons in Texas. Responsible for providing expert counseling to prison inmates via provide one-on-one or group therapies to assist them in adjusting to prison life, pre-release and post-release.
Key Responsibilities
Counsel the prison population during individual and group therapy sessions
Assess clients and write treatment plans and weekly progress reports for each individual
Monitor the behavior of clients to prevent crime, escape attempts, and physical and mental harm
Assist newly released prisoners to readjust to their work and family lives post-release
Quick tip: Create impressive job descriptions easily in our partner's Resume Builder by adding pre-written job phrases for every industry and career stage.

Education resume section
Near the end of your resume add your education section
Experienced candidates should keep it brief and focus on professional qualifications – and junior candidates can include high school diplomas, college degrees etc.
Additional info for your resume
If you have anything else to add which is relevant to the jobs you are applying for, the additional info section is the place to add it.
Perhaps you have a hobby which involves relevant skills, or maybe you have some awards or publications worth mentioning.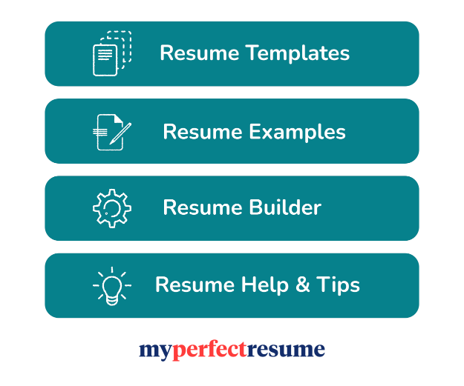 Writing your Criminal Justice resume
A winning Criminal Justice resume should look great, read well, and sell your skillset to hiring managers.
If you follow the steps above, you should be able to bag yourself a top job in no time.
And don't forget you can use our partner's Resume Builder if you want to save time and ensure your resume contains the very best content.
Good luck with your job search!