You're usually the one writing the job adverts and interviewing those who apply, so why does it feel so tough to create an impressive application and secure yourself a job?
Well, sometimes it's tricky to be on the other side of the hiring process, which is why we're here to help.
Check out our detailed resume writing guide below, complete with a corporate recruiter resume example to inspire your own.
Contents
| | |
| --- | --- |
| How to write your Corporate Recruiter resume | |

Corporate Recruiter Resume Example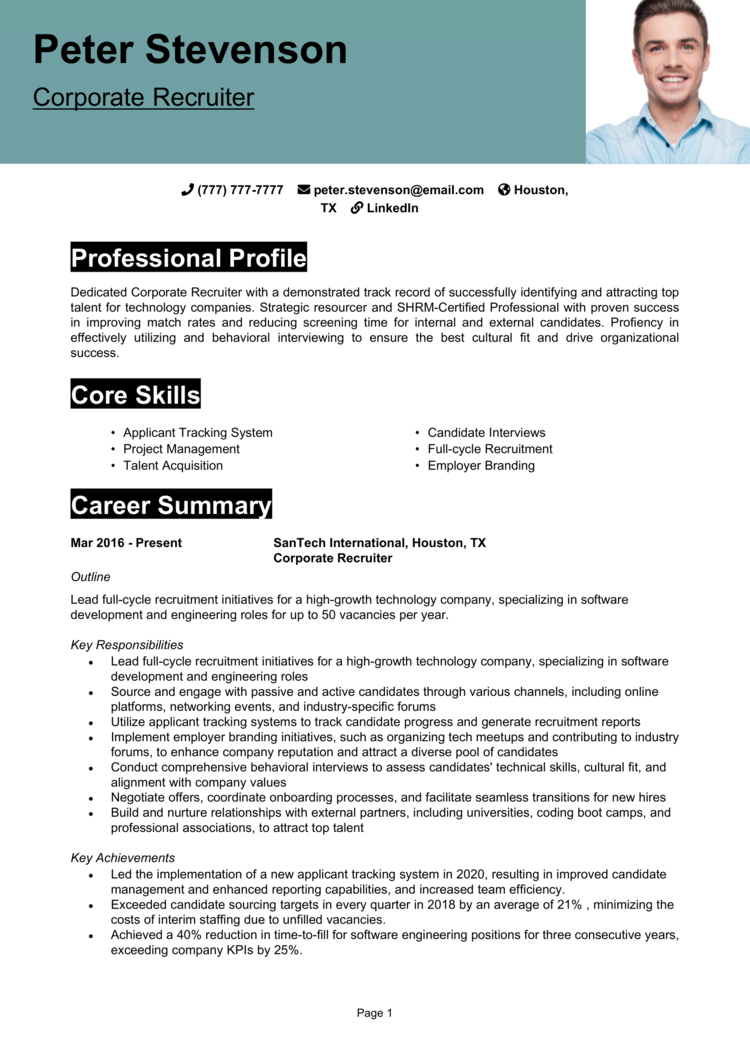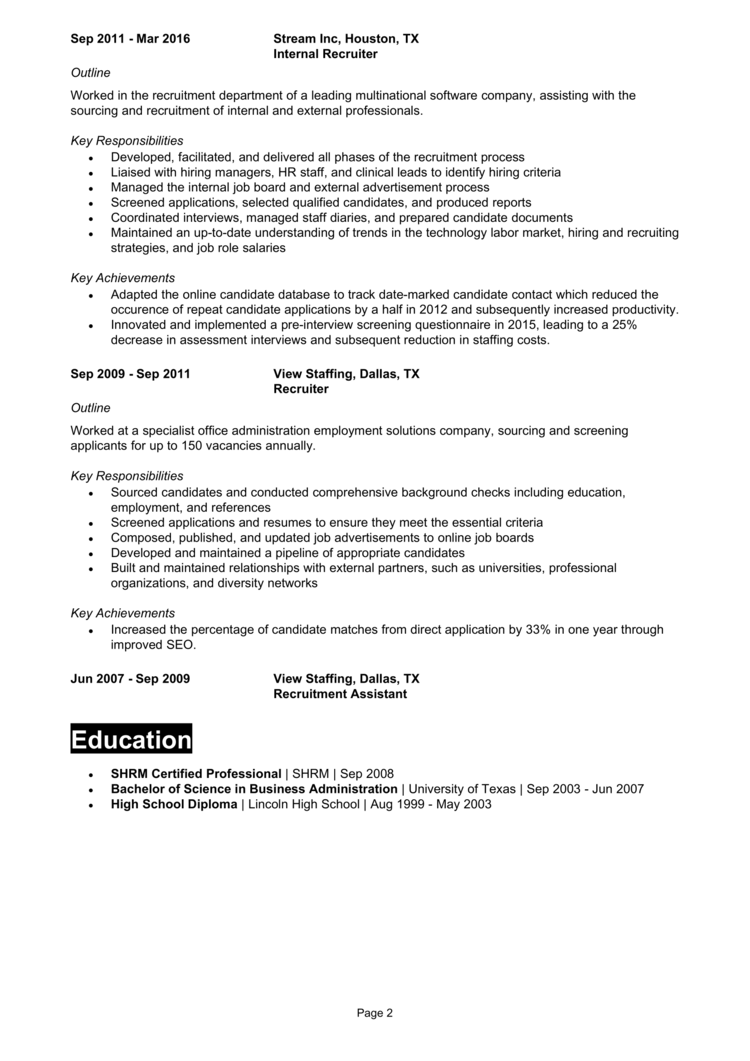 This example Corporate Recruiter resume gives you a general idea of how to structure your own resume, along with the type of content you need to include.
Sticking with this resume format will help you to get noticed by employers and ensure that they can quickly see the benefit of hiring you.
Now, lets walk through a step-by-step guide on how to write your own winning resume.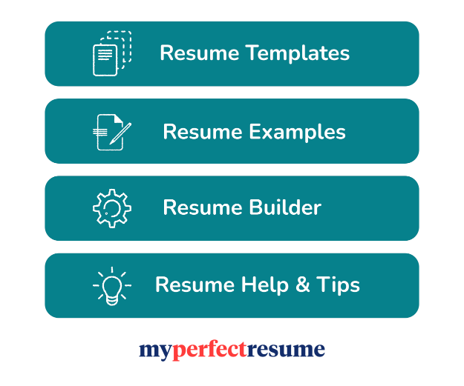 Corporate Recruiter resume layout and format
Formatting is often overlooked when writing resume, but it's a crucial element of it"s success.
Creating a document that not only looks good, but is easily comprehended, is the key to gaining and holding the attention of busy hiring managers.
Use these formatting tips for best results.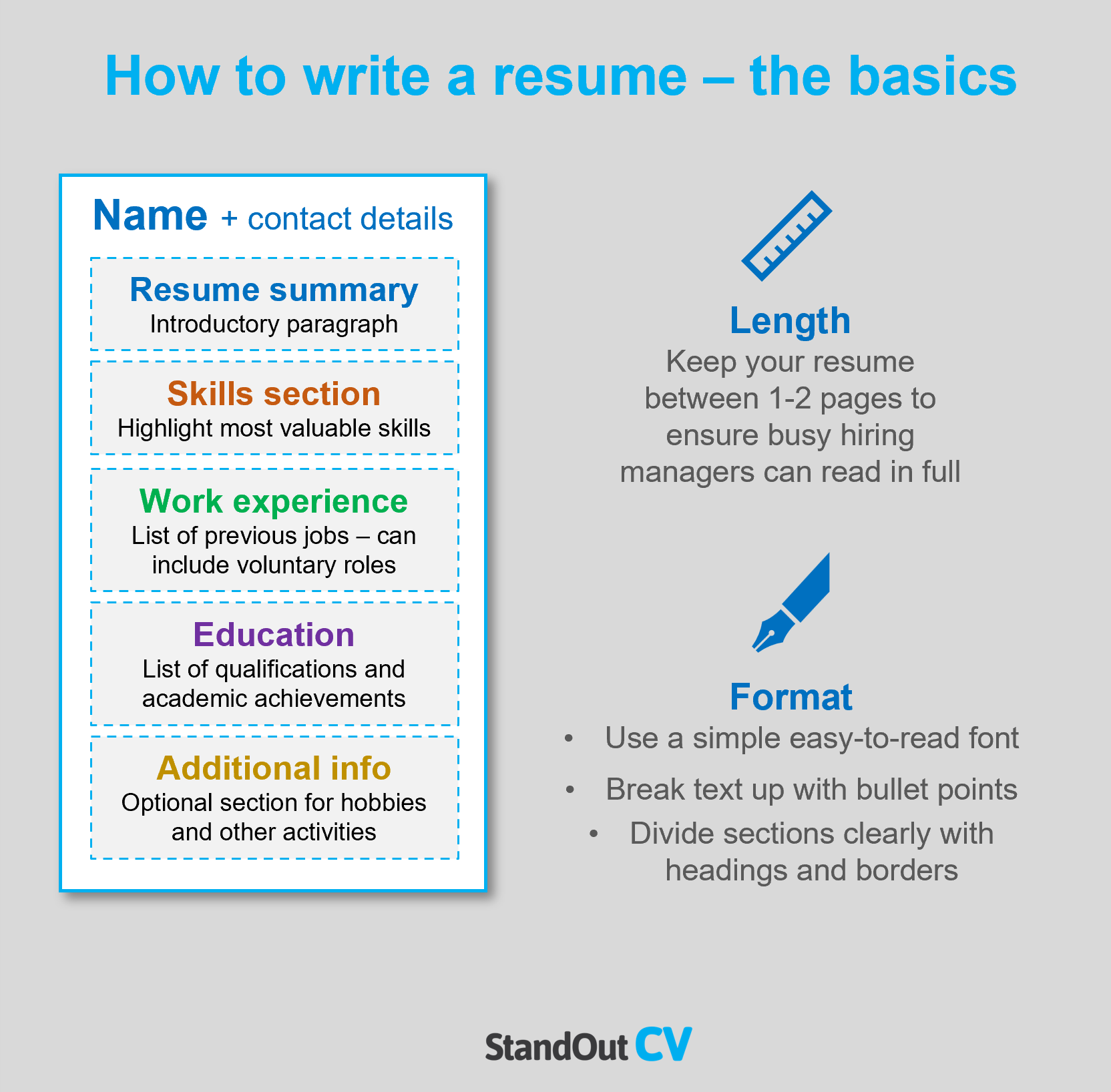 Formatting your resume
Length: Given that recruiters have to sift through tons of resumes daily, it's recommended to keep your resume brief (no more than 2 pages) to make sure it receives their full attention.
Font & readability: A readable resume is crucial if you want recruiters to see your important skills. Ensure yours is easy to read by using a simple, clear font and breaking up the text with bullet points and short paragraphs.
Layout: Allow recruiters to skim through your resume with ease, by dividing the page into clear sections with headings and borders. The design of your resume should be eye-catching but not overly complex – keep the style and color scheme simple and clean.
Photos: Although it's not mandatory to include a photo on your resume in the United States, it may be a good idea to do so in certain regions and industries where it is preferred.
Quick tip: Achieving a professional look for your resume can be difficult and time-consuming. If you want to create an attractive resume quickly, try our partner's Resume Builder and use one of their eye-catching resume templates.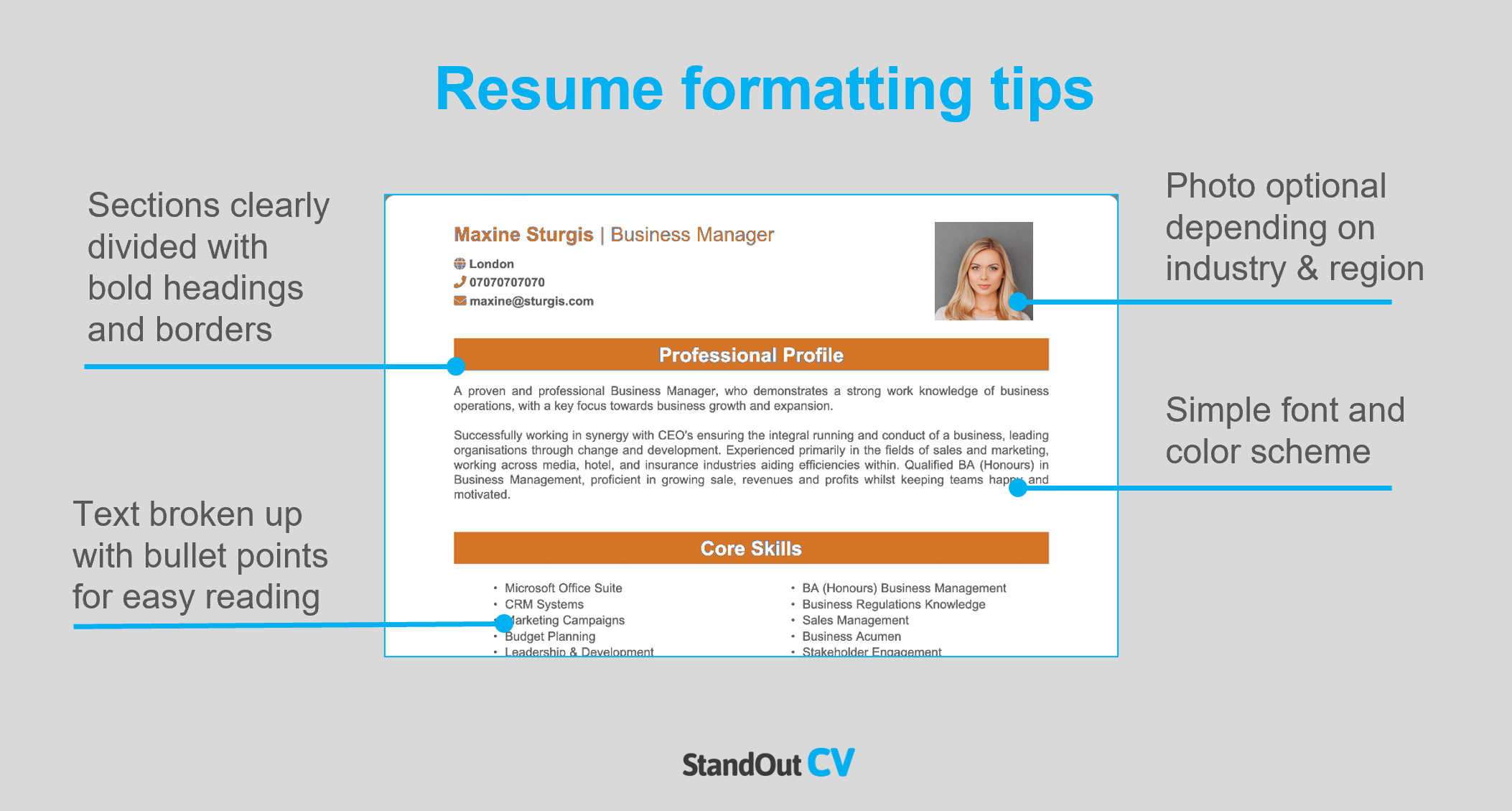 Resume layout
Divide the page into these sections when you write your own resume.
Name and contact details – Simply state who you are, and how to get in touch with you.
Resume summary – An introductory paragraph at the very top of your resume which summarizes your skills, experience and suitability for your target jobs.
Core skills section – A bullet-pointed list of your skills that relate most to your target jobs.
Work experience – A list of your current and previous jobs, including all of your responsibilities and achievements.
Education – A section that showcases all of your education and academic achievements.
Additional info (optional) – Here you can add an extra section for things like hobbies and interests, or anything else that might be relevant to your target jobs.
Here's what to add to each section of your Corporate Recruiter resume.
Contact Details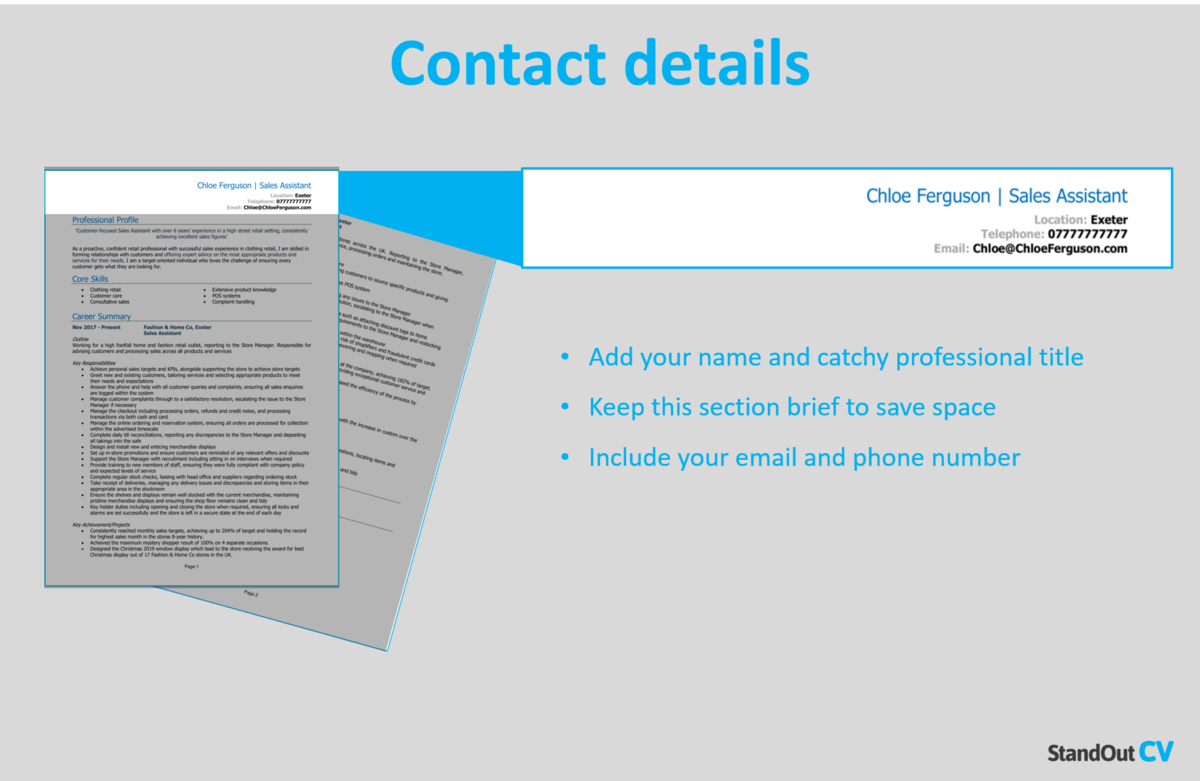 Keep your contact details short to save resume space and include the following.
Name and profession title
Cell phone number
Location – Add your local area such as Silicon Valley or New York, unless you are looking for work in a different location
Email address – Keep it professional and don't use an old address that you thought was cool in high school, but now looks a bit embarrassing.
You can add a link to your LinkedIn profile if you have one – you do not need to include personal details like date of birth or marital status.
Corporate Recruiter Resume Summary
Your resume summary is like an elevator pitch. It's your chance to sell yourself to employers within a short space of time.
Achieve this by summarizing your skills and expertise, whilst highlighting your abilities that closely match the jobs you are aiming for.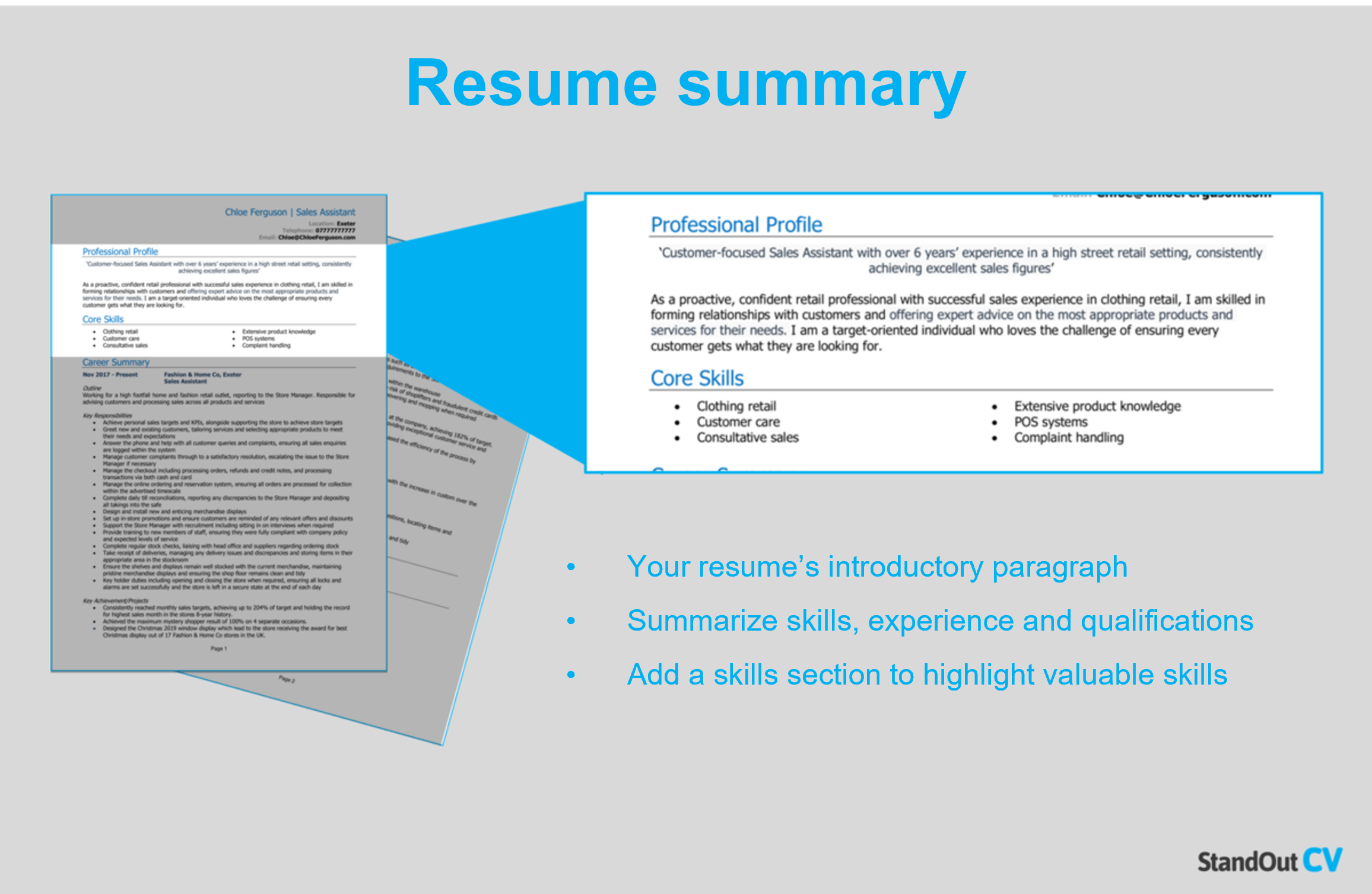 How to create a resume summary that will excite recruiters:
Keep it short: Aim for a short punchy paragraph of 4-7 lines. This is just enough info to showcase why you'd make the perfect hire, without going into excessive detail and overwhelming busy recruiters at such an early stage in the resume.
Tailor to target jobs: Tailor your resume to your target jobs by studying the job description and adding as many matching skills as you can.
Avoid using cliches: Although you may believe that you're a "team player who always gives 110%," these kinds of cliches don't communicate much about your skills and qualifications to potential employers. It's more effective to stick to factual information in your resume.
Corporate Recruiter resume summary example
Dedicated Corporate Recruiter with a demonstrated track record of successfully identifying and attracting top talent for technology companies. Strategic resourcer and SHRM-Certified Professional with proven success in improving match rates and reducing screening time for internal and external candidates. Proficiency in effectively utilizing and behavioral interviewing to ensure the best cultural fit and drive organizational success.
What to include in your Corporate Recruiter resume summary?
Summary of your experience: Summarize the type of work you have done in the past and the ways in which you have contributed to the success of your previous employers.
Relevant skills: Incorporate your highly relevant skills for Corporate Recruiter jobs to exhibit your suitability as soon as your resume is opened.
Qualifications: Showcase your level of education with a quick mention of any qualifications that are essential for the Corporate Recruiter roles you are applying to.
Quick tip: Choose from hundreds of pre-written summaries across all industries, and add one to your resume with one-click in our partner's Resume Builder. All written by recruitment experts and easily tailored to suit your unique skillset and style.
Core skills section
Next, you should create a bullet pointed list of your core skills, formatted into 2-3 columns.
Here, you should focus on including the most important skills or knowledge listed in the job advertisement.
This will instantly prove that you're an ideal candidate, even if a recruiter only has time to briefly scan your resume.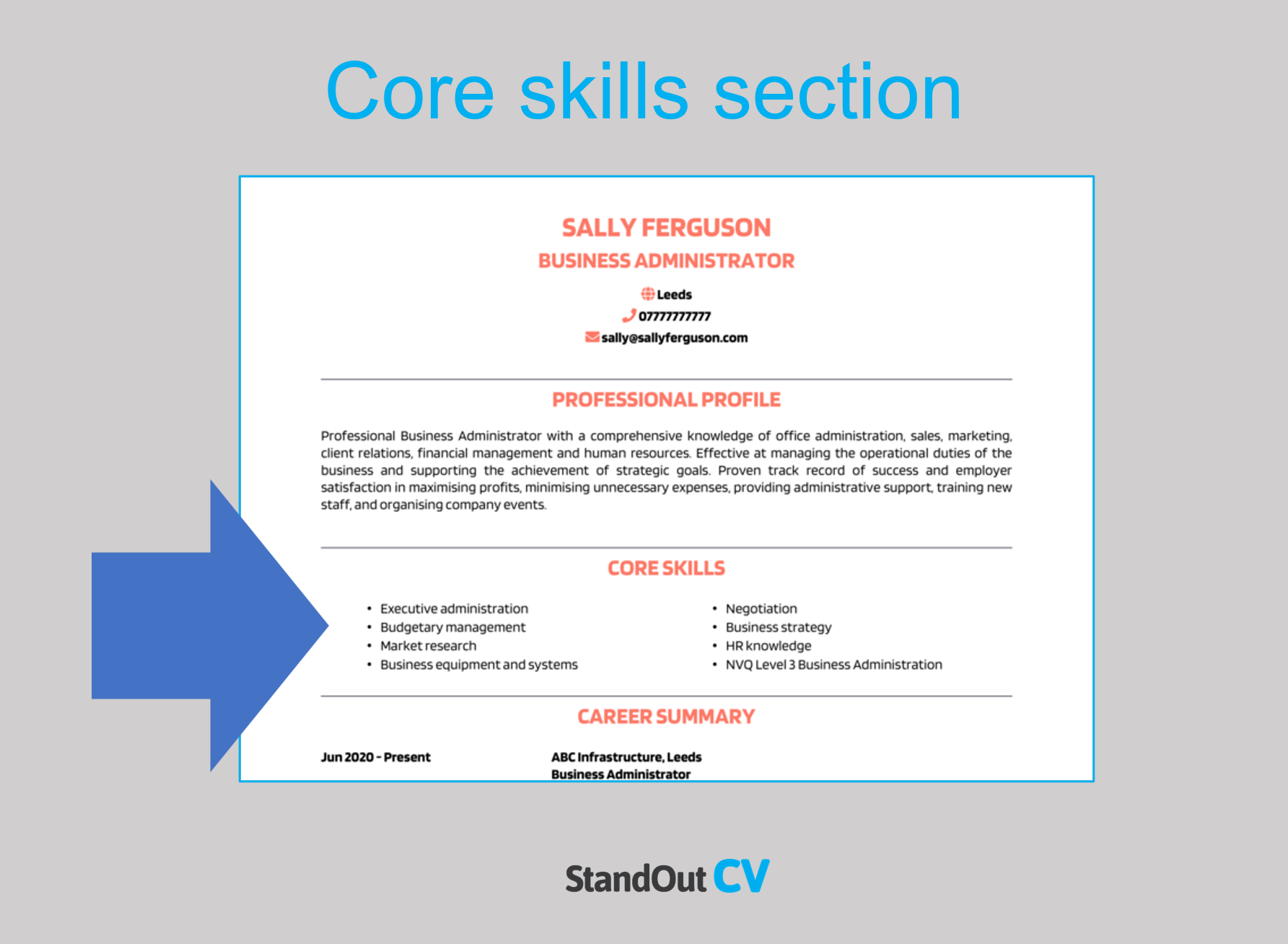 Best skills for your Corporate Recruiter resume
Talent Acquisition – Sourcing, attracting, and selecting qualified candidates to meet the organization's hiring needs.
Candidate Screening – Effectively reviewing resumes, conducting initial screenings, and assessing candidates' qualifications and fit for specific roles.
Interviews and Assessments – Conducting structured interviews, behavioral interviews, and competency-based assessments to evaluate candidates' skills, experience, and cultural fit.
Employer Branding – Developing and promoting the organization's employer brand to attract top talent and enhance the company's reputation.
Applicant Tracking Systems (ATS) – Using ATS platforms to manage candidate data, track applications, and streamline the recruitment process.
Negotiation and Offer Management – Negotiating job offers, including compensation packages, benefits, and other terms, while maintaining a balance between candidate expectations and company requirements.
Networking – Building and maintaining professional networks to source passive candidates, establish industry connections, and promote the organization as an employer of choice.
Market Research – Conducting market research and analysis to stay updated on industry trends, competitor practices, and talent market dynamics.
Compliance and Legal Knowledge – Maintaining knowledge of employment laws, regulations, and best practices to ensure fair and legal recruitment processes.
Data Analysis – Analyzing recruitment data, metrics, and key performance indicators to assess the effectiveness of recruitment strategies and make data-driven decisions.
Quick tip: Our partner's Resume Builder contains thousands of in-demand skills for every profession that can be added to your resume in seconds – saving you time and greatly improving your chances of landing job interviews and getting hired.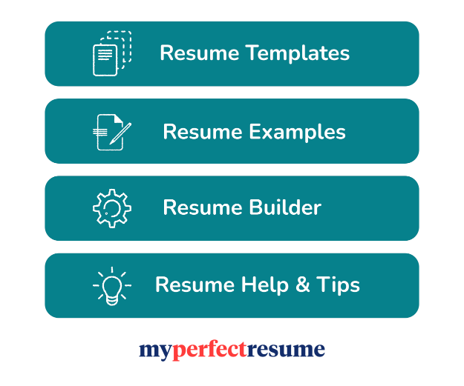 Work experience
Once you've got recruiters interested with your impactful summary, your work experience is where the real detail will lie.
Lay out your previous jobs from current to oldest, detailing what you contributed and achieved in each one.
If you're highly experienced you can cut this section down to your most recent few years of work, but if you are junior you can bulk this up with voluntary work and college placements.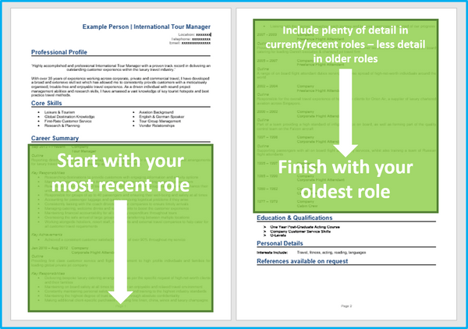 Structuring your jobs
Without a good structure, your job description can look messy and overwhelming to anyone reading them.
Make it easy for recruiters to read your work experience by structuring your roles like this.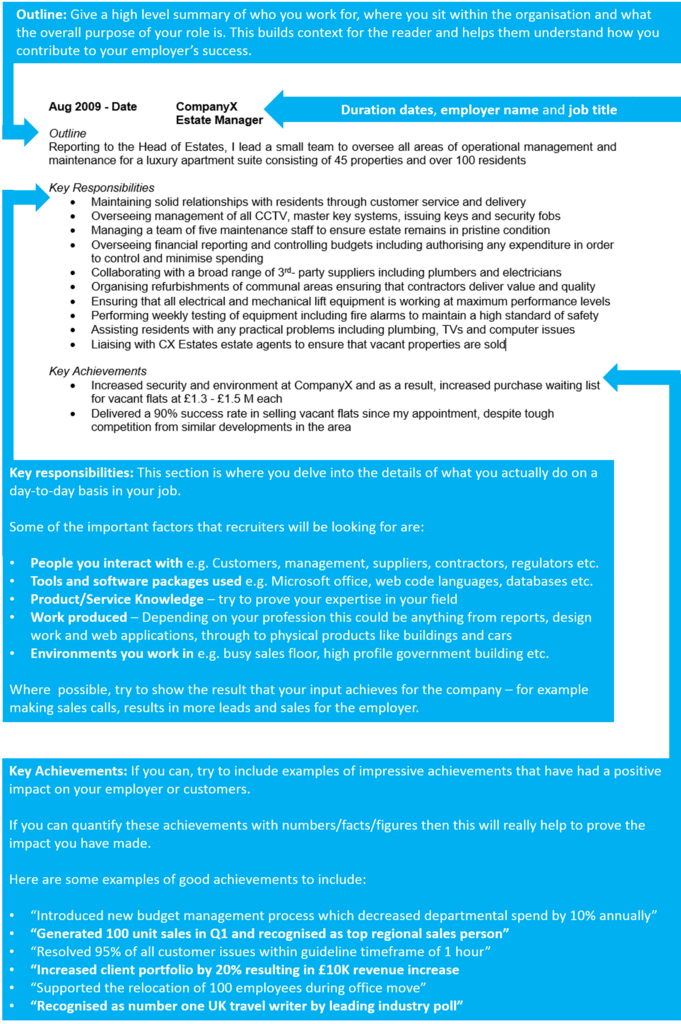 Job outline
Start with a 1-2 sentence outline of the role, summarizing what the goal of your position was, who you reported to (or managed) and the type of organization you worked for.
Key responsibilities
Next, write up a punchy list of your daily duties and responsibilities, using short bullet points.
Describe how you apply your skills and contribute to the running of the employer's business – highlighting skills which are applicable to your target jobs.
Key achievements
Finish each role by highlighting some impressive achievements you made whilst in the role.
Anything that benefited the employer can be included from making financial savings, to winning new customers.
Quantify your achievements with facts and figures if you can, e.g. "reduced call wait time by 10%"
Example job for Corporate Recruiter resume
Outline
Lead full-cycle recruitment initiatives for a high-growth technology company, specializing in software development and engineering roles for up to 50 vacancies per year.
Key Responsibilities
Lead full-cycle recruitment initiatives for a high-growth technology company, specializing in software development and engineering roles
Source and engage with passive and active candidates through various channels, including online platforms, networking events, and industry-specific forums
Utilize applicant tracking systems to track candidate progress and generate recruitment reports
Implement employer branding initiatives, such as organizing tech meetups and contributing to industry forums, to enhance company reputation and attract a diverse pool of candidates
Quick tip: Create impressive job descriptions easily in our partner's Resume Builder by adding pre-written job phrases for every industry and career stage.

Education section
Nearing the end of your resume, your education/qualifications section should be added.
In a well-structured list, add all of your qualifications and certifications that qualify you to perform a typical Corporate Recruiter role.
If you have plenty of work experience, keep this section brief – if not, add lots of detail to make up for your lack of experience.
Additional information
If you have anything else to add which is relevant to the jobs you are applying for, the additional info section is the place to add it.
Perhaps you have a hobby which involves relevant skills, or maybe you have some awards or publications worth mentioning.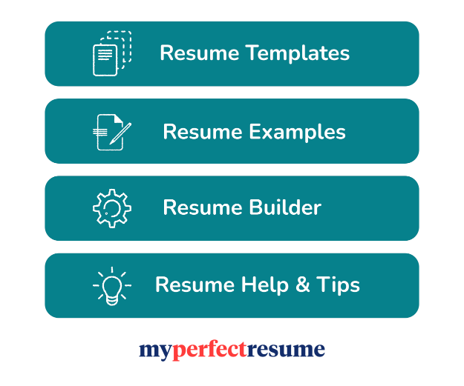 Writing your own winning Corporate Recruiter resume
A winning Corporate Recruiter resume should look great, read well, and sell your skillset to hiring managers.
If you follow the steps above, you should be able to bag yourself a top job in no time.
Good luck with your job search!