You know you can confidently oversee every stage of the construction process, from planning and scheduling to finance and safety, but you need to prove it to the recruiter.
We can help you to build a strong application that showcases your experience and highlights projects you've overseen in the past.
In this guide, we'll break down the writing process to help you perfect your resume. Check out our top tips and a construction superintendent resume example below.
Contents
| | |
| --- | --- |
| How to write a Construction Superintendent resume | |

Construction Superintendent Resume Example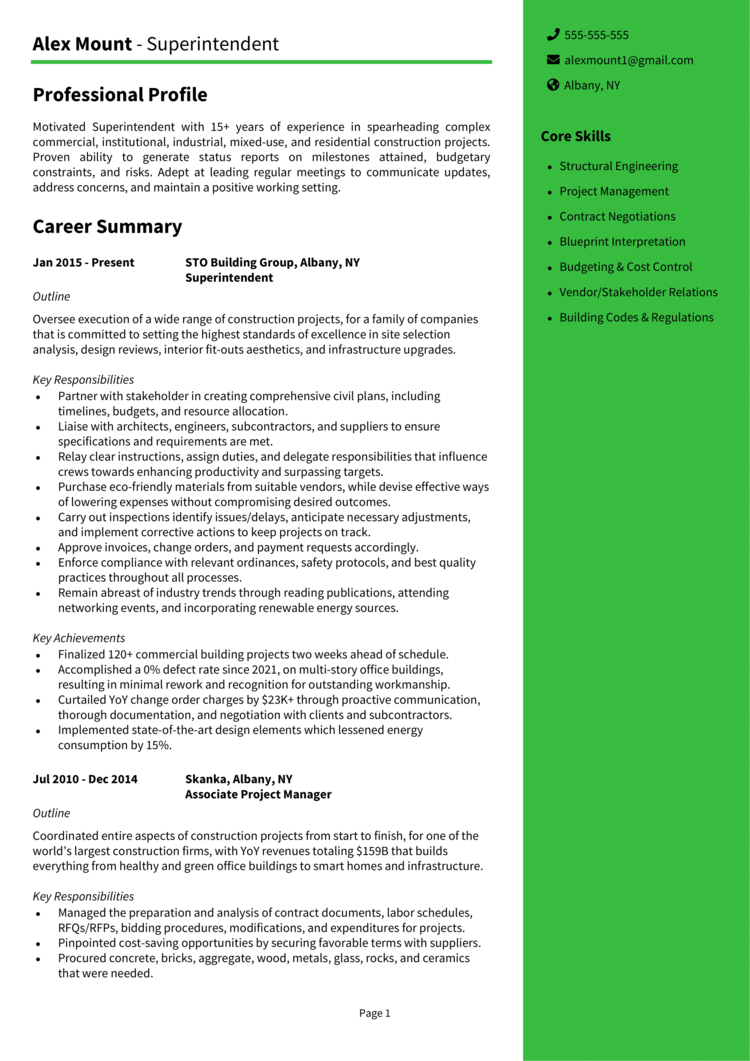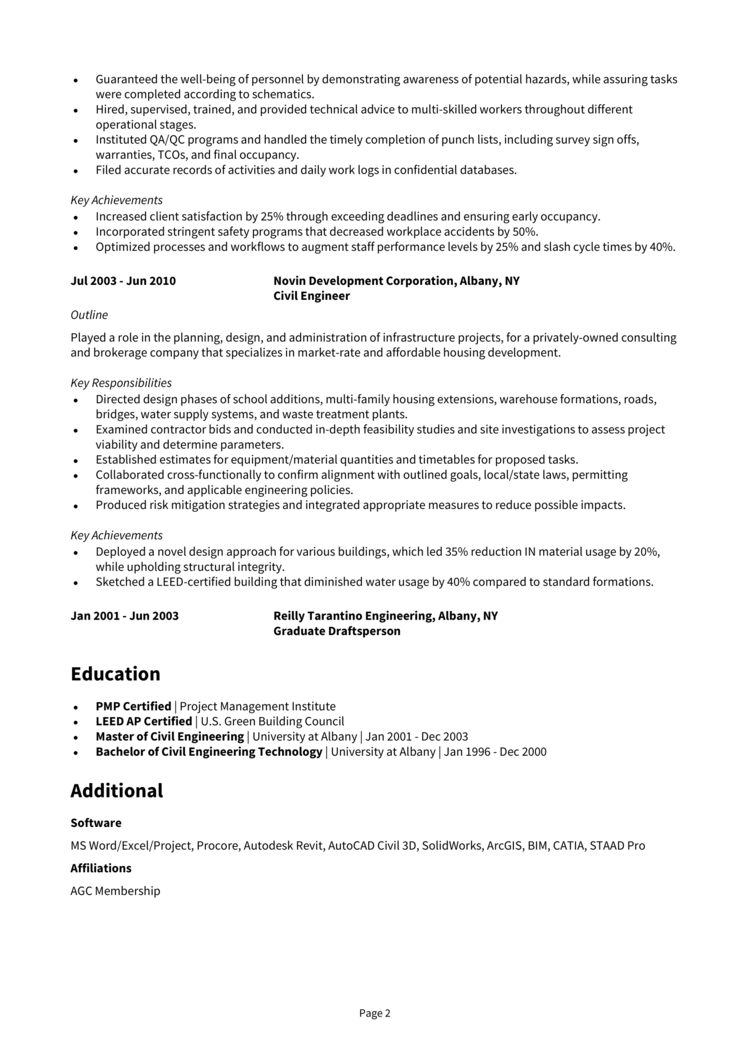 The example Construction Superintendent resume above shows you how a professional resume should look, along with the type of content it should contain.
You can see that the information is well-organized across the page and its easy for busy recruiters to see the candidate's important skills.
Keep this in mind when writing your own resume.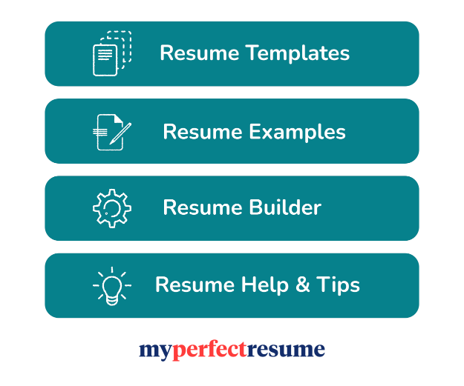 Construction Superintendent resume layout and format
The format and layout of your resume can make or break its success.
Sure, it's great to pack your resume with lots of impressive skills and knowledge, but if the page is not structured clearly, hiring managers will struggle to find the important stuff!
Above all, your resume should be easy-to-read and professional looking.
Follow these formatting tips to get noticed.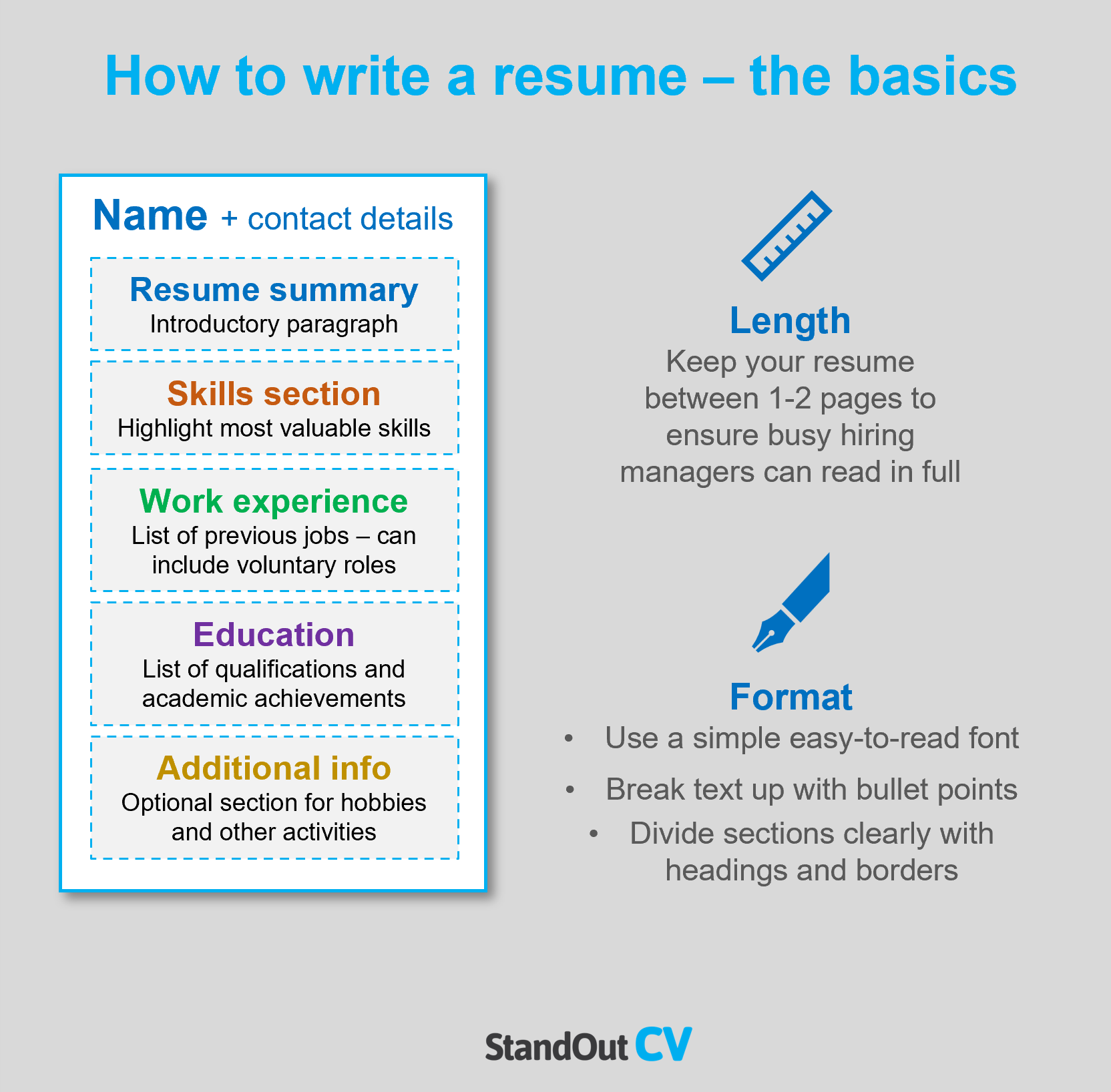 Formatting your resume
Length: Think that submitting a 10 page resume will impress recruiters? Unfortunately it won't… Even if you've got tons of experience to brag about, recruiters don't have time to read essays, so keep it brief – around 2 pages is the sweet spot.
Font & readability: To create a resume that is easily digestible for hiring managers, it's essential to use an uncomplicated font and structure your content with bullet points and short paragraphs.
Layout & Structure: Allow recruiters to skim through your resume with ease, by dividing the page into clear sections with headings and borders. The design of your resume should be eye-catching but not overly complex – keep the style and color scheme simple and clean.
Photos: In the USA adding a photo to your resume is optional – you don't have to do it, but it can be a nice way to get your personality across.
Quick tip: Achieving a professional look for your resume can be difficult and time-consuming. If you want to create an attractive resume quickly, try our partner's Resume Builder and use one of their eye-catching resume templates.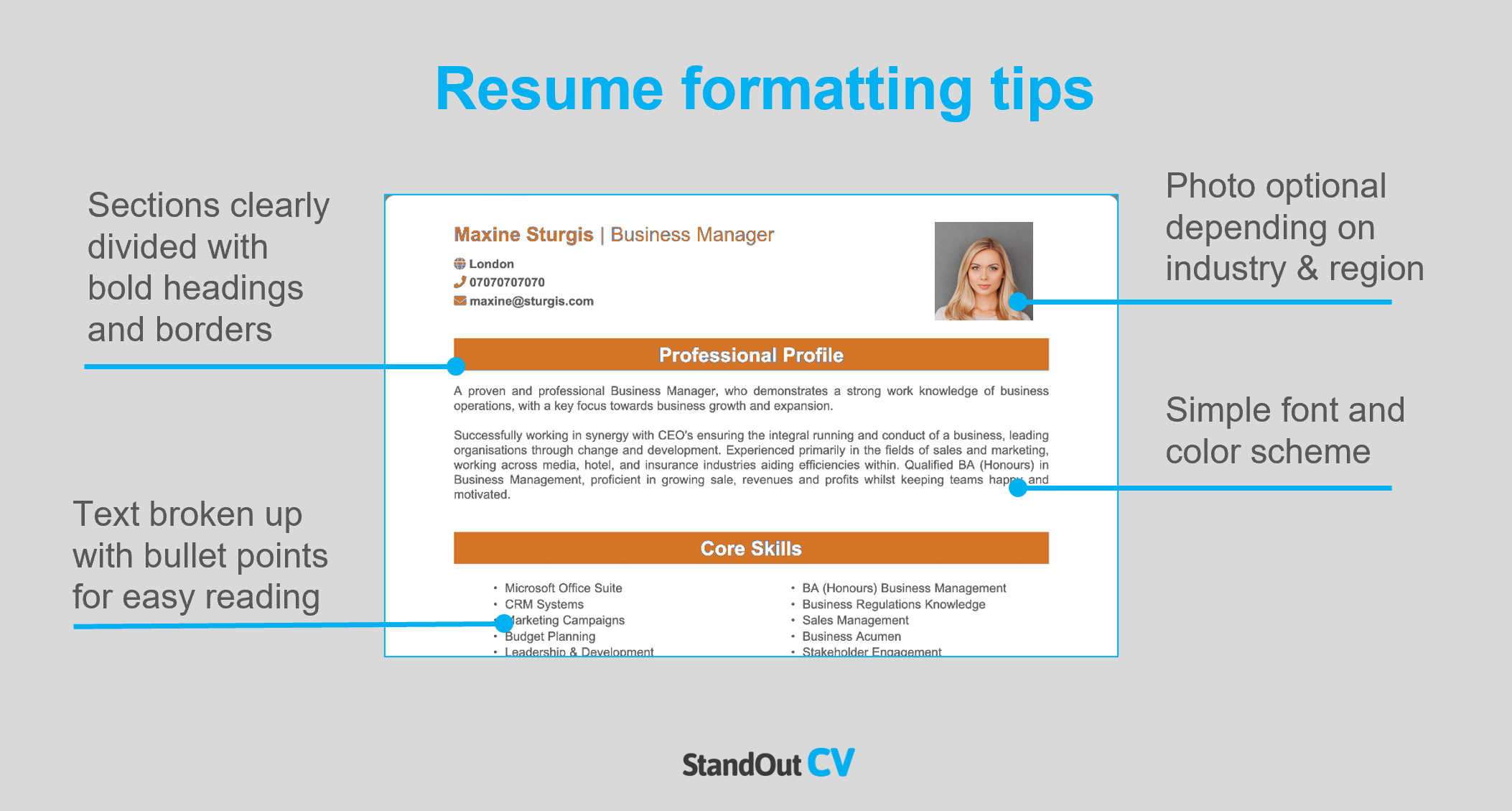 Resume layout
Organize the document into these sections when you write your resume.
Name and contact details – Employers need to know how to get in touch with you – so list your email and cell phone number here.
Resume summary – An intro paragraph at the top of the resume which summarizes your suitability for target jobs.
Skills section – A bullet-pointed list of your most relevant skills and knowledge.
Work experience – A list of your previous jobs (or at least the most relevant and recent ones)
Education – Add academic and professional qualifications that prove you can carry out the job
Additional info – If they are relevant to the jobs you are applying for, you can add an extra section for things like hobbies and interests.
Here's what to include in each part of your resume.
Contact Details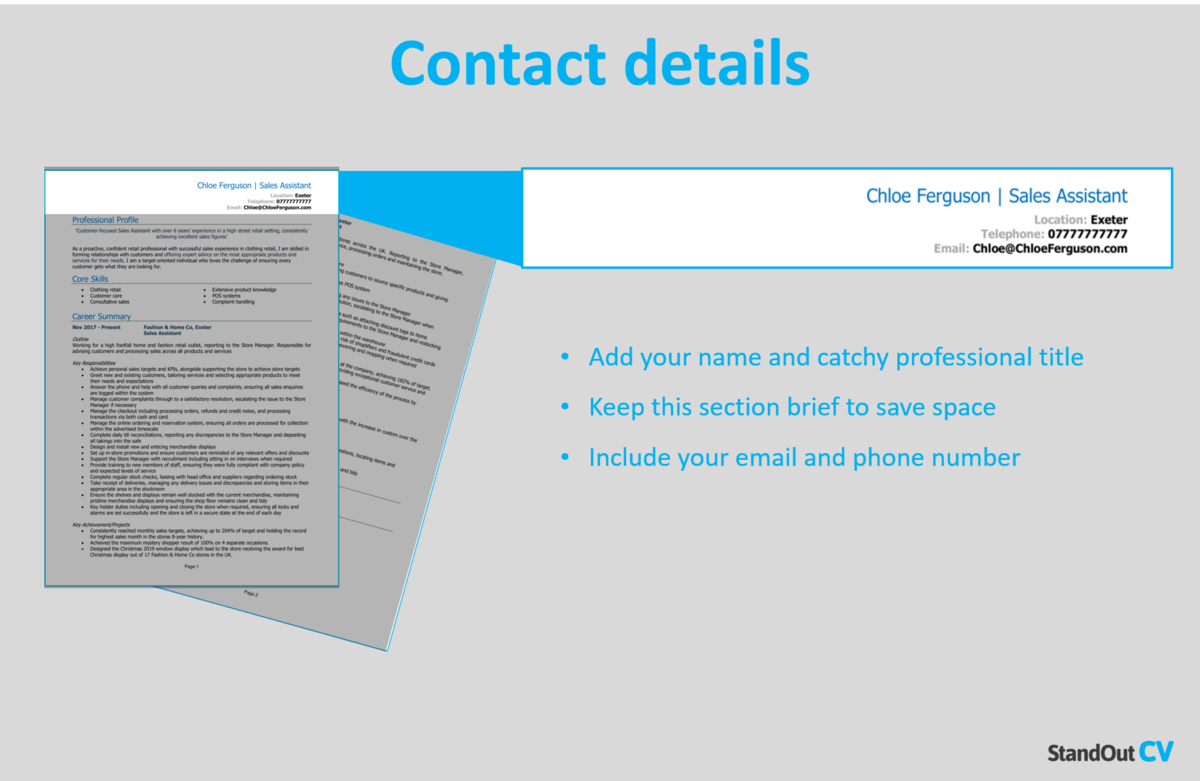 Keep your contact details short to save resume space and include the following.
Name and profession title
Cell phone number
Location – Add your local area such as Silicon Valley or New York, unless you are looking for work in a different location
Email address – Keep it professional and don't use an old address that you thought was cool in high school, but now looks a bit embarrassing.
You can add a link to your LinkedIn profile if you have one – you do not need to include personal details like date of birth or marital status.
Construction Superintendent Resume Summary
Your resume summary is like an elevator pitch. It's your chance to sell yourself to employers within a short space of time.
Achieve this by summarizing your skills and expertise, whilst highlighting your abilities that closely match the jobs you are aiming for.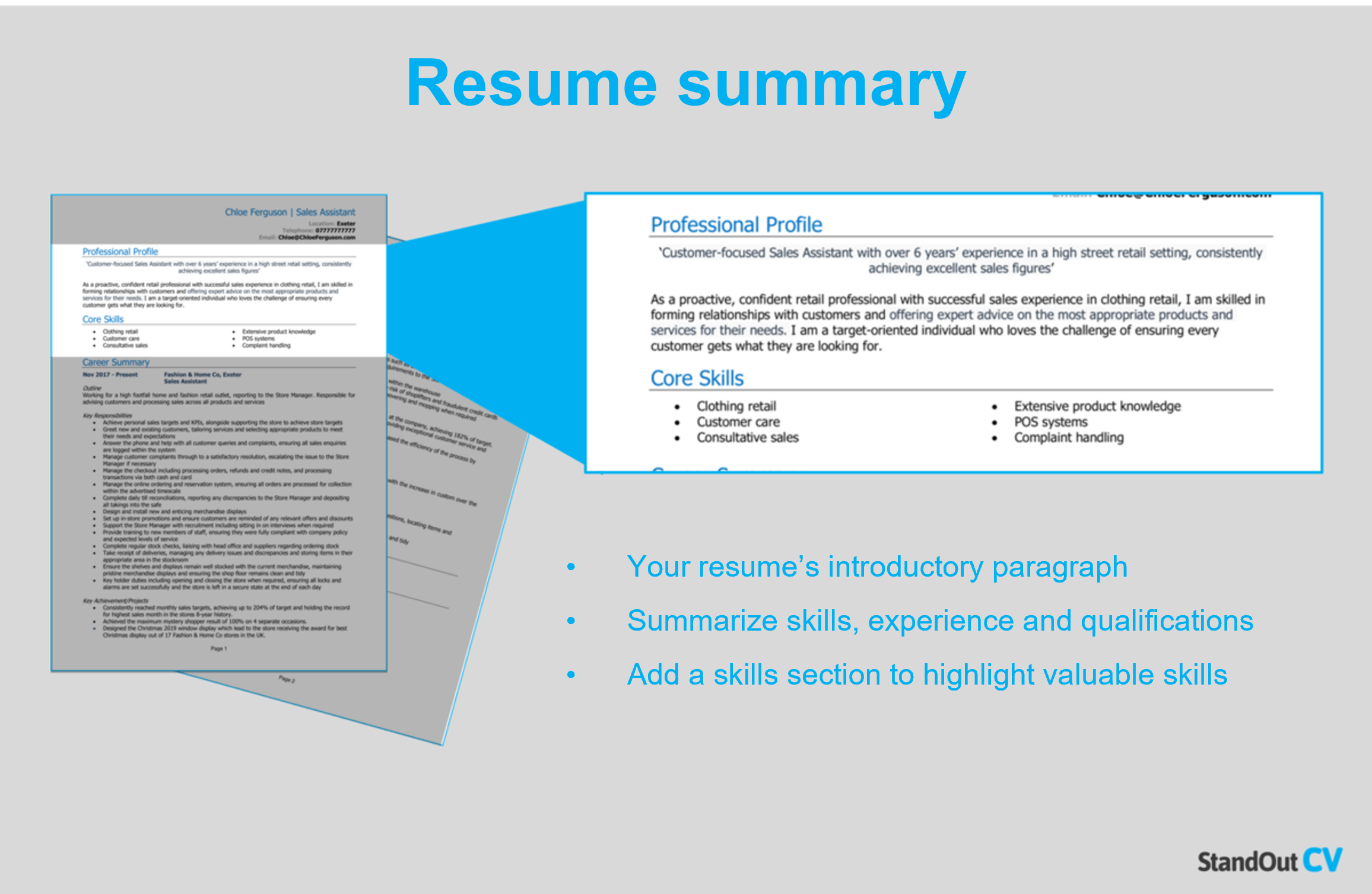 How to create a resume summary that will excite recruiters:
Keep it short: A concise and focused resume summary is essential for capturing a recruiter's attention and keeping them engaged. Limiting your summary to 4-7 lines ensures that you make a strong impression in the first few seconds of them opening the document.
Tailor to target jobs: By carefully reviewing the job description and incorporating as many relevant skills as possible, you can customize your resume to better match your target jobs.
Avoid using cliches: Recruiters always see cringey cliches like "hardworking guru who works well in a team or individually" – they don't mean much to anyone, so focus your summary on tangible skills and experience.
Construction Superintendent resume summary example
Motivated Superintendent with 15+ years of experience in spearheading complex commercial, institutional, industrial, mixed-use, and residential construction projects. Proven ability to generate status reports on milestones attained, budgetary constraints, and risks. Adept at leading regular meetings to communicate updates, address concerns, and maintain a positive working setting.
What to include in your Construction Superintendent resume summary?
Summary of your experience: Provide a summary of the kind of work you have previously done, along with the benefits you have delivered to the organizations you worked with.
Relevant skills: Instantly showcase your suitability for Construction Superintendent jobs by including your skills that are highly relevant to them.
Qualifications: Mention any Construction Superintendent qualifications that are important to your profession in the summary briefly, to show you are qualified to carry out the role.
Quick tip: Choose from hundreds of pre-written summaries across all industries, and add one to your resume with one-click in our partner's Resume Builder. All written by recruitment experts and easily tailored to suit your unique skillset and style.
Core skills section
In addition to your resume summary, your core skills section provides an easily digestible snapshot of your skills – perfect for grabbing the attention of busy hiring managers.
As Construction Superintendent jobs might receive a huge pile of applications, this is a great way to stand out and show off your suitability for the role.
It should be made up of 2-3 columns of bullet points and be made up of skills that are highly relevant to the jobs you are targeting.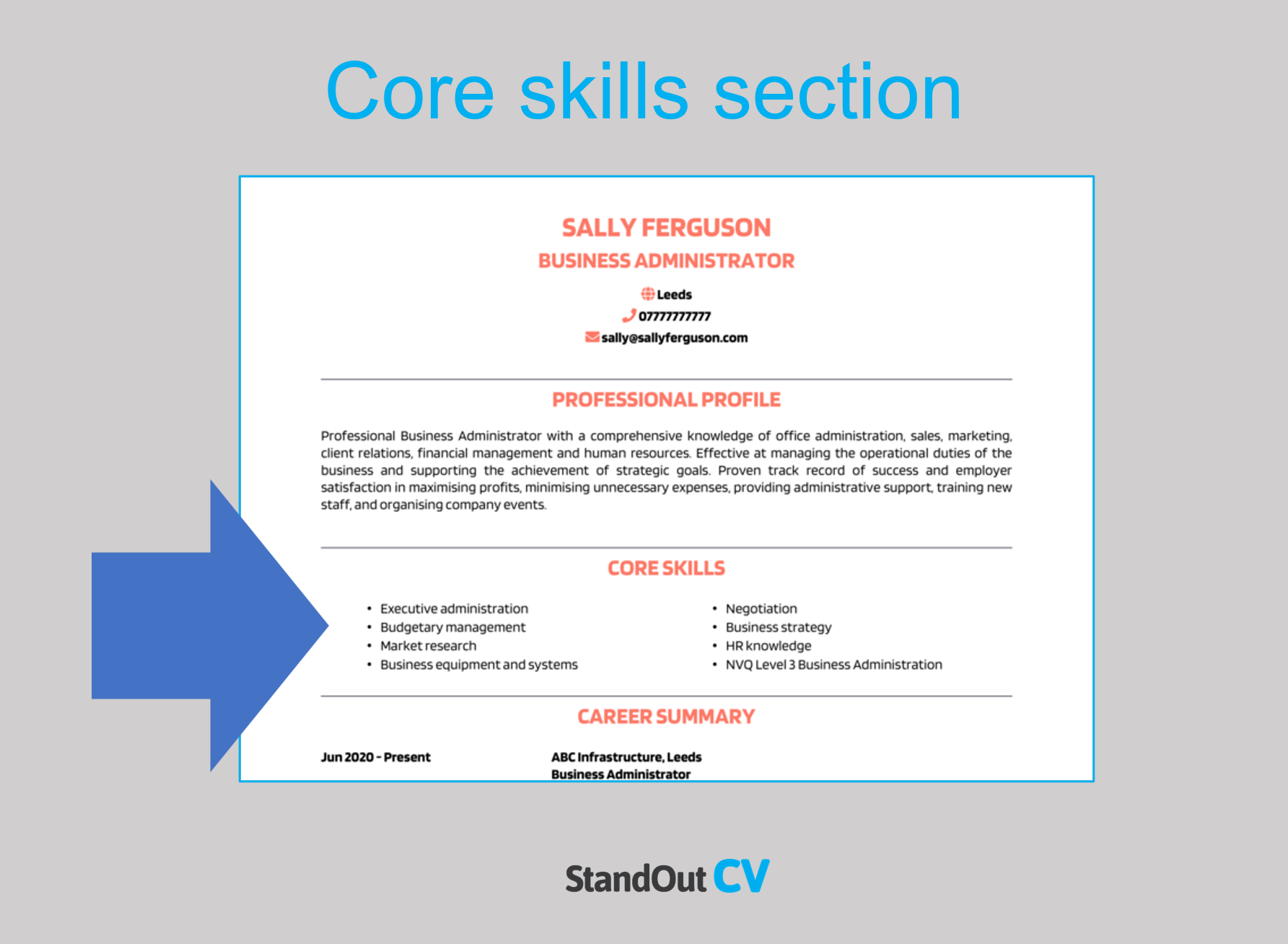 Best skills for your Construction Superintendent resume
Construction Knowledge – Maintaining an in-depth knowledge of construction methods, materials, and processes, including building codes and regulations, to effectively oversee construction projects.
Project Management – Managing construction projects from start to finish, including planning, scheduling, budgeting, and coordinating resources to ensure successful project completion.
Project Team Leadership – Supervising and guiding construction teams, subcontractors, and vendors, maintaining high standards of quality, safety, and efficiency.
Project Communication – Effectively conveying project requirements, instructions, and expectations to the construction team, stakeholders, and clients.
Problem Resolution – Identifying and resolving construction-related challenges, including unexpected issues, delays, or conflicts, using critical thinking and decision-making skills.
Budgeting and Cost Control – Managing project budgets, tracking expenses, and implementing cost-saving measures to ensure projects are completed within financial constraints.
Safety Management – Maintaining a thorough understanding of construction safety protocols and regulations, to enforce and maintain a safe working environment for all personnel on the construction site.
Quality Control – Implementing and maintaining quality control measures to ensure construction projects meet industry standards and client expectations.
Contract Management – Reviewing and interpreting construction contracts, managing subcontractors, and ensuring compliance with contract terms and conditions.
Technical Proficiency – Utilizing construction software, project management tools, and other technology used in the construction industry to enhance efficiency, accuracy, and communication.
Quick tip: Our partner's Resume Builder contains thousands of in-demand skills for every profession that can be added to your resume in seconds – saving you time and greatly improving your chances of landing job interviews and getting hired.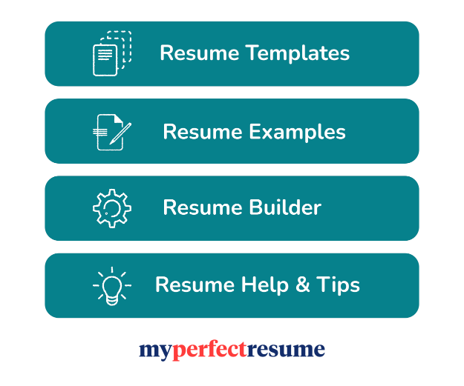 Work experience
So, you've grabbed the recruiters' attention with your summary, now it's time to show them what you're really capable of in your work experience section.
List your previous jobs from current to oldest, showing off the impact you made at each organization.
If you have tons of experience, you should just list the most recent an relevant jobs – but if you have little or no experience, add it all and even consider putting in voluntary work.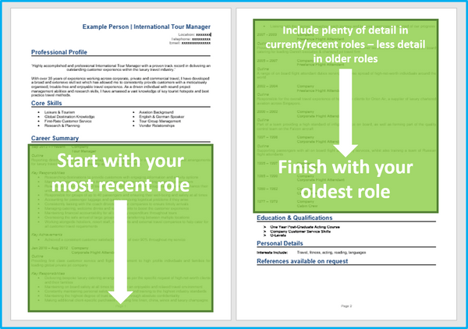 Structuring your jobs
Your job description probably includes tons of information, so it's vital to organize it well when writing about it on your resume.
Structure your jobs as like the example below to make skim-reading easy for recruiters and hiring managers.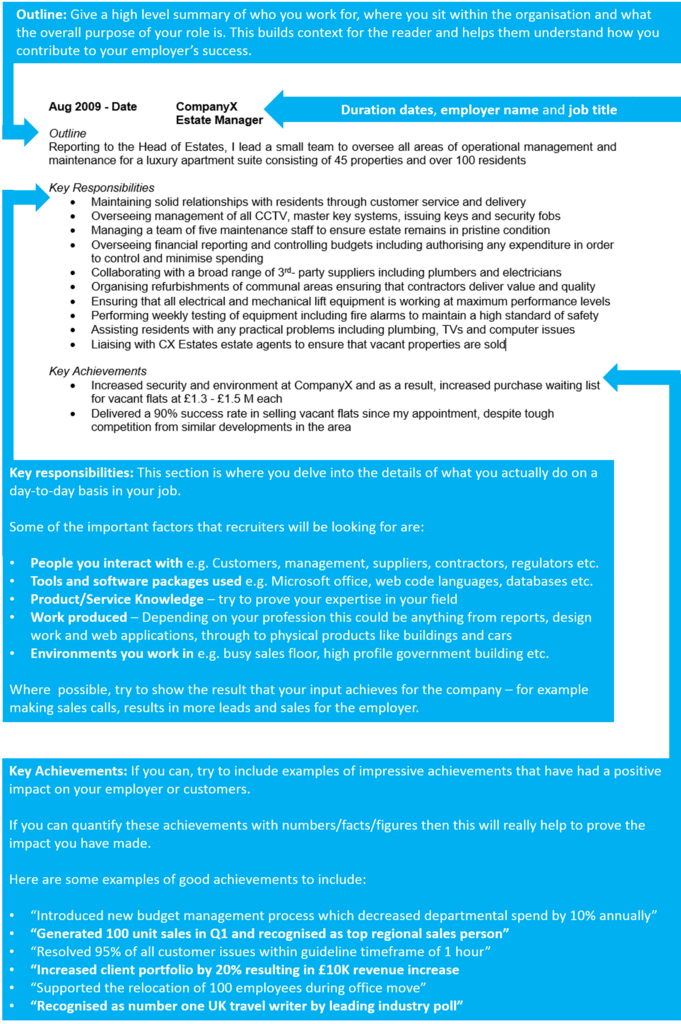 Job outline
Each role description should begin with a qucik summary of the job and company, along with how the job fits into the strucuture of the organization.
Key responsibilities
The bulk of the role description should be comprised of bullet points that explain all of your duties in the job.
Keep the sentences short and simple to make them easy for recruiters to digest.
Key achievements
Show employers the value you can bring to them by adding a few achievements to your jobs.
Whether you've saved the company money or improved an internal process, let recruiters know
Add some numbers to give readers a real scale of the impact, e.g. "reduced call wait time by 10%"
Example job for Construction Superintendent resume
Outline
Oversee execution of a wide range of construction projects, for a family of companies that is committed to setting the highest standards of excellence in site selection analysis, design reviews, interior fit-outs aesthetics, and infrastructure upgrades.
Key Responsibilities
Partner with stakeholder in creating comprehensive civil plans, including timelines, budgets, and resource allocation.
Liaise with architects, engineers, subcontractors, and suppliers to ensure specifications and requirements are met.
Relay clear instructions, assign duties, and delegate responsibilities that influence crews towards enhancing productivity and surpassing targets.
Purchase eco-friendly materials from suitable vendors, while devise effective ways of lowering expenses without compromising desired outcomes.
Quick tip: Create impressive job descriptions easily in our partner's Resume Builder by adding pre-written job phrases for every industry and career stage.

Education section
Nearing the end of your resume, your education/qualifications section should be added.
In a well-structured list, add all of your qualifications and certifications that qualify you to perform a typical Construction Superintendent role.
If you have plenty of work experience, keep this section brief – if not, add lots of detail to make up for your lack of experience.
Additional information
The bottom of your resume is a place to add any "additional info"
Any other info that didn't fall into any of the previous sections can be added here.
If you have hobbies that are related to your profession or any awards or publications – add them here.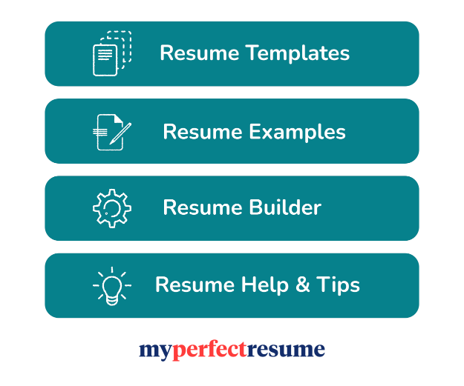 Writing your own winning Construction Superintendent resume
Following the steps in this guide will help you to create a winning Construction Superintendent resume and bag lots of interviews.
Good luck with your job search!