You can allocate resources and set out construction schedules with your eyes closed; the tricky part is proving this on your resume.
And though we don't obviously don't recommend closing your eyes on a building site, we do recommend letting us help you with your application.
In the following guide, we'll teach you how to build a strong resume and share with you a construction project engineer resume example to help.
Contents
| | |
| --- | --- |
| How to write a Construction Project Engineer resume | |

Construction Project Engineer Resume Example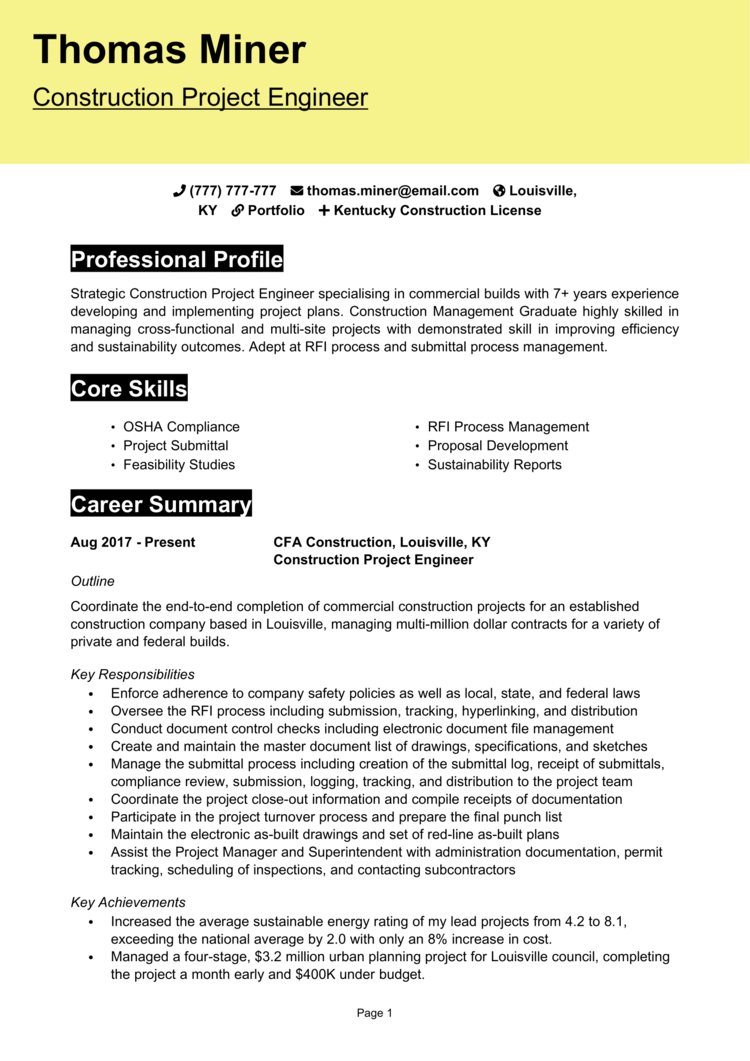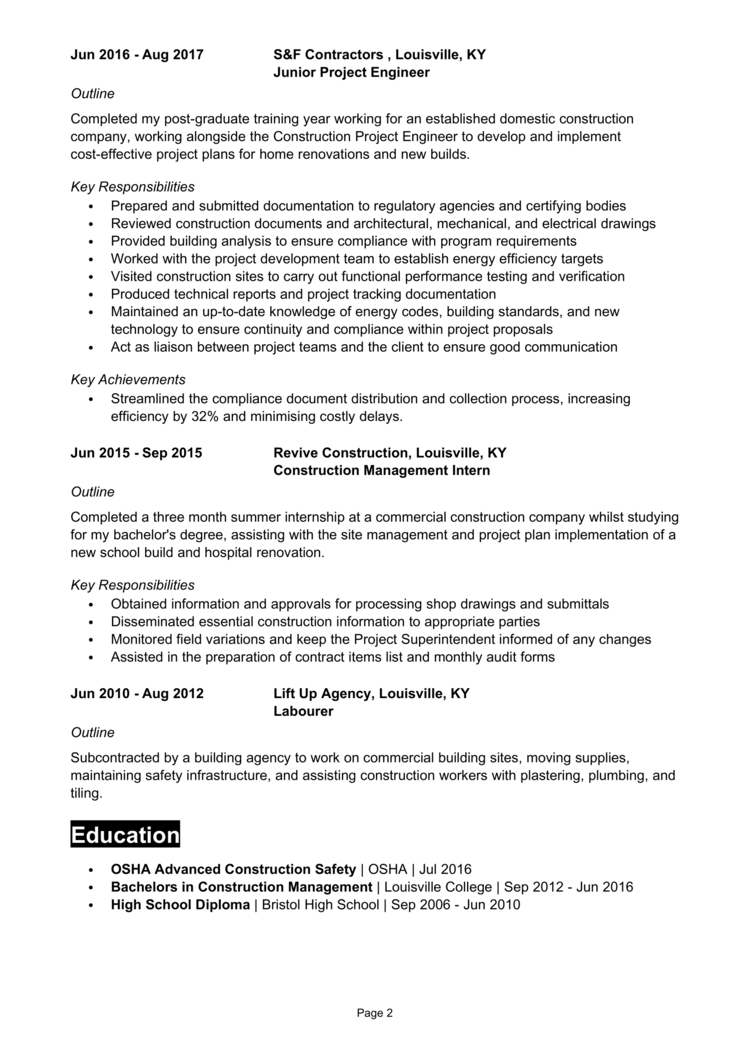 From the Construction Project Engineer resume example above, you can see the kind of information your resume will need to include, and the layout you will need to create for an easy-reading experience.
The rest of this guide will show you how to apply this format to your own unique situation, and create a resume that will attract the best employers in your industry.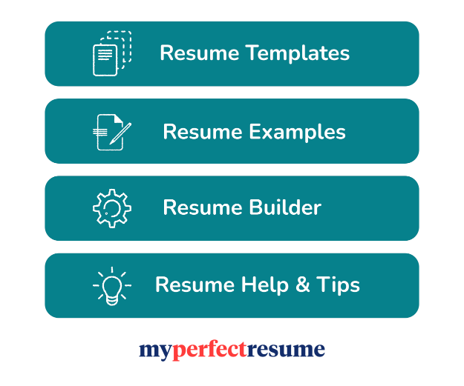 Construction Project Engineer resume layout and format
Formatting is often overlooked when writing resume, but it's a crucial element of it"s success.
Creating a document that not only looks good, but is easily comprehended, is the key to gaining and holding the attention of busy hiring managers.
Use these formatting tips for best results.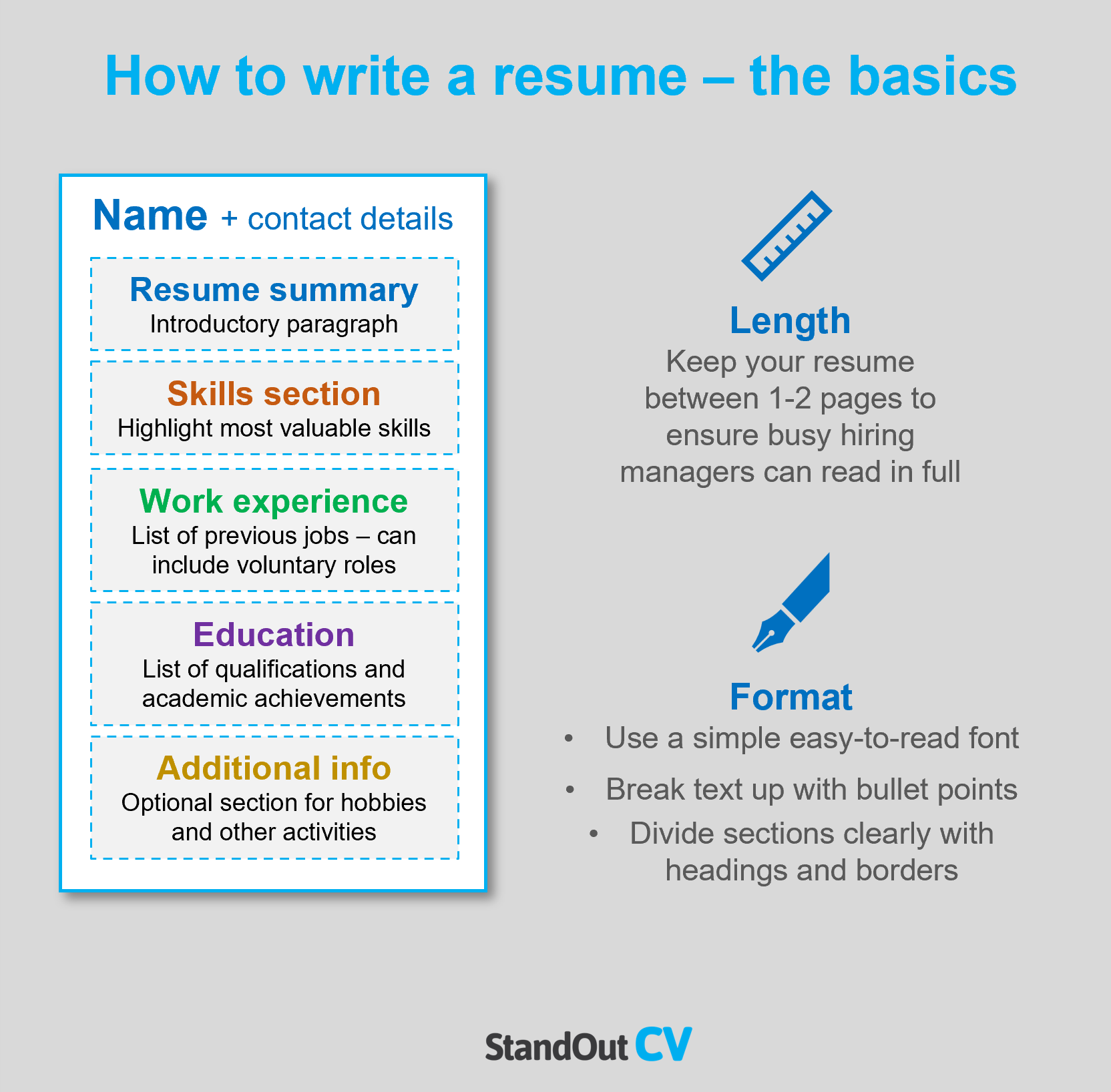 Formatting your resume for success
Length: Attention spans in recruitment are notoriously short, so keep your resume short and sweet. There's no exact rule for resume length, but aim for 2 pages or less if you want to ensure yours gets read in full.
Font & readability: The key to a good resume is readability. To make your resume easy to read, use a clear and uncomplicated font, and break up the text with bullet points and short paragraphs.
Layout & Structure: Hiring managers should be able to skim through your resume easily and pinpoint the information they want quickly. To help them do this, organize the page into clear sections with bold headings and dividing borders. The design should be clutter-free and professional-looking, with a calm color scheme.
Photos: In the USA adding a photo to your resume is optional – you don't have to do it, but it can be a nice way to get your personality across.
Quick tip: Achieving a professional look for your resume can be difficult and time-consuming. If you want to create an attractive resume quickly, try our partner's Resume Builder and use one of their eye-catching resume templates.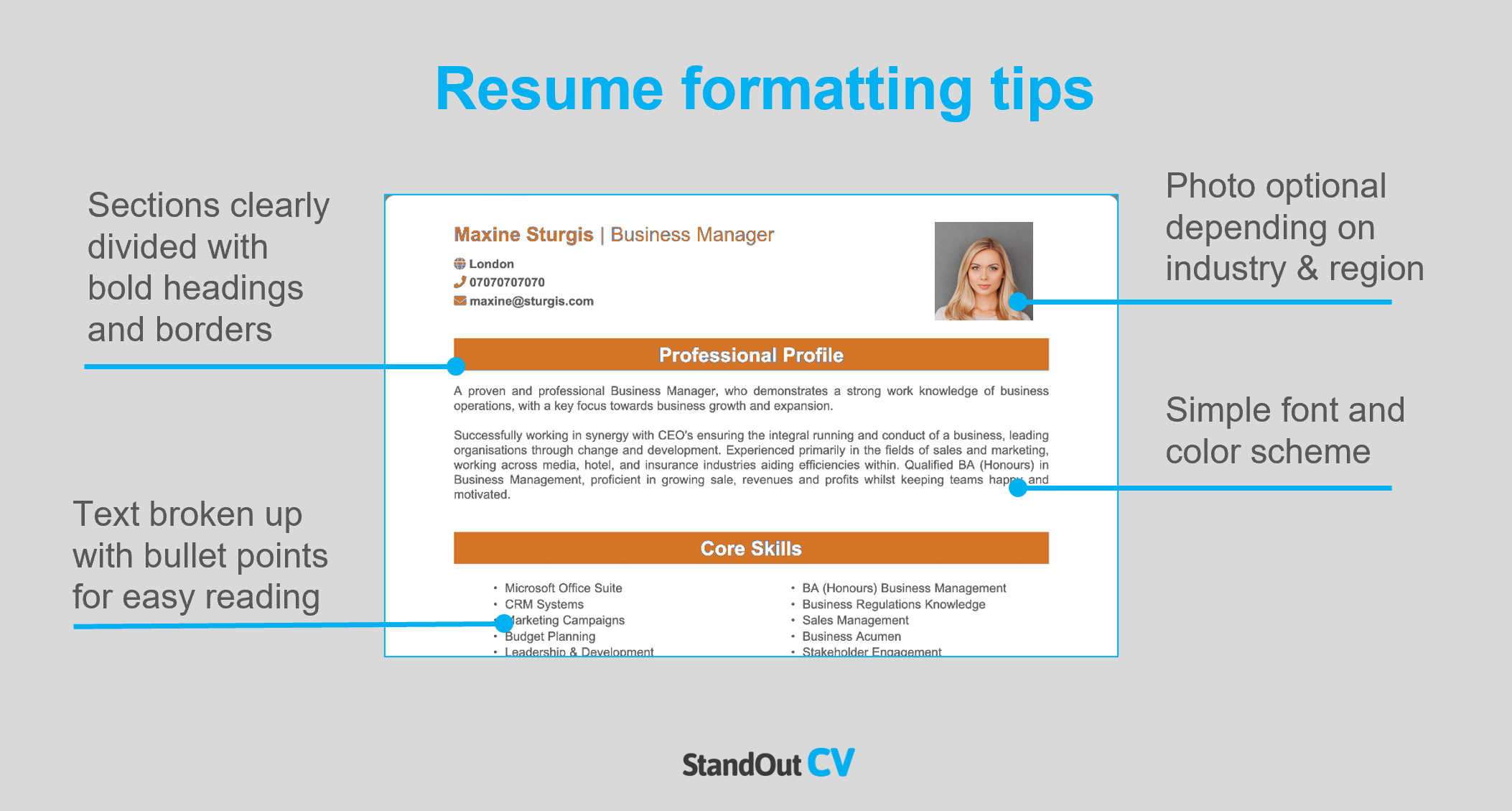 Resume layout
Divide the page into these sections when you write your own resume.
Name and contact details – Simply state who you are, and how to get in touch with you.
Resume summary – An introductory paragraph at the very top of your resume which summarizes your skills, experience and suitability for your target jobs.
Core skills section – A bullet-pointed list of your skills that relate most to your target jobs.
Work experience – A list of your current and previous jobs, including all of your responsibilities and achievements.
Education – A section that showcases all of your education and academic achievements.
Additional info (optional) – Here you can add an extra section for things like hobbies and interests, or anything else that might be relevant to your target jobs.
Here's what to include in each part of your resume.
Contact Details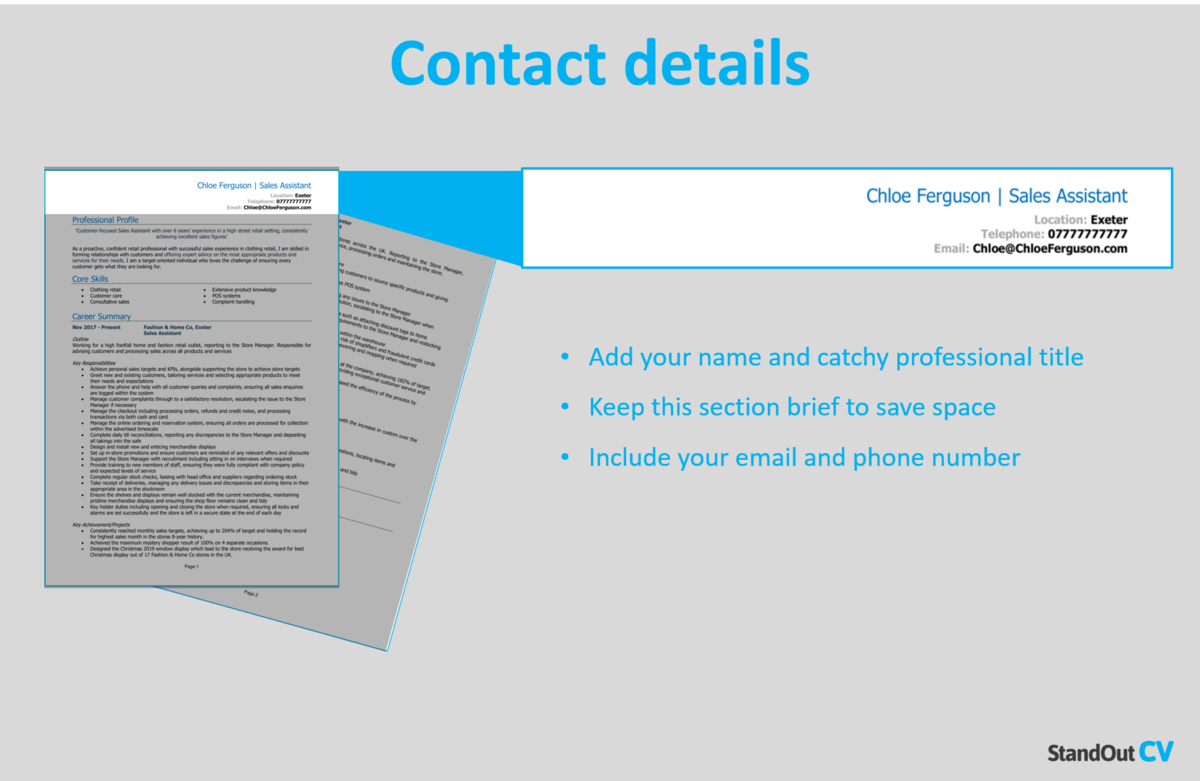 Make it easy for hiring managers to contact you by adding your contact details to the top of your resume.
Keep this section small to save space and include the following.
Name and profession title
Telephone number – Ideally your cell phone so you can answer quickly.
Location – Add your general location such as LA or New York
Email address – Use a professional looking one with no nicknames.
You can add a link to your LinkedIn profile if you have one – you do not need to include personal details like date of birth or marital status.
Construction Project Engineer Resume Summary
Now it's time to get into the real content of your resume, starting with the summary.
Your resume summary is a short paragraph at the top of the document, and its jobs is to catch the eye of hiring managers by summarizing all your skills and knowledge that are most important to the roles you are applying for.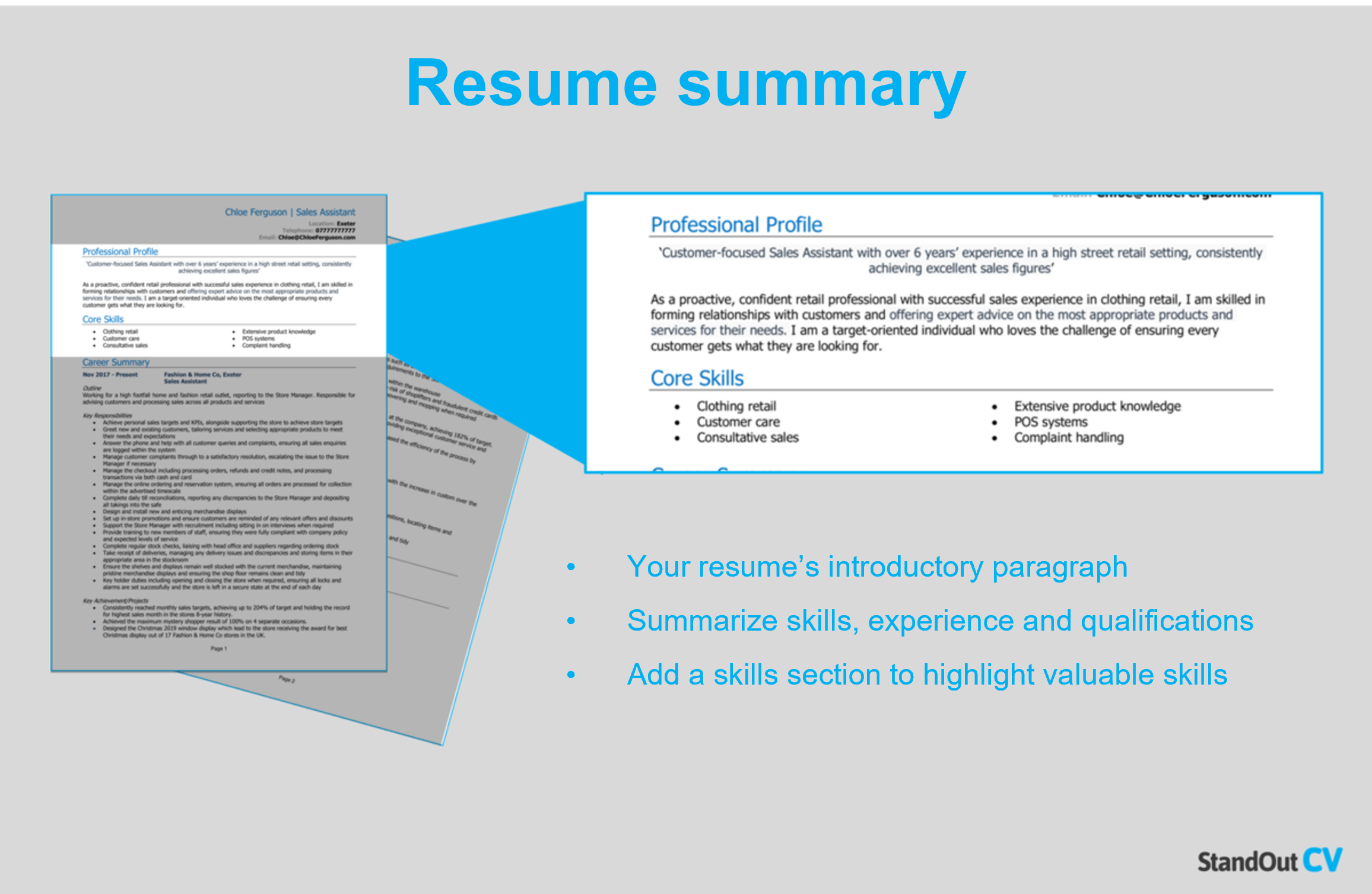 How to create a resume summary that will get you noticed:
Keep it short: Your summary is intended to be a high-level introduction to hook readers' attention, so keep it brief (4-7 lines) – save the details for later in your resume.
Tailor to target jobs: To make your resume more relevant to your target jobs, analyze the job description and include as many matching skills as possible.
Avoid using cliches: Recruiters always see cringey cliches like "hardworking guru who works well in a team or individually" – they don't mean much to anyone, so focus your summary on tangible skills and experience.
Example resume summary for Construction Project Engineer
Strategic Construction Project Engineer specializing in commercial builds with 7+ years' experience developing and implementing project plans. Construction Management Graduate highly skilled in managing cross-functional and multi-site projects with demonstrated skill in improving efficiency and sustainability outcomes. Adept at RFI process and submittal process management.
What to include in your Construction Project Engineer resume summary?
Summary of experience: What type of organizations have you worked at? What types of roles have you done and what have you contributed to previous employers?
Relevant skills: Highlight your skills which are most relevant to Construction Project Engineer jobs, to ensure that recruiters see your most in-demand skills as soon as they open your resume.
Qualifications: If your job requires any qualifications such as a professional course or a college degree, mention it briefly in your summary.
Quick tip: Choose from hundreds of pre-written summaries across all industries, and add one to your resume with one-click in our partner's Resume Builder. All written by recruitment experts and easily tailored to suit your unique skillset and style.
Core skills section
Next, you should create a bullet pointed list of your core skills, formatted into 2-3 columns.
Here, you should focus on including the most important skills or knowledge listed in the job advertisement.
This will instantly prove that you're an ideal candidate, even if a recruiter only has time to briefly scan your resume.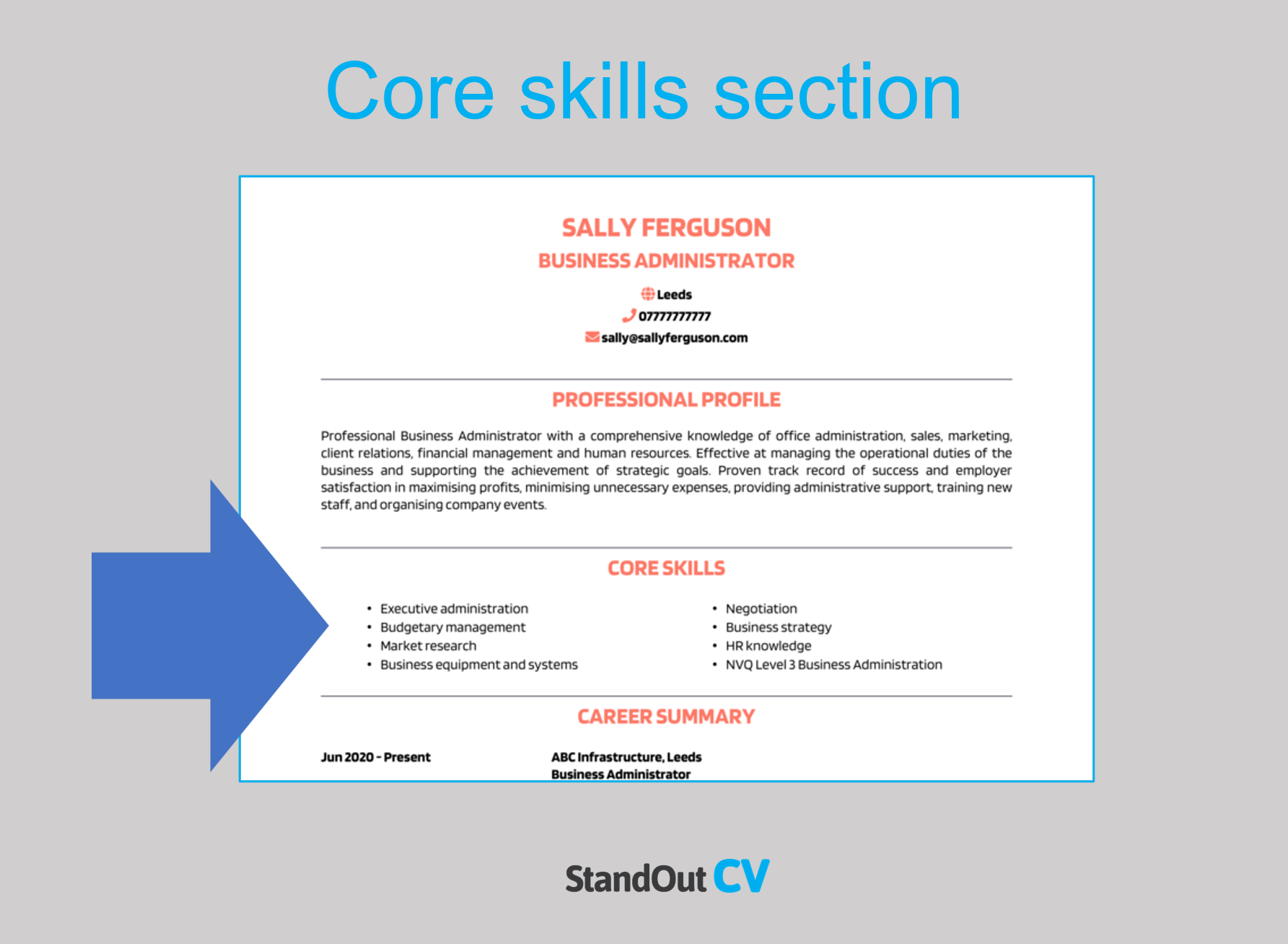 Best skills for your Construction Project Engineer resume
Project Management – Managing all aspects of a construction project, including scheduling, budgeting, and resource allocation.
Technical Knowledge – Maintaining detailed knowledge of construction materials, techniques, and building codes, including an understanding of engineering principles.
Design and Planning – Reading and interpreting blueprints, design plans, and other technical drawings.
Quality Control – Ensuring the quality of work performed by contractors, including implementing and enforcing quality control standards.
Safety and Risk Management – Maintaining knowledge of safety regulations and identifying and mitigating project risks, including implementing proper safety protocols and conducting regular safety audits.
Procurement and Supply Chain Management – Managing procurement and supply chain activities, including sourcing materials, negotiating contracts, and managing vendor relationships.
Contract Management – Managing construction contracts, including negotiating contract terms, interpreting contractual obligations, and managing contract disputes.
Cost Estimation and Budgeting – Estimating project costs and developing project budgets, including tracking expenses and managing project finances.
Quick tip: Our partner's Resume Builder contains thousands of in-demand skills for every profession that can be added to your resume in seconds – saving you time and greatly improving your chances of landing job interviews and getting hired.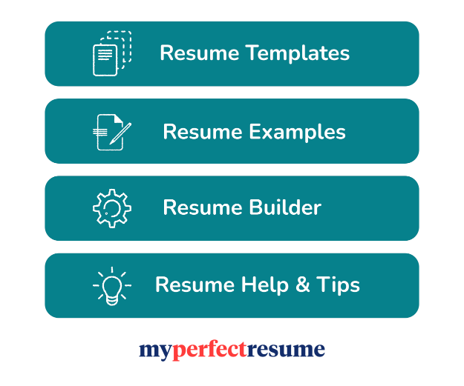 Work experience
So, you've grabbed the recruiters' attention with your summary, now it's time to show them what you're really capable of in your work experience section.
List your previous jobs from current to oldest, showing off the impact you made at each organization.
If you have tons of experience, you should just list the most recent an relevant jobs – but if you have little or no experience, add it all and even consider putting in voluntary work.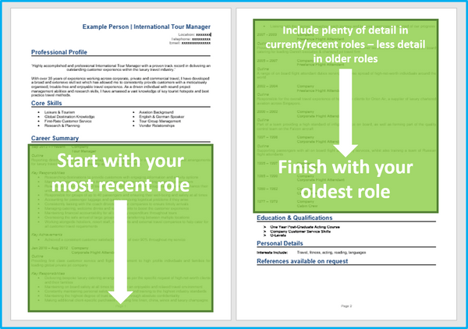 Structuring your jobs
It's easy to overwhelm readers when writing about a job you have been doing for years or even months.
Break the information up like this to keep it simple for recruiters to understand.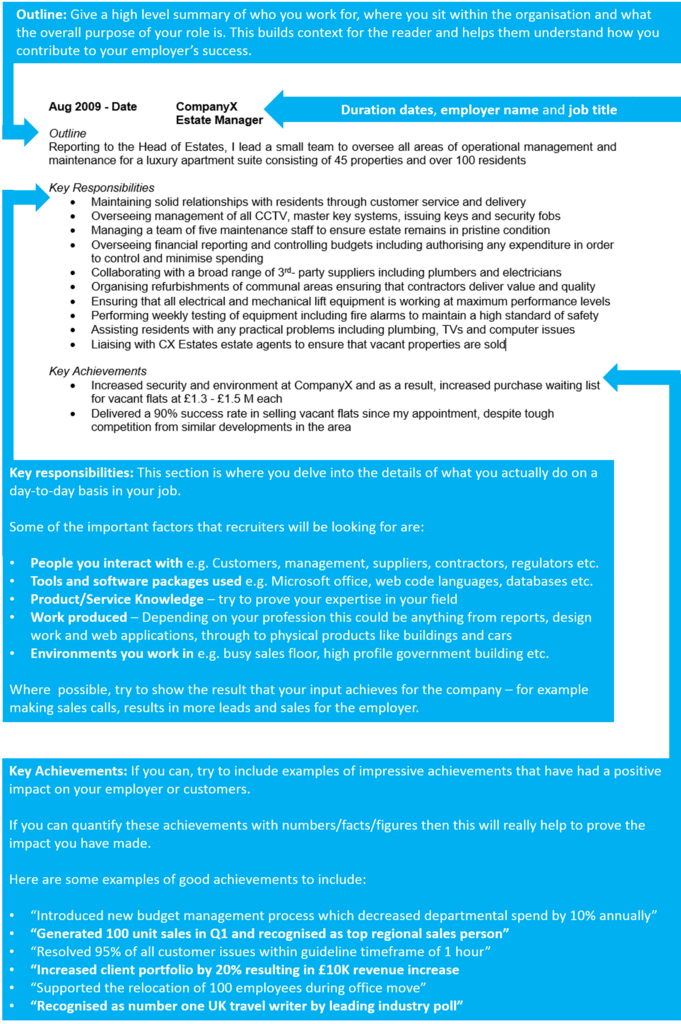 Job outline
Begin each job with a short summary of who the organization is, where you sit within it, and what the main goal of your position is.
Key responsibilities
List your notable responsibilities in short sharp bullet points to demonstrate your input and how you contributed to the organization's success.
Highlight the skills that are most important to the roles you are applying for.
Key achievements
Finish each role by highlighting some impressive achievements you made whilst in the role.
Anything that benefited the employer can be included from making financial savings, to winning new customers.
Quantify your achievements with facts and figures if you can, e.g. "reduced call wait time by 10%"
Example job for Construction Project Engineer resume
Outline
Coordinate the end-to-end completion of commercial construction projects for an established construction company based in Louisville, managing multi-million-dollar contracts for a variety of private and federal builds.
Key Responsibilities
Enforce adherence to company safety policies as well as local, state, and federal laws
Oversee the RFI process including submission, tracking, hyperlinking, and distribution
Conduct document control checks including electronic document file management
Create and maintain the master document list of drawings, specifications, and sketches
Quick tip: Create impressive job descriptions easily in our partner's Resume Builder by adding pre-written job phrases for every industry and career stage.

Education section
Nearing the end of your resume, your education/qualifications section should be added.
In a well-structured list, add all of your qualifications and certifications that qualify you to perform a typical Construction Project Engineer role.
If you have plenty of work experience, keep this section brief – if not, add lots of detail to make up for your lack of experience.
Additional information
The additional info section is optional but can be useful if you have anything else to add that could benefit your application.
For example, you may have some hobbies and interests that are relevant to your job – or you might have awards or publications to shout about.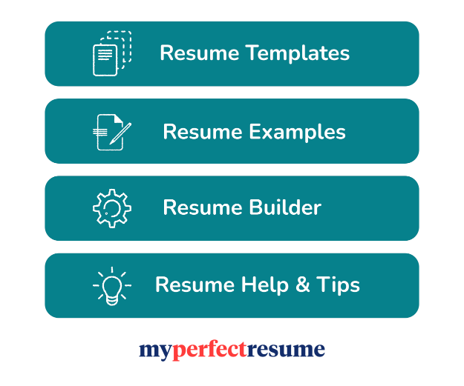 Writing your own Construction Project Engineer resume
A winning Construction Project Engineer resume should look great, read well, and sell your skillset to hiring managers.
If you follow the steps above, you should be able to bag yourself a top job in no time.
And don't forget you can use our partner's Resume Builder if you want to save time and ensure your resume contains the very best content.
Good luck with your job search!