Not only are you an expert at estimating costs, but you're also great at negotiating with suppliers to ensure you get your clients the best price.
Now you're looking for a job and you need to put your persuasion skills to good use so you can create an engaging resume that's going to secure you an interview.
To help you do this, we've constructed a step-by-step writing guide, complete with a construction estimator resume example to shape your own.
Contents
| | |
| --- | --- |
| How to write a Construction Estimator resume | |

Construction Estimator Resume Example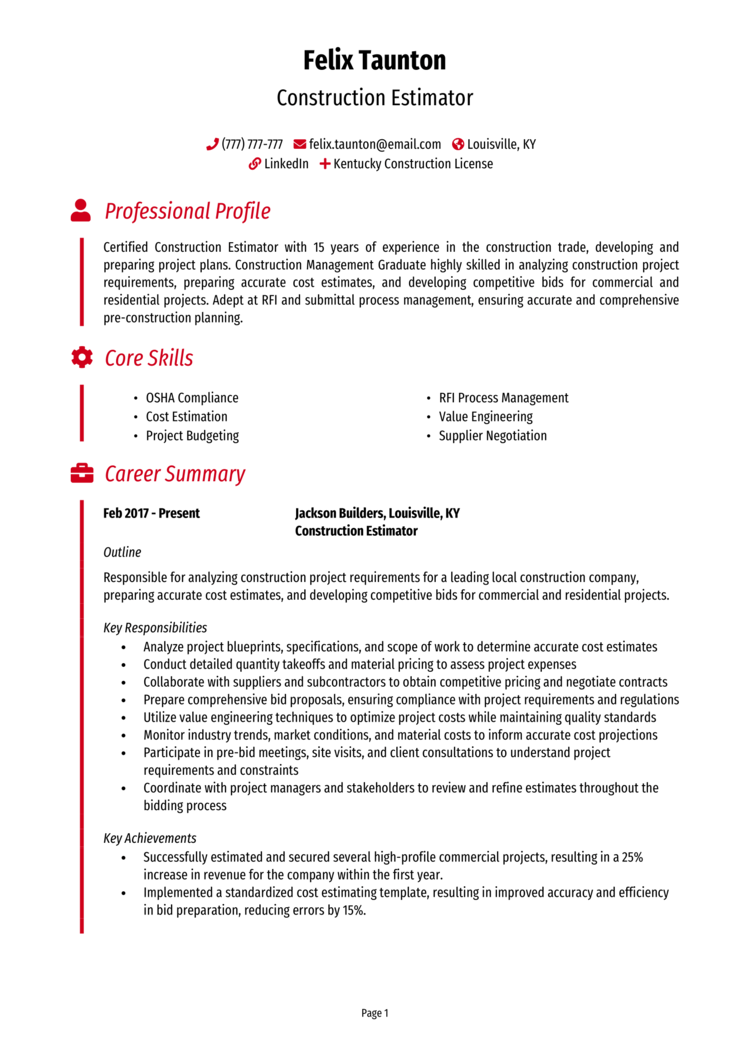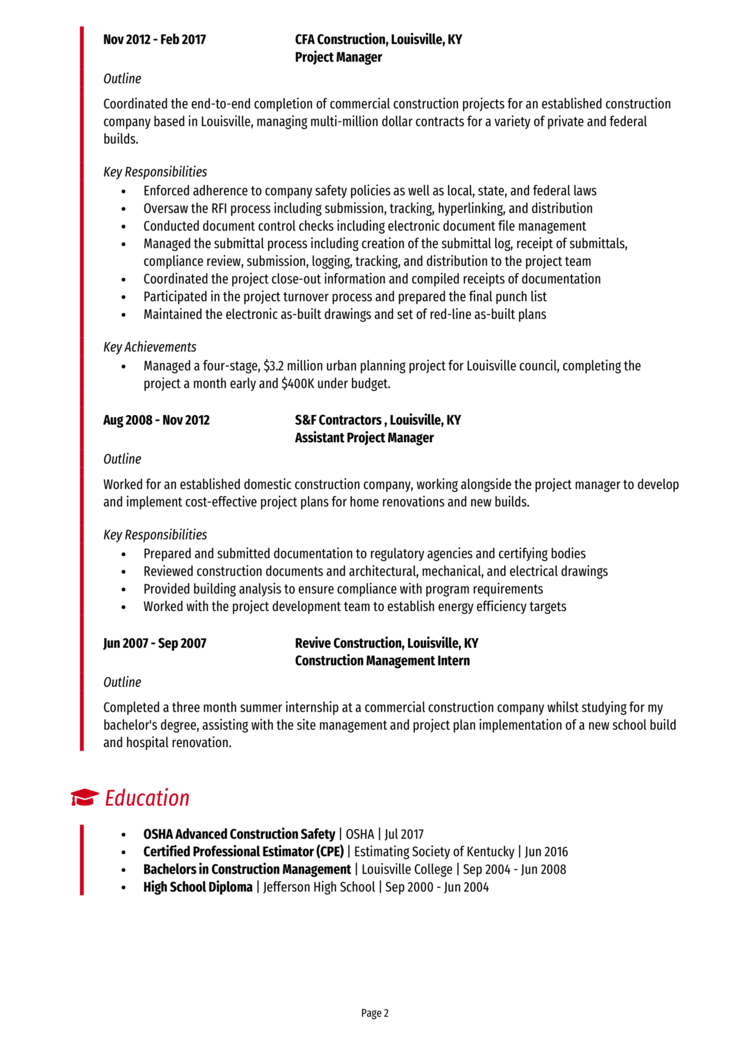 The example Construction Estimator resume above shows you how a professional resume should look, along with the type of content it should contain.
You can see that the information is well-organized across the page and its easy for busy recruiters to see the candidate's important skills.
Keep this in mind when writing your own resume.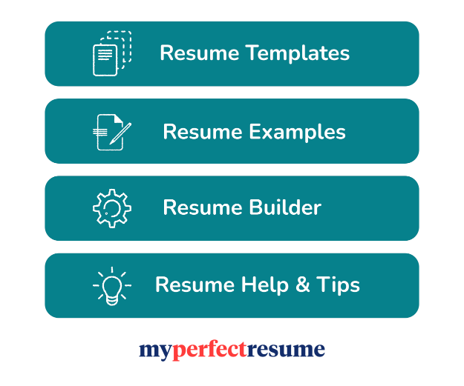 Construction Estimator resume layout and format
If you want to get noticed in the job market, you have to pay attention to the format and layout of your resume.
Essentially your resume needs to look highly polished, and provide hiring managers with an easy reading experience.
Use these resume formatting tips to get a head start on this.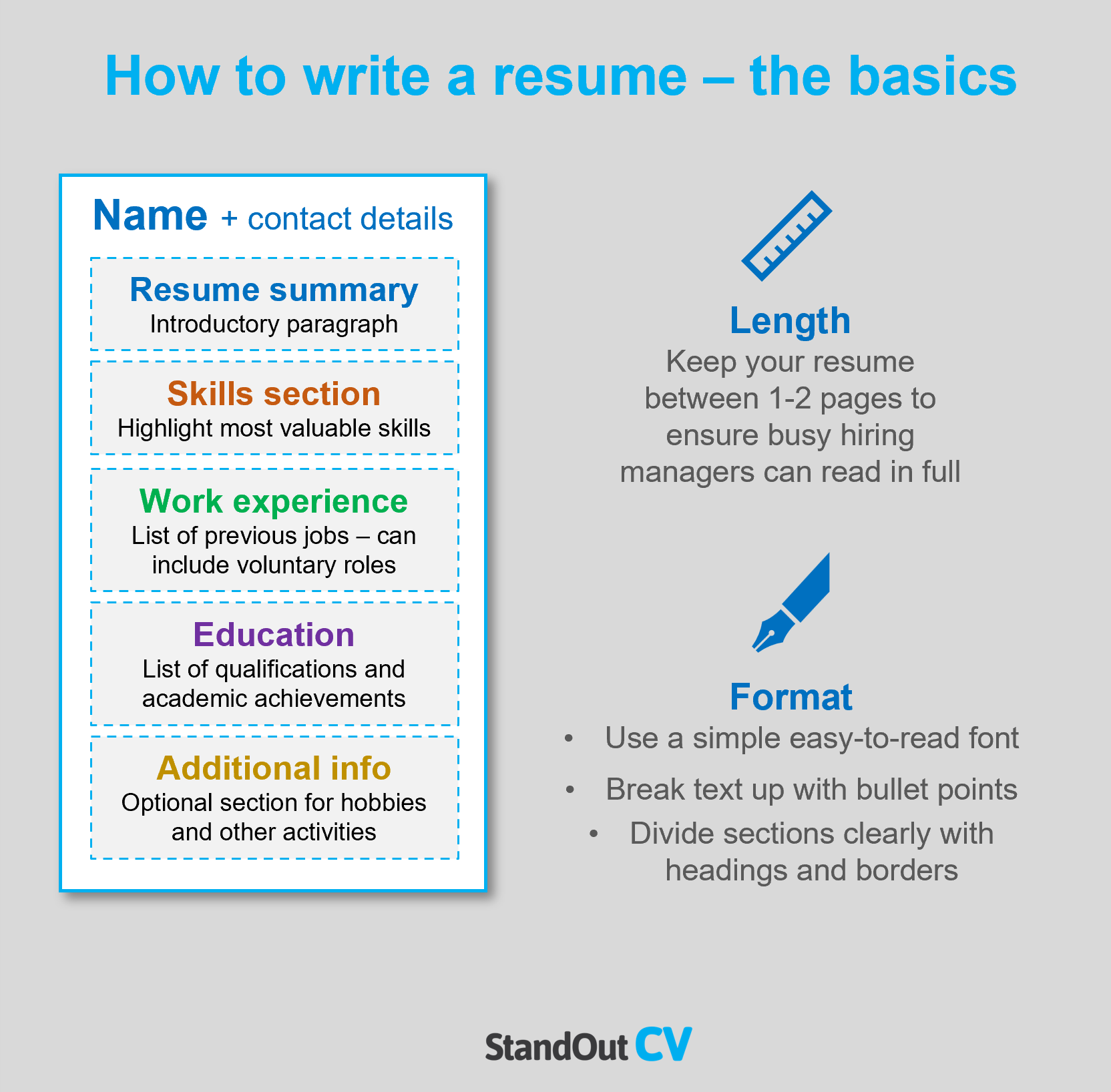 Formatting your resume
Length: Keep your resume to 2 pages or under. You've probably heard that recruiters and hiring managers don't have lots of time to read every resume, so keep yours brief if you want to ensure that they read all of the important info in yours.
Font & readability: To create a resume that is easily digestible for hiring managers, it's essential to use an uncomplicated font and structure your content with bullet points and short paragraphs.
Layout & Structure: Your resume's design must strike a balance between aesthetics and functionality. Using bold headings and borders to organize the page into clear sections is an effective way to achieve both.
Photos: While adding a photo to your resume is not mandatory in the USA, it can be beneficial if you are applying to organizations in creative industries.
Quick tip: Achieving a professional look for your resume can be difficult and time-consuming. If you want to create an attractive resume quickly, try our partner's Resume Builder and use one of their eye-catching resume templates.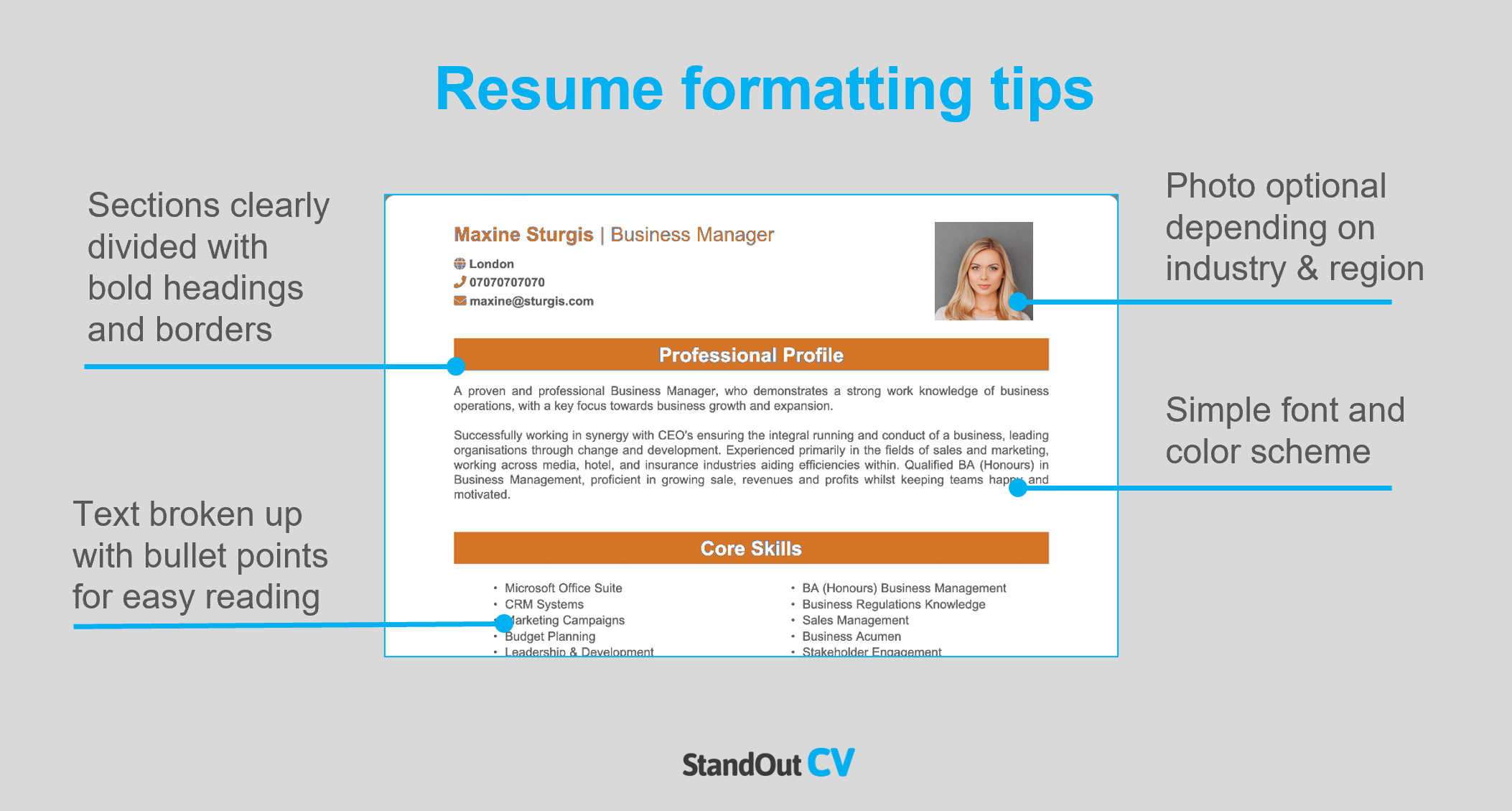 Resume layout
Organize the document into these sections when you write your resume.
Name and contact details – Employers need to know how to get in touch with you – so list your email and cell phone number here.
Resume summary – An intro paragraph at the top of the resume which summarizes your suitability for target jobs.
Skills section – A bullet-pointed list of your most relevant skills and knowledge.
Work experience – A list of your previous jobs (or at least the most relevant and recent ones)
Education – Add academic and professional qualifications that prove you can carry out the job
Additional info – If they are relevant to the jobs you are applying for, you can add an extra section for things like hobbies and interests.
Here's what to include in each part of your resume.
Contact Details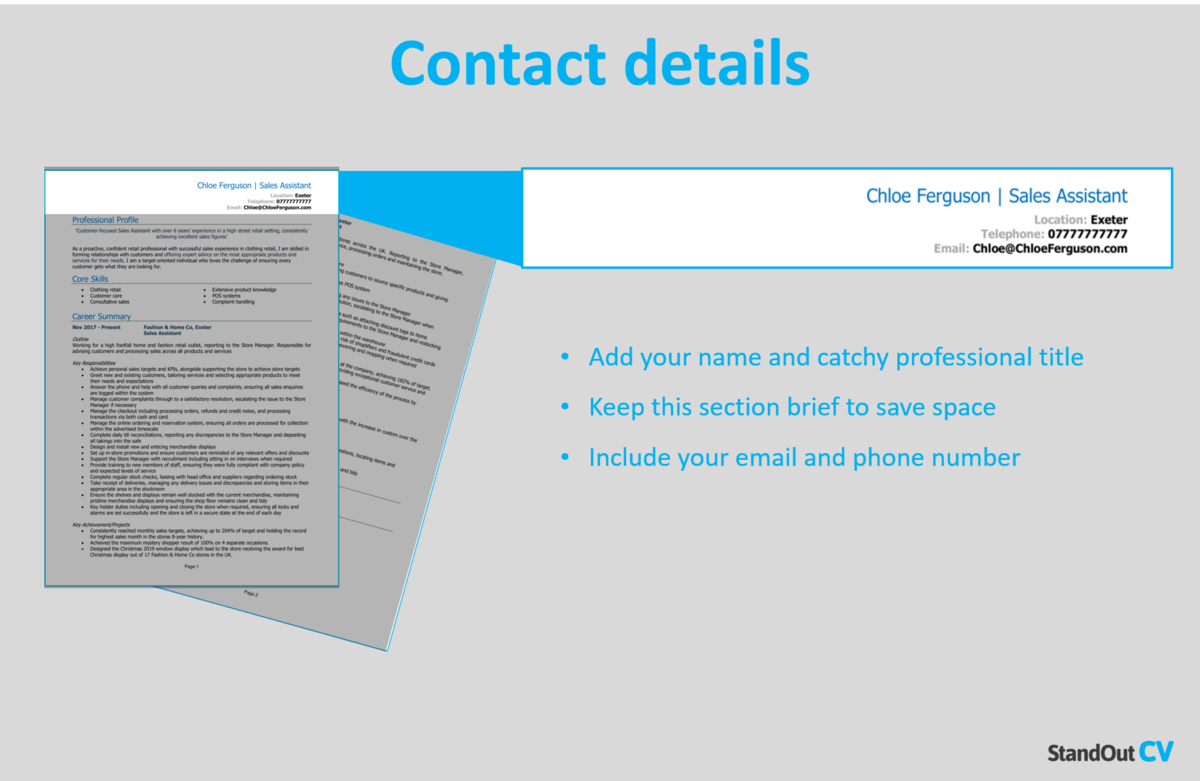 Add your name and contact details to the header of your resume, so that anybody reading can easily see how to contact you.
Name and profession title
Cell phone number – or any number you are easily reachable on
Location – Add your local area such as Washington or San Diego – not your full address as that will take up too much space.
Email address – Use a professional looking address.
You can add a link to your LinkedIn profile if you have one – you do not need to include personal details like date of birth or religion.
Construction Estimator Resume Summary
Now it's time to get into the real content of your resume, starting with the summary.
Your resume summary is a short paragraph at the top of the document, and its jobs is to catch the eye of hiring managers by summarizing all your skills and knowledge that are most important to the roles you are applying for.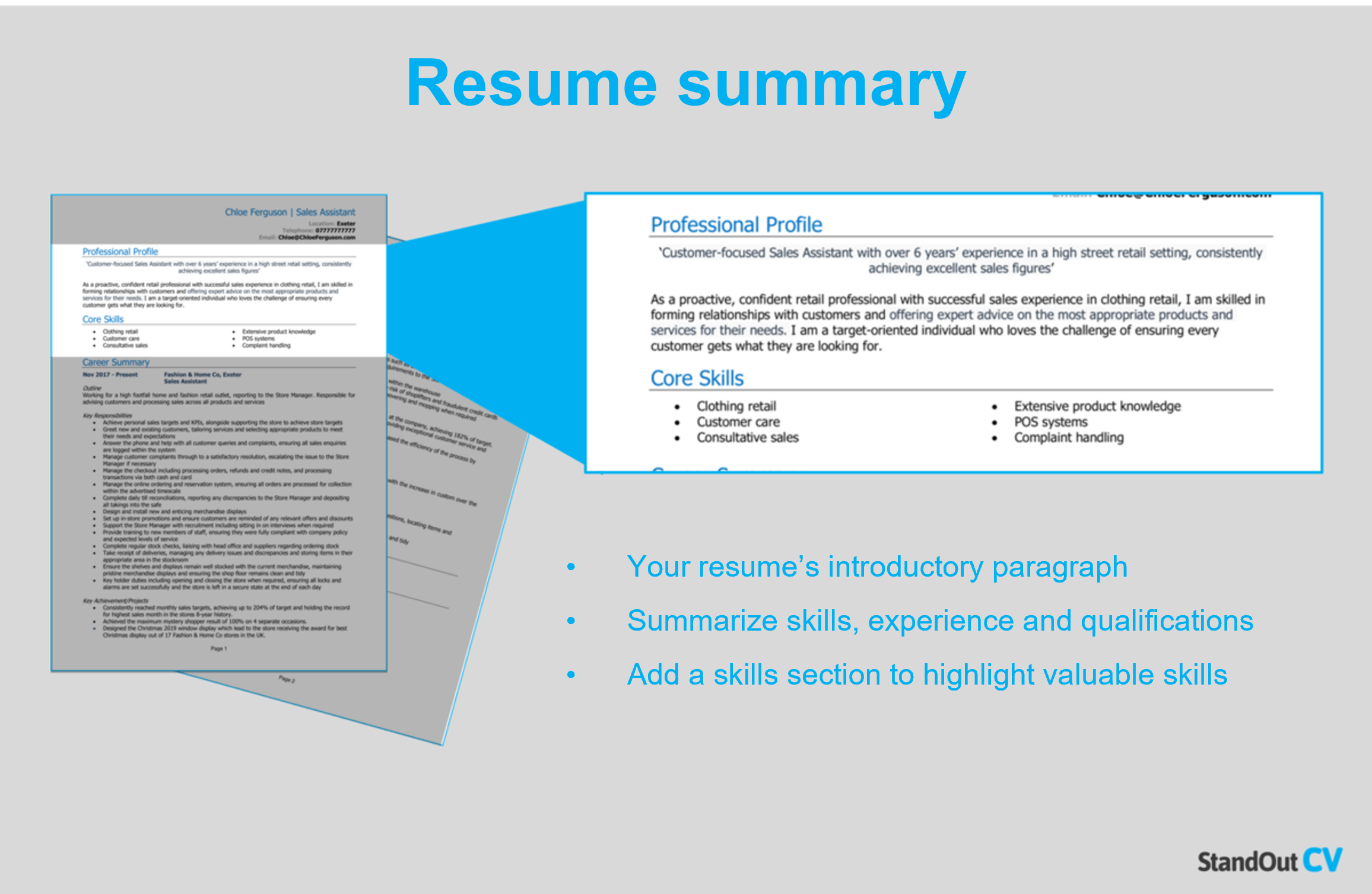 How to create a resume summary that will excite recruiters:
Keep it short: A concise and focused resume summary is essential for capturing a recruiter's attention and keeping them engaged. Limiting your summary to 4-7 lines ensures that you make a strong impression in the first few seconds of them opening the document.
Tailor to target jobs: By carefully reviewing the job description and incorporating as many relevant skills as possible, you can customize your resume to better match your target jobs.
Avoid using cliches: Recruiters look for facts in resumes, such as hard skills and qualifications – so, leave out the meaningless cliches like "hard worker who works well in a team and individually"
Construction Estimator resume summary example
Certified Construction Estimator with 15 years of experience in the construction trade, developing and preparing project plans. Construction Management Graduate highly skilled in analyzing construction project requirements, preparing accurate cost estimates, and developing competitive bids for commercial and residential projects. Adept at RFI and submittal process management, ensuring accurate and comprehensive pre-construction planning.
What to include in your Construction Estimator resume summary?
Summary of your experience: Provide a summary of the kind of work you have previously done, along with the benefits you have delivered to the organizations you worked with.
Relevant skills: To quickly showcase your suitability for Construction Estimator jobs, ensure that your summary emphasizes your most relevant skills to the jobs you are applying for.
Qualifications: If your job requires any qualifications such as a professional course or a college degree, mention it briefly in your summary.
Quick tip: Choose from hundreds of pre-written summaries across all industries, and add one to your resume with one-click in our partner's Resume Builder. All written by recruitment experts and easily tailored to suit your unique skillset and style.
Core skills section
Sitting just underneath your resume summary, your core skills section gives recruiters 4-10 of your most in-demand skills in just a glance.
As Construction Estimator jobs may get hundreds of applications, this is a great way to stand out and quickly grab hiring managers' attention.
It should be made up of 2-3 columns of bullet points and highlight attributes that are hyper-relevant to the jobs you are aiming for.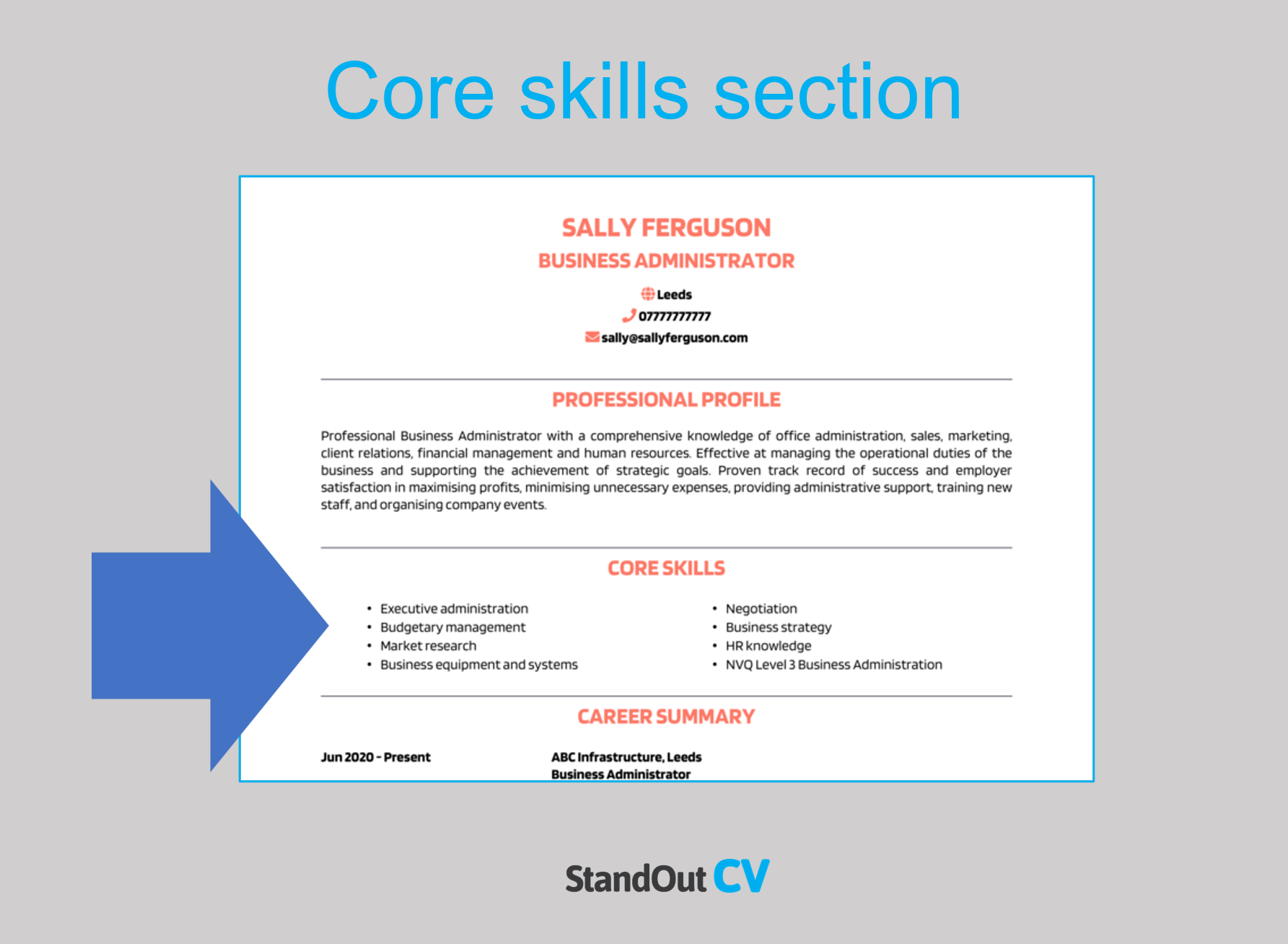 Best skills for your Construction Estimator resume
Construction Knowledge – Maintaining an in-depth understanding of construction methods, materials, and processes to accurately estimate project costs.
Quantity Takeoff – Quantifying and measuring materials and labor required for construction projects based on architectural and engineering drawings.
Cost Estimation – Estimating project costs by considering labor, materials, equipment, subcontractor expenses, and other relevant factors.
Blueprint Reading – Interpreting and analyzing construction blueprints, including understanding symbols, dimensions, and specifications.
Data Analysis – Analyzing historical data, industry trends, and market conditions to make informed cost estimates and pricing decisions.
Mathematics and Calculation – Performing accurate calculations, including area, volume, percentages, and cost breakdowns.
Software Proficiency – Utilizing construction estimating software and tools, such as CostX, PlanSwift, or Bluebeam, to facilitate accurate and efficient estimating processes.
Cost Control – Developing and maintaining cost control systems to monitor project expenses, track variations, and ensure budget adherence.
Project Communication – Collaborating with project stakeholders, subcontractors, and suppliers to gather information and negotiate pricing.
Reviews and Reporting – Meticulously reviewing project requirements, specifications, and documentation, ensuring accurate cost estimates.
Quick tip: Our partner's Resume Builder contains thousands of in-demand skills for every profession that can be added to your resume in seconds – saving you time and greatly improving your chances of landing job interviews and getting hired.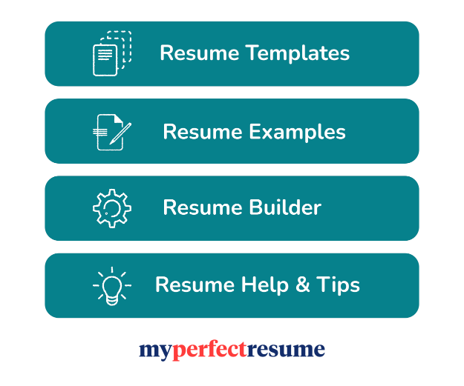 Work experience
So, you've grabbed the recruiters' attention with your summary, now it's time to show them what you're really capable of in your work experience section.
List your previous jobs from current to oldest, showing off the impact you made at each organization.
If you have tons of experience, you should just list the most recent an relevant jobs – but if you have little or no experience, add it all and even consider putting in voluntary work.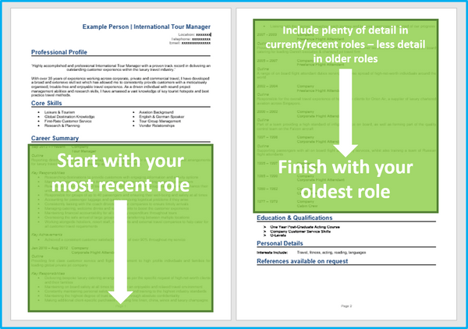 Structuring your jobs
You probably do a lot in your job, so its vital to break all of that information down into a good structure.
Structure your jobs as follows to make it easy for recruiters to skim through and pinpoint the essential info.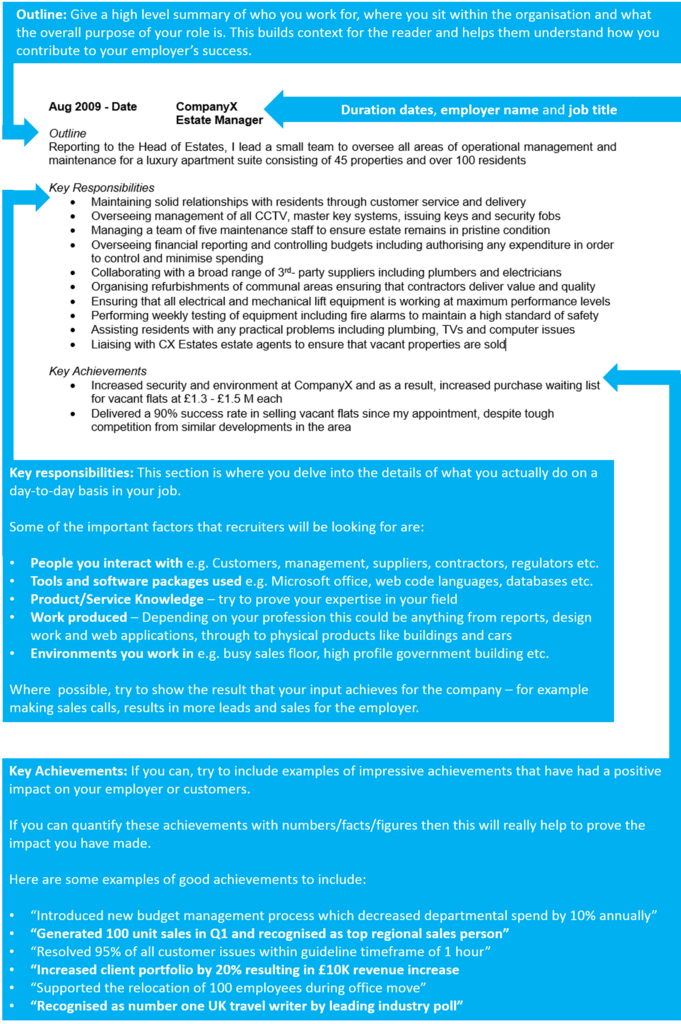 Job outline
To provide context to your jobs, begin each job with a concise summary of the organization, your role within it, and the main objectives of your position.
Key responsibilities
Next, write up a punchy list of your daily duties and responsibilities, using short bullet points.
Describe how you apply your skills and contribute to the running of the employer's business – highlighting skills which are applicable to your target jobs.
Key achievements
Round off each job by adding some impressive achievements you made in the role.
Anything you've done that has made a big impact on your employer will make a good impression, think; generating revenue, saving costs, or improving a product.
Quantify your achievements with number where possible e.g. "reduced call wait time by 10%"
Example job for Construction Estimator resume
Outline
Responsible for analyzing construction project requirements for a leading local construction company, preparing accurate cost estimates, and developing competitive bids for commercial and residential projects.
Key Responsibilities
Analyze project blueprints, specifications, and scope of work to determine accurate cost estimates
Conduct detailed quantity takeoffs and material pricing to assess project expenses
Collaborate with suppliers and subcontractors to obtain competitive pricing and negotiate contracts
Prepare comprehensive bid proposals, ensuring compliance with project requirements and regulations
Quick tip: Create impressive job descriptions easily in our partner's Resume Builder by adding pre-written job phrases for every industry and career stage.

Education section
Nearing the end of your resume, your education/qualifications section should be added.
In a well-structured list, add all of your qualifications and certifications that qualify you to perform a typical Construction Estimator role.
If you have plenty of work experience, keep this section brief – if not, add lots of detail to make up for your lack of experience.
Additional information
The additional info section is optional but can be useful if you have anything else to add that could benefit your application.
For example, you may have some hobbies and interests that are relevant to your job – or you might have awards or publications to shout about.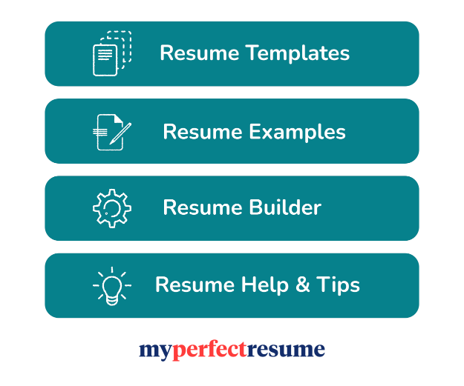 Writing your own winning Construction Estimator resume
Writing a Construction Estimator resume can be challenging but following the steps above will ensure that you land plenty of interviews.
Good luck with your job search!