If you're hoping to land your next role as a composer and showcase your musical talents, you need a resume that strikes a chord with the hiring manager.
But if your skills lie in writing music and not resumes, creating an engaging application can feel like a real challenge.
The good news is, we've created a composer resume example, and arranged this guide to take you through each stage of the writing process. Check it out below.
Contents
| | |
| --- | --- |
| How to write your Composer resume | |

Composer Resume Example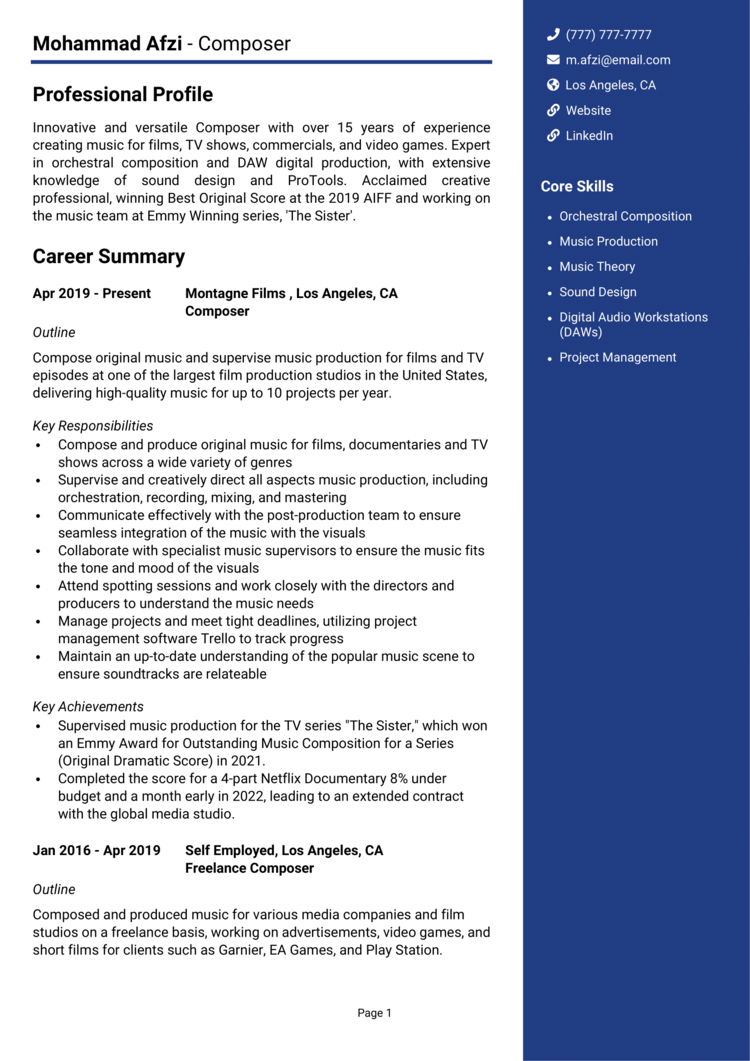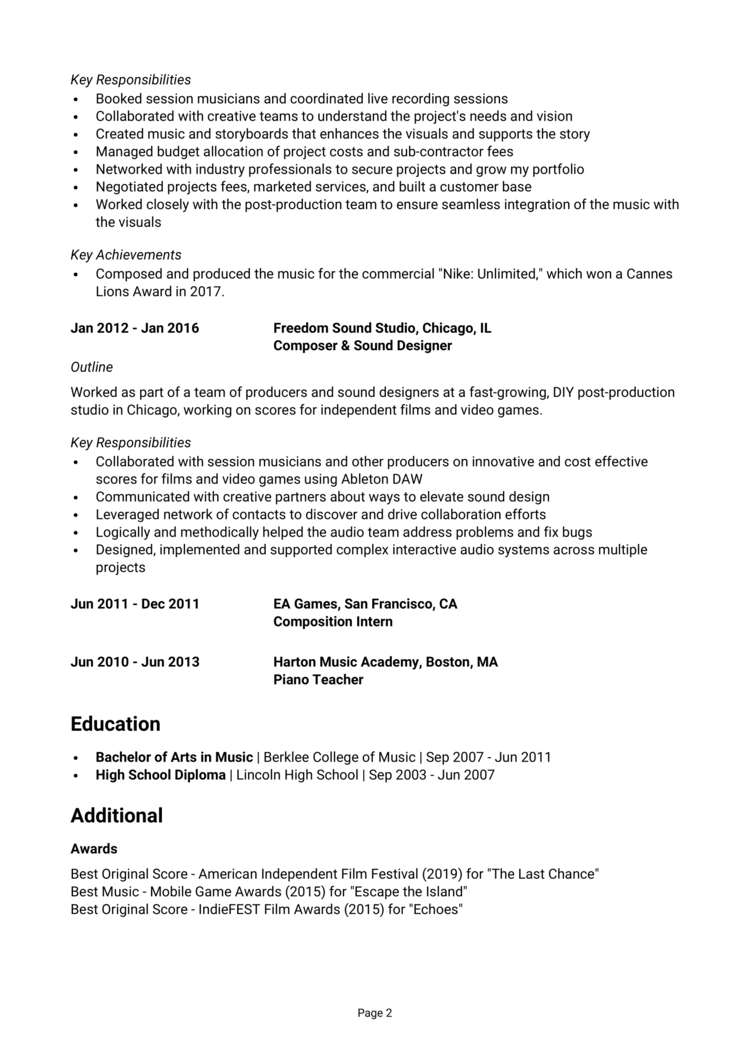 This Composer resume example gives you a good idea of how a good Composer resume should look and read.
The information is presented professionally and the content is well structured to ensure that time-strapped recruiters and hiring managers can find the important skills and knowledge quickly.
Refer to this example as you write your own resume.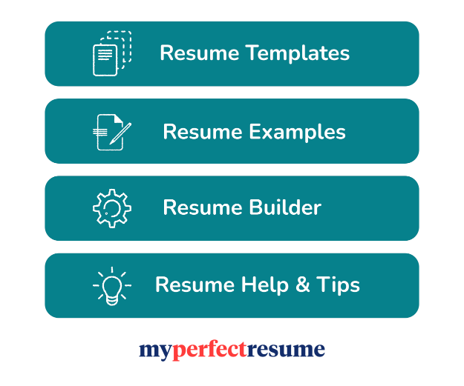 Composer resume layout and format
If you want to get noticed in the job market, you have to pay attention to the format and layout of your resume.
Essentially your resume needs to look highly polished, and provide hiring managers with an easy reading experience.
Use these resume formatting tips to get a head start on this.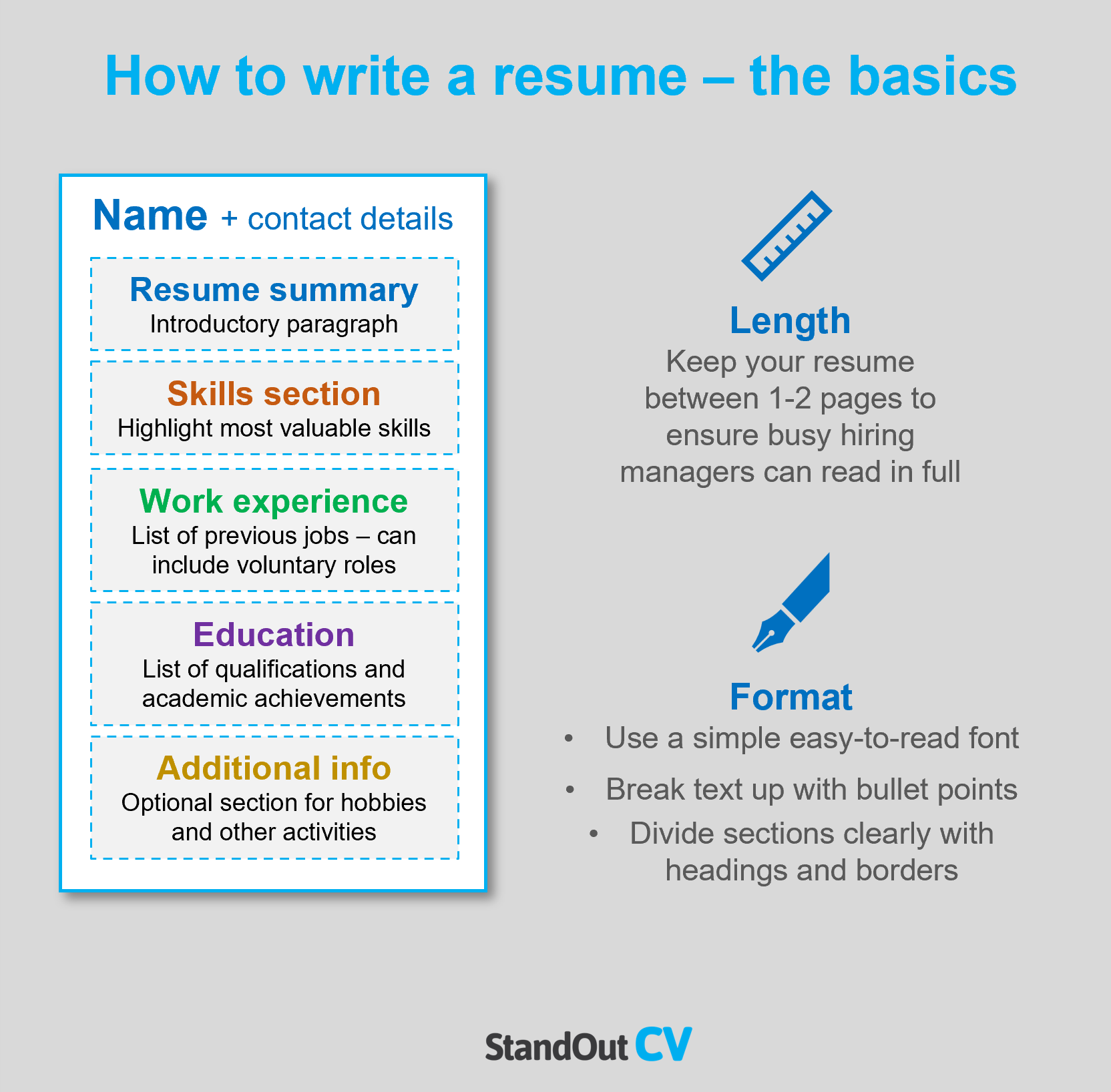 Formatting your resume
Length: As recruiters have a limited amount of time to review each resume they see, keep your resume to 2 pages or less to increase the chances of it being thoroughly reviewed.
Font & readability: The key to an effective resume is its readability, so it's best to use a clear and simple font and format it with bullet points and short paragraphs to make it easy for recruiters to read through quickly.
Layout: A well-designed resume is not just visually pleasing, but it must also be functional. To achieve a functional design, use bold headings and borders to separate the content into clear sections.
Photos: Although it's not mandatory to include a photo on your resume in the United States, it may be a good idea to do so in certain regions and industries where it is preferred.
Quick tip: Achieving a professional look for your resume can be difficult and time-consuming. If you want to create an attractive resume quickly, try our partner's Resume Builder and use one of their eye-catching resume templates.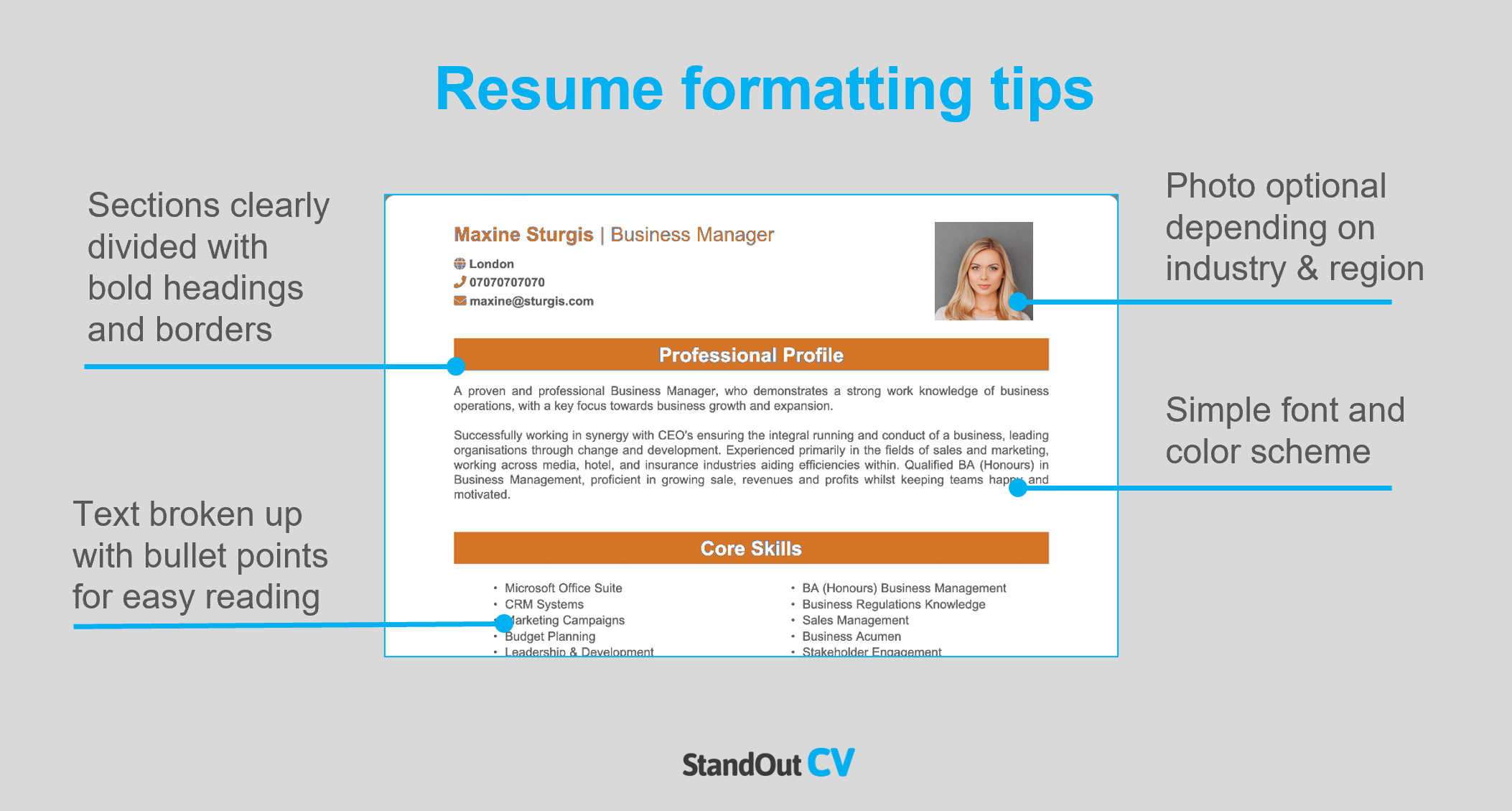 Resume layout
Your resume should include the following sections to give recruiters the information they require:
Name and Contact Details – Place your contact information at the top of your resume to make it easy for employers to get in touch with you.
Resume Summary – Write a brief introduction at the beginning of your resume that summarizes your most important qualifications and highlights why you are the ideal candidate for the job.
Skills Section – Include a concise list of your most relevant and impressive skills to quickly grab the attention of potential employers.
Work Experience – List your previous work experiences in reverse chronological order, including any volunteer work or college placements.
Education – List your educational qualifications and any professional training you have received.
Additional Information – This section is optional, but you can include details about your interests, hobbies, or any other relevant information that can make you stand out from other applicants.
Here's what to add to each section of your Composer resume.
Contact Details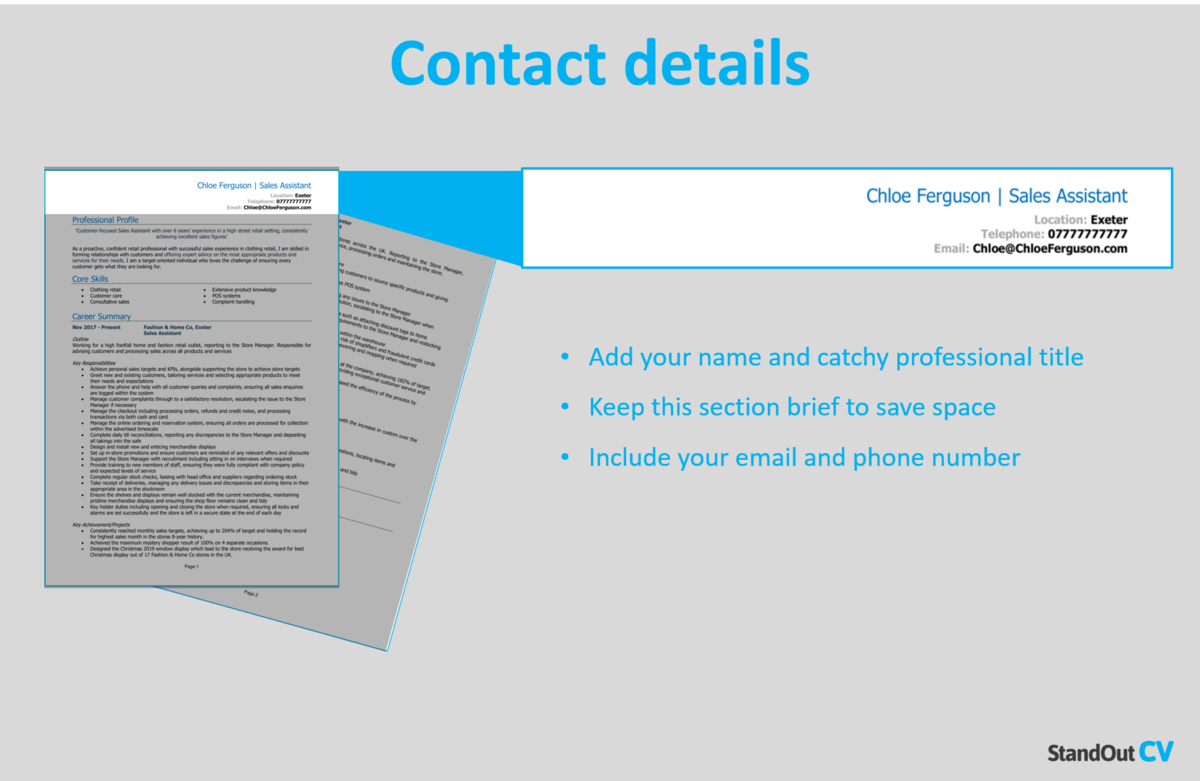 Add your name and contact details to the header of your resume, so that anybody reading can easily see how to contact you.
Name and profession title
Cell phone number – or any number you are easily reachable on
Location – Add your local area such as Washington or San Diego – not your full address as that will take up too much space.
Email address – Use a professional looking address.
You can add a link to your LinkedIn profile if you have one – you do not need to include personal details like date of birth or religion.
Composer Resume Summary
Your resume summary is like your introduction to the recruiter or hiring manager – it should grab their attention and leave them eager to read more about you.
Achieve this by writing a snappy overview of your skills, knowledge and what value you can bring to an employer.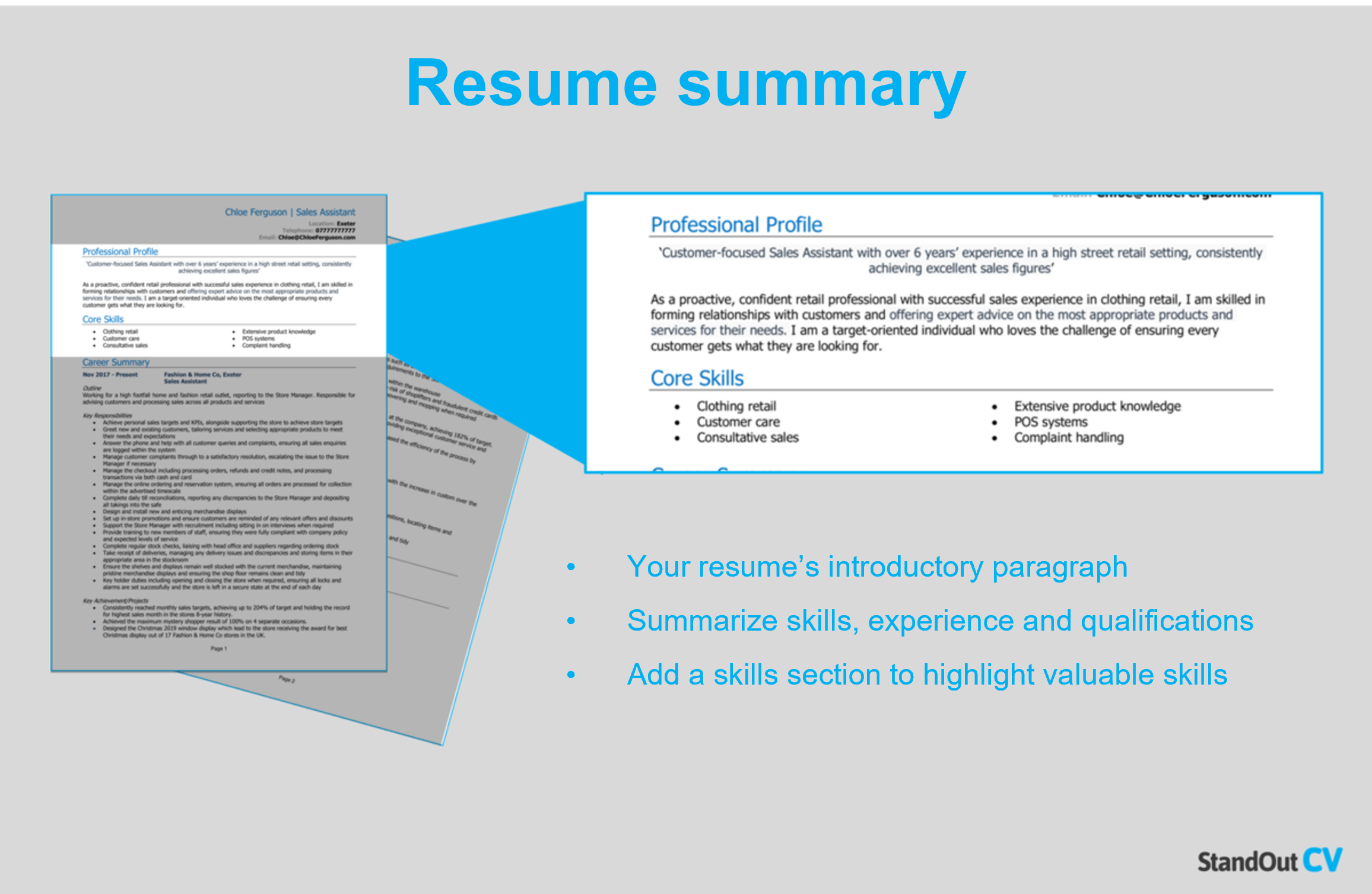 How to create a resume summary that will excite recruiters:
Keep it short: A concise and focused resume summary is essential for capturing a recruiter's attention and keeping them engaged. Limiting your summary to 4-7 lines ensures that you make a strong impression in the first few seconds of them opening the document.
Tailor to target jobs: To make your resume more relevant to your target jobs, analyze the job description and include as many matching skills as possible.
Avoid using cliches: Recruiters look for facts in resumes, such as hard skills and qualifications – so, leave out the meaningless cliches like "hard worker who works well in a team and individually"
Composer resume summary example
Innovative and versatile Composer with over 15 years of experience creating music for films, TV shows, commercials, and video games. Expert in orchestral composition and DAW digital production, with extensive knowledge of sound design and ProTools. Acclaimed creative professional, winning Best Original Score at the 2019 AIFF and working on the music team at Emmy Winning series, 'The Sister'.
What to include in your Composer resume summary?
Summary of your experience: Provide an overview of the type of work you have done in the past and the impact you have made at previous employers.
Relevant skills: To quickly showcase your suitability for Composer jobs, ensure that your summary emphasizes your most relevant skills to the jobs you are applying for.
Qualifications: Mention any Composer qualifications that are important to your profession in the summary briefly, to show you are qualified to carry out the role.
Quick tip: Choose from hundreds of pre-written summaries across all industries, and add one to your resume with one-click in our partner's Resume Builder. All written by recruitment experts and easily tailored to suit your unique skillset and style.
Core skills section
Your core skills section, positioned just below your resume summary, provides recruiters with a quick glance at 4-10 of your most in-demand skills.
For Composer jobs, where hiring managers may receive hundreds of applications, this section can help you stand out and immediately grab their attention.
To be effective, this section should consist of 2-3 columns of bullet points that highlight attributes that are highly relevant to the jobs you are targeting.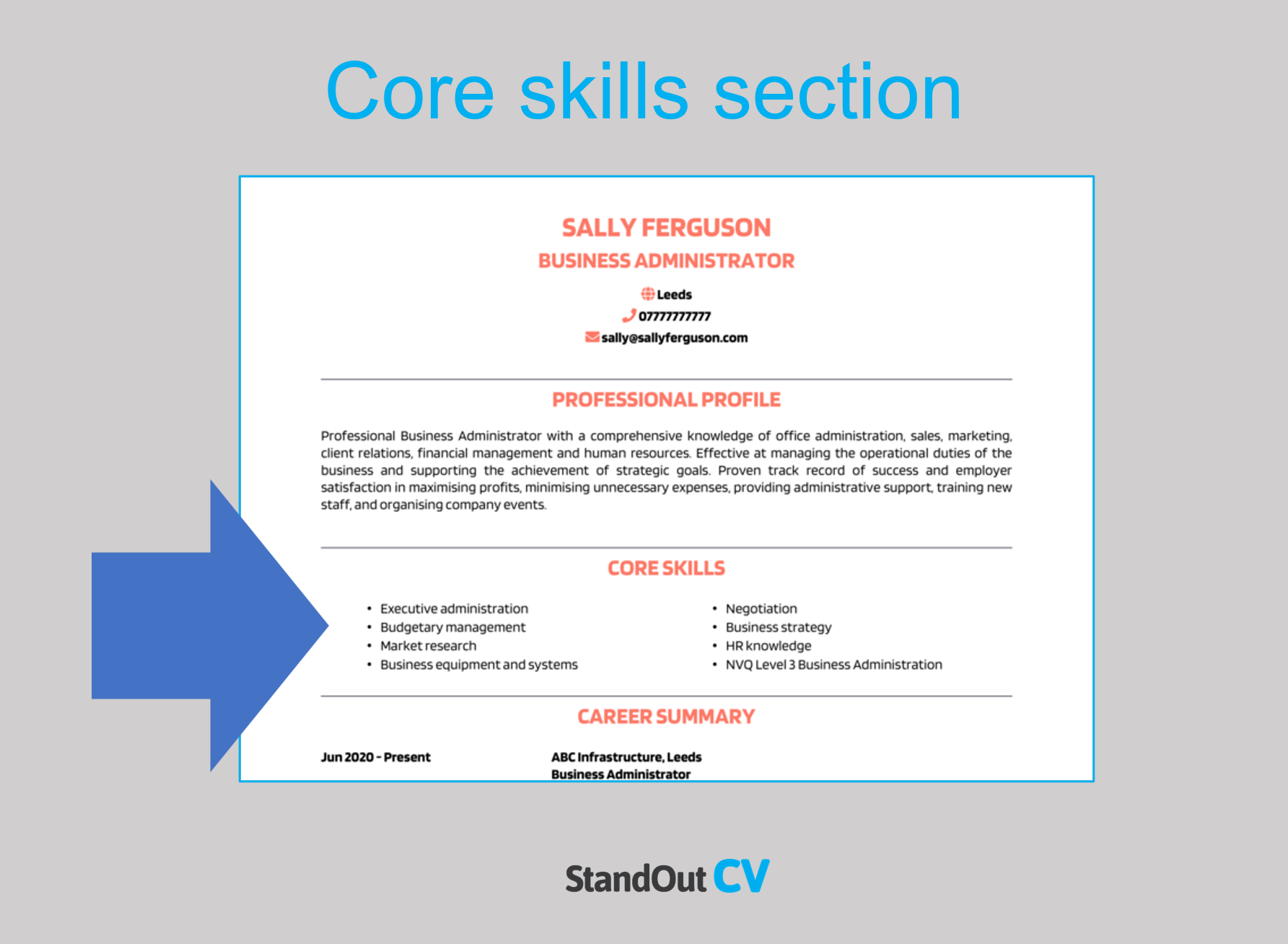 Best skills for your Composer resume
Music Composition – Composing music across various genres and styles, demonstrating creativity and originality in the composition process.
Music Theory – Maintaining an in-depth understanding of music theory principles, including harmony, melody, rhythm, and structure, to create well-crafted compositions.
Instrumentation and Orchestration – Selecting and arranging instruments to achieve desired musical textures and dynamics in compositions.
Score Reading and Notation – Reading and interpreting musical scores, including sheet music and notation software, to accurately transcribe and communicate musical ideas.
Arranging and Adaptation – Arranging and adapting existing musical pieces or themes for different instrumentation or genres, showcasing versatility and adaptability.
Digital Audio Workstations (DAWs) – Utilizing DAW software, such as Pro Tools or Logic Pro, to compose, record, edit, and mix music digitally.
Stakeholder Collaboration – Collaborating with directors, producers, musicians, and other stakeholders to understand and fulfill project requirements.
Sound Design – Utilizing knowledge of sound design principles and techniques to create impactful and immersive sonic experiences in compositions.
Musical Analysis – Analyzing and deconstructing existing musical works to understand and apply different compositional techniques and styles in original compositions.
Quick tip: Our partner's Resume Builder contains thousands of in-demand skills for every profession that can be added to your resume in seconds – saving you time and greatly improving your chances of landing job interviews and getting hired.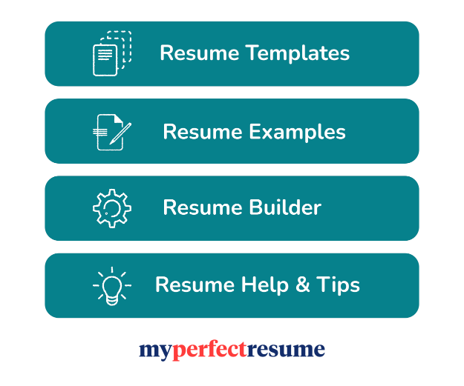 Work experience
Once you've got recruiters interested with your impactful summary, your work experience is where the real detail will lie.
Lay out your previous jobs from current to oldest, detailing what you contributed and achieved in each one.
If you're highly experienced you can cut this section down to your most recent few years of work, but if you are junior you can bulk this up with voluntary work and college placements.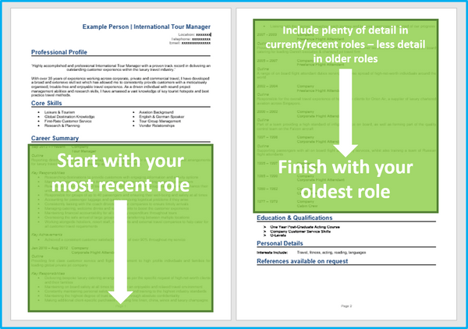 Structuring your jobs
You probably do a lot in your job, so its vital to break all of that information down into a good structure.
Structure your jobs as follows to make it easy for recruiters to skim through and pinpoint the essential info.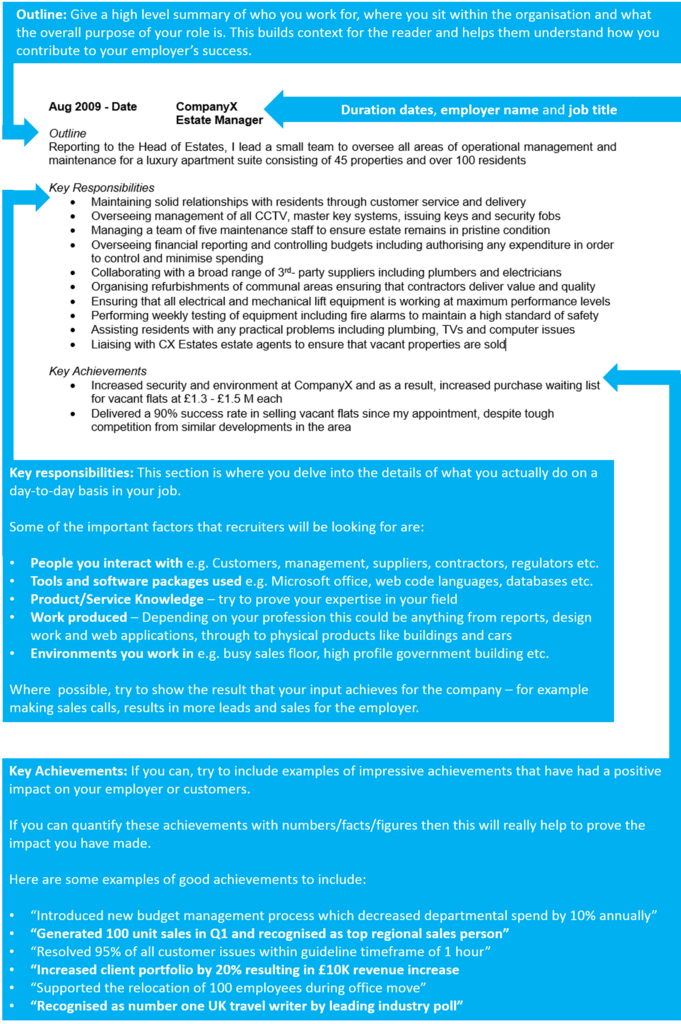 Job outline
To provide context to your jobs, begin each job with a concise summary of the organization, your role within it, and the main objectives of your position.
Key responsibilities
List your notable responsibilities in short sharp bullet points to demonstrate your input and how you contributed to the organization's success.
Highlight the skills that are most important to the roles you are applying for.
Key achievements
Show employers the value you can bring to them by adding a few achievements to your jobs.
Whether you've saved the company money or improved an internal process, let recruiters know
Add some numbers to give readers a real scale of the impact, e.g. "reduced call wait time by 10%"
Example job for Composer resume
Outline
Compose original music and supervise music production for films and TV episodes at one of the largest film production studios in the United States, delivering high-quality music for up to 10 projects per year.
Key Responsibilities
Compose and produce original music for films, documentaries, and TV shows across a wide variety of genres
Supervise and creatively direct all aspects music production, including orchestration, recording, mixing, and mastering
Communicate effectively with the post-production team to ensure seamless integration of the music with the visuals
Collaborate with specialist music supervisors to ensure the music fits the tone and mood of the visuals
Quick tip: Create impressive job descriptions easily in our partner's Resume Builder by adding pre-written job phrases for every industry and career stage.

Education section
Nearing the end of your resume, your education/qualifications section should be added.
In a well-structured list, add all of your qualifications and certifications that qualify you to perform a typical Composer role.
If you have plenty of work experience, keep this section brief – if not, add lots of detail to make up for your lack of experience.
Additional information
The bottom of your resume is a place to add any "additional info"
Any other info that didn't fall into any of the previous sections can be added here.
If you have hobbies that are related to your profession or any awards or publications – add them here.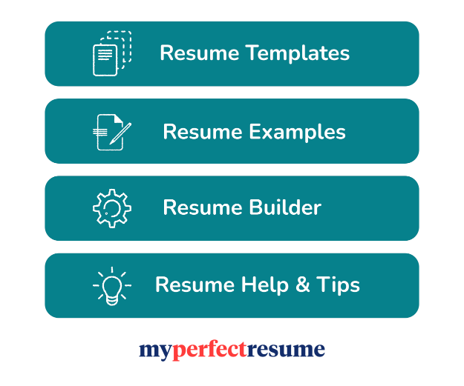 Writing your own winning Composer resume
By tailoring your resume to the specific job and industry you are targeting and ensuring that it effectively communicates your professional value, you can position yourself as a top candidate for all Composer positions.
Good luck with your job search!