You're great at multitasking and you can juggle communications in both directions, dealing with content, PR, social media, and more.
There are plenty of businesses out there that need your skills. The trouble is, you only have a page or two to introduce yourself and secure a meeting.
But that's OK, you're a word wizard and we can provide you with plenty of top tips for writing a killer application. We'll also share a community manager resume example with you below.
Contents
| | |
| --- | --- |
| How to write a Community Manager resume | |

Community Manager Resume Example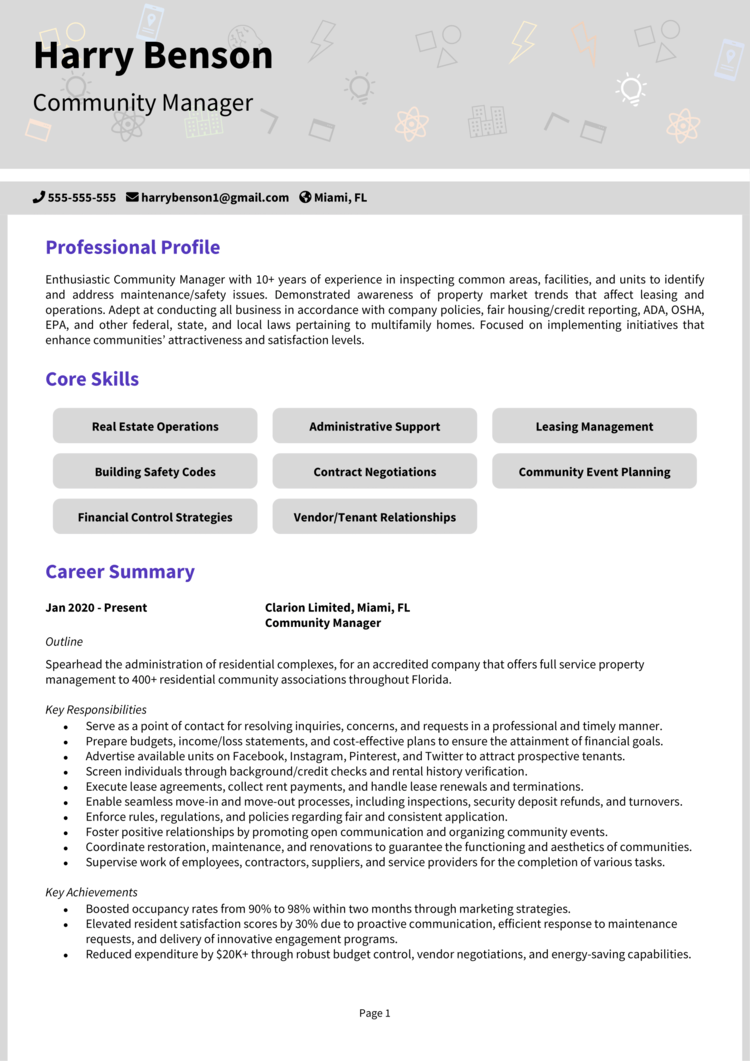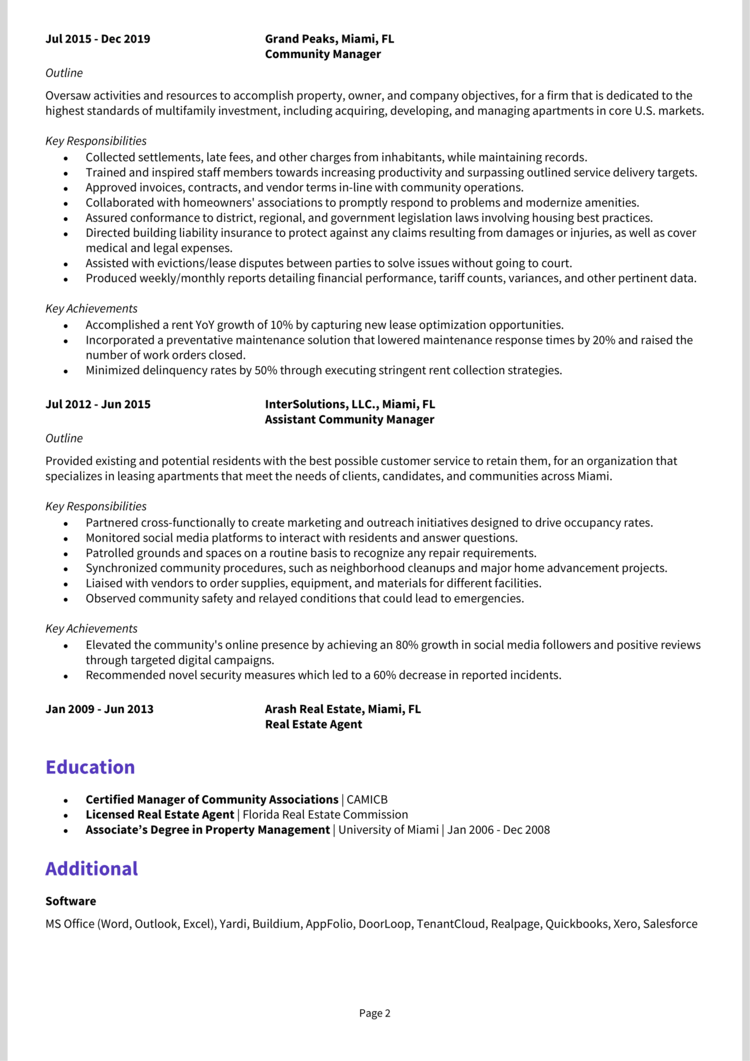 From the Community Manager resume example above, you can see the kind of information your resume will need to include, and the layout you will need to create for an easy-reading experience.
The rest of this guide will show you how to apply this format to your own unique situation, and create a resume that will attract the best employers in your industry.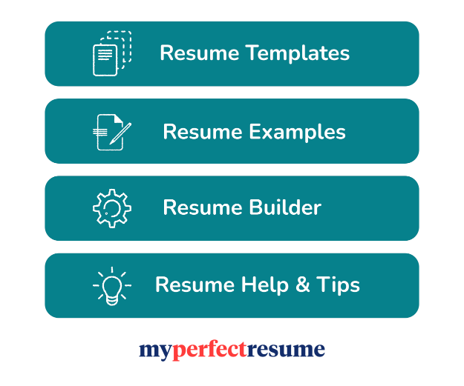 Community Manager resume layout and format
If you want to get noticed in the job market, you have to pay attention to the format and layout of your resume.
Essentially your resume needs to look highly polished, and provide hiring managers with an easy reading experience.
Use these resume formatting tips to get a head start on this.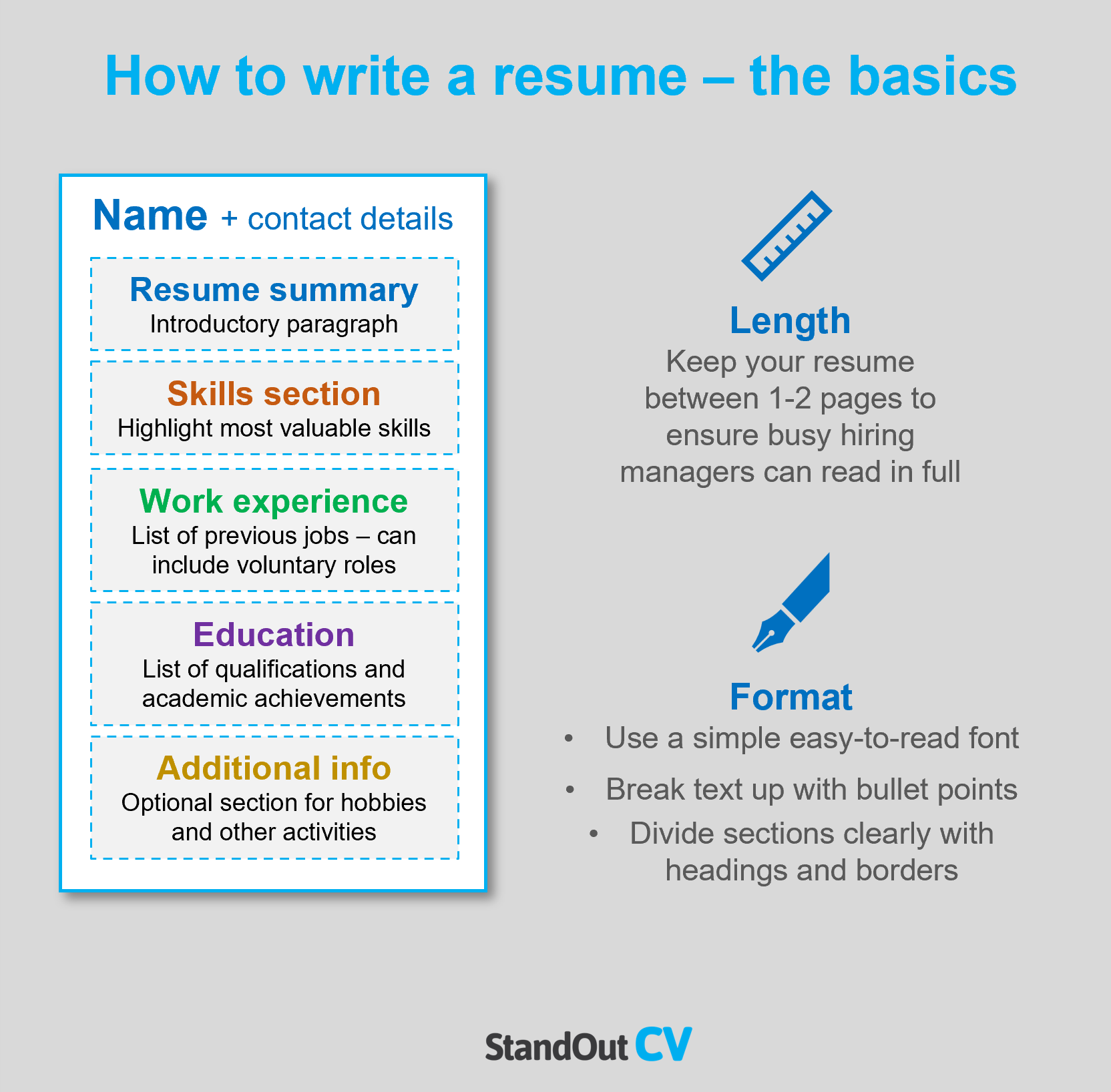 Formatting your resume
Length: Think that submitting a 10 page resume will impress recruiters? Unfortunately it won't… Even if you've got tons of experience to brag about, recruiters don't have time to read essays, so keep it brief – around 2 pages is the sweet spot.
Font & readability: Readability is the name of the game when it comes to your resume. Ensure yours is a dream to read by using a simple clear font, and breaking the text up with plenty of bullet points and short paragraphs.
Layout & Structure: A well-designed resume is not just visually pleasing, but it must also be functional. To achieve a functional design, use bold headings and borders to separate the content into clear sections.
Photos: You don't have to add a photo to your resume in the States, but some regions and industries like to see them.
Quick tip: Achieving a professional look for your resume can be difficult and time-consuming. If you want to create an attractive resume quickly, try our partner's Resume Builder and use one of their eye-catching resume templates.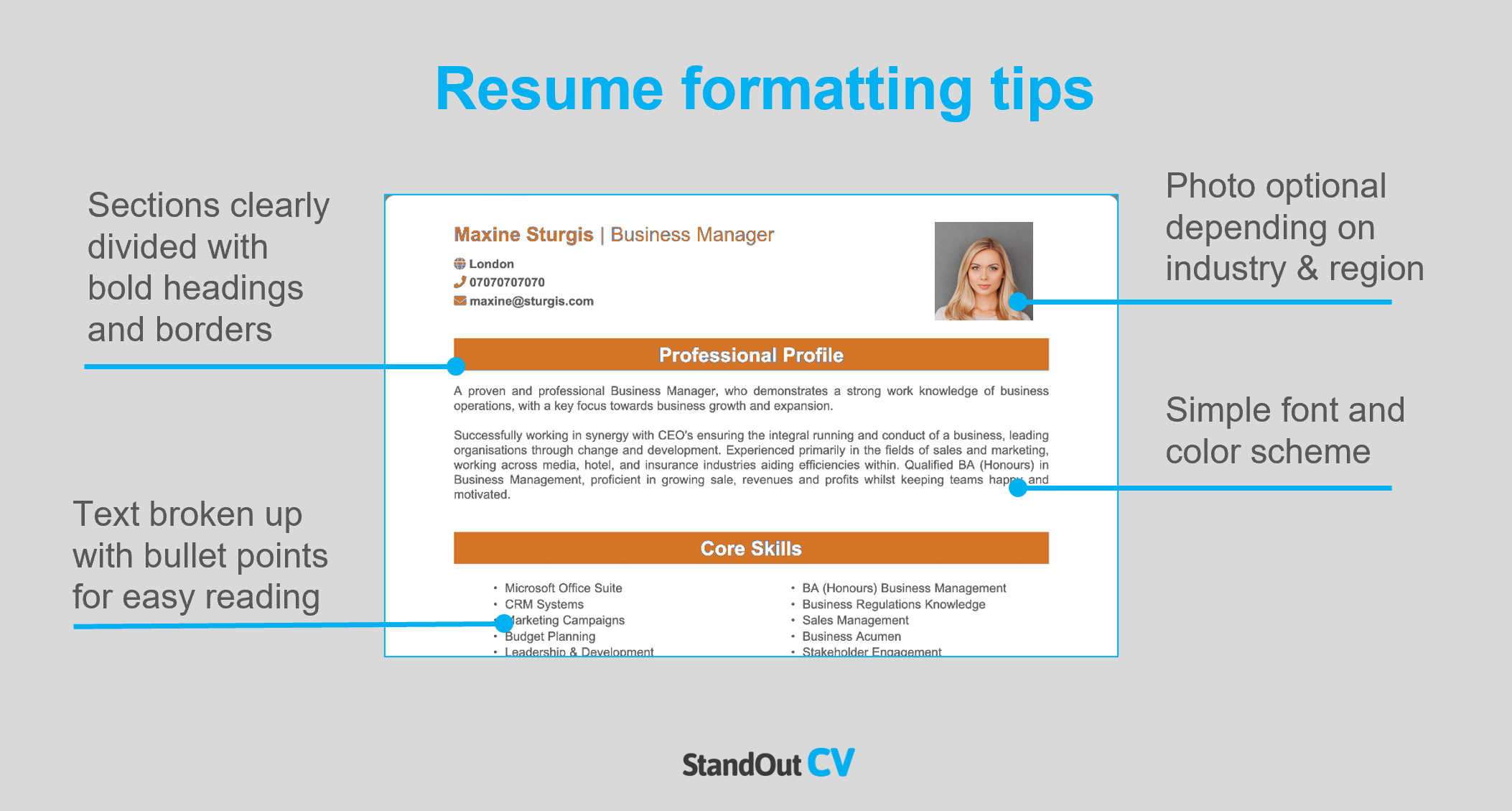 Resume layout
When writing your resume, you should always include the following sections:
Name and Contact Details – Place this information at the top of your resume to make it easy for employers to contact you.
Resume Summary – Write a brief introductory paragraph at the top of your resume summarizing why you are the best candidate for the job.
Skills Section – Create a concise list of your most important skills that can be quickly skimmed over by potential employers.
Work Experience – List your previous jobs in reverse chronological order, including volunteer work and college placements if you have no paid experience.
Education – List your educational qualifications and any professional training you have received.
Additional Information – This is an optional section for including details about hobbies, interests, or any other relevant information that may help distinguish you from other candidates.
Here's what to include in each part of your resume.
Contact Details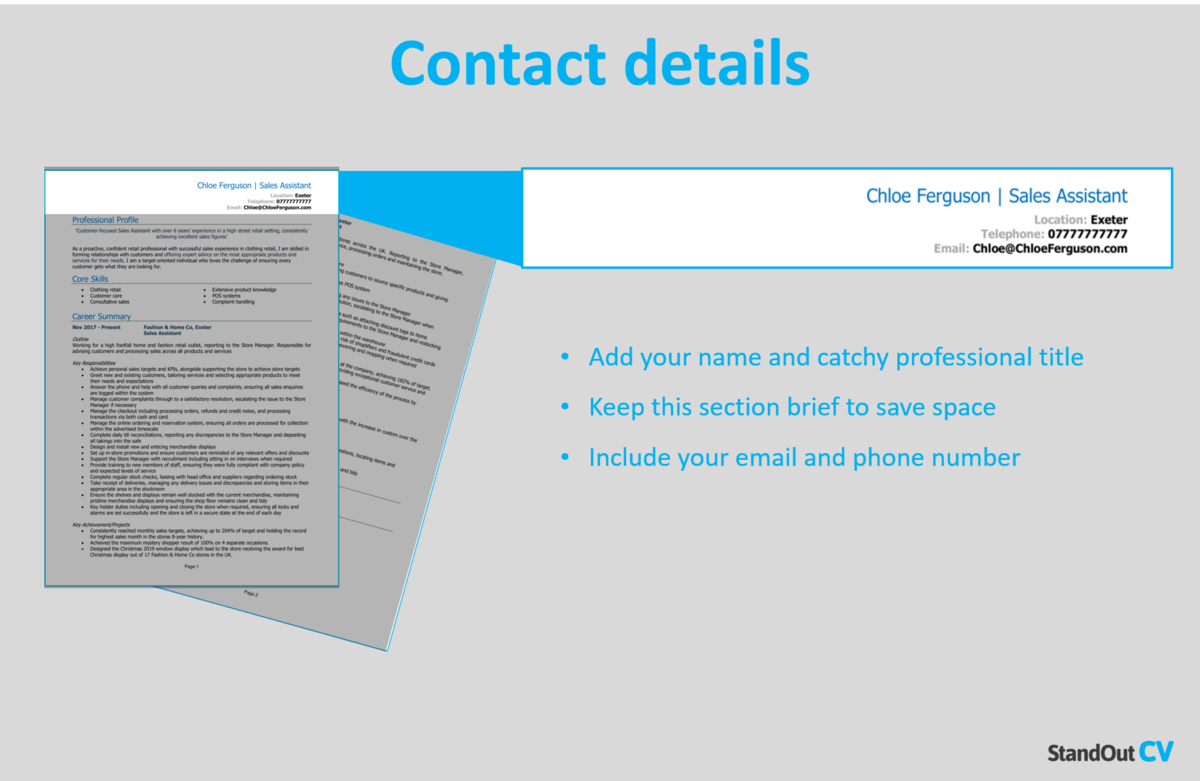 Add your name and contact details to the very top of your resume, making it easy for recruiters to get in touch
Name and profession title
Cell phone number – or another number you can answer quickly
Location – Add your local area such as San Diego or New York – not your full address as that will take up too much space.
Email address – Use your name or close variation – no nicknames from high school.
You can add a link to your LinkedIn profile if you have one – you do not need to include personal details like date of birth or marital status.
Community Manager Resume Summary
Your resume summary is like an elevator pitch. It's your chance to sell yourself to employers within a short space of time.
Achieve this by summarizing your skills and expertise, whilst highlighting your abilities that closely match the jobs you are aiming for.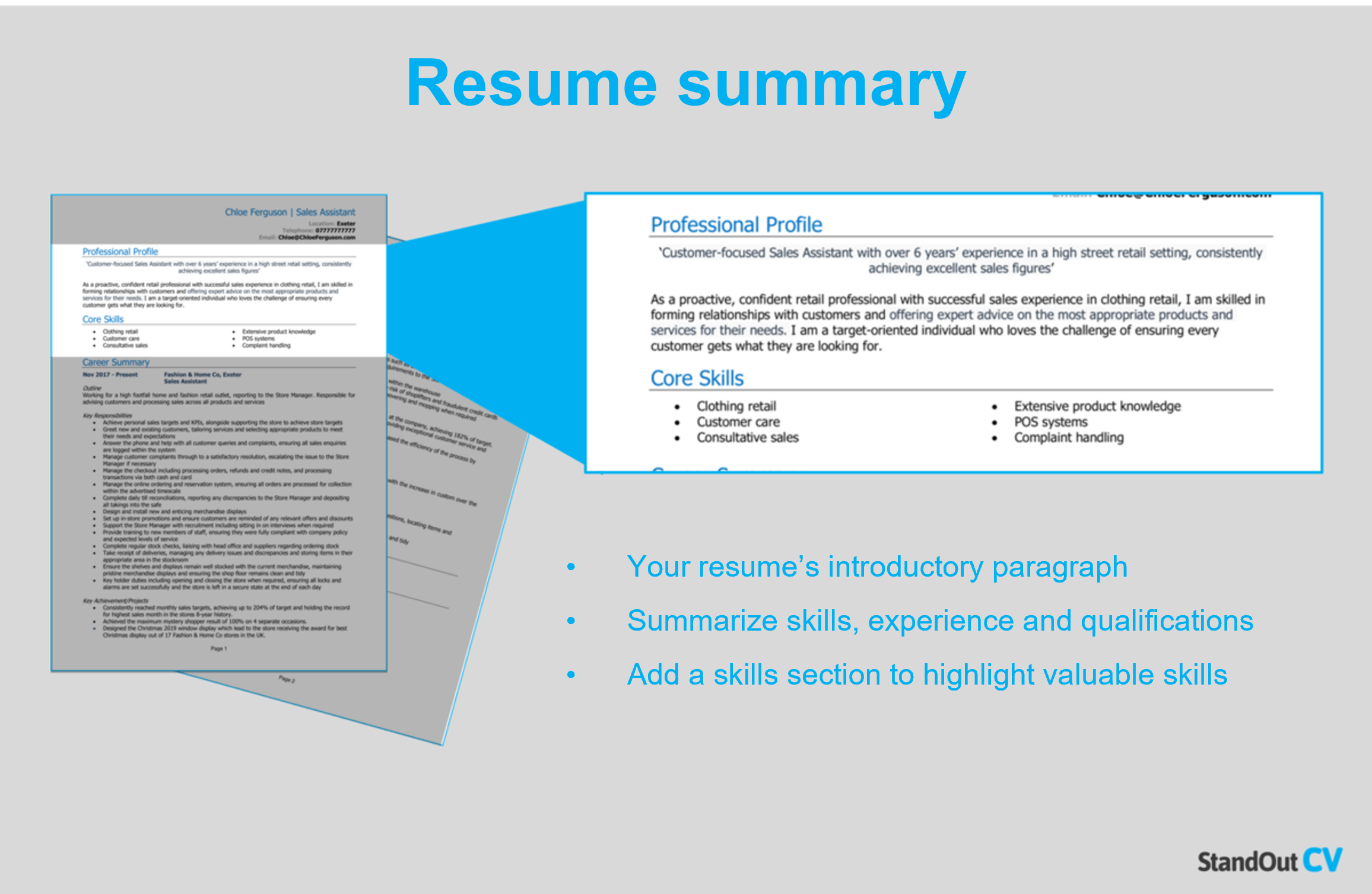 How to create a resume summary that will excite recruiters:
Keep it short: A concise and focused resume summary is essential for capturing a recruiter's attention and keeping them engaged. Limiting your summary to 4-7 lines ensures that you make a strong impression in the first few seconds of them opening the document.
Tailor to target jobs: To mirror your target jobs, scrutinize the job description and include as many relevant skills as possible in your resume.
Avoid using cliches: To capture the attention of recruiters you must provide factual information, such as hard skills and qualifications, and avoid using empty phrases like "Go-getter who thinks outside the box."
Community Manager resume summary example
Enthusiastic Community Manager with 10+ years of experience in inspecting common areas, facilities, and units to identify and address maintenance/safety issues. Demonstrated awareness of property market trends that affect leasing and operations. Adept at conducting all business in accordance with company policies, fair housing/credit reporting, ADA, OSHA, EPA, and other federal, state, and local laws pertaining to multifamily homes. Focused on implementing initiatives that enhance communities' attractiveness and satisfaction levels.
What to include in your Community Manager resume summary?
Summary of your experience: What type of organizations have you worked at? What types of roles have you done and what have you contributed to previous employers?
Relevant skills: To quickly showcase your suitability for Community Manager jobs, ensure that your summary emphasizes your most relevant skills to the jobs you are applying for.
Qualifications: Showcase your level of education with a quick mention of any qualifications that are essential for the Community Manager roles you are applying to.
Quick tip: Choose from hundreds of pre-written summaries across all industries, and add one to your resume with one-click in our partner's Resume Builder. All written by recruitment experts and easily tailored to suit your unique skillset and style.
Core skills section
Your core skills section, positioned just below your resume summary, provides recruiters with a quick glance at 4-10 of your most in-demand skills.
For Community Manager jobs, where hiring managers may receive hundreds of applications, this section can help you stand out and immediately grab their attention.
To be effective, this section should consist of 2-3 columns of bullet points that highlight attributes that are highly relevant to the jobs you are targeting.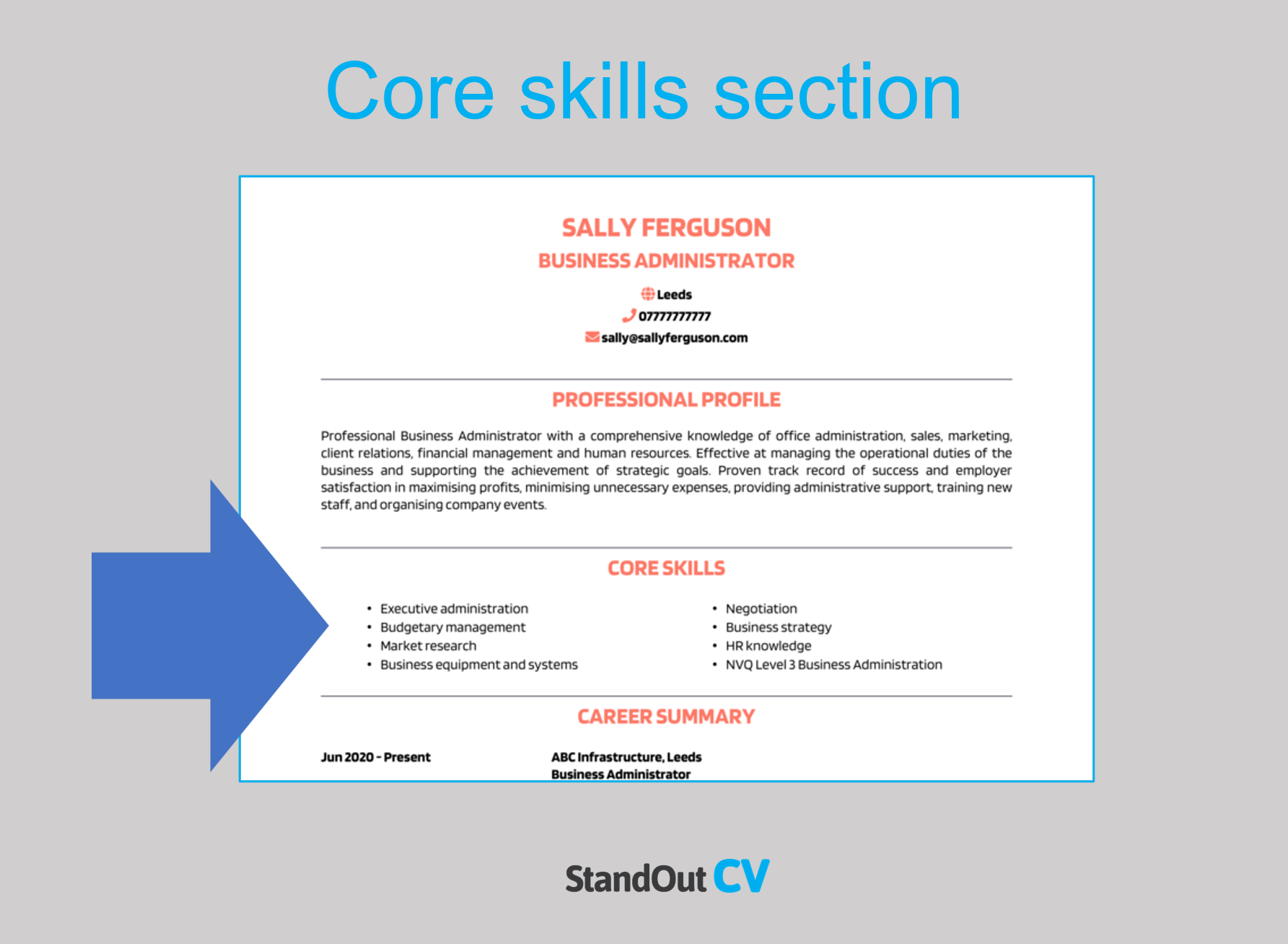 Best skills for your Community Manager resume
Community Building – Developing and nurturing a thriving community by fostering engagement, facilitating connections, and promoting positive interactions.
Social Media Management – Managing social media platforms, creating and scheduling content, engaging with the community, and monitoring analytics to optimize performance.
Content Creation – Creating engaging and relevant content, such as blog posts, articles, videos, and infographics, to attract and retain community members.
Relationship Building – Building and maintaining relationships with community members, stakeholders, influencers, and industry partners to foster collaboration and support.
Conflict Resolution – Effectively managing conflicts and resolving disputes within the community, maintaining a positive and respectful environment for all members.
Event Planning – Organizing and managing community events, both online and offline, to promote engagement, networking, and knowledge sharing.
Data Analysis – Collecting and analyzing community data, such as user behavior, engagement metrics, and feedback, to gain insights and drive informed decision-making.
Customer Service – Providing exceptional customer service, promptly addressing inquiries, resolving issues, and ensuring a positive community experience.
Community Communication – Effectively conveying information, moderating discussions, and facilitating meaningful interactions within the community.
Community Management Tools – Utilizing community management platforms and tools, such as forums, social media management software, analytics tools, and collaboration platforms, to streamline community management tasks.
Quick tip: Our partner's Resume Builder contains thousands of in-demand skills for every profession that can be added to your resume in seconds – saving you time and greatly improving your chances of landing job interviews and getting hired.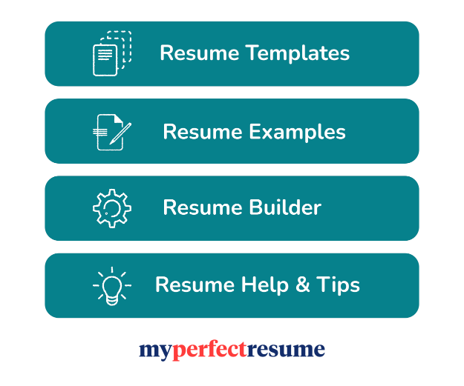 Work experience
So, you've grabbed the recruiters' attention with your summary, now it's time to show them what you're really capable of in your work experience section.
List your previous jobs from current to oldest, showing off the impact you made at each organization.
If you have tons of experience, you should just list the most recent an relevant jobs – but if you have little or no experience, add it all and even consider putting in voluntary work.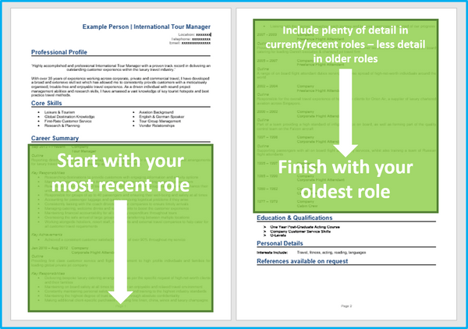 Structuring your jobs
You probably do a lot in your job, so its vital to break all of that information down into a good structure.
Structure your jobs as follows to make it easy for recruiters to skim through and pinpoint the essential info.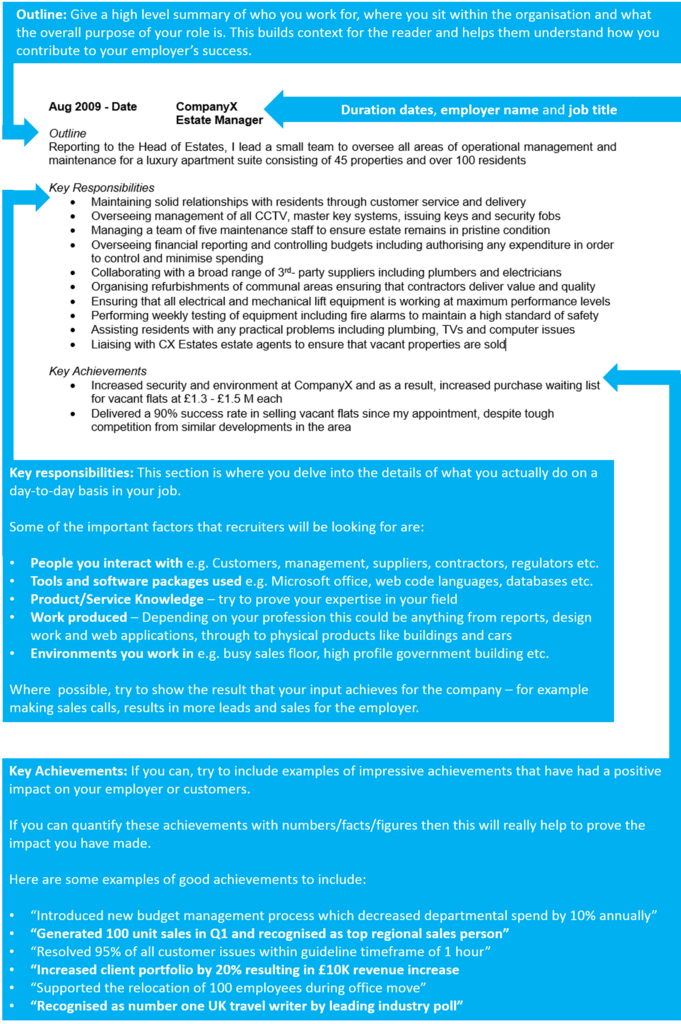 Job outline
To provide context to your jobs, begin each job with a concise summary of the organization, your role within it, and the main objectives of your position.
Key responsibilities
The bulk of the role description should be comprised of bullet points that explain all of your duties in the job.
Keep the sentences short and simple to make them easy for recruiters to digest.
Key achievements
Finish each role by highlighting some impressive achievements you made whilst in the role.
Anything that benefited the employer can be included from making financial savings, to winning new customers.
Quantify your achievements with facts and figures if you can, e.g. "reduced call wait time by 10%"
Example job for Community Manager resume
Outline
Spearhead the administration of residential complexes, for an accredited company that offers full-service property management to 400+ residential community associations throughout Florida.
Key Responsibilities
Serve as a point of contact for resolving inquiries, concerns, and requests in a professional and timely manner.
Prepare budgets, income/loss statements, and cost-effective plans to ensure the attainment of financial goals.
Advertise available units on Facebook, Instagram, Pinterest, and Twitter to attract prospective tenants.
Screen individuals through background/credit checks and rental history verification.
Quick tip: Create impressive job descriptions easily in our partner's Resume Builder by adding pre-written job phrases for every industry and career stage.

Education section
After your work experience, add your education section.
If you are an experienced professional, you can keep this part short – adding basic details of each qualification.
If you have little or no experience, bulk this section up by adding more detail and highlight important skills and knowledge for your target jobs.
Additional information
If you have anything else to add which is relevant to the jobs you are applying for, the additional info section is the place to add it.
Perhaps you have a hobby which involves relevant skills, or maybe you have some awards or publications worth mentioning.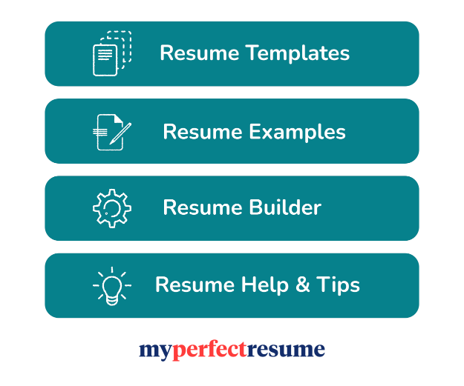 Writing your own winning Community Manager resume
A winning Community Manager resume should look great, read well, and sell your skillset to hiring managers.
If you follow the steps above, you should be able to bag yourself a top job in no time.
Good luck with your job search!