Have you got what it takes to oversee and manage an entire clinic? Then you need to prove to the recruiter that you've got what it takes.
To do this, your resume must perfectly showcase your leadership skills and organization.
Find out how to impress the recruiter with your key skills and achievements in our writing guide below, and be sure to make use of our clinic manager resume example too.
Contents
| | |
| --- | --- |
| How to write a Clinic Manager resume | |

Clinic Manager Resume Example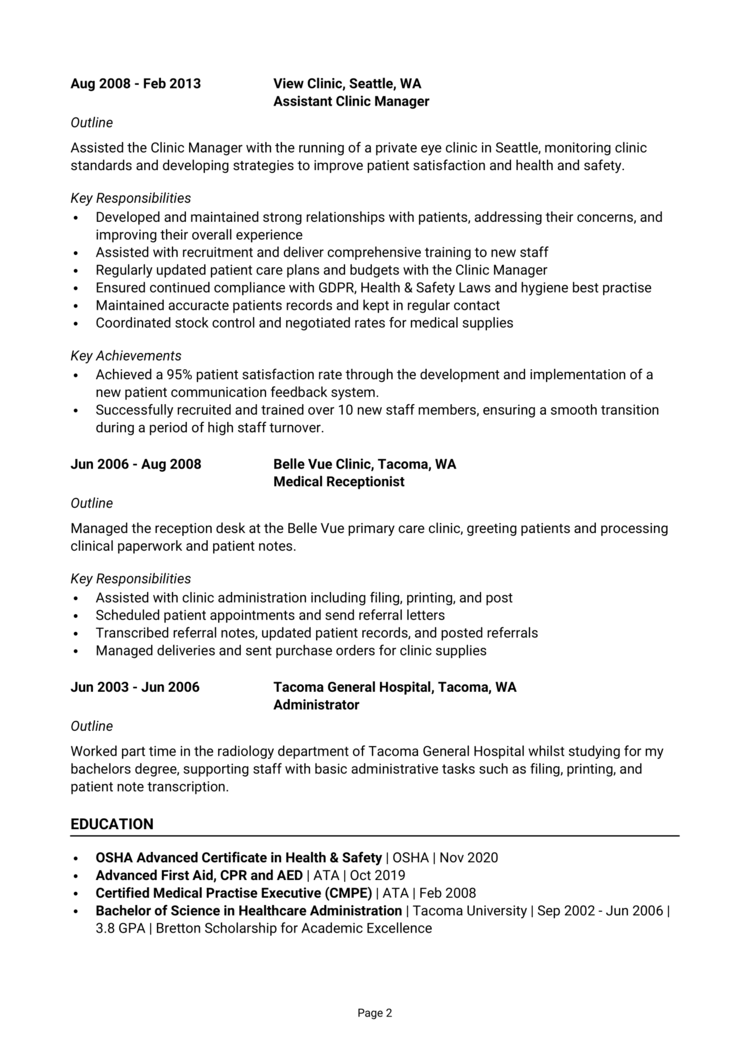 The example Clinic Manager resume above shows you how a professional resume should look, along with the type of content it should contain.
You can see that the information is well-organized across the page and its easy for busy recruiters to see the candidate's important skills.
Keep this in mind when writing your own resume.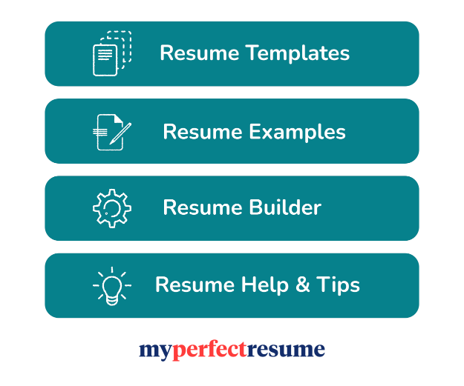 Clinic Manager resume layout and formatting
When it comes to holding the attention of recruiting managers, the format and layout of your resume play a key role.
Your resume needs to strike a perfect balance between looking awesome, and being easy for recruiters to read (which is not always easy to achieve)
Use the following formatting tips to get started.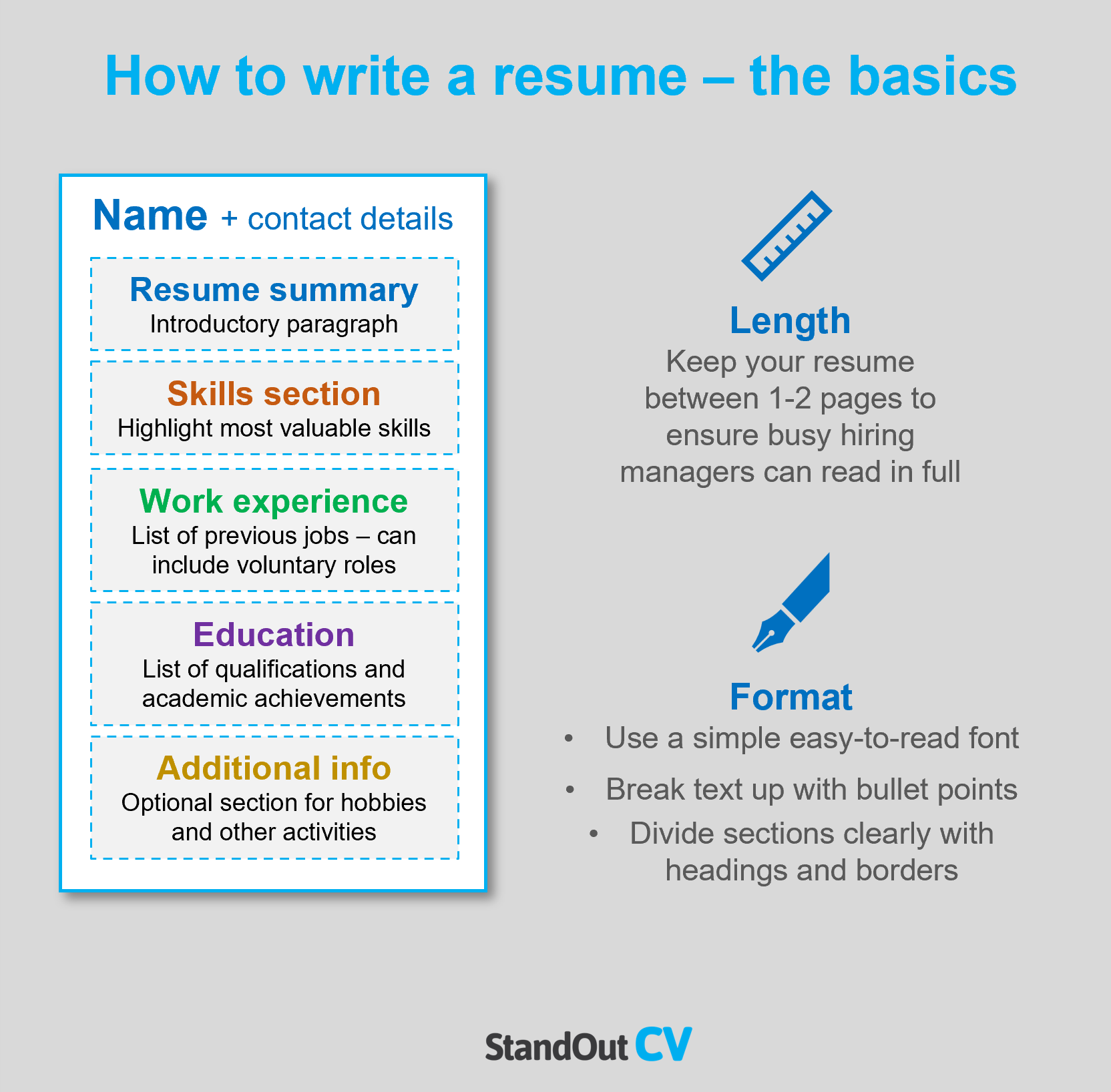 Formatting your resume
Length: Keep your resume to 2 pages or under. You've probably heard that recruiters and hiring managers don't have lots of time to read every resume, so keep yours brief if you want to ensure that they read all of the important info in yours.
Font & readability: Simplicity and a pleasant reading experience are crucial if you want to highlight your most valuable skills to recruiters. Use a clear font (avoid fancy ones) and break up the text in your resume with bullet points to ensure information can be easily consumed.
Layout & Structure: A visually appealing resume is important, but don't forget about functionality. To ensure a functional design, use bold headings and borders to organize the page into clear sections.
Photos: It's not mandatory to add a photo to your resume in the USA but it if you're applying to organizations within the creative fields, it can be beneficial.
Quick tip: Achieving a professional look for your resume can be difficult and time-consuming. If you want to create an attractive resume quickly, try our partner's Resume Builder and use one of their eye-catching resume templates.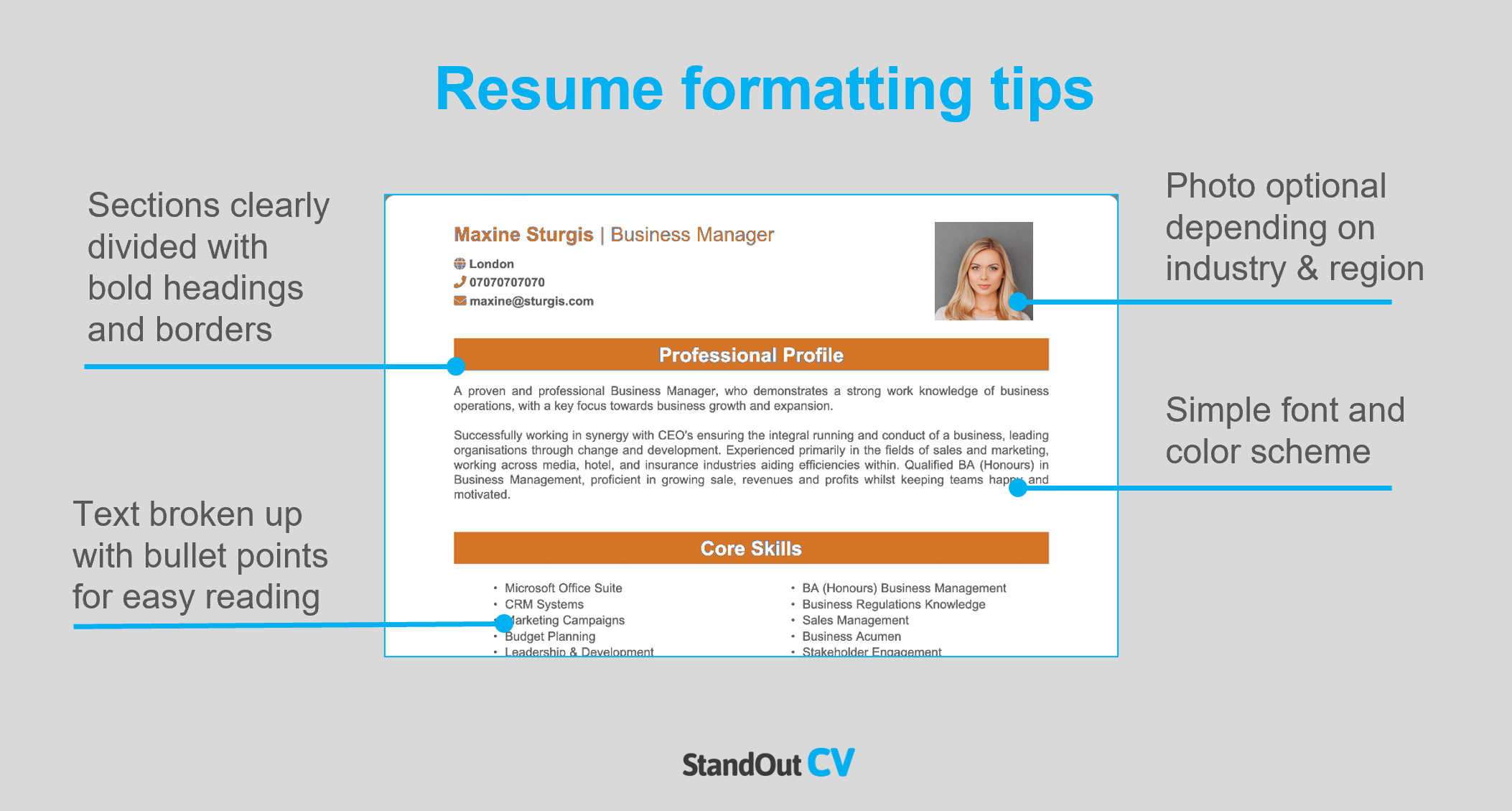 Resume layout
Divide the page into these sections when you write your own resume.
Name and contact details – Simply state who you are, and how to get in touch with you.
Resume summary – An introductory paragraph at the very top of your resume which summarizes your skills, experience and suitability for your target jobs.
Core skills section – A bullet-pointed list of your skills that relate most to your target jobs.
Work experience – A list of your current and previous jobs, including all of your responsibilities and achievements.
Education – A section that showcases all of your education and academic achievements.
Additional info (optional) – Here you can add an extra section for things like hobbies and interests, or anything else that might be relevant to your target jobs.
Here's what to include in each part of your resume.
Contact Details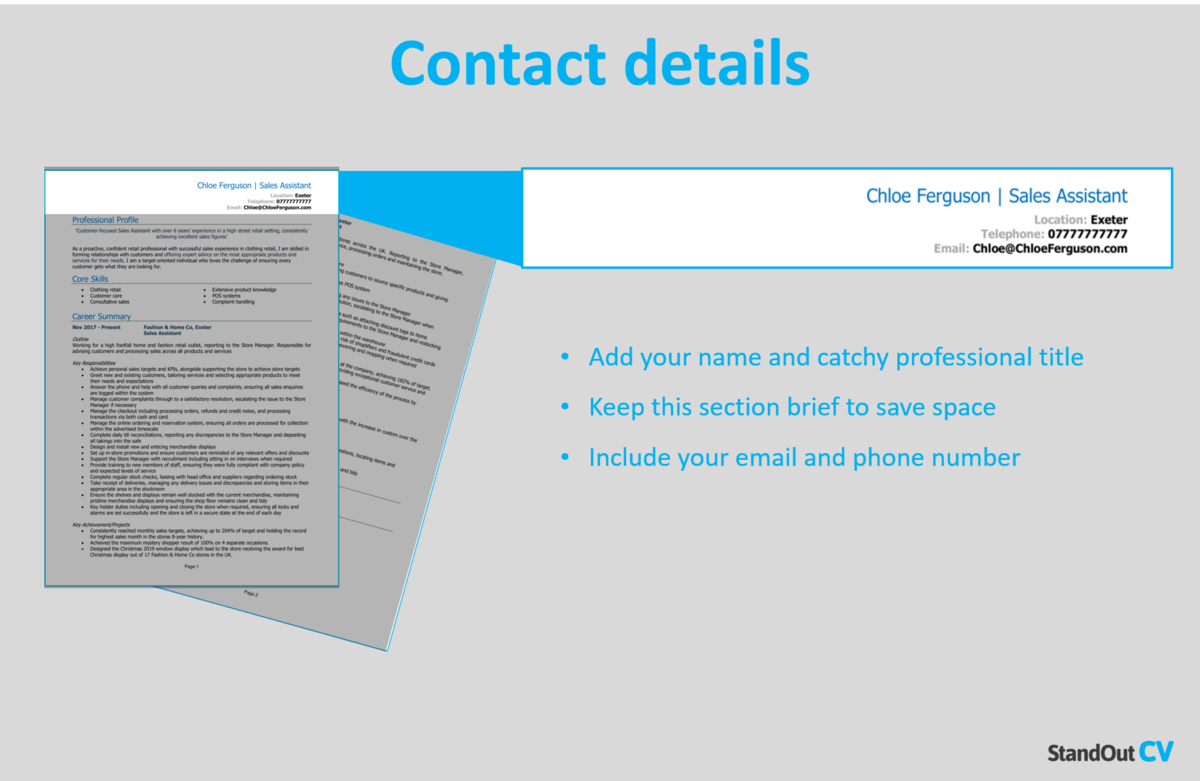 Add your name and contact details to the header of your resume, so that anybody reading can easily see how to contact you.
Name and profession title
Cell phone number – or any number you are easily reachable on
Location – Add your local area such as Washington or San Diego – not your full address as that will take up too much space.
Email address – Use a professional looking address.
You can add a link to your LinkedIn profile if you have one – you do not need to include personal details like date of birth or religion.
Clinic Manager Resume Summary
The resume summary is a short paragraph at the top of your resume, and it's purpose is to grab recruiter's attention and make sure they keep reading it.
To make your summary work, ensure that you provide a high-level summary of your skills and experience – and tailor it to reflect the requirements of the jobs you are applying for.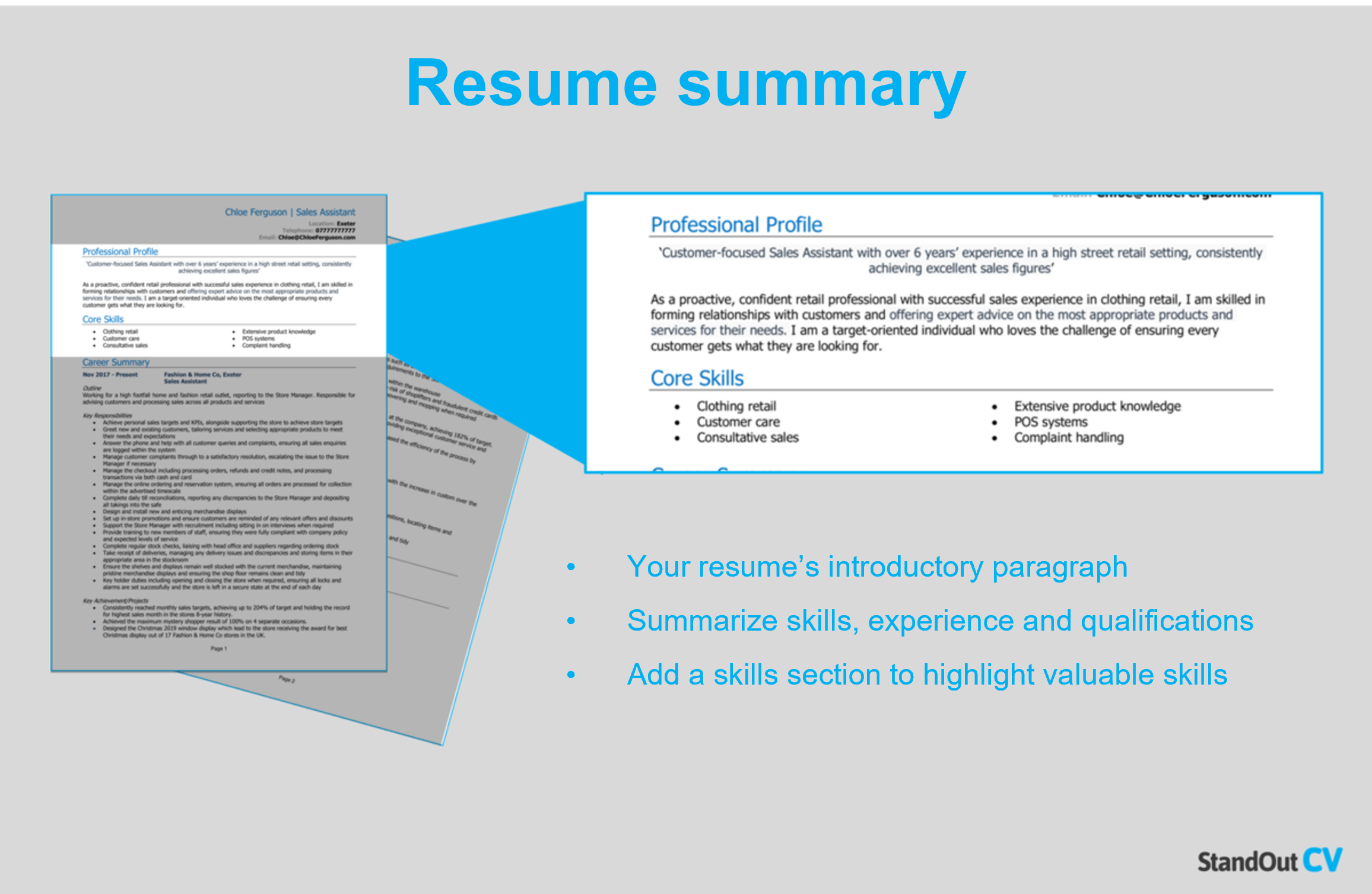 How to create a resume summary that will excite recruiters:
Keep it short: You only have a few seconds to grab a recruiters' attention and make them commit to your resume, so keep your summary between 4 – 7 lines.
Tailor to target jobs: Tailor your resume to your target jobs by studying the job description and adding as many matching skills as you can.
Avoid using cliches: Recruiters always see cringey cliches like "hardworking guru who works well in a team or individually" – they don't mean much to anyone, so focus your summary on tangible skills and experience.
Clinic Manager resume summary example
Strategic Clinic Manager with 20 years' experience in healthcare administration, clinic management, and patient care roles. Proven ability to lead teams and develop effective clinic policies and procedures whilst maintaining strong relationships with physicians, staff, and patients. ATA-Certified Medical Practise Executive with extensive knowledge of the medical business industry and advanced budget management expertise. 
What to include in your Clinic Manager resume summary?
Summary of your experience: Provide a summary of the kind of work you have previously done, along with the benefits you have delivered to the organizations you worked with.
Relevant skills: To quickly showcase your suitability for Clinic Manager jobs, ensure that your summary emphasizes your most relevant skills to the jobs you are applying for.
Qualifications: Mention any Clinic Manager qualifications that are important to your profession in the summary briefly, to show you are qualified to carry out the role.
Quick tip: Choose from hundreds of pre-written summaries across all industries, and add one to your resume with one-click in our partner's Resume Builder. All written by recruitment experts and easily tailored to suit your unique skillset and style.
Core skills section
Next, you should create a bullet pointed list of your core skills, formatted into 2-3 columns.
Here, you should focus on including the most important skills or knowledge listed in the job advertisement.
This will instantly prove that you're an ideal candidate, even if a recruiter only has time to briefly scan your resume.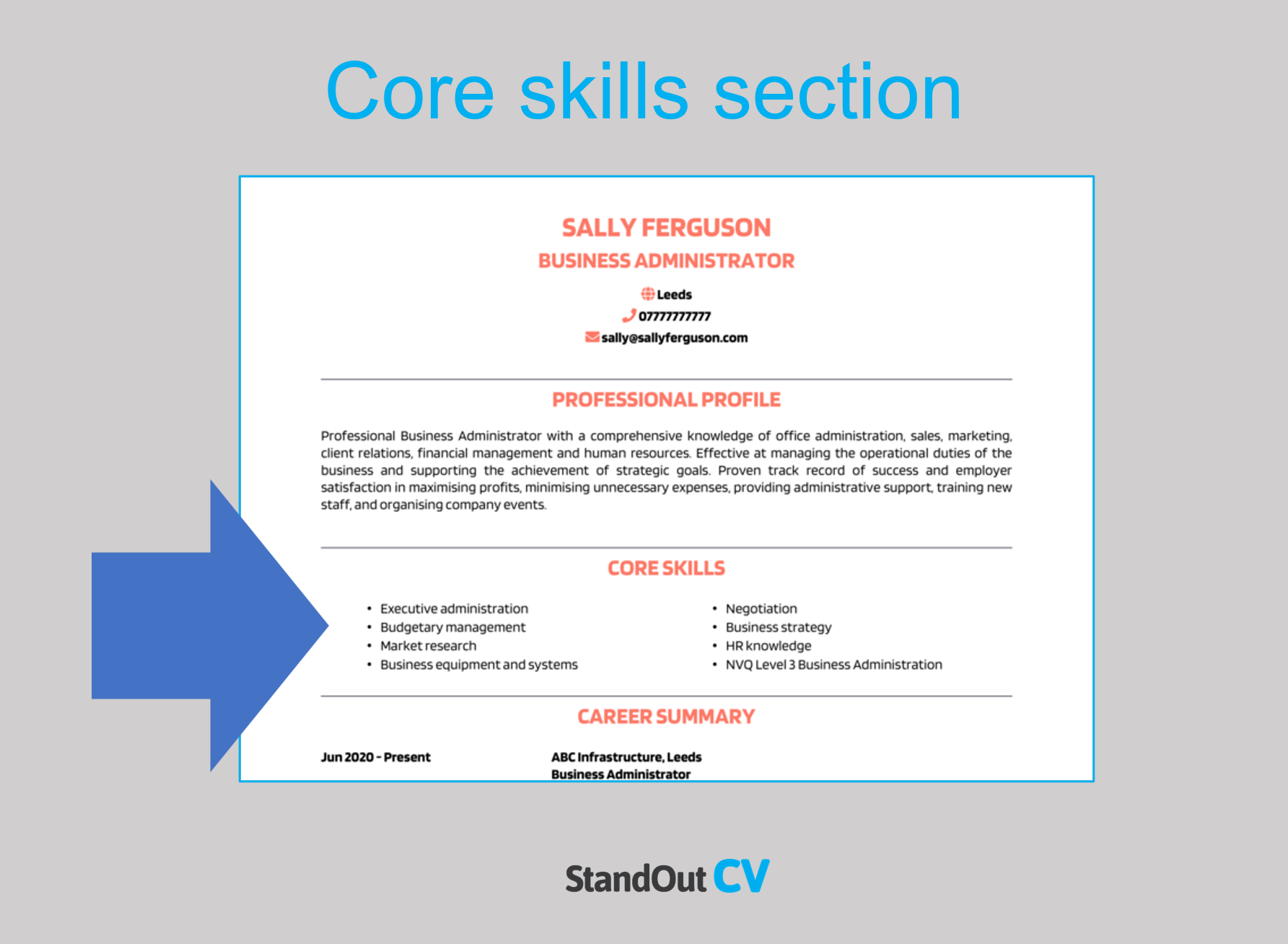 Best skills for your Clinic Manager resume
Staff management – Managing, supervising, and training clinic staff, ensuring they are providing high-quality care.
Financial management – Utilizing knowledge of healthcare finance, billing, insurance regulations, and budgeting, to manage clinic finances.
Electronic Health Record (EHR) systems – Using expertise in electronic health records and management systems to maintain accurate records, ensure compliance with regulations, and streamline administrative tasks.
Regulatory compliance – Maintaining an in depth understanding of healthcare regulations, HIPAA laws, and patient privacy laws to ensure the clinic is compliant.
Quality improvement – Using knowledge of quality improvement principles, including continuous quality improvement, and risk management to improve patient care and safety.
Healthcare operations – Utilizing experience with medical office administration, appointment scheduling, and patient flow to ensure efficient clinic operations.
Strategic planning – Developing and executing strategic plans that align with the clinic's mission and goals.
Customer service – Providing excellent customer service to patients and addressing patient complaints or concerns in a professional and compassionate manner.
Healthcare technology – Utilizing healthcare technology to improve clinic operations and patient care.
Leadership – Inspiring and motivating staff, promoting teamwork and collaboration, and creating a positive work culture.
Quick tip: Our partner's Resume Builder contains thousands of in-demand skills for every profession that can be added to your resume in seconds – saving you time and greatly improving your chances of landing job interviews and getting hired.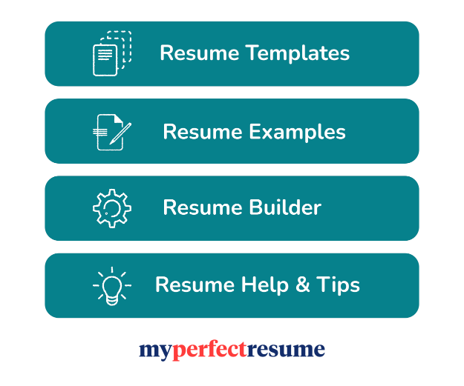 Work experience
Now that you've reeled recruiters in with your awesome summary, it's time to delve into your work experience.
Here you'll list your previous jobs (starting with your most recent and working backward) and showcase how you apply your skills in the workplace.
Provide lots of detail in recent jobs, and less in older roles.
If you have no relevant paid experience, you can include voluntary work and placements – but if you have lots of experience, you can leave out some of the really old jobs.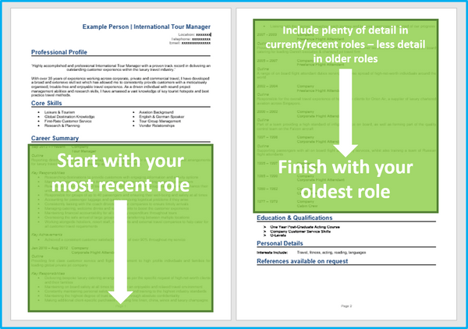 Structuring your jobs
Resume job descriptions contain lots of information, so its crucial to structure them well.
Use the structure below to ensure hiring managers can consume the information easily.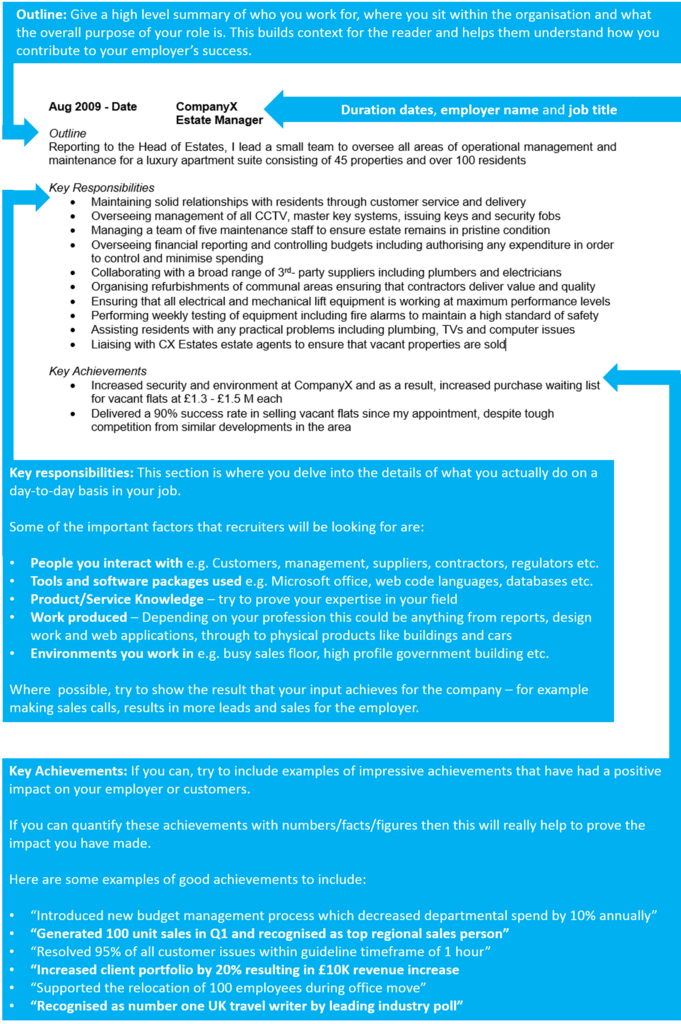 Job outline
Start with a 1-2 sentence outline of the role, summarizing what the goal of your position was, who you reported to (or managed) and the type of organization you worked for.
Key responsibilities
List your notable responsibilities in short sharp bullet points to demonstrate your input and how you contributed to the organization's success.
Highlight the skills that are most important to the roles you are applying for.
Key achievements
Show employers the value you can bring to them by adding a few achievements to your jobs.
Whether you've saved the company money or improved an internal process, let recruiters know
Add some numbers to give readers a real scale of the impact, e.g. "reduced call wait time by 10%"
Example job for Clinic Manager resume
Outline
Coordinate all aspects of a busy primary care clinic in downtown Seattle, overseeing clinic procedures and managing a team of over 20 staff members, including physicians, nurses, and administrative staff.
Key Responsibilities
Develop and implement effective policies and procedures to ensure the efficient and effective operation of the clinic
Collaborate with physicians to coordinate clinical protocols and standards of care, resulting in improved patient outcomes
Manage staff schedules and workload, ensuring adequate staffing levels and maintaining high levels of staff engagement and retention
Oversee the clinic's budget, allocating funds, achieving financial targets and maintaining profitability
Quick tip: Create impressive job descriptions easily in our partner's Resume Builder by adding pre-written job phrases for every industry and career stage.

Education section
Nearing the end of your resume, your education/qualifications section should be added.
In a well-structured list, add all of your qualifications and certifications that qualify you to perform a typical Clinic Manager role.
If you have plenty of work experience, keep this section brief – if not, add lots of detail to make up for your lack of experience.
Additional information
The additional info section is optional but can be useful if you have anything else to add that could benefit your application.
For example, you may have some hobbies and interests that are relevant to your job – or you might have awards or publications to shout about.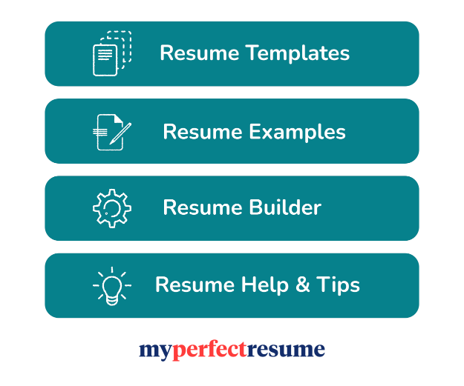 Writing your own winning Clinic Manager resume
Crafting a strong Clinic Manager resume can be a daunting task, but implementing the steps outlined above will significantly increase your chances of securing multiple interview opportunities.
Good luck with your job search!