Your technical skills are second to none, and you know that you're a strong leader, great decision-maker, and strategic thinker.
The hard part is proving all of this to the recruiter on just two sides of paper.
But the good news is, we've created this step-by-step guide and chief technology officer resume example to help you with your application and move your CTO career forward.
Contents
| | |
| --- | --- |
| How to write your Chief Technology Officer resume | |

Chief Technology Officer Resume Example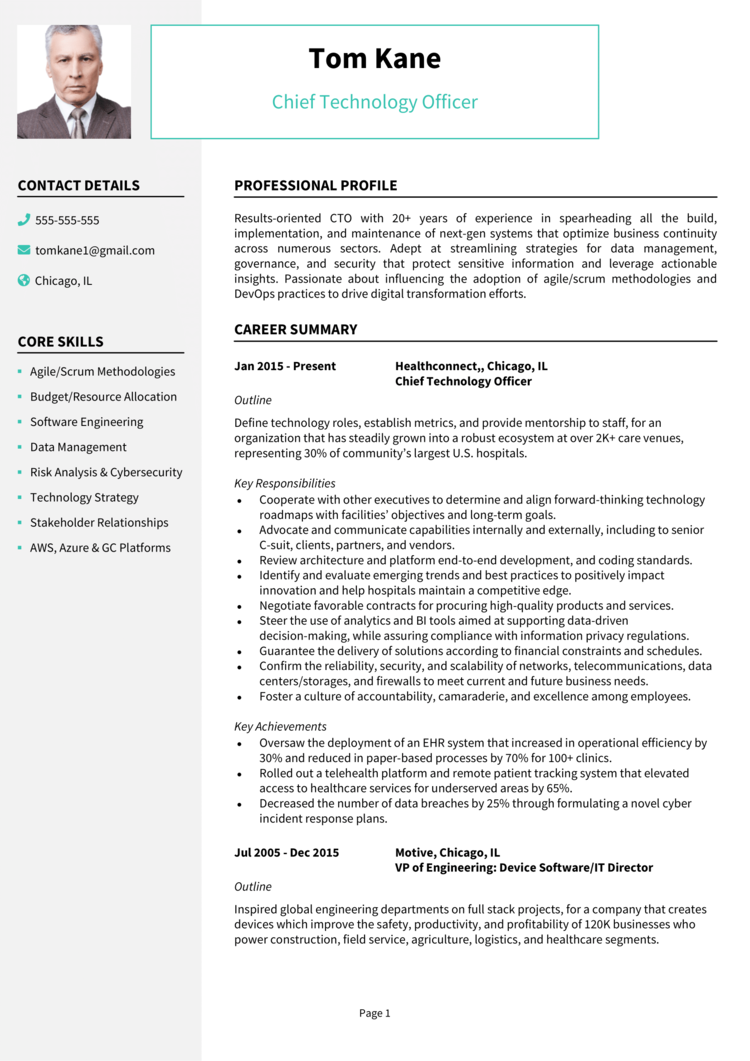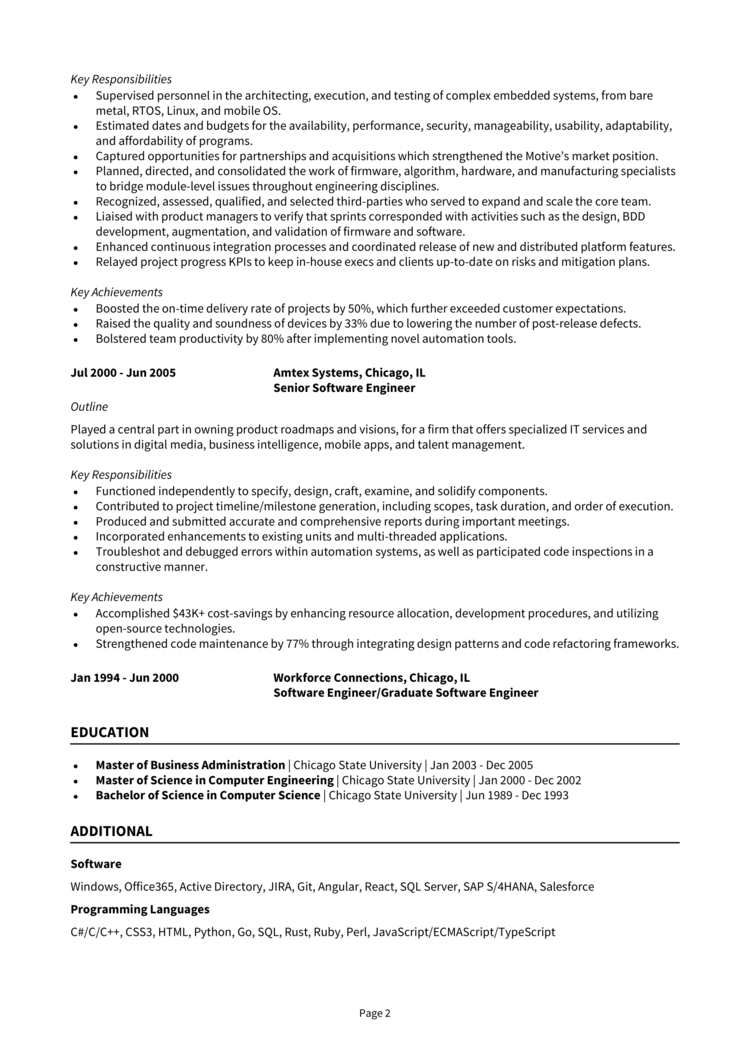 This example Chief Technology Officer resume gives you a general idea of how to structure your own resume, along with the type of content you need to include.
Sticking with this resume format will help you to get noticed by employers and ensure that they can quickly see the benefit of hiring you.
Now, lets walk through a step-by-step guide on how to write your own winning resume.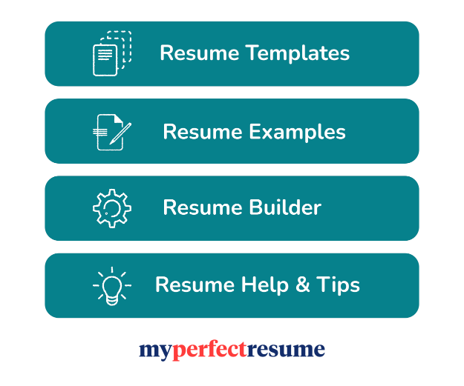 Chief Technology Officer resume layout and format
When it comes to holding the attention of recruiting managers, the format and layout of your resume play a key role.
Your resume needs to strike a perfect balance between looking awesome, and being easy for recruiters to read (which is not always easy to achieve)
Use the following formatting tips to get started.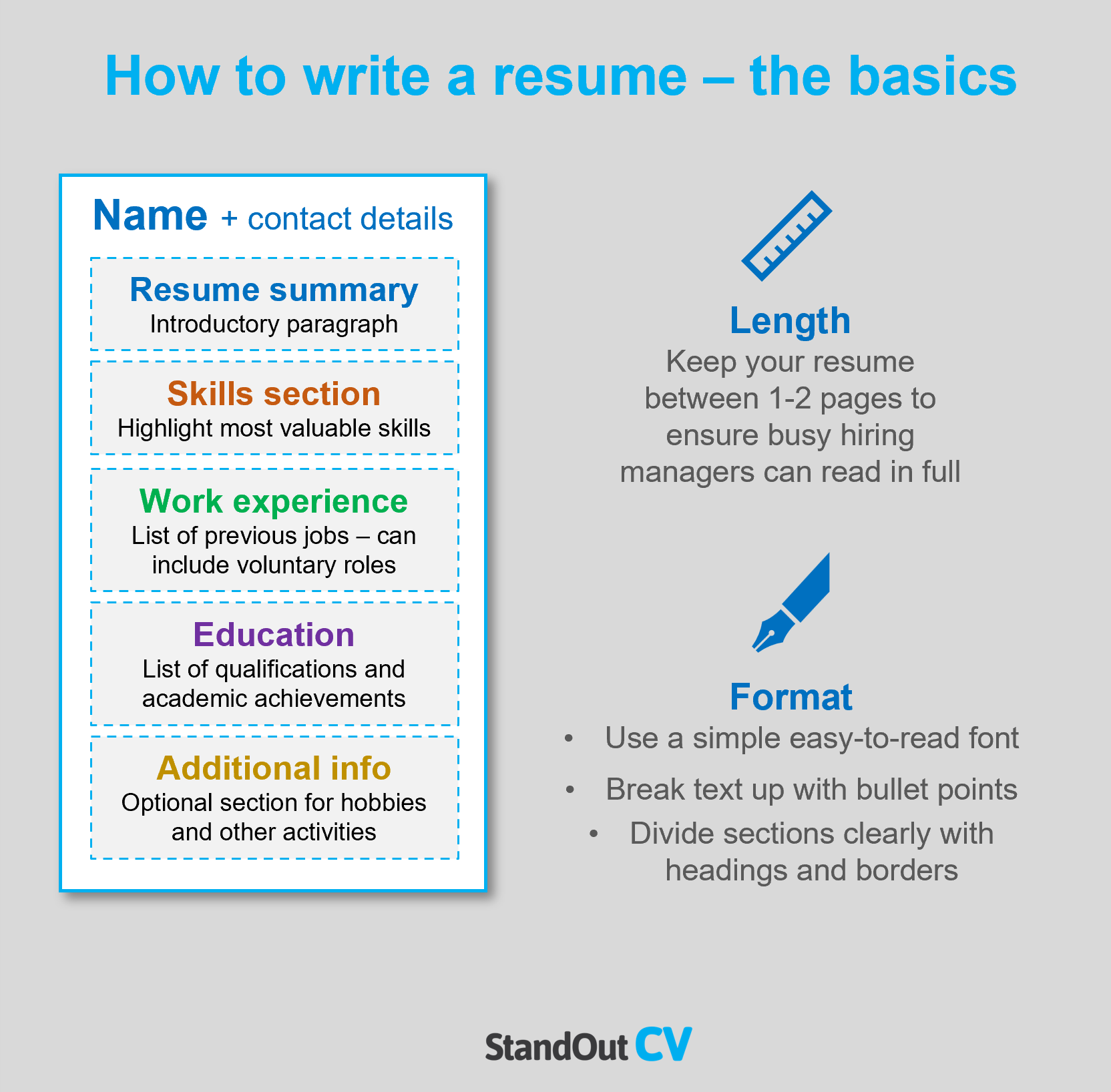 Formatting your resume
Length: Given that recruiters have to sift through tons of resumes daily, it's recommended to keep your resume brief (no more than 2 pages) to make sure it receives their full attention.
Font & readability: Complex fonts are a readers' worst nightmare and will leave recruiters struggling to understand your message. Use a clear simple lean font in a color that stands out against the page, and break your text up with bullet points to make the content easily digestible.
Layout: Go with a resume design that looks good, but also allows for easy reading and navigation for employers. Ensure the page is clearly split up into sections by adding large font headings and dividing borders. Keep the color scheme simple and don't overcrowd the page.
Photos: You are not obliged to add a photo to your resume in the USA, but it can be a nice way of adding some life to the document.
Quick tip: Achieving a professional look for your resume can be difficult and time-consuming. If you want to create an attractive resume quickly, try our partner's Resume Builder and use one of their eye-catching resume templates.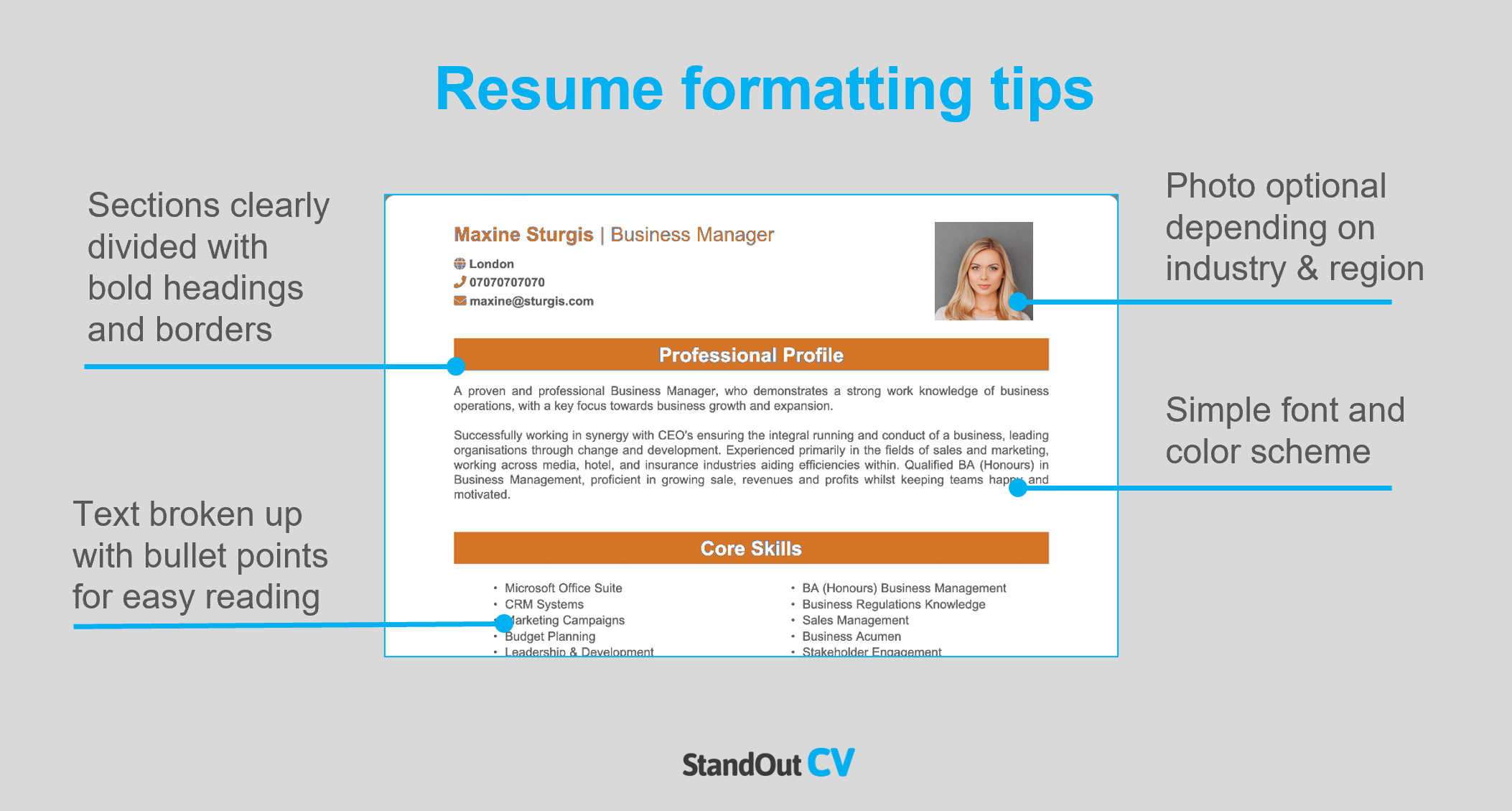 Resume layout
Divide the page into these sections when you write your own resume.
Name and contact details – Simply state who you are, and how to get in touch with you.
Resume summary – An introductory paragraph at the very top of your resume which summarizes your skills, experience and suitability for your target jobs.
Core skills section – A bullet-pointed list of your skills that relate most to your target jobs.
Work experience – A list of your current and previous jobs, including all of your responsibilities and achievements.
Education – A section that showcases all of your education and academic achievements.
Additional info (optional) – Here you can add an extra section for things like hobbies and interests, or anything else that might be relevant to your target jobs.
Here's what to add to each section of your Chief Technology Officer resume.
Contact Details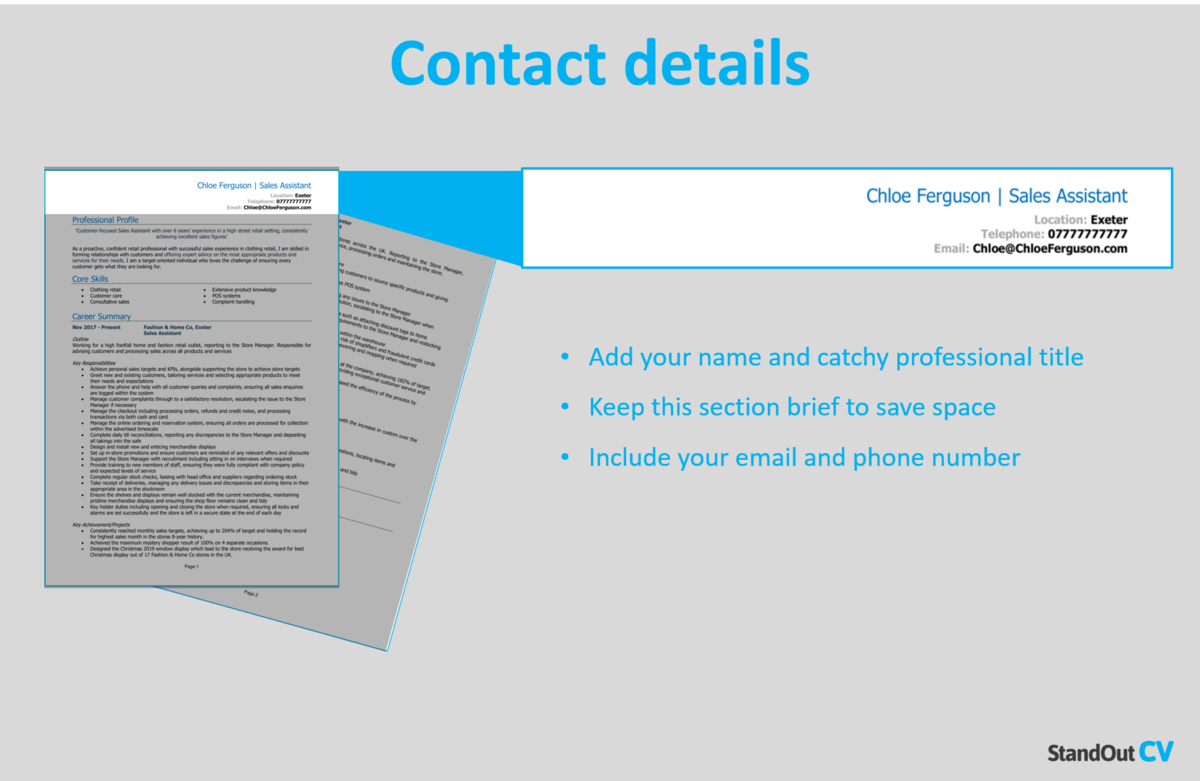 Add your name and contact details to the header of your resume, so that anybody reading can easily see how to contact you.
Name and profession title
Cell phone number – or any number you are easily reachable on
Location – Add your local area such as Washington or San Diego – not your full address as that will take up too much space.
Email address – Use a professional looking address.
You can add a link to your LinkedIn profile if you have one – you do not need to include personal details like date of birth or religion.
Chief Technology Officer Resume Summary
The resume summary is a short paragraph at the top of your resume, and it's purpose is to grab recruiter's attention and make sure they keep reading it.
To make your summary work, ensure that you provide a high-level summary of your skills and experience – and tailor it to reflect the requirements of the jobs you are applying for.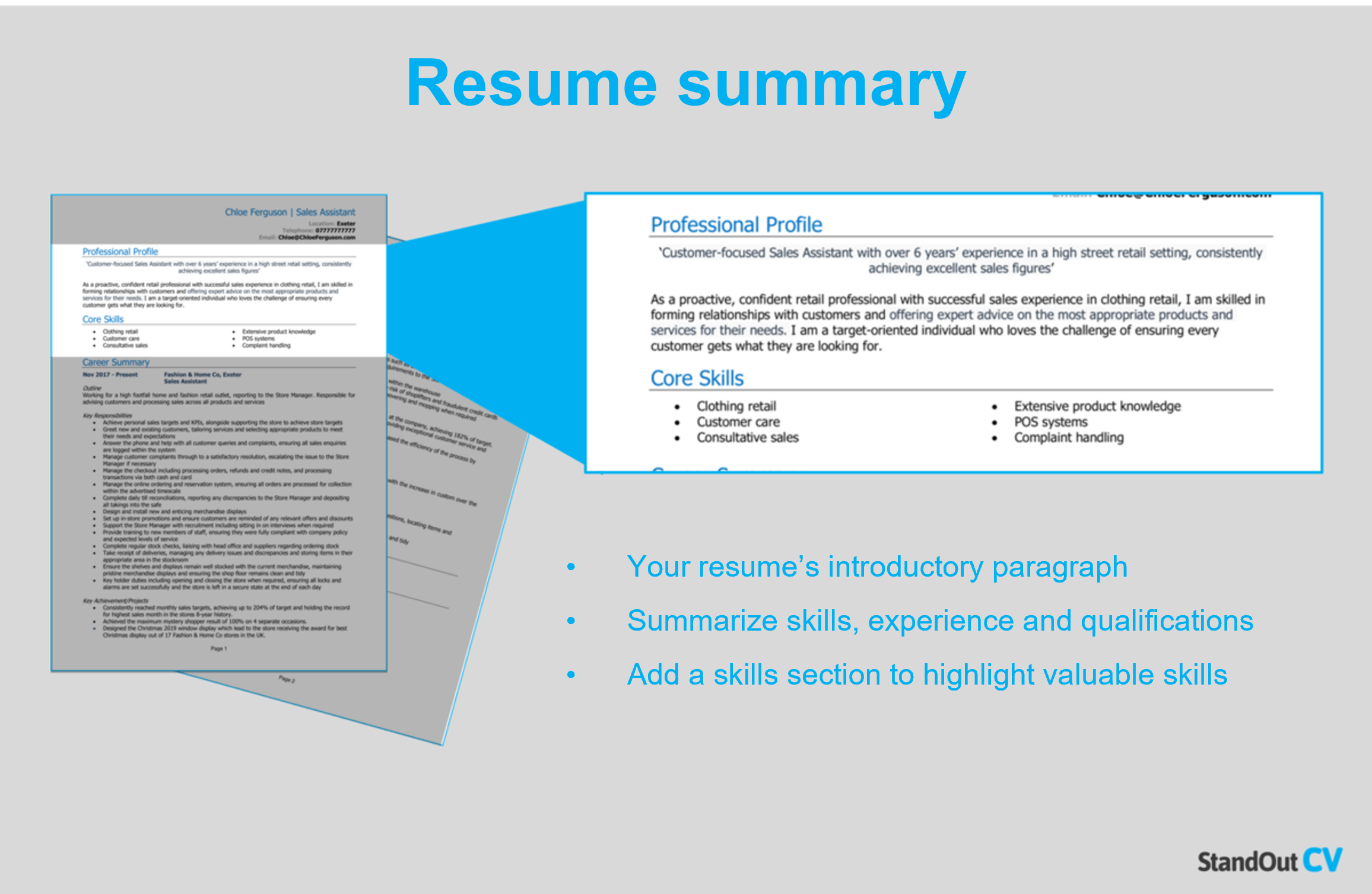 How to create a resume summary that will excite recruiters:
Keep it short: To capture a recruiter's attention and keep them interested in your resume, limit your summary to 4-7 lines as you only have a few seconds to make an impression
Tailor to target jobs: To tailor your resume to your target jobs, it's essential to closely analyze the job description and include as many relevant skills as possible.
Avoid using cliches: Although you may believe that you're a "team player who always gives 110%," these kinds of cliches don't communicate much about your skills and qualifications to potential employers. It's more effective to stick to factual information in your resume.
Chief Technology Officer resume summary example
Results-oriented CTO with 20+ years of experience in spearheading all the build, implementation, and maintenance of next-gen systems that optimize business continuity across numerous sectors. Adept at streamlining strategies for data management, governance, and security that protect sensitive information and leverage actionable insights. Passionate about influencing the adoption of agile/scrum methodologies and DevOps practices to drive digital transformation efforts.
What to include in your Chief Technology Officer resume summary?
Summary of your experience: Provide a summary of the kind of work you have previously done, along with the benefits you have delivered to the organizations you worked with.
Relevant skills: To quickly showcase your suitability for Chief Technology Officer jobs, ensure that your summary emphasizes your most relevant skills to the jobs you are applying for.
Qualifications: Mention any Chief Technology Officer qualifications that are important to your profession in the summary briefly, to show you are qualified to carry out the role.
Quick tip: Choose from hundreds of pre-written summaries across all industries, and add one to your resume with one-click in our partner's Resume Builder. All written by recruitment experts and easily tailored to suit your unique skillset and style.
Core skills section
Your core skills section, positioned just below your resume summary, provides recruiters with a quick glance at 4-10 of your most in-demand skills.
For Chief Technology Officer jobs, where hiring managers may receive hundreds of applications, this section can help you stand out and immediately grab their attention.
To be effective, this section should consist of 2-3 columns of bullet points that highlight attributes that are highly relevant to the jobs you are targeting.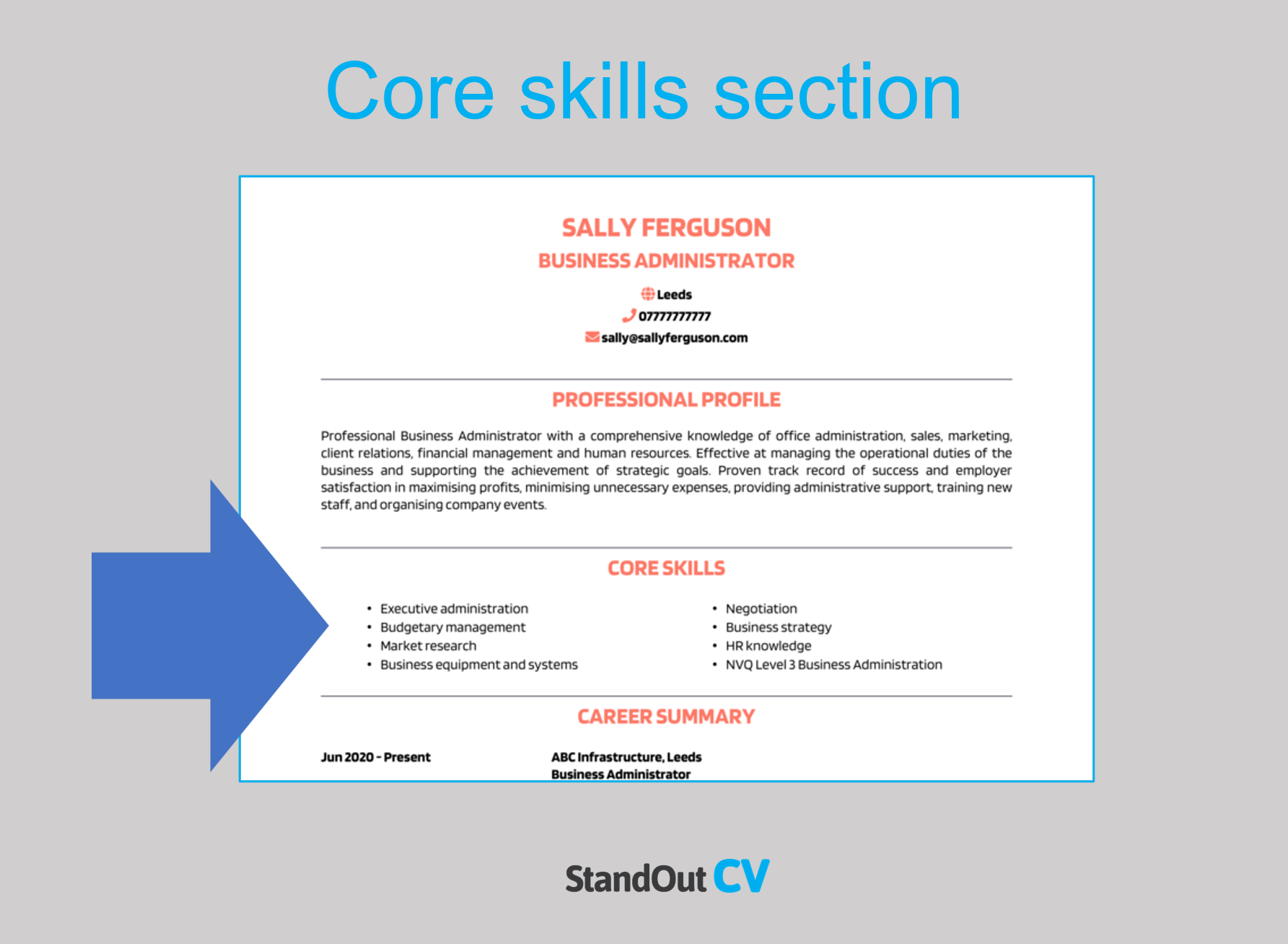 Best skills for your Chief Technology Officer resume
Technical Leadership – Providing strategic direction and leadership in technology-related decisions, initiatives, and projects within an organization.
Technology Strategy – Formulating and implementing technology strategies that align with business goals and drive innovation and growth.
Technology Architecture – Designing and overseeing the development of scalable and secure technology architectures that support the organization's operations and future growth.
Project Management – Managing complex technology projects, including planning, resource allocation, risk management, and ensuring timely and successful project delivery.
Team Management – Building and leading high-performing technology teams, including hiring, mentoring, and fostering a culture of innovation, collaboration, and continuous learning.
Technical Expertise – Utilizing in-depth knowledge and experience in relevant technologies and domains, staying updated with emerging trends and ensuring technology solutions meet industry standards.
IT Operations – Managing and optimizing IT infrastructure, systems, and networks to ensure high availability, reliability, and security.
Vendor Management – Evaluating, selecting, and managing technology vendors and partnerships, negotiating contracts, and ensuring service level agreements are met.
Cybersecurity – Utilizing knowledge of cybersecurity principles and best practices to identify and mitigate potential risks, safeguard data and systems, and ensure compliance with industry regulations.
Strategic Thinking – Analyzing market trends, technological advancements, and business needs to identify opportunities for technology-driven innovation and competitive advantage.
Quick tip: Our partner's Resume Builder contains thousands of in-demand skills for every profession that can be added to your resume in seconds – saving you time and greatly improving your chances of landing job interviews and getting hired.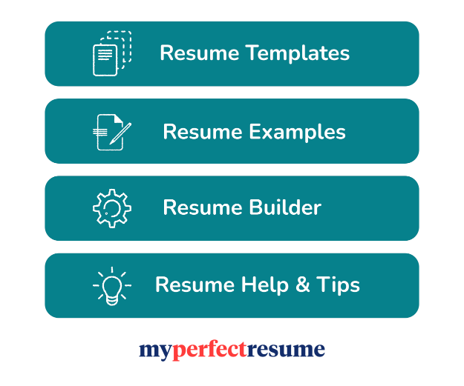 Work experience
Once you've hooked the hiring manager with your summary, you can really blow them away with you work experience.
List your previous jobs from newest to oldest to show the impact you made at each organization.
If you have years of experience, you can leave out some of the older jobs, and if you have little/no experience, you can bulk this section up with voluntary work and college placements.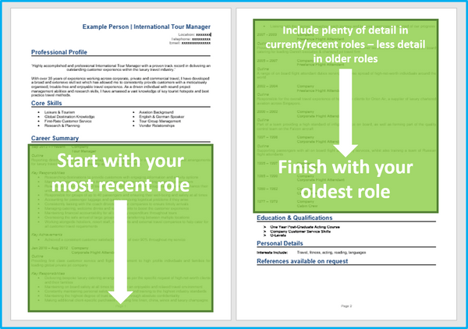 Structuring your jobs
It's easy to overwhelm readers when writing about a job you have been doing for years or even months.
Break the information up like this to keep it simple for recruiters to understand.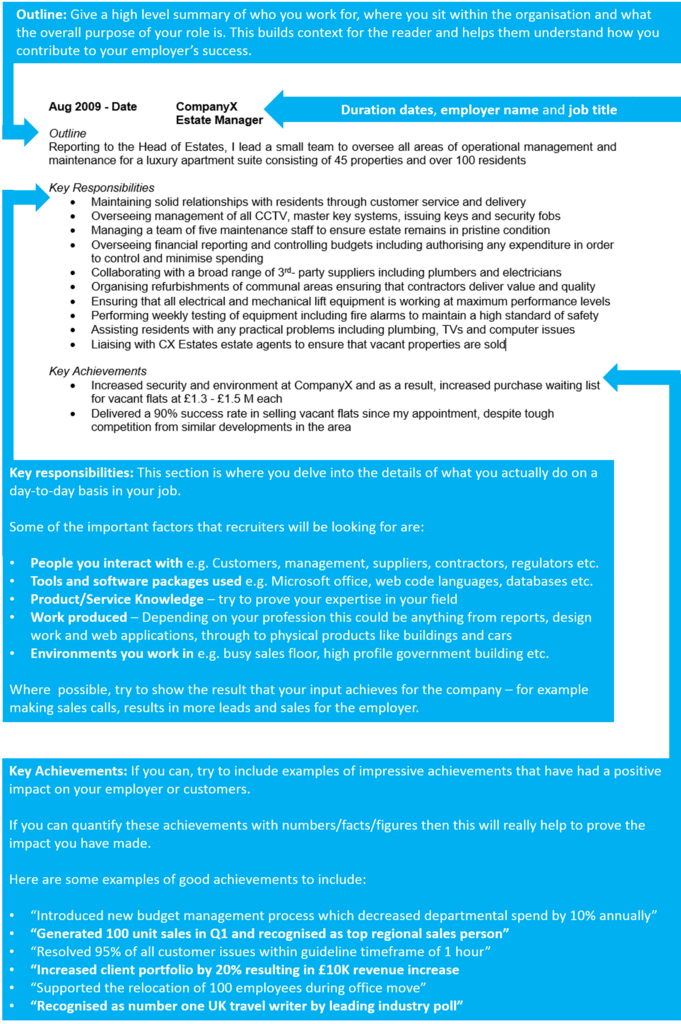 Job outline
To provide context to your jobs, begin each job with a concise summary of the organization, your role within it, and the main objectives of your position.
Key responsibilities
Next, write up a punchy list of your daily duties and responsibilities, using short bullet points.
Describe how you apply your skills and contribute to the running of the employer's business – highlighting skills which are applicable to your target jobs.
Key achievements
Finish each role by highlighting some impressive achievements you made whilst in the role.
Anything that benefited the employer can be included from making financial savings, to winning new customers.
Quantify your achievements with facts and figures if you can, e.g. "reduced call wait time by 10%"
Example job for Chief Technology Officer resume
Outline
Define technology roles, establish metrics, and provide mentorship to staff, for an organization that has steadily grown into a robust ecosystem at over 2K+ care venues, representing 30% of community's largest U.S. hospitals.
Key Responsibilities
Cooperate with other executives to determine and align forward-thinking technology roadmaps with facilities' objectives and long-term goals.
Advocate and communicate capabilities internally and externally, including to senior C-suit, clients, partners, and vendors.
Review architecture and platform end-to-end development, and coding standards.
Identify and evaluate emerging trends and best practices to positively impact innovation and help hospitals maintain a competitive edge.
Quick tip: Create impressive job descriptions easily in our partner's Resume Builder by adding pre-written job phrases for every industry and career stage.

Education section
After your work experience, add your education section.
If you are an experienced professional, you can keep this part short – adding basic details of each qualification.
If you have little or no experience, bulk this section up by adding more detail and highlight important skills and knowledge for your target jobs.
Additional information
The bottom of your resume is a place to add any "additional info"
Any other info that didn't fall into any of the previous sections can be added here.
If you have hobbies that are related to your profession or any awards or publications – add them here.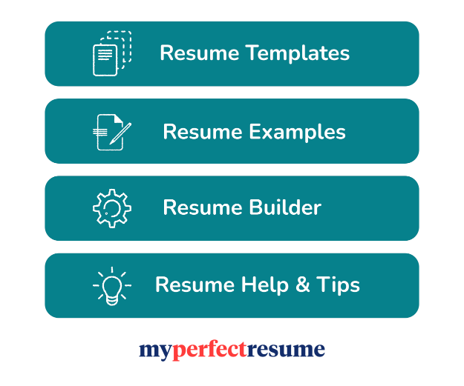 Writing your own winning Chief Technology Officer resume
A winning Chief Technology Officer resume should look great, read well, and sell your skillset to hiring managers.
If you follow the steps above, you should be able to bag yourself a top job in no time.
Good luck with your job search!