Chaplains play a very important role in providing spiritual guidance to those who need it. But these positions, although very rewarding, can also be tough to secure.
So, to increase your chances of landing the role, we've created a step-by-step guide to help you with the application process.
Find out how to write an engaging resume using our top tips and chaplain resume example below.
Contents
| | |
| --- | --- |
| How to write a Chaplain resume | |

Chaplain Resume Example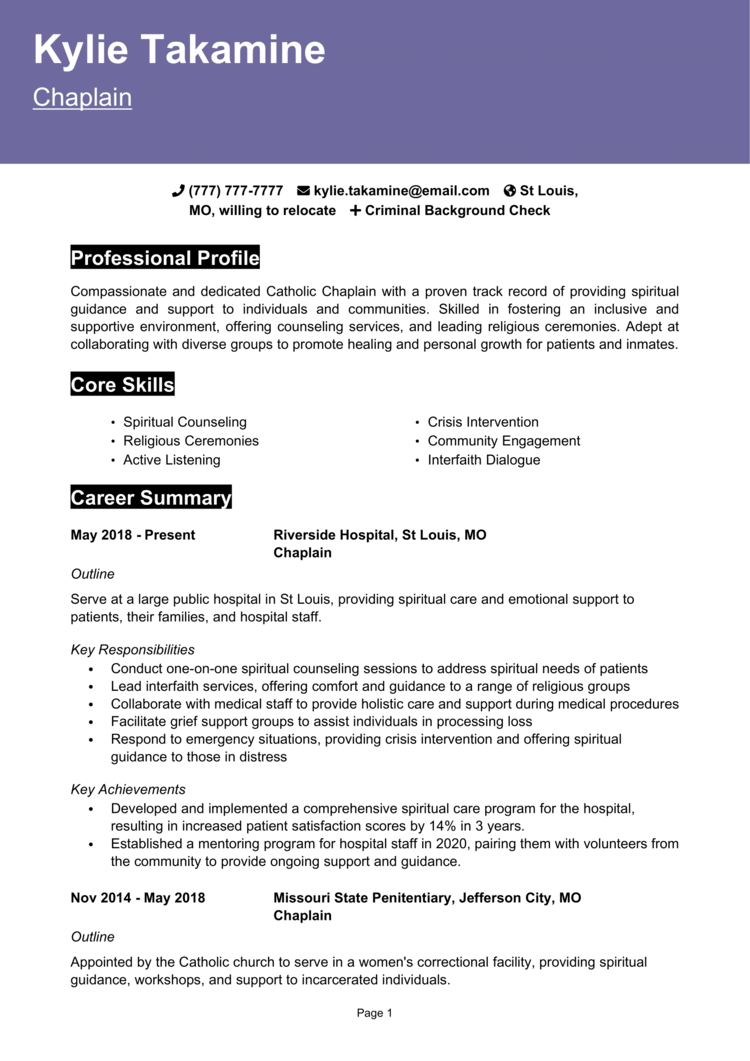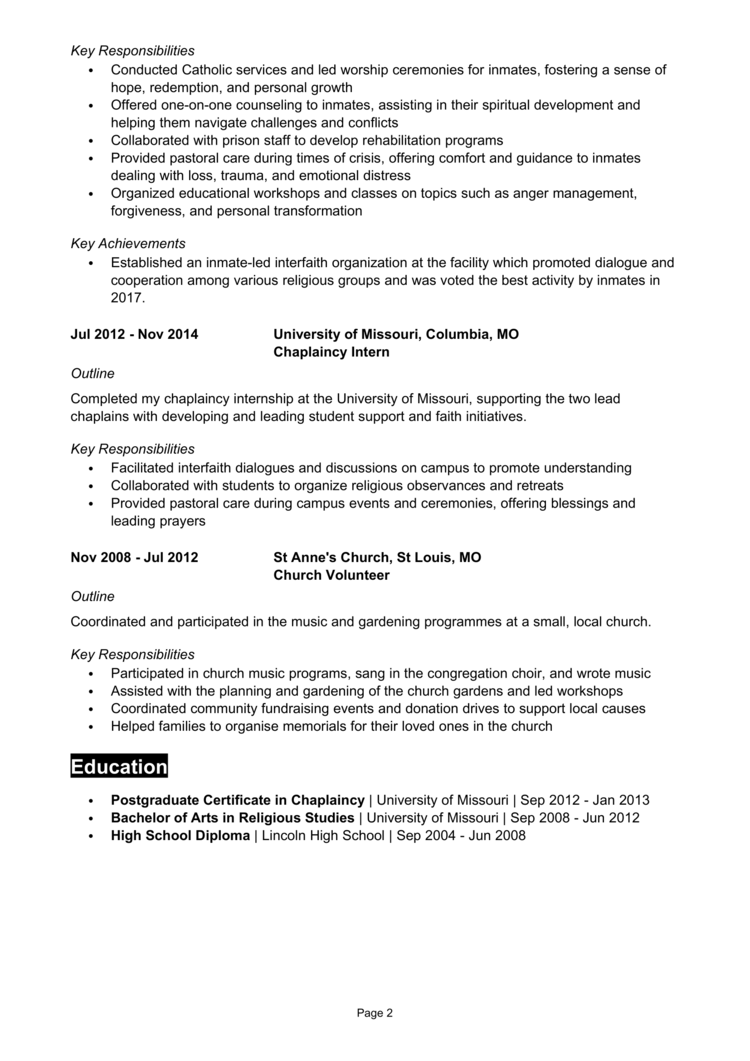 This example Chaplain resume provides you with a general idea of how your resume should look, and what information recruiters expect to see.
The rest of this guide will explain how to layout your resume and create each section effectively.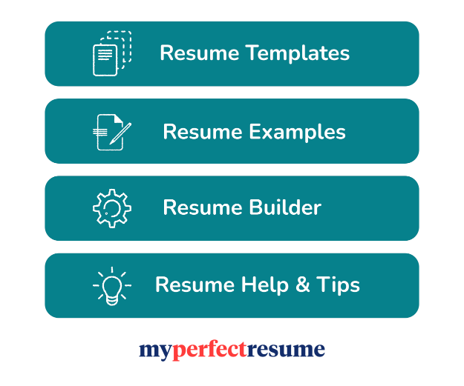 Chaplain resume layout and format
Formatting is often overlooked when writing resume, but it's a crucial element of it"s success.
Creating a document that not only looks good, but is easily comprehended, is the key to gaining and holding the attention of busy hiring managers.
Use these formatting tips for best results.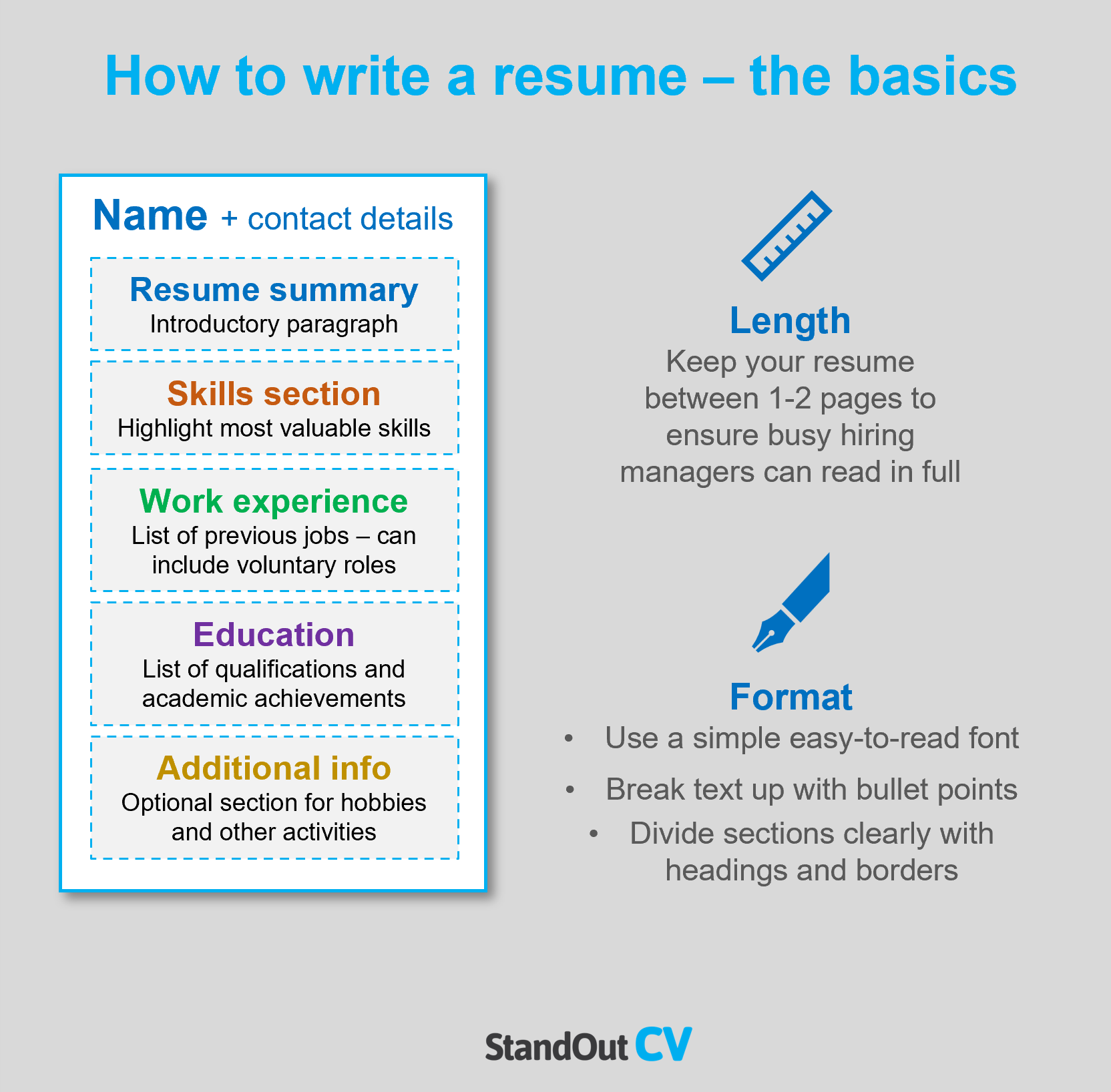 Formatting your resume
Length: To ensure that recruiters will read all of your resume, limit its length to 2 pages – as they someteimes read hundreds of resumes daily.
Font & readability: The key to a good resume is readability. To make your resume easy to read, use a clear and uncomplicated font, and break up the text with bullet points and short paragraphs.
Layout & Structure: A visually appealing resume is important, but don't forget about functionality. To ensure a functional design, use bold headings and borders to organize the page into clear sections.
Photos: Although it is not compulsory to include a photo in your resume in the USA, it can be advantageous if you are applying to companies in creative industries.
Quick tip: Achieving a professional look for your resume can be difficult and time-consuming. If you want to create an attractive resume quickly, try our partner's Resume Builder and use one of their eye-catching resume templates.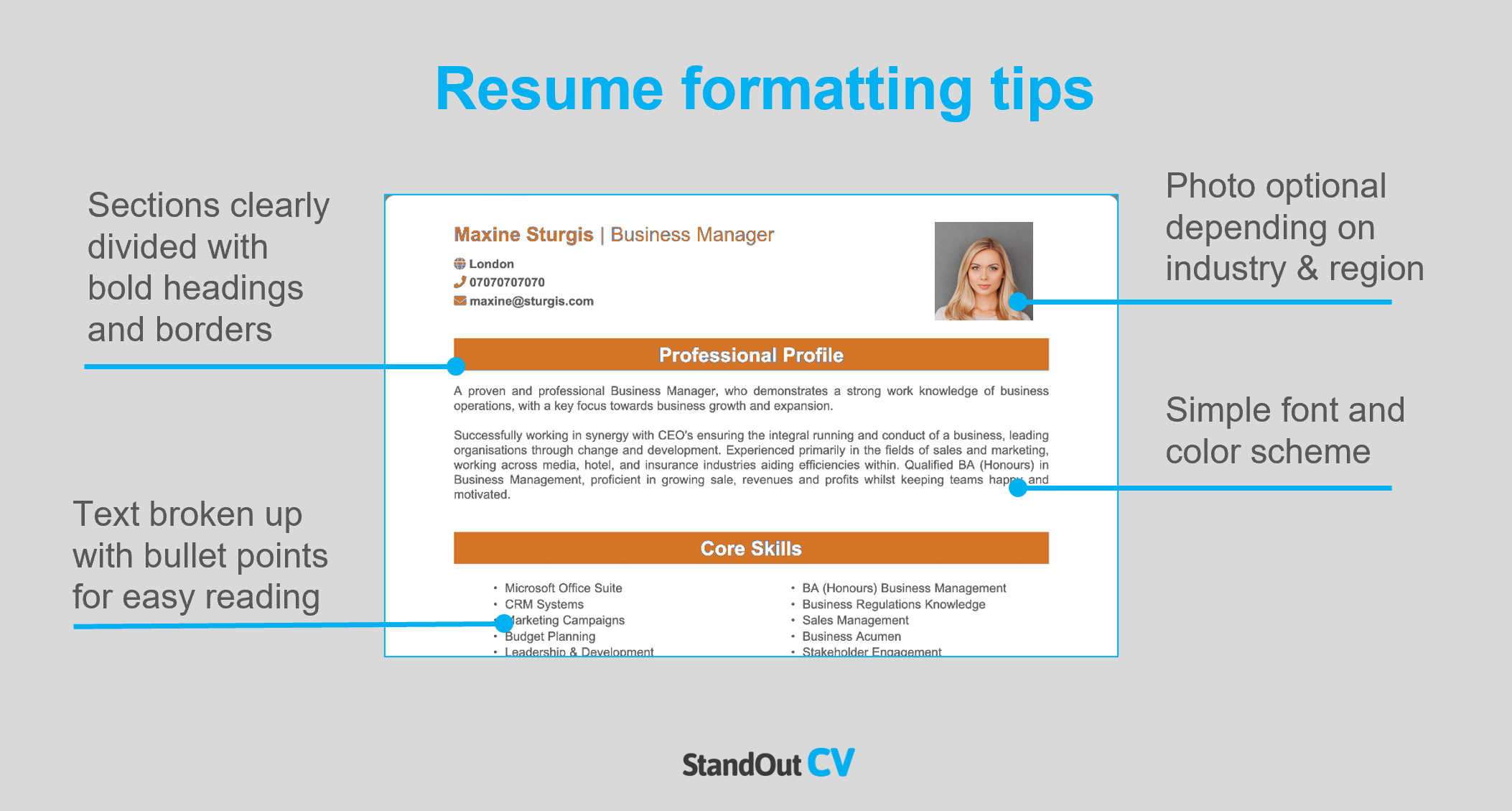 Resume layout
Add the following sections when you write your resume.
Name and contact details – Add to the very top of your resume to introduce yourself and make it super-easy for recruiters to get in touch.
Resume summary – Reel hiring managers in with an "elevator pitch" style paragraph which sums up your suitability for the job.
Skills section – A short and sharp list of your most important skills, that can be quickly skim-read.
Work experience – List your previous jobs (from newest to oldest) detailing the skills learnt and applied in each.
Education – List your qualifications and professional training.
Additional info – If it helps your application, you can add an extra section for things like hobbies and interests.
Here's what to include in each part of your resume.
Contact Details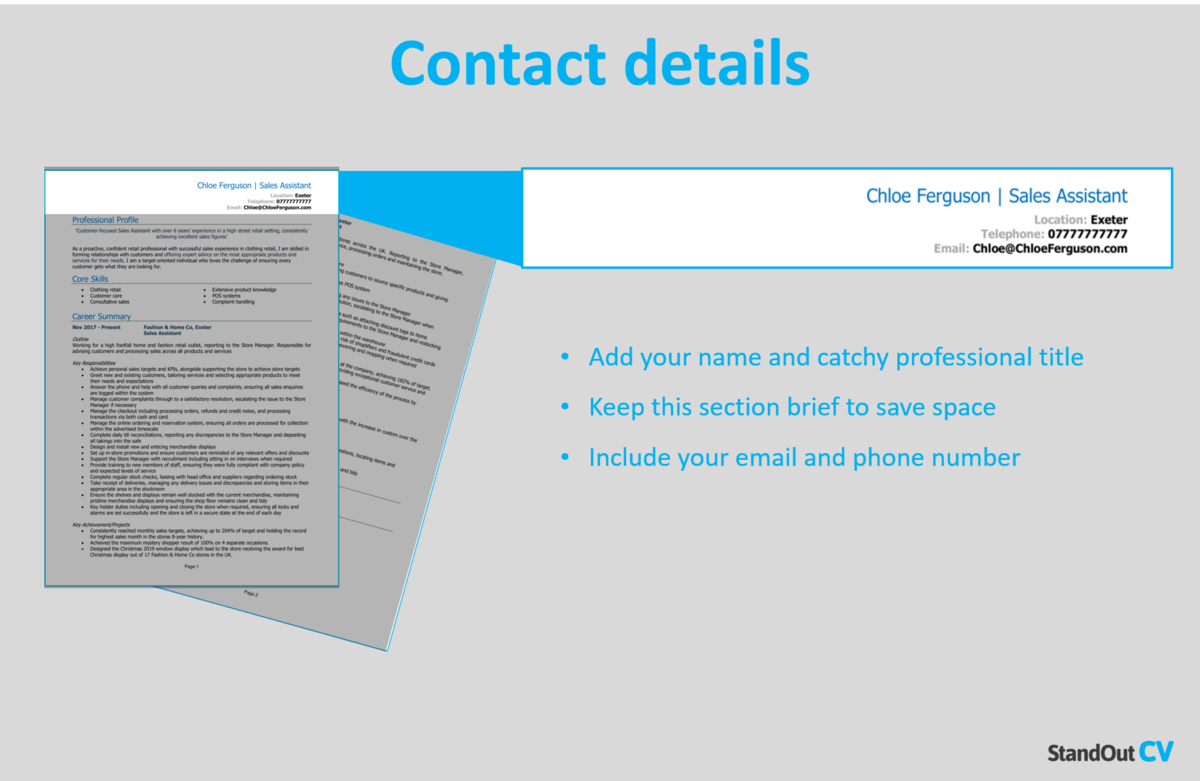 Keep your contact details short to save resume space and include the following.
Name and profession title
Cell phone number
Location – Add your local area such as Silicon Valley or New York, unless you are looking for work in a different location
Email address – Keep it professional and don't use an old address that you thought was cool in high school, but now looks a bit embarrassing.
You can add a link to your LinkedIn profile if you have one – you do not need to include personal details like date of birth or marital status.
Chaplain Resume Summary
Start your resume with a bang by adding a powerful summary to the top, summarizing your most valuable skills and experience.
This short paragraph is your chance to show recruiters why you are a perfect fit for the job and encourage them to read more of your resume.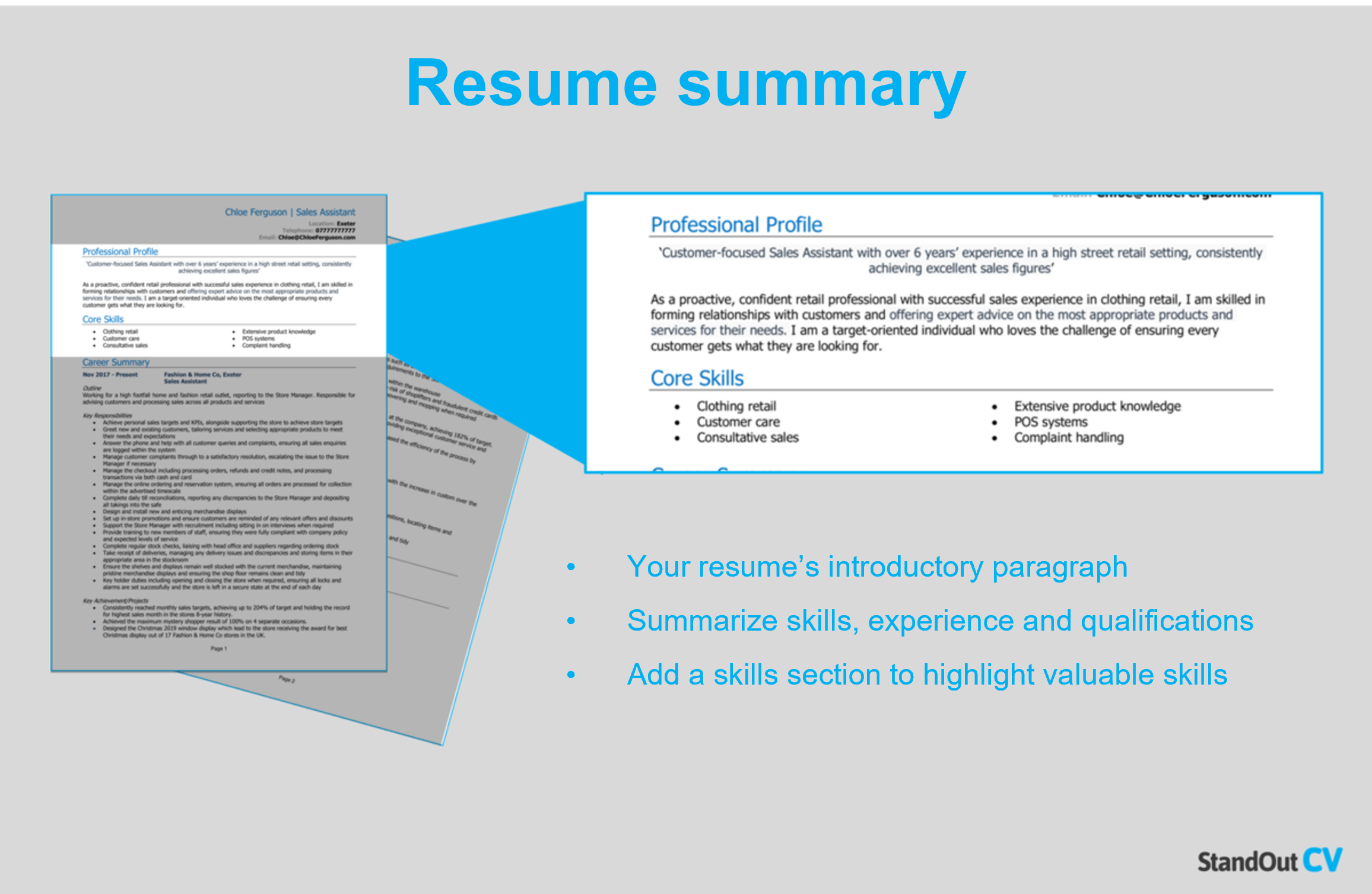 How to create a resume summary that will excite recruiters:
Keep it short: To effectively capture a recruiter's attention, it's crucial to keep your resume summary brief and to the point, limiting it to 4-7 lines as this provides enough detail without overwhelming them at this early stage.
Tailor to target jobs: By carefully reviewing the job description and incorporating as many relevant skills as possible, you can customize your resume to better match your target jobs.
Avoid using cliches: To capture the attention of recruiters you must provide factual information, such as hard skills and qualifications, and avoid using empty phrases like "Go-getter who thinks outside the box."
Chaplain resume summary example
Compassionate and dedicated Catholic Chaplain with a proven track record of providing spiritual guidance and support to individuals and communities. Skilled in fostering an inclusive and supportive environment, offering counseling services, and leading religious ceremonies. Adept at collaborating with diverse groups to promote healing and personal growth for patients and inmates.
What to include in your Chaplain resume summary?
Summary of your experience: What type of organizations have you worked at? What types of roles have you done and what have you contributed to previous employers?
Relevant skills: Instantly showcase your suitability for Chaplain jobs by including your skills that are highly relevant to them.
Qualifications: To make a strong impression on potential employers when applying for Chaplain jobs, be sure to mention any relevant qualifications in your summary.
Quick tip: Choose from hundreds of pre-written summaries across all industries, and add one to your resume with one-click in our partner's Resume Builder. All written by recruitment experts and easily tailored to suit your unique skillset and style.
Core skills section
Your core skills section, positioned just below your resume summary, provides recruiters with a quick glance at 4-10 of your most in-demand skills.
For Chaplain jobs, where hiring managers may receive hundreds of applications, this section can help you stand out and immediately grab their attention.
To be effective, this section should consist of 2-3 columns of bullet points that highlight attributes that are highly relevant to the jobs you are targeting.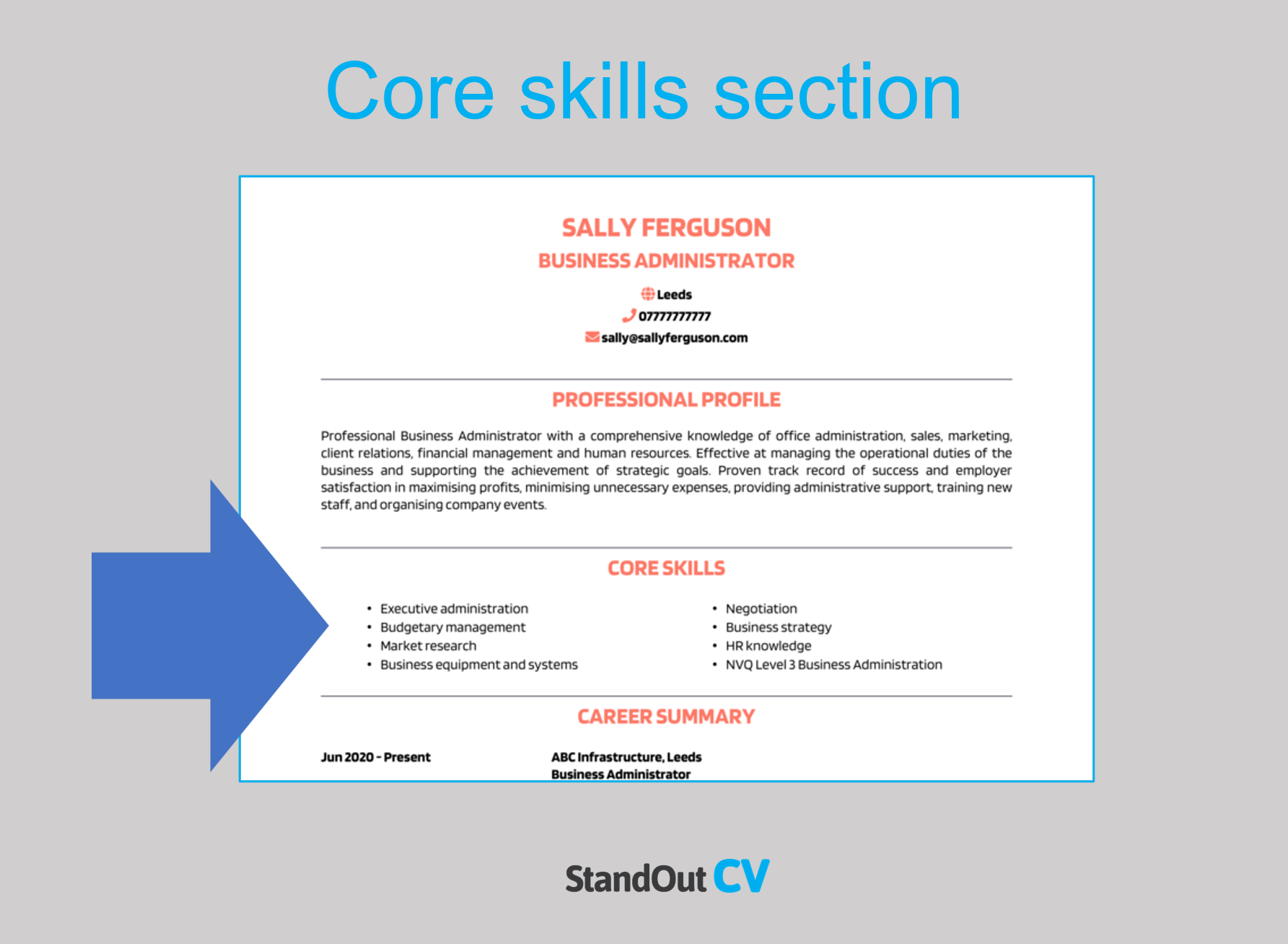 Best skills for your Chaplain resume
Pastoral Care – Providing spiritual and emotional support to individuals and groups, offering counseling, guidance, and comfort in times of need.
Religious Knowledge – Utilizing knowledge of religious teachings, doctrines, and practices to provide appropriate spiritual guidance and support within the specific faith tradition.
Counseling – Actively listening and empathizing with individuals to understand their concerns, offer guidance, and provide appropriate support.
Crisis Intervention – Providing support and guidance during times of crisis or emergency, offering emotional and spiritual care to affected individuals and their families.
Cultural Sensitivity – Maintaining an understanding and respect for diverse cultures, beliefs, and traditions to provide inclusive and culturally sensitive support to individuals from various backgrounds.
Ethics and Confidentiality – Adhering to ethical standards and maintaining strict confidentiality when dealing with sensitive and personal matters shared by individuals seeking spiritual guidance.
Rituals and Ceremonies – Conducting religious rituals, ceremonies, and services, providing appropriate spiritual support and fostering a sense of community.
Interfaith Dialogue – Engaging in respectful and constructive dialogue with individuals from different religious or spiritual backgrounds, promoting understanding and harmony.
Community Collaboration – Working collaboratively with other chaplains, healthcare professionals, and support staff to provide comprehensive and holistic care to individuals and communities.
Crisis Management – Managing and coordinating spiritual support services during emergencies or disasters, working closely with other emergency response teams to ensure the well-being of affected individuals.
Quick tip: Our partner's Resume Builder contains thousands of in-demand skills for every profession that can be added to your resume in seconds – saving you time and greatly improving your chances of landing job interviews and getting hired.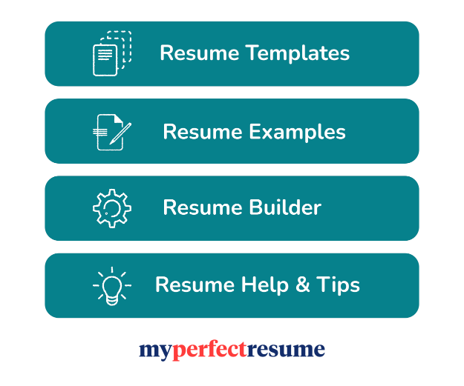 Work experience
So, you've got the recruiter interested with your catchy summary… Great work.
Now it's time to show them the impact you make in the workplace by listing out your previous jobs and what you achieved in each one.
If you have tons of experience, you can condense this part down to the last few years – if you are junior, then you should include as much possible (even volunteering and school work placements)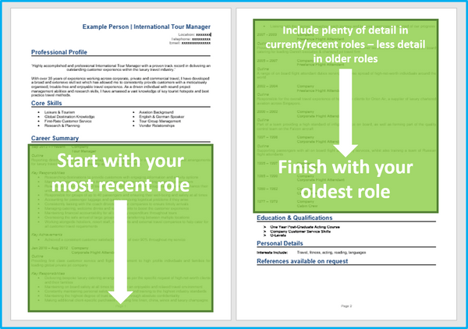 Structuring your jobs
Resume job descriptions contain lots of information, so its crucial to structure them well.
Use the structure below to ensure hiring managers can consume the information easily.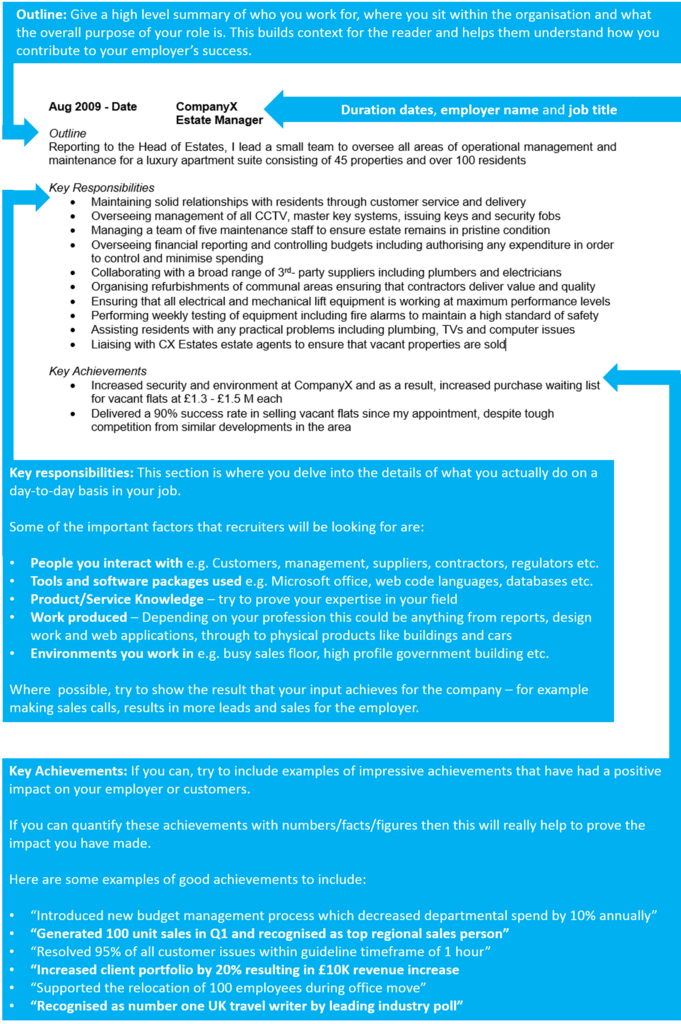 Job outline
Starting each job with a brief summary of the organization, your position within it, and the primary goal of your role can help recruiters quickly understand the context of your work.
Key responsibilities
The bulk of the role description should be comprised of bullet points that explain all of your duties in the job.
Keep the sentences short and simple to make them easy for recruiters to digest.
Key achievements
Show employers the value you can bring to them by adding a few achievements to your jobs.
Whether you've saved the company money or improved an internal process, let recruiters know
Add some numbers to give readers a real scale of the impact, e.g. "reduced call wait time by 10%"
Example job for Chaplain resume
Outline
Serve at a large public hospital in St Louis, providing spiritual care and emotional support to patients, their families, and hospital staff.
Key Responsibilities
Conduct one-on-one spiritual counseling sessions to address spiritual needs of patients
Lead interfaith services, offering comfort and guidance to a range of religious groups
Collaborate with medical staff to provide holistic care and support during medical procedures
Facilitate grief support groups to assist individuals in processing loss
Quick tip: Create impressive job descriptions easily in our partner's Resume Builder by adding pre-written job phrases for every industry and career stage.

Education section
Nearing the end of your resume, your education/qualifications section should be added.
In a well-structured list, add all of your qualifications and certifications that qualify you to perform a typical Chaplain role.
If you have plenty of work experience, keep this section brief – if not, add lots of detail to make up for your lack of experience.
Additional information
The additional info section is optional but can be useful if you have anything else to add that could benefit your application.
For example, you may have some hobbies and interests that are relevant to your job – or you might have awards or publications to shout about.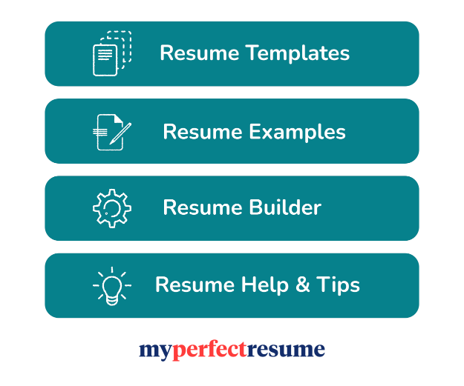 Writing your own winning Chaplain resume
Writing a Chaplain resume can be challenging but following the steps above will ensure that you land plenty of interviews.
Good luck with your job search!