Behind every good call center is a supervisor who can motivate the team, train new representatives, handle complaints, and provide support.
If you've got what it takes to manage a team, your skills could be in high demand right now. Providing you can impress the recruiter first, that is.
To help you do this, we've put together the following step-by-step resume writing guide and call center supervisor resume example.
Contents
| | |
| --- | --- |
| How to write a Call Center Supervisor resume | |

Call Center Supervisor Resume Example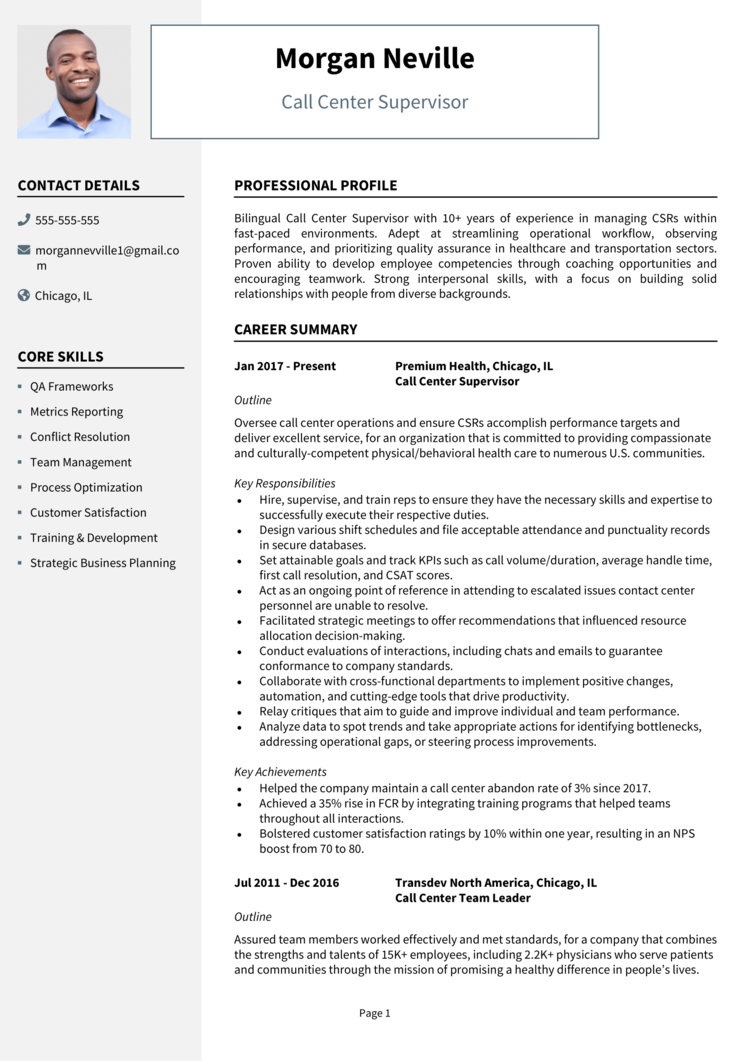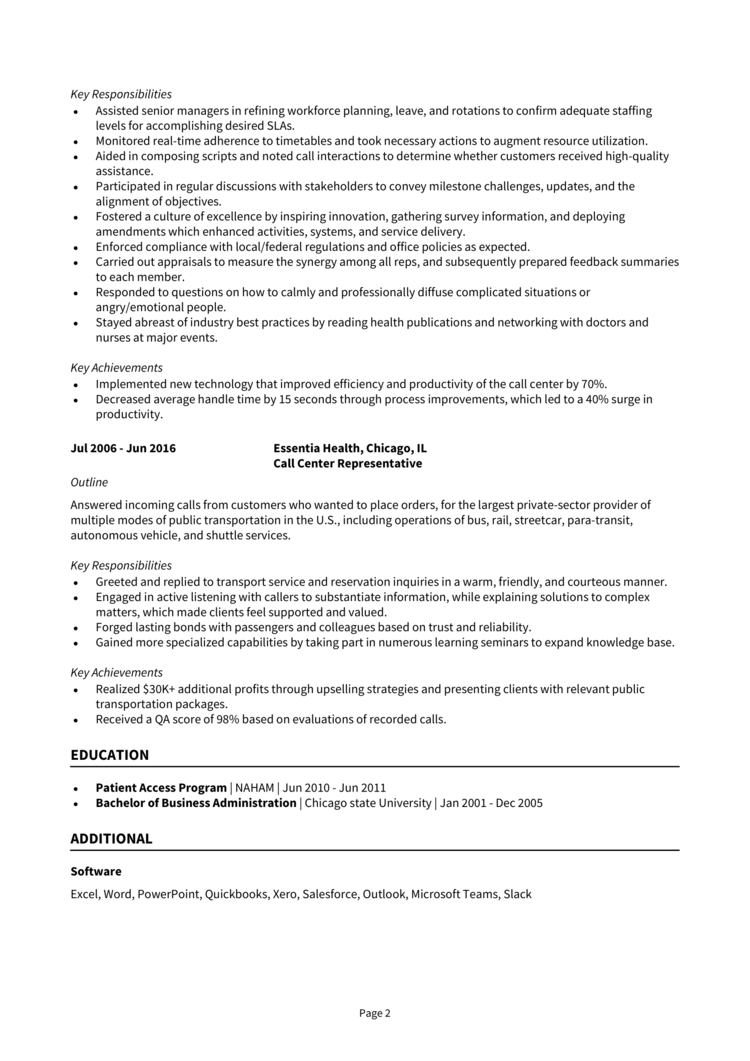 From the Call Center Supervisor resume example above, you can see the kind of information your resume will need to include, and the layout you will need to create for an easy-reading experience.
The rest of this guide will show you how to apply this format to your own unique situation, and create a resume that will attract the best employers in your industry.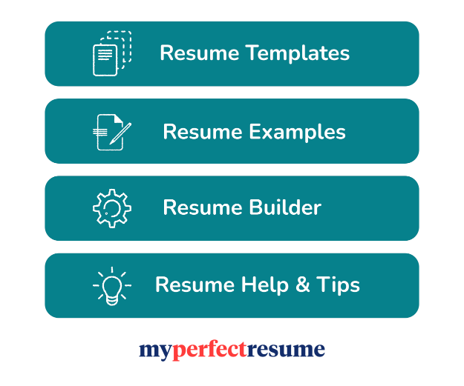 Call Center Supervisor resume layout and format
When it comes to holding the attention of recruiting managers, the format and layout of your resume play a key role.
Your resume needs to strike a perfect balance between looking awesome, and being easy for recruiters to read (which is not always easy to achieve)
Use the following formatting tips to get started.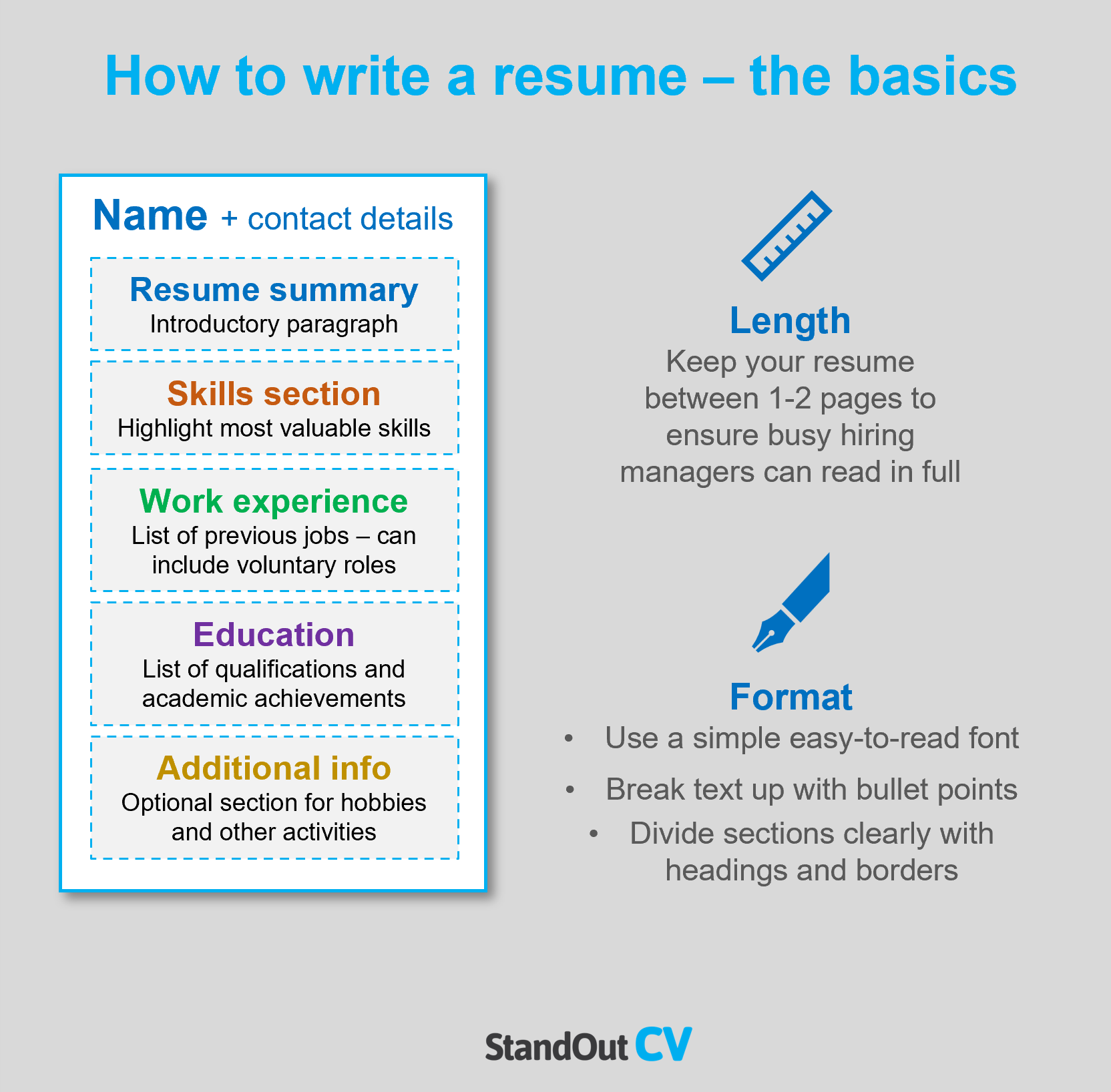 Formatting your resume
Length: To ensure that your resume gets proper attention from recruiters, it is best to keep it at 2 pages or less. Recruiters are often inundated with hundreds of resumes to review on a daily basis, so they want to read each one quickly as possible.
Font & readability: Simplicity and a pleasant reading experience are crucial if you want to highlight your most valuable skills to recruiters. Use a clear font (avoid fancy ones) and break up the text in your resume with bullet points to ensure information can be easily consumed.
Layout & Structure: When it comes to designing your resume, it's essential to make it visually appealing, but it's equally important not to overlook functionality. To achieve this, you should organize the page into clear sections using bold headings and borders.
Photos: You are not obliged to add a photo to your resume in the USA, but it can be a nice way of adding some life to the document.
Quick tip: Achieving a professional look for your resume can be difficult and time-consuming. If you want to create an attractive resume quickly, try our partner's Resume Builder and use one of their eye-catching resume templates.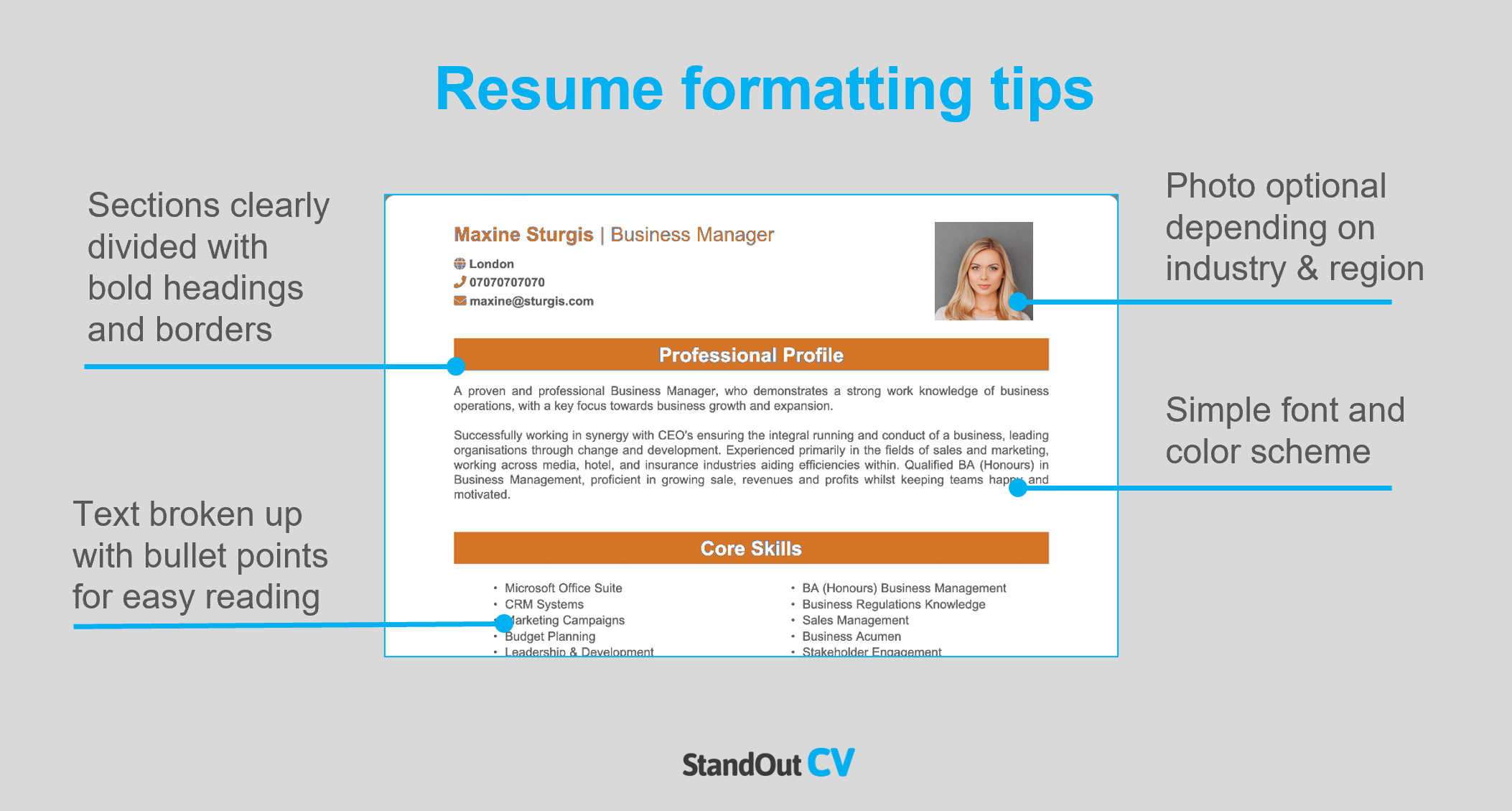 Resume layout
Organize the document into these sections when you write your resume.
Name and contact details – Employers need to know how to get in touch with you – so list your email and cell phone number here.
Resume summary – An intro paragraph at the top of the resume which summarizes your suitability for target jobs.
Skills section – A bullet-pointed list of your most relevant skills and knowledge.
Work experience – A list of your previous jobs (or at least the most relevant and recent ones)
Education – Add academic and professional qualifications that prove you can carry out the job
Additional info – If they are relevant to the jobs you are applying for, you can add an extra section for things like hobbies and interests.
Here's what to include in each part of your resume.
Contact Details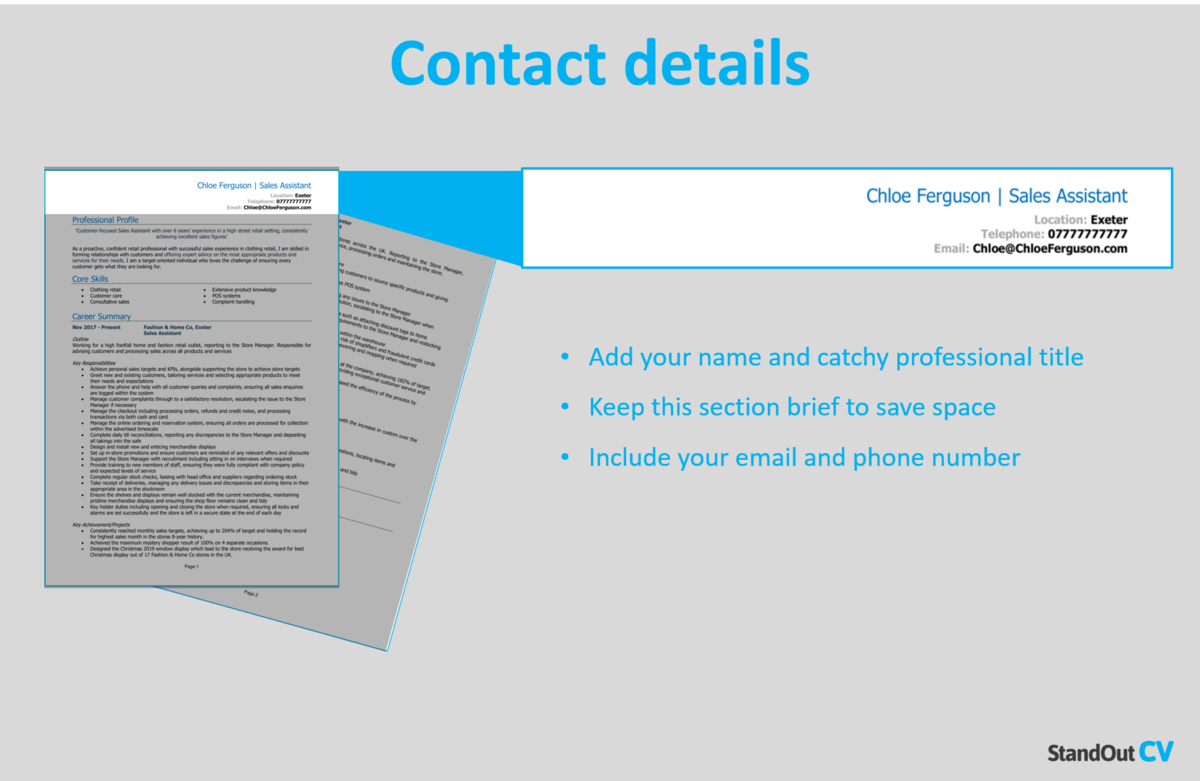 Keep your contact details short to save resume space and include the following.
Name and profession title
Cell phone number
Location – Add your local area such as Silicon Valley or New York, unless you are looking for work in a different location
Email address – Keep it professional and don't use an old address that you thought was cool in high school, but now looks a bit embarrassing.
You can add a link to your LinkedIn profile if you have one – you do not need to include personal details like date of birth or marital status.
Call Center Supervisor Resume Summary
Grab the attention of recruiters right away by including a compelling summary at the top of your resume that summarizes your most valuable skills and experience.
This brief yet impactful section enables you to demonstrate why you're the best candidate for the job and convince recruiters to keep reading.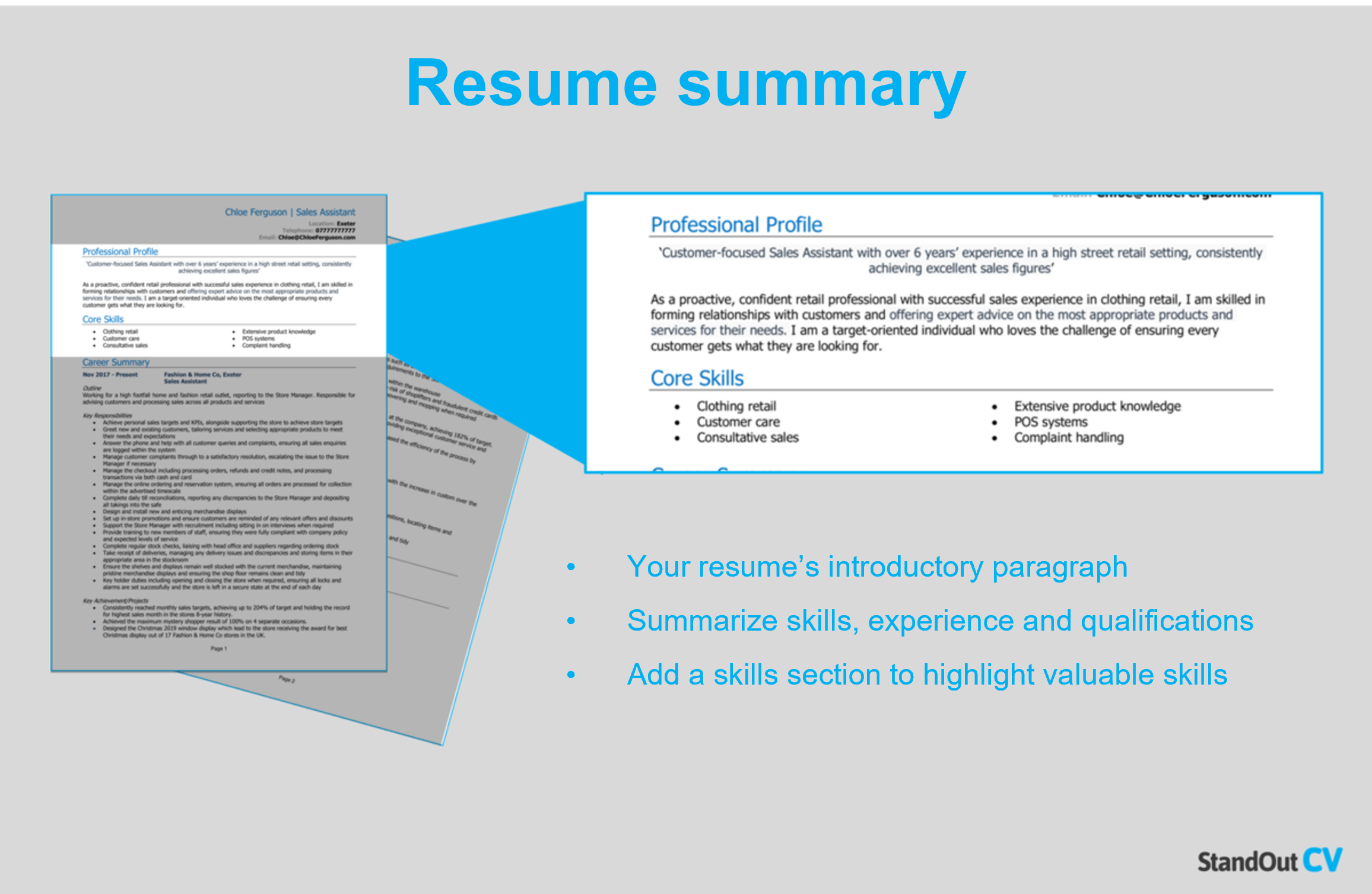 How to create a resume summary that will excite recruiters:
Keep it short: To effectively capture a recruiter's attention, it's crucial to keep your resume summary brief and to the point, limiting it to 4-7 lines as this provides enough detail without overwhelming them at this early stage.
Tailor to target jobs: To tailor your resume to your target jobs, it's essential to closely analyze the job description and include as many relevant skills as possible.
Avoid using cliches: You might be a "highly motivated go-getter who thinks outside the box" but generic meaningless cliches like that don't tell employers much about you – stick to factual information in your summary.
Call Center Supervisor resume summary example
Bilingual Call Center Supervisor with 10+ years of experience in managing CSRs within fast-paced environments. Adept at streamlining operational workflow, observing performance, and prioritizing quality assurance in healthcare and transportation sectors. Proven ability to develop employee competencies through coaching opportunities and encouraging teamwork. Strong interpersonal skills, with a focus on building solid relationships with people from diverse backgrounds.
What to include in your Call Center Supervisor resume summary?
Summary of your experience: Summarize the type of work you have done in the past and the ways in which you have contributed to the success of your previous employers.
Relevant skills: Highlight your skills which are most relevant to Call Center Supervisor jobs, to ensure that recruiters see your most in-demand skills as soon as they open your resume.
Qualifications: Showcase your level of education with a quick mention of any qualifications that are essential for the Call Center Supervisor roles you are applying to.
Quick tip: Choose from hundreds of pre-written summaries across all industries, and add one to your resume with one-click in our partner's Resume Builder. All written by recruitment experts and easily tailored to suit your unique skillset and style.
Core skills section
Sitting just underneath your resume summary, your core skills section gives recruiters 4-10 of your most in-demand skills in just a glance.
As Call Center Supervisor jobs may get hundreds of applications, this is a great way to stand out and quickly grab hiring managers' attention.
It should be made up of 2-3 columns of bullet points and highlight attributes that are hyper-relevant to the jobs you are aiming for.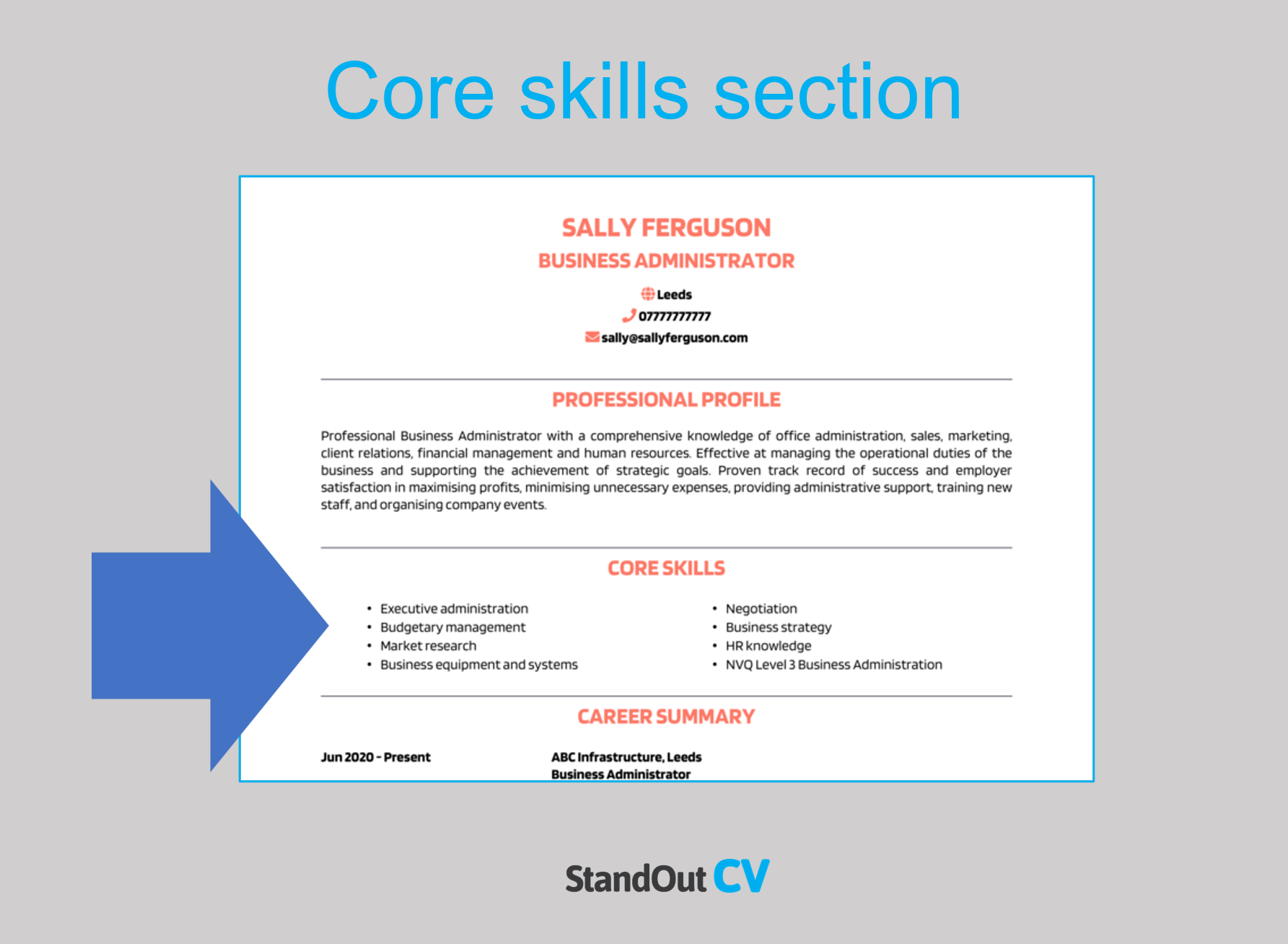 Best skills for your Call Center Supervisor resume
Team Leadership – Effectively leading and managing a team of call center agents, providing guidance, support, and feedback to drive performance and achieve goals.
Performance Management – Monitoring and evaluating individual and team performance metrics, identifying areas for improvement, and implementing strategies to optimize productivity and quality.
Call Monitoring and Coaching – Monitoring and evaluating live or recorded calls for adherence to scripts, quality standards, and customer service protocols, and providing constructive feedback and coaching to agents.
Conflict Resolution – Handling escalated customer complaints or conflicts, mediating disputes, and finding satisfactory resolutions while maintaining professionalism and customer satisfaction.
Data Analysis – Analyzing call center data and generating reports to identify trends, patterns, and areas for improvement, enabling data-driven decision-making.
Stakeholder Communication – Communicating effectively with agents, customers, and other stakeholders, conveying information clearly and professionally.
Training and Development – Designing and delivering training programs to onboard new agents and enhance the skills and knowledge of existing team members.
Technology Proficiency – Utilizing call center software, CRM systems, and telephony tools to effectively manage call queues, monitor agent performance, and track customer interactions.
Maintaining SLAs – Prioritizing tasks, handling multiple responsibilities, and ensuring smooth operations within established service level agreements.
Customer Focus – Providing excellent customer service and ensuring customer satisfaction by addressing inquiries, resolving issues, and maintaining a customer-centric approach within the call center team.
Quick tip: Our partner's Resume Builder contains thousands of in-demand skills for every profession that can be added to your resume in seconds – saving you time and greatly improving your chances of landing job interviews and getting hired.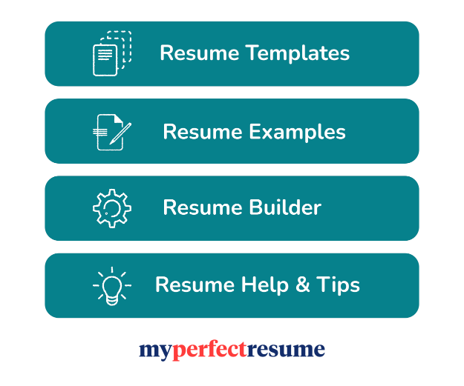 Work experience
Now that you've reeled recruiters in with your awesome summary, it's time to delve into your work experience.
Here you'll list your previous jobs (starting with your most recent and working backward) and showcase how you apply your skills in the workplace.
Provide lots of detail in recent jobs, and less in older roles.
If you have no relevant paid experience, you can include voluntary work and placements – but if you have lots of experience, you can leave out some of the really old jobs.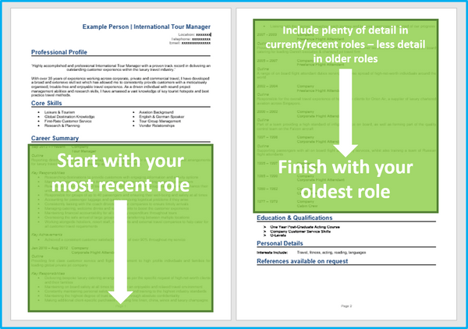 Structuring your jobs
Without a good structure, your job description can look messy and overwhelming to anyone reading them.
Make it easy for recruiters to read your work experience by structuring your roles like this.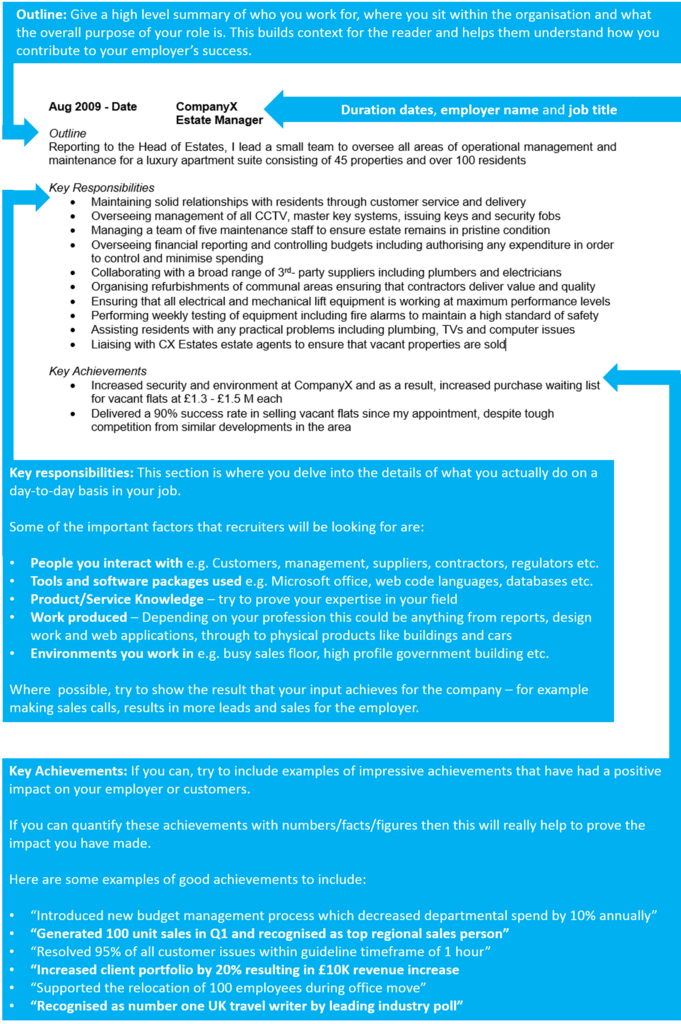 Job outline
Start with a 1-2 sentence outline of the role, summarizing what the goal of your position was, who you reported to (or managed) and the type of organization you worked for.
Key responsibilities
Next, write up a punchy list of your daily duties and responsibilities, using short bullet points.
Describe how you apply your skills and contribute to the running of the employer's business – highlighting skills which are applicable to your target jobs.
Key achievements
Round off each job by adding some impressive achievements you made in the role.
Anything you've done that has made a big impact on your employer will make a good impression, think; generating revenue, saving costs, or improving a product.
Quantify your achievements with number where possible e.g. "reduced call wait time by 10%"
Example job for Call Center Supervisor resume
Outline
Oversee call center operations and ensure CSRs accomplish performance targets and deliver excellent service, for an organization that is committed to providing compassionate and culturally competent physical/behavioral health care to numerous U.S. communities.
Key Responsibilities
Hire, supervise, and train reps to ensure they have the necessary skills and expertise to successfully execute their respective duties.
Design various shift schedules and file acceptable attendance and punctuality records in secure databases.
Set attainable goals and track KPIs such as call volume/duration, average handle time, first call resolution, and CSAT scores.
Act as an ongoing point of reference in attending to escalated issues contact center personnel are unable to resolve.
Quick tip: Create impressive job descriptions easily in our partner's Resume Builder by adding pre-written job phrases for every industry and career stage.

Education section
Towards the bottom of your resume, add your education section.
Here you should list your professional qualifications and academic record, such as high school diplomas or college degrees.
If you have lots of work experience, you can keep this section brief (because recruiters will be more interested in your career. If you have little/no experience then you should bulk this section up with plenty of detail.
Additional information
The additional info section is optional but can be useful if you have anything else to add that could benefit your application.
For example, you may have some hobbies and interests that are relevant to your job – or you might have awards or publications to shout about.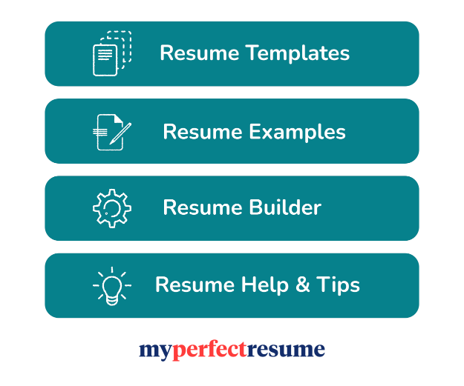 Writing your own winning Call Center Supervisor resume
Writing a Call Center Supervisor resume can be challenging but following the steps above will ensure that you land plenty of interviews.
Good luck with your job search!