Are you looking for your next position as a cable technician?
If so, you need your resume to showcase your skills and wow the recruiter. But when it comes to writing an impressive application, it's all too easy to get your wires crossed.
That's why we've put together this detailed guide. Below, we'll break down each section of the writing process and share a cable technician resume example to spark your creativity.
Contents
| | |
| --- | --- |
| How to write your Cable Technician resume | |

Cable Technician Resume Example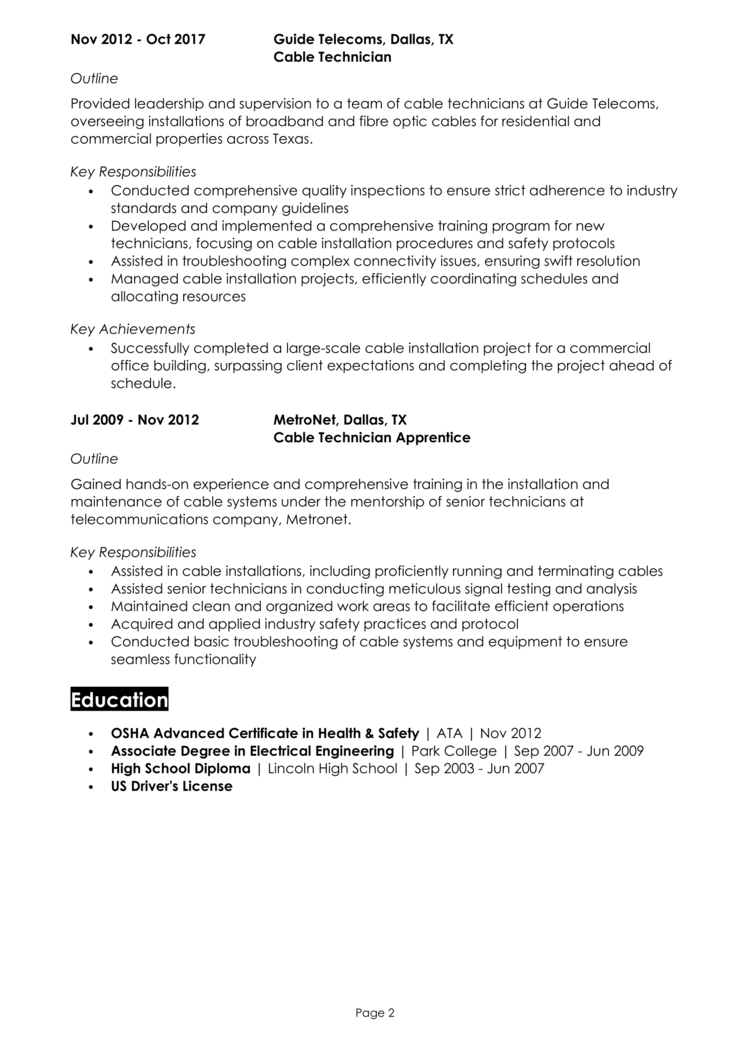 From the Cable Technician resume example above, you can see the kind of information your resume will need to include, and the layout you will need to create for an easy-reading experience.
The rest of this guide will show you how to apply this format to your own unique situation, and create a resume that will attract the best employers in your industry.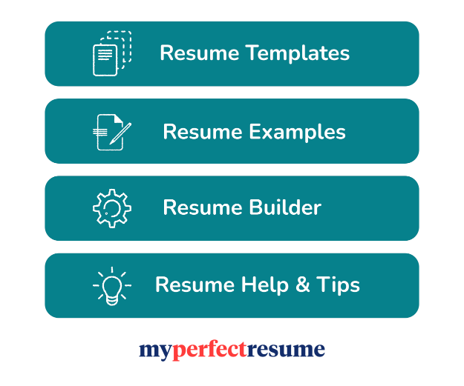 Cable Technician resume layout and format
Formatting is often overlooked when writing resume, but it's a crucial element of it"s success.
Creating a document that not only looks good, but is easily comprehended, is the key to gaining and holding the attention of busy hiring managers.
Use these formatting tips for best results.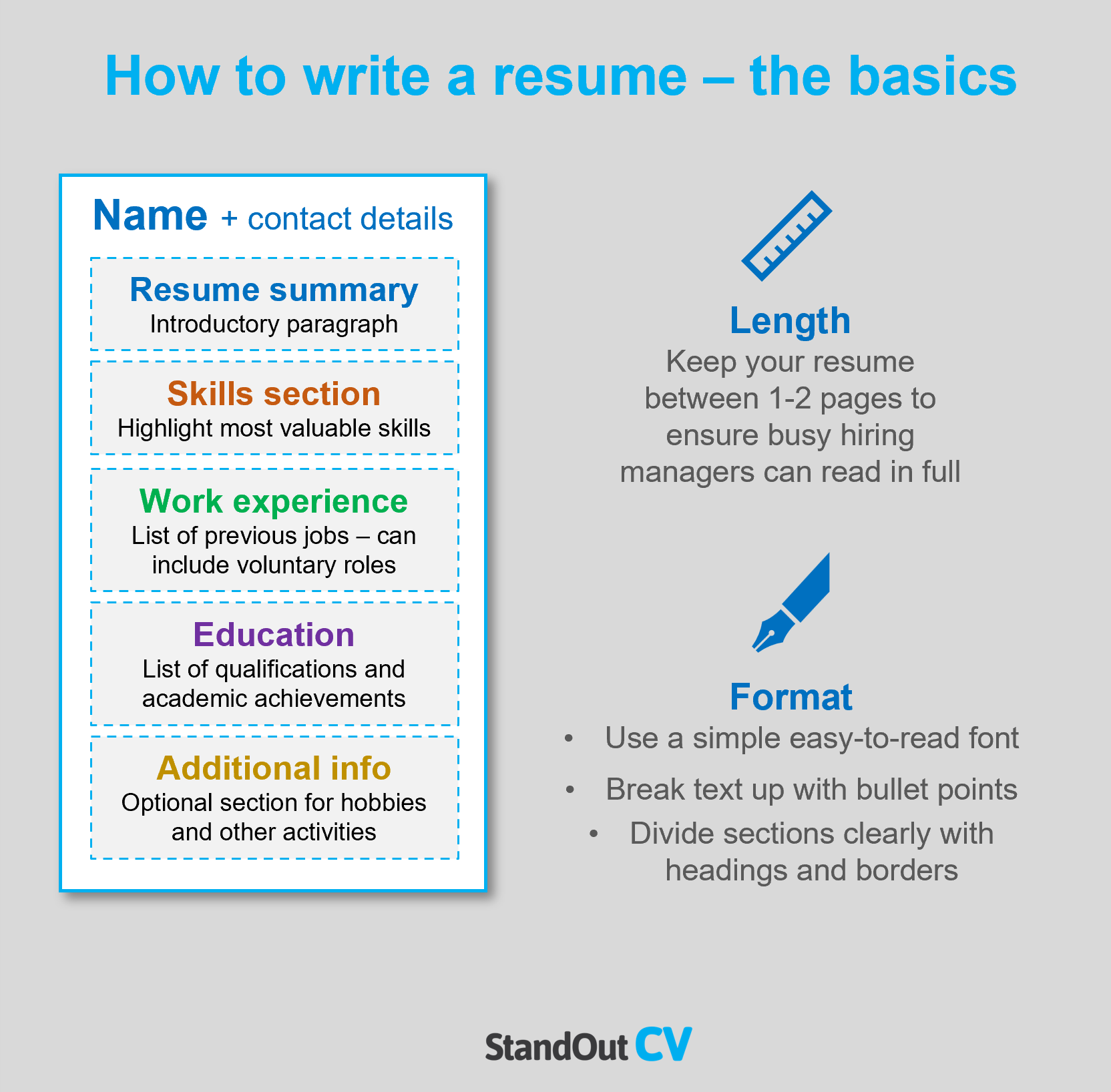 Formatting your resume
Length: Given that recruiters have to sift through tons of resumes daily, it's recommended to keep your resume brief (no more than 2 pages) to make sure it receives their full attention.
Font & readability: Simplicity and a pleasant reading experience are crucial if you want to highlight your most valuable skills to recruiters. Use a clear font (avoid fancy ones) and break up the text in your resume with bullet points to ensure information can be easily consumed.
Layout: A well-designed resume is not just visually pleasing, but it must also be functional. To achieve a functional design, use bold headings and borders to separate the content into clear sections.
Photos: You don't have to add a photo to your resume in the States, but some regions and industries like to see them.
Quick tip: Achieving a professional look for your resume can be difficult and time-consuming. If you want to create an attractive resume quickly, try our partner's Resume Builder and use one of their eye-catching resume templates.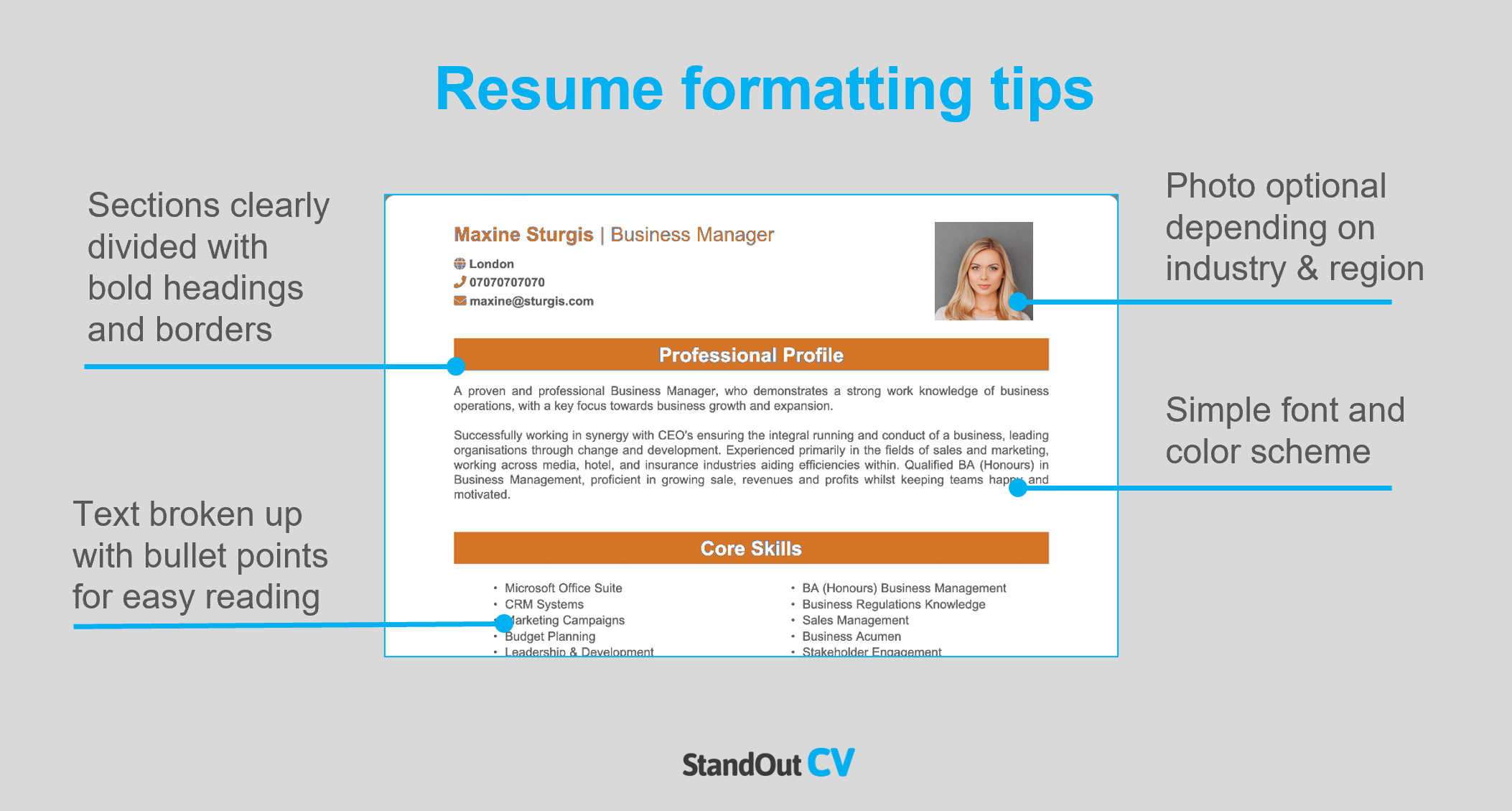 Resume layout
Organize the document into these sections when you write your resume.
Name and contact details – Employers need to know how to get in touch with you – so list your email and cell phone number here.
Resume summary – An intro paragraph at the top of the resume which summarizes your suitability for target jobs.
Skills section – A bullet-pointed list of your most relevant skills and knowledge.
Work experience – A list of your previous jobs (or at least the most relevant and recent ones)
Education – Add academic and professional qualifications that prove you can carry out the job
Additional info – If they are relevant to the jobs you are applying for, you can add an extra section for things like hobbies and interests.
Here's what to add to each section of your Cable Technician resume.
Contact Details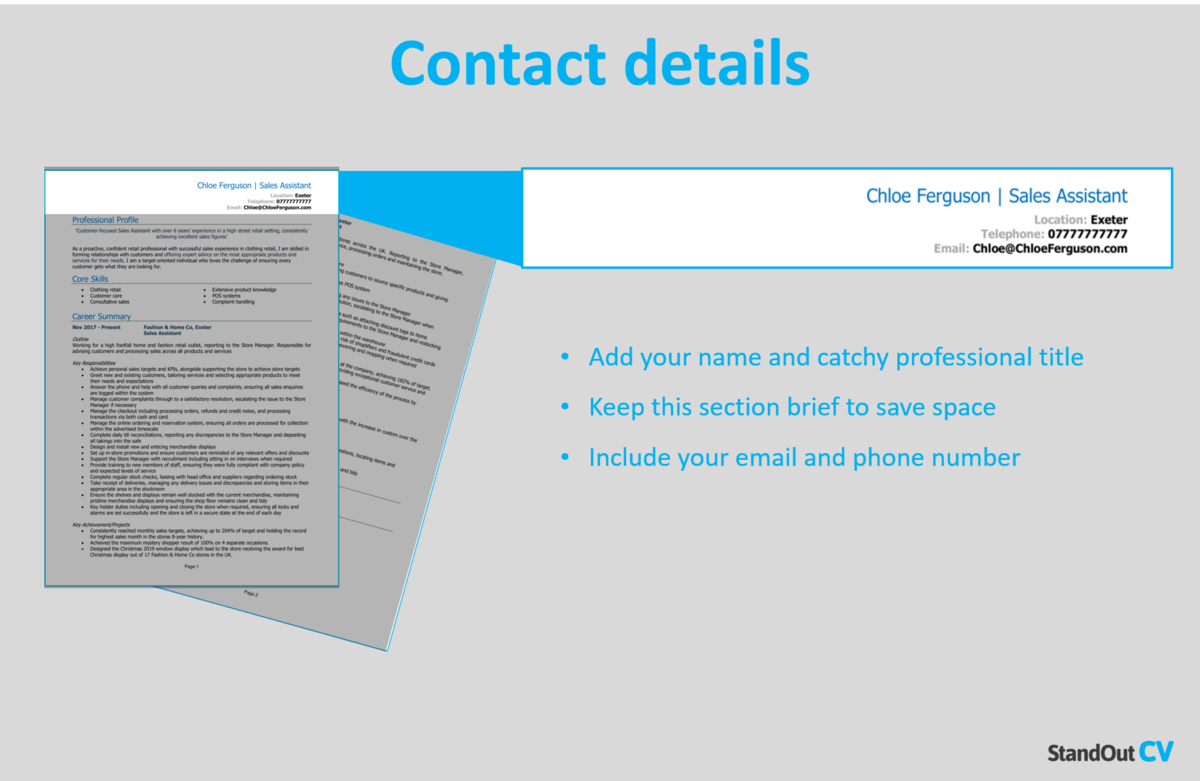 Keep your contact details short to save resume space and include the following.
Name and profession title
Cell phone number
Location – Add your local area such as Silicon Valley or New York, unless you are looking for work in a different location
Email address – Keep it professional and don't use an old address that you thought was cool in high school, but now looks a bit embarrassing.
You can add a link to your LinkedIn profile if you have one – you do not need to include personal details like date of birth or marital status.
Cable Technician Resume Summary
Make a strong first impression on recruiters by beginning your resume with a powerful summary that highlights your most valuable skills and experience.
This brief summary provides an opportunity to showcase why you're the ideal candidate for the job and persuade recruiters to read further into your resume.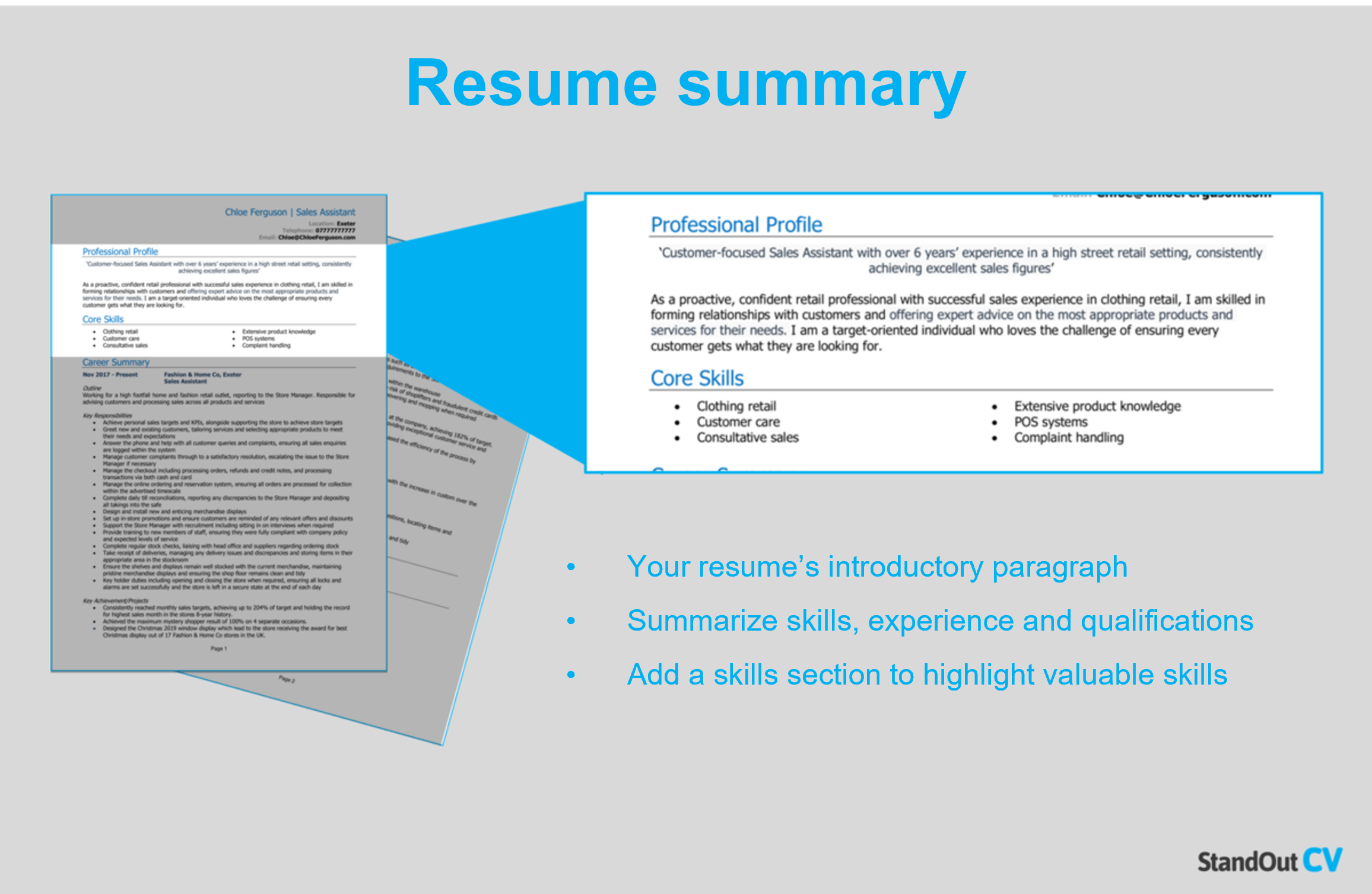 How to create a resume summary that will excite recruiters:
Keep it short: To effectively capture a recruiter's attention, it's crucial to keep your resume summary brief and to the point, limiting it to 4-7 lines as this provides enough detail without overwhelming them at this early stage.
Tailor to target jobs: To make your resume more relevant to your target jobs, analyze the job description and include as many matching skills as possible.
Avoid using cliches: You may be a "team player who always give 110%" but generic phrases don't tell employers much about you in reality – stick to factual information.
Cable Technician resume summary example
Skilled and highly proficient Cable Technician with over 13 years' experience in the installation, troubleshooting, and maintenance of advanced cable systems. Demonstrated ability to operate and optimize a diverse range of equipment and cutting-edge technologies, ensuring exceptional performance. Exceptional problem-solver with an associate degree in electrical engineering.
What to include in your Cable Technician resume summary?
Summary of your experience: What kind of companies have you worked for in the past? And which jobs have you carried out?
Relevant skills: Skills that are highly relevant to Cable Technician work should be made prominent throughout your summary.
Qualifications: Showcase your level of education with a quick mention of any qualifications that are essential for the Cable Technician roles you are applying to.
Quick tip: Choose from hundreds of pre-written summaries across all industries, and add one to your resume with one-click in our partner's Resume Builder. All written by recruitment experts and easily tailored to suit your unique skillset and style.
Core skills section
In addition to your resume summary, your core skills section provides an easily digestible snapshot of your skills – perfect for grabbing the attention of busy hiring managers.
As Cable Technician jobs might receive a huge pile of applications, this is a great way to stand out and show off your suitability for the role.
It should be made up of 2-3 columns of bullet points and be made up of skills that are highly relevant to the jobs you are targeting.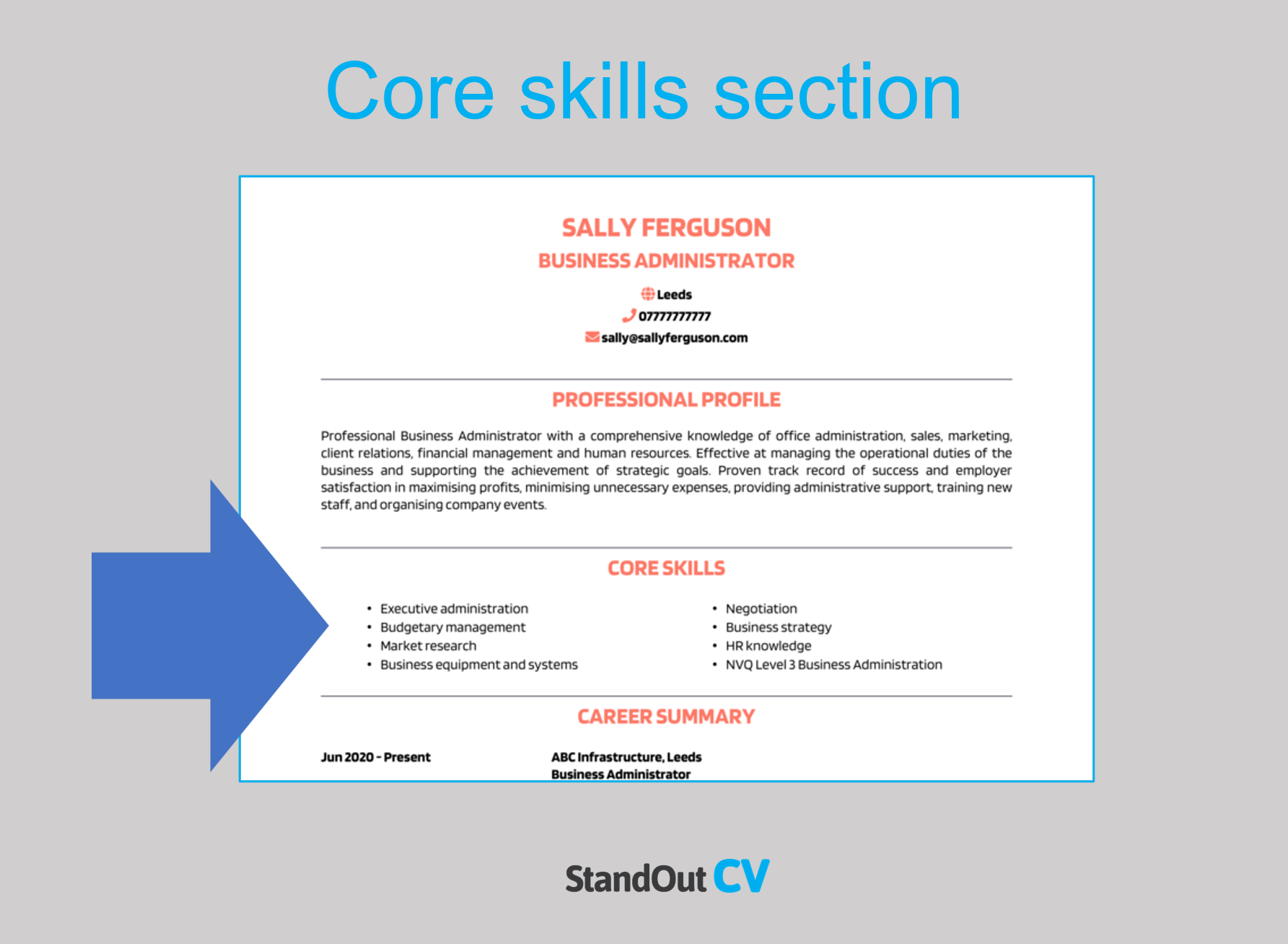 Best skills for your Cable Technician resume
Cable Installation and Troubleshooting – Installing, configuring, and troubleshooting cable systems, including TV, internet, and telephone services.
Equipment Operation – Operating cable-specific equipment such as signal meters, cable testers, and cable stripping tools to ensure proper installation and maintenance.
Wiring and Cabling – Utilizing knowledge of wiring standards and practices for cable installation, including running cables, terminating connectors, and managing cable pathways.
Signal Testing and Analysis – Performing signal testing and analysis to ensure optimal signal strength and quality for all connected devices.
Customer Service – Effectively communicating with customers, addressing their concerns, and aiding in a friendly and professional manner.
Safety Protocols – Adhering to safety protocols and guidelines to ensure personal safety and the safety of others while working with electrical equipment and in various work environments.
Problem Resolution – Diagnosing and resolving technical issues related to cable systems, equipment, and connectivity.
Project Management – Prioritizing tasks, managing work orders, and completing installations and repairs within designated timelines.
Documentation and Reporting – Documenting work activities, including equipment used, repairs made, and any customer interactions, and reporting them accurately and promptly.
Continuous Learning – Staying updated on the latest advancements and best practices in cable technology and industry standards to enhance technical knowledge and skills.
Quick tip: Our partner's Resume Builder contains thousands of in-demand skills for every profession that can be added to your resume in seconds – saving you time and greatly improving your chances of landing job interviews and getting hired.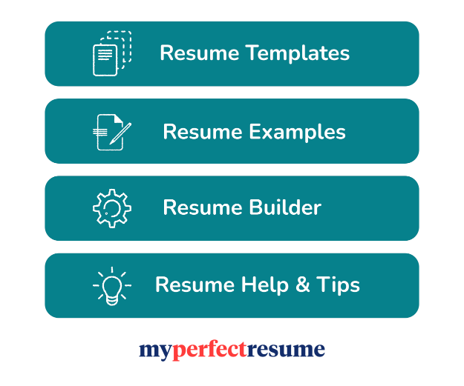 Work experience
Congratulations on successfully capturing the recruiter's interest with your attention-grabbing summary! Now, it's time to showcase your workplace impact by providing a detailed list of your previous job experiences and achievements.
If you have significant experience, consider highlighting the most recent few years to condense this section. However, for junior job seekers, it's essential to include as much relevant experience as possible, including volunteering and school work placements.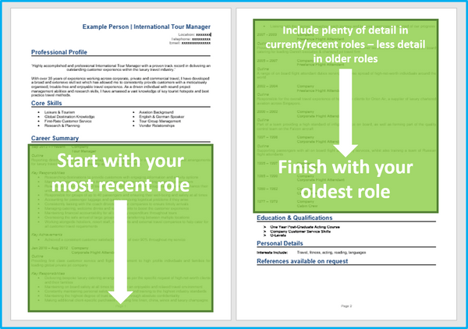 Structuring your jobs
You probably do a lot in your job, so its vital to break all of that information down into a good structure.
Structure your jobs as follows to make it easy for recruiters to skim through and pinpoint the essential info.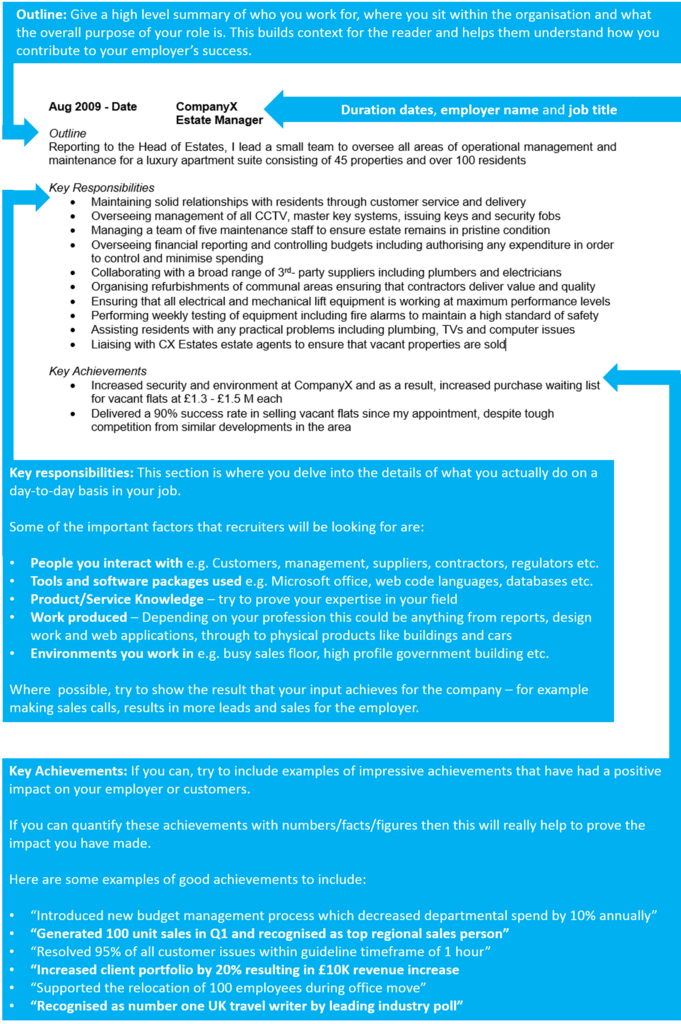 Job outline
Each role description should begin with a qucik summary of the job and company, along with how the job fits into the strucuture of the organization.
Key responsibilities
Then delve into the detail of your job by listing out easy-to-read bullet points which show how you apply your skills in the workplace.
Tailor these bullet points to focus on the skills and knowledge that are required in the jobs you are applying for.
Key achievements
Show employers the value you can bring to them by adding a few achievements to your jobs.
Whether you've saved the company money or improved an internal process, let recruiters know
Add some numbers to give readers a real scale of the impact, e.g. "reduced call wait time by 10%"
Example job for Cable Technician resume
Outline
Install, maintain, and repair cable systems for residential and commercial clients of leading US telecommunications company, guaranteeing dependable connectivity and optimal signal strength.
Key Responsibilities
Execute cable installations and perform upgrades for new and existing customers
Conduct rigorous signal testing and analysis to ensure peak performance
Troubleshoot and resolve connectivity issues and equipment malfunctions promptly
Collaborate closely with customers to address their unique requirements
Quick tip: Create impressive job descriptions easily in our partner's Resume Builder by adding pre-written job phrases for every industry and career stage.

Education section
After your work experience, add your education section.
If you are an experienced professional, you can keep this part short – adding basic details of each qualification.
If you have little or no experience, bulk this section up by adding more detail and highlight important skills and knowledge for your target jobs.
Additional information
The additional info section is optional but can be useful if you have anything else to add that could benefit your application.
For example, you may have some hobbies and interests that are relevant to your job – or you might have awards or publications to shout about.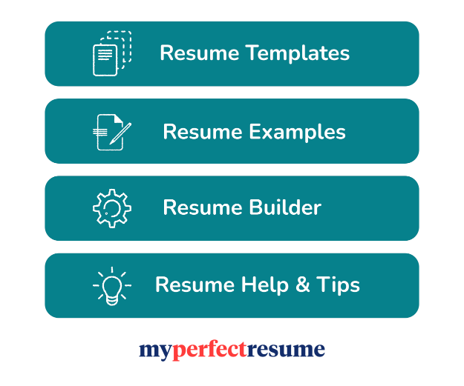 Writing your own winning Cable Technician resume
A winning Cable Technician resume should look great, read well, and sell your skillset to hiring managers.
If you follow the steps above, you should be able to bag yourself a top job in no time.
Good luck with your job search!