Are you looking for your next exciting building engineer role?
Then you need a resume that's as well structured as your latest project – and you need to get the content just right too.
To do this, simply check out our top tips and building engineer resume example below, and you can construct an impressive application in no time.
Contents
| | |
| --- | --- |
| How to write a Building Engineer resume | |

Building Engineer Resume Example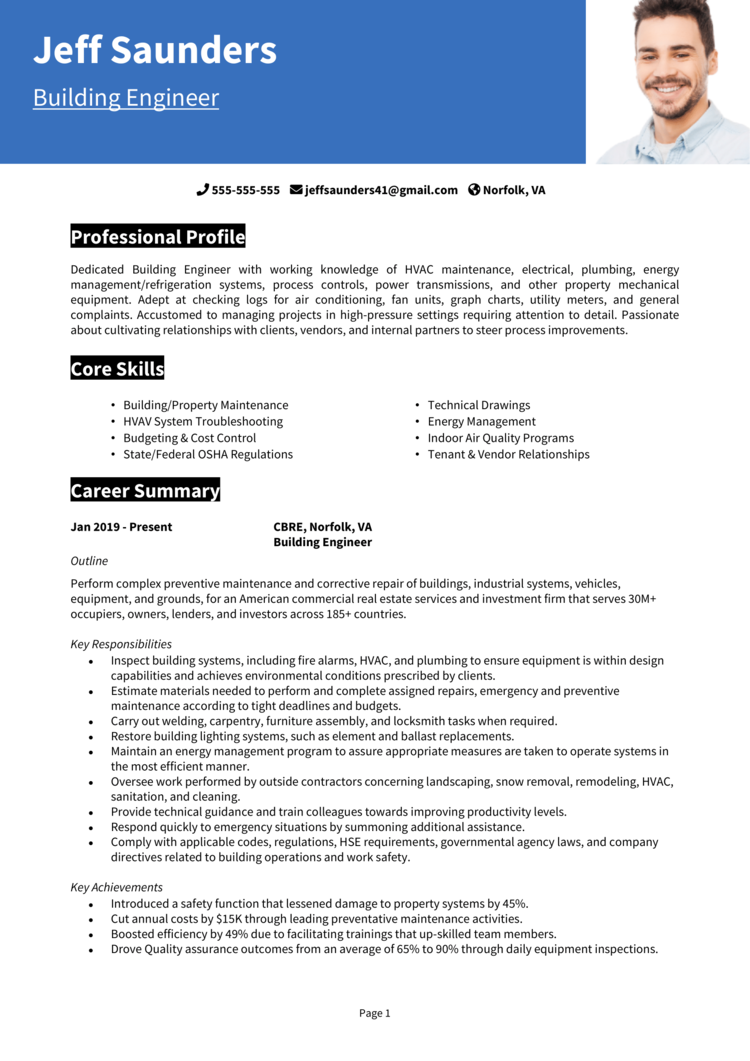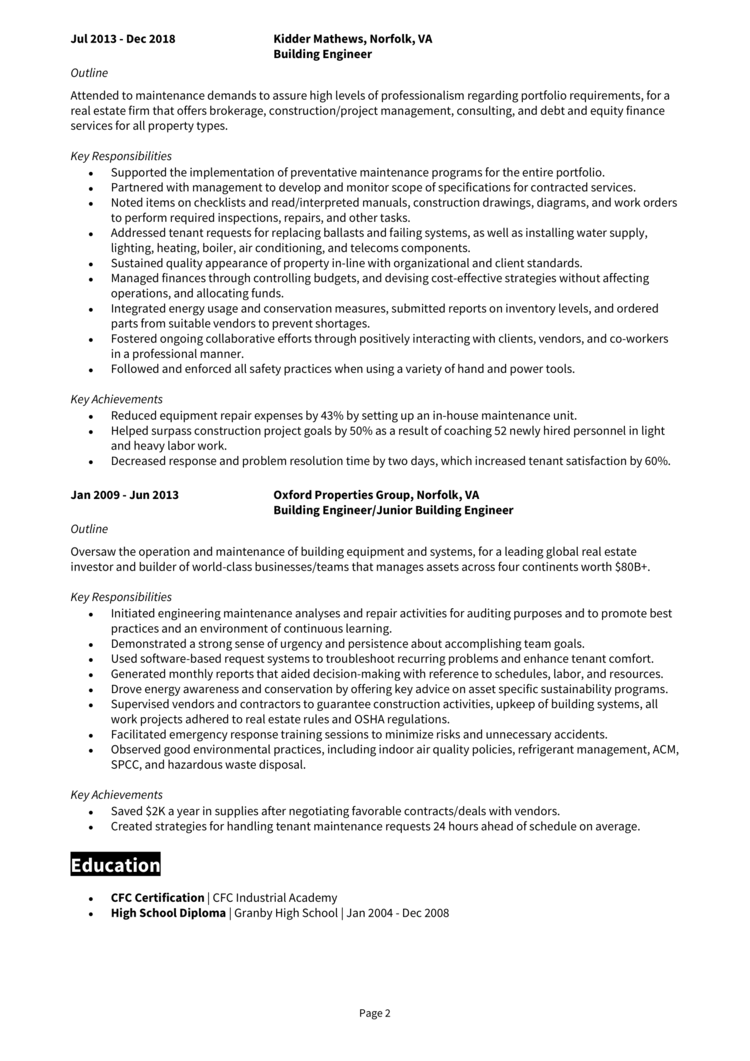 This example Building Engineer resume is well-structured to provide a pleasant reading experience for recruiters, and contains all of the crucial information they want to see.
The rest of the guide will show you exactly how you can achieve this in your own resume.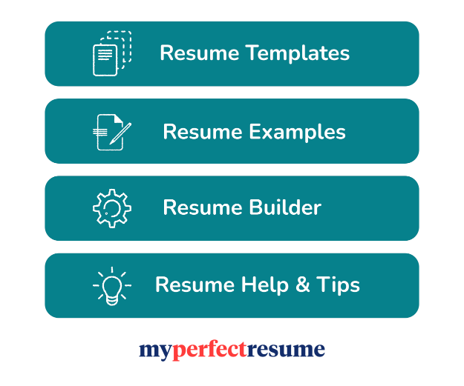 Building Engineer resume layout and formatting
If you want to get noticed in the job market, you have to pay attention to the format and layout of your resume.
Essentially your resume needs to look highly polished, and provide hiring managers with an easy reading experience.
Use these resume formatting tips to get a head start on this.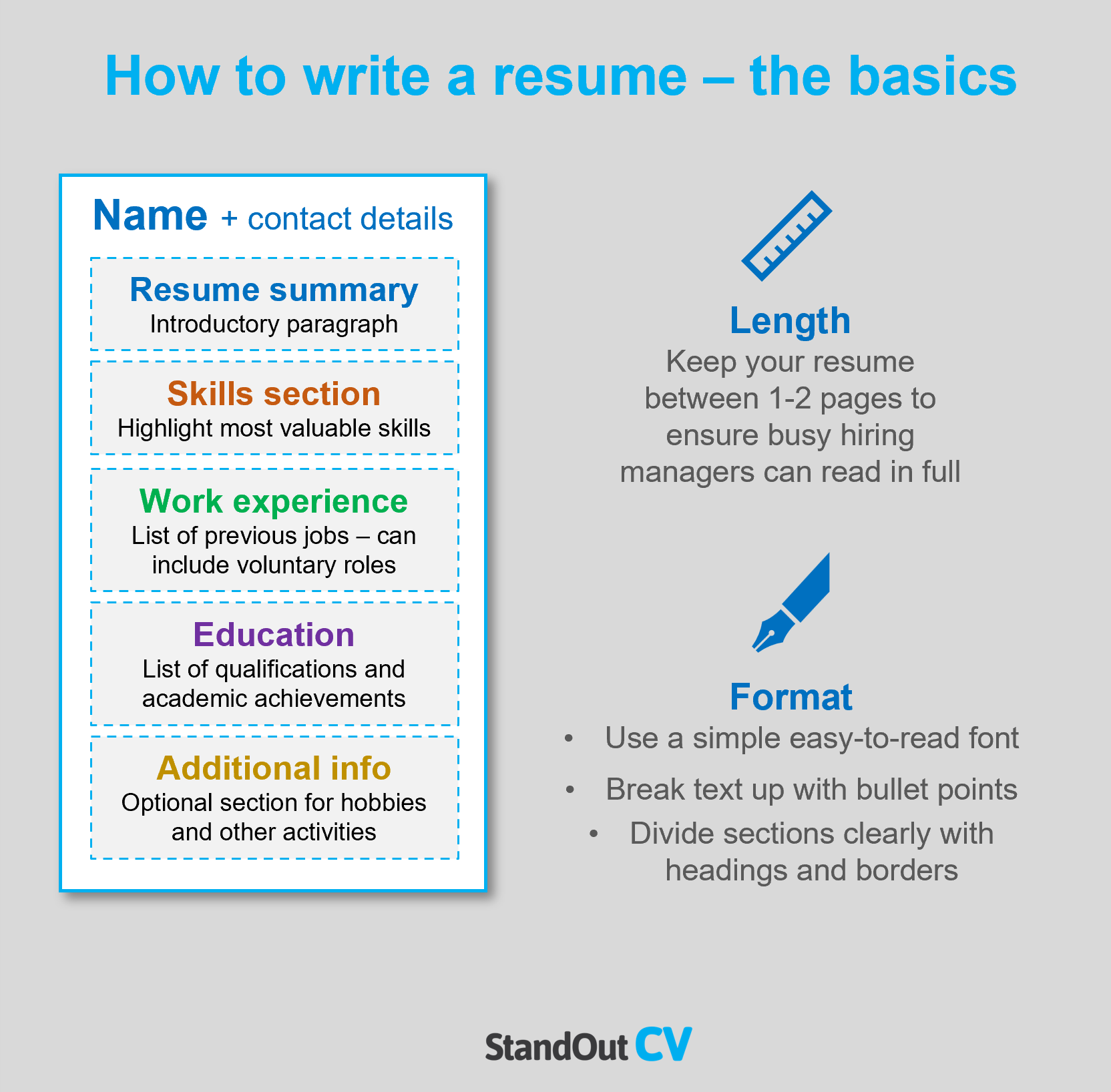 Formatting your resume
Length: As recruiters have a limited amount of time to review each resume they see, keep your resume to 2 pages or less to increase the chances of it being thoroughly reviewed.
Font & readability: To create a resume that is easily digestible for hiring managers, it's essential to use an uncomplicated font and structure your content with bullet points and short paragraphs.
Layout & Structure: While creating an attractive resume, it is crucial not to compromise functionality for design. To ensure both, use bold headings and borders to structure the page into clear sections.
Photos: In the USA adding a photo to your resume is optional – you don't have to do it, but it can be a nice way to get your personality across.
Quick tip: Achieving a professional look for your resume can be difficult and time-consuming. If you want to create an attractive resume quickly, try our partner's Resume Builder and use one of their eye-catching resume templates.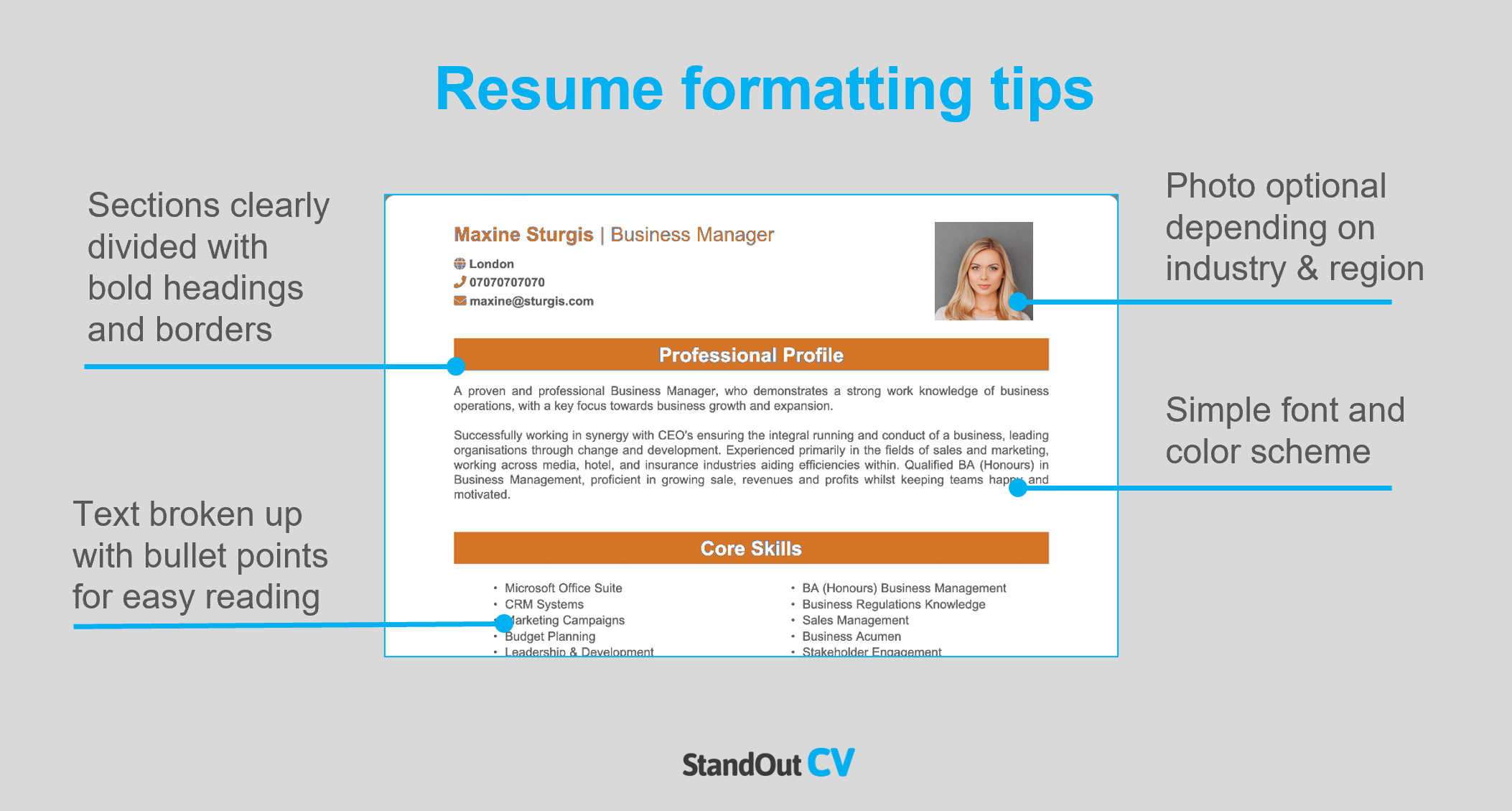 Resume layout
Include the following sections when you write your resume.
Name and contact details – Make it easy for employers to contact you, by putting these at the top.
Resume summary – An intro paragraph sitting at the top of your resume, summarizing the reasons why you should be hired.
Skills section – A short snappy list of your most important skills, that can be quickly digested
Work experience – Reverse chronological list of your previous jobs – voluntary work and college placements can be included if you have no paid experience.
Education – List your qualifications and professional training.
Additional info – An optional section for things like hobbies and interests.
Here's what to include in each part of your resume.
Contact Details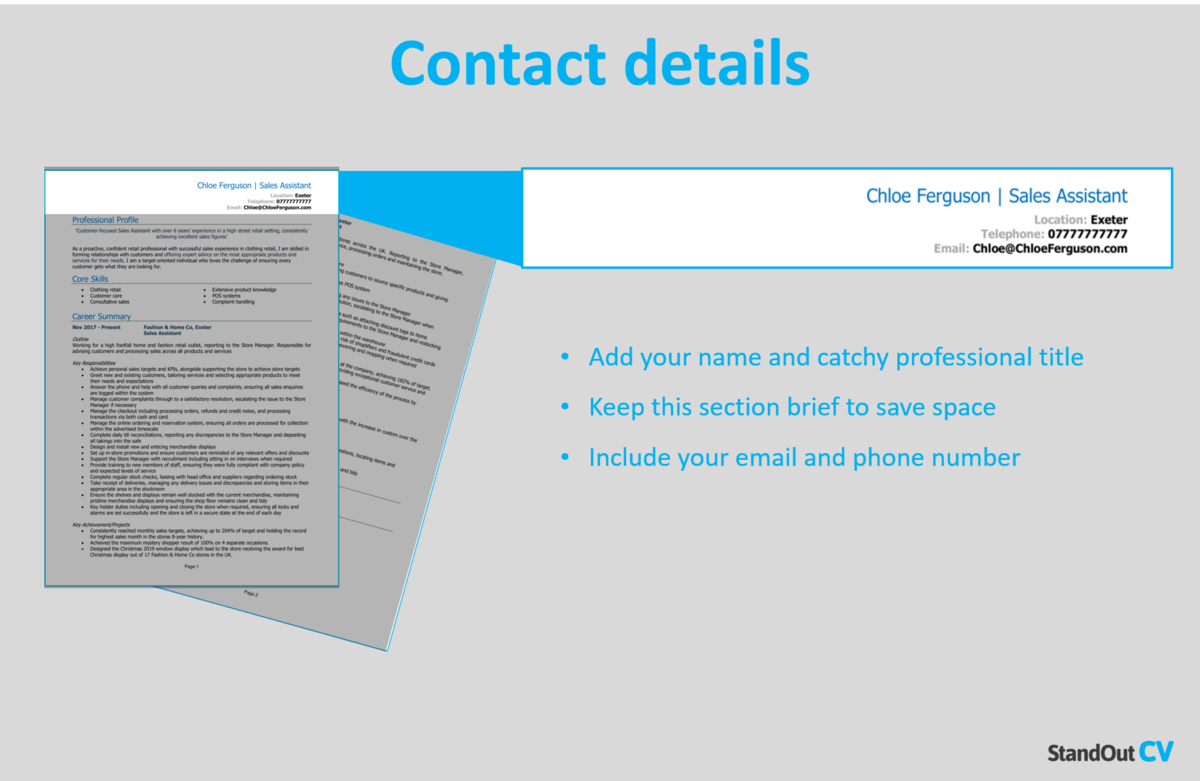 Add your name and contact details to the header of your resume, so that anybody reading can easily see how to contact you.
Name and profession title
Cell phone number – or any number you are easily reachable on
Location – Add your local area such as Washington or San Diego – not your full address as that will take up too much space.
Email address – Use a professional looking address.
You can add a link to your LinkedIn profile if you have one – you do not need to include personal details like date of birth or religion.
Building Engineer Resume Summary
The resume summary is a short paragraph at the top of your resume, and it's purpose is to grab recruiter's attention and make sure they keep reading it.
To make your summary work, ensure that you provide a high-level summary of your skills and experience – and tailor it to reflect the requirements of the jobs you are applying for.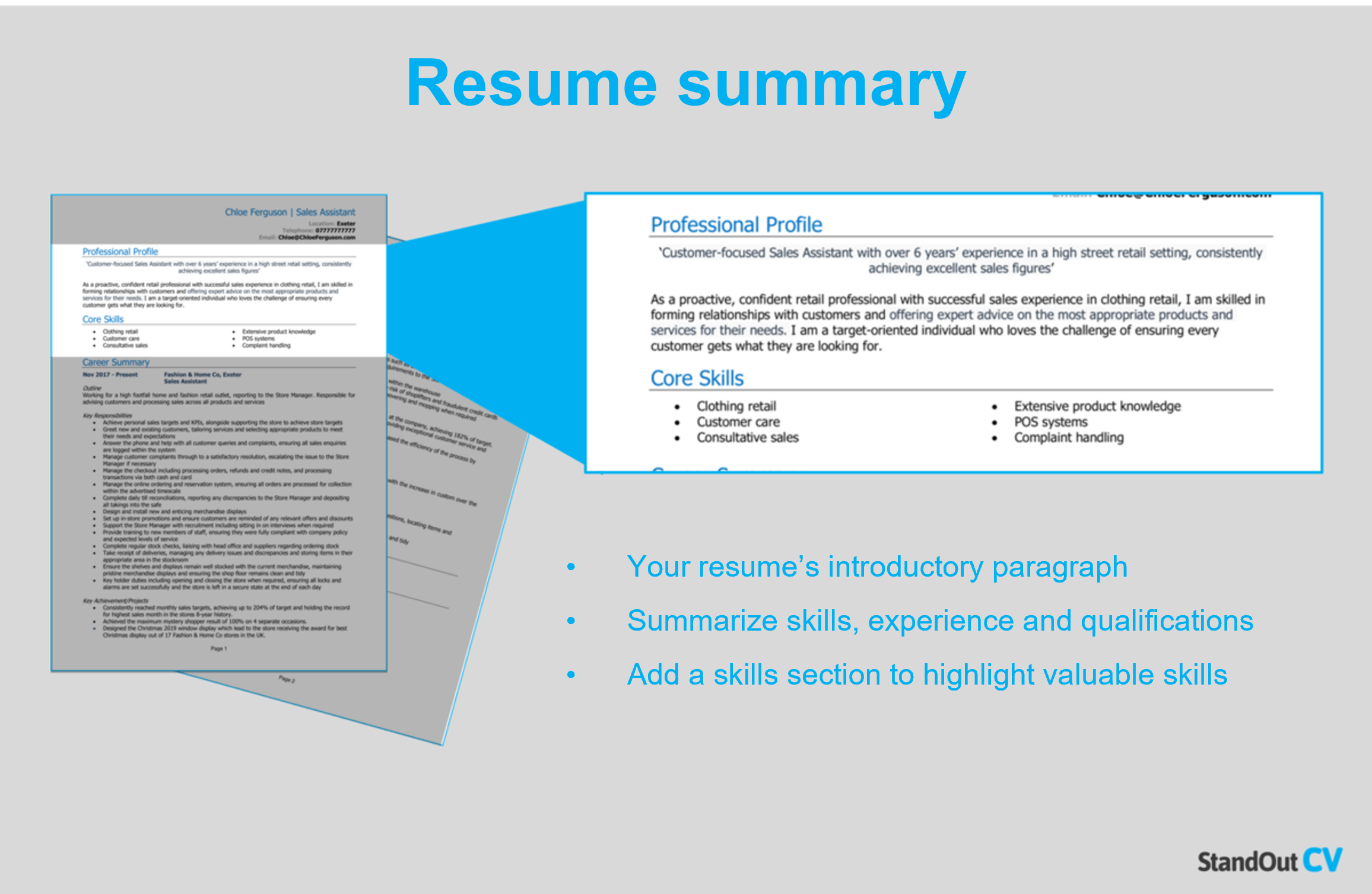 How to create a resume summary that will excite recruiters:
Keep it short: To capture a recruiter's attention and keep them interested in your resume, limit your summary to 4-7 lines as you only have a few seconds to make an impression
Tailor to target jobs: To make your resume more relevant to your target jobs, analyze the job description and include as many matching skills as possible.
Avoid using cliches: Recruiters look for facts in resumes, such as hard skills and qualifications – so, leave out the meaningless cliches like "hard worker who works well in a team and individually"
Building Engineer resume summary example
Dedicated Building Engineer with working knowledge of HVAC maintenance, electrical, plumbing, energy management/refrigeration systems, process controls, power transmissions, and other property mechanical equipment. Adept at checking logs for air conditioning, fan units, graph charts, utility meters, and general complaints. Accustomed to managing projects in high-pressure settings requiring attention to detail. Passionate about cultivating relationships with clients, vendors, and internal partners to steer process improvements.
What to include in your Building Engineer resume summary?
Summary of your experience: Provide an overview of the type of work you have done in the past and the impact you have made at previous employers.
Relevant skills: Scatter your most in-demand Building Engineer skills through your summary to ensure they are noticed quickly by hiring managers.
Qualifications: If your job requires any qualifications such as a professional course or a college degree, mention it briefly in your summary.
Quick tip: Choose from hundreds of pre-written summaries across all industries, and add one to your resume with one-click in our partner's Resume Builder. All written by recruitment experts and easily tailored to suit your unique skillset and style.
Core skills section
In addition to your resume summary, your core skills section provides an easily digestible snapshot of your skills – perfect for grabbing the attention of busy hiring managers.
As Building Engineer jobs might receive a huge pile of applications, this is a great way to stand out and show off your suitability for the role.
It should be made up of 2-3 columns of bullet points and be made up of skills that are highly relevant to the jobs you are targeting.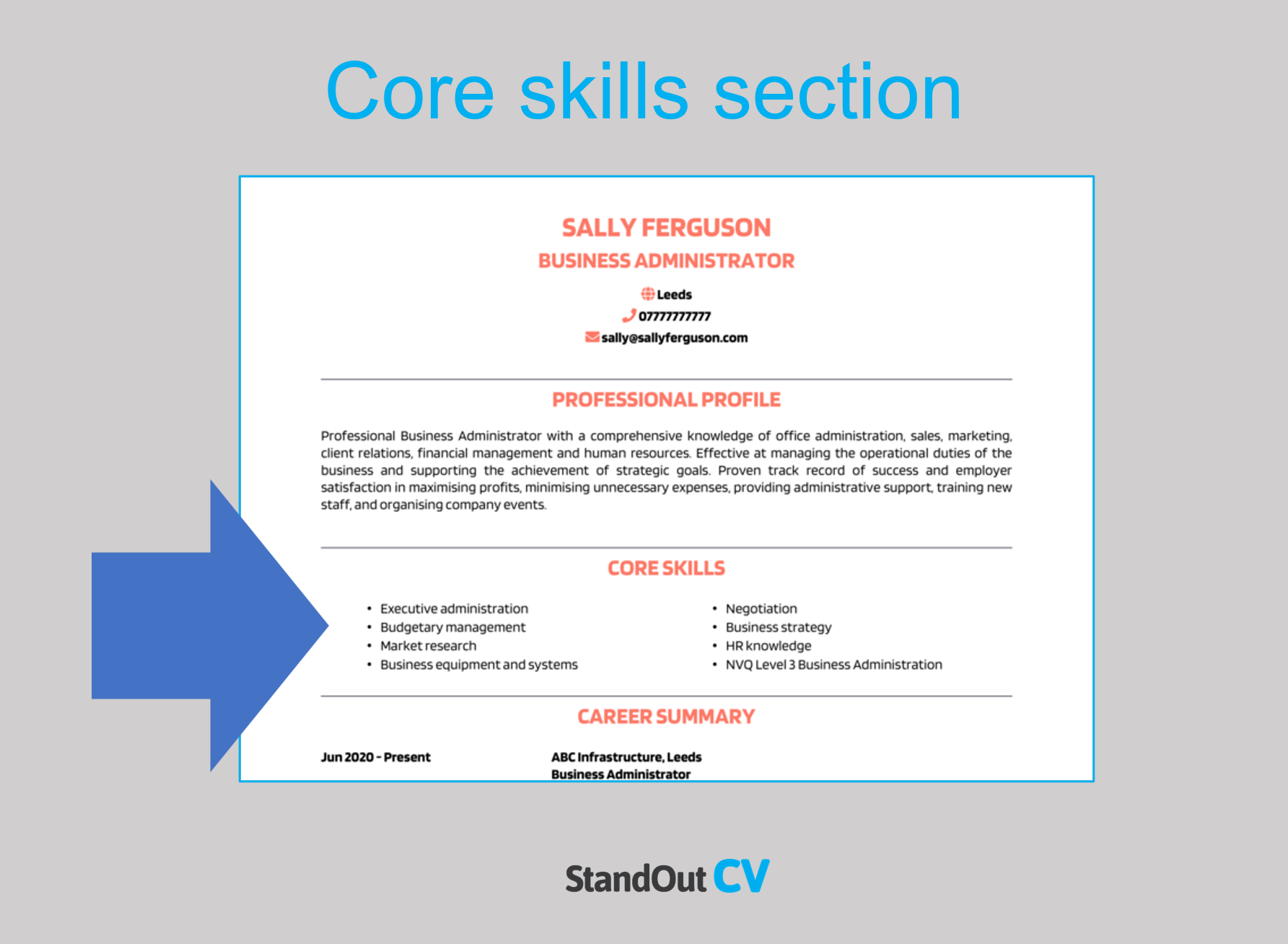 Best skills for your Building Engineer resume
HVAC systems – Maintaining knowledge of heating, ventilation, and air conditioning (HVAC) systems, including maintenance, repair, and installation, to ensure efficient and safe operation.
Electrical systems – Understanding electrical systems, including circuits, wiring, and electrical equipment, to maintain and repair electrical systems in buildings.
Plumbing systems – Maintaining and repairing plumbing systems, including pipes, fixtures, and water supply systems, to ensure proper functioning.
Building automation systems – Utilizing building automation systems, including lighting, security, and temperature control systems, to ensure that building systems are integrated and operating efficiently.
Energy management – Managing energy usage in buildings, including conducting energy audits, implementing energy-efficient solutions, and reducing energy costs.
Safety protocols – Maintaining a detailed understanding of safety regulations and protocols, including fire safety, emergency response, and hazard communication, to ensure the safety of building occupants and workers.
Building codes and regulations – Maintaining a detailed knowledge of building codes and regulations, including zoning laws and building permits, to ensure compliance with legal requirements.
Technical drawings – Reading and interpreting technical drawings, including blueprints and schematics, to understand building systems and components.
Equipment maintenance – Maintaining and repairing building equipment, including generators, elevators, and escalators, to ensure proper functioning.
Relevant software – Utilizing relevant computer systems, including building automation software and computer-aided design (CAD) software, to manage building systems and design solutions.
Quick tip: Our partner's Resume Builder contains thousands of in-demand skills for every profession that can be added to your resume in seconds – saving you time and greatly improving your chances of landing job interviews and getting hired.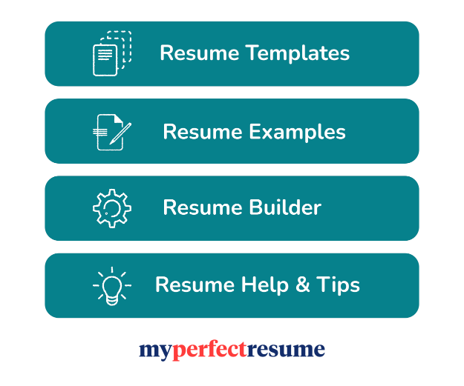 Work experience
So, you've grabbed the recruiters' attention with your summary, now it's time to show them what you're really capable of in your work experience section.
List your previous jobs from current to oldest, showing off the impact you made at each organization.
If you have tons of experience, you should just list the most recent an relevant jobs – but if you have little or no experience, add it all and even consider putting in voluntary work.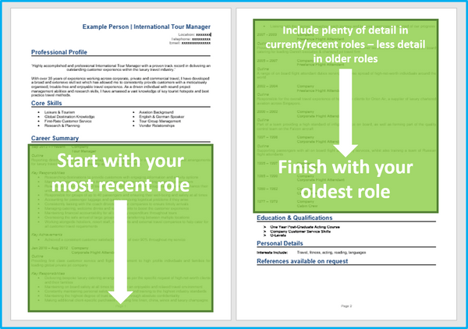 Structuring your jobs
Resume job descriptions contain lots of information, so its crucial to structure them well.
Use the structure below to ensure hiring managers can consume the information easily.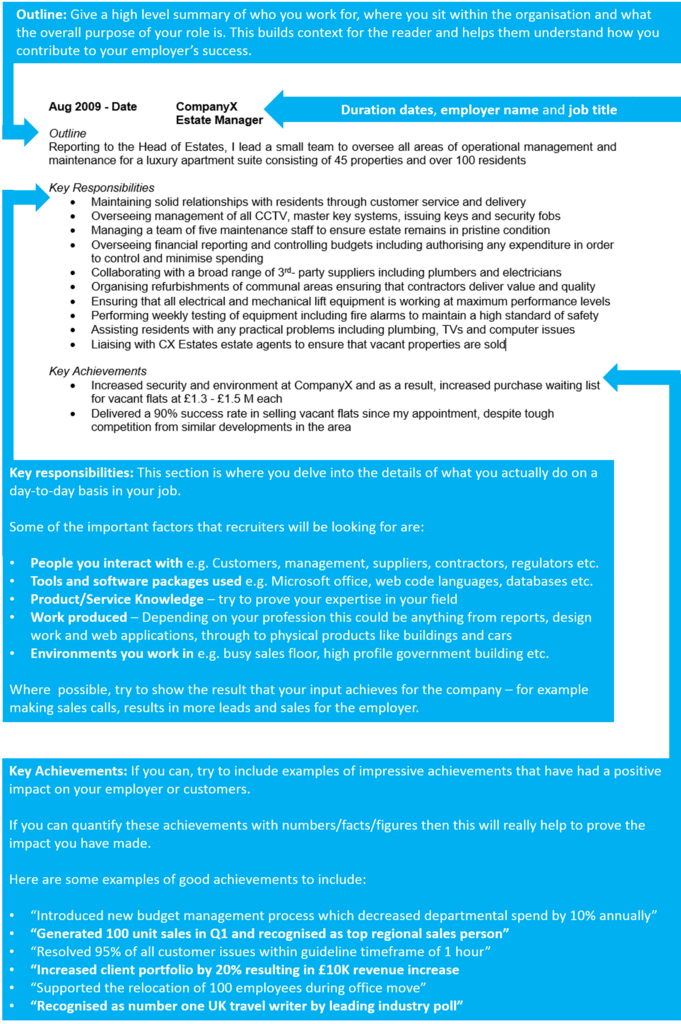 Job outline
Starting each job with a brief summary of the organization, your position within it, and the primary goal of your role can help recruiters quickly understand the context of your work.
Key responsibilities
The bulk of the role description should be comprised of bullet points that explain all of your duties in the job.
Keep the sentences short and simple to make them easy for recruiters to digest.
Key achievements
Finish each role by highlighting some impressive achievements you made whilst in the role.
Anything that benefited the employer can be included from making financial savings, to winning new customers.
Quantify your achievements with facts and figures if you can, e.g. "reduced call wait time by 10%"
Example job for Building Engineer resume
Outline
Perform complex preventive maintenance and corrective repair of buildings, industrial systems, vehicles, equipment, and grounds, for an American commercial real estate services and investment firm that serves 30M+ occupiers, owners, lenders, and investors across 185+ countries.
Key Responsibilities
Inspect building systems, including fire alarms, HVAC, and plumbing to ensure equipment is within design capabilities and achieves environmental conditions prescribed by clients.
Estimate materials needed to perform and complete assigned repairs, emergency and preventive maintenance according to tight deadlines and budgets.
Carry out welding, carpentry, furniture assembly, and locksmith tasks when required.
Restore building lighting systems, such as element and ballast replacements.
Quick tip: Create impressive job descriptions easily in our partner's Resume Builder by adding pre-written job phrases for every industry and career stage.

Education section
Near the end of your resume add your education section
Experienced candidates should keep it brief and focus on professional qualifications – and junior candidates can include high school diplomas, college degrees etc.
Additional information
If you have anything else to add which is relevant to the jobs you are applying for, the additional info section is the place to add it.
Perhaps you have a hobby which involves relevant skills, or maybe you have some awards or publications worth mentioning.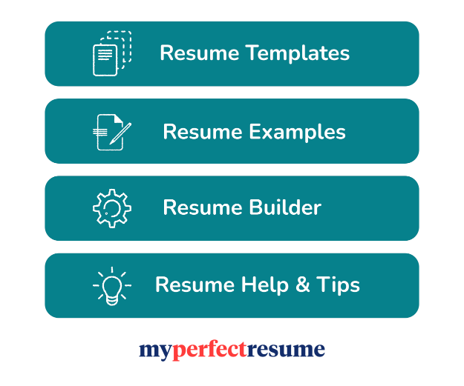 Writing your own winning Building Engineer resume
Following the steps in this guide will help you to create a winning Building Engineer resume and bag lots of interviews.
Good luck with your job search!