You know how to oversee and manage an entire banquet, ensuring that all guests have the best possible experience.
But in order to land your next managerial position, you need to serve up a strong resume that lays out all your impressive skills and experience.
To help you do this, we've created a step-by-step guide bursting with all our top tips and a banquet manager resume example to inspire your own.
Contents
| | |
| --- | --- |
| How to write your Banquet Manager resume | |

Banquet Manager Resume Example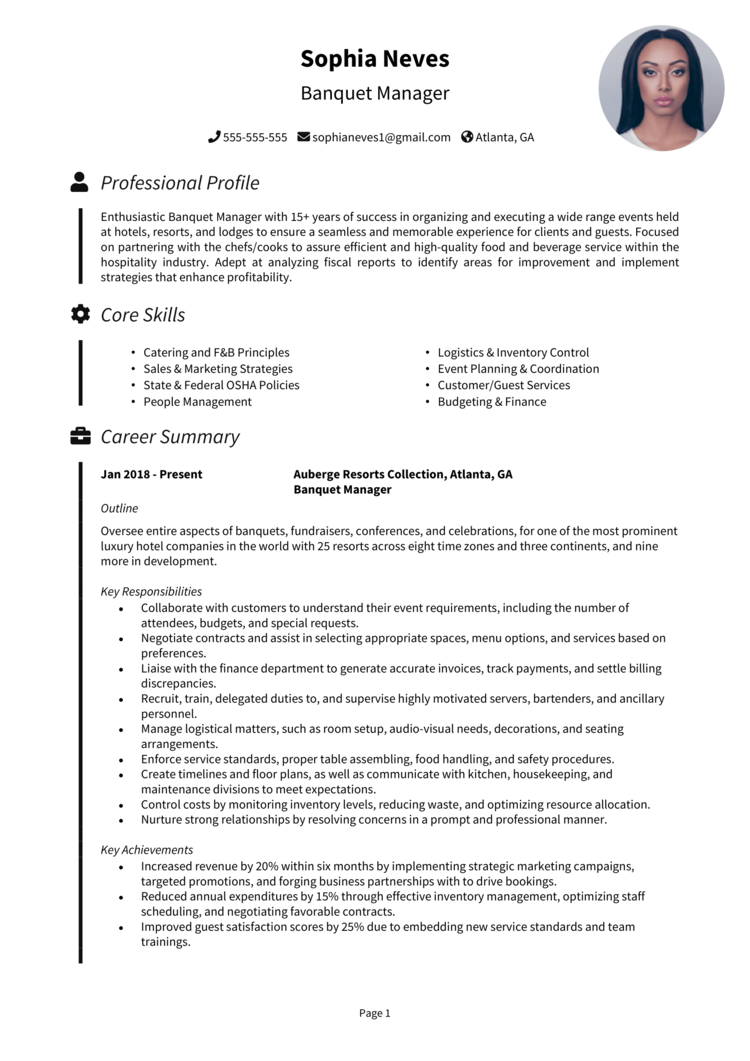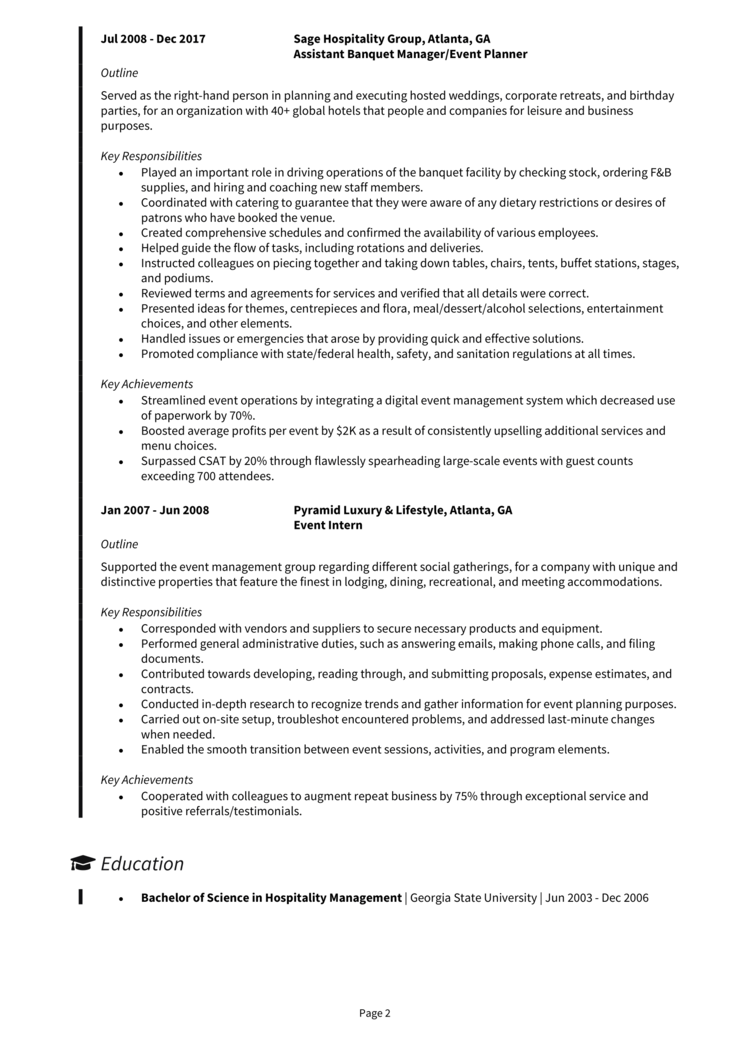 From the Banquet Manager resume example above, you can see the kind of information your resume will need to include, and the layout you will need to create for an easy-reading experience.
The rest of this guide will show you how to apply this format to your own unique situation, and create a resume that will attract the best employers in your industry.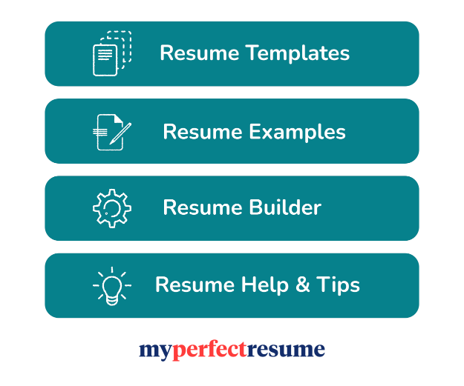 Banquet Manager resume layout and format
Formatting is often overlooked when writing resume, but it's a crucial element of it"s success.
Creating a document that not only looks good, but is easily comprehended, is the key to gaining and holding the attention of busy hiring managers.
Use these formatting tips for best results.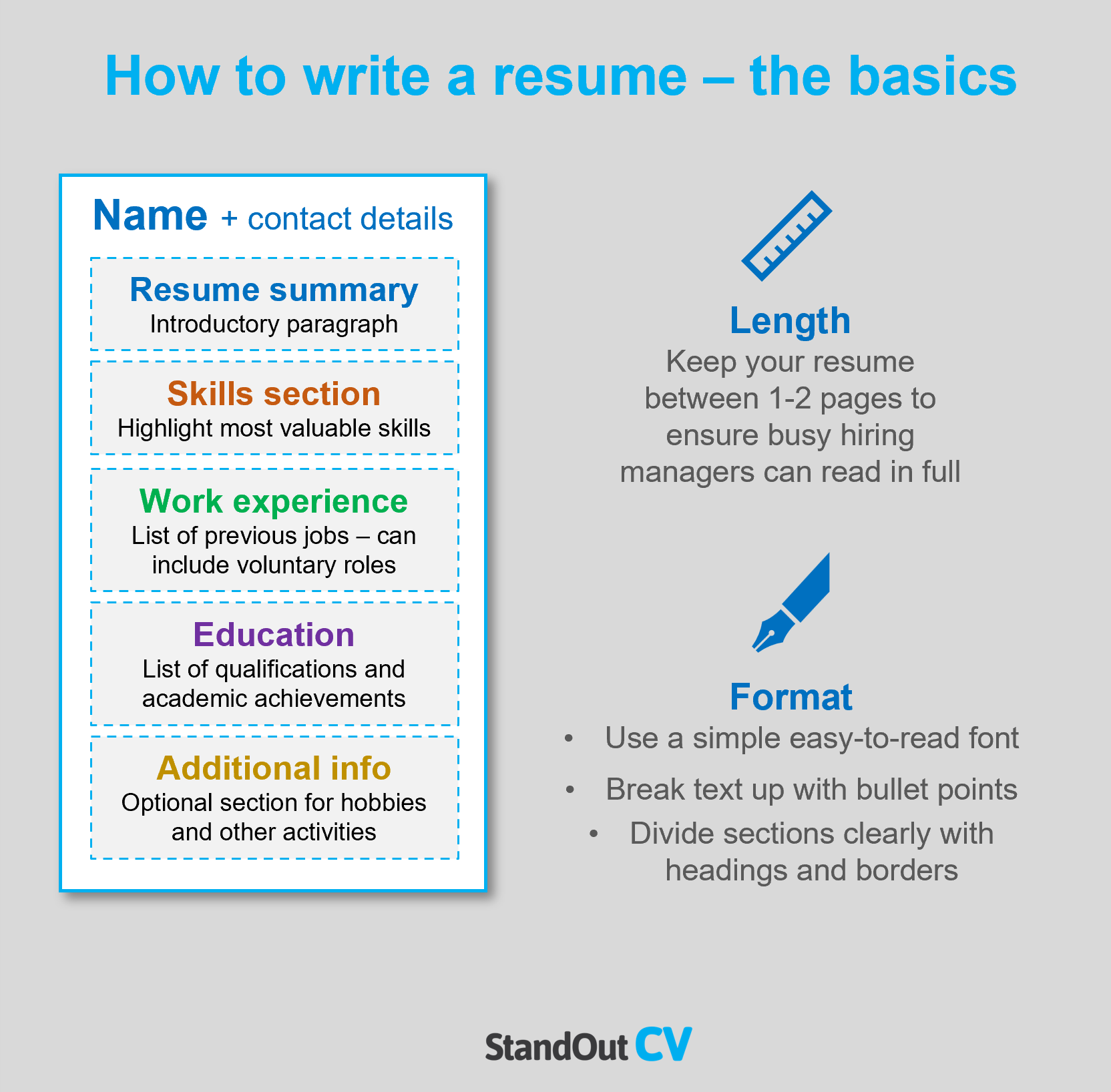 Formatting your resume
Length: Recruiters often see hundreds of resumes per day – so keep yours under 2 pages in length, if you want to ensure it gets read in full.
Font & readability: To create a resume that is easily digestible for hiring managers, it's essential to use an uncomplicated font and structure your content with bullet points and short paragraphs.
Layout: A visually appealing resume is important, but don't forget about functionality. To ensure a functional design, use bold headings and borders to organize the page into clear sections.
Photos: Including a photo on your resume is not obligatory in the United States, but it may be a good idea in some regions and industries where it is customary.
Quick tip: Achieving a professional look for your resume can be difficult and time-consuming. If you want to create an attractive resume quickly, try our partner's Resume Builder and use one of their eye-catching resume templates.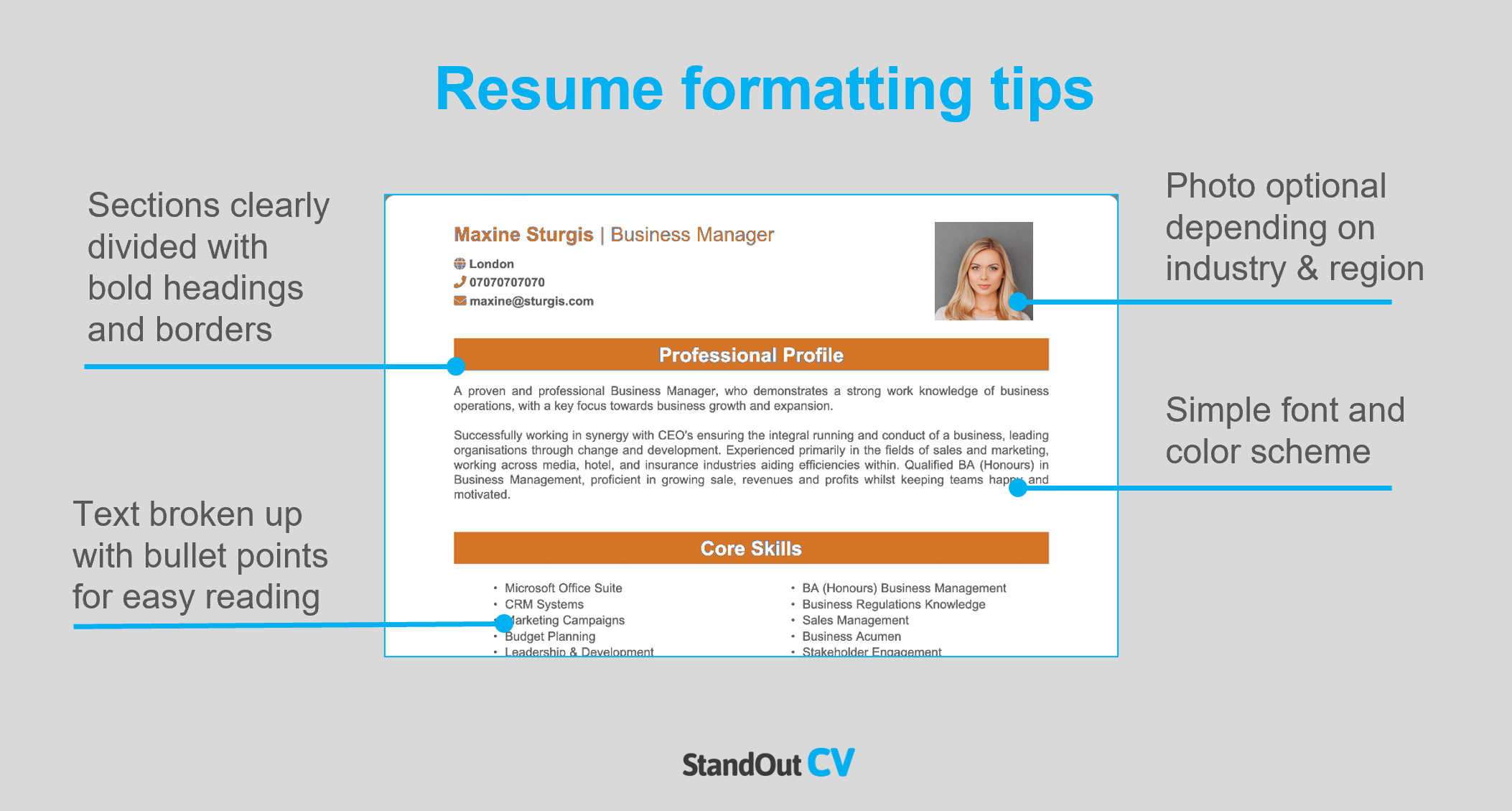 Resume layout
Include the following sections when you write your resume.
Name and contact details – Make it easy for employers to contact you, by putting these at the top.
Resume summary – An intro paragraph sitting at the top of your resume, summarizing the reasons why you should be hired.
Skills section – A short snappy list of your most important skills, that can be quickly digested
Work experience – Reverse chronological list of your previous jobs – voluntary work and college placements can be included if you have no paid experience.
Education – List your qualifications and professional training.
Additional info – An optional section for things like hobbies and interests.
Here's what to add to each section of your Banquet Manager resume.
Contact Details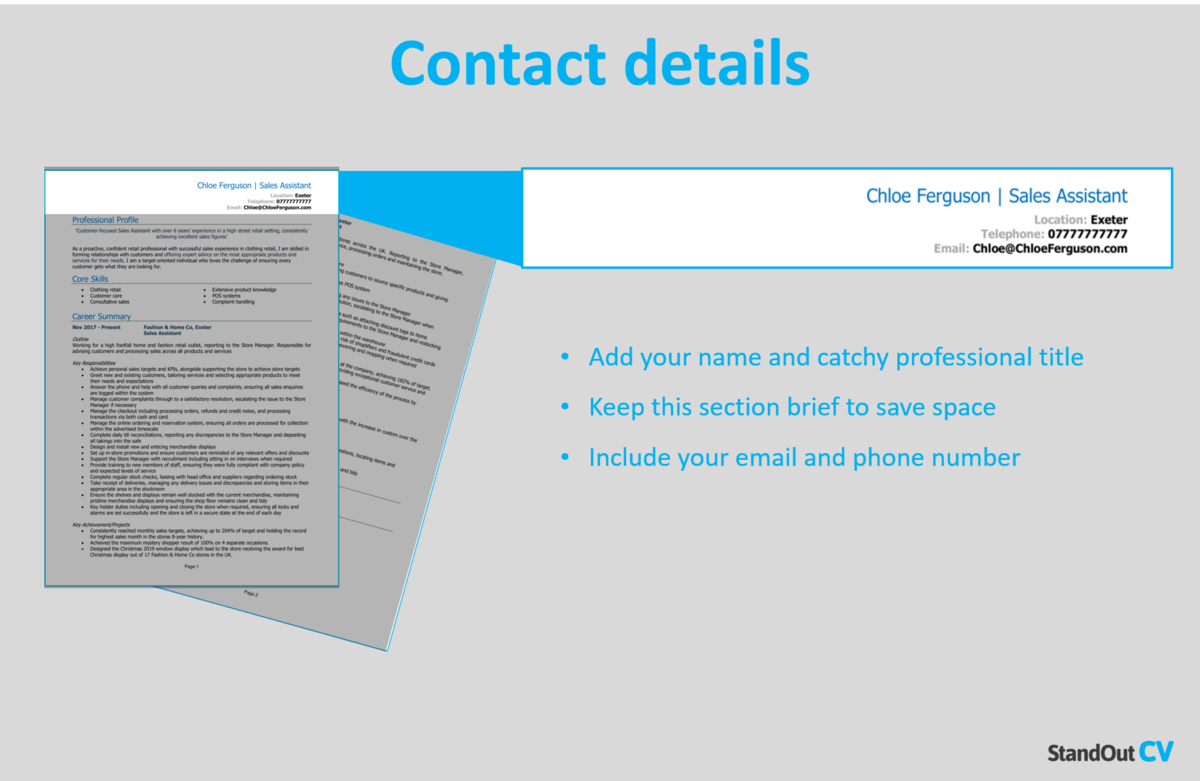 Keep your contact details short to save resume space and include the following.
Name and profession title
Cell phone number
Location – Add your local area such as Silicon Valley or New York, unless you are looking for work in a different location
Email address – Keep it professional and don't use an old address that you thought was cool in high school, but now looks a bit embarrassing.
You can add a link to your LinkedIn profile if you have one – you do not need to include personal details like date of birth or marital status.
Banquet Manager Resume Summary
Start your resume with a bang by adding a powerful summary to the top, summarizing your most valuable skills and experience.
This short paragraph is your chance to show recruiters why you are a perfect fit for the job and encourage them to read more of your resume.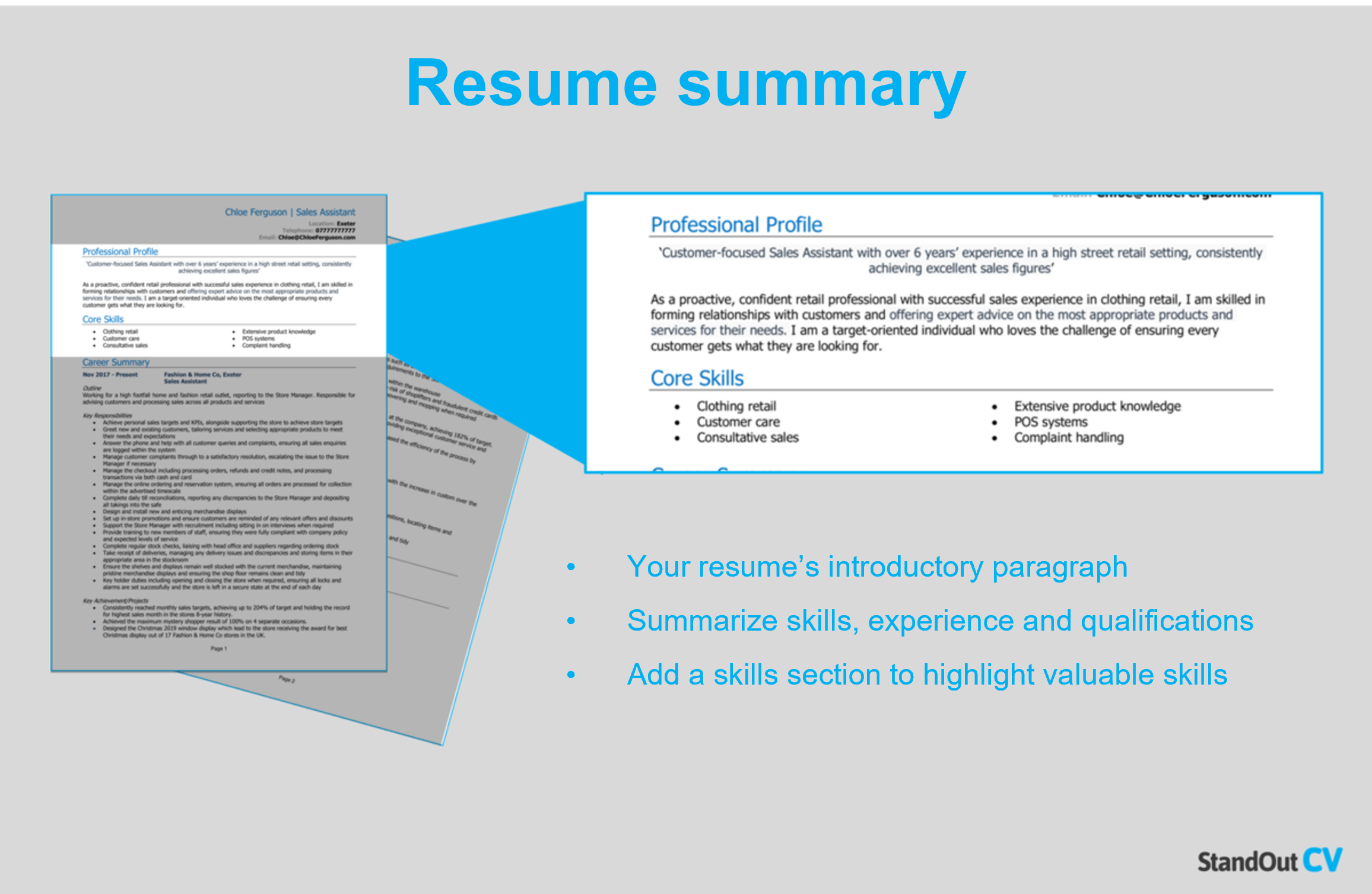 How to create a resume summary that will excite recruiters:
Keep it short: You only have a few seconds to grab a recruiters' attention and make them commit to your resume, so keep your summary between 4 – 7 lines.
Tailor to target jobs: To make your resume more relevant to your target jobs, analyze the job description and include as many matching skills as possible.
Avoid using cliches: Although you may believe that you're a "team player who always gives 110%," these kinds of cliches don't communicate much about your skills and qualifications to potential employers. It's more effective to stick to factual information in your resume.
Banquet Manager resume summary example
Enthusiastic Banquet Manager with 15+ years of success in organizing and executing a wide range of events held at hotels, resorts, and lodges to ensure a seamless and memorable experience for clients and guests. Focused on partnering with the chefs/cooks to assure efficient and high-quality food and beverage service within the hospitality industry. Adept at analyzing fiscal reports to identify areas for improvement and implement strategies that enhance profitability.
What to include in your Banquet Manager resume summary?
Summary of your experience: Provide an overview of the type of work you have done in the past and the impact you have made at previous employers.
Relevant skills: Instantly showcase your suitability for Banquet Manager jobs by including your skills that are highly relevant to them.
Qualifications: If your job requires any qualifications such as a professional course or a college degree, mention it briefly in your summary.
Quick tip: Choose from hundreds of pre-written summaries across all industries, and add one to your resume with one-click in our partner's Resume Builder. All written by recruitment experts and easily tailored to suit your unique skillset and style.
Core skills section
Sitting just underneath your resume summary, your core skills section gives recruiters 4-10 of your most in-demand skills in just a glance.
As Banquet Manager jobs may get hundreds of applications, this is a great way to stand out and quickly grab hiring managers' attention.
It should be made up of 2-3 columns of bullet points and highlight attributes that are hyper-relevant to the jobs you are aiming for.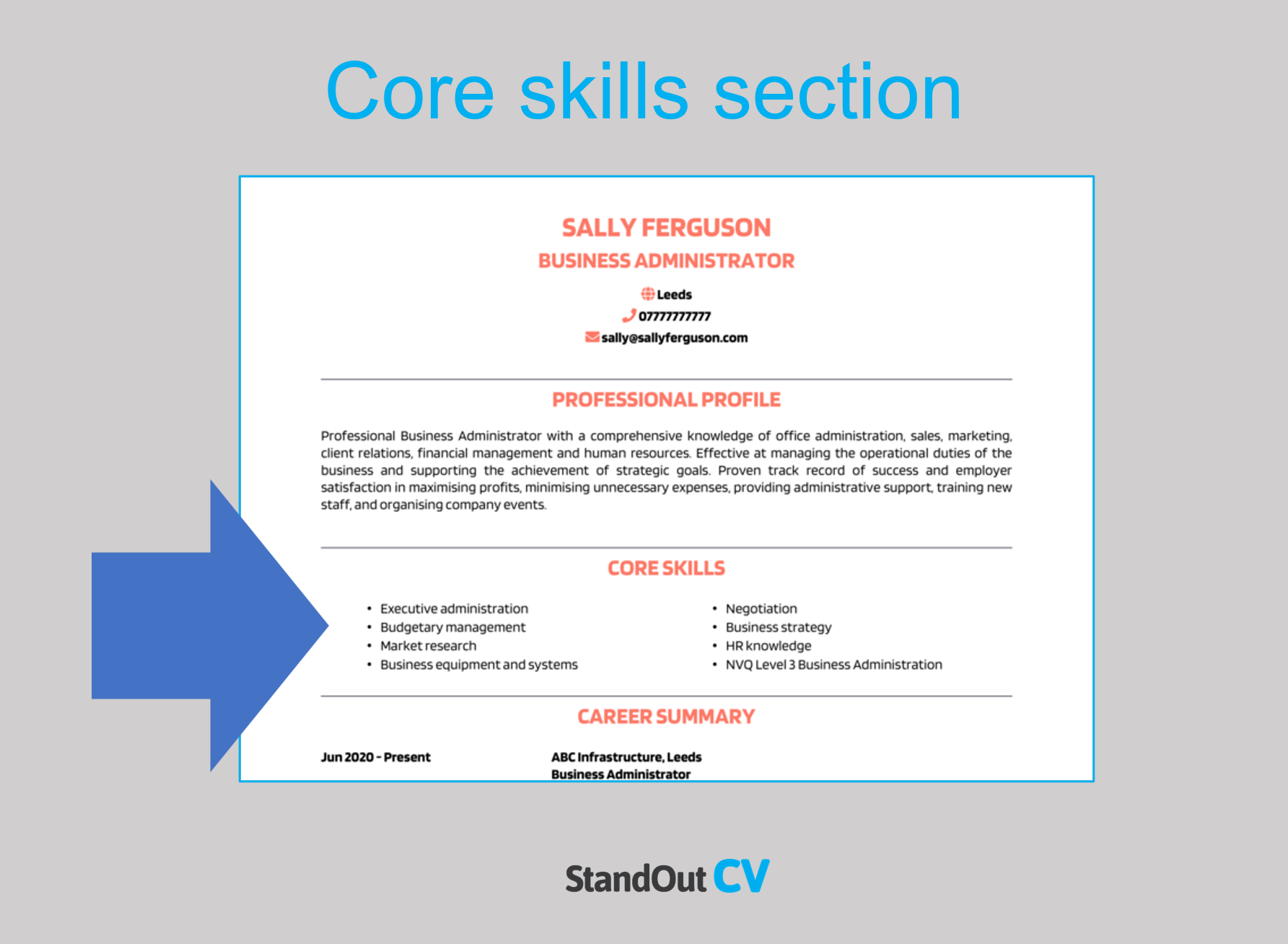 Best skills for your Banquet Manager resume
Event Planning and Coordination – Planning, organizing, and coordinating banquets and events, including scheduling, logistics, and resource management.
Food and Beverage Knowledge – Utilizing knowledge of food and beverage service, including menu planning, ordering, quality control, and adherence to safety and sanitation standards.
Team Leadership – Effectively managing and leading a banquet team, including assigning tasks, providing guidance, and fostering a positive work environment.
Customer Service – Delivering exceptional customer service, addressing guest needs and resolving any issues or concerns in a professional and timely manner.
Budgeting and Financial Management – Budgeting, cost control, and financial management to ensure profitability and adherence to budgetary constraints.
Problem Resolution – Quickly identifying and resolving issues that may arise during banquets or events, ensuring smooth operations and guest satisfaction.
Effective Communication – Effectively interacting with guests, vendors, and team members, ensuring clear and concise information exchange.
Event Sales and Marketing – Utilizing knowledge of sales and marketing strategies to promote and attract clients for banquets and events, including networking, customer relationship management, and event promotion.
Quick tip: Our partner's Resume Builder contains thousands of in-demand skills for every profession that can be added to your resume in seconds – saving you time and greatly improving your chances of landing job interviews and getting hired.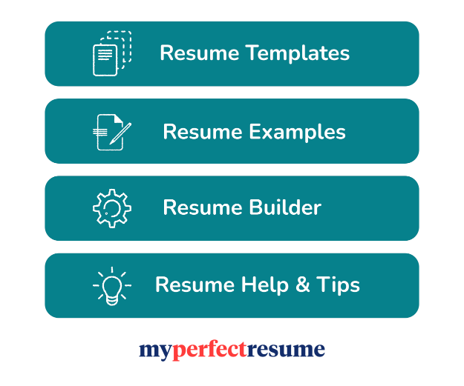 Work experience
So, you've got the recruiter interested with your catchy summary… Great work.
Now it's time to show them the impact you make in the workplace by listing out your previous jobs and what you achieved in each one.
If you have tons of experience, you can condense this part down to the last few years – if you are junior, then you should include as much possible (even volunteering and school work placements)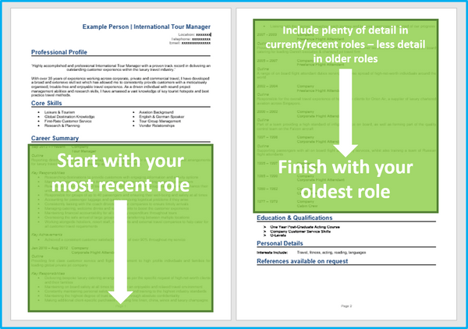 Structuring your jobs
Your job description probably includes tons of information, so it's vital to organize it well when writing about it on your resume.
Structure your jobs as like the example below to make skim-reading easy for recruiters and hiring managers.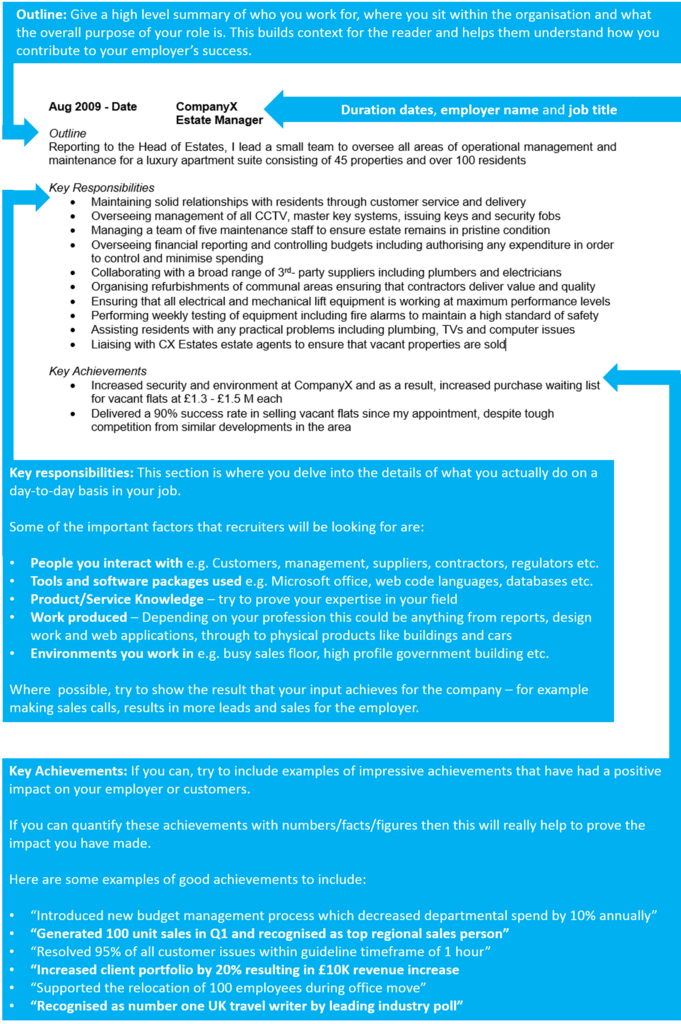 Job outline
Kick off each role with a high-level overview to summarize the focus of the job, what the organization/department does, and how you fit into the bigger picture.
Key responsibilities
The bulk of the role description should be comprised of bullet points that explain all of your duties in the job.
Keep the sentences short and simple to make them easy for recruiters to digest.
Key achievements
Show employers the value you can bring to them by adding a few achievements to your jobs.
Whether you've saved the company money or improved an internal process, let recruiters know
Add some numbers to give readers a real scale of the impact, e.g. "reduced call wait time by 10%"
Example job for Banquet Manager resume
Outline
Oversee entire aspects of banquets, fundraisers, conferences, and celebrations, for one of the most prominent luxury hotel companies in the world with 25 resorts across eight time zones and three continents, and nine more in development.
Key Responsibilities
Collaborate with customers to understand their event requirements, including the number of attendees, budgets, and special requests.
Negotiate contracts and assist in selecting appropriate spaces, menu options, and services based on preferences.
Liaise with the finance department to generate accurate invoices, track payments, and settle billing discrepancies.
Recruit, train, delegated duties to, and supervise highly motivated servers, bartenders, and ancillary personnel.
Quick tip: Create impressive job descriptions easily in our partner's Resume Builder by adding pre-written job phrases for every industry and career stage.

Education section
Near the end of your resume add your education section
Experienced candidates should keep it brief and focus on professional qualifications – and junior candidates can include high school diplomas, college degrees etc.
Additional information
The bottom of your resume is a place to add any "additional info"
Any other info that didn't fall into any of the previous sections can be added here.
If you have hobbies that are related to your profession or any awards or publications – add them here.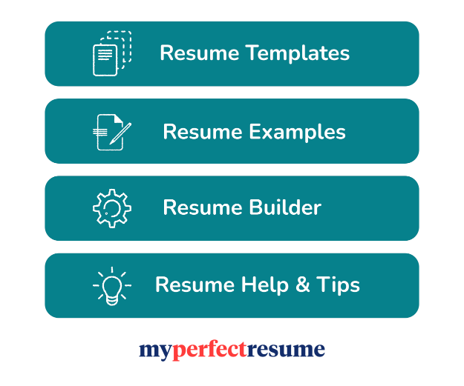 Writing your own winning Banquet Manager resume
A winning Banquet Manager resume should look great, read well, and sell your skillset to hiring managers.
If you follow the steps above, you should be able to bag yourself a top job in no time.
Good luck with your job search!