Are you looking for your next role as a bank manager? Then you need a resume that's right on the money.
But we understand that while your management skills are second to none, your resume writing may not be. This is why we've put together this handy guide to help you.
We've compiled all our top tips, along with a breakdown of each of the key sections, and a bank manager resume example for inspiration. Check them out below.
Contents
| | |
| --- | --- |
| How to write a Bank Manager resume | |

Bank Manager Resume Example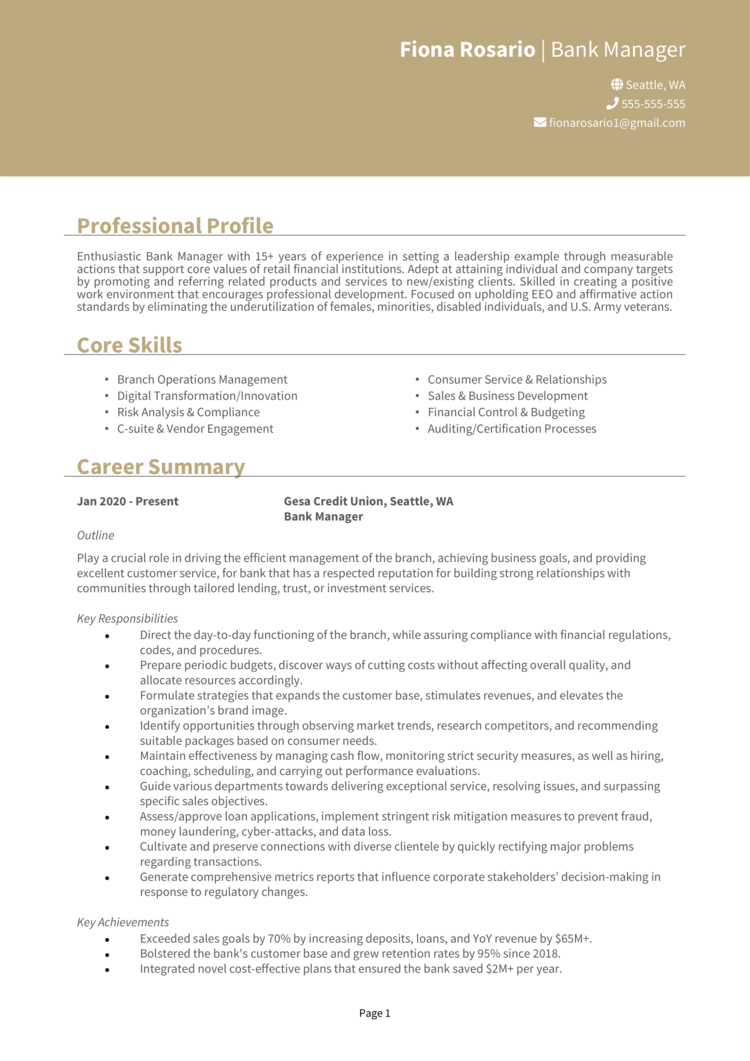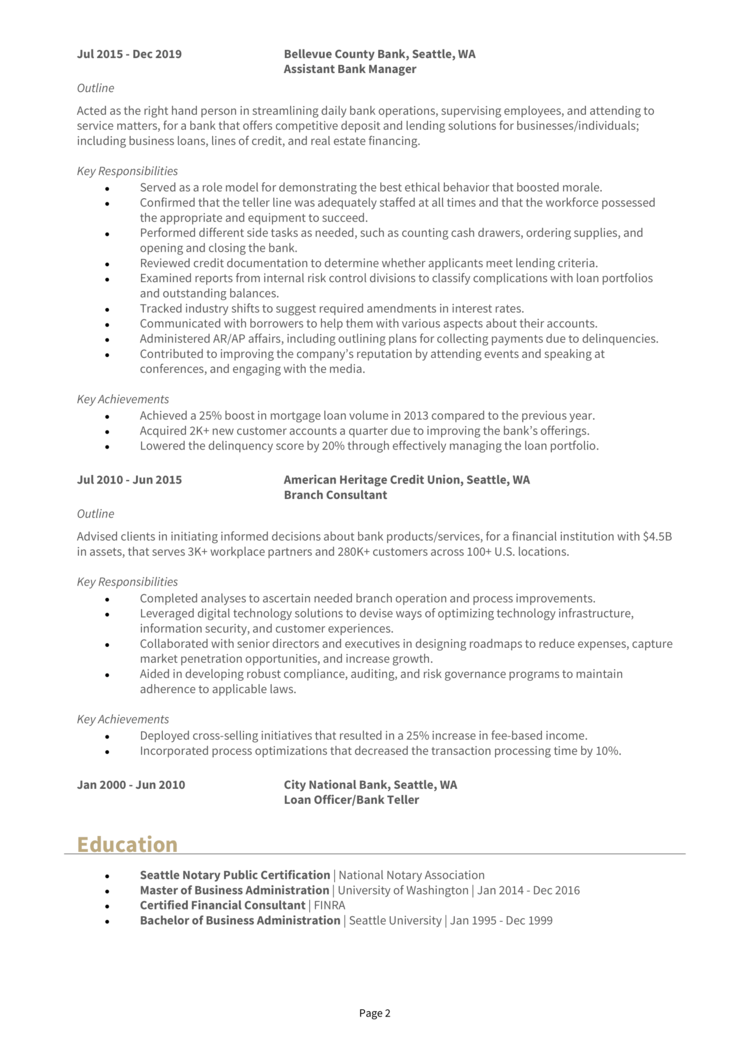 This Bank Manager resume example shows you the most effective layout for a resume in today's job market, along with the type of content you need to include.
Stick closely to these guidelines as you write your own resume, to boost your chances of getting lots of responses, interviews and job offers.
Now lets dive into the details of how you write your own eye-catching resume…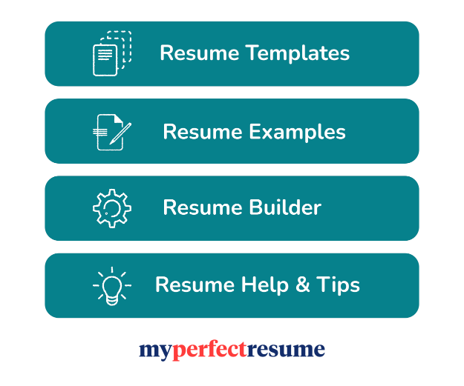 Bank Manager resume layout and format
The format and layout of your resume can make or break its success.
Sure, it's great to pack your resume with lots of impressive skills and knowledge, but if the page is not structured clearly, hiring managers will struggle to find the important stuff!
Above all, your resume should be easy-to-read and professional looking.
Follow these formatting tips to get noticed.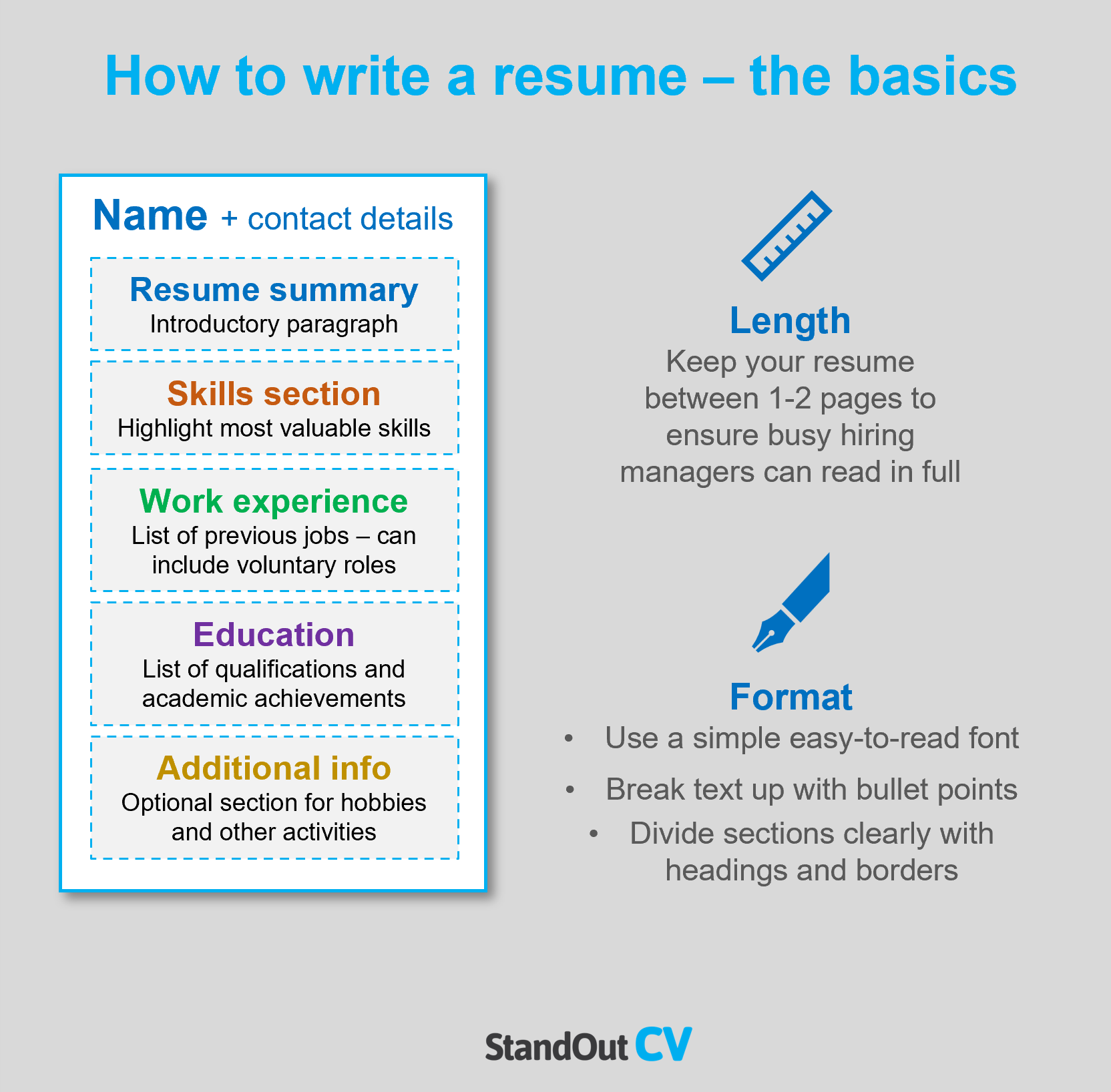 Formatting your resume
Length: To ensure that recruiters will read all of your resume, limit its length to 2 pages – as they someteimes read hundreds of resumes daily.
Font & readability: Readability is the name of the game when it comes to your resume. Ensure yours is a dream to read by using a simple clear font, and breaking the text up with plenty of bullet points and short paragraphs.
Layout & Structure: When it comes to designing your resume, it's essential to make it visually appealing, but it's equally important not to overlook functionality. To achieve this, you should organize the page into clear sections using bold headings and borders.
Photos: In the USA adding a photo to your resume is optional – you don't have to do it, but it can be a nice way to get your personality across.
Quick tip: Achieving a professional look for your resume can be difficult and time-consuming. If you want to create an attractive resume quickly, try our partner's Resume Builder and use one of their eye-catching resume templates.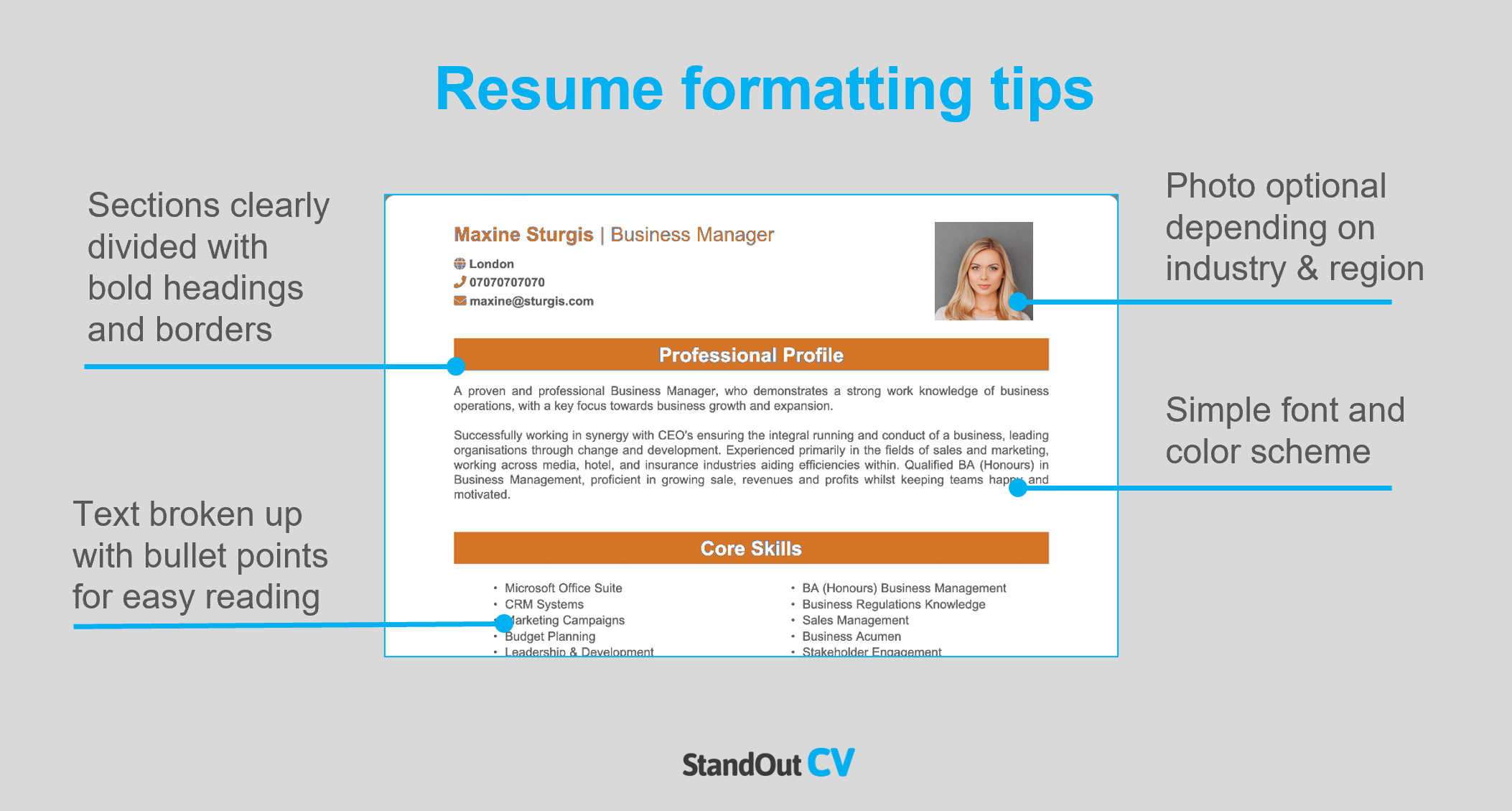 Resume layout
Divide the page into these sections when you write your own resume.
Name and contact details – Simply state who you are, and how to get in touch with you.
Resume summary – An introductory paragraph at the very top of your resume which summarizes your skills, experience and suitability for your target jobs.
Core skills section – A bullet-pointed list of your skills that relate most to your target jobs.
Work experience – A list of your current and previous jobs, including all of your responsibilities and achievements.
Education – A section that showcases all of your education and academic achievements.
Additional info (optional) – Here you can add an extra section for things like hobbies and interests, or anything else that might be relevant to your target jobs.
Here's what to include in each part of your resume.
Contact Details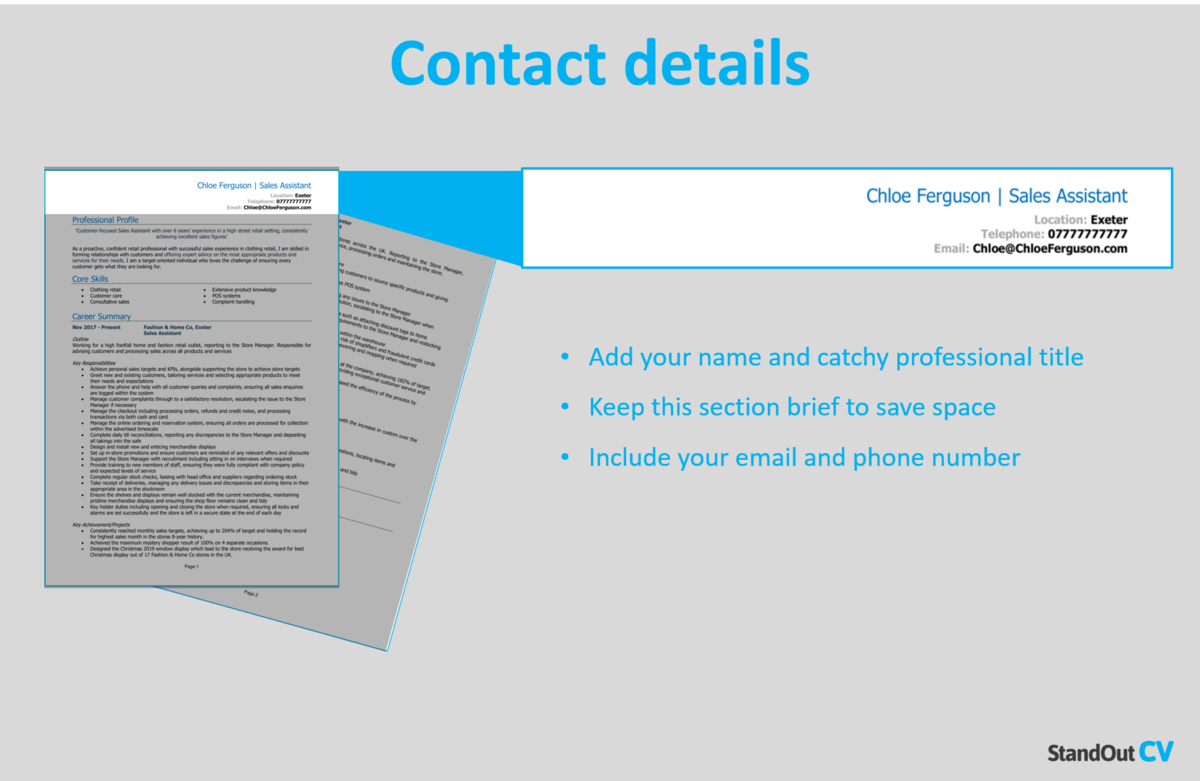 Make it easy for hiring managers to contact you by adding your contact details to the top of your resume.
Keep this section small to save space and include the following.
Name and profession title
Telephone number – Ideally your cell phone so you can answer quickly.
Location – Add your general location such as LA or New York
Email address – Use a professional looking one with no nicknames.
You can add a link to your LinkedIn profile if you have one – you do not need to include personal details like date of birth or marital status.
Bank Manager Resume Summary
Create a strong opening for your resume by adding a compelling summary to the top that highlights your most valuable skills and experience.
This short but important paragraph is designed convince recruiters that you're the perfect candidate for the job and entice them to read more of your resume.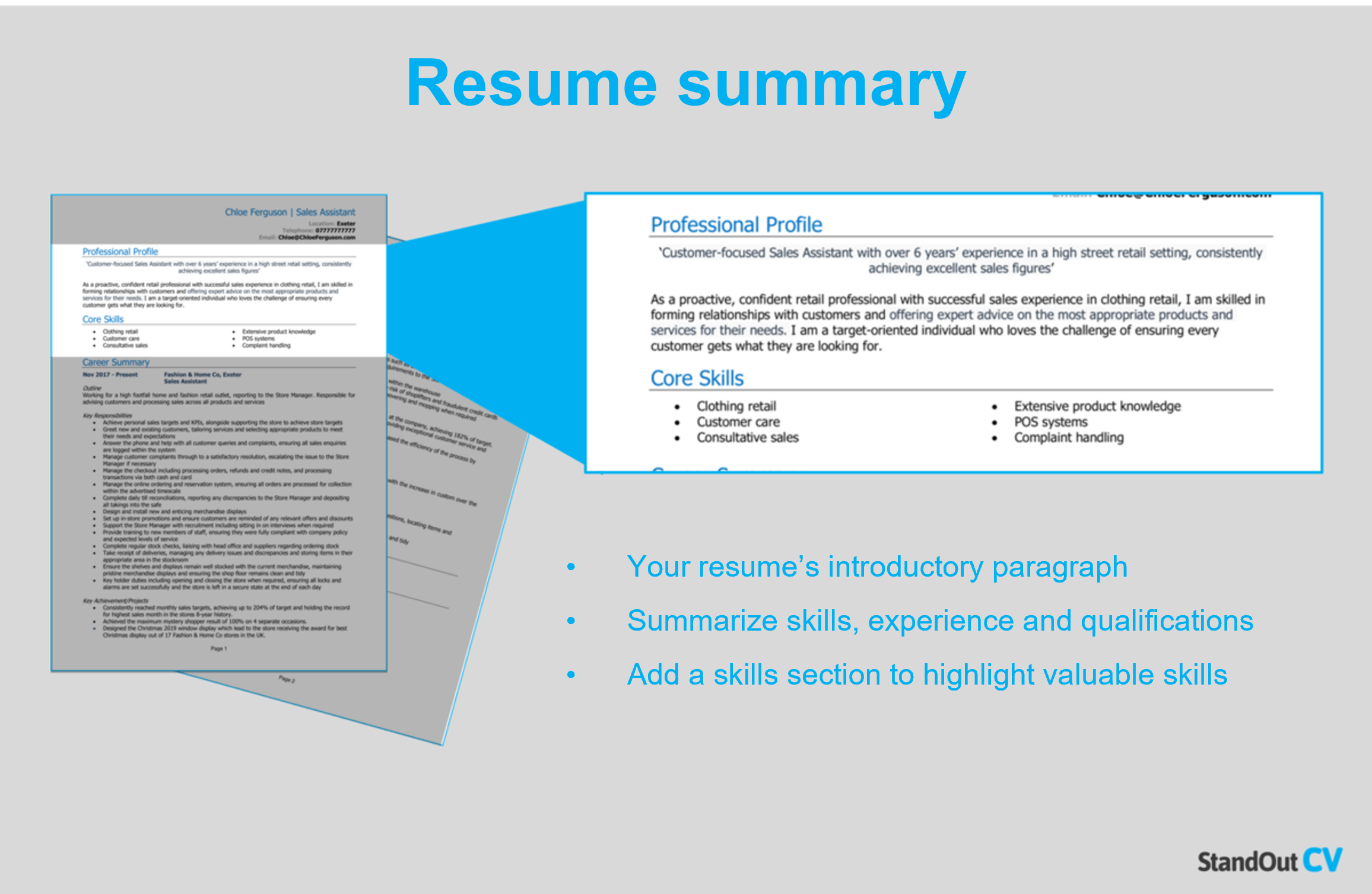 How to create a resume summary that will excite recruiters:
Keep it short: Attention spans are short in the job market, so keep your summary brief and high-level at around 4-7 lines – This is just enough to catch the eye of rushed hiring managers.
Tailor to target jobs: To mirror your target jobs, scrutinize the job description and include as many relevant skills as possible in your resume.
Avoid using cliches: Although you may believe that you're a "team player who always gives 110%," these kinds of cliches don't communicate much about your skills and qualifications to potential employers. It's more effective to stick to factual information in your resume.
Bank Manager resume summary example
Enthusiastic Bank Manager with 15+ years of experience in setting a leadership example through measurable actions that support core values of retail financial institutions. Adept at attaining individual and company targets by promoting and referring related products and services to new/existing clients. Skilled in creating a positive work environment that encourages professional development. Focused on upholding EEO and affirmative action standards by eliminating the under-utilization of females, minorities, disabled individuals, and U.S. Army veterans.
What to include in your Bank Manager resume summary?
Summary of your experience: Provide a summary of the kind of work you have previously done, along with the benefits you have delivered to the organizations you worked with.
Relevant skills: Scatter your most in-demand Bank Manager skills through your summary to ensure they are noticed quickly by hiring managers.
Qualifications: If your job requires any qualifications such as a professional course or a college degree, mention it briefly in your summary.
Quick tip: Choose from hundreds of pre-written summaries across all industries, and add one to your resume with one-click in our partner's Resume Builder. All written by recruitment experts and easily tailored to suit your unique skillset and style.
Core skills section
Underneath your summary, write a core skills section to make your most relevant skills jump off the page at readers.
It should be made up of 2-3 columns of bullet points of your relevant skills.
Before you do this, look over the job description and make a list of any specific skills, specialisms or knowledge required.
Then, make sure to use your findings in your list. This will paint you as the perfect match for the role.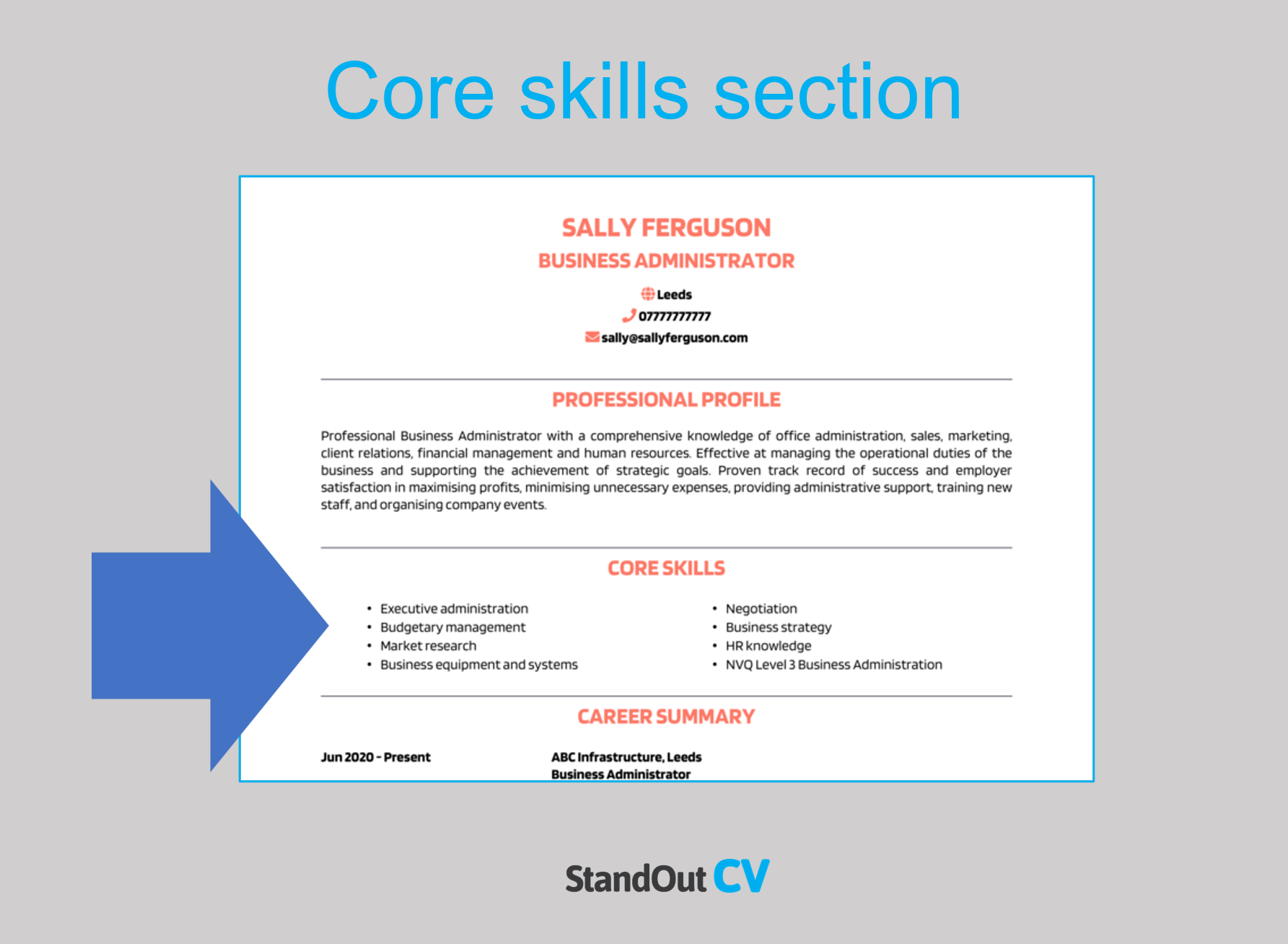 Best skills for your Bank Manager resume
Financial Management – Utilizing knowledge of financial management, including budgeting, forecasting, and financial analysis, to ensure the bank's financial stability and profitability.
Risk Management – Identifying, assessing, and managing risks associated with banking operations, such as credit risk, operational risk, and regulatory compliance.
Team Leadership – Leading and motivating a team of banking professionals, providing guidance, mentorship, and support to achieve departmental and organizational goals.
Sales and Business Development – Driving sales and business growth by developing and implementing effective sales strategies, building relationships with clients, and identifying new business opportunities.
Regulatory Compliance – Utilizing knowledge of banking laws, regulations, and compliance requirements, ensuring the bank's operations adhere to legal and regulatory frameworks, including anti-money laundering (AML) and know your customer (KYC) regulations.
Customer Service – Providing exceptional customer service, addressing customer inquiries and concerns, and resolving issues promptly to maintain high levels of customer satisfaction.
Relationship Management – Building and nurturing relationships with key clients, stakeholders, and business partners, ensuring strong business partnerships and promoting customer loyalty.
Operational Efficiency – Optimizing operational processes and procedures to enhance efficiency, reduce costs, and improve overall productivity within the bank.
Strategic Planning – Setting long-term objectives and developing action plans to achieve organizational goals, while considering market trends and competitive landscapes.
Technology and Digital Banking – Leveraging technology and digital banking solutions to enhance customer experience, streamline operations, and embrace digital transformation within the bank.
Quick tip: Our partner's Resume Builder contains thousands of in-demand skills for every profession that can be added to your resume in seconds – saving you time and greatly improving your chances of landing job interviews and getting hired.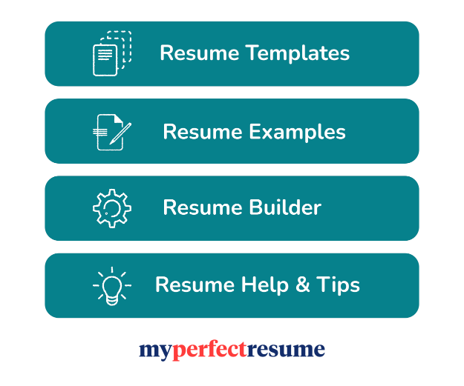 Work experience
Once you've hooked the hiring manager with your summary, you can really blow them away with you work experience.
List your previous jobs from newest to oldest to show the impact you made at each organization.
If you have years of experience, you can leave out some of the older jobs, and if you have little/no experience, you can bulk this section up with voluntary work and college placements.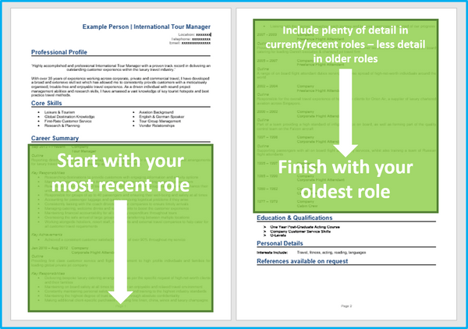 Structuring your jobs
It's easy to overwhelm readers when writing about a job you have been doing for years or even months.
Break the information up like this to keep it simple for recruiters to understand.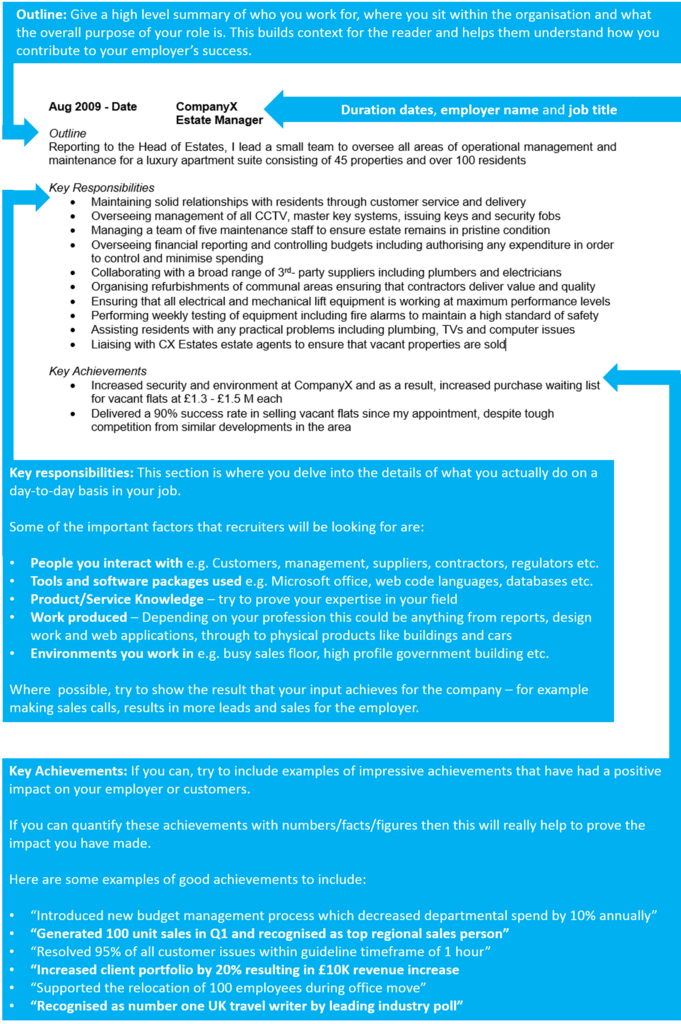 Job outline
Start with a 1-2 sentence outline of the role, summarizing what the goal of your position was, who you reported to (or managed) and the type of organization you worked for.
Key responsibilities
Next, write up a punchy list of your daily duties and responsibilities, using short bullet points.
Describe how you apply your skills and contribute to the running of the employer's business – highlighting skills which are applicable to your target jobs.
Key achievements
Round off each job by adding some impressive achievements you made in the role.
Anything you've done that has made a big impact on your employer will make a good impression, think; generating revenue, saving costs, or improving a product.
Quantify your achievements with number where possible e.g. "reduced call wait time by 10%"
Example job for Bank Manager resume
Outline
Play a crucial role in driving the efficient management of the branch, achieving business goals, and providing excellent customer service, for bank that has a respected reputation for building strong relationships with communities through tailored lending, trust, or investment services.
Key Responsibilities
Direct the day-to-day functioning of the branch, while assuring compliance with financial regulations, codes, and procedures.
Prepare periodic budgets, discover ways of cutting costs without affecting overall quality, and allocate resources accordingly.
Formulate strategies that expands the customer base, stimulates revenues, and elevates the organization's brand image.
Identify opportunities through observing market trends, research competitors, and recommending suitable packages based on consumer needs.
Quick tip: Create impressive job descriptions easily in our partner's Resume Builder by adding pre-written job phrases for every industry and career stage.

Education section
Near the end of your resume add your education section
Experienced candidates should keep it brief and focus on professional qualifications – and junior candidates can include high school diplomas, college degrees etc.
Additional information
If you have anything else to add which is relevant to the jobs you are applying for, the additional info section is the place to add it.
Perhaps you have a hobby which involves relevant skills, or maybe you have some awards or publications worth mentioning.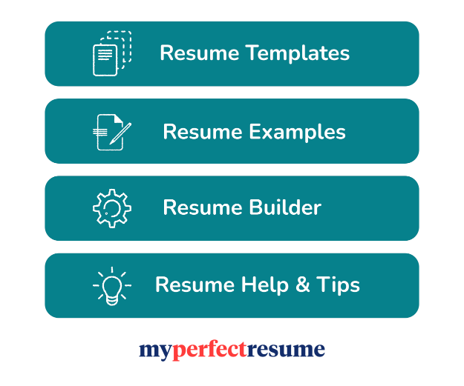 Writing your own winning Bank Manager resume
A winning Bank Manager resume should look great, read well, and sell your skillset to hiring managers.
If you follow the steps above, you should be able to bag yourself a top job in no time.
Good luck with your job search!