You spend your days with your head in the cloud, but if you want to land your next developer role, it's time to come back down to earth and perfect your resume.
You need to make sure you're showcasing your impressive programming skills, and name-dropping any languages that you're proficient in.
But we understand that it's not always as easy as it sounds, which is why we've put together this step-by-step guide and Azure developer resume example to help you.
Contents
| | |
| --- | --- |
| How to write your Azure Developer resume | |

Azure Developer Resume Example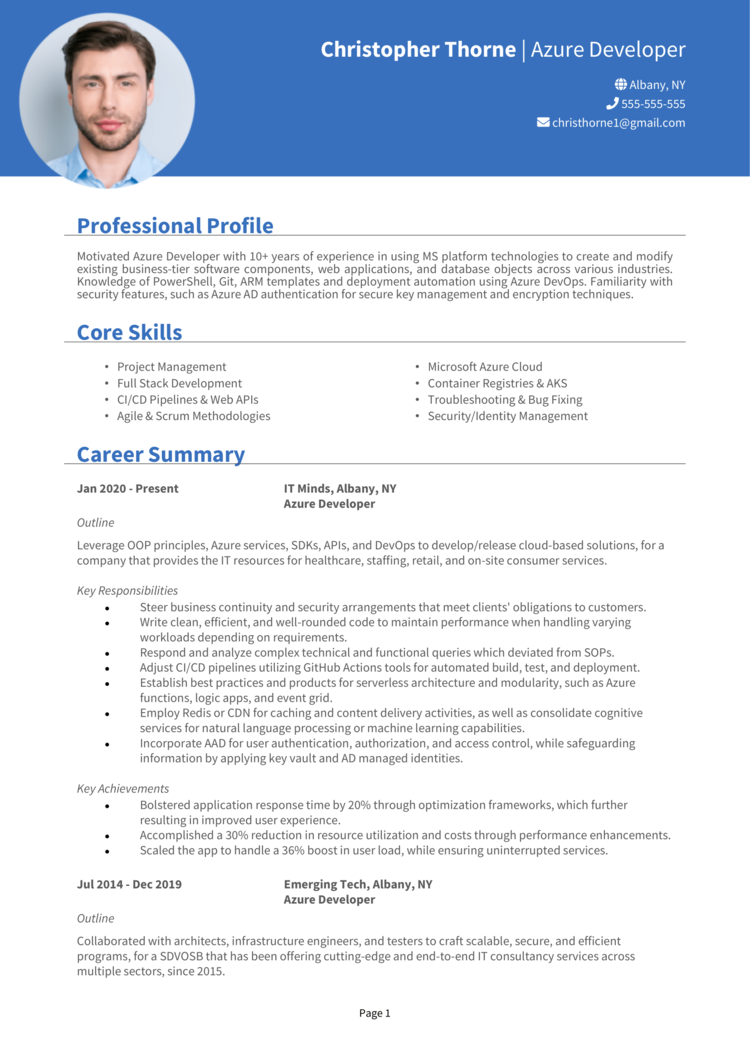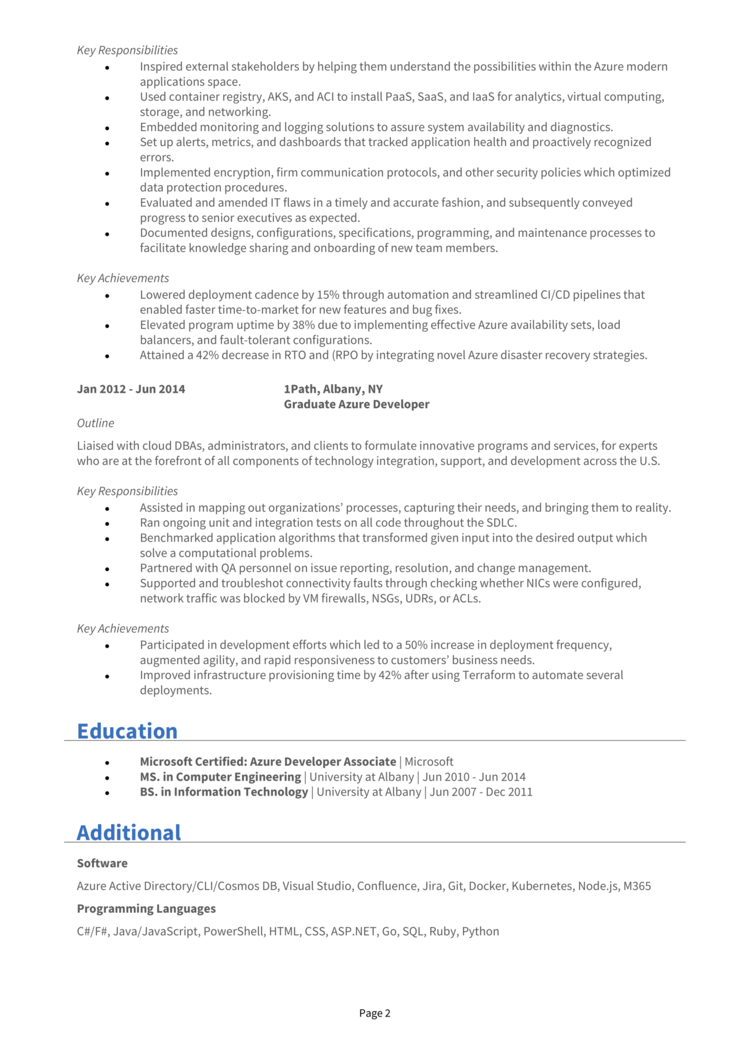 This example Azure Developer resume is well-structured to provide a pleasant reading experience for recruiters, and contains all of the crucial information they want to see.
The rest of the guide will show you exactly how you can achieve this in your own resume.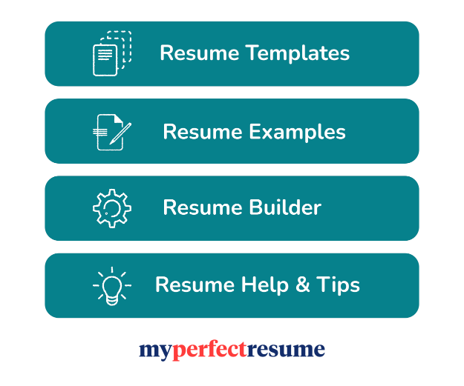 Azure Developer resume layout and format
Your resume layout and format will play a big role in helping hiring managers to take notice of your resume and stay glued to it.
Shoot for a simple yet professional look to ensure you make a strong first impression, and organize the page in a way that is easy for readers to digest the information.
The following formatting tips should help.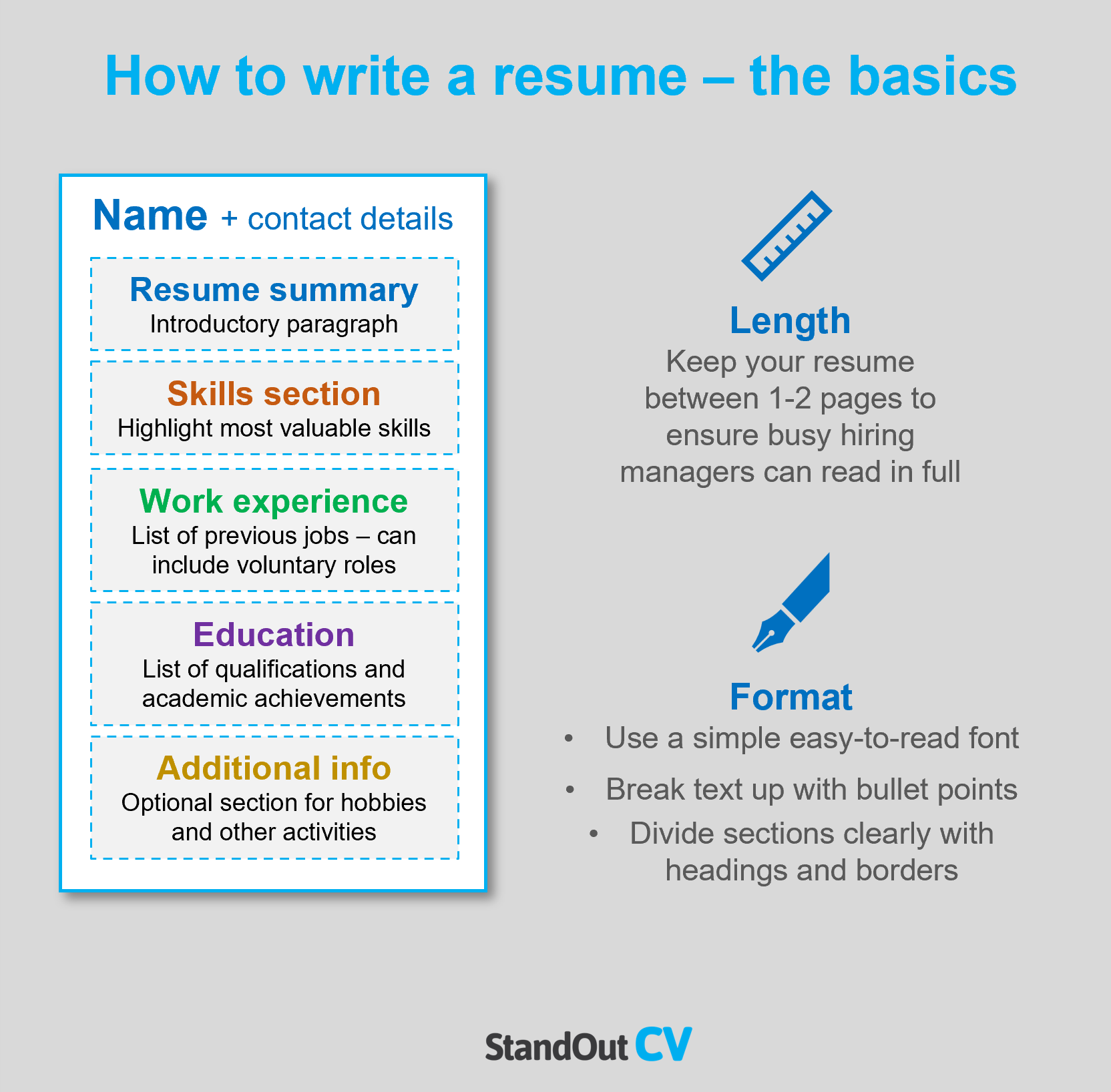 Formatting your resume
Length: Attention spans in recruitment are notoriously short, so keep your resume short and sweet. There's no exact rule for resume length, but aim for 2 pages or less if you want to ensure yours gets read in full.
Font & readability: To create a resume that is easily digestible for hiring managers, it's essential to use an uncomplicated font and structure your content with bullet points and short paragraphs.
Layout: A visually appealing resume is important, but don't forget about functionality. To ensure a functional design, use bold headings and borders to organize the page into clear sections.
Photos: While a photo is not usually necessary on your resume in the United States, it may be beneficial to include one in regions and industries where it is customary.
Quick tip: Achieving a professional look for your resume can be difficult and time-consuming. If you want to create an attractive resume quickly, try our partner's Resume Builder and use one of their eye-catching resume templates.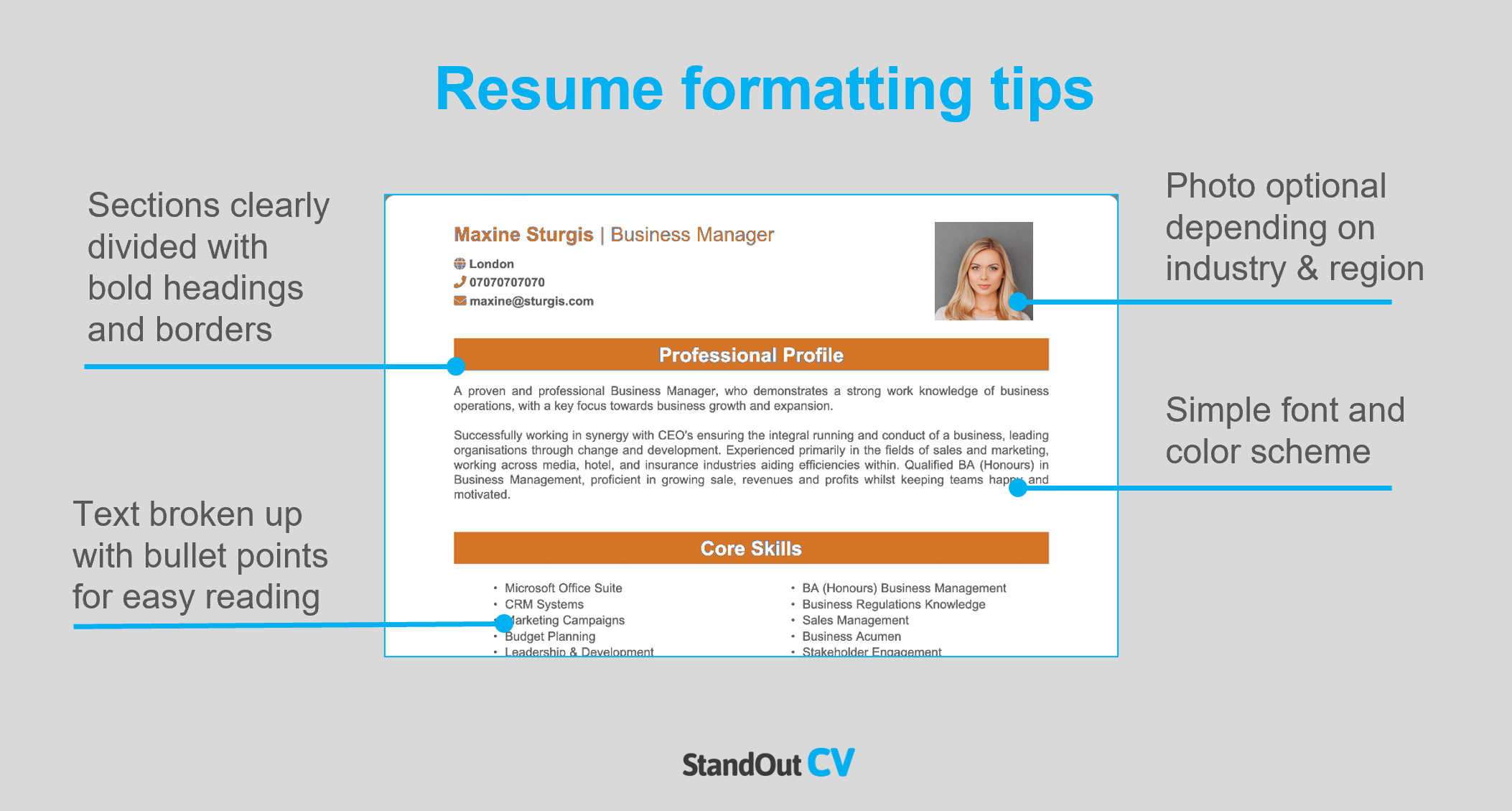 Resume layout
Divide the page into these sections when you write your own resume.
Name and contact details – Simply state who you are, and how to get in touch with you.
Resume summary – An introductory paragraph at the very top of your resume which summarizes your skills, experience and suitability for your target jobs.
Core skills section – A bullet-pointed list of your skills that relate most to your target jobs.
Work experience – A list of your current and previous jobs, including all of your responsibilities and achievements.
Education – A section that showcases all of your education and academic achievements.
Additional info (optional) – Here you can add an extra section for things like hobbies and interests, or anything else that might be relevant to your target jobs.
Here's what to add to each section of your Azure Developer resume.
Contact Details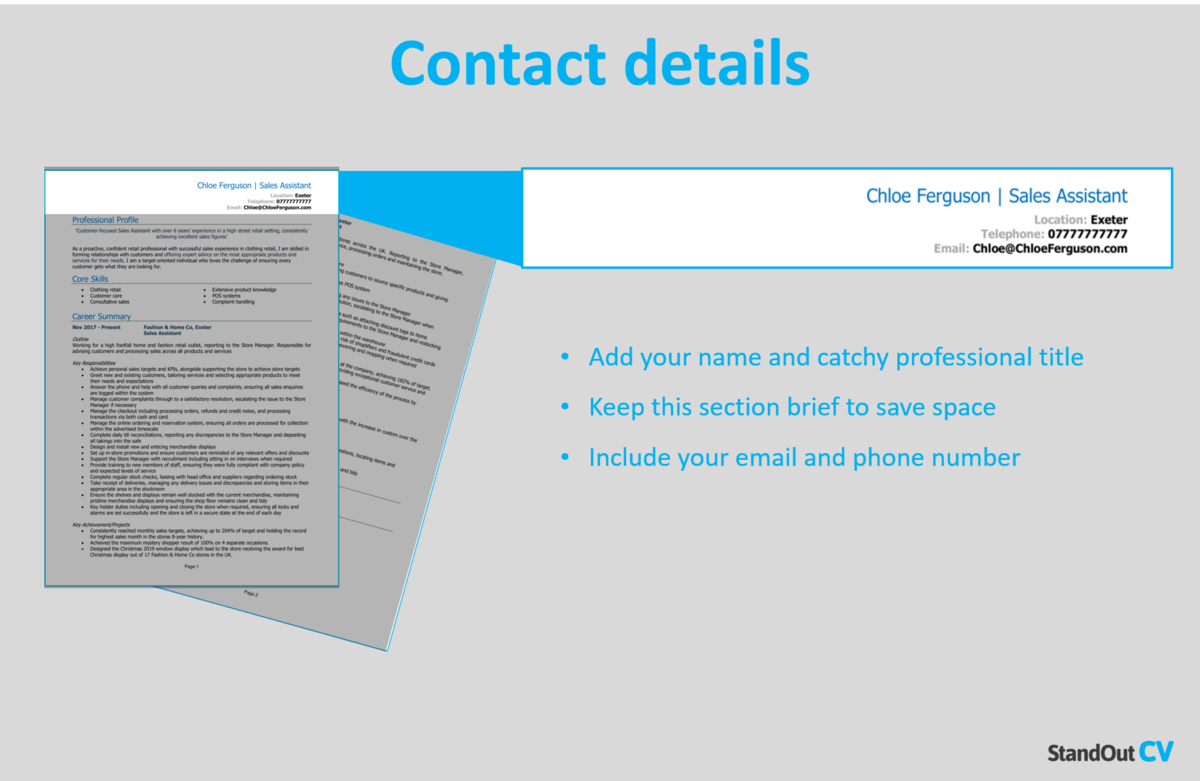 Add your name and contact details to the header of your resume, so that anybody reading can easily see how to contact you.
Name and profession title
Cell phone number – or any number you are easily reachable on
Location – Add your local area such as Washington or San Diego – not your full address as that will take up too much space.
Email address – Use a professional looking address.
You can add a link to your LinkedIn profile if you have one – you do not need to include personal details like date of birth or religion.
Azure Developer Resume Summary
Start your resume with a bang by adding a powerful summary to the top, summarizing your most valuable skills and experience.
This short paragraph is your chance to show recruiters why you are a perfect fit for the job and encourage them to read more of your resume.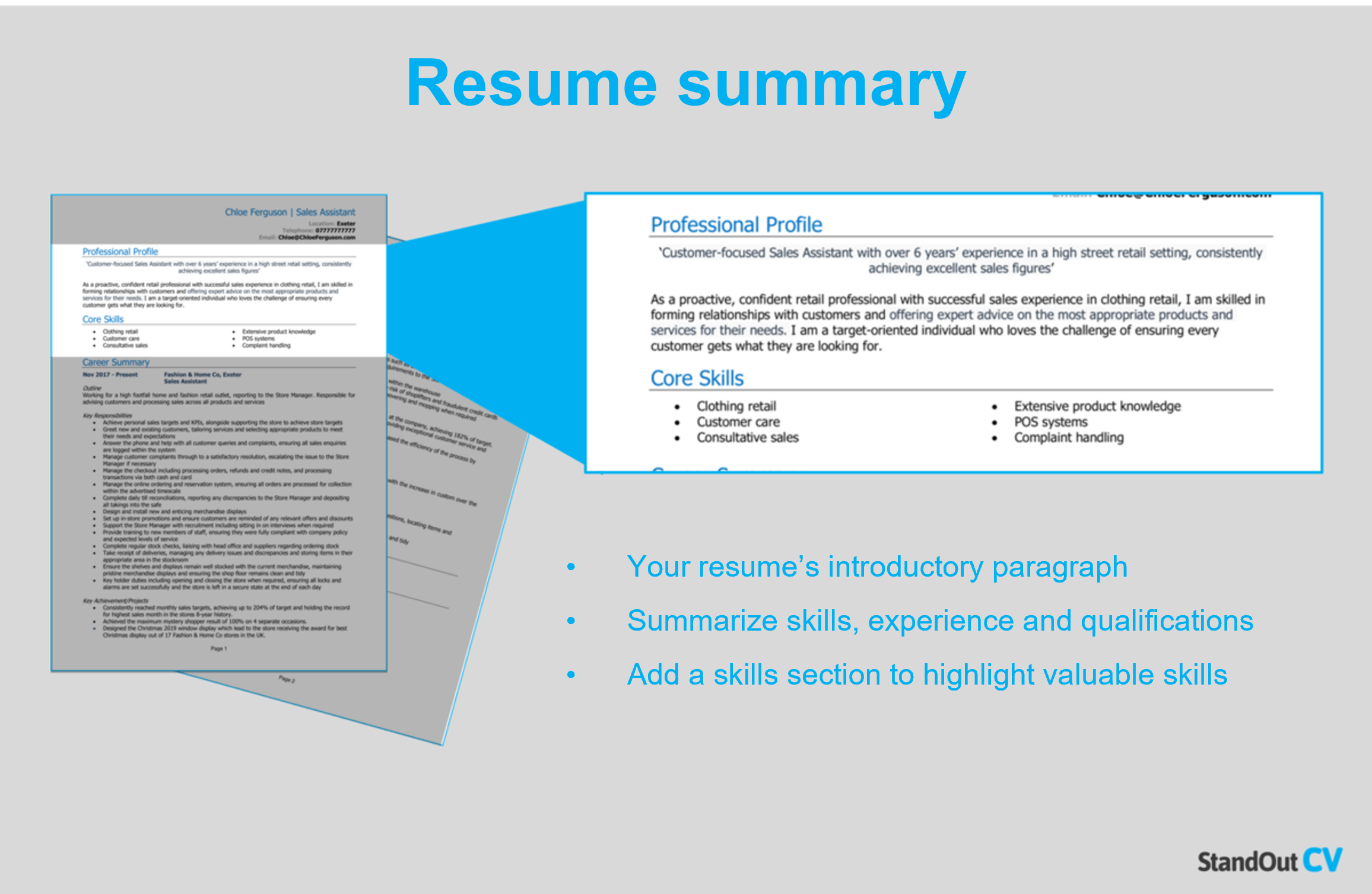 How to create a resume summary that will excite recruiters:
Keep it short: You only have a few seconds to grab a recruiters' attention and make them commit to your resume, so keep your summary between 4 – 7 lines.
Tailor to target jobs: To make your resume more relevant to your target jobs, analyze the job description and include as many matching skills as possible.
Avoid using cliches: Recruiters always see cringey cliches like "hardworking guru who works well in a team or individually" – they don't mean much to anyone, so focus your summary on tangible skills and experience.
Azure Developer resume summary example
Motivated Azure Developer with 10+ years of experience in using MS platform technologies to create and modify existing business-tier software components, web applications, and database objects across various industries. Knowledge of PowerShell, Git, ARM templates and deployment automation using Azure DevOps. Familiarity with security features, such as Azure AD authentication for secure key management and encryption techniques.
What to include in your Azure Developer resume summary?
Summary of your experience: What kind of companies have you worked for in the past? And which jobs have you carried out?
Relevant skills: Scatter your most in-demand Azure Developer skills through your summary to ensure they are noticed quickly by hiring managers.
Qualifications: To make a strong impression on potential employers when applying for Azure Developer jobs, be sure to mention any relevant qualifications in your summary.
Quick tip: Choose from hundreds of pre-written summaries across all industries, and add one to your resume with one-click in our partner's Resume Builder. All written by recruitment experts and easily tailored to suit your unique skillset and style.
Core skills section
Your core skills section, positioned just below your resume summary, provides recruiters with a quick glance at 4-10 of your most in-demand skills.
For Azure Developer jobs, where hiring managers may receive hundreds of applications, this section can help you stand out and immediately grab their attention.
To be effective, this section should consist of 2-3 columns of bullet points that highlight attributes that are highly relevant to the jobs you are targeting.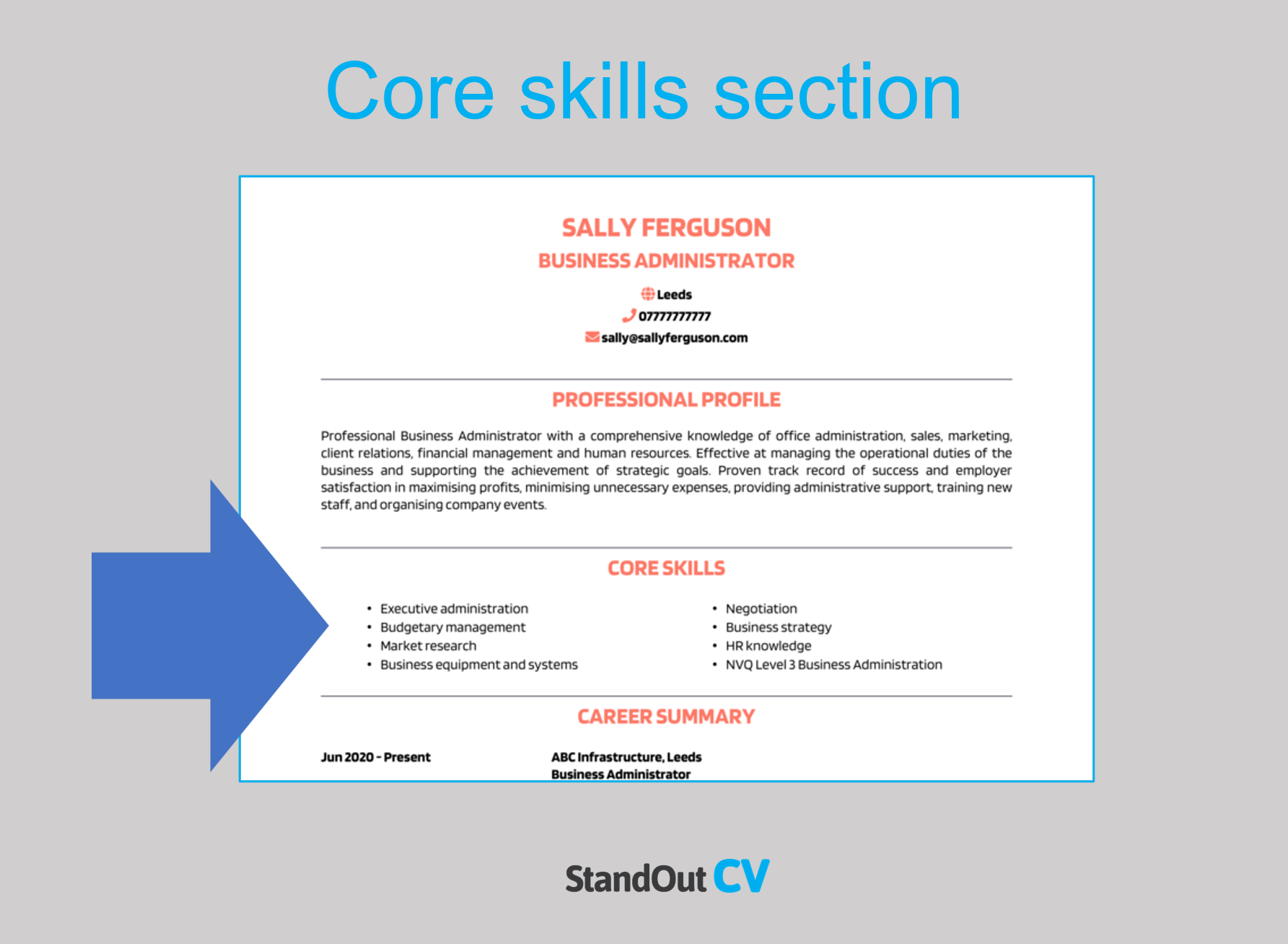 Best skills for your Azure Developer resume
Azure Services – Maintaining an in-depth knowledge of various Azure services such as Azure App Service, Azure Functions, Azure Logic Apps, Azure Storage, Azure SQL Database, and Azure Cosmos DB, among others.
Azure Resource Management – Utilizing Azure Resource Manager (ARM) templates to provision, deploy, and manage Azure resources in a declarative manner.
Serverless Computing – Developing serverless applications using Azure Functions and Logic Apps to build scalable and event-driven solutions.
API Development – Designing and building APIs using Azure API Management or other frameworks to expose and consume services securely.
Identity and Access Management (IAM) – Utilizing knowledge of Azure Active Directory (AAD) and integration with applications to implement authentication and authorization mechanisms.
Continuous Integration and Deployment (CI/CD) – Utilizing knowledge of Azure DevOps, GitHub Actions, or other CI/CD tools to automate build, test, and deployment pipelines for Azure applications.
Monitoring and Diagnostics – Utilizing Azure Monitor, Azure Application Insights, and other monitoring tools to gain insights into application performance, availability, and errors.
Security and Compliance – Maintaining familiarity with Azure security best practices, encryption, secure coding principles, and compliance standards to ensure application security and data protection.
Cloud Architecture – Utilizing knowledge of cloud design patterns and principles for developing scalable, reliable, and highly available applications on Azure.
Troubleshooting and Debugging – Troubleshooting issues in Azure applications, including log analysis, performance optimization, and error debugging.
Quick tip: Our partner's Resume Builder contains thousands of in-demand skills for every profession that can be added to your resume in seconds – saving you time and greatly improving your chances of landing job interviews and getting hired.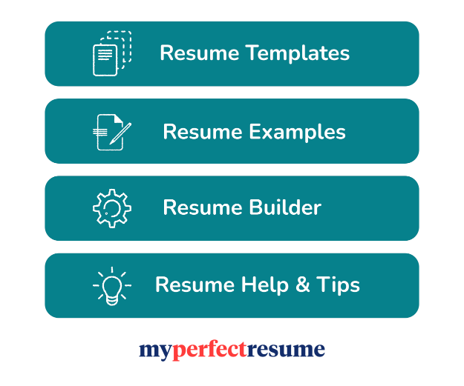 Work experience
So, you've got the recruiter interested with your catchy summary… Great work.
Now it's time to show them the impact you make in the workplace by listing out your previous jobs and what you achieved in each one.
If you have tons of experience, you can condense this part down to the last few years – if you are junior, then you should include as much possible (even volunteering and school work placements)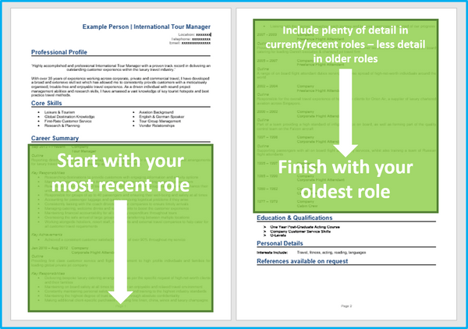 Structuring your jobs
It's easy to overwhelm readers when writing about a job you have been doing for years or even months.
Break the information up like this to keep it simple for recruiters to understand.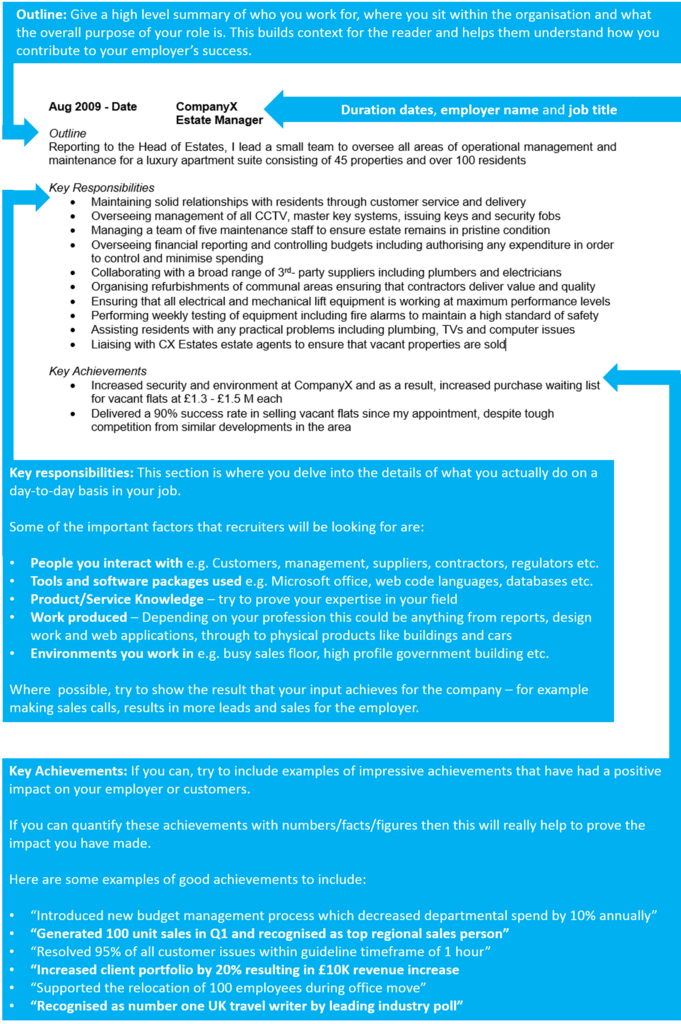 Job outline
Starting each job with a brief summary of the organization, your position within it, and the primary goal of your role can help recruiters quickly understand the context of your work.
Key responsibilities
The bulk of the role description should be comprised of bullet points that explain all of your duties in the job.
Keep the sentences short and simple to make them easy for recruiters to digest.
Key achievements
Show employers the value you can bring to them by adding a few achievements to your jobs.
Whether you've saved the company money or improved an internal process, let recruiters know
Add some numbers to give readers a real scale of the impact, e.g. "reduced call wait time by 10%"
Example job for Azure Developer resume
Outline
Leverage OOP principles, Azure services, SDKs, APIs, and DevOps to develop/release cloud-based solutions, for a company that provides the IT resources for healthcare, staffing, retail, and on-site consumer services.
Key Responsibilities
Steer business continuity and security arrangements that meet clients' obligations to customers.
Write clean, efficient, and well-rounded code to maintain performance when handling varying workloads depending on requirements.
Respond and analyze complex technical and functional queries which deviated from SOPs.
Adjust CI/CD pipelines utilizing GitHub Actions tools for automated build, test, and deployment.
Quick tip: Create impressive job descriptions easily in our partner's Resume Builder by adding pre-written job phrases for every industry and career stage.

Education section
Near the end of your resume add your education section.
Experienced candidates should keep it brief and focus on professional qualifications – and junior candidates can include high school diplomas, college degrees etc.
Additional information
The additional info section is optional but can be useful if you have anything else to add that could benefit your application.
For example, you may have some hobbies and interests that are relevant to your job – or you might have awards or publications to shout about.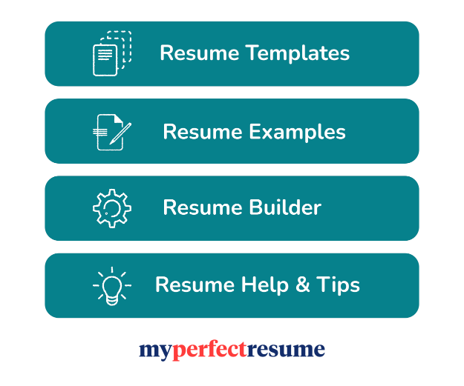 Writing your own winning Azure Developer resume
Crafting a strong Azure Developer resume can be a daunting task, but implementing the steps outlined above will significantly increase your chances of securing multiple interview opportunities.
Good luck with your job search!