A good assistant nurse manager can delegate, solve problems and advocate for patients, the tricky part is proving all of this on paper.
But the good news is, we've created a step-by-step guide that will show you how to inject some life into your resume and prove you've got what it takes.
Find out how to highlight your skills, training, and experience and make the most of our assistant nurse manager resume example below.
Contents
| | |
| --- | --- |
| How to write your Assistant Nurse Manager resume | |

Assistant Nurse Manager Resume Example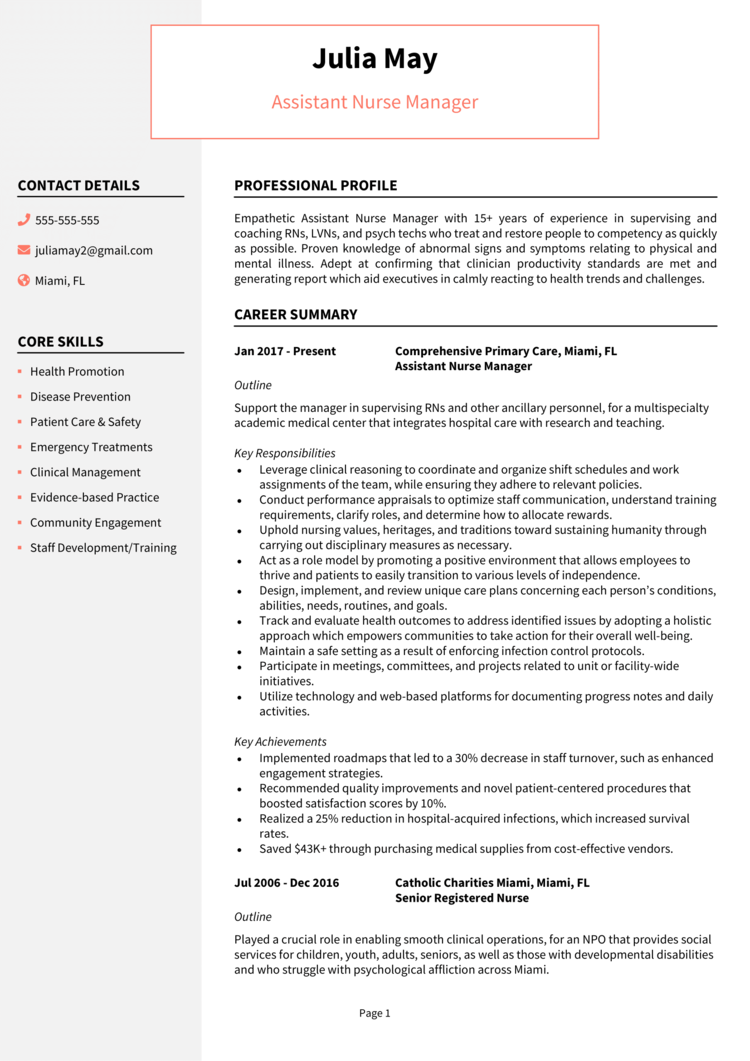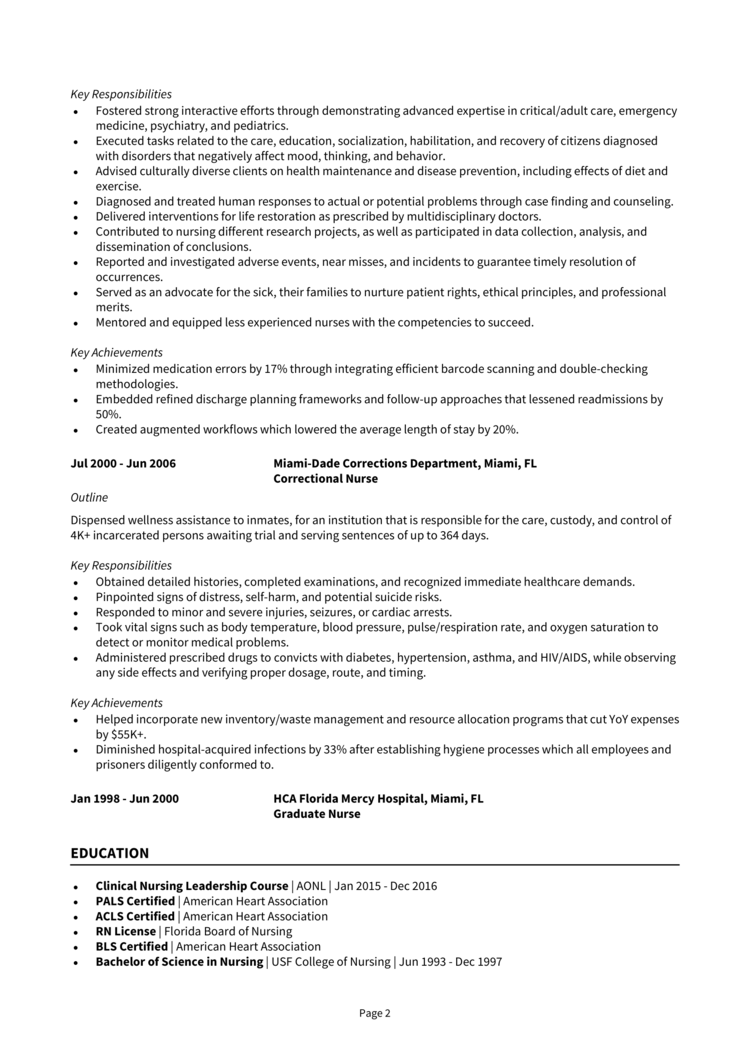 The example Assistant Nurse Manager resume above shows you how a professional resume should look, along with the type of content it should contain.
You can see that the information is well-organized across the page and its easy for busy recruiters to see the candidate's important skills.
Keep this in mind when writing your own resume.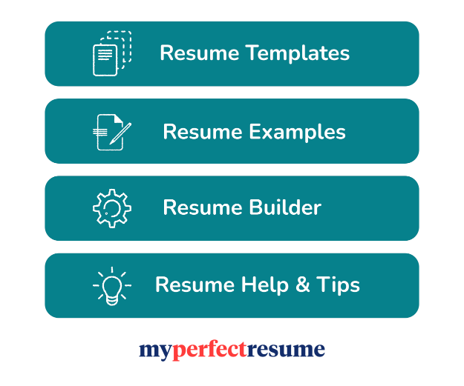 Assistant Nurse Manager resume layout and format
When it comes to holding the attention of recruiting managers, the format and layout of your resume play a key role.
Your resume needs to strike a perfect balance between looking awesome, and being easy for recruiters to read (which is not always easy to achieve)
Use the following formatting tips to get started.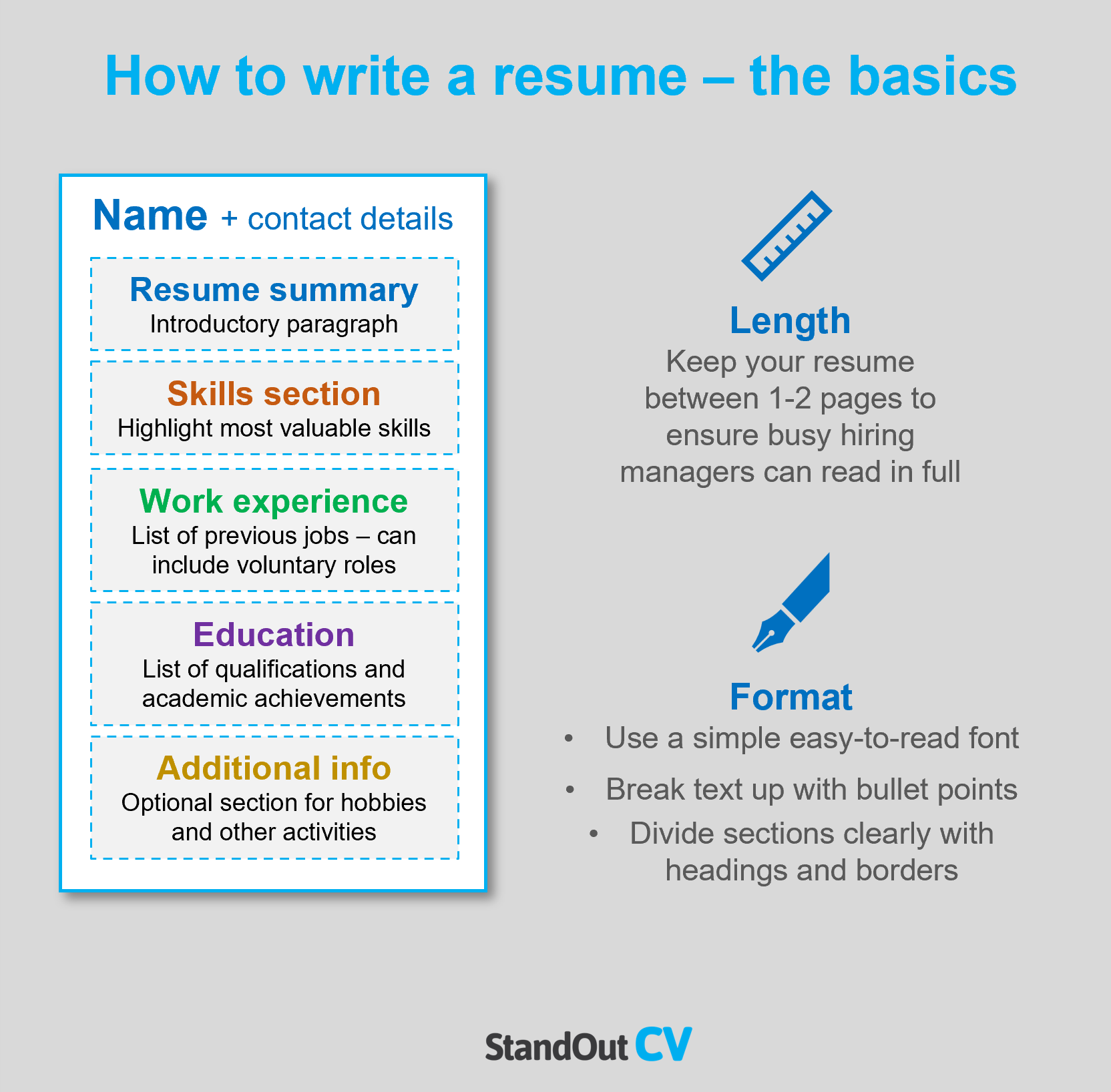 Formatting your resume
Length: Given that recruiters have to sift through tons of resumes daily, it's recommended to keep your resume brief (no more than 2 pages) to make sure it receives their full attention.
Font & readability: Simplicity and a pleasant reading experience are crucial if you want to highlight your most valuable skills to recruiters. Use a clear font (avoid fancy ones) and break up the text in your resume with bullet points to ensure information can be easily consumed.
Layout: While creating an attractive resume, it is crucial not to compromise functionality for design. To ensure both, use bold headings and borders to structure the page into clear sections.
Photos: You don't have to add a photo to your resume in the States, but some regions and industries like to see them.
Quick tip: Achieving a professional look for your resume can be difficult and time-consuming. If you want to create an attractive resume quickly, try our partner's Resume Builder and use one of their eye-catching resume templates.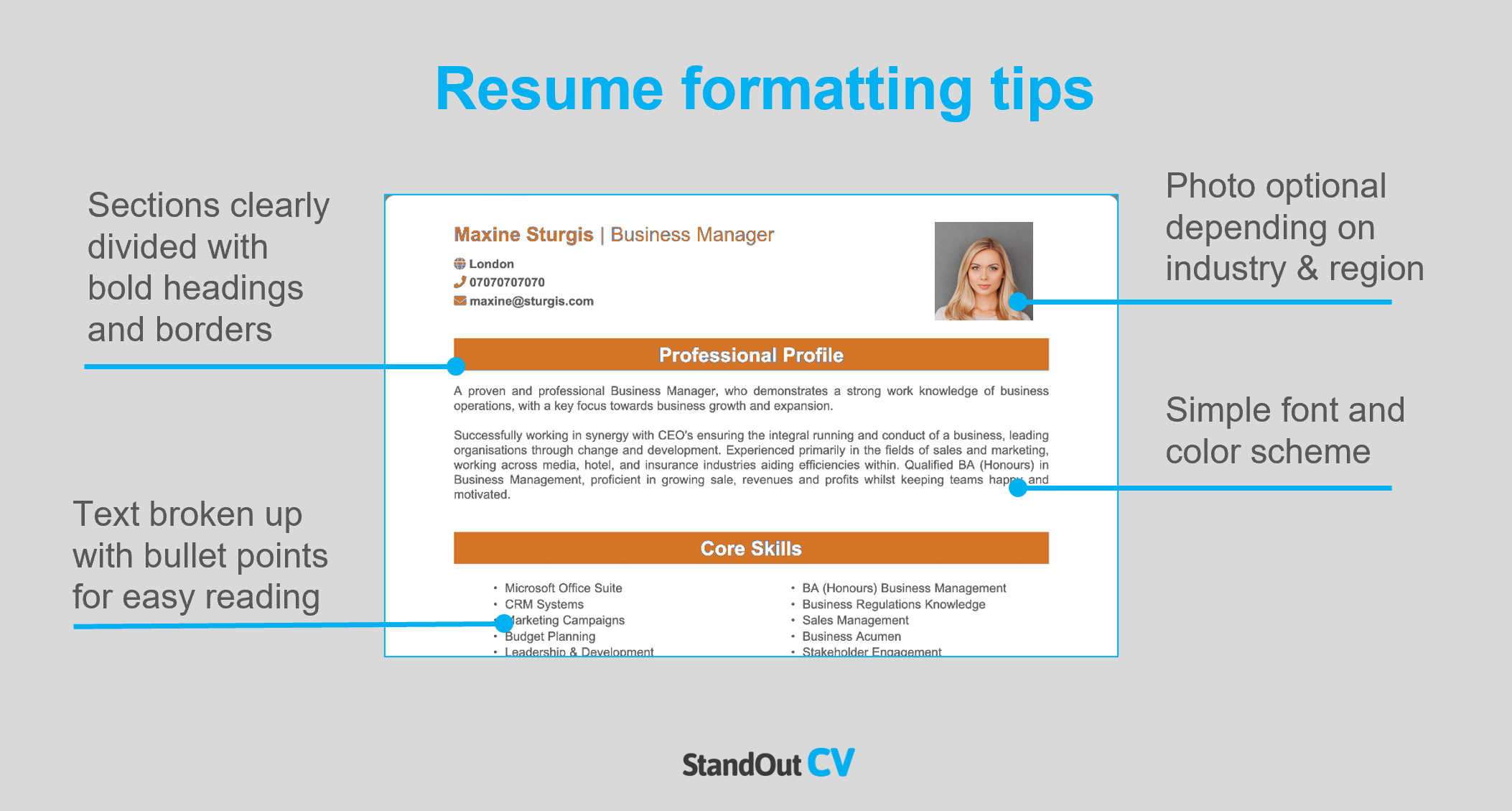 Resume layout
Divide the page into these sections when you write your own resume.
Name and contact details – Simply state who you are, and how to get in touch with you.
Resume summary – An introductory paragraph at the very top of your resume which summarizes your skills, experience and suitability for your target jobs.
Core skills section – A bullet-pointed list of your skills that relate most to your target jobs.
Work experience – A list of your current and previous jobs, including all of your responsibilities and achievements.
Education – A section that showcases all of your education and academic achievements.
Additional info (optional) – Here you can add an extra section for things like hobbies and interests, or anything else that might be relevant to your target jobs.
Here's what to add to each section of your Assistant Nurse Manager resume.
Contact Details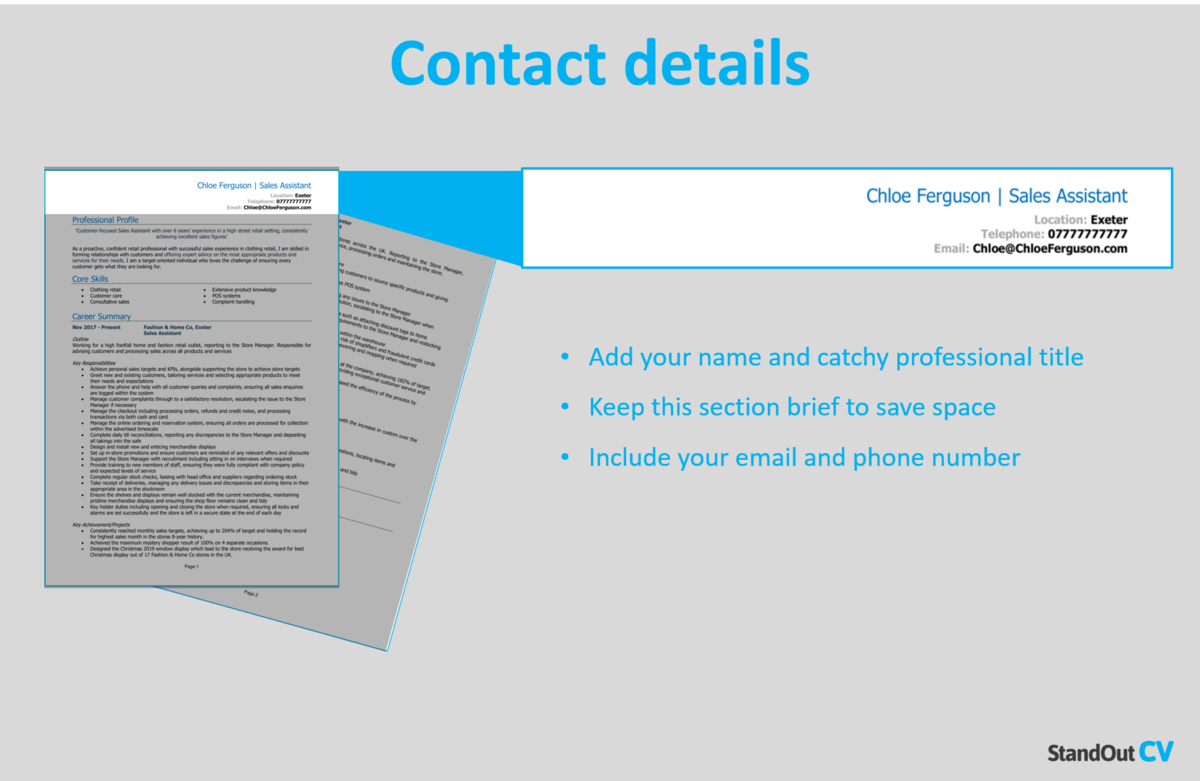 Keep your contact details short to save resume space and include the following.
Name and profession title
Cell phone number
Location – Add your local area such as Silicon Valley or New York, unless you are looking for work in a different location
Email address – Keep it professional and don't use an old address that you thought was cool in high school, but now looks a bit embarrassing.
You can add a link to your LinkedIn profile if you have one – you do not need to include personal details like date of birth or marital status.
Assistant Nurse Manager Resume Summary
Start your resume with a bang by adding a powerful summary to the top, summarizing your most valuable skills and experience.
This short paragraph is your chance to show recruiters why you are a perfect fit for the job and encourage them to read more of your resume.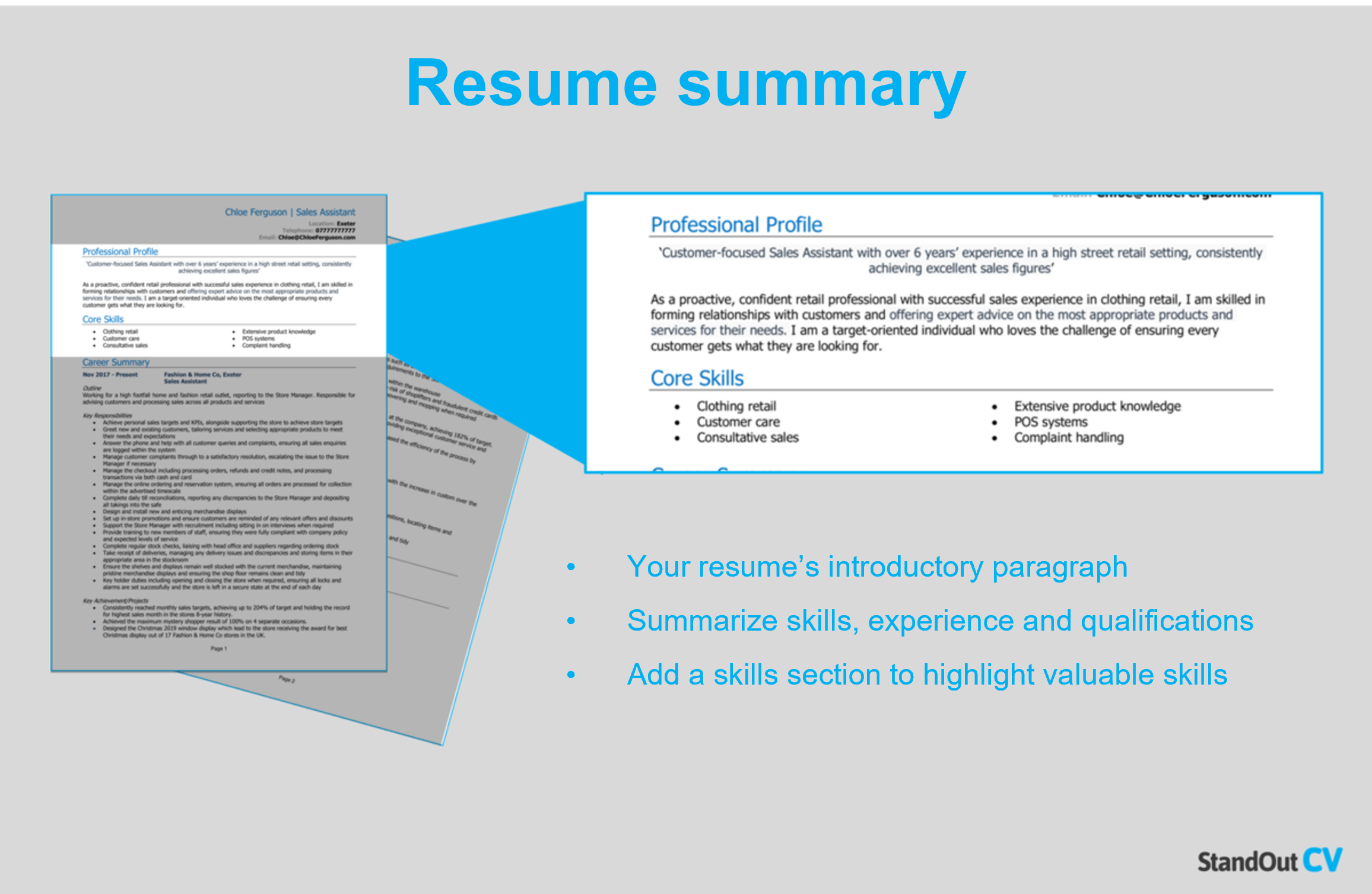 How to create a resume summary that will excite recruiters:
Keep it short: A concise and focused resume summary is essential for capturing a recruiter's attention and keeping them engaged. Limiting your summary to 4-7 lines ensures that you make a strong impression in the first few seconds of them opening the document.
Tailor to target jobs: Optimize your summary to match the requirements of your target jobs, by mirroring the key words from the job description as closely as possible.
Avoid using cliches: Recruiters always see cringey cliches like "hardworking guru who works well in a team or individually" – they don't mean much to anyone, so focus your summary on tangible skills and experience.
Assistant Nurse Manager resume summary example
Empathetic Assistant Nurse Manager with 15+ years of experience in supervising and coaching RNs, LVNs, and psych techs who treat and restore people to competency as quickly as possible. Proven knowledge of abnormal signs and symptoms relating to physical and mental illness. Adept at confirming that clinician productivity standards are met and generating report which aid executives in calmly reacting to health trends and challenges.
What to include in your Assistant Nurse Manager resume summary?
Summary of your experience: What type of organizations have you worked at? What types of roles have you done and what have you contributed to previous employers?
Relevant skills: Highlight your skills which are most relevant to Assistant Nurse Manager jobs, to ensure that recruiters see your most in-demand skills as soon as they open your resume.
Qualifications: Mention any Assistant Nurse Manager qualifications that are important to your profession in the summary briefly, to show you are qualified to carry out the role.
Quick tip: Choose from hundreds of pre-written summaries across all industries, and add one to your resume with one-click in our partner's Resume Builder. All written by recruitment experts and easily tailored to suit your unique skillset and style.
Core skills section
Your core skills section, positioned just below your resume summary, provides recruiters with a quick glance at 4-10 of your most in-demand skills.
For Assistant Nurse Manager jobs, where hiring managers may receive hundreds of applications, this section can help you stand out and immediately grab their attention.
To be effective, this section should consist of 2-3 columns of bullet points that highlight attributes that are highly relevant to the jobs you are targeting.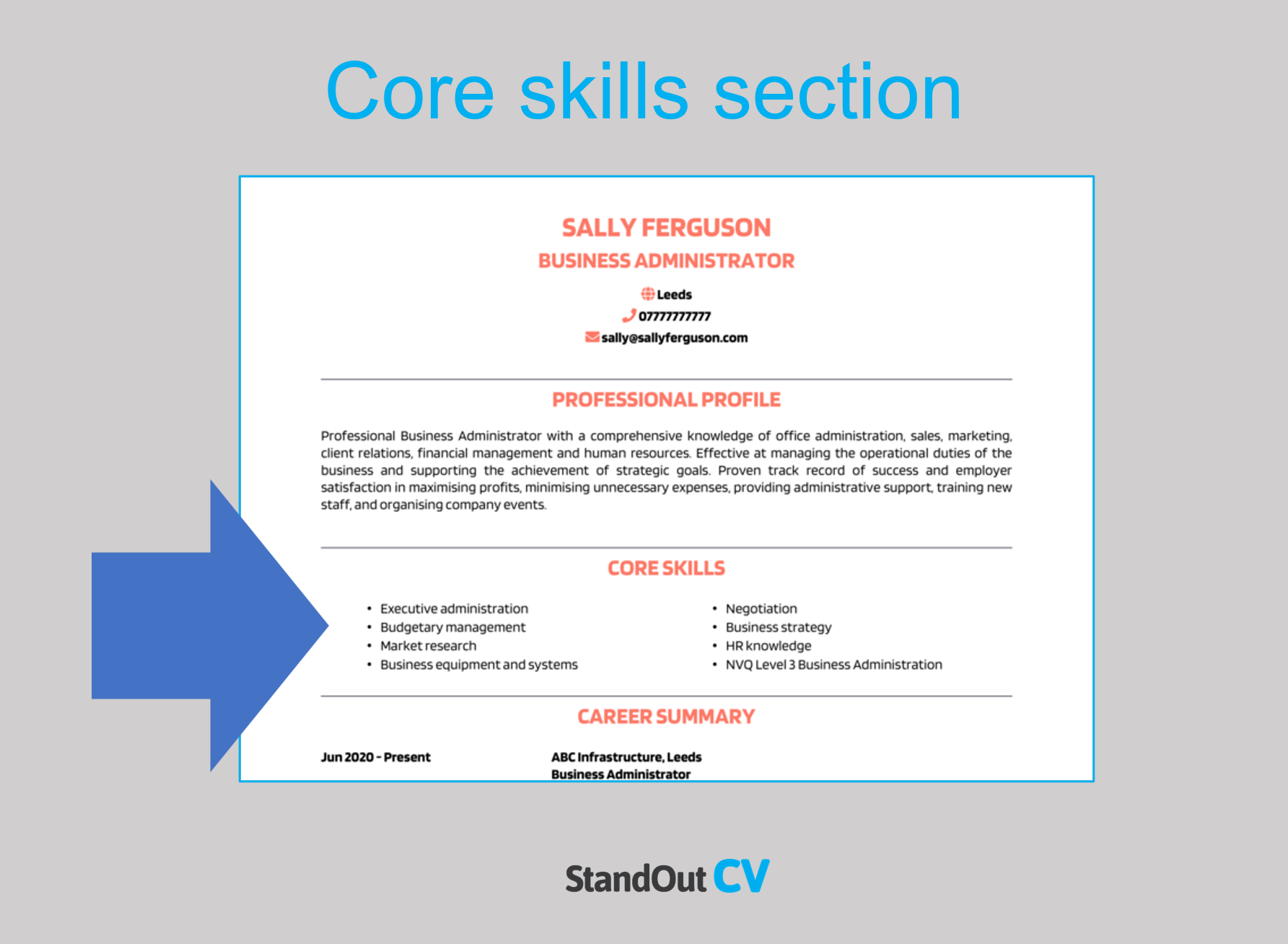 Best skills for your Assistant Nurse Manager resume
Clinical Expertise – Maintaining an in-depth knowledge and proficiency in clinical skills and procedures relevant to the healthcare setting, allowing for effective decision-making and guidance to the nursing staff.
Leadership – Providing direction, mentorship, and support to the nursing team, promoting a positive work environment, and facilitating effective teamwork.
Staff Management – Managing and allocating nursing staff resources, including scheduling, performance evaluations, and ensuring adequate coverage to meet patient care needs.
Patient Care Coordination – Coordinating and overseeing patient care activities, including admissions, discharges, and transitions, ensuring smooth continuity of care.
Quality Assurance – Utilizing knowledge of quality improvement principles to monitor and evaluate the quality of nursing care, identify areas for improvement, and implement evidence-based practices.
Multi-disciplinary Communication – Interacting effectively with healthcare professionals, patients, and families, and facilitate clear and concise information exchange.
Problem Resolution – Identifying and addressing complex problems and challenges in the healthcare environment, finding practical solutions, and making informed decisions.
Compliance and Regulatory Knowledge – Utilizing knowledge of healthcare regulations, policies, and accreditation standards to ensure adherence to legal and ethical requirements and promote patient safety.
Technology Proficiency – Utilizing healthcare information systems, electronic medical records, and other relevant technologies to support efficient documentation, data management, and workflow optimization.
Continuous Learning – Maintaining a commitment to staying updated with advancements in healthcare, nursing practices, and evidence-based guidelines, and willingness to pursue professional development opportunities.
Quick tip: Our partner's Resume Builder contains thousands of in-demand skills for every profession that can be added to your resume in seconds – saving you time and greatly improving your chances of landing job interviews and getting hired.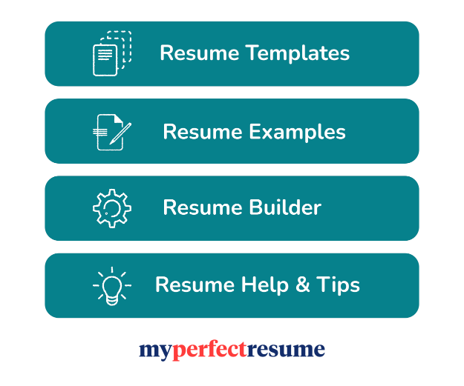 Work experience
So, you've got the recruiter interested with your catchy summary… Great work.
Now it's time to show them the impact you make in the workplace by listing out your previous jobs and what you achieved in each one.
If you have tons of experience, you can condense this part down to the last few years – if you are junior, then you should include as much possible (even volunteering and school work placements)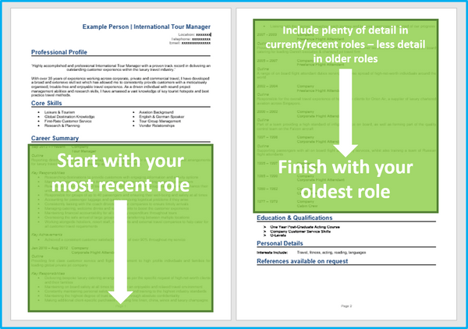 Structuring your jobs
You probably do a lot in your job, so its vital to break all of that information down into a good structure.
Structure your jobs as follows to make it easy for recruiters to skim through and pinpoint the essential info.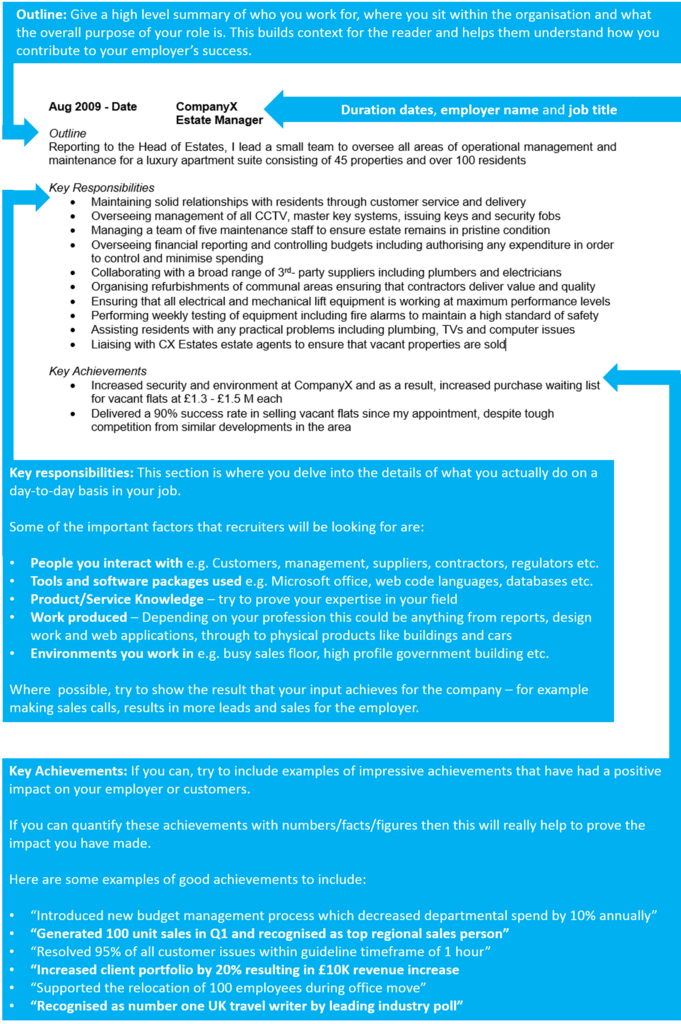 Job outline
Begin each job with a short summary of who the organization is, where you sit within it, and what the main goal of your position is.
Key responsibilities
Then delve into the detail of your job by listing out easy-to-read bullet points which show how you apply your skills in the workplace.
Tailor these bullet points to focus on the skills and knowledge that are required in the jobs you are applying for.
Key achievements
Show employers the value you can bring to them by adding a few achievements to your jobs.
Whether you've saved the company money or improved an internal process, let recruiters know
Add some numbers to give readers a real scale of the impact, e.g. "reduced call wait time by 10%"
Example job for Assistant Nurse Manager resume
Outline
Support the manager in supervising RNs and other ancillary personnel, for a multispecialty academic medical center that integrates hospital care with research and teaching.
Key Responsibilities
Leverage clinical reasoning to coordinate and organize shift schedules and work assignments of the team, while ensuring they adhere to relevant policies.
Conduct performance appraisals to optimize staff communication, understand training requirements, clarify roles, and determine how to allocate rewards.
Uphold nursing values, heritages, and traditions toward sustaining humanity through carrying out disciplinary measures as necessary.
Act as a role model by promoting a positive environment that allows employees to thrive and patients to easily transition to various levels of independence.
Quick tip: Create impressive job descriptions easily in our partner's Resume Builder by adding pre-written job phrases for every industry and career stage.

Education section
Towards the bottom of your resume, add your education section.
Here you should list your professional qualifications and academic record, such as high school diplomas or college degrees.
If you have lots of work experience, you can keep this section brief (because recruiters will be more interested in your career. If you have little/no experience then you should bulk this section up with plenty of detail.
Additional information
If you have anything else to add which is relevant to the jobs you are applying for, the additional info section is the place to add it.
Perhaps you have a hobby which involves relevant skills, or maybe you have some awards or publications worth mentioning.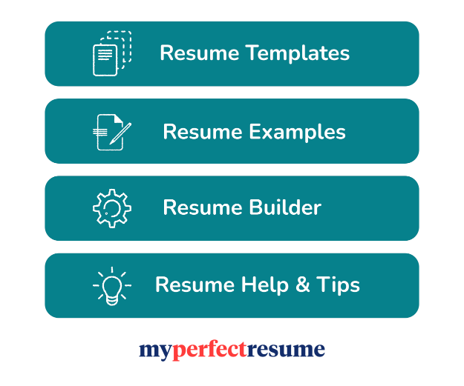 Writing your own winning Assistant Nurse Manager resume
Following the steps in this guide will help you to create a winning Assistant Nurse Manager resume and bag lots of interviews.
Good luck with your job search!