Are you hoping to land an apprenticeship this year and take the next step in your career?
This can be a great way to gain on-the-job experience and boost your resume. The problem is, you need an engaging resume to help you get the position in the first place.
So, to help you create an application that will get you noticed and beat out the competition, check out our step-by-step guide and apprentice resume example below.
Contents
| | |
| --- | --- |
| How to write your Apprentice resume | |

Apprentice Resume Example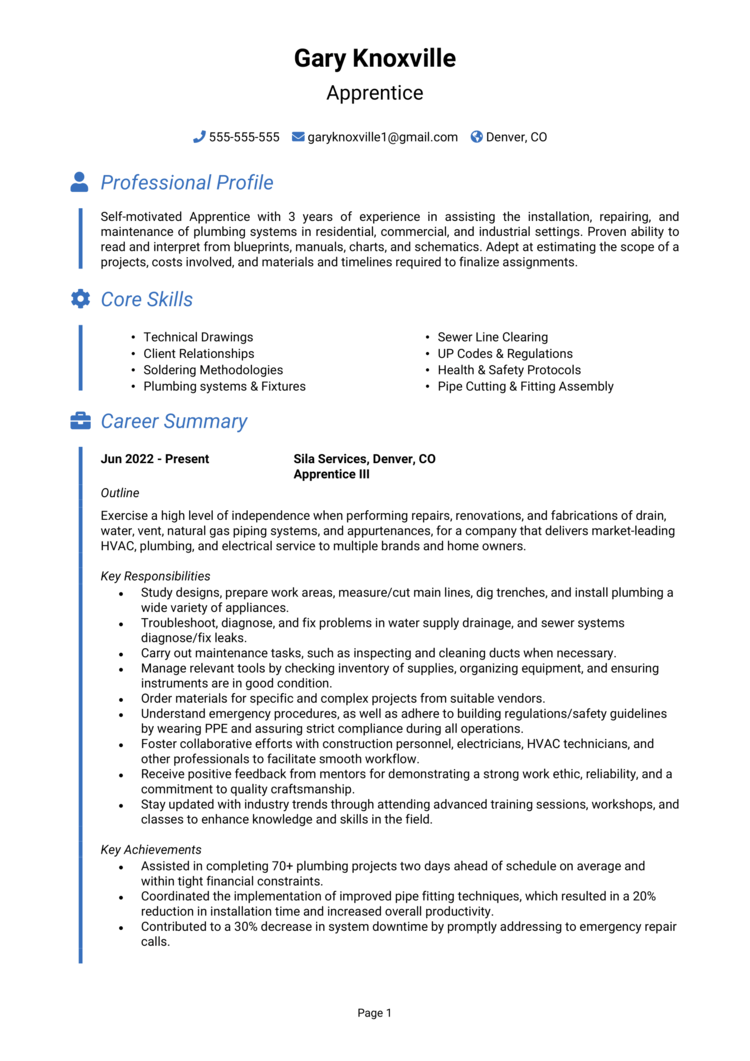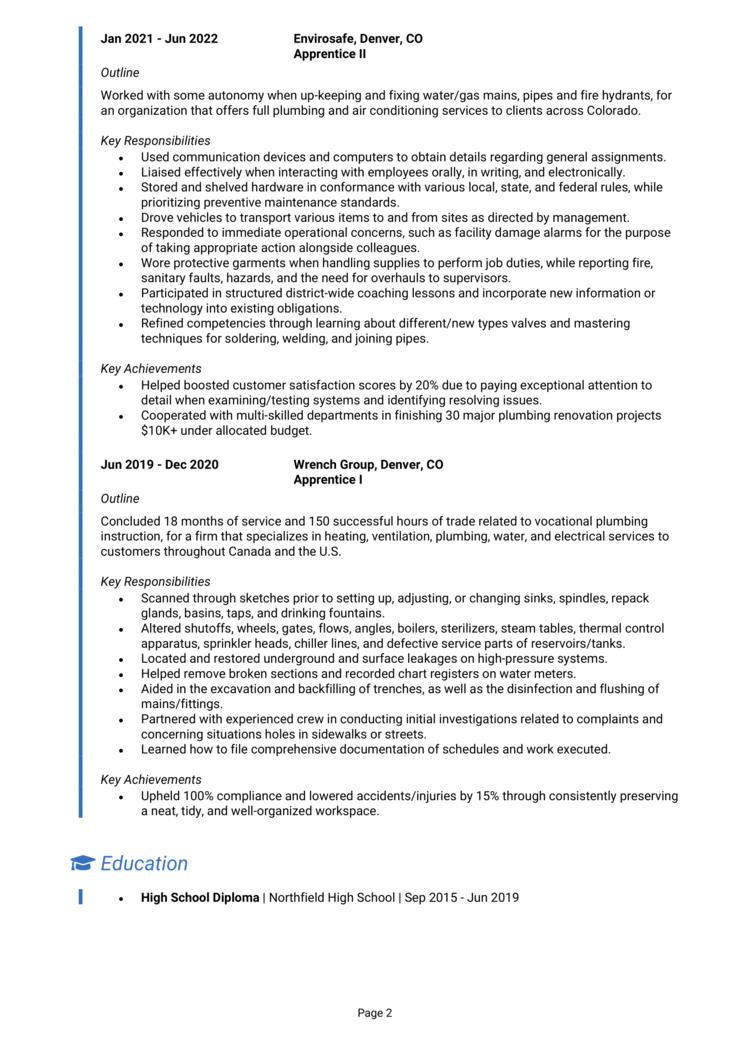 This example Apprentice resume provides you with a general idea of how your resume should look, and what information recruiters expect to see.
The rest of this guide will explain how to layout your resume and create each section effectively.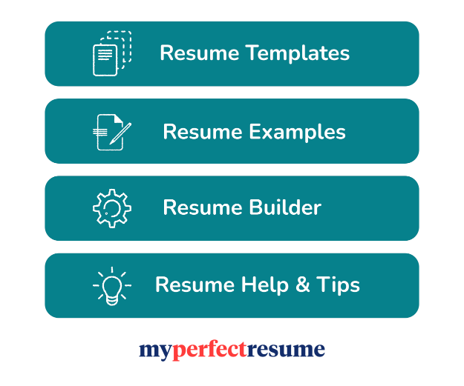 Apprentice resume layout and format
Formatting and structuring your resume correctly is key to landing job interviews.
Your resume needs to look attractive, but more importantly it needs to be easy for recruiters and hiring managers to read and digest the information.
These tips will help you to do that: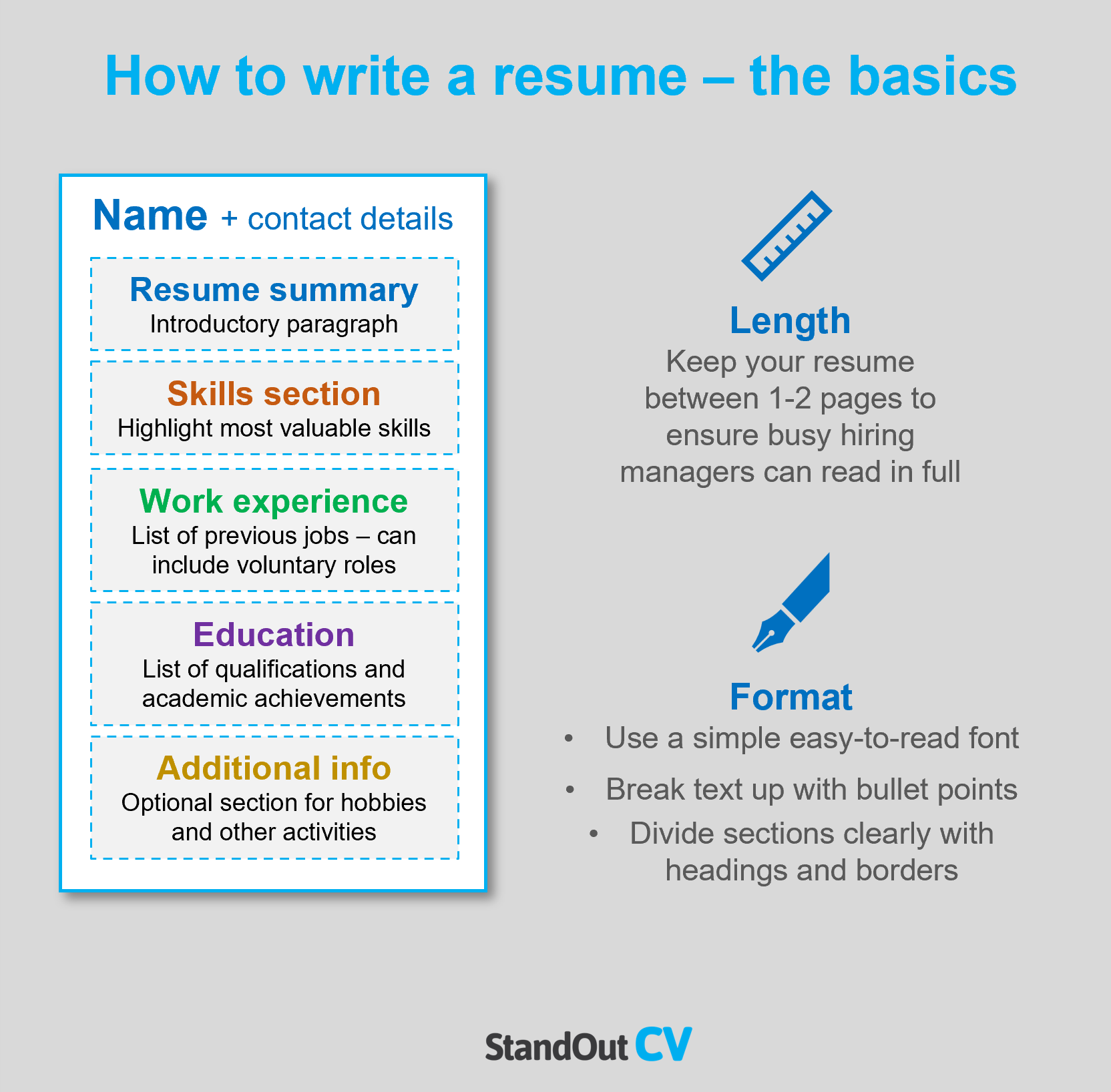 Formatting your resume
Length: Think that submitting a 10 page resume will impress recruiters? Unfortunately it won't… Even if you've got tons of experience to brag about, recruiters don't have time to read essays, so keep it brief – around 2 pages is the sweet spot.
Font & readability: Simplicity and a pleasant reading experience are crucial if you want to highlight your most valuable skills to recruiters. Use a clear font (avoid fancy ones) and break up the text in your resume with bullet points to ensure information can be easily consumed.
Layout: When it comes to designing your resume, it's essential to make it visually appealing, but it's equally important not to overlook functionality. To achieve this, you should organize the page into clear sections using bold headings and borders.
Photos: While adding a photo to your resume is not mandatory in the USA, it can be beneficial if you are applying to organizations in creative industries.
Quick tip: Achieving a professional look for your resume can be difficult and time-consuming. If you want to create an attractive resume quickly, try our partner's Resume Builder and use one of their eye-catching resume templates.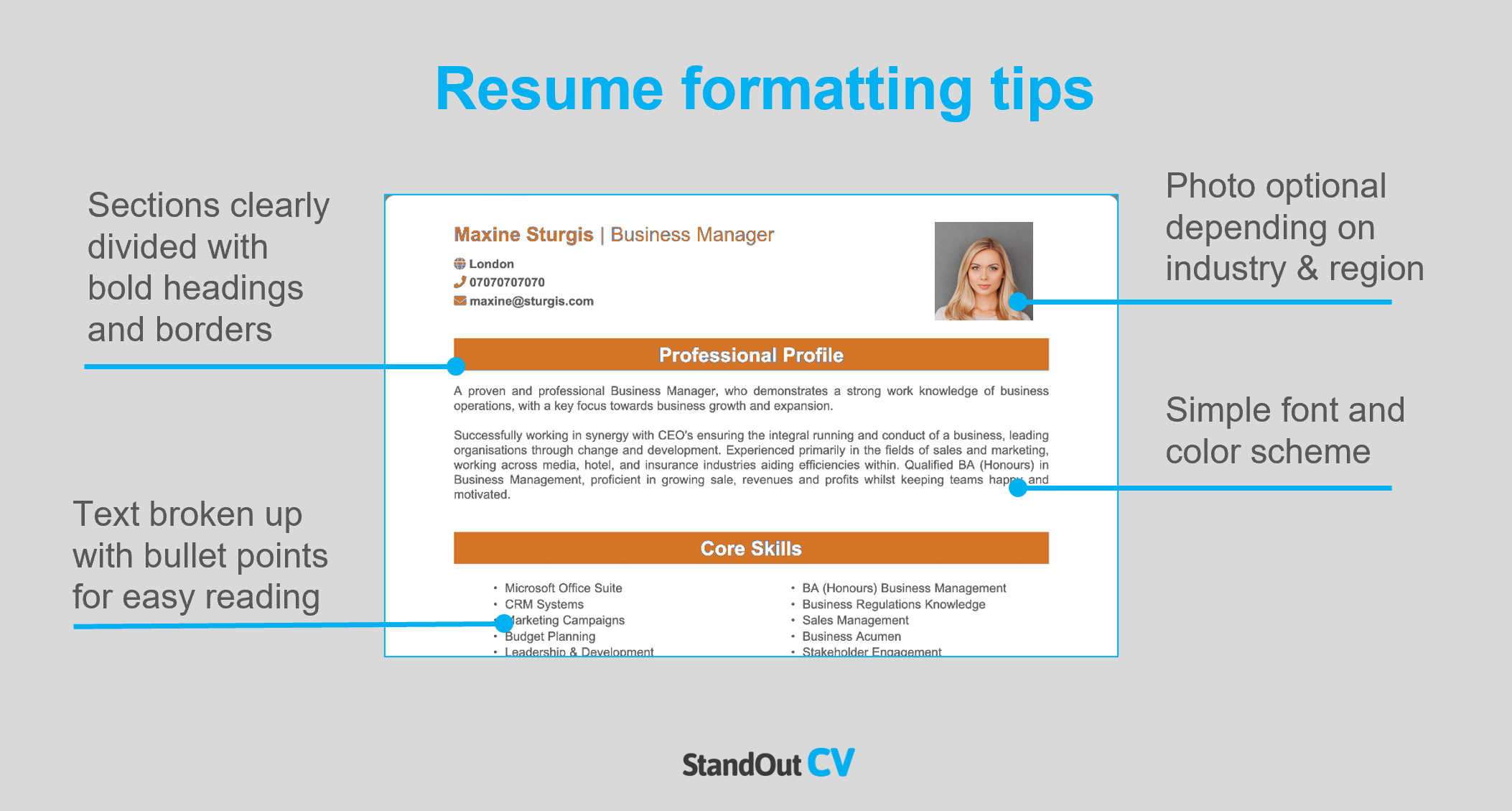 Resume layout
When writing your resume, you should always include the following sections:
Name and Contact Details – Place this information at the top of your resume to make it easy for employers to contact you.
Resume Summary – Write a brief introductory paragraph at the top of your resume summarizing why you are the best candidate for the job.
Skills Section – Create a concise list of your most important skills that can be quickly skimmed over by potential employers.
Work Experience – List your previous jobs in reverse chronological order, including volunteer work and college placements if you have no paid experience.
Education – List your educational qualifications and any professional training you have received.
Additional Information – This is an optional section for including details about hobbies, interests, or any other relevant information that may help distinguish you from other candidates.
Here's what to add to each section of your Apprentice resume.
Contact Details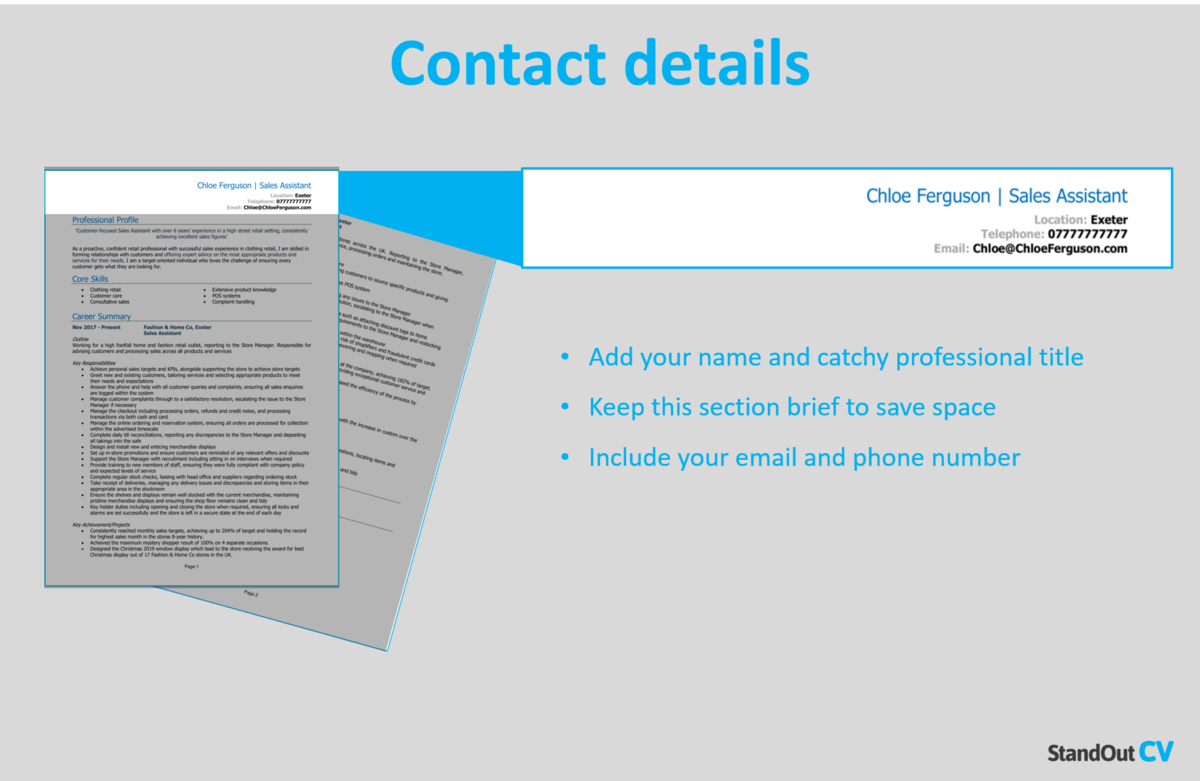 Add your name and contact details to the header of your resume, so that anybody reading can easily see how to contact you.
Name and profession title
Cell phone number – or any number you are easily reachable on
Location – Add your local area such as Washington or San Diego – not your full address as that will take up too much space.
Email address – Use a professional looking address.
You can add a link to your LinkedIn profile if you have one – you do not need to include personal details like date of birth or religion.
Apprentice Resume Summary
Create a strong opening for your resume by adding a compelling summary to the top that highlights your most valuable skills and experience.
This short but important paragraph is designed convince recruiters that you're the perfect candidate for the job and entice them to read more of your resume.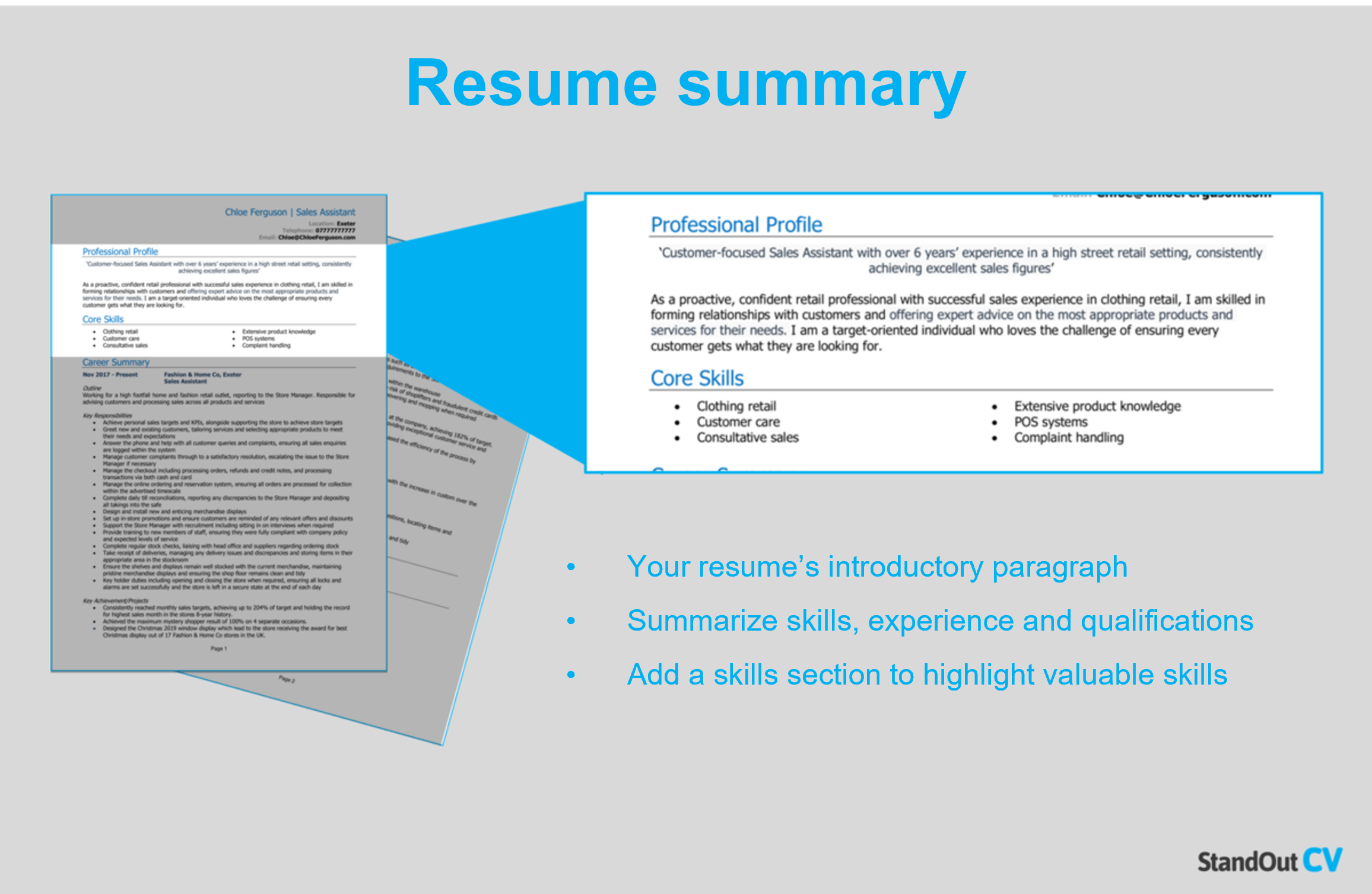 How to create a resume summary that will excite recruiters:
Keep it short: To capture a recruiter's attention and keep them interested in your resume, limit your summary to 4-7 lines as you only have a few seconds to make an impression
Tailor to target jobs: To better align your resume with your target jobs, it's important to scrutinize the job description and identify as many relevant skills as possible to include in your resume.
Avoid using cliches: Recruiters always see cringey cliches like "hardworking guru who works well in a team or individually" – they don't mean much to anyone, so focus your summary on tangible skills and experience.
Apprentice resume summary example
Self-motivated Apprentice with 3 years of experience in assisting the installation, repairing, and maintenance of plumbing systems in residential, commercial, and industrial settings. Proven ability to read and interpret from blueprints, manuals, charts, and schematics. Adept at estimating the scope of a projects, costs involved, and materials and timelines required to finalize assignments.
What to include in your Apprentice resume summary?
Summary of your experience: Summarize the type of work you have done in the past and the ways in which you have contributed to the success of your previous employers.
Relevant skills: Include your skills which are hyper relevant to Apprentice jobs to instantly show your suitability.
Qualifications: If your job requires any qualifications such as a professional course or a college degree, mention it briefly in your summary.
Quick tip: Choose from hundreds of pre-written summaries across all industries, and add one to your resume with one-click in our partner's Resume Builder. All written by recruitment experts and easily tailored to suit your unique skillset and style.
Core skills section
Next, you should create a bullet pointed list of your core skills, formatted into 2-3 columns.
Here, you should focus on including the most important skills or knowledge listed in the job advertisement.
This will instantly prove that you're an ideal candidate, even if a recruiter only has time to briefly scan your resume.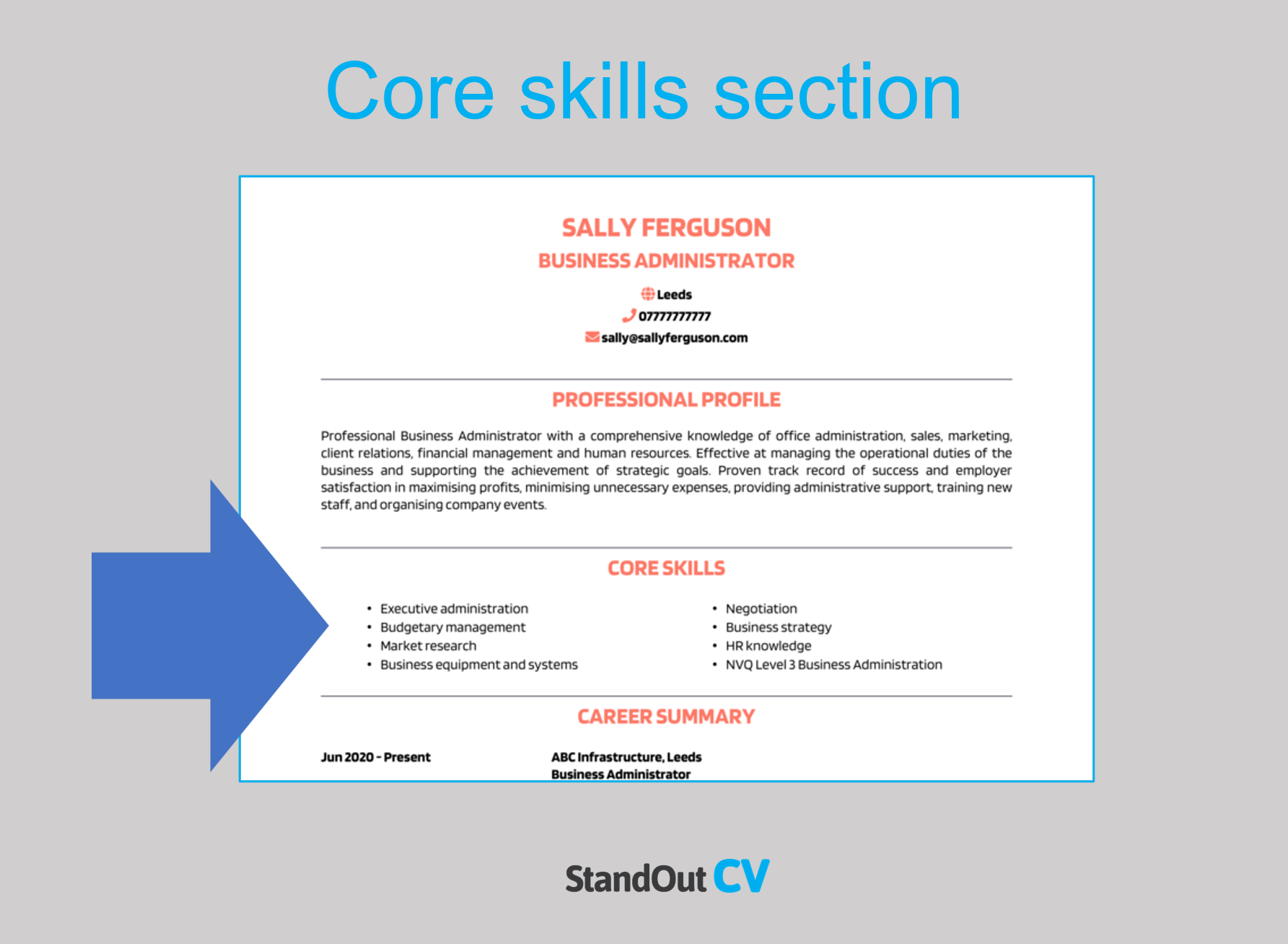 Best skills for your Apprentice resume
Technical Aptitude – Quickly grasping and understanding technical concepts and applying them effectively.
Manual Dexterity – Using hand tools and equipment, demonstrating precise and coordinated movements.
Safety Compliance – Adhering safety protocols and regulations to ensure a safe working environment.
Following Instructions – Paying close attention to small details and accurately following instructions or specifications.
Problem Resolution – Analyzing problems, identifying potential solutions, and implementing effective problem-solving strategies.
Communication and Collaboration – Conveying information and collaborating with team members.
Adaptability and Focus – Adjusting to changing circumstances or work requirements and remaining productive and focused.
Technical Drawing – Reading and interpreting technical drawings, blueprints, or schematics.
Mechanical Knowledge – Maintaining a basic understanding of mechanical systems and components, such as machinery or equipment to troubleshoot and perform basic maintenance tasks.
Quick tip: Our partner's Resume Builder contains thousands of in-demand skills for every profession that can be added to your resume in seconds – saving you time and greatly improving your chances of landing job interviews and getting hired.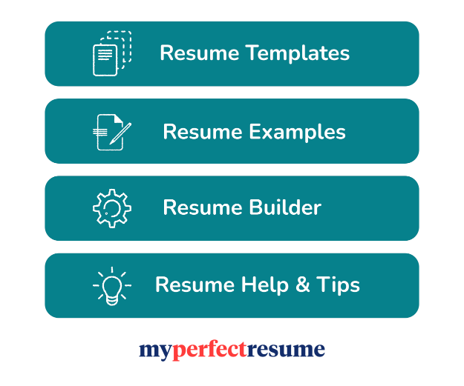 Work experience
So, you've grabbed the recruiters' attention with your summary, now it's time to show them what you're really capable of in your work experience section.
List your previous jobs from current to oldest, showing off the impact you made at each organization.
If you have tons of experience, you should just list the most recent an relevant jobs – but if you have little or no experience, add it all and even consider putting in voluntary work.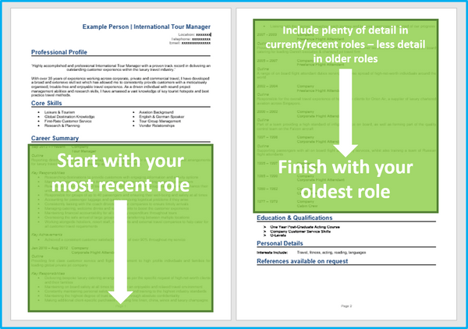 Structuring your jobs
You probably do a lot in your job, so its vital to break all of that information down into a good structure.
Structure your jobs as follows to make it easy for recruiters to skim through and pinpoint the essential info.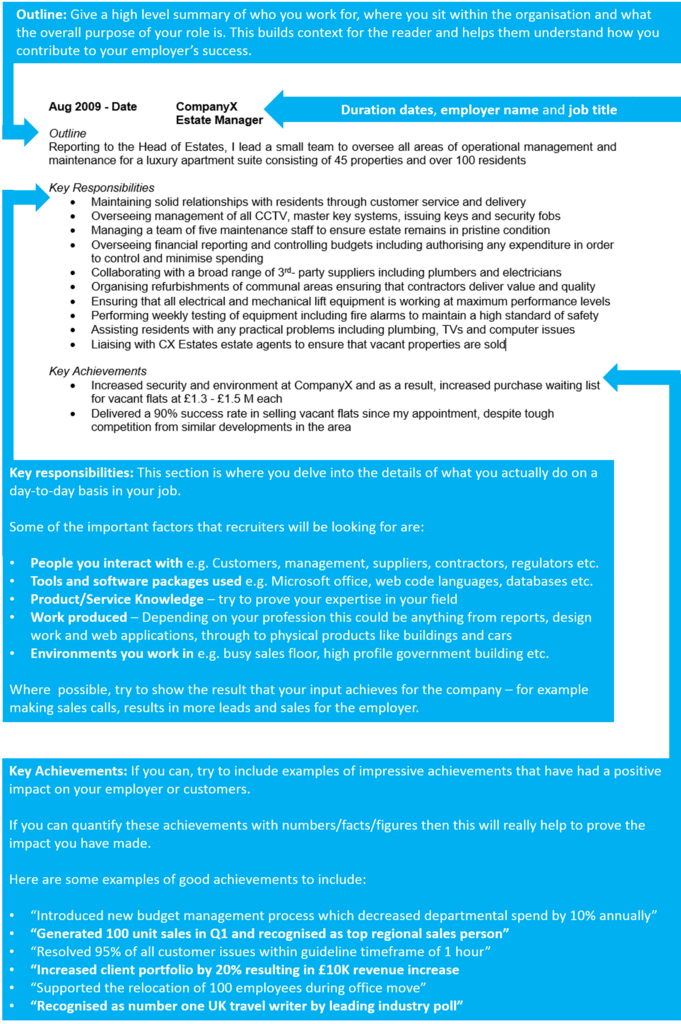 Job outline
Kick off each role with a high-level overview to summarize the focus of the job, what the organization/department does, and how you fit into the bigger picture.
Key responsibilities
Next, write up a punchy list of your daily duties and responsibilities, using short bullet points.
Describe how you apply your skills and contribute to the running of the employer's business – highlighting skills which are applicable to your target jobs.
Key achievements
Show employers the value you can bring to them by adding a few achievements to your jobs.
Whether you've saved the company money or improved an internal process, let recruiters know
Add some numbers to give readers a real scale of the impact, e.g. "reduced call wait time by 10%"
Example job for Apprentice resume
Outline
Exercise a high level of independence when performing repairs, renovations, and fabrications of drain, water, vent, natural gas piping systems, and appurtenances, for a company that delivers market-leading HVAC, plumbing, and electrical service to multiple brands and homeowners.
Key Responsibilities
Study designs, prepare work areas, measure/cut main lines, dig trenches, and install plumbing a wide variety of appliances.
Troubleshoot, diagnose, and fix problems in water supply drainage, and sewer systems diagnose/fix leaks.
Carry out maintenance tasks, such as inspecting and cleaning ducts when necessary.
Manage relevant tools by checking inventory of supplies, organizing equipment, and ensuring instruments are in good condition.
Quick tip: Create impressive job descriptions easily in our partner's Resume Builder by adding pre-written job phrases for every industry and career stage.

Education section
Nearing the end of your resume, your education/qualifications section should be added.
In a well-structured list, add all of your qualifications and certifications that qualify you to perform a typical Apprentice role.
If you have plenty of work experience, keep this section brief – if not, add lots of detail to make up for your lack of experience.
Additional information
If you have anything else to add which is relevant to the jobs you are applying for, the additional info section is the place to add it.
Perhaps you have a hobby which involves relevant skills, or maybe you have some awards or publications worth mentioning.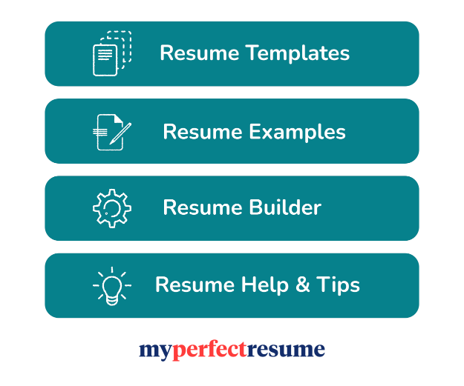 Writing your own winning Apprentice resume
Crafting a strong Apprentice resume can be a daunting task, but implementing the steps outlined above will significantly increase your chances of securing multiple interview opportunities.
Good luck with your job search!