Have you got what it takes to support the lineman in installing and maintaining electrical power systems?
If you're hoping to build your experience with an apprenticeship, then you need a resume that will help you spark the recruiter's interest.
Find out how to do just that with our top tips and apprentice lineman resume example in the guide below.
Contents
| | |
| --- | --- |
| How to write a Apprentice Lineman resume | |

Apprentice Lineman Resume Example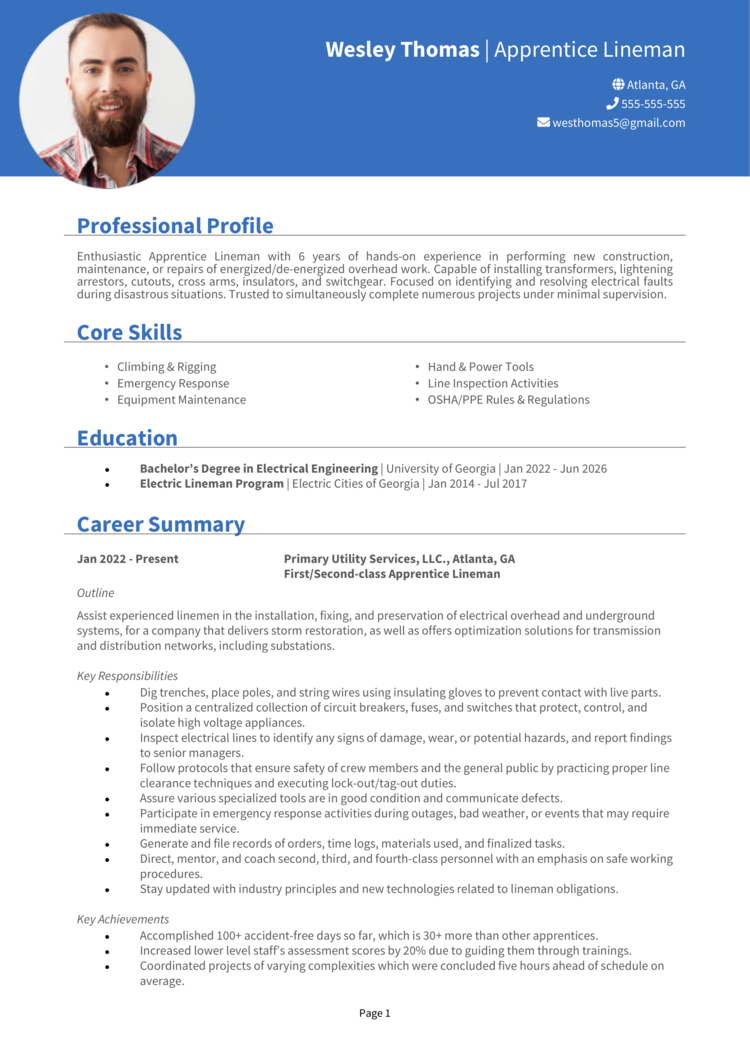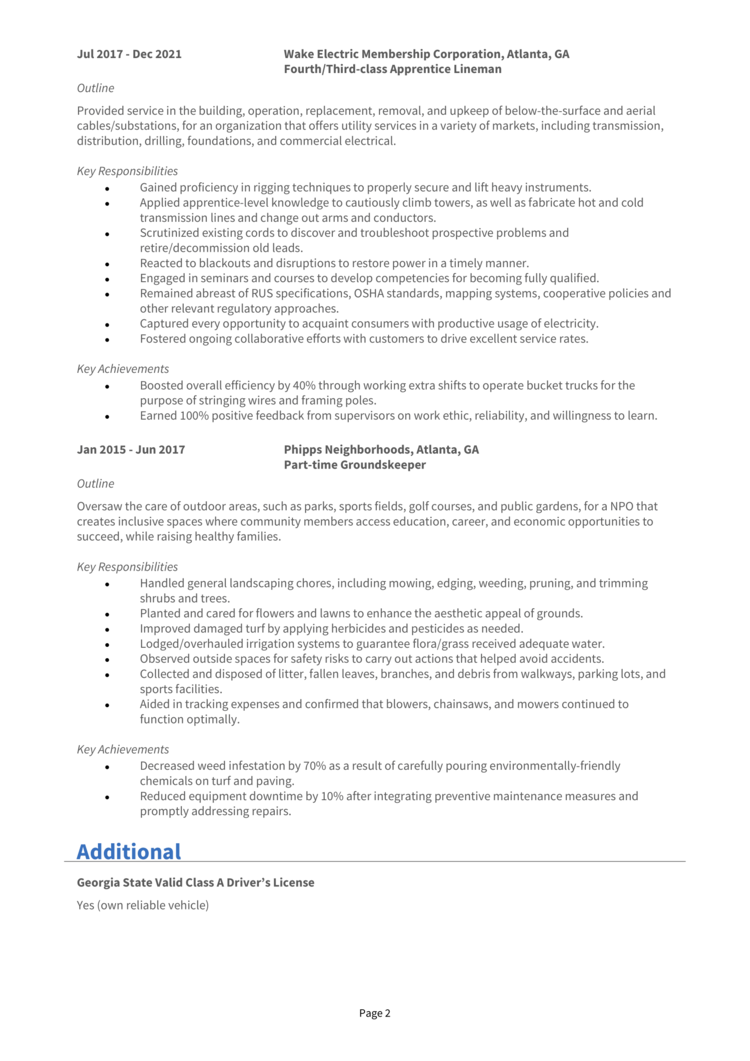 The example Apprentice Lineman resume above shows you how a professional resume should look, along with the type of content it should contain.
You can see that the information is well-organized across the page and its easy for busy recruiters to see the candidate's important skills.
Keep this in mind when writing your own resume.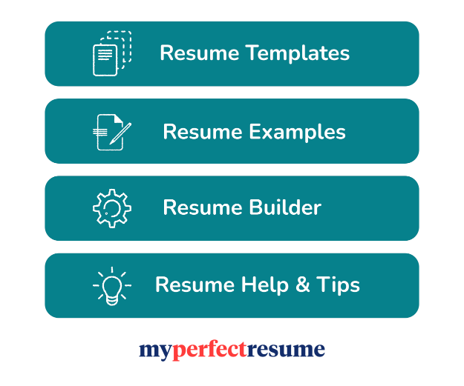 Apprentice Lineman resume layout and format
If you want to get noticed in the job market, you have to pay attention to the format and layout of your resume.
Essentially your resume needs to look highly polished, and provide hiring managers with an easy reading experience.
Use these resume formatting tips to get a head start on this.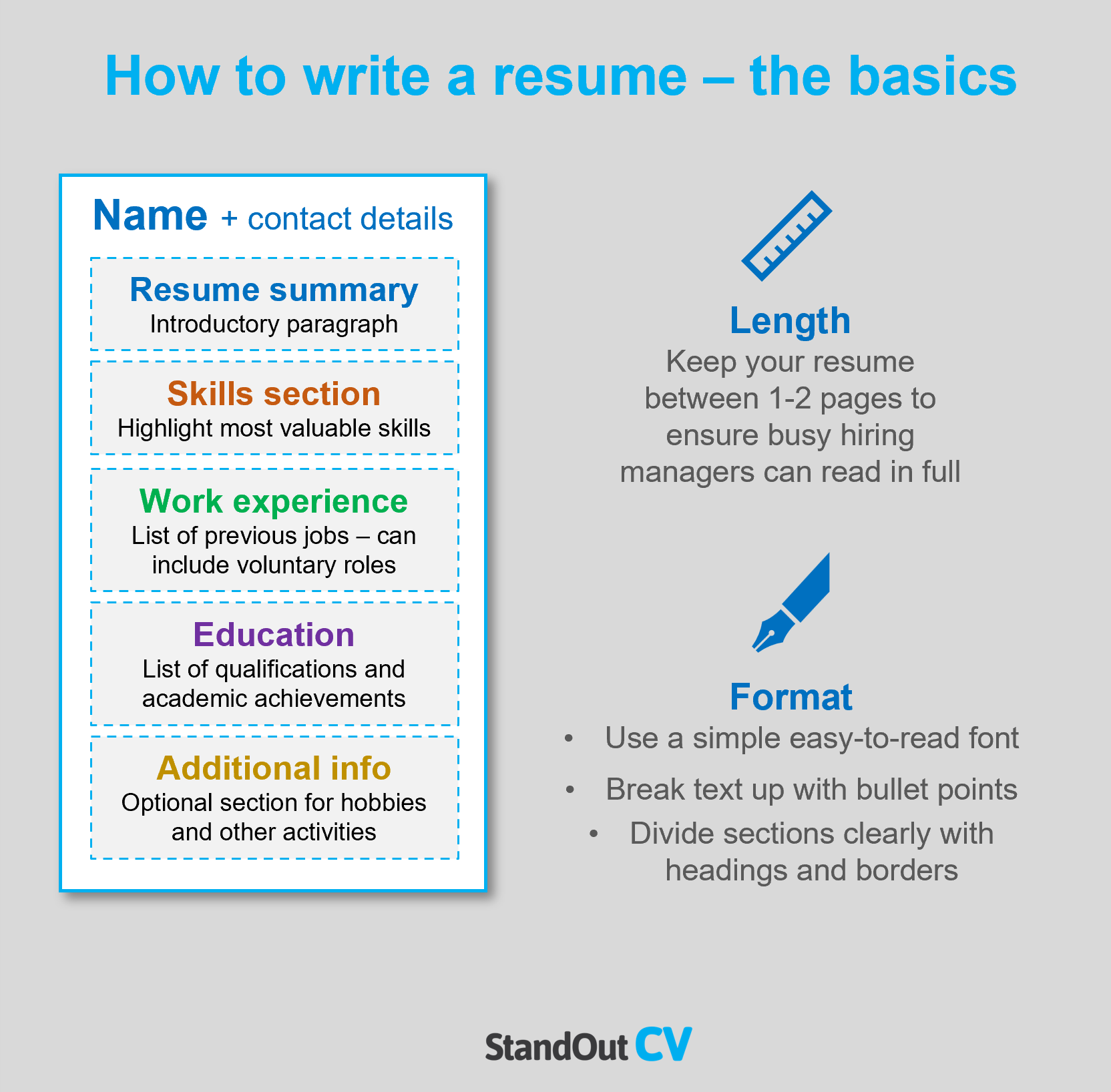 Formatting your resume
Length: Given that recruiters have to sift through tons of resumes daily, it's recommended to keep your resume brief (no more than 2 pages) to make sure it receives their full attention.
Font & readability: The key to a good resume is readability. To make your resume easy to read, use a clear and uncomplicated font, and break up the text with bullet points and short paragraphs.
Layout & Structure: A well-designed resume is not just visually pleasing, but it must also be functional. To achieve a functional design, use bold headings and borders to separate the content into clear sections.
Photos: In the USA adding a photo to your resume is optional – you don't have to do it, but it can be a nice way to get your personality across.
Quick tip: Achieving a professional look for your resume can be difficult and time-consuming. If you want to create an attractive resume quickly, try our partner's Resume Builder and use one of their eye-catching resume templates.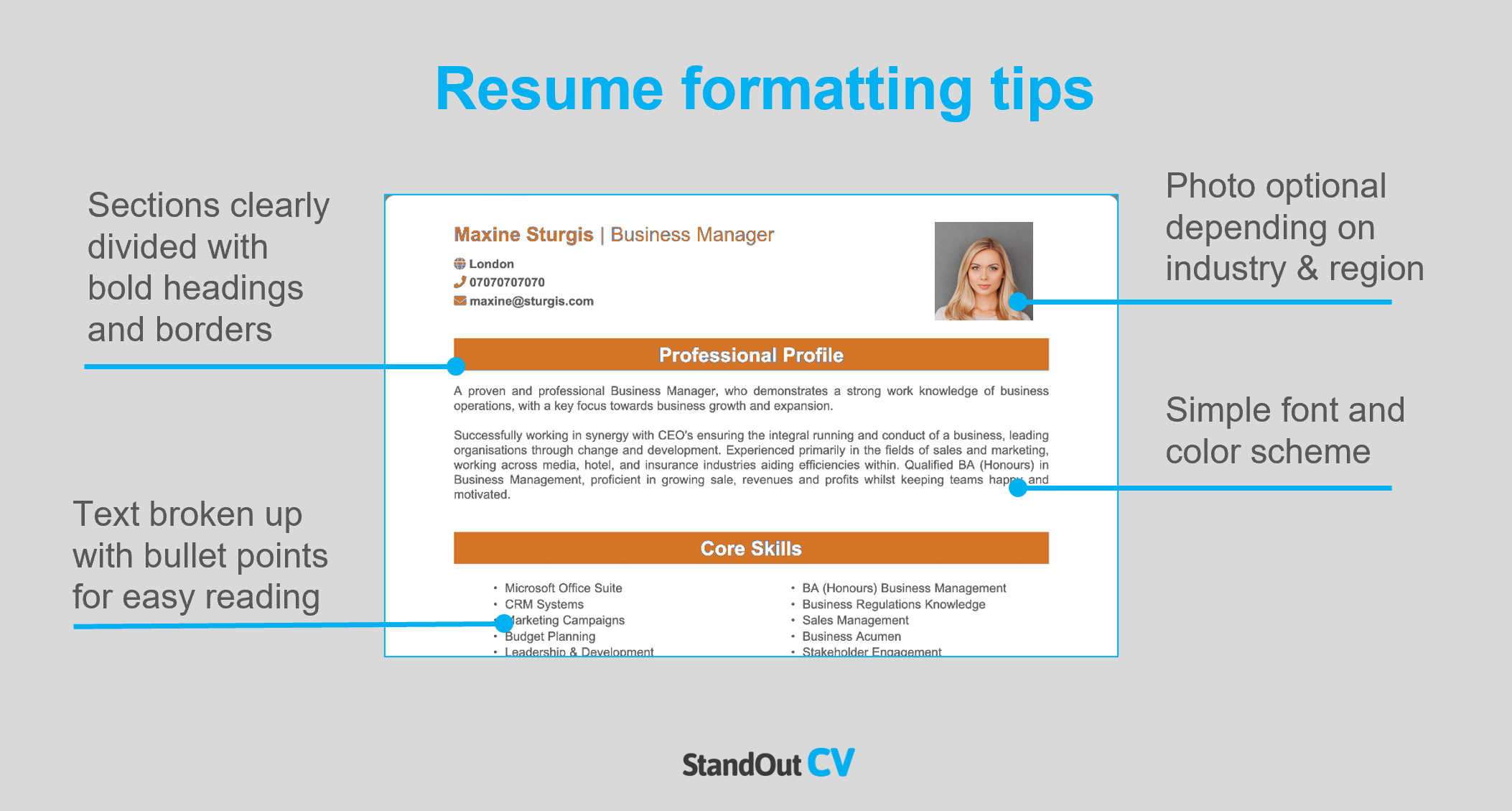 Resume layout
When you write your resume, include the sections below.
Name and contact details – Pop these at the very top to ensure recruiters know how to contact you.
Resume summary – An eye-catching paragraph which summarizes your most valuable attributes – placed near the top of your resume
Skills section – A bullet pointed list of your most in-demand skills, enabling recruiters to see your suitability from a glance.
Work experience – List some or all of your previous jobs in reverse chronological order – voluntary work and college placements can be included if you have no paid experience.
Education – A summary of your professional training and academic qualifications.
Additional info – An optional section for anything that may boost your application, such as relevant hobbies and interests
Here's what to include in each part of your resume.
Contact Details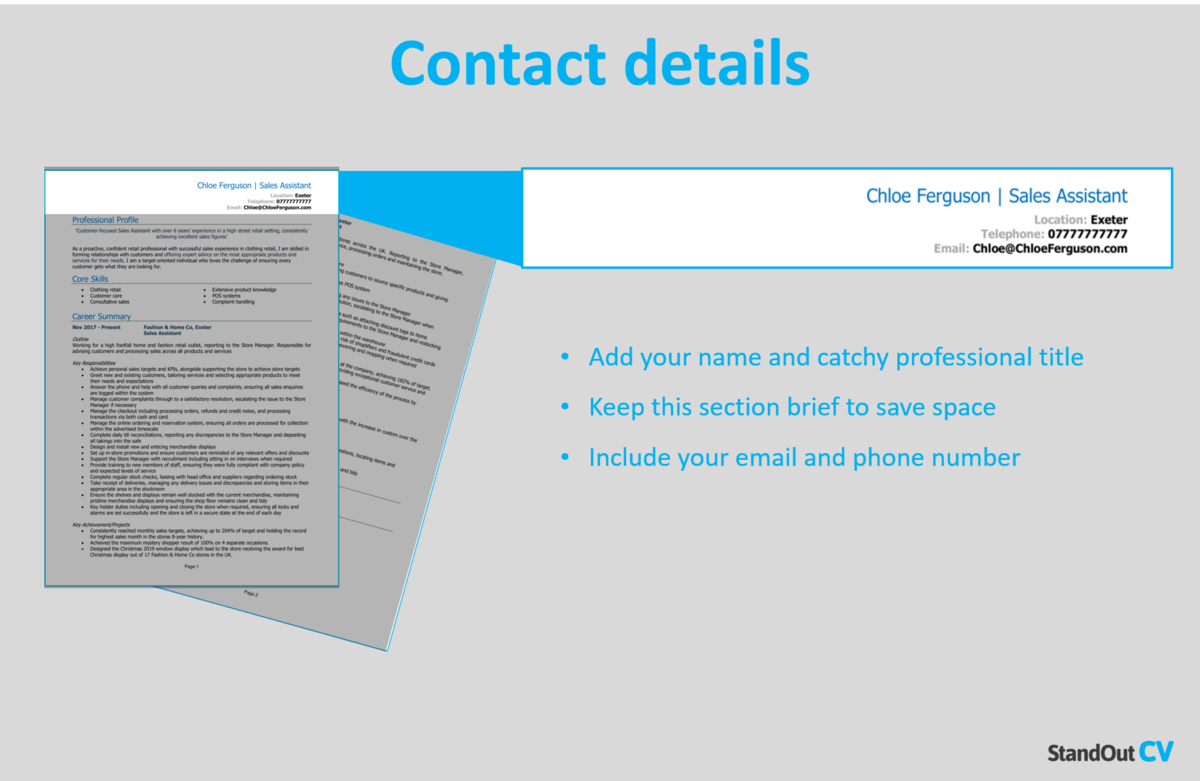 Add your name and contact details to the header of your resume, so that anybody reading can easily see how to contact you.
Name and profession title
Cell phone number – or any number you are easily reachable on
Location – Add your local area such as Washington or San Diego – not your full address as that will take up too much space.
Email address – Use a professional looking address.
You can add a link to your LinkedIn profile if you have one – you do not need to include personal details like date of birth or religion.
Apprentice Lineman Resume Summary
Now it's time to get into the real content of your resume, starting with the summary.
Your resume summary is a short paragraph at the top of the document, and its jobs is to catch the eye of hiring managers by summarizing all your skills and knowledge that are most important to the roles you are applying for.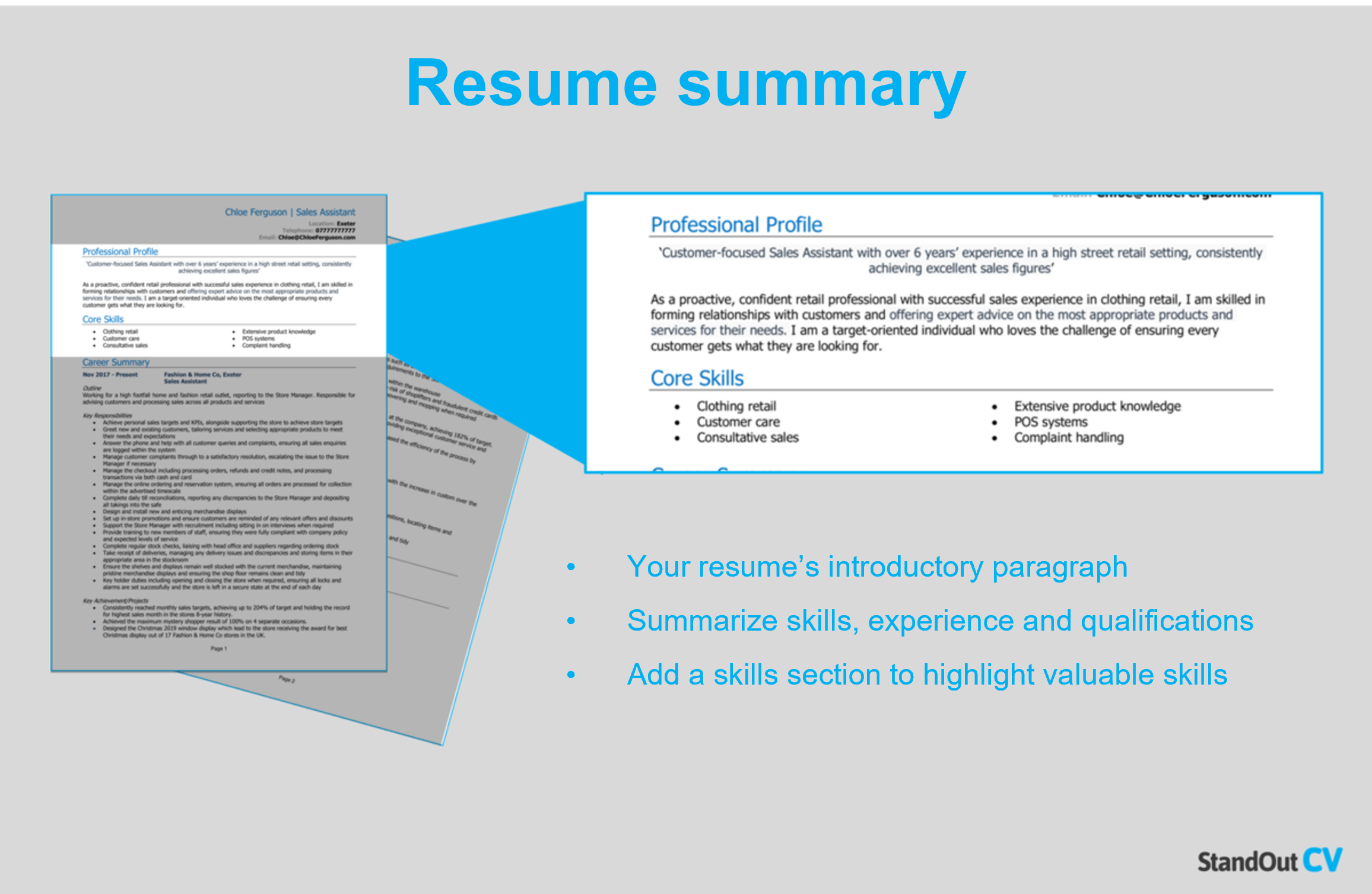 How to create a resume summary that will excite recruiters:
Keep it short: Aim for a short punchy paragraph of 4-7 lines. This is just enough info to showcase why you'd make the perfect hire, without going into excessive detail and overwhelming busy recruiters at such an early stage in the resume.
Tailor to target jobs: To mirror your target jobs, scrutinize the job description and include as many relevant skills as possible in your resume.
Avoid using cliches: Recruiters look for facts in resumes, such as hard skills and qualifications – so, leave out the meaningless cliches like "hard worker who works well in a team and individually"
Apprentice Lineman resume summary example
Enthusiastic Apprentice Lineman with 6 years of hands-on experience in performing new construction, maintenance, or repairs of energized/de-energized overhead work. Capable of installing transformers, lightening arrestors, cutouts, cross arms, insulators, and switchgear. Focused on identifying and resolving electrical faults during disastrous situations. Trusted to simultaneously complete numerous projects under minimal supervision.
What to include in your Apprentice Lineman resume summary?
Summary of your experience: Provide a summary of the kind of work you have previously done, along with the benefits you have delivered to the organizations you worked with.
Relevant skills: Instantly showcase your suitability for Apprentice Lineman jobs by including your skills that are highly relevant to them.
Qualifications: Mention any Apprentice Lineman qualifications that are important to your profession in the summary briefly, to show you are qualified to carry out the role.
Quick tip: Choose from hundreds of pre-written summaries across all industries, and add one to your resume with one-click in our partner's Resume Builder. All written by recruitment experts and easily tailored to suit your unique skillset and style.
Core skills section
Next, you should create a bullet pointed list of your core skills, formatted into 2-3 columns.
Here, you should focus on including the most important skills or knowledge listed in the job advertisement.
This will instantly prove that you're an ideal candidate, even if a recruiter only has time to briefly scan your resume.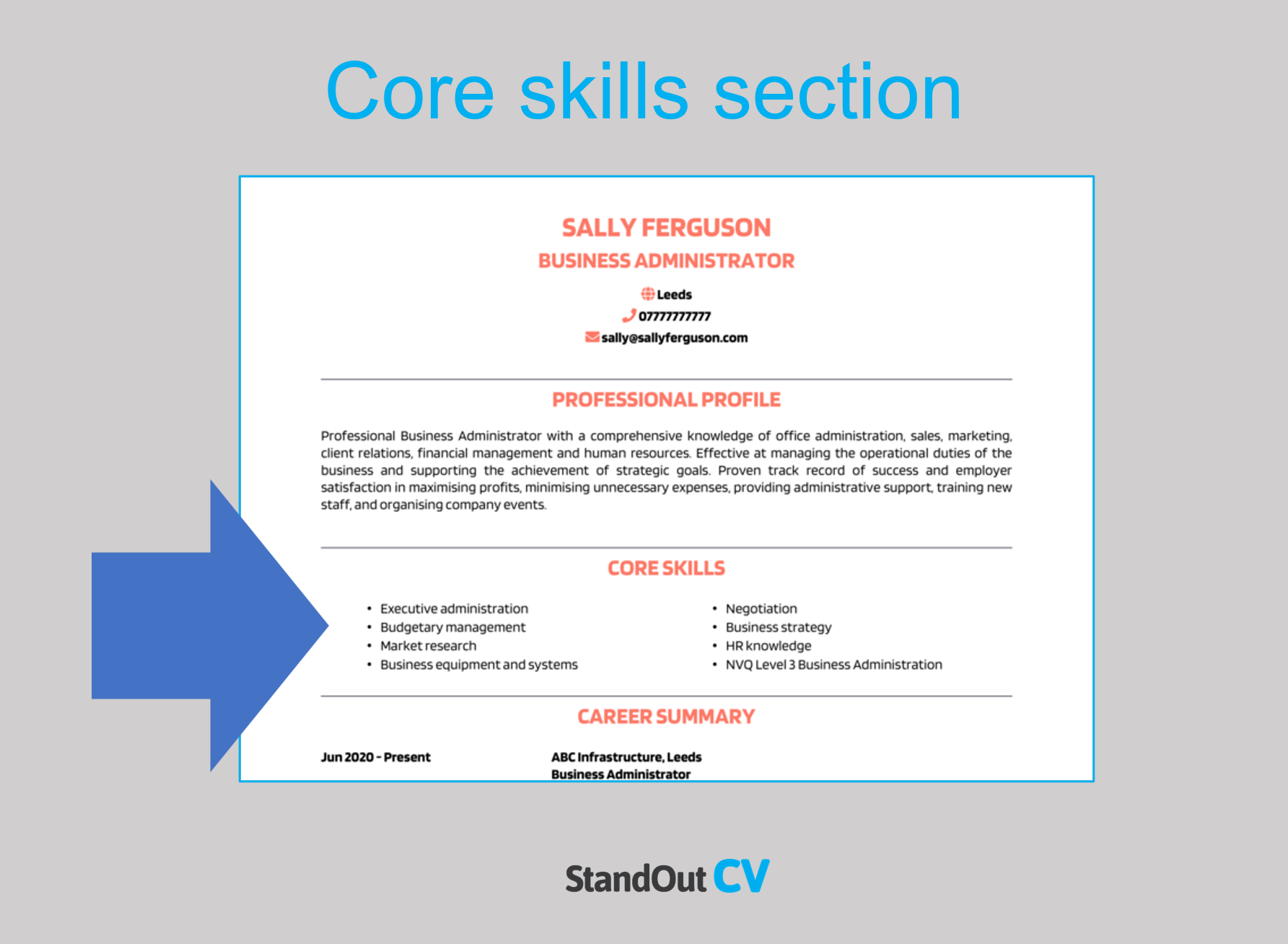 Best skills for your Apprentice Lineman resume
Electrical Systems – Utilizing knowledge of electrical systems, including distribution lines, transformers, meters, and voltage regulations.
Safety Protocols – Adhering to safety protocols and regulations to ensure a safe working environment for oneself and others.
Working at Height – Climbing utility poles and working at heights, using proper safety equipment and techniques.
Power Line Construction – Assisting in the construction and maintenance of power lines, including pole setting, stringing wires, and installing transformers.
Electrical Troubleshooting – Identifying and resolving electrical faults, performing diagnostics, and repairing equipment as needed.
Equipment Operation – Operating various equipment, such as bucket trucks, line trucks, and hand tools, used in power line maintenance and repair.
Team Collaboration – Working effectively with fellow lineworkers, contractors, and other stakeholders to complete projects efficiently and safely.
Emergency Response – Responding to power outages, storms, and emergencies, and assisting in restoring electrical services.
Physical Fitness – Maintaining good physical fitness and stamina to withstand the physical demands of the job, including lifting heavy equipment, working in challenging weather conditions, and maintaining endurance.
Quick tip: Our partner's Resume Builder contains thousands of in-demand skills for every profession that can be added to your resume in seconds – saving you time and greatly improving your chances of landing job interviews and getting hired.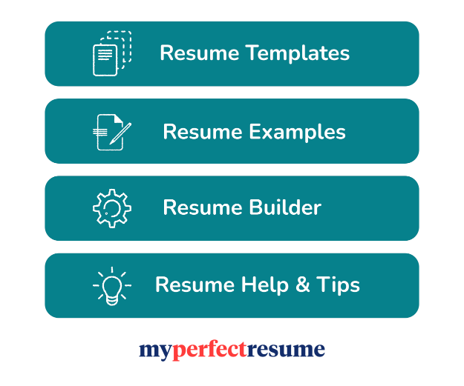 Work experience
Congratulations on successfully capturing the recruiter's interest with your attention-grabbing summary! Now, it's time to showcase your workplace impact by providing a detailed list of your previous job experiences and achievements.
If you have significant experience, consider highlighting the most recent few years to condense this section. However, for junior job seekers, it's essential to include as much relevant experience as possible, including volunteering and school work placements.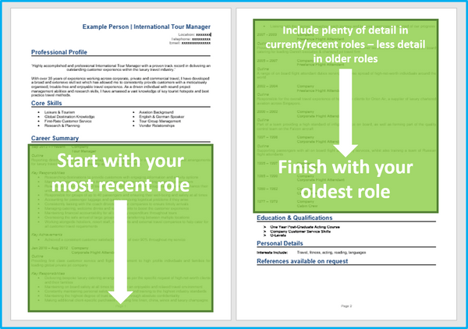 Structuring your jobs
It's easy to overwhelm readers when writing about a job you have been doing for years or even months.
Break the information up like this to keep it simple for recruiters to understand.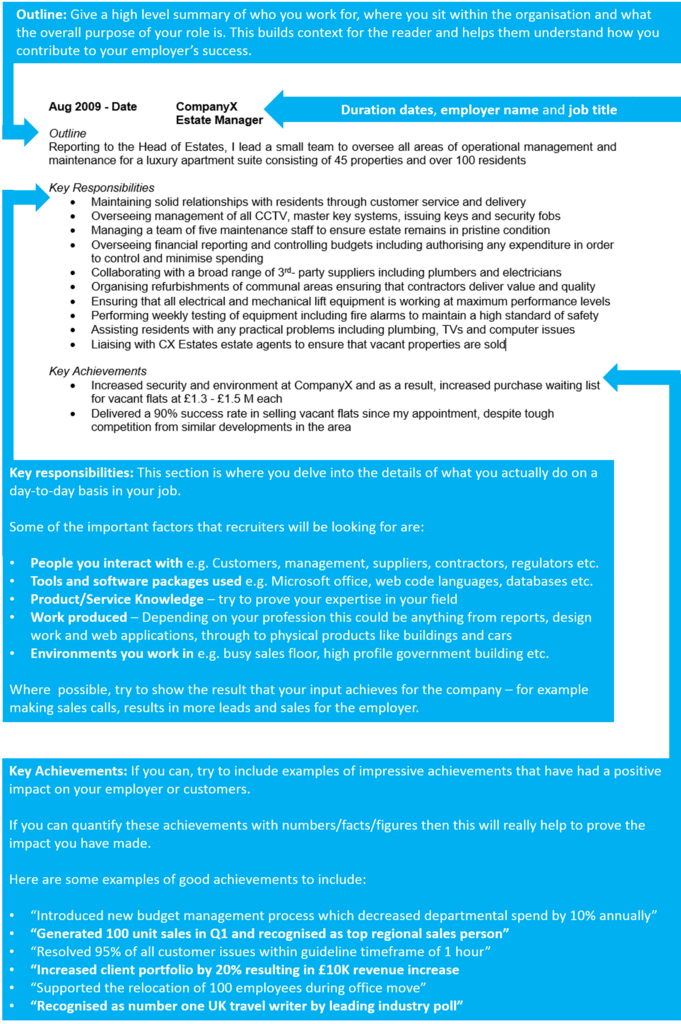 Job outline
Each role description should begin with a qucik summary of the job and company, along with how the job fits into the strucuture of the organization.
Key responsibilities
List your notable responsibilities in short sharp bullet points to demonstrate your input and how you contributed to the organization's success.
Highlight the skills that are most important to the roles you are applying for.
Key achievements
Finish each role by highlighting some impressive achievements you made whilst in the role.
Anything that benefited the employer can be included from making financial savings, to winning new customers.
Quantify your achievements with facts and figures if you can, e.g. "reduced call wait time by 10%"
Example job for Apprentice Lineman resume
Outline
Assist experienced linemen in the installation, fixing, and preservation of electrical overhead and underground systems, for a company that delivers storm restoration, as well as offers optimization solutions for transmission and distribution networks, including substations.
Key Responsibilities
Dig trenches, place poles, and string wires using insulating gloves to prevent contact with live parts.
Position a centralized collection of circuit breakers, fuses, and switches that protect, control, and isolate high voltage appliances.
Inspect electrical lines to identify any signs of damage, wear, or potential hazards, and report findings to senior managers.
Follow protocols that ensure safety of crew members and the general public by practicing proper line clearance techniques and executing lock-out/tag-out duties.
Quick tip: Create impressive job descriptions easily in our partner's Resume Builder by adding pre-written job phrases for every industry and career stage.

Education section
Nearing the end of your resume, your education/qualifications section should be added.
In a well-structured list, add all of your qualifications and certifications that qualify you to perform a typical Apprentice Lineman role.
If you have plenty of work experience, keep this section brief – if not, add lots of detail to make up for your lack of experience.
Additional information
At the end of your resume, you can add any extra information that might be relevant to the jobs you are applying for.
This could be hobbies, interests, publications, clubs or memberships.
This section is optional and doesn't need to be added if you have nothing more relevant to add.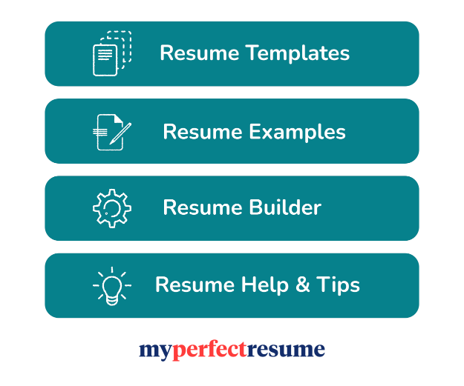 Writing your own winning Apprentice Lineman resume
A winning Apprentice Lineman resume should look great, read well, and sell your skillset to hiring managers.
If you follow the steps above, you should be able to bag yourself a top job in no time.
Good luck with your job search!