Can you work closely with clients to understand their unique goals and then create or improve their software accordingly?
Of course you can, you're an application engineer!
The problem is, the recruiter won't know what you're capable of unless you tell them.
To do that, you need a strong application and we can help you to develop your writing skills with our detailed guide and application engineer resume example below.
Contents
| | |
| --- | --- |
| How to write your Application Engineer resume | |

Application Engineer Resume Example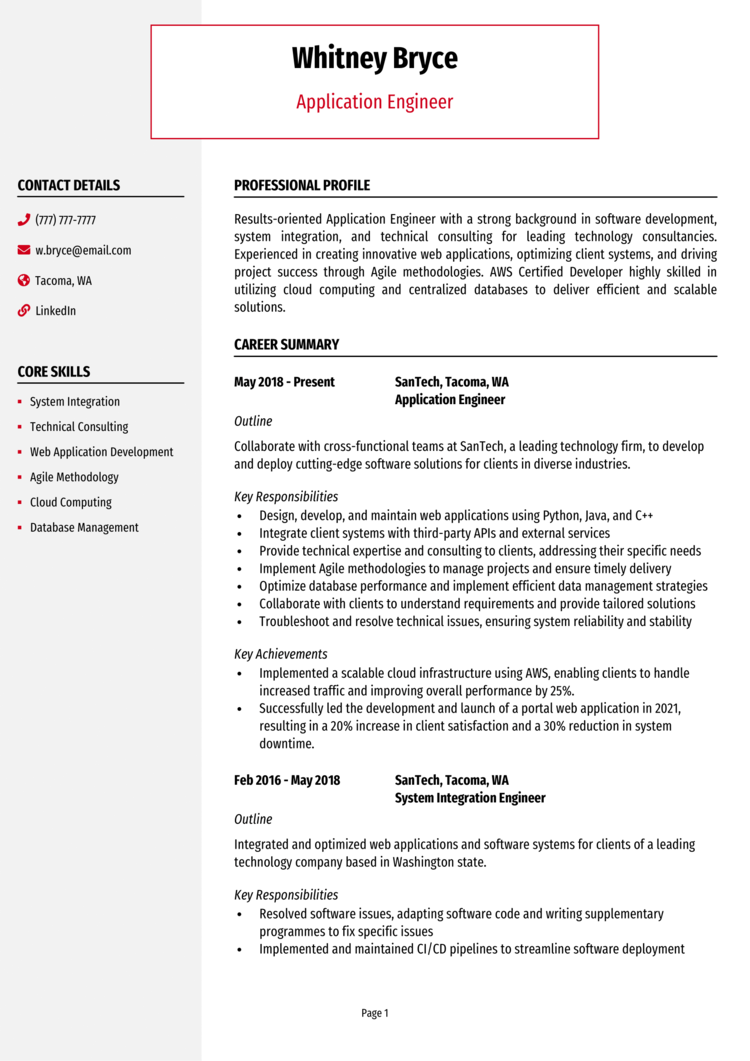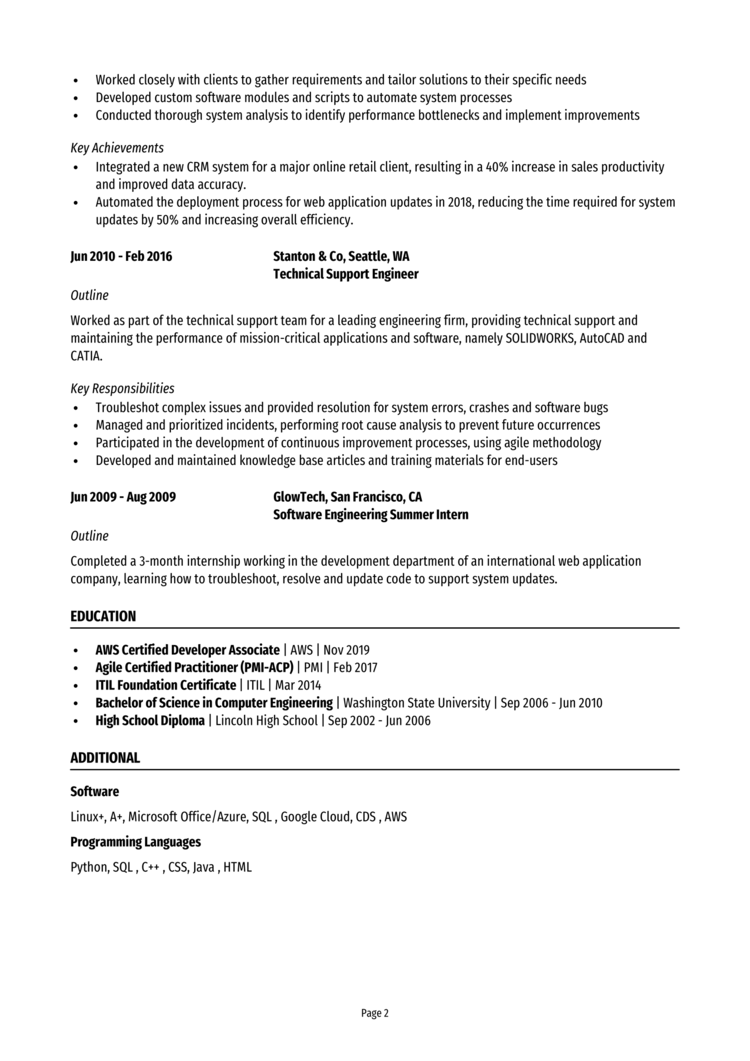 This example Application Engineer resume gives you a general idea of how to structure your own resume, along with the type of content you need to include.
Sticking with this resume format will help you to get noticed by employers and ensure that they can quickly see the benefit of hiring you.
Now, lets walk through a step-by-step guide on how to write your own winning resume.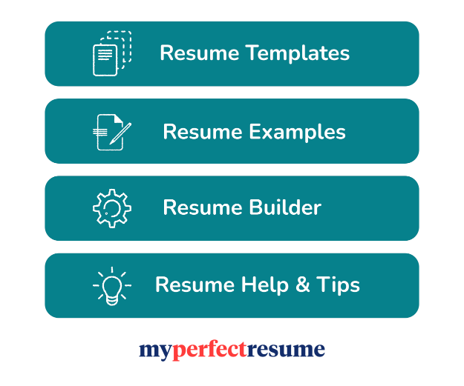 Application Engineer resume layout and format
Formatting is often overlooked when writing resume, but it's a crucial element of it"s success.
Creating a document that not only looks good, but is easily comprehended, is the key to gaining and holding the attention of busy hiring managers.
Use these formatting tips for best results.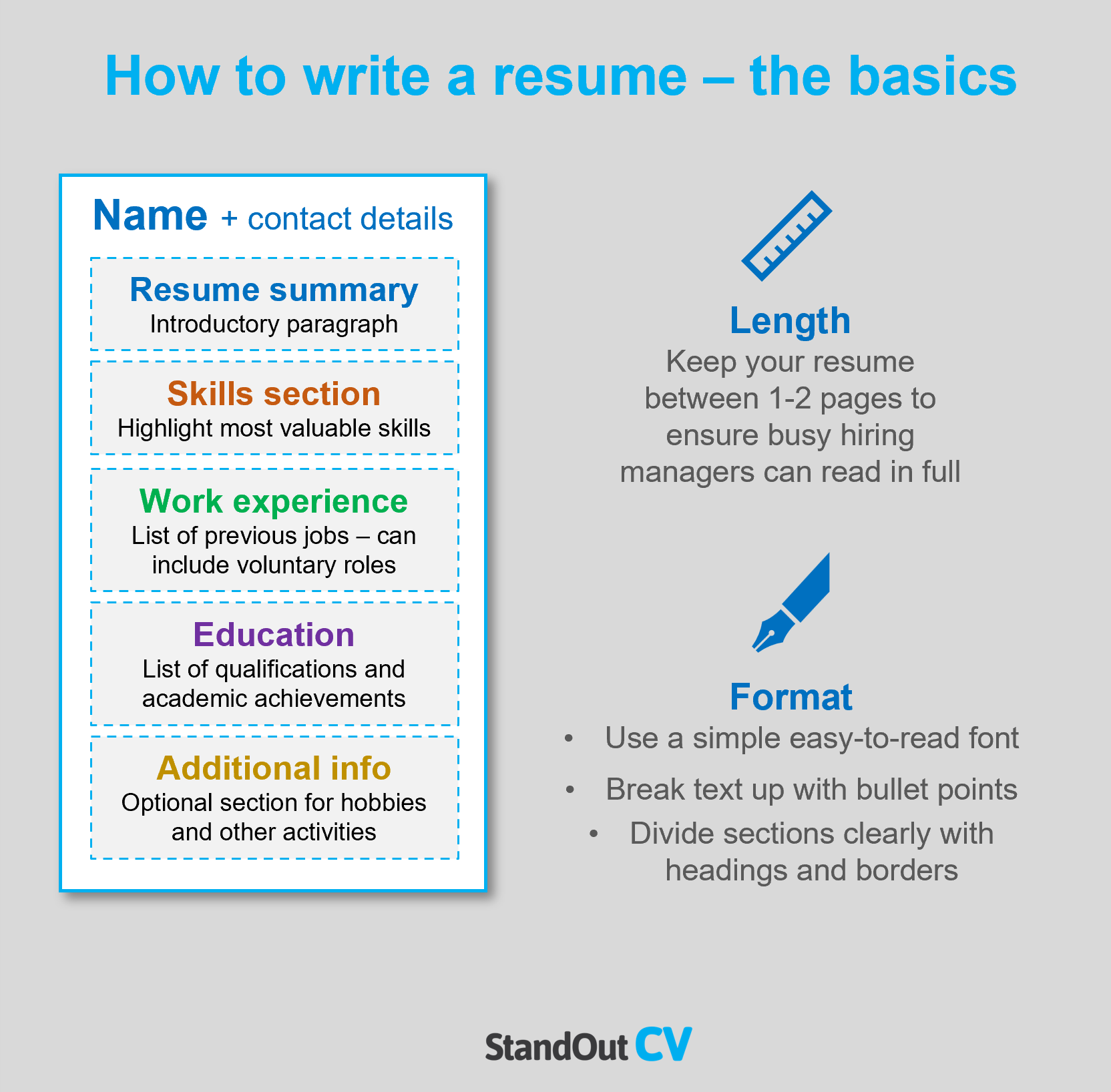 Formatting your resume
Length: Recruiters often see hundreds of resumes per day – so keep yours under 2 pages in length, if you want to ensure it gets read in full.
Font & readability: The key to a good resume is readability. To make your resume easy to read, use a clear and uncomplicated font, and break up the text with bullet points and short paragraphs.
Layout: While creating an attractive resume, it is crucial not to compromise functionality for design. To ensure both, use bold headings and borders to structure the page into clear sections.
Photos: While a photo is not usually necessary on your resume in the United States, it may be beneficial to include one in regions and industries where it is customary.
Quick tip: Achieving a professional look for your resume can be difficult and time-consuming. If you want to create an attractive resume quickly, try our partner's Resume Builder and use one of their eye-catching resume templates.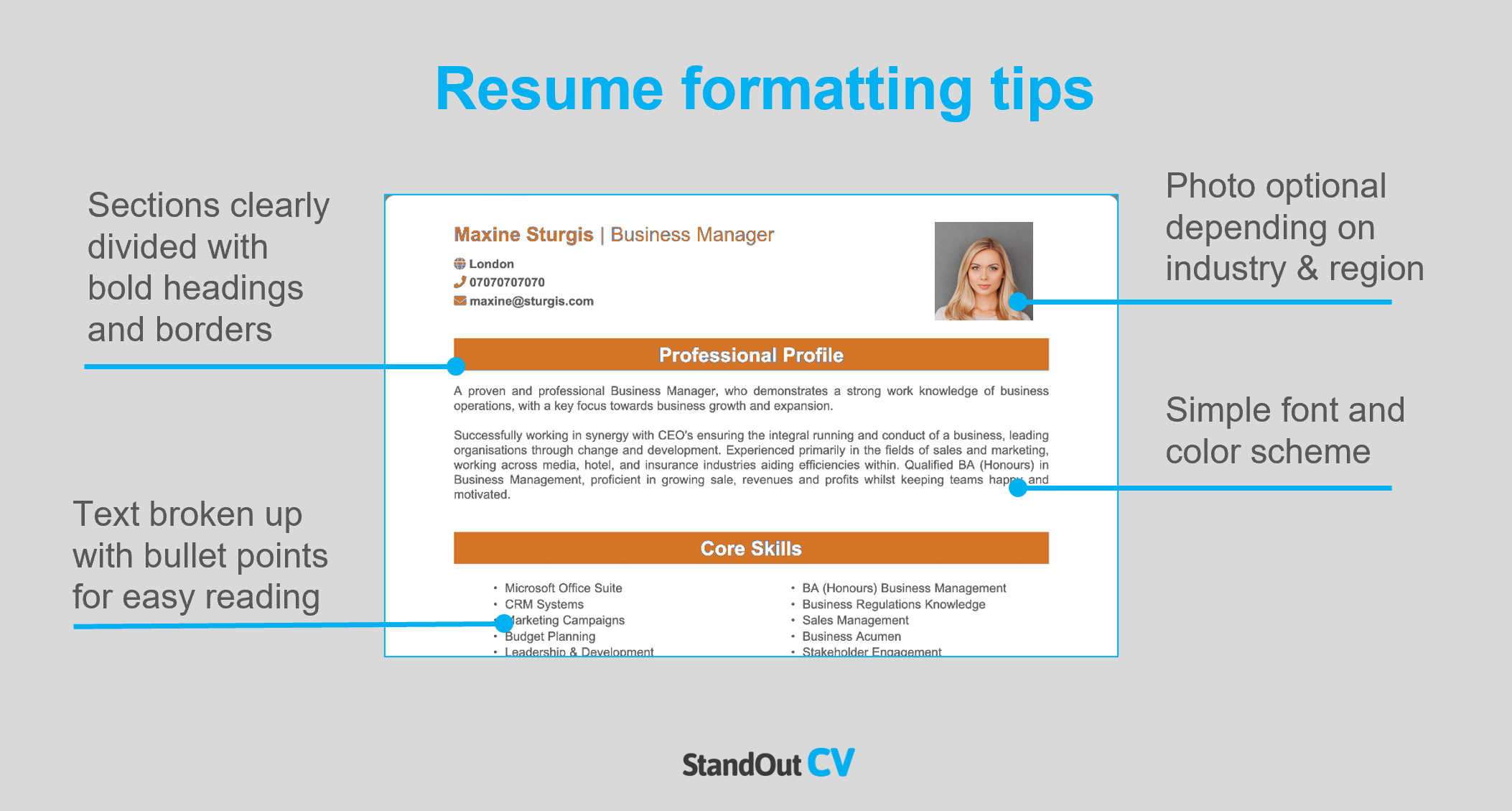 Resume layout
Organize the document into these sections when you write your resume.
Name and contact details – Employers need to know how to get in touch with you – so list your email and cell phone number here.
Resume summary – An intro paragraph at the top of the resume which summarizes your suitability for target jobs.
Skills section – A bullet-pointed list of your most relevant skills and knowledge.
Work experience – A list of your previous jobs (or at least the most relevant and recent ones)
Education – Add academic and professional qualifications that prove you can carry out the job
Additional info – If they are relevant to the jobs you are applying for, you can add an extra section for things like hobbies and interests.
Here's what to add to each section of your Application Engineer resume.
Contact Details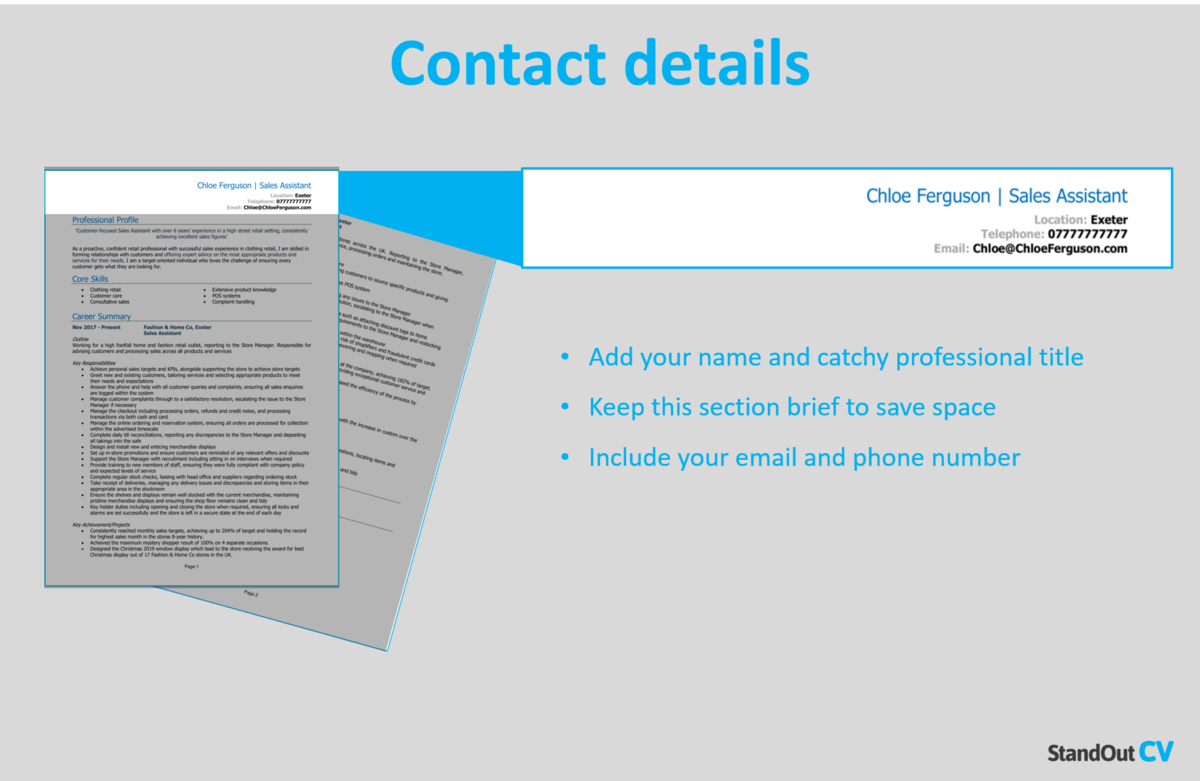 Make it easy for hiring managers to contact you by adding your contact details to the top of your resume.
Keep this section small to save space and include the following.
Name and profession title
Telephone number – Ideally your cell phone so you can answer quickly.
Location – Add your general location such as LA or New York
Email address – Use a professional looking one with no nicknames.
You can add a link to your LinkedIn profile if you have one – you do not need to include personal details like date of birth or marital status.
Application Engineer Resume Summary
Now it's time to get into the real content of your resume, starting with the summary.
Your resume summary is a short paragraph at the top of the document, and its jobs is to catch the eye of hiring managers by summarizing all your skills and knowledge that are most important to the roles you are applying for.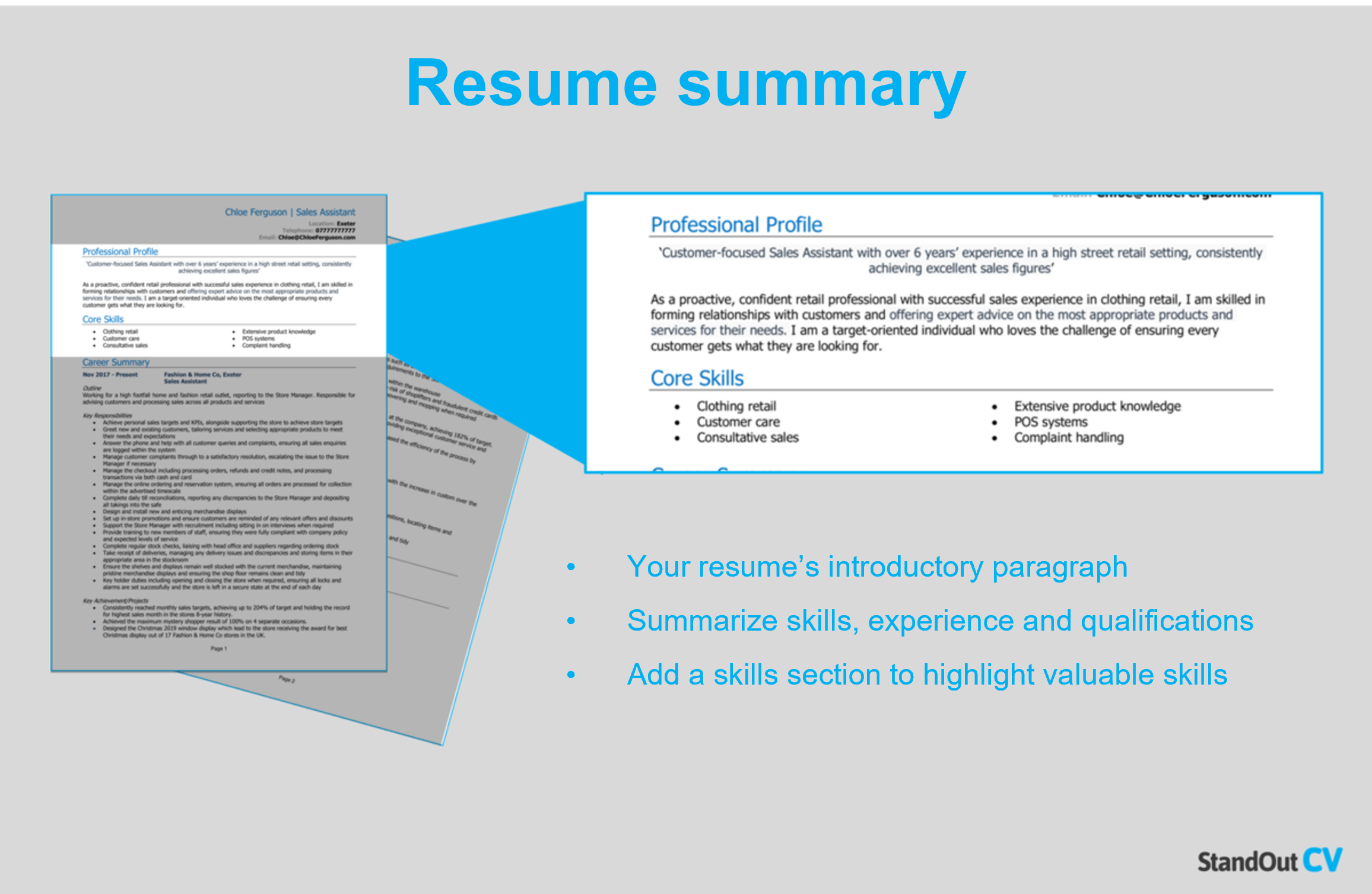 How to create a resume summary that will excite recruiters:
Keep it short: To effectively capture a recruiter's attention, it's crucial to keep your resume summary brief and to the point, limiting it to 4-7 lines as this provides enough detail without overwhelming them at this early stage.
Tailor to target jobs: Tailor your resume to your target jobs by studying the job description and adding as many matching skills as you can.
Avoid using cliches: Recruiters always see cringey cliches like "hardworking guru who works well in a team or individually" – they don't mean much to anyone, so focus your summary on tangible skills and experience.
Application Engineer resume summary example
Results-oriented Application Engineer with a strong background in software development, system integration, and technical consulting for leading technology consultancies. Experienced in creating innovative web applications, optimizing client systems, and driving project success through Agile methodologies. AWS Certified Developer highly skilled in utilizing cloud computing and centralized databases to deliver efficient and scalable solutions.
What to include in your Application Engineer resume summary?
Summary of your experience: Summarize the type of work you have done in the past and the ways in which you have contributed to the success of your previous employers.
Relevant skills: Skills that are highly relevant to Application Engineer work should be made prominent throughout your summary.
Qualifications: If your job requires any qualifications such as a professional course or a college degree, mention it briefly in your summary.
Quick tip: Choose from hundreds of pre-written summaries across all industries, and add one to your resume with one-click in our partner's Resume Builder. All written by recruitment experts and easily tailored to suit your unique skillset and style.
Core skills section
Sitting just underneath your resume summary, your core skills section gives recruiters 4-10 of your most in-demand skills in just a glance.
As Application Engineer jobs may get hundreds of applications, this is a great way to stand out and quickly grab hiring managers' attention.
It should be made up of 2-3 columns of bullet points and highlight attributes that are hyper-relevant to the jobs you are aiming for.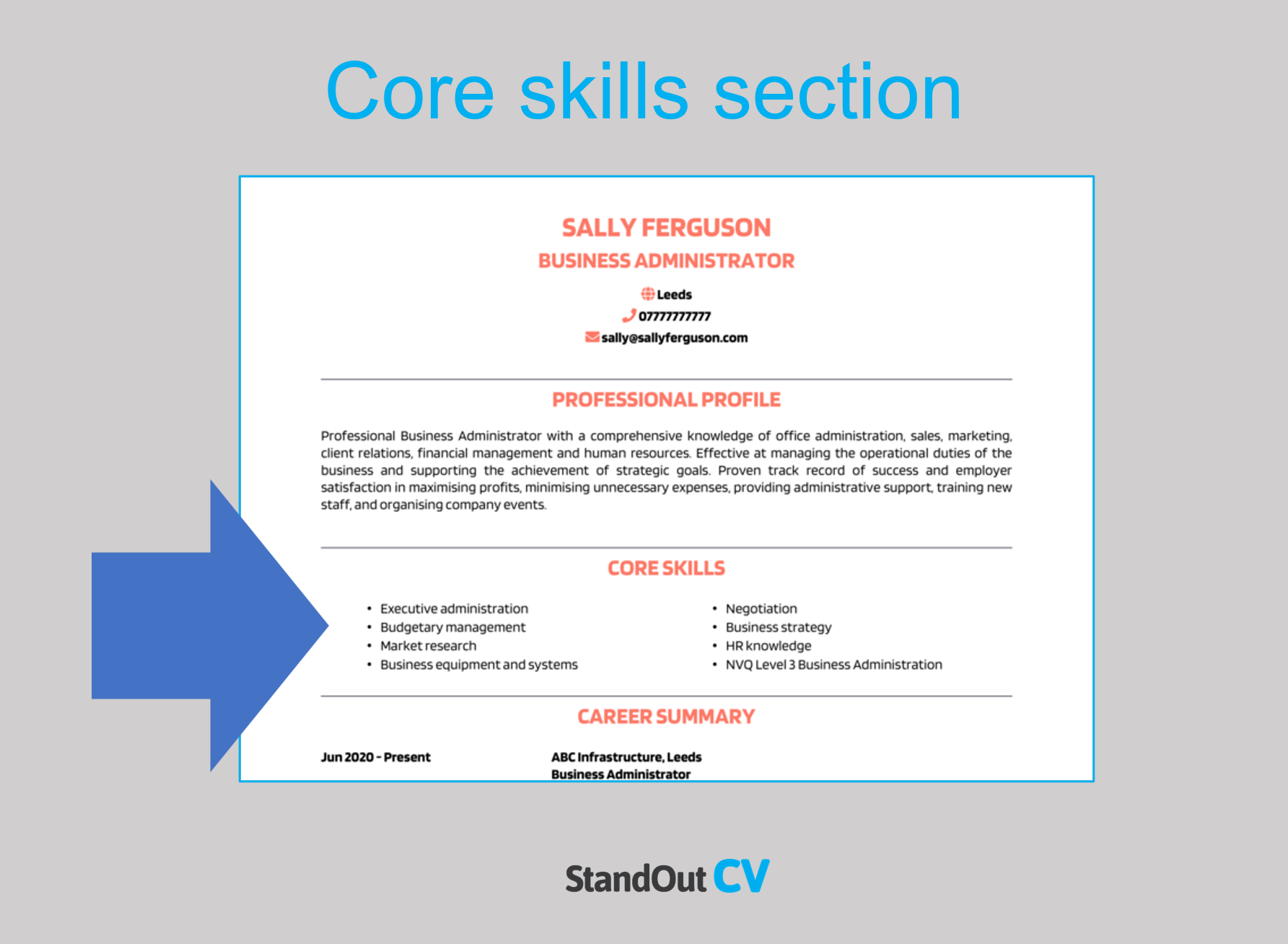 Best skills for your Application Engineer resume
Programming Languages – Maintaining proficiency in programming languages such as Java, C++, Python, or JavaScript, which are commonly used in application development.
Software Development Lifecycle (SDLC) – Utilizing knowledge of the complete software development lifecycle, including requirements analysis, design, development, testing, deployment, and maintenance.
Application Frameworks – Utilizing knowledge of popular application frameworks like Spring, .NET, or Django, which provide a structured approach to developing robust and scalable applications.
Database Management – Working with databases, including designing database schemas, writing complex SQL queries, and optimizing database performance.
System Architecture – Designing and implementing scalable and efficient application architectures, considering factors like modularity, scalability, and maintainability.
Cloud Computing – Maintaining familiarity with cloud platforms like AWS, Azure, or Google Cloud, and the ability to develop and deploy applications in cloud environments.
API Integration – Integrating third-party APIs and web services into applications, including authentication, data retrieval, and data synchronization.
Testing and Quality Assurance – Utilizing knowledge of software testing methodologies and tools, including unit testing, integration testing, and automated testing, to ensure the quality and reliability of applications.
Troubleshooting and Debugging – Identifying and resolving issues in applications, including analyzing logs, conducting root cause analysis, and implementing fixes.
Cross-functional Communication and Collaboration – Working closely with cross-functional teams, gathering requirements, providing technical guidance, and contributing to project success.
Quick tip: Our partner's Resume Builder contains thousands of in-demand skills for every profession that can be added to your resume in seconds – saving you time and greatly improving your chances of landing job interviews and getting hired.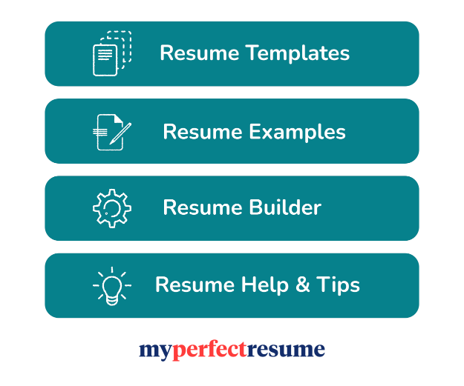 Work experience
So, you've got the recruiter interested with your catchy summary… Great work.
Now it's time to show them the impact you make in the workplace by listing out your previous jobs and what you achieved in each one.
If you have tons of experience, you can condense this part down to the last few years – if you are junior, then you should include as much possible (even volunteering and school work placements)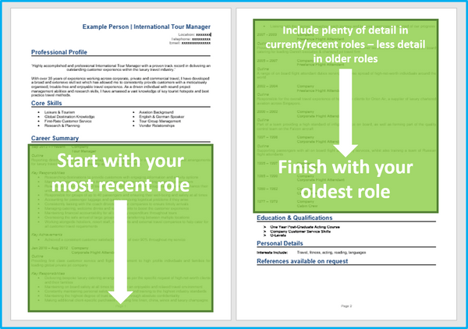 Structuring your jobs
You probably do a lot in your job, so its vital to break all of that information down into a good structure.
Structure your jobs as follows to make it easy for recruiters to skim through and pinpoint the essential info.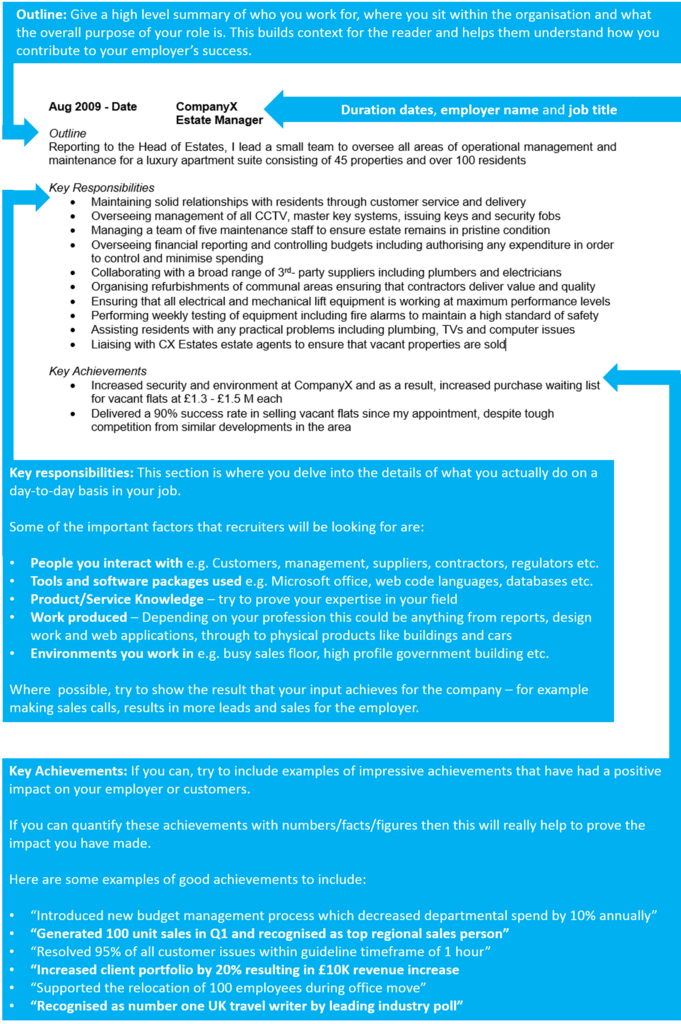 Job outline
Start with a 1-2 sentence outline of the role, summarizing what the goal of your position was, who you reported to (or managed) and the type of organization you worked for.
Key responsibilities
Next, write up a punchy list of your daily duties and responsibilities, using short bullet points.
Describe how you apply your skills and contribute to the running of the employer's business – highlighting skills which are applicable to your target jobs.
Key achievements
Round off each job by adding some impressive achievements you made in the role.
Anything you've done that has made a big impact on your employer will make a good impression, think; generating revenue, saving costs, or improving a product.
Quantify your achievements with number where possible e.g. "reduced call wait time by 10%"
Example job for Application Engineer resume
Outline
Collaborate with cross-functional teams at SanTech, a leading technology firm, to develop and deploy cutting-edge software solutions for clients in diverse industries.
Key Responsibilities
Design, develop, and maintain web applications using Python, Java, and C++
Integrate client systems with third-party APIs and external services
Provide technical expertise and consulting to clients, addressing their specific needs
Implement Agile methodologies to manage projects and ensure timely delivery
Quick tip: Create impressive job descriptions easily in our partner's Resume Builder by adding pre-written job phrases for every industry and career stage.

Education section
Towards the bottom of your resume, add your education section.
Here you should list your professional qualifications and academic record, such as high school diplomas or college degrees.
If you have lots of work experience, you can keep this section brief (because recruiters will be more interested in your career. If you have little/no experience then you should bulk this section up with plenty of detail.
Additional information
If you have anything else to add which is relevant to the jobs you are applying for, the additional info section is the place to add it.
Perhaps you have a hobby which involves relevant skills, or maybe you have some awards or publications worth mentioning.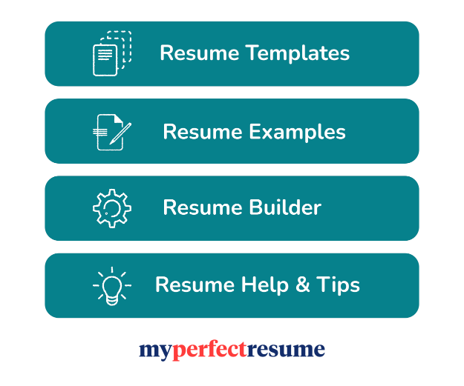 Writing your own winning Application Engineer resume
By tailoring your resume to the specific job and industry you are targeting and ensuring that it effectively communicates your professional value, you can position yourself as a top candidate for all Application Engineer positions.
Good luck with your job search!