No matter what area of development you specialize in or what operating system you prefer to work with, if you hope to land your next role, the recruiter needs to understand your impressive skills.
While the easiest solution is to show them your past apps, this is not always an option in the early stages. Instead, you need to use facts and figures to showcase your talent.
Using our guide below, find out how to write an impressive application that gives you a competitive edge. We've even provided an application developer resume example to inspire you.
Contents
| | |
| --- | --- |
| How to write your Application Developer resume | |

Application Developer Resume Example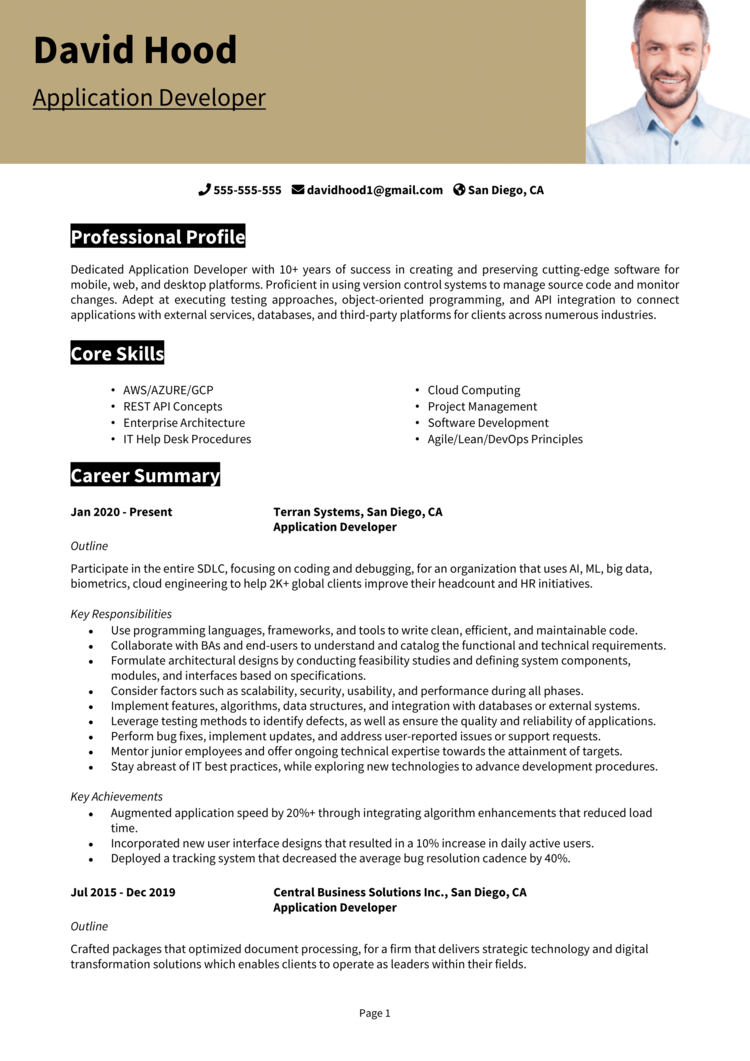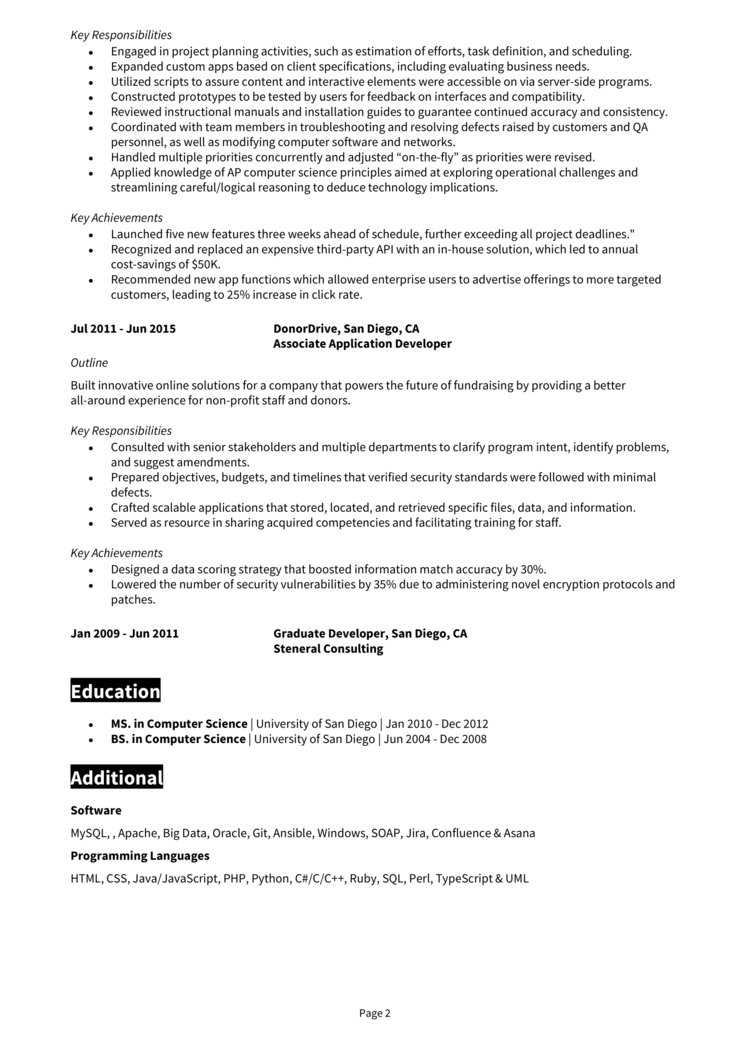 From the Application Developer resume example above, you can see the kind of information your resume will need to include, and the layout you will need to create for an easy-reading experience.
The rest of this guide will show you how to apply this format to your own unique situation, and create a resume that will attract the best employers in your industry.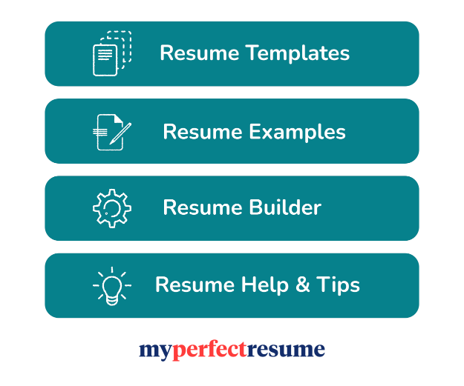 Application Developer resume layout and format
If you want to get noticed in the job market, you have to pay attention to the format and layout of your resume.
Essentially your resume needs to look highly polished, and provide hiring managers with an easy reading experience.
Use these resume formatting tips to get a head start on this.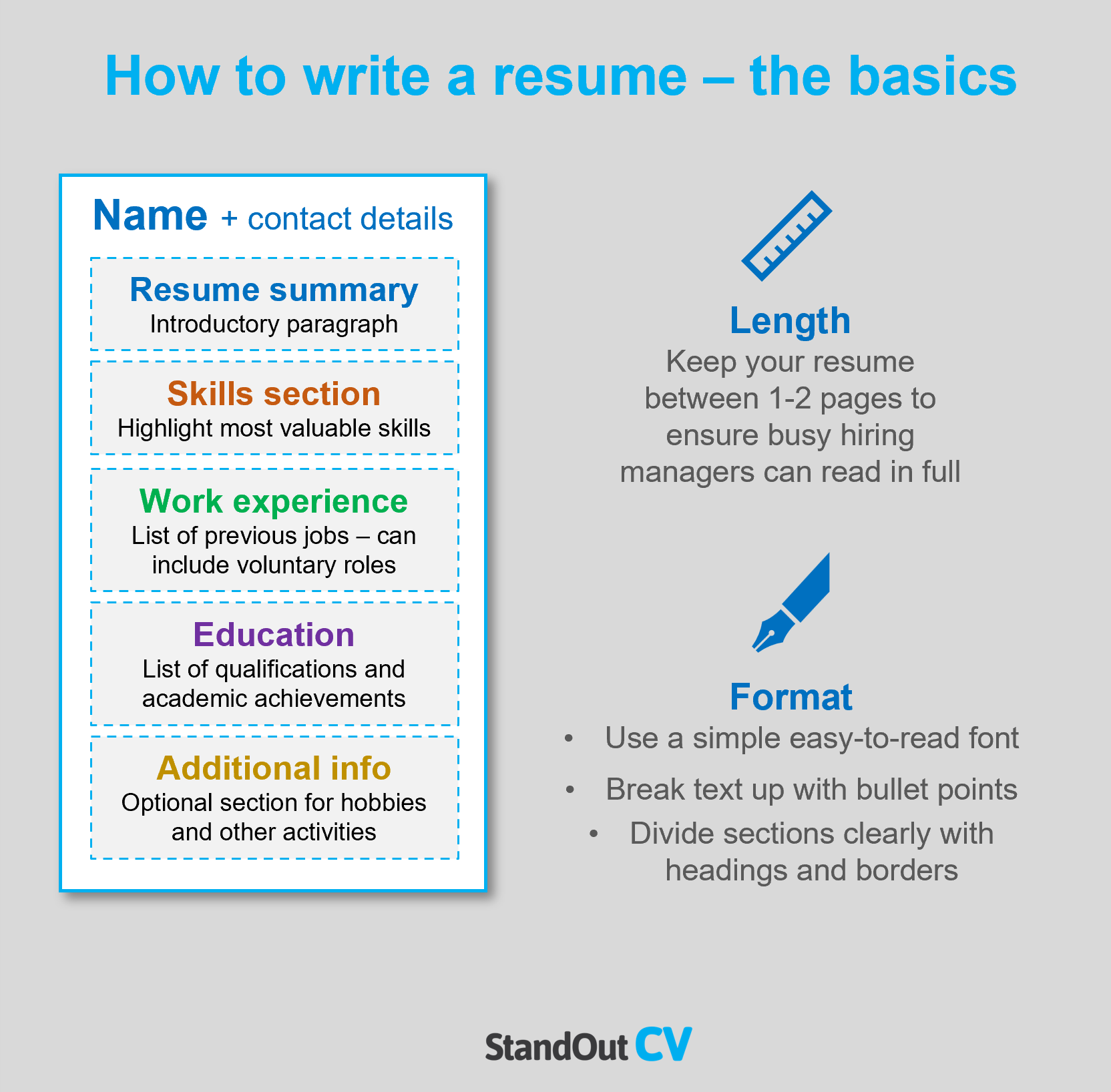 Formatting your resume
Length: As recruiters have a limited amount of time to review each resume they see, keep your resume to 2 pages or less to increase the chances of it being thoroughly reviewed.
Font & readability: Simplicity and a pleasant reading experience are crucial if you want to highlight your most valuable skills to recruiters. Use a clear font (avoid fancy ones) and break up the text in your resume with bullet points to ensure information can be easily consumed.
Layout: While creating an attractive resume, it is crucial not to compromise functionality for design. To ensure both, use bold headings and borders to structure the page into clear sections.
Photos: While adding a photo to your resume is not mandatory in the USA, it can be beneficial if you are applying to organizations in creative industries.
Quick tip: Achieving a professional look for your resume can be difficult and time-consuming. If you want to create an attractive resume quickly, try our partner's Resume Builder and use one of their eye-catching resume templates.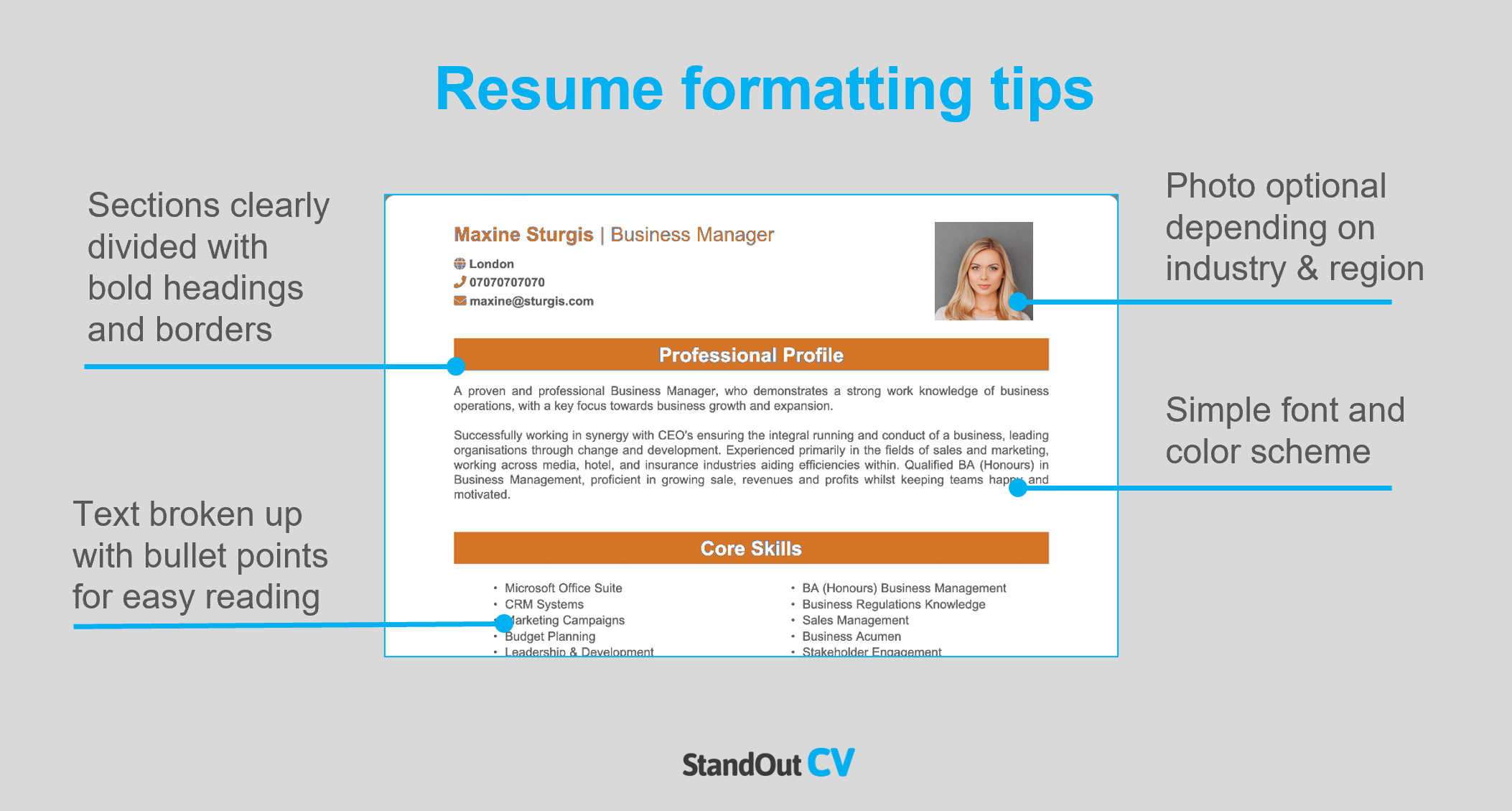 Resume layout
Your resume should include the following sections to give recruiters the information they require:
Name and Contact Details – Place your contact information at the top of your resume to make it easy for employers to get in touch with you.
Resume Summary – Write a brief introduction at the beginning of your resume that summarizes your most important qualifications and highlights why you are the ideal candidate for the job.
Skills Section – Include a concise list of your most relevant and impressive skills to quickly grab the attention of potential employers.
Work Experience – List your previous work experiences in reverse chronological order, including any volunteer work or college placements.
Education – List your educational qualifications and any professional training you have received.
Additional Information – This section is optional, but you can include details about your interests, hobbies, or any other relevant information that can make you stand out from other applicants.
Here's what to add to each section of your Application Developer resume.
Contact Details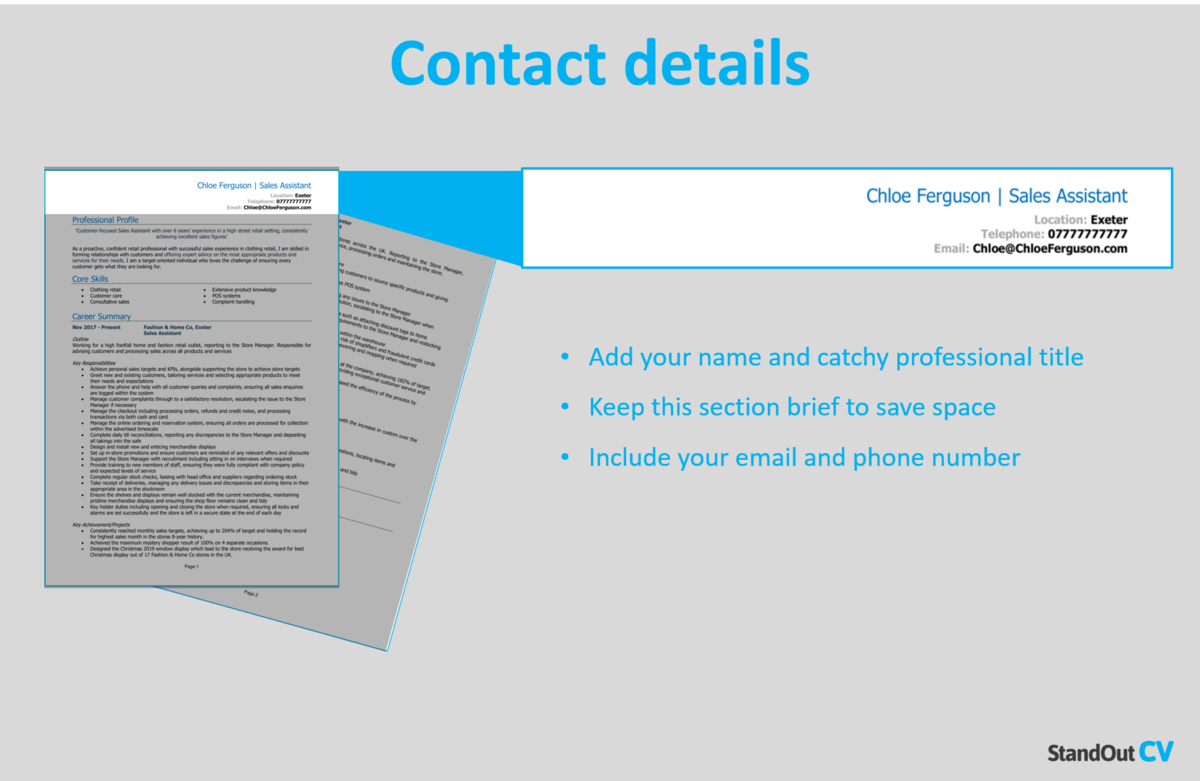 Keep your contact details short to save resume space and include the following.
Name and profession title
Cell phone number
Location – Add your local area such as Silicon Valley or New York, unless you are looking for work in a different location
Email address – Keep it professional and don't use an old address that you thought was cool in high school, but now looks a bit embarrassing.
You can add a link to your LinkedIn profile if you have one – you do not need to include personal details like date of birth or marital status.
Application Developer Resume Summary
The resume summary is a short paragraph at the top of your resume, and it's purpose is to grab recruiter's attention and make sure they keep reading it.
To make your summary work, ensure that you provide a high-level summary of your skills and experience – and tailor it to reflect the requirements of the jobs you are applying for.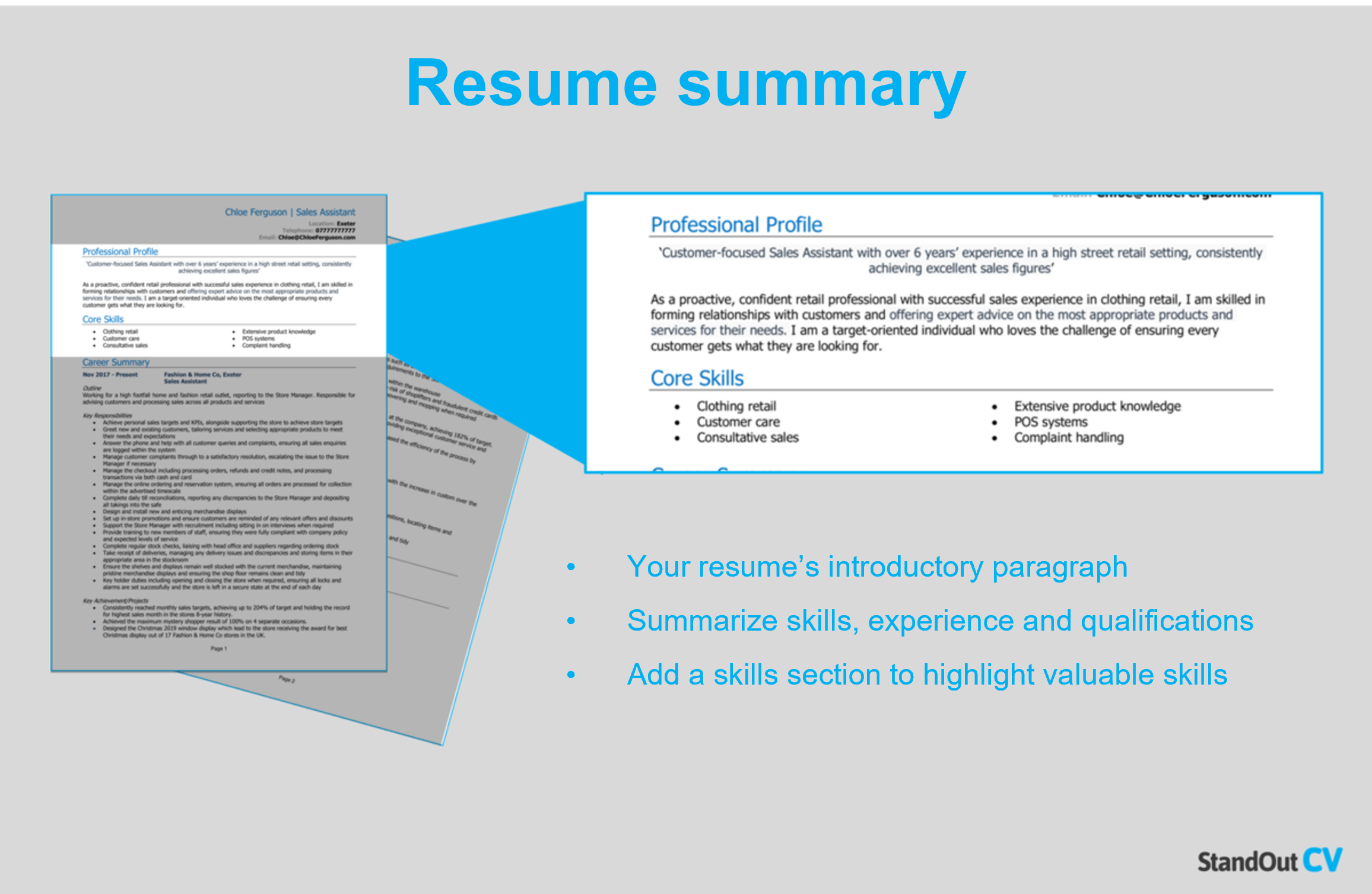 How to create a resume summary that will excite recruiters:
Keep it short: To capture a recruiter's attention and keep them interested in your resume, limit your summary to 4-7 lines as you only have a few seconds to make an impression
Tailor to target jobs: By carefully reviewing the job description and incorporating as many relevant skills as possible, you can customize your resume to better match your target jobs.
Avoid using cliches: Recruiters look for facts in resumes, such as hard skills and qualifications – so, leave out the meaningless cliches like "hard worker who works well in a team and individually"
Application Developer resume summary example
Dedicated Application Developer with 10+ years of success in creating and preserving cutting-edge software for mobile, web, and desktop platforms. Proficient in using version control systems to manage source code and monitor changes. Adept at executing testing approaches, object-oriented programming, and API integration to connect applications with external services, databases, and third-party platforms for clients across numerous industries.
What to include in your Application Developer resume summary?
Summary of your experience: Summarize the type of work you have done in the past and the benefits you have delivered for the organizations you worked at.
Relevant skills: Instantly showcase your suitability for Application Developer jobs by including your skills that are highly relevant to them.
Qualifications: Any qualifications that are important to the Application Developer jobs you are applying for, should be mentioned in the summary.
Quick tip: Choose from hundreds of pre-written summaries across all industries, and add one to your resume with one-click in our partner's Resume Builder. All written by recruitment experts and easily tailored to suit your unique skillset and style.
Core skills section
Sitting just underneath your resume summary, your core skills section gives recruiters 4-10 of your most in-demand skills in just a glance.
As Application Developer jobs may get hundreds of applications, this is a great way to stand out and quickly grab hiring managers' attention.
It should be made up of 2-3 columns of bullet points and highlight attributes that are hyper-relevant to the jobs you are aiming for.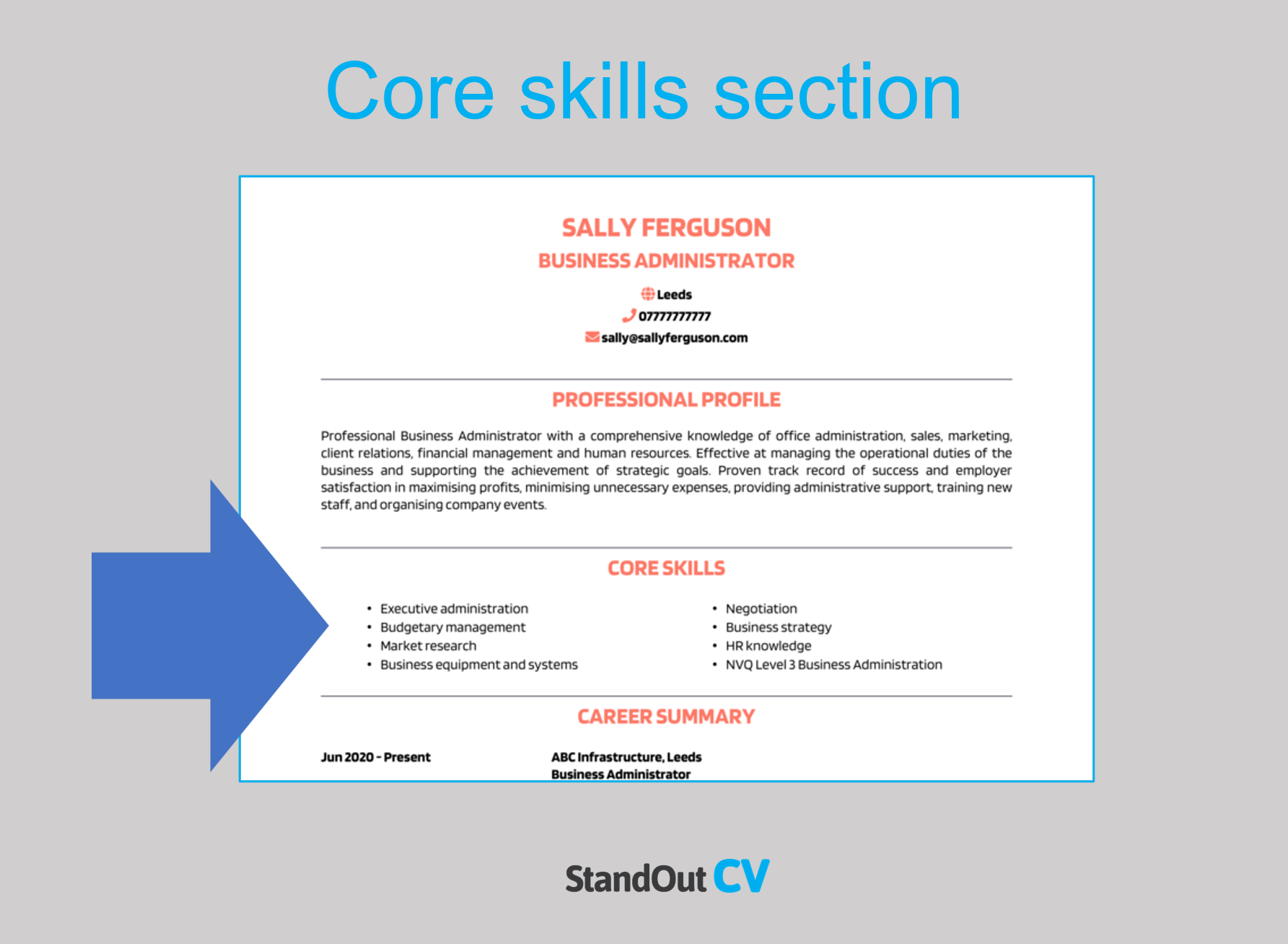 Best skills for your Application Developer resume
Programming Languages – Maintaining proficiency in programming languages such as Java, C++, Python, or JavaScript, which are commonly used in application development.
Mobile App Development – Developing mobile applications for platforms like iOS or Android, including knowledge of frameworks and libraries specific to mobile development.
Web Development – Building web applications using front-end technologies like HTML, CSS, and JavaScript, along with knowledge of back-end frameworks and databases.
User Interface (UI) Design – Creating visually appealing and user-friendly interfaces, considering aspects like layout, color schemes, typography, and usability principles.
Database Management – Utilizing knowledge of database concepts, including designing database schemas, creating queries, and ensuring efficient data storage and retrieval.
Version Control – Utilizing version control systems like Git to manage code repositories, track changes, and collaborate with other developers.
Testing and Debugging – Utilizing knowledge of software testing methodologies and tools to ensure the quality and reliability of the application, as well as the ability to identify and fix bugs or issues.
Agile Development – Maintaining familiarity with Agile development methodologies, including Scrum or Kanban to work in iterative and collaborative development environments.
Problem Resolution – Identifying, troubleshooting, and resolving technical challenges that arise during the application development process.
Quick tip: Our partner's Resume Builder contains thousands of in-demand skills for every profession that can be added to your resume in seconds – saving you time and greatly improving your chances of landing job interviews and getting hired.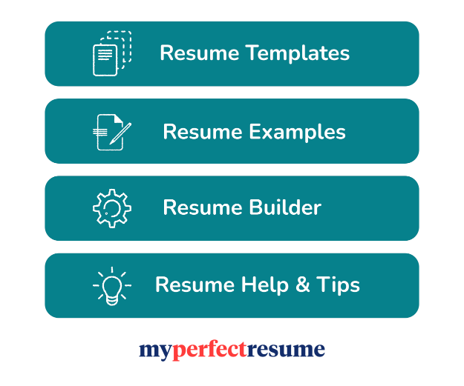 Work experience
Once you've hooked the hiring manager with your summary, you can really blow them away with you work experience.
List your previous jobs from newest to oldest to show the impact you made at each organization.
If you have years of experience, you can leave out some of the older jobs, and if you have little/no experience, you can bulk this section up with voluntary work and college placements.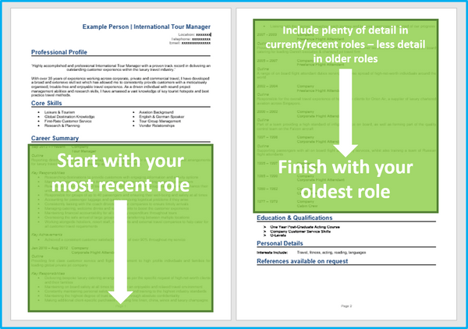 Structuring your jobs
It's easy to overwhelm readers when writing about a job you have been doing for years or even months.
Break the information up like this to keep it simple for recruiters to understand.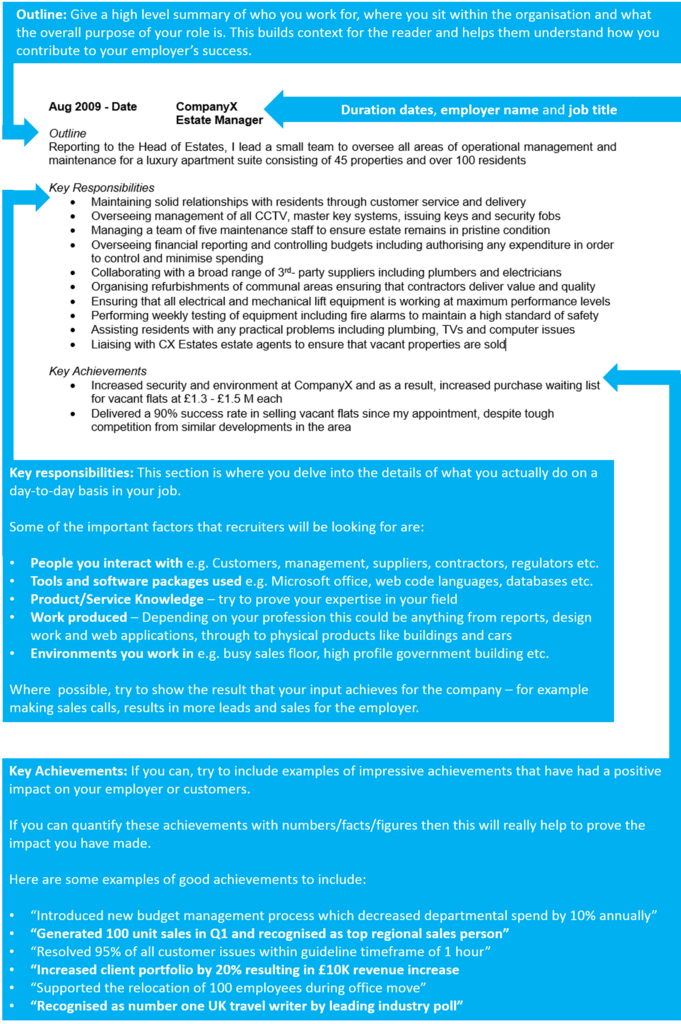 Job outline
Kick off each role with a high-level overview to summarize the focus of the job, what the organization/department does, and how you fit into the bigger picture.
Key responsibilities
Then delve into the detail of your job by listing out easy-to-read bullet points which show how you apply your skills in the workplace.
Tailor these bullet points to focus on the skills and knowledge that are required in the jobs you are applying for.
Key achievements
Show employers the value you can bring to them by adding a few achievements to your jobs.
Whether you've saved the company money or improved an internal process, let recruiters know
Add some numbers to give readers a real scale of the impact, e.g. "reduced call wait time by 10%"
Example job for Application Developer resume
Outline
Participate in the entire SDLC, focusing on coding and debugging, for an organization that uses AI, ML, big data, biometrics, cloud engineering to help 2K+ global clients improve their headcount and HR initiatives.
Key Responsibilities
Use programming languages, frameworks, and tools to write clean, efficient, and maintainable code.
Collaborate with BAs and end-users to understand and catalog the functional and technical requirements.
Formulate architectural designs by conducting feasibility studies and defining system components, modules, and interfaces based on specifications.
Consider factors such as scalability, security, usability, and performance during all phases.
Quick tip: Create impressive job descriptions easily in our partner's Resume Builder by adding pre-written job phrases for every industry and career stage.

Education section
Nearing the end of your resume, your education/qualifications section should be added.
In a well-structured list, add all of your qualifications and certifications that qualify you to perform a typical Application Developer role.
If you have plenty of work experience, keep this section brief – if not, add lots of detail to make up for your lack of experience.
Additional information
The additional info section is optional but can be useful if you have anything else to add that could benefit your application.
For example, you may have some hobbies and interests that are relevant to your job – or you might have awards or publications to shout about.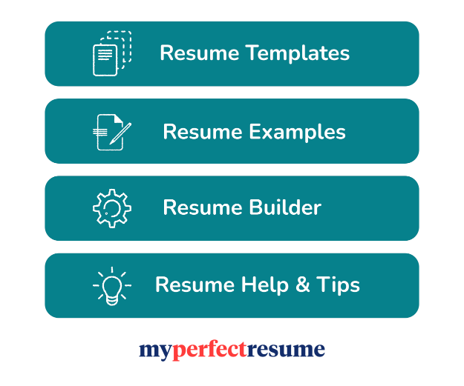 Writing your own winning Application Developer resume
A winning Application Developer resume should look great, read well, and sell your skillset to hiring managers.
If you follow the steps above, you should be able to bag yourself a top job in no time.
Good luck with your job search!