Are you looking for an exciting anchor role? If so, that's your cue to create a newsworthy resume that's sure to grab the hiring manager's attention.
Sure, you're a pro at conducting research and gathering critical information, but it's getting this down on paper that's the tricky part.
So make the most of our writing guide and anchor reporter resume example below to help you.
Contents
| | |
| --- | --- |
| How to write a Anchor Reporter resume | |

Anchor Reporter Resume Example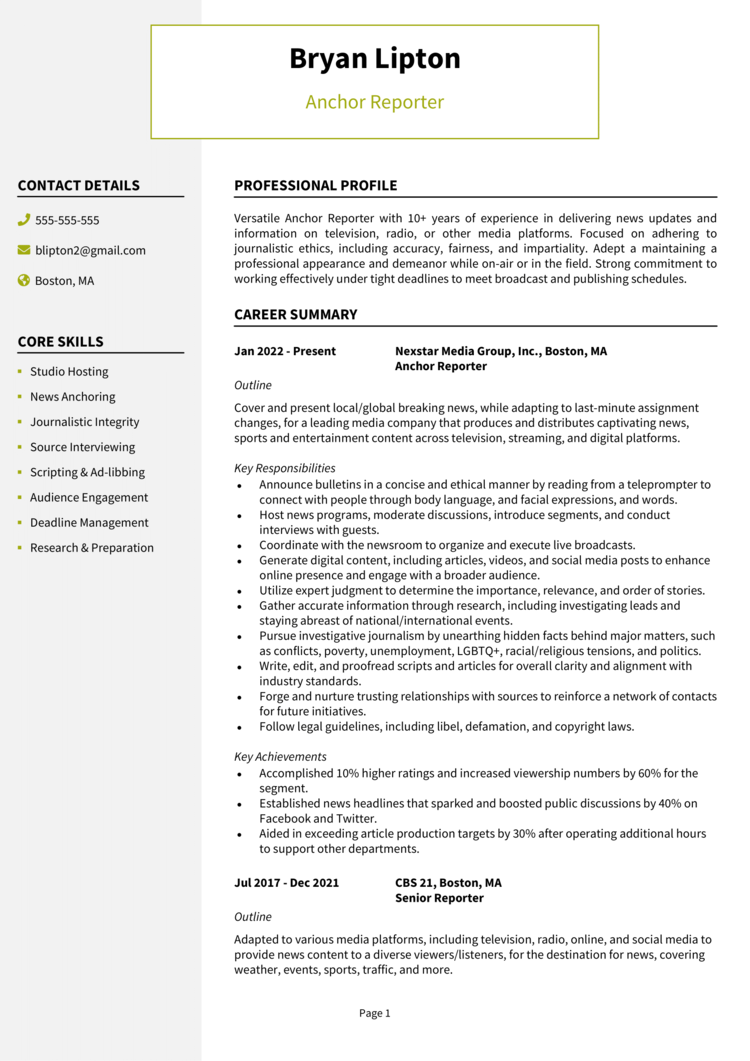 The example Anchor Reporter resume above shows you how a professional resume should look, along with the type of content it should contain.
You can see that the information is well-organized across the page and its easy for busy recruiters to see the candidate's important skills.
Keep this in mind when writing your own resume.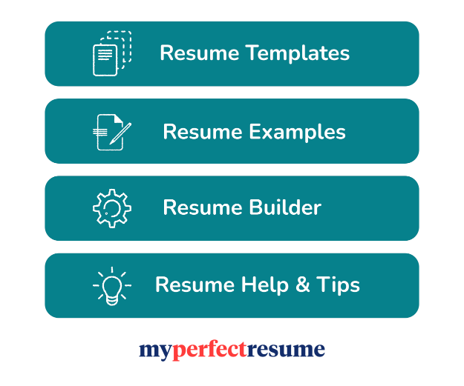 Anchor Reporter resume layout and format
Formatting is often overlooked when writing resume, but it's a crucial element of it"s success.
Creating a document that not only looks good, but is easily comprehended, is the key to gaining and holding the attention of busy hiring managers.
Use these formatting tips for best results.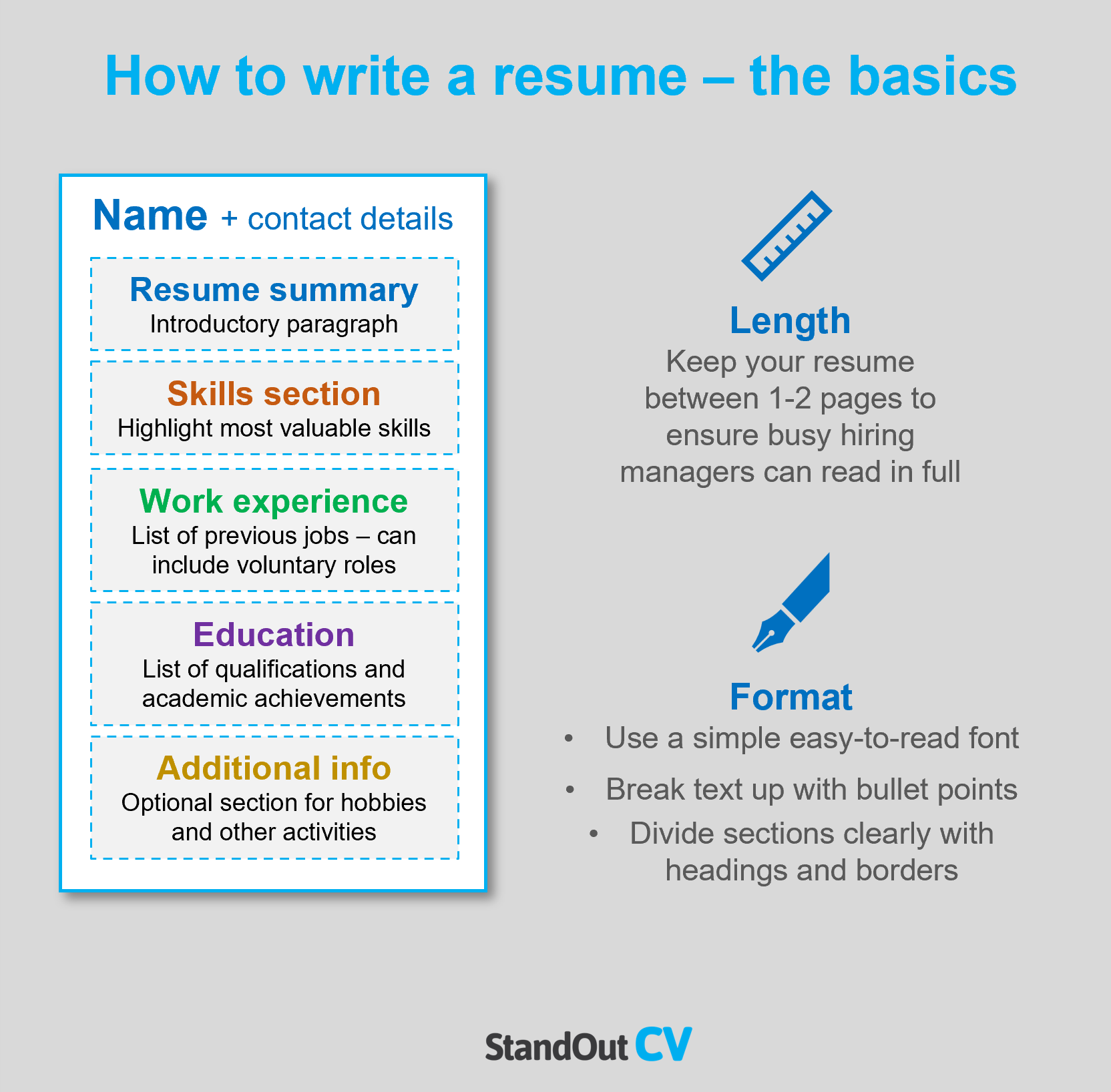 Formatting your resume
Length: To ensure that recruiters will read all of your resume, limit its length to 2 pages – as they someteimes read hundreds of resumes daily.
Font & readability: The key to a good resume is readability. To make your resume easy to read, use a clear and uncomplicated font, and break up the text with bullet points and short paragraphs.
Layout & Structure: Hiring managers should be able to skim through your resume easily and pinpoint the information they want quickly. To help them do this, organize the page into clear sections with bold headings and dividing borders. The design should be clutter-free and professional-looking, with a calm color scheme.
Photos: You don't have to add a photo to your resume in the States, but some regions and industries like to see them.
Quick tip: Achieving a professional look for your resume can be difficult and time-consuming. If you want to create an attractive resume quickly, try our partner's Resume Builder and use one of their eye-catching resume templates.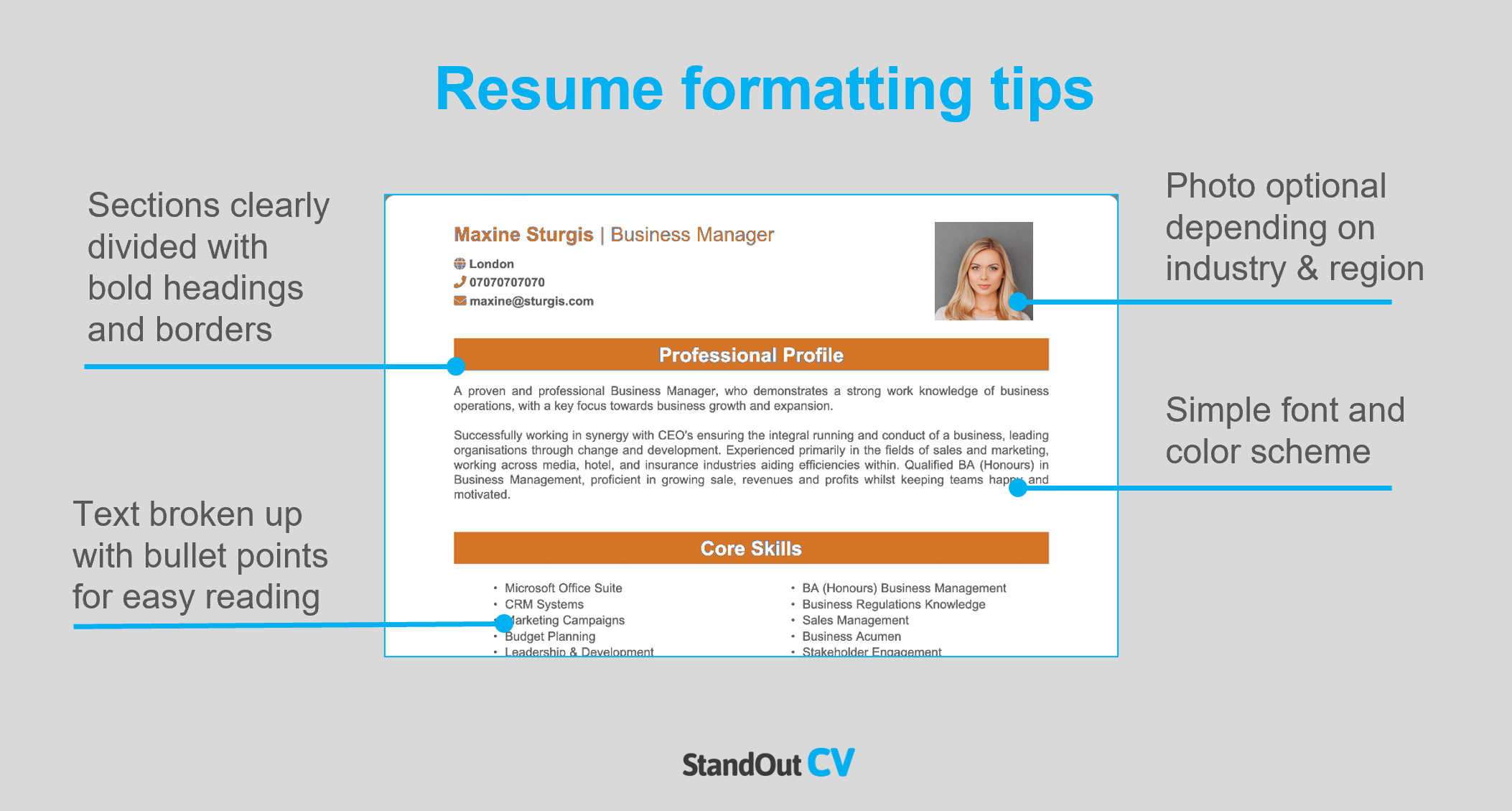 Resume layout
Include the following sections when you write your resume.
Name and contact details – Make it easy for employers to contact you, by putting these at the top.
Resume summary – An intro paragraph sitting at the top of your resume, summarizing the reasons why you should be hired.
Skills section – A short snappy list of your most important skills, that can be quickly digested
Work experience – Reverse chronological list of your previous jobs – voluntary work and college placements can be included if you have no paid experience.
Education – List your qualifications and professional training.
Additional info – An optional section for things like hobbies and interests.
Here's what to include in each part of your resume.
Contact Details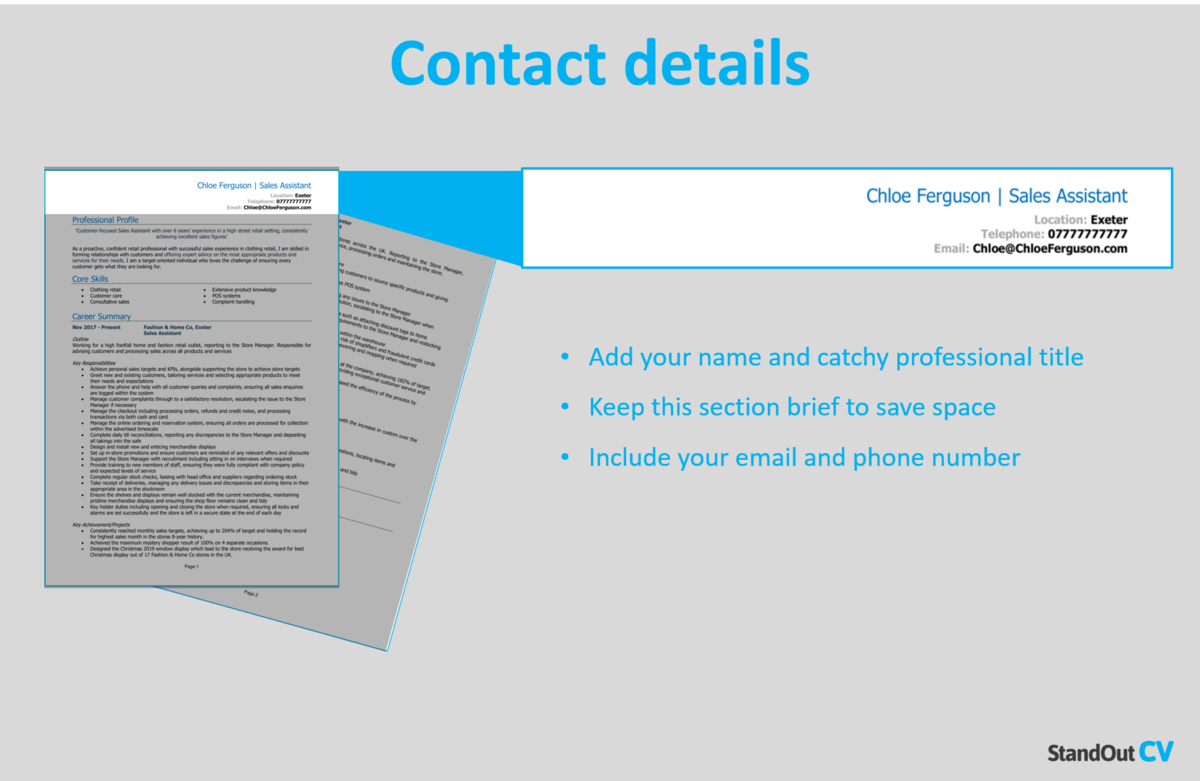 Add your name and contact details to the header of your resume, so that anybody reading can easily see how to contact you.
Name and profession title
Cell phone number – or any number you are easily reachable on
Location – Add your local area such as Washington or San Diego – not your full address as that will take up too much space.
Email address – Use a professional looking address.
You can add a link to your LinkedIn profile if you have one – you do not need to include personal details like date of birth or religion.
Anchor Reporter Resume Summary
The resume summary is a short paragraph at the top of your resume, and it's purpose is to grab recruiter's attention and make sure they keep reading it.
To make your summary work, ensure that you provide a high-level summary of your skills and experience – and tailor it to reflect the requirements of the jobs you are applying for.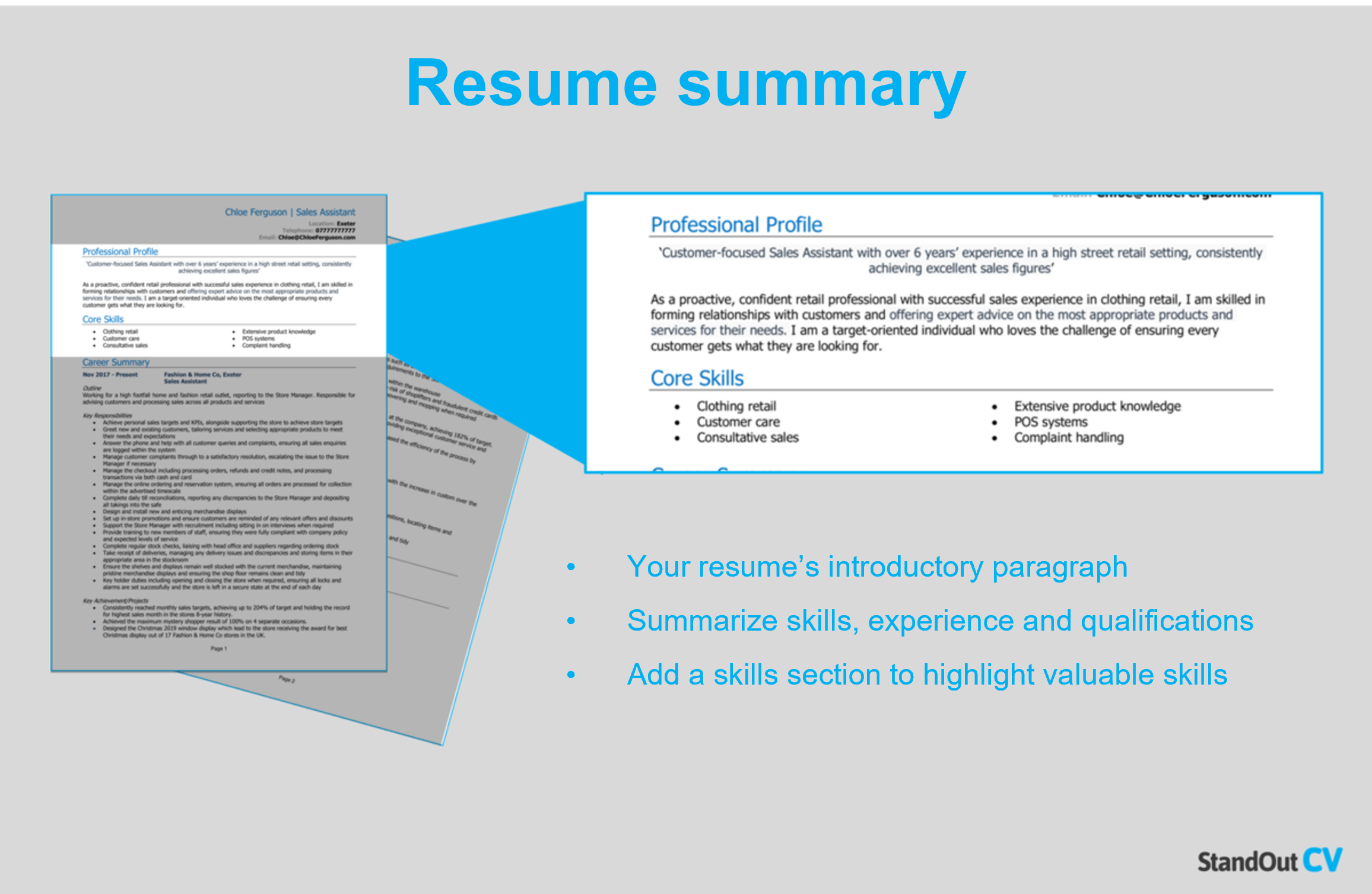 How to create a resume summary that will excite recruiters:
Keep it short: Your summary is intended to be a high-level introduction to hook readers' attention, so keep it brief (4-7 lines) – save the details for later in your resume.
Tailor to target jobs: By carefully reviewing the job description and incorporating as many relevant skills as possible, you can customize your resume to better match your target jobs.
Avoid using cliches: You may be a "team player who always give 110%" but generic phrases don't tell employers much about you in reality – stick to factual information.
Anchor Reporter resume summary example
Versatile Anchor Reporter with 10+ years of experience in delivering news updates and information on television, radio, or other media platforms. Focused on adhering to journalistic ethics, including accuracy, fairness, and impartiality. Adept a maintaining a professional appearance and demeanor while on-air or in the field. Strong commitment to working effectively under tight deadlines to meet broadcast and publishing schedules.
What to include in your Anchor Reporter resume summary?
Summary of your experience: What kind of companies have you worked for in the past? And which jobs have you carried out?
Relevant skills: Scatter your most in-demand Anchor Reporter skills through your summary to ensure they are noticed quickly by hiring managers.
Qualifications: If your job requires any qualifications such as a professional course or a college degree, mention it briefly in your summary.
Quick tip: Choose from hundreds of pre-written summaries across all industries, and add one to your resume with one-click in our partner's Resume Builder. All written by recruitment experts and easily tailored to suit your unique skillset and style.
Core skills section
Your core skills section, positioned just below your resume summary, provides recruiters with a quick glance at 4-10 of your most in-demand skills.
For Anchor Reporter jobs, where hiring managers may receive hundreds of applications, this section can help you stand out and immediately grab their attention.
To be effective, this section should consist of 2-3 columns of bullet points that highlight attributes that are highly relevant to the jobs you are targeting.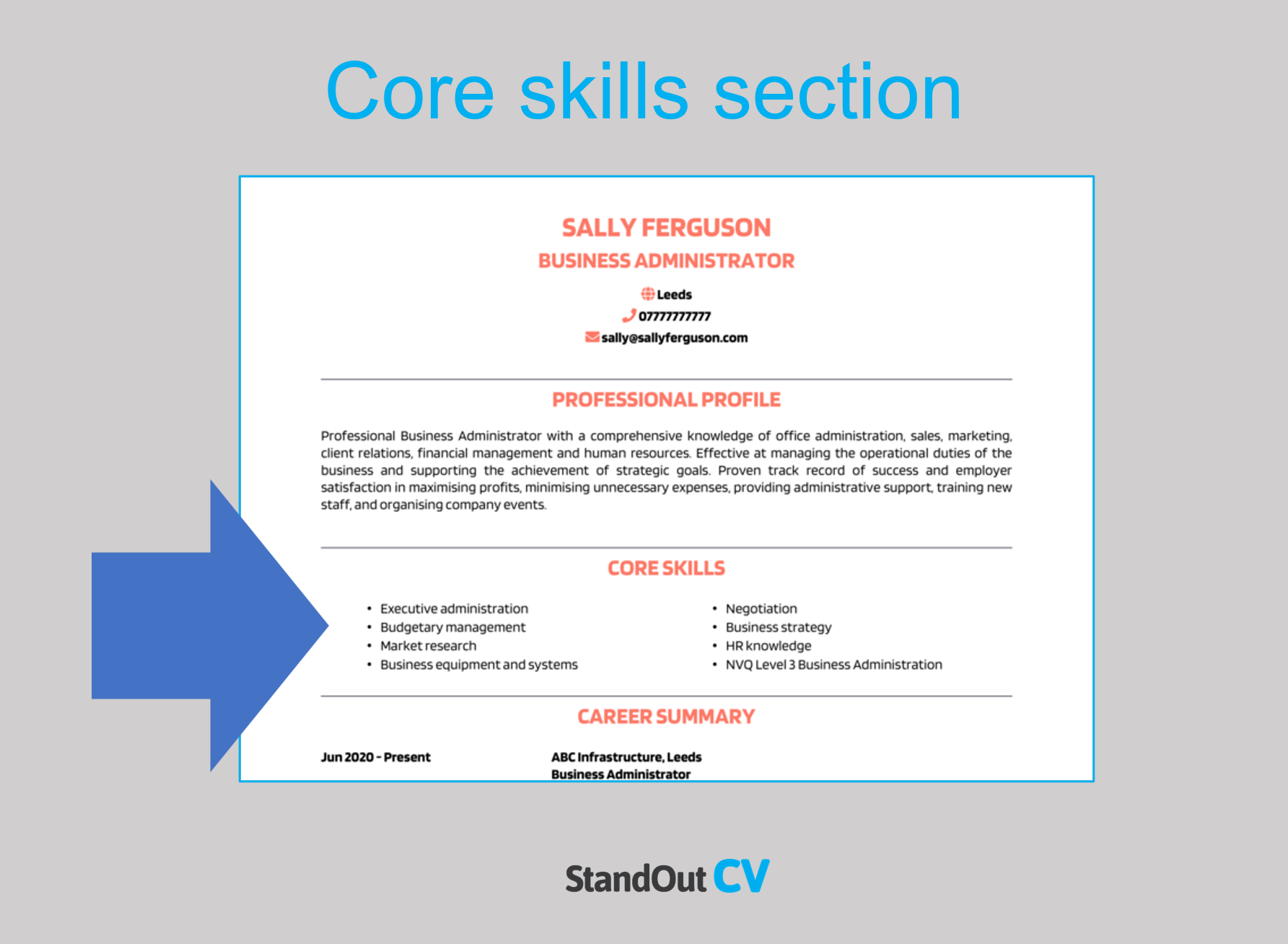 Best skills for your Anchor Reporter resume
Journalism Ethics – Utilizing knowledge of journalistic ethics, including accuracy, fairness, objectivity, and integrity, to ensure reliable and unbiased reporting.
News Gathering and Research – Conducting thorough research, gathering relevant information, and verifying facts to produce accurate and well-informed news stories.
Interviewing Techniques – Conducting engaging and insightful interviews with various sources, including public figures, experts, and eyewitnesses, to gather valuable information for news reporting.
Live Reporting and Broadcasting – Delivering live reports and news updates on-air with confidence, poise, and effective communication skills.
Writing and Storytelling – Crafting compelling news stories, incorporating proper structure, grammar, and clarity while capturing the attention of the audience.
News Presentation – Presenting news stories in a clear, concise, and engaging manner, adapting to different formats such as breaking news, feature stories, and investigative reports.
Deadline Management – Working under tight deadlines, ensuring timely delivery of news stories for broadcast.
Multimedia and Technology – Utilizing multimedia tools, video editing software, teleprompter operation, and other relevant technologies used in the newsroom.
News Judgment and Critical Thinking – Evaluating the significance and relevance of news stories, making informed editorial decisions, and exercising critical thinking to provide context and analysis.
Adaptability and Resilience – Adapting to evolving news situations, handling high-pressure environments, and demonstrating resilience in challenging situations to deliver accurate and impactful news coverage.
Quick tip: Our partner's Resume Builder contains thousands of in-demand skills for every profession that can be added to your resume in seconds – saving you time and greatly improving your chances of landing job interviews and getting hired.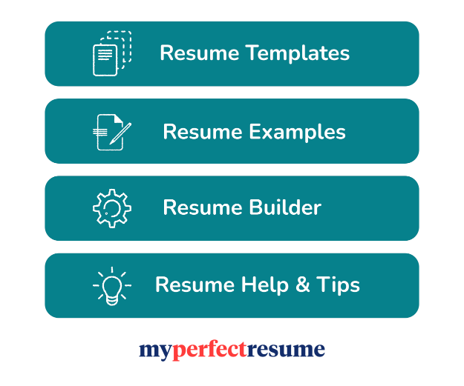 Work experience
Once you've got recruiters interested with your impactful summary, your work experience is where the real detail will lie.
Lay out your previous jobs from current to oldest, detailing what you contributed and achieved in each one.
If you're highly experienced you can cut this section down to your most recent few years of work, but if you are junior you can bulk this up with voluntary work and college placements.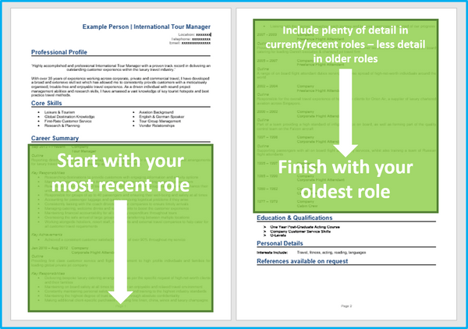 Structuring your jobs
Resume job descriptions contain lots of information, so its crucial to structure them well.
Use the structure below to ensure hiring managers can consume the information easily.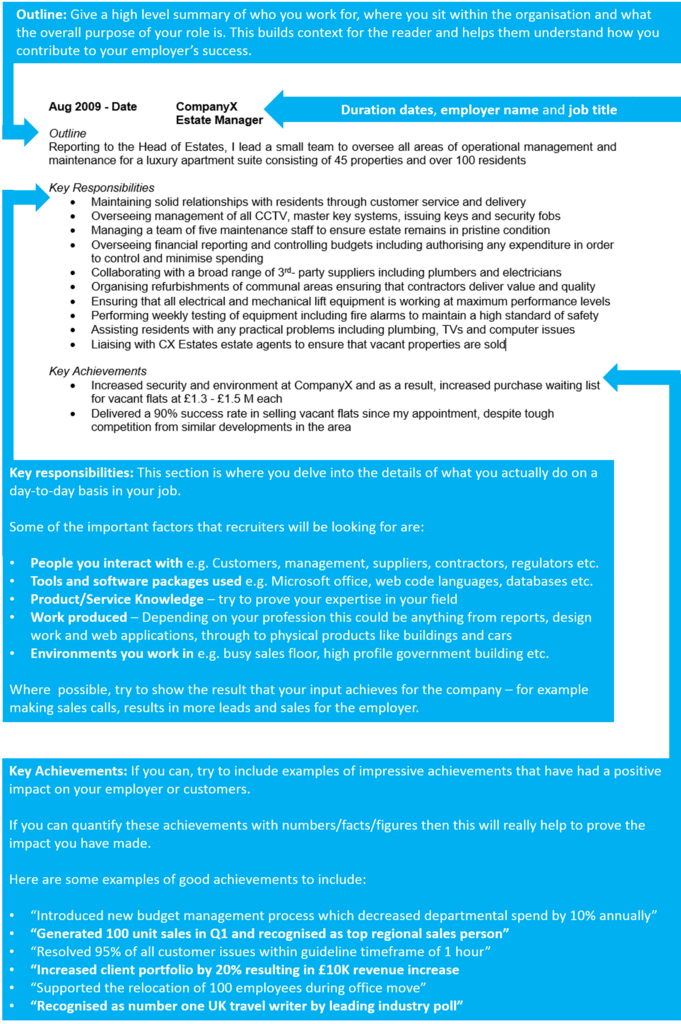 Job outline
Starting each job with a brief summary of the organization, your position within it, and the primary goal of your role can help recruiters quickly understand the context of your work.
Key responsibilities
The bulk of the role description should be comprised of bullet points that explain all of your duties in the job.
Keep the sentences short and simple to make them easy for recruiters to digest.
Key achievements
Finish each role by highlighting some impressive achievements you made whilst in the role.
Anything that benefited the employer can be included from making financial savings, to winning new customers.
Quantify your achievements with facts and figures if you can, e.g. "reduced call wait time by 10%"
Example job for Anchor Reporter resume
Outline
Cover and present local/global breaking news, while adapting to last-minute assignment changes, for a leading media company that produces and distributes captivating news, sports and entertainment content across television, streaming, and digital platforms.
Key Responsibilities
Announce bulletins in a concise and ethical manner by reading from a teleprompter to connect with people through body language, and facial expressions, and words.
Host news programs, moderate discussions, introduce segments, and conduct interviews with guests.
Coordinate with the newsroom to organize and execute live broadcasts.
Generate digital content, including articles, videos, and social media posts to enhance online presence and engage with a broader audience.
Quick tip: Create impressive job descriptions easily in our partner's Resume Builder by adding pre-written job phrases for every industry and career stage.

Education section
Towards the bottom of your resume, add your education section.
Here you should list your professional qualifications and academic record, such as high school diplomas or college degrees.
If you have lots of work experience, you can keep this section brief (because recruiters will be more interested in your career. If you have little/no experience then you should bulk this section up with plenty of detail.
Additional information
If you have anything else to add which is relevant to the jobs you are applying for, the additional info section is the place to add it.
Perhaps you have a hobby which involves relevant skills, or maybe you have some awards or publications worth mentioning.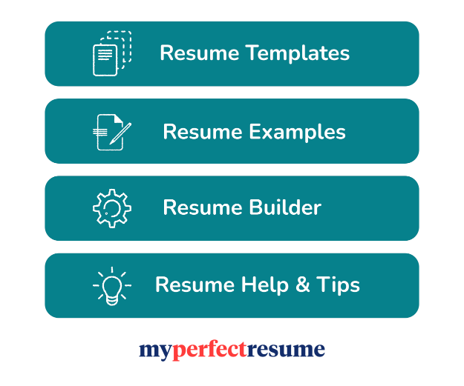 Writing your own winning Anchor Reporter resume
By tailoring your resume to the specific job and industry you are targeting and ensuring that it effectively communicates your professional value, you can position yourself as a top candidate for all Anchor Reporter positions.
Good luck with your job search!