Being responsible for the efficiency and safety of an aircraft is a very important job, so employers have to be very selective about who they hire.
You can learn how to sell your skills and boost your chances of landing the job with our comprehensive writing guide.
Simply follow our step-by-step advice, complete with an aircraft structural maintenance civilian resume example, for more support.
Contents
| | |
| --- | --- |
| How to write a Aircraft Structural Maintenance Technician resume | |

Aircraft Structural Maintenance Technician Resume Example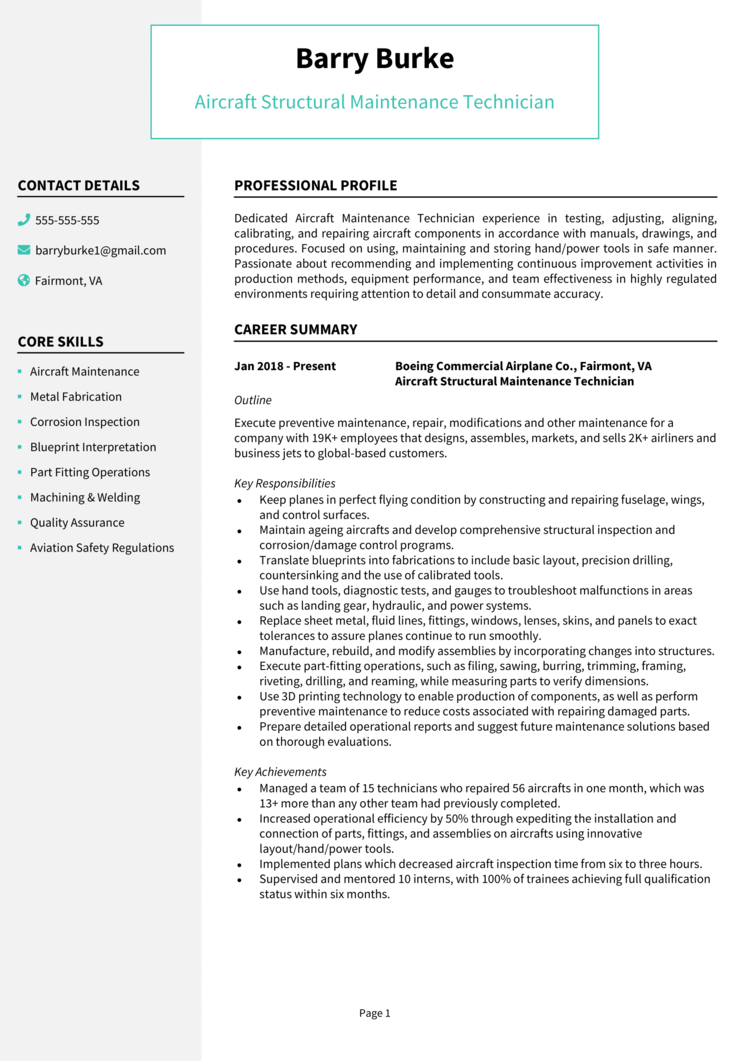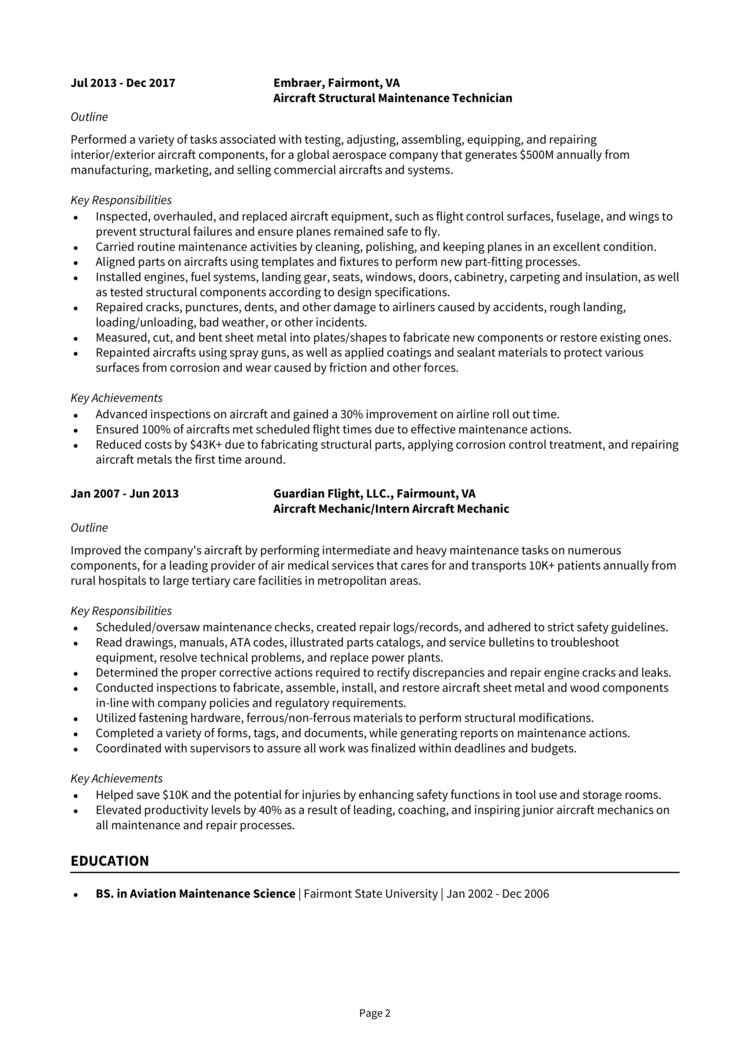 The example Aircraft Structural Maintenance Technician resume above shows you how a professional resume should look, along with the type of content it should contain.
You can see that the information is well-organized across the page and its easy for busy recruiters to see the candidate's important skills.
Keep this in mind when writing your own resume.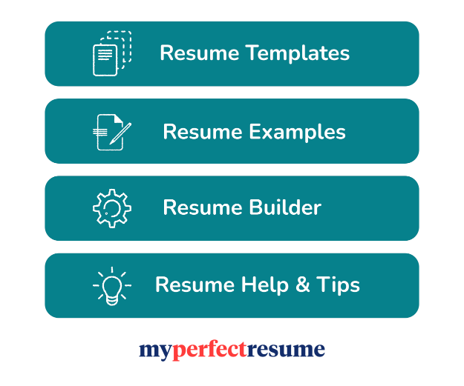 Aircraft Structural Maintenance Technician resume layout and format
Your resume layout and format will play a big role in helping hiring managers to take notice of your resume and stay glued to it.
Shoot for a simple yet professional look to ensure you make a strong first impression, and organize the page in a way that is easy for readers to digest the information.
The following formatting tips should help.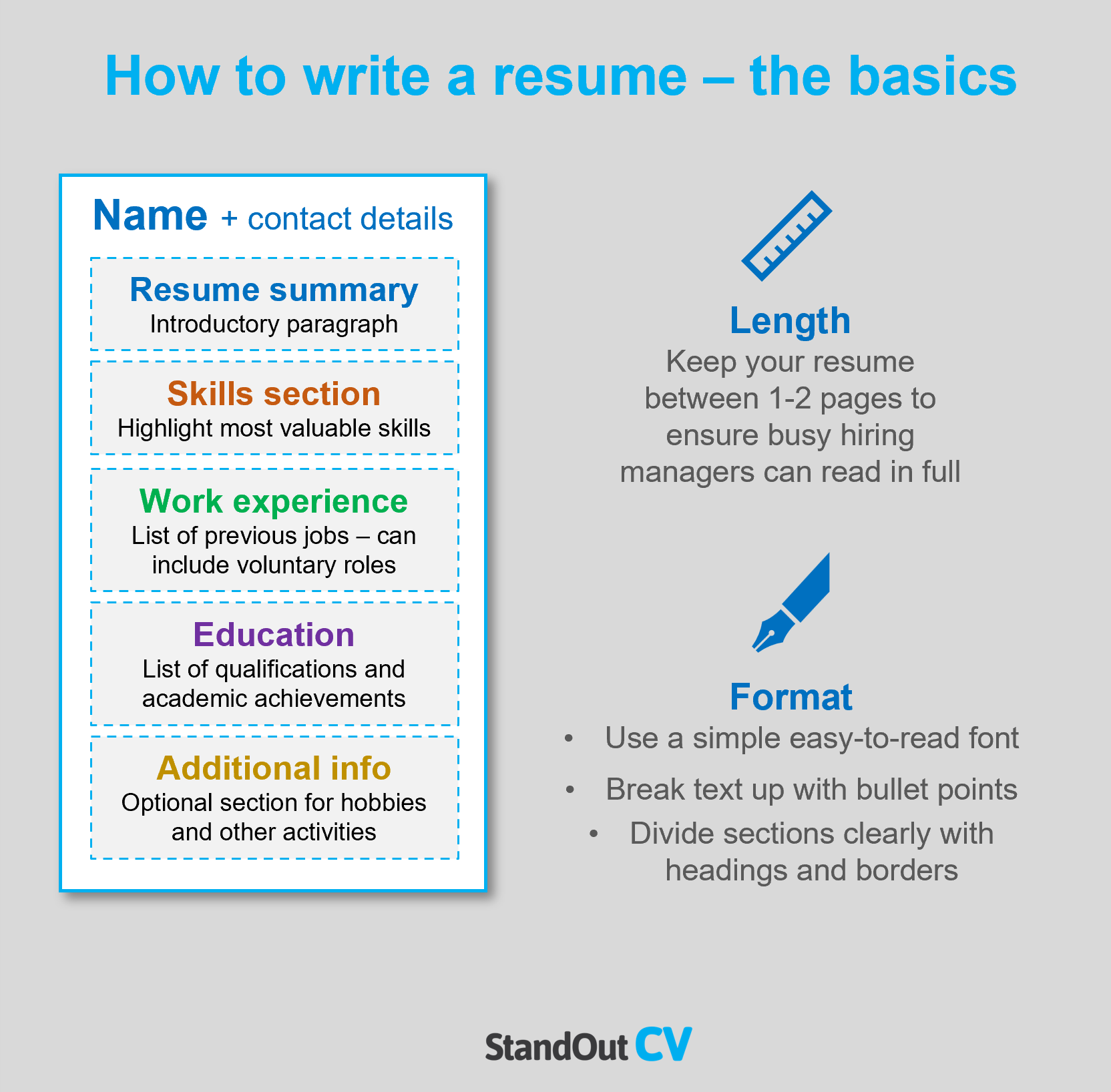 Formatting your resume for success
Length: Think that submitting a 10 page resume will impress recruiters? Unfortunately it won't… Even if you've got tons of experience to brag about, recruiters don't have time to read essays, so keep it brief – around 2 pages is the sweet spot.
Font & readability: Nobody likes to read huge unbroken paragraphs of text – and recruiters are no different. Break your resume text up with bullet points and use a clear simple font.
Layout & Structure: While creating an attractive resume, it is crucial not to compromise functionality for design. To ensure both, use bold headings and borders to structure the page into clear sections.
Photos: In the USA adding a photo to your resume is optional – you don't have to do it, but it can be a nice way to get your personality across.
Quick tip: Achieving a professional look for your resume can be difficult and time-consuming. If you want to create an attractive resume quickly, try our partner's Resume Builder and use one of their eye-catching resume templates.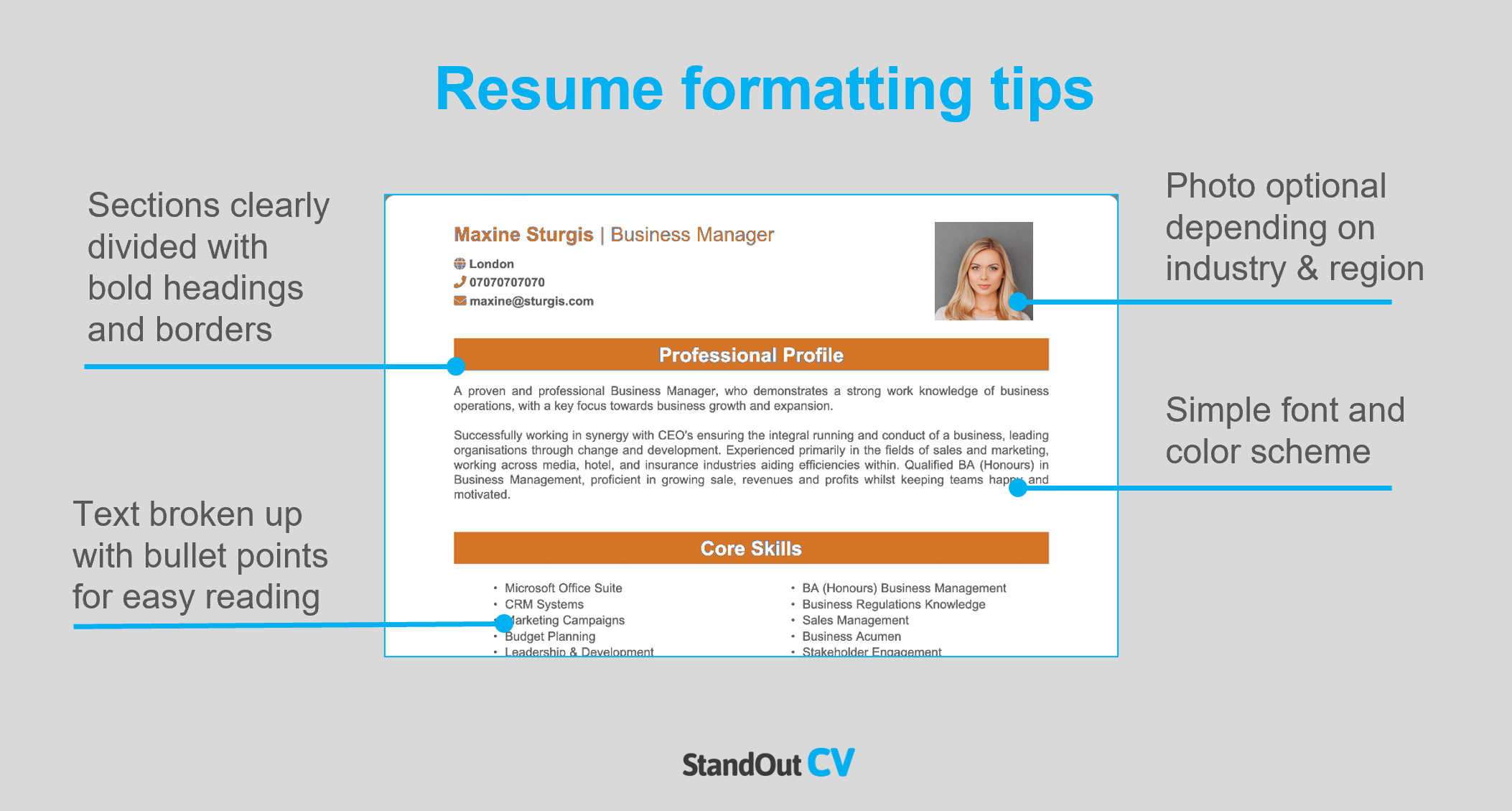 Resume layout
Organize the document into these sections when you write your resume.
Name and contact details – Employers need to know how to get in touch with you – so list your email and cell phone number here.
Resume summary – An intro paragraph at the top of the resume which summarizes your suitability for target jobs.
Skills section – A bullet-pointed list of your most relevant skills and knowledge.
Work experience – A list of your previous jobs (or at least the most relevant and recent ones)
Education – Add academic and professional qualifications that prove you can carry out the job
Additional info – If they are relevant to the jobs you are applying for, you can add an extra section for things like hobbies and interests.
Here's what to include in each part of your resume.
Contact Details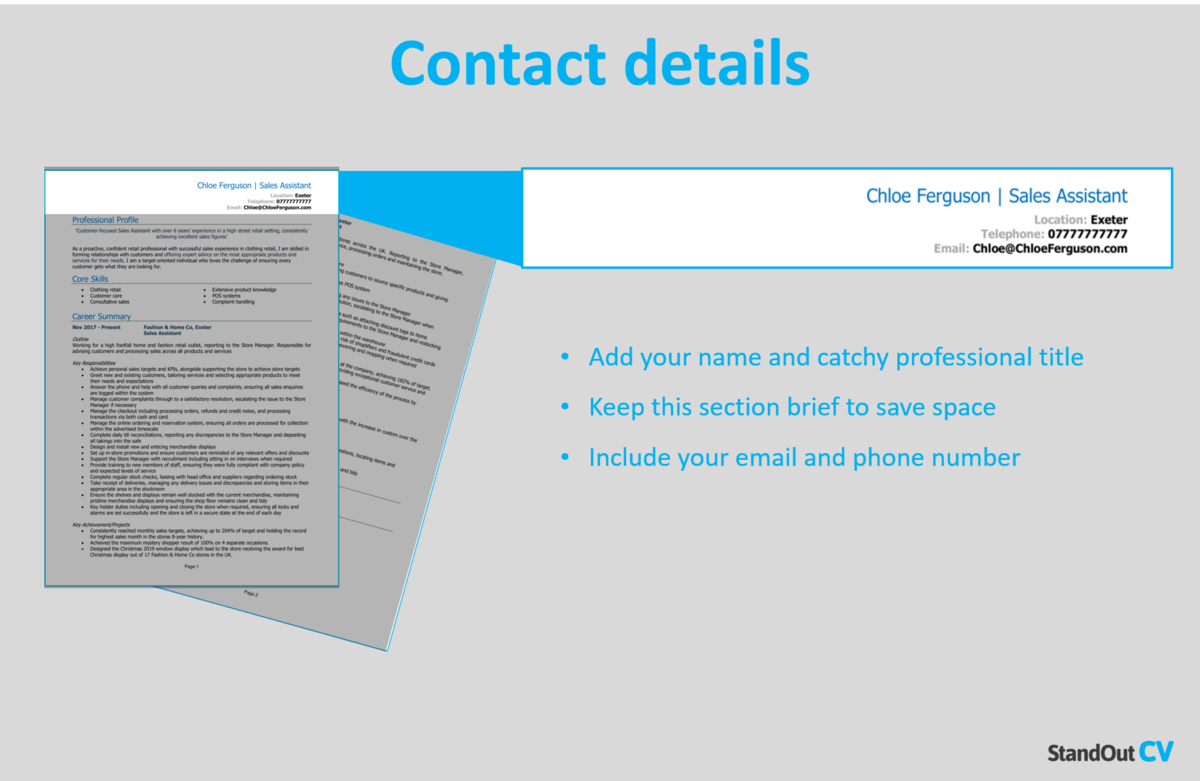 Keep your contact details short to save resume space and include the following.
Name and profession title
Cell phone number
Location – Add your local area such as Silicon Valley or New York, unless you are looking for work in a different location
Email address – Keep it professional and don't use an old address that you thought was cool in high school, but now looks a bit embarrassing.
You can add a link to your LinkedIn profile if you have one – you do not need to include personal details like date of birth or marital status.
Aircraft Structural Maintenance Technician Resume Summary
Start your resume with a bang by adding a powerful summary to the top, summarizing your most valuable skills and experience.
This short paragraph is your chance to show recruiters why you are a perfect fit for the job and encourage them to read more of your resume.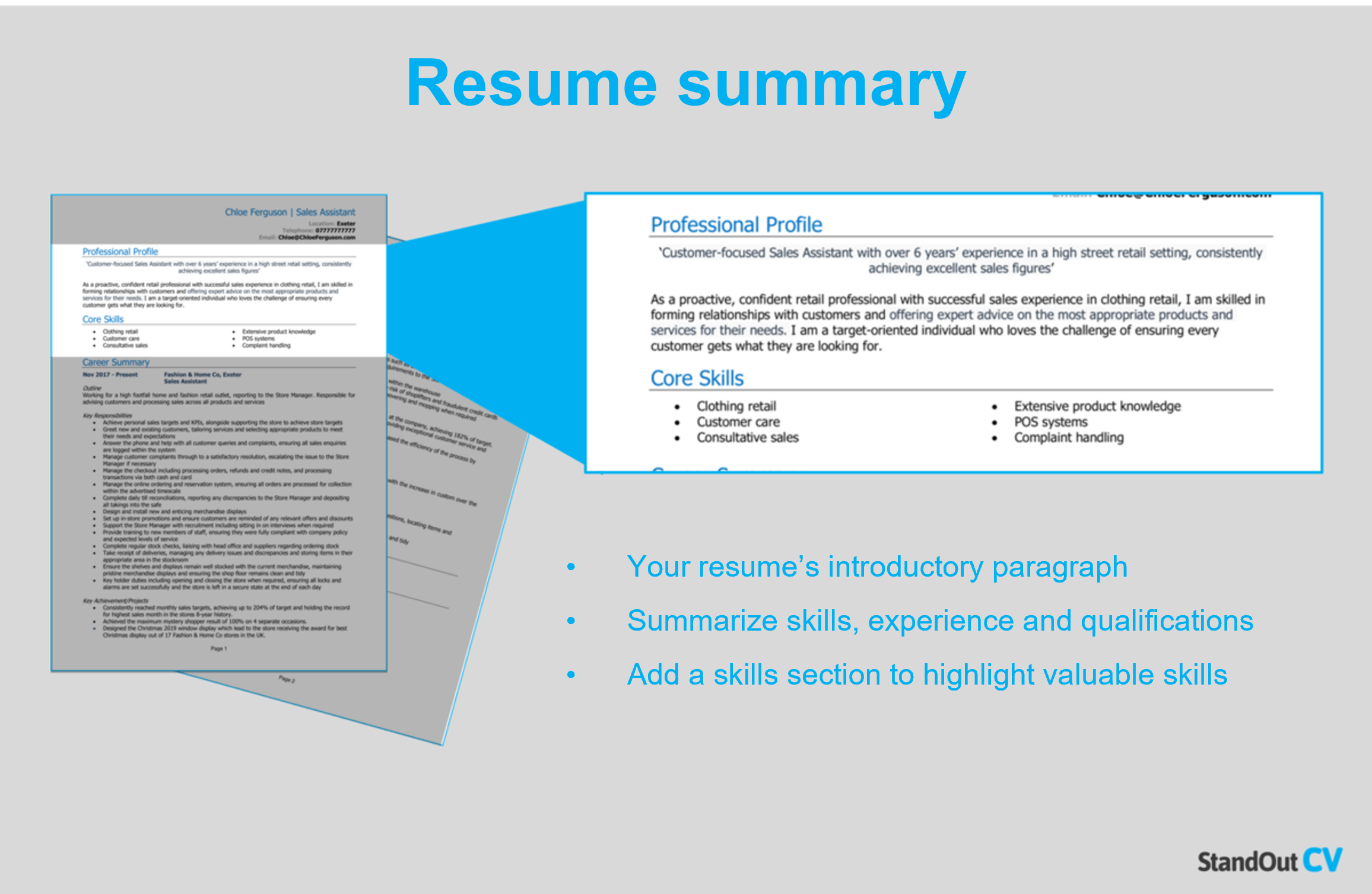 How to create a resume summary that will get you noticed:
Keep it short: Your summary is intended to be a high-level introduction to hook readers' attention, so keep it brief (4-7 lines) – save the details for later in your resume.
Tailor to target jobs: Optimize your summary to match the requirements of your target jobs, by mirroring the key words from the job description as closely as possible.
Avoid using cliches: Recruiters look for facts in resumes, such as hard skills and qualifications – so, leave out the meaningless cliches like "hard worker who works well in a team and individually"
Example resume summary for Aircraft Structural Maintenance Technician
Dedicated Aircraft Structural Maintenance Technician experience in testing, adjusting, aligning, calibrating, and repairing aircraft components in accordance with manuals, drawings, and procedures. Focused on using, maintaining, and storing hand/power tools in safe manner. Passionate about recommending and implementing continuous improvement activities in production methods, equipment performance, and team effectiveness in highly regulated environments requiring attention to detail and consummate accuracy.
What to include in your Aircraft Structural Maintenance Technician resume summary?
Summary of experience: Summarize the type of work you have done in the past and the benefits you have delivered for the organizations you worked at.
Relevant skills: Include your skills which are hyper relevant to Aircraft Structural Maintenance Technician jobs to instantly show your suitability.
Qualifications: Showcase your level of education with a quick mention of any qualifications that are essential for the Aircraft Structural Maintenance Technician roles you are applying to.
Quick tip: Choose from hundreds of pre-written summaries across all industries, and add one to your resume with one-click in our partner's Resume Builder. All written by recruitment experts and easily tailored to suit your unique skillset and style.
Core skills section
Sitting just underneath your resume summary, your core skills section gives recruiters 4-10 of your most in-demand skills in just a glance.
As Aircraft Structural Maintenance Technician jobs may get hundreds of applications, this is a great way to stand out and quickly grab hiring managers' attention.
It should be made up of 2-3 columns of bullet points and highlight attributes that are hyper-relevant to the jobs you are aiming for.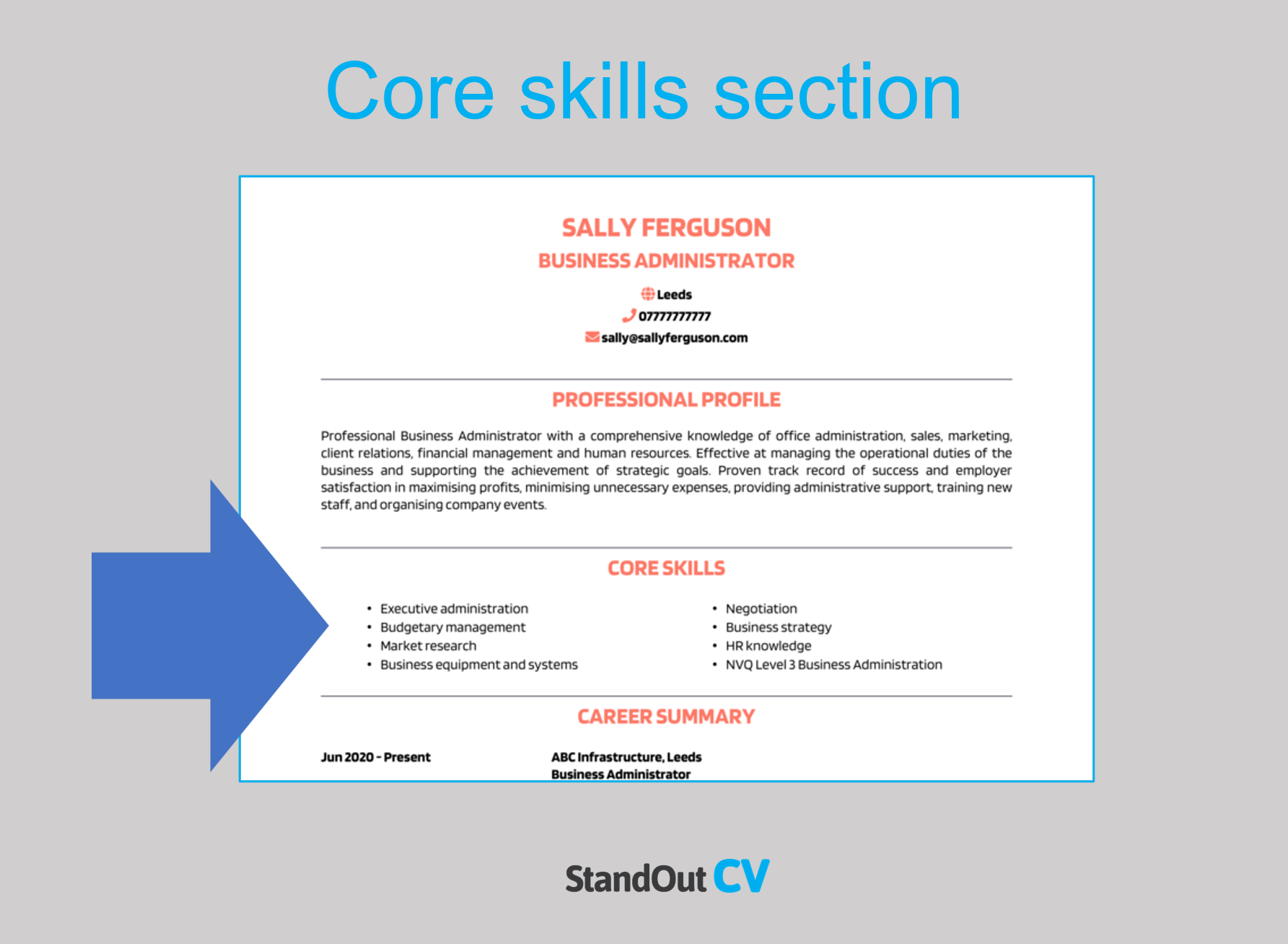 Best skills for your Aircraft Structural Maintenance Technician resume
Aircraft Inspection – Conducting detailed inspections of aircraft structures and systems to ensure they are operating safely and within regulatory requirements.
Knowledge of Aircraft Structures – Maintaining a detailed knowledge of aircraft structures and materials, including the reading and interpreting engineering drawings and blueprints.
Sheet Metal Fabrication – Fabricating and repairing sheet metal components for aircraft using hand tools and specialized equipment.
Composite Material Fabrication and Repair – Fabricating and repairing composite materials used in modern aircraft, including carbon fiber and other high-tech materials.
Welding – Performing a variety of welding techniques, including MIG, TIG, and stick welding, and repairing and fabricating metal structures as needed.
Riveting – Installing and removing rivets, including selecting the correct size and material for the specific application.
Electrical and Hydraulic Systems – Maintaining a detailed knowledge of aircraft electrical and hydraulic systems, including troubleshooting and repairing issues with these systems.
Safety Procedures – Working in line with all safety procedures for working with aircrafts, including maintaining knowledge of environmental and health hazards, as well as emergency response protocols.
Specialized equipment – Using specialized equipment, including measuring tools, drill presses, saws, and other machinery needed for aircraft maintenance and repair.
Quick tip: Our partner's Resume Builder contains thousands of in-demand skills for every profession that can be added to your resume in seconds – saving you time and greatly improving your chances of landing job interviews and getting hired.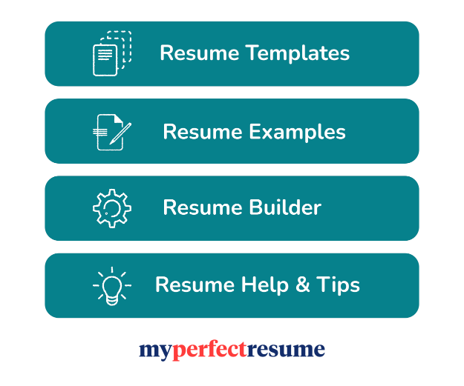 Work experience
Once you've got recruiters interested with your impactful summary, your work experience is where the real detail will lie.
Lay out your previous jobs from current to oldest, detailing what you contributed and achieved in each one.
If you're highly experienced you can cut this section down to your most recent few years of work, but if you are junior you can bulk this up with voluntary work and college placements.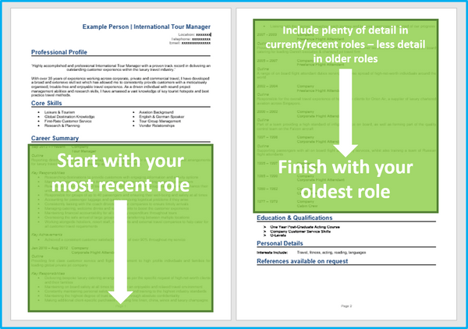 Structuring your jobs
Resume job descriptions contain lots of information, so its crucial to structure them well.
Use the structure below to ensure hiring managers can consume the information easily.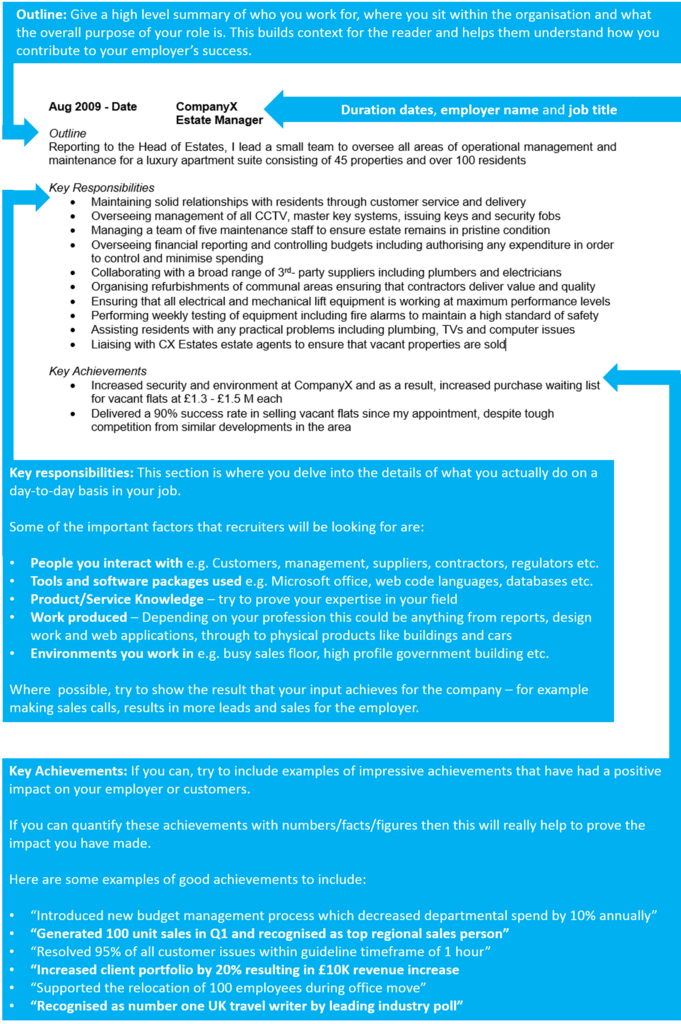 Job outline
Start with a 1-2 sentence outline of the role, summarizing what the goal of your position was, who you reported to (or managed) and the type of organization you worked for.
Key responsibilities
Next, write up a punchy list of your daily duties and responsibilities, using short bullet points.
Describe how you apply your skills and contribute to the running of the employer's business – highlighting skills which are applicable to your target jobs.
Key achievements
Show employers the value you can bring to them by adding a few achievements to your jobs.
Whether you've saved the company money or improved an internal process, let recruiters know
Add some numbers to give readers a real scale of the impact, e.g. "reduced call wait time by 10%"
Example job for Aircraft Structural Maintenance Technician resume
Outline
Execute preventive maintenance, repair, modifications, and other maintenance for a company with 19K+ employees that designs, assembles, markets, and sells 2K+ airliners and business jets to global-based customers.
Key Responsibilities
Keep planes in perfect flying condition by constructing and repairing fuselage, wings, and control surfaces.
Maintain ageing aircrafts and develop comprehensive structural inspection and corrosion/damage control programs.
Translate blueprints into fabrications to include basic layout, precision drilling, countersinking and the use of calibrated tools.
Use hand tools, diagnostic tests, and gauges to troubleshoot malfunctions in areas such as landing gear, hydraulic, and power systems.
Quick tip: Create impressive job descriptions easily in our partner's Resume Builder by adding pre-written job phrases for every industry and career stage.

Education section
Nearing the end of your resume, your education/qualifications section should be added.
In a well-structured list, add all of your qualifications and certifications that qualify you to perform a typical Aircraft Structural Maintenance Technician role.
If you have plenty of work experience, keep this section brief – if not, add lots of detail to make up for your lack of experience.
Additional information
The additional info section is optional but can be useful if you have anything else to add that could benefit your application.
For example, you may have some hobbies and interests that are relevant to your job – or you might have awards or publications to shout about.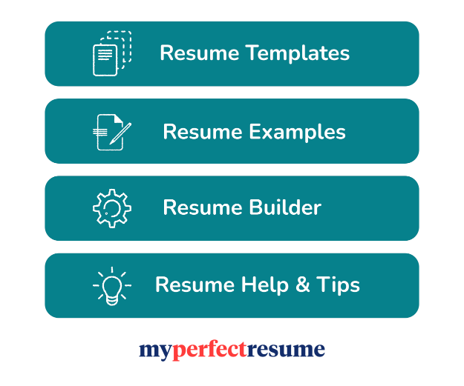 Writing your own Aircraft Structural Maintenance Technician resume
A winning Aircraft Structural Maintenance Technician resume should look great, read well, and sell your skillset to hiring managers.
If you follow the steps above, you should be able to bag yourself a top job in no time.
And don't forget you can use our partner's Resume Builder if you want to save time and ensure your resume contains the very best content.
Good luck with your job search!