To attract and obtain the best staff for your business, a well-written job advert is an absolute must.
An effective job advert will entice plenty of suitable candidates and provide you with a stream of eager applicants, whereas a poor job advert could leave you with you with an un-filled vacancy.
In this guide, learn how to write your own talent-magnet job advert from researching the role, right through to crafting and posting your job advert.
Contents
What is a job advert?
A job advert is simply a written notice of a job vacancy, displayed in a public place to invite prospective candidates to apply for interview. Nowadays the most common form of a job advert is an online job advert displayed on a job website like CV Library or Reed.
A job advert should contain details of the job (such as location, responsibilities, salary, candidate requirements etc.) and also provide candidates with a means of applying for the job (such as an email address or direct online application)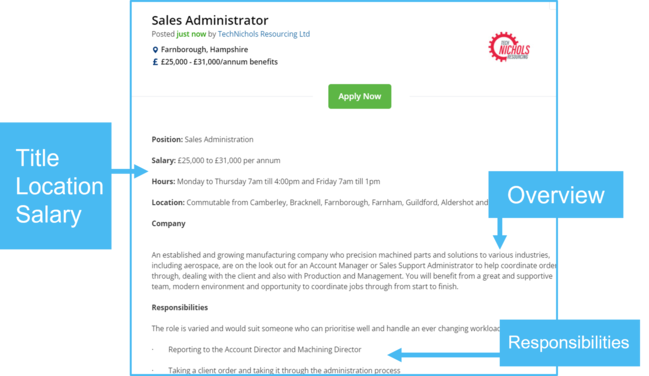 How to define the job
The first step in creating an effective job advert is to define the duties and responsibilities of the role fully, as well as the type of candidate needed to fill the job.
To do this you must;
Liaise with leaders and team members to identify the key responsibilities of the job
Determine what key success factors of the job are, e.g. what things indicate a good job is being done
Determine what skills, qualifications, knowledge and experience is required to carry out the job
Research the market to learn what salary/rates need to be offered in order to attract the candidates you want
How to structure a job advert
When potential candidates are browsing through lots of job adverts online, they want to see the important information quickly. So, when you write your job advert, it's vital that you structure it in a manner that is easy to read and highlights the key info.
To create a pleasant reading experience for the candidate that will encourage more candidates to engage with your advert, use the following structure;
Job title – The name of the role
Location – Where is the job based?
Salary – A specific rate of pay being offered
About your company – Overview of your company
Job overview – High level goal of the job
Responsibilities – Detailed description of key duties
Candidate requirements – Skills and knowledge needed to apply for role
Rewards & Benefits – Any extra perks offered with the job
Call to action – Show candidates how to apply
Job title
The first part of your job advert is the title and it's hugely important because;
a) it's the first thing a viewer of the job advert will see and it sets the tone for the whole ad
b) When posting a job online, job websites will show your advert to candidates who search for key words that closely match your job title.
For best results use a popular and well-known term to title your job – this will ensure that plenty of candidates will be searching for your job title, and you will get more views on your advert.
Pro-tip: Do not use a whacky job title like "marketing Ninja" because nobody will be searching for that term and therefore nobody will see your advert.
Location
Tell candidates exactly where the job will be located. This is another step which ensures your job advert will be shown to the right candidates, so be as specific as possible.
If you offer remote working opportunities, ensure you let candidates know because it is a very attractive benefit which will increase interest in your opportunity and encourage more people to apply.
Salary
Provide a clear and accurate salary or rate for your job advert, because this info is one of the most important factors to candidates.
For example:
£25,000 per annum + pension and bonuses
£20K basic + 20% commission on sales
£200 per day
£12 per hour
Do not use vague salary descriptions, such as;
Salary TBC
Competitive
Good pay for the right person
The clearer you are about the pay being offered, the more applicants you will attract.
About your company
Candidates want to know who they will be working for and what the company culture is like, so tell them all about yourselves!
Provide them with an overview of what products and services you offer, what types of customers you work with and what your core values are.

Job overview
The bulk of the text of the job advert should be headed with a brief overview of that job that describes:
Where the person will fit into the business (what team or department)
What the overall goal of the job is.
This provides context to the reader before they delve into the details of the role.

Responsibilities
The next step is to list out the main responsibilities of the job, using a handful of short and sharp bullet points.
These points will make up the bulk of the job description and should give candidates a full explanation of what will be expected of them in the role.
Focus on detailing overarching responsibilities, rather than small tasks.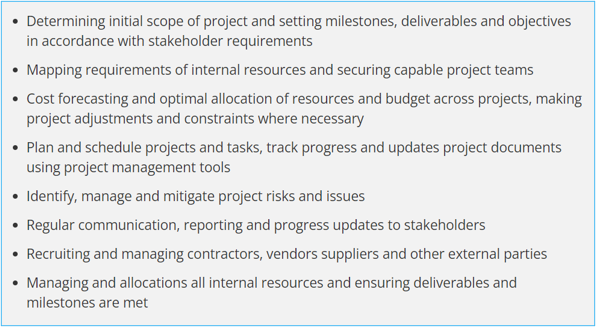 Candidate requirements
To ensure that only the most suitable candidates apply for the job, you need to outline the minimum standards you require from candidates in order to consider them for the job.
For example;
Experience – 3 years experience in web developer role
Skills – A strong negotiator
Knowledge – A strong understanding of British building regulations
Qualifications – A science related degree
Rewards & Benefits
If you offer any extra benefits in addition to pay, let candidates to know about to entice more people to apply.
Benefits include things like;
Gym membership
Christmas bonus
Paid work trips and activities
Pension
Shares
Do not include legal requirements such as "4 weeks holiday allowance" because they are not really benefits and will not impress many candidates
Call to action
Once candidates have reached the end of your job advert, give them on final push to ensure they apply by calling them to act by applying.
For example;
If you want to be part of this exciting new team, send your CV to Jane@greatjob.com
Example job adverts
Check out some of the example job adverts below (from a range of professions) for guidance and inspiration and guidance on writing your own job advert and attracting lots of candidates.
Administrator
Recruitment Administrator
Peterborough 
£23,000 per annum + pension
Established in 2000, we are an award-winning specialist recruitment agency who focus on placing the best engineering, health and safety and construction professionals into a range of temporary, permanent and fixed term contract roles across the country.
A rare opportunity has arisen to support our recruitment in the office as an administrator, supporting the day-to-day function of our office and carrying out a range of administrative and business support tasks.
Dealing with daily enquiries via post, phone and email and directing queries to the relevant member of staff or department.
Sorting and distributing incoming post on a daily basis.
Providing general administrative support, such as paperwork, data entry, scanning, photocopying, printing and faxing.
Managing and organising our filing and record system.
Monitoring office supplies and ordering and distributing new supplies as needed.
Taking accurate minutes at meetings, typing up and distributing to staff
Completing all administrative processes and procedures in adherence to company standards and policy.
Supporting members of staff with workload and tasks as requested.
Candidate requirements
Proficiency with computers, especially Google Drive and Microsoft Word.
Excellent time management and organisation skills.
Good written and verbal communication.
Friendly and personable attitude and able to work as part of a team.
12 months+ previous experience in an administration role.
Experience using formulas and functions on Microsoft Excel.
Grades C or above in Maths, English and ICT at GCSE level.
Project manager
IT Project Manager
London
£65,000 + bonus
At ITPC we deliver word class project management services to high profile clients across the globe, with a focus on IT infrastructure solutions to the banking and insurance sectors.
We are looking for a project manager to lead large scale IT infrastructure projects for our clients, and ensure they are completed on time and within budget, whilst delivering all project objectives and exceeding client expectations – reporting to the Head of UK Projects
Determining initial scope of project and setting milestones, deliverables and objectives in accordance with stakeholder requirements
Mapping requirements of internal resources and securing capable project teams
Cost forecasting and optimal allocation of resources and budget across projects, making project adjustments and constraints where necessary
Plan and schedule projects and tasks, track progress and updates project documents using project management tools
Identify, manage and mitigate project risks and issues
Regular communication, reporting and progress updates to stakeholders
Recruiting and managing contractors, vendors suppliers and other external parties
Managing and allocations all internal resources and ensuring deliverables and milestones are met
Candidate requirements
Previous experience leading large projects in professional environments and managing senior stakeholders
Competence in creating project documentation, tracking projects and using project management tools such as MS Project
Ability to manage medium sized teams, contractors, vendors and suppliers across remote locations
Strong written and verbal communication skills, leadership, problem solving, budgeting and mediation abilities
Recognised project management qualification such as Prince2 or PMP
Strong knowledge of, or background in IT infrastructure
Teacher
KS2 Primary Teacher
Scarborough
£100 per day – 6 month contract
We are a friendly and relaxed primary school located in north Cornwall. We believe that what we do makes a difference to the lives of our pupils and we encourage our staff and students to be enthusiastic, passionate and always ready to learn.
We are looking for a Key Stage 2 teacher to deliver the national curriculum to a mixed-ability year 4 class, drive their long-term development and help them to achieve their potential, in a safe and happy environment.
Creating a yearly plan to teach all areas of the KS2 curriculum throughout each term
Planning, preparing and presenting fun and engaging lessons that take into consideration the different learning abilities within the class
Keeping the classroom organised and creating a happy and safe environment for pupils to learn in
Maintaining discipline in the classroom and upholding school behavioural policies
Checking and marking pupil's work, making record of their development
Providing feedback to parents on parent's evenings, offering advice on how they can support their children's development
Organising and taking part in school events such as school plays, sporting events and day trips
Safeguarding children, maintaining high standards and preparing for Ofsted inspections
Candidate requirements
A bachelors degree equivalent to 2:2 or higher
Must have obtained qualified teacher status (QTS)
Experience working with children aged 8-10 advantageous but not compulsory
Knowledge of the KS2 curriculum
Communication, flexibility and patience are a must
Where to post your job adverts
If you want to attract plenty of qualified candidates, you need to post your job adverts on popular and reputable job websites. Here are some of the best places to post your ad in the UK.
CV Library
CV Library is one of the UK's biggest job boards with an active candidate database of over 16.9 million candidates. A single job posting starts at £75 and promises and average of 25 applications.
LinkedIn
LinkedIn is the world's biggest professional networking sites with over 740 million users worldwide. You can currently post a job for free and they will match your advert with suitable candidates.
TotalJobs
TotalJobs is another big UK job board with over 20 million active job seekers. You can post your first job with them for £74.
Writing a job advert – final thoughts
If you define your job vacancy thoroughly and write a well-structured, clear and engaging job advert, then there's no reason why you shouldn't be able to attract scores of suitable candidates to apply for your job.